Once the elephants finished their snacks, they moved on to prepare for their daily performance. What better way to prepare for a show that taking a bath? Yes, they plunged into the stream running thru the camp.
I don't know what it is but I feel like elephants are smiling all the time.  By looking at them in the water, it was obvious they were enjoying the moment.  They were all playing with each other and making their typical screams.
Now, let's talk about the mahouts.  The mahouts are the elephant drivers or controllers.  When elephants are young, they are paired up with a mahout.  For me, the most impressive thing is that the relationship between an elephant and a mahout is for life.  The bond ends when one of the two dies.  According to my guide, the elephant knows its mahout and he will not accept another person.  For me, this is striking.  We live in a society where a lot of people acquire a pet in the excitement of a moment (others consider pets the ultimate fashion statement).  Sooner than later, they get rid of the animals because of multiple reasons (some of them are really silly).  Some even get rid of pets on cruel ways.  Don't get me wrong.  I think humans have control over animals.  My point is that, if you consider acquiring a pet, you better get it for the correct reasons (also, think about your responsibility towards your pets).    The people of Thailand show us a great lesson in terms of animal care and consideration.
We proceeded to take our seat in order to enjoy the show.  The elephants demonstrate their multiple abilities.  I was very impressed with what they can do.
They play musical instruments, darts and soccer.  Plus, they do the hoop and cool movements.
And lastly but not least, they paint.  Yes, you read right.  They know how to paint.
Here is a video of the elephants playing soccer.  Of course, the soccer balls they use are huge.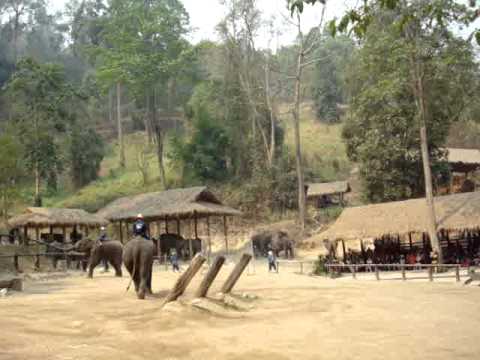 Next, week I am going to show you the masterpieces painted by the elephants.  Also, prepare to hear everything about my elephant ride.
Share and Enjoy