If you are from the West Coast, you have probably heard of Mammoth Lakes or Mammoth Mountain.
If you are not from the area, no worries.  I will fill you in in less than a minute.
Mammoth Mountain is the "go to" ski resort for Southern Californians.  There are other ski areas located closer to Los Angeles but Mammoth is considered the real deal.  In winter, all you hear at work is people making plans for the 4+ hour drive to the mountain.
See.  That was less than a minute ;0)
Since people from the Caribbean (me) and snow do not mix well, I didn't follow the crowds and visited Mammoth during fall.  Guess what? It. Was. Beautiful.
I was like, Mammoth, where have you been all my life?
There is way more up there than lifts, cozy chimneys and hot cocoa.
Just five minutes from the center of town (Mammoth Lakes is the only incorporated city in Mono County), you will find an area known as Mammoth Lakes Basin.  The best part is that you have super easy access to pine forests, alpine lakes and clear streams.  On site, you can enjoy over a dozen lakes, five campgrounds and over 50 miles of well-marked hiking trails.
All that sounds like paradise for those who love to play on the outdoors.  However, remember I said there is easy access to all these?  That is true too.
Five of the lakes in the area can be visited by car.  You can decide to take a look, walk around, fish, relax in a hammock, rent a boat or embark on a longer hike.  The choice is yours.
Highlights of Mammoth Lakes Basin
Here is a series of stops for those visiting for a day or making it part of a longer trip.
Twin Lakes
This is the first set of lakes you are going to find by road.  I find the name a little bit confusing since, if you look at a map, there are three lakes connected by the Mammoth Creek.  So, not sure how this place got its name (natural elements change a lot though).
The lakes are famous for their super cute bridge located in one of the narrow connecting points.  It is a popular place for wedding photos.
Places to Stay: Tamarack Lodge & Resort (restaurant onsite), Twin Lakes Campground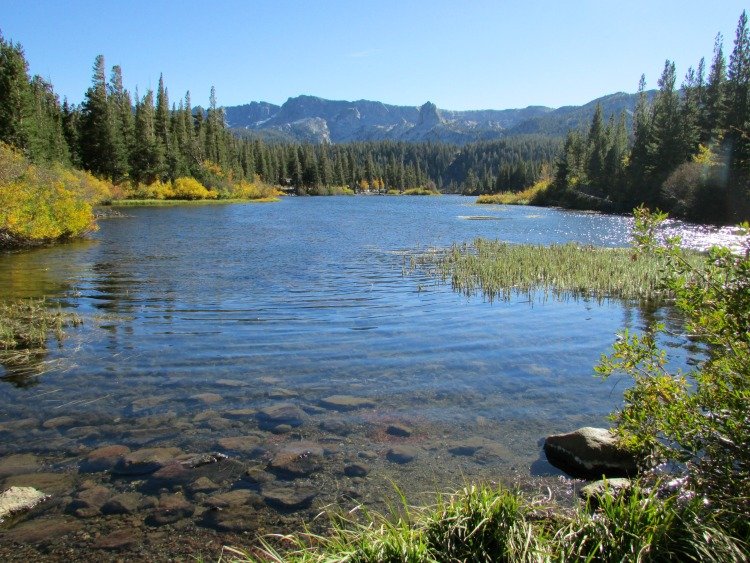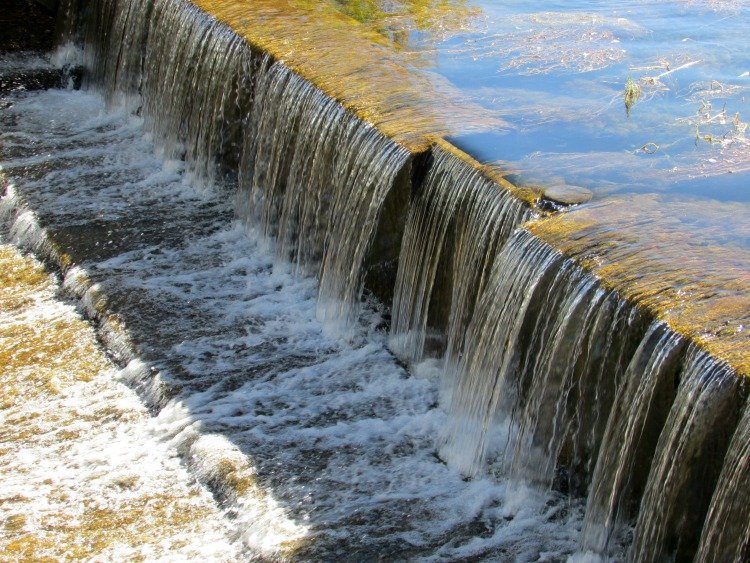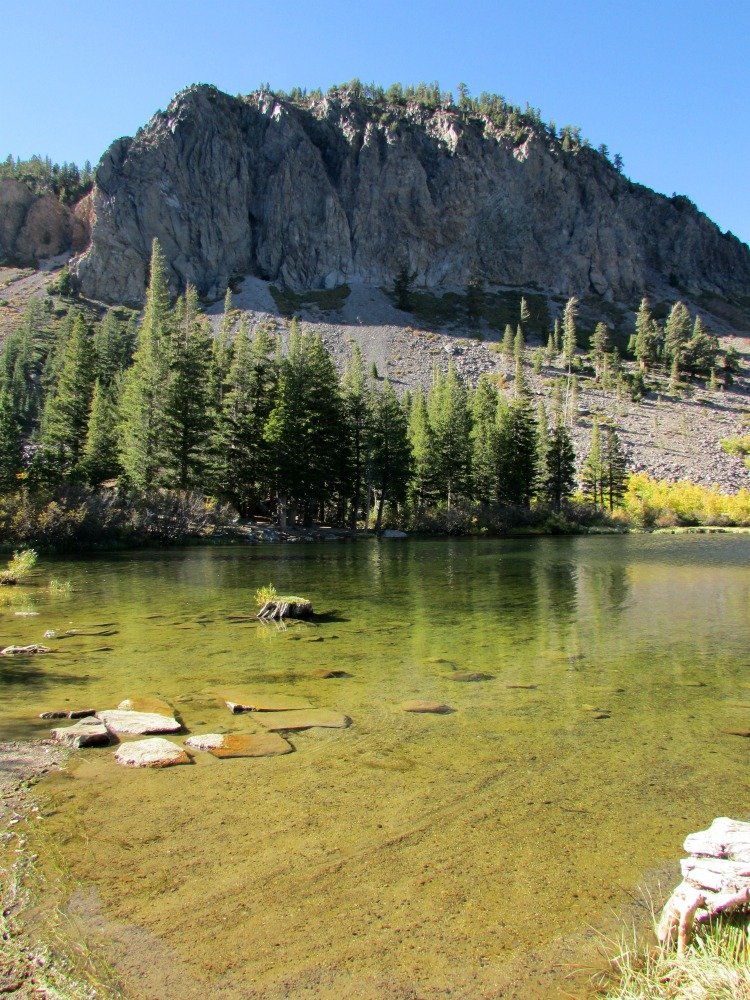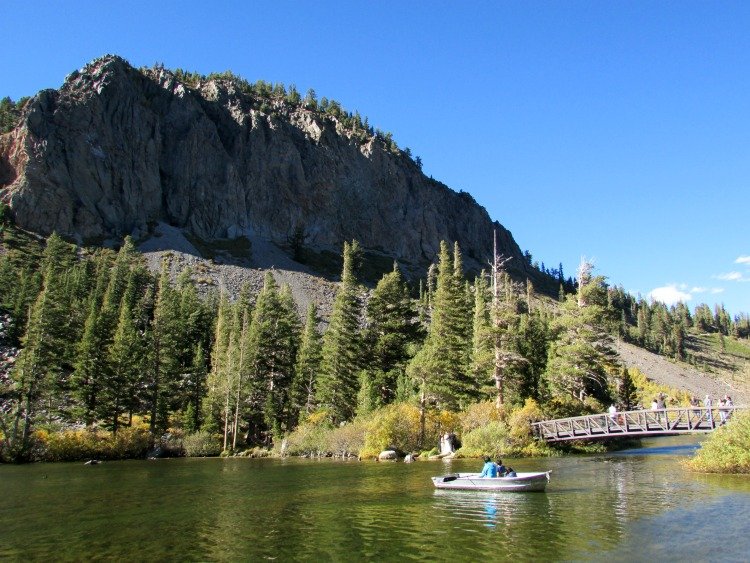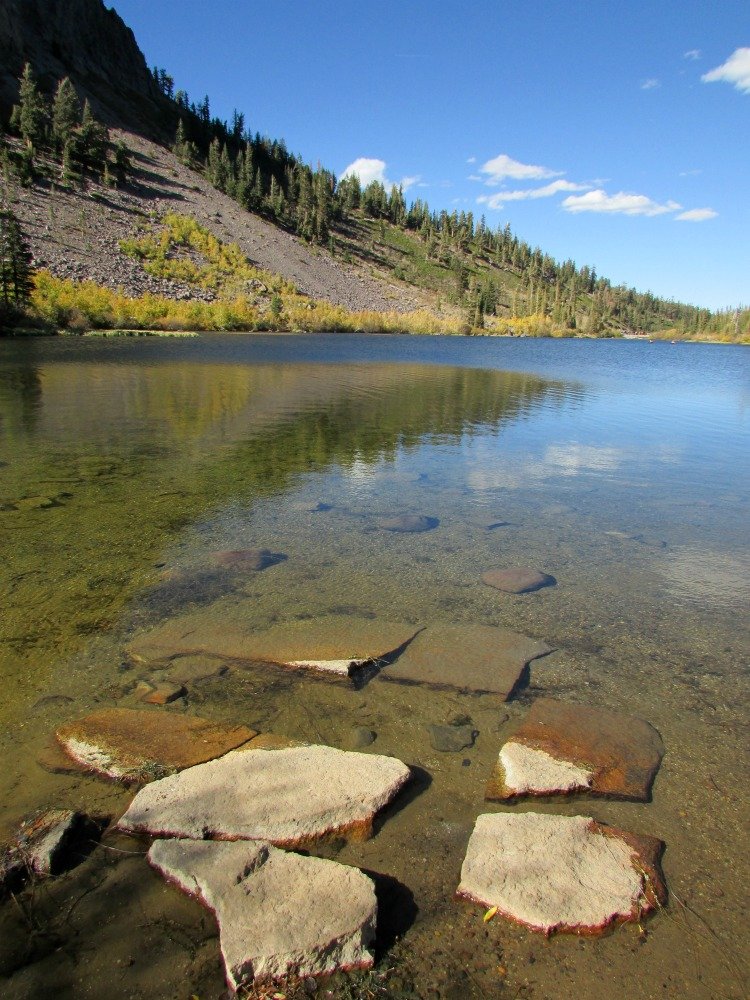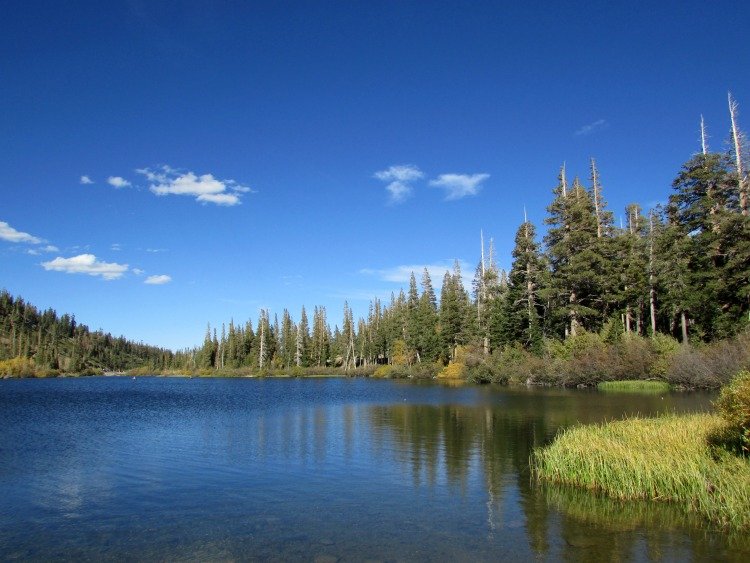 Lake Mary
This is the largest lake in the area and, consequently, a spot with varying landscapes and facilities galore.
If you like to fish, this is the place to be.  I took a photo of a group showcasing their 20+ trout on a line.  I was hoping for a little gift from them but it didn't happen.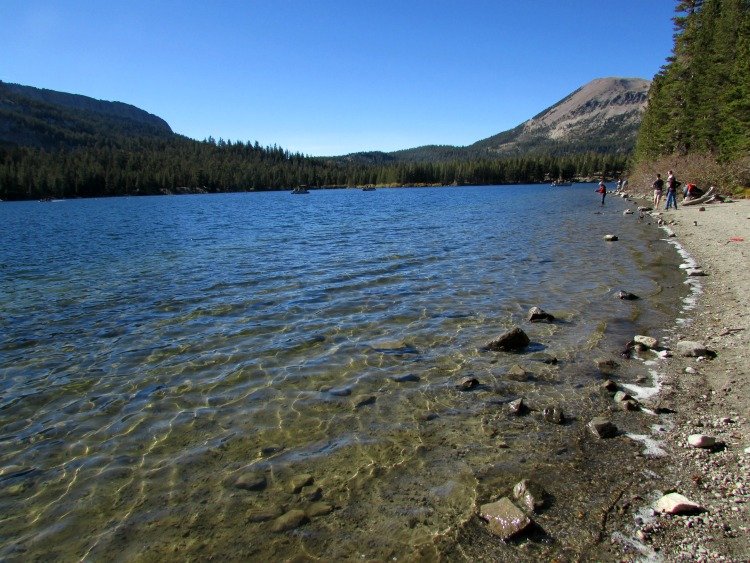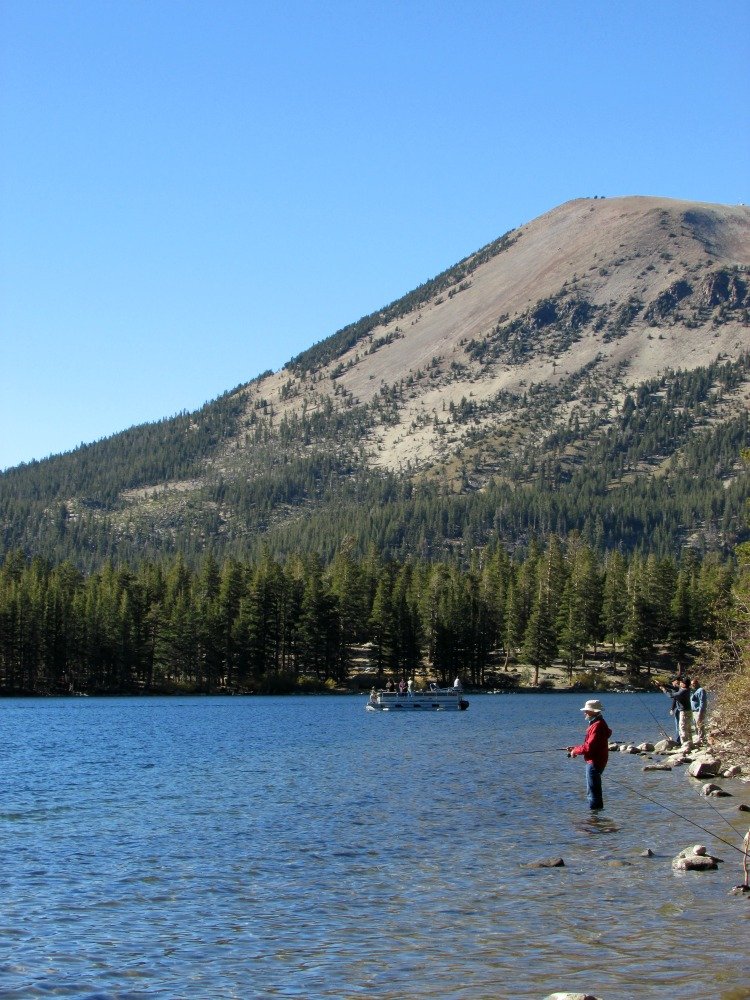 The area surrounding the lake is very relaxing.  People were paddling their boats, taking a dip on the water or resting on their hammocks.  What a life!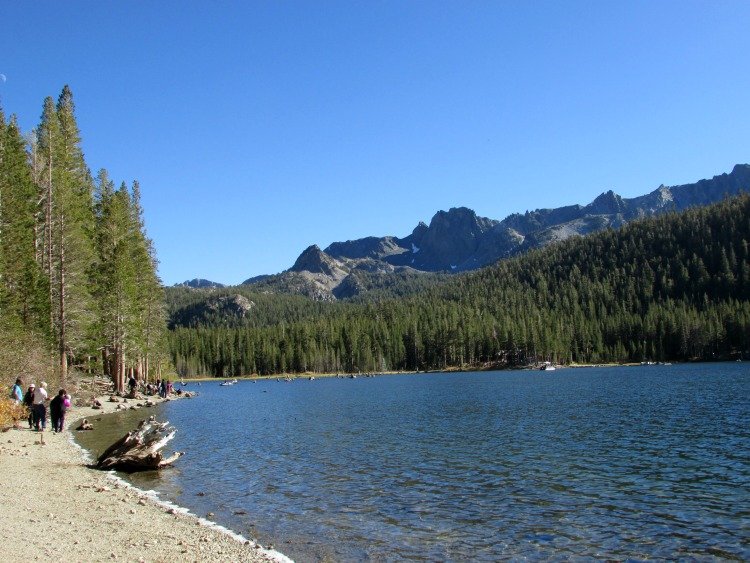 One corner of the lake presents a phantasmagorical scene of dead trees and barren trunks.  I assume the water level increase and flooded part of the forest.  I was attracted to the spot since it is not something I see every day.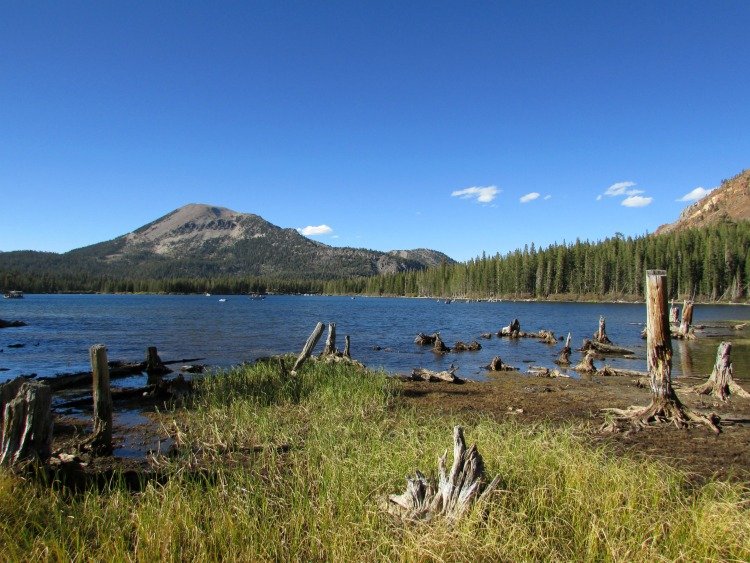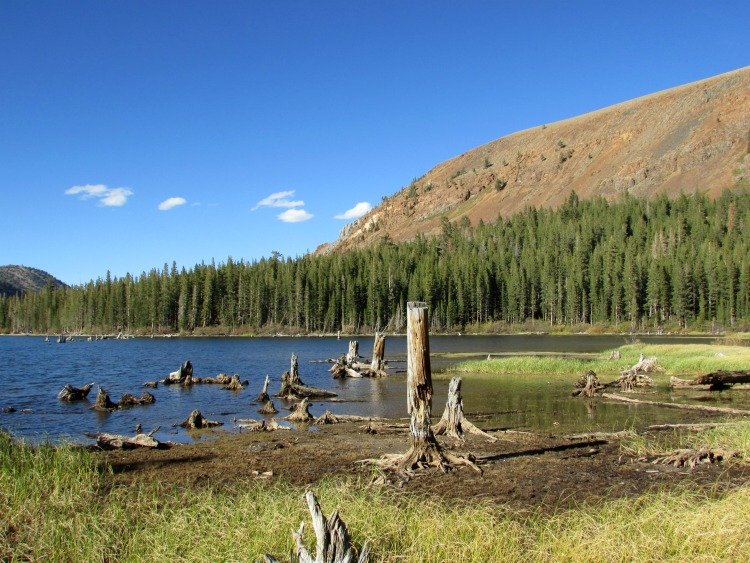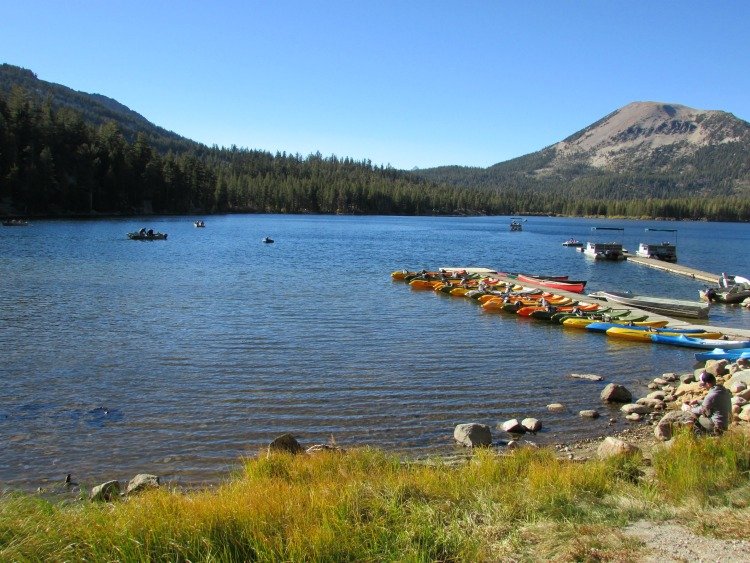 In addition, a red, sterile dome can be observed once you keep circling the lake.  This promontory reminds us of the volcanic origins of Mammoth Lakes and the Owens Valley.
Places to Stay: Crystal Crag Lodge, Cold Water and Pine City Campgrounds
Rent a Boat / Water Access: Lake Mary Marina, Pokonobe Marina at Lake Marina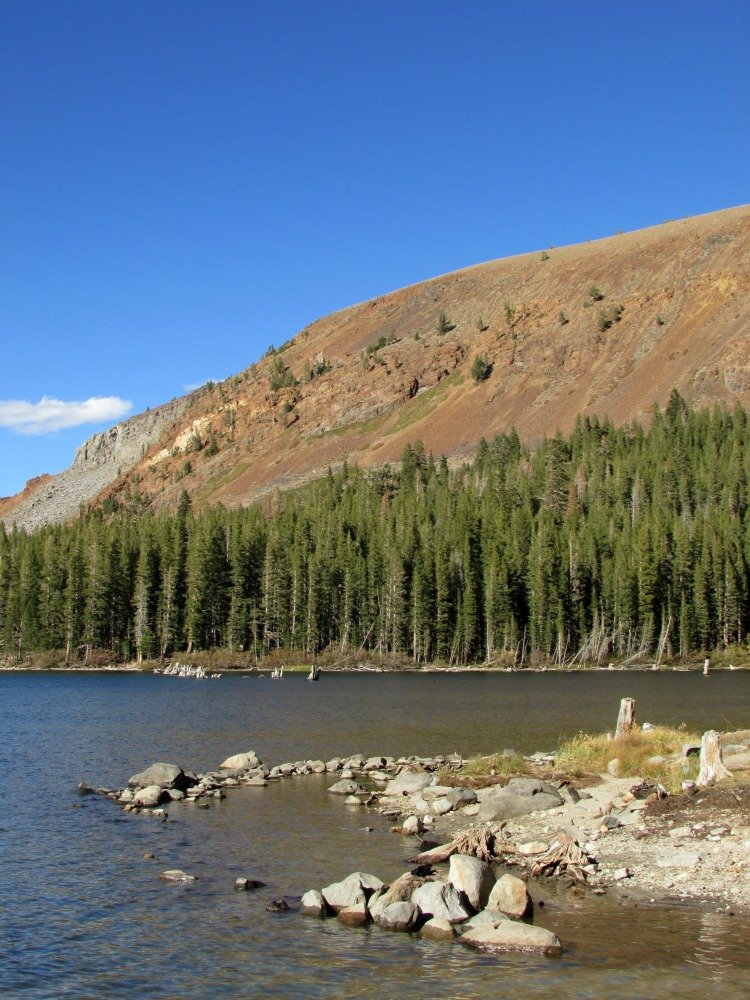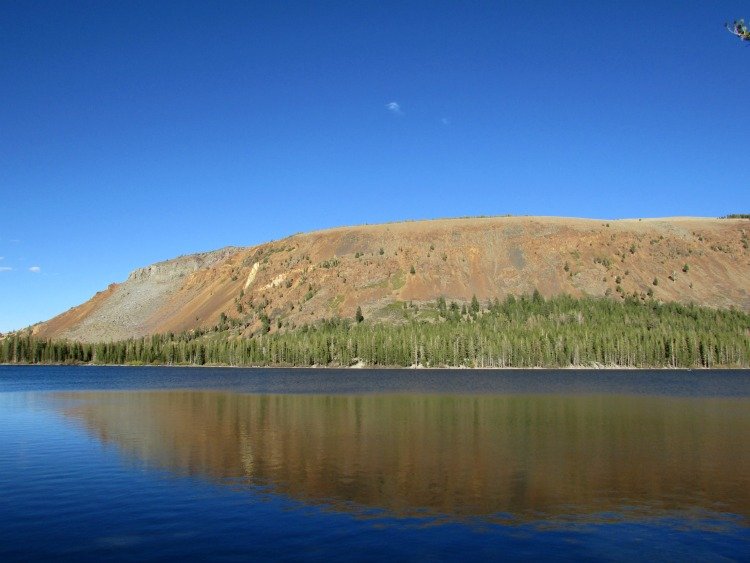 Lake George
This lake is small but one of the loveliest in the area because of its turquoise waters.  It is important to mention the famous Crystal Crag, a granite promontory, can be seen in all its splendor from the lake's shores.  Climbing fans go to the top of the rock to get prime views of the chain of lakes and tall mountains.
Rent a Boat / Water Access: Woods Lodge Boat Rental
The Crystal Lake Trailhead is located at Lake George.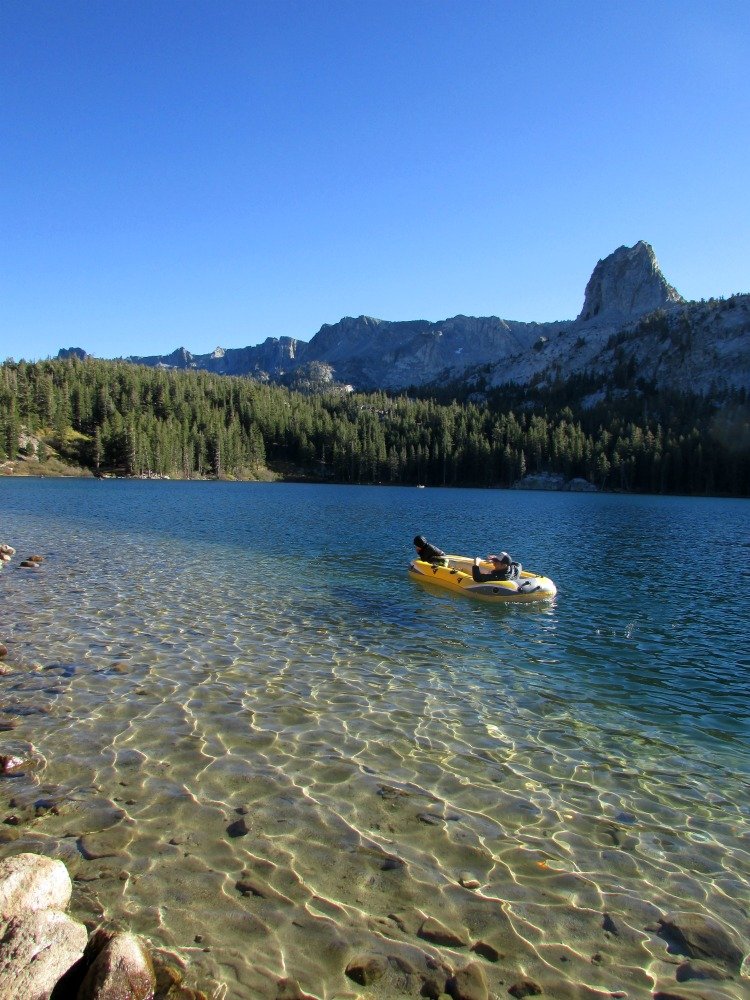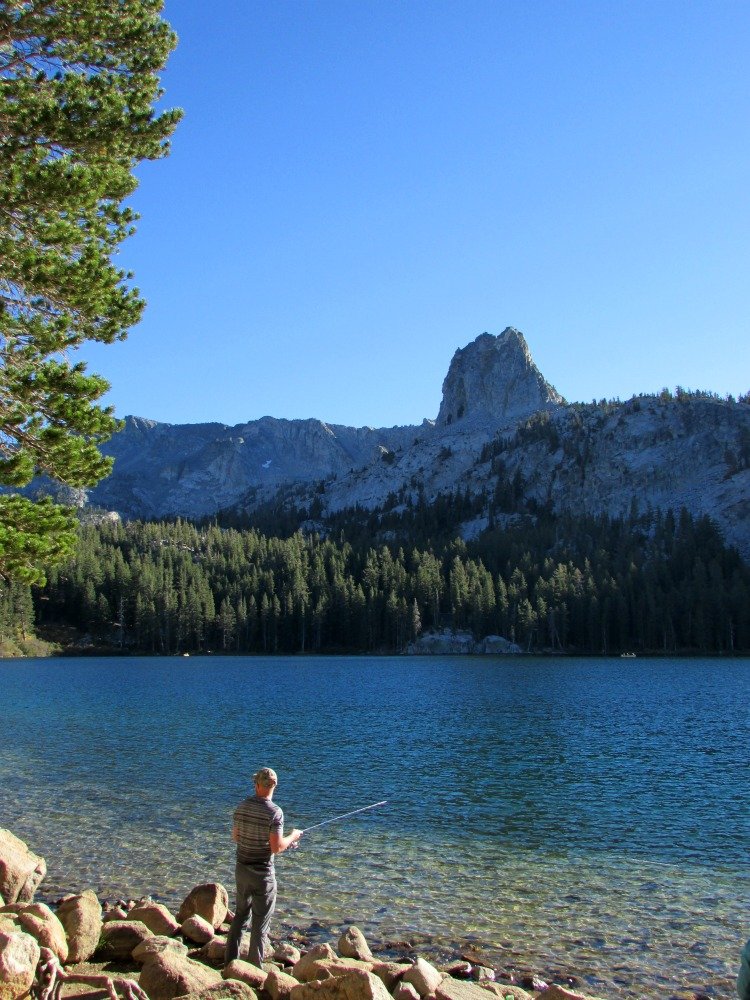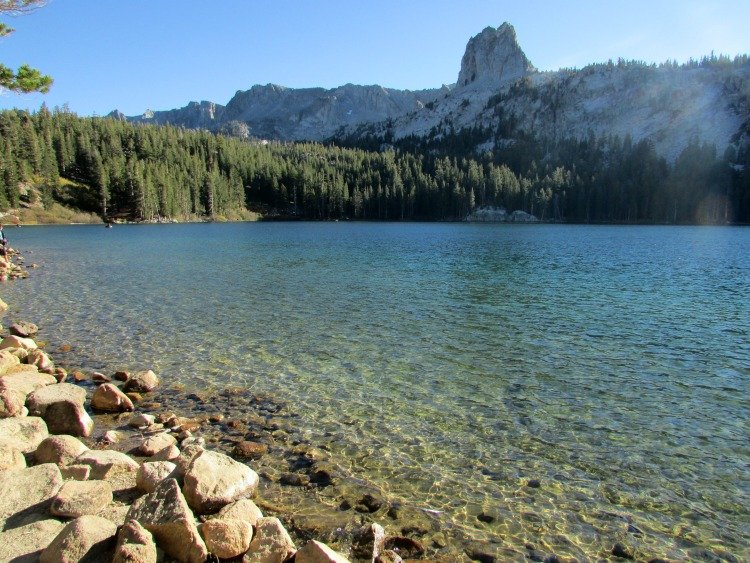 Lake Mamie
During our visit, time was against us and we had to hurry up to finish seeing the lakes.  When I was taking a quick look at Lake Mamie, I noticed a group of people congregated at the other side of the road.
I moved towards them and my jaw dropped! They were looking at the Twin Lakes from a viewpoint.  I didn't even notice we were gaining altitude while driving the road.  It was crazy to think we were down there about two hours before.
Place to Stay: Wildyrie Lodge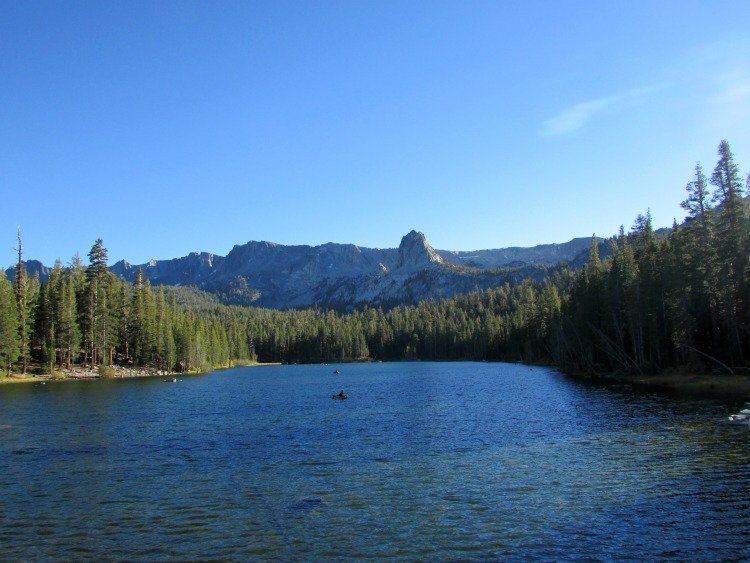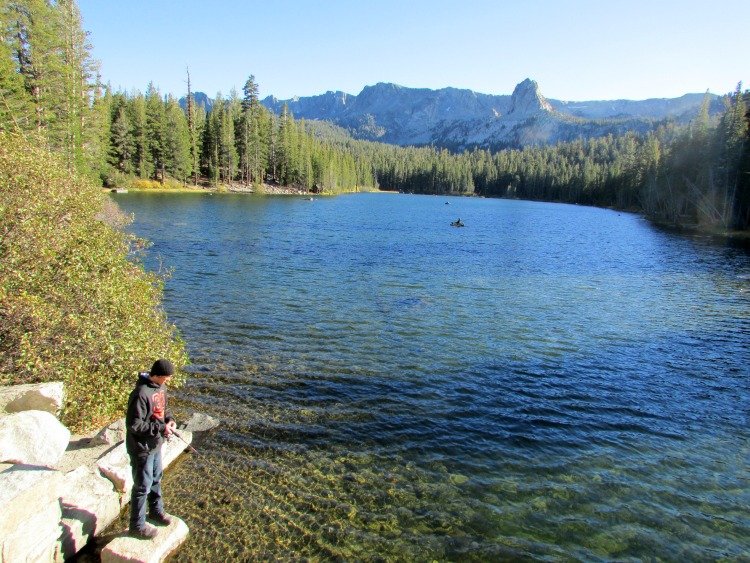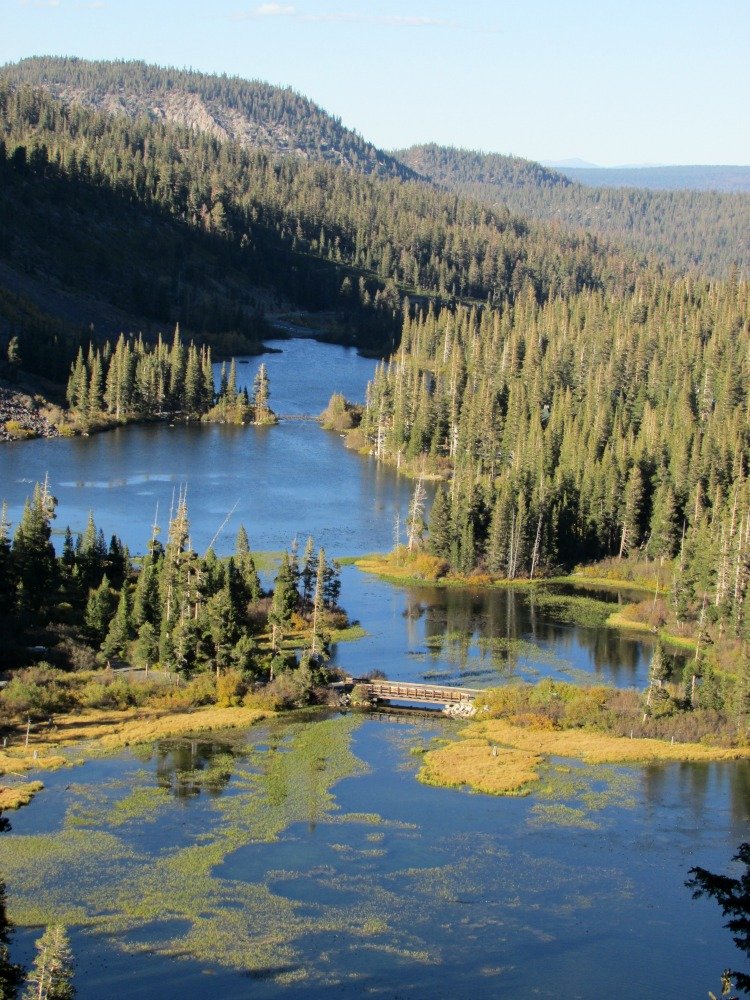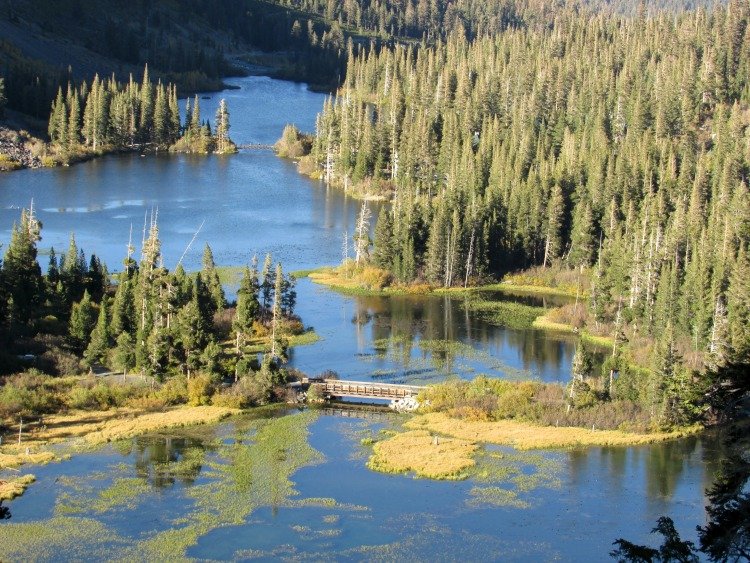 Horseshoe Lake
I was able to take a very small peek at this lake.  The water level was low, so, I took a couple of photos and said goodbye to the gorgeous area.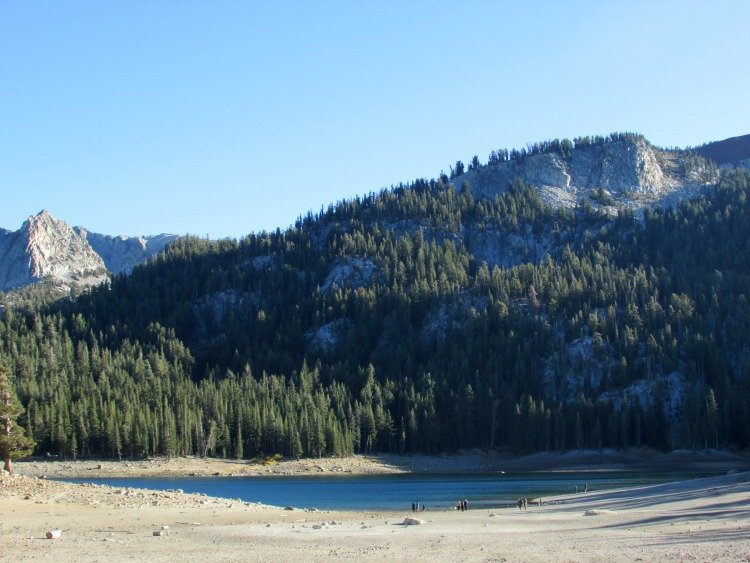 Foodie Stop
After hours exploring the lakes, we indulged by having pizza, salad and lemonade at the Mammoth Brewing Company.  Everything was delicious and the atmosphere was unbeatable.  This is an ideal stop for those who enjoy good food and conversation.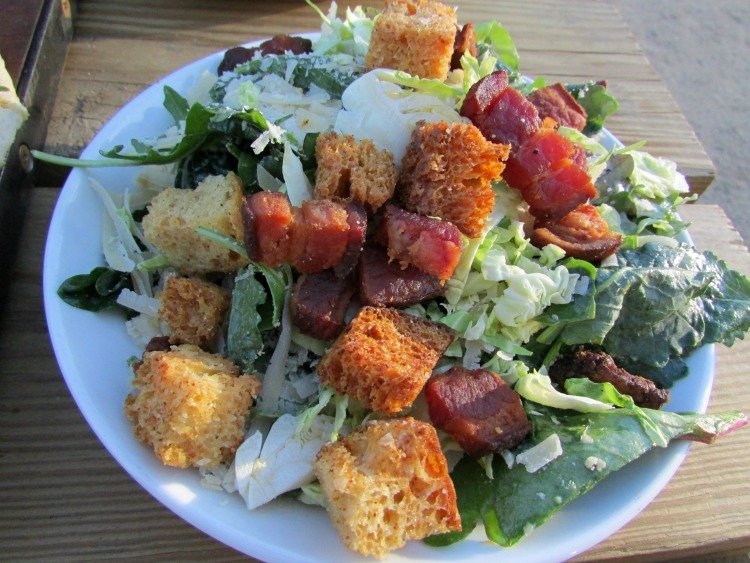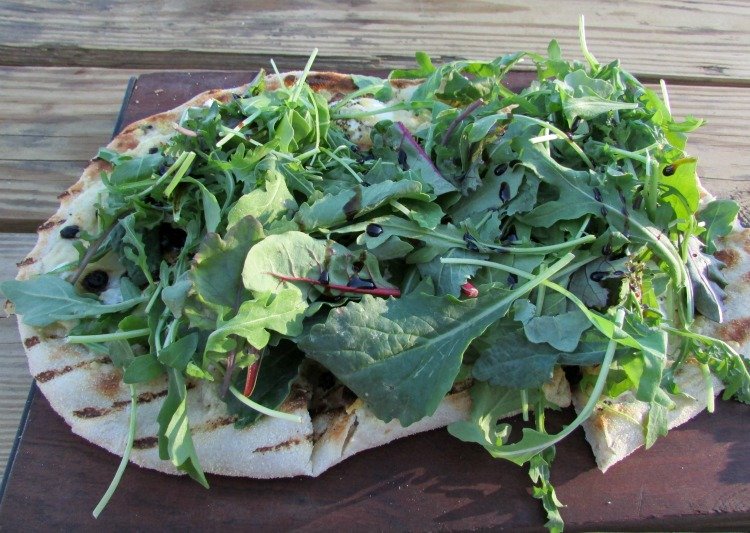 How to Find the Mammoth Lakes Basin
From US-395 (main road / freeway on the Eastern Sierra area) – take road 203 and continue on Lake Mary Road (instead of turning towards Downtown)
During summer, the free Orange Line Trolley runs between Downtown and the Lakes Basin. Bikes can be mounted on the trolley
There is a paved bike path between the areas of interest
Details
Getting to the area is what I consider an "easy drive," no crazy curves, sharp turns or scary drops
All the lakes are above 8,000 feet. Drink plenty of water and apply sunscreen before getting exposed to the sun
For camping availability, expert advice and trail conditions, drop by the local office of the U.S. Forest Service at the Mammoth Lakes Welcome Center or visit their website (link is external)
Campsites may be reserved online here (link is external). Book in advance if you intend to visit during summer
This is bear country. Follow instructions on the camping and day use areas
More of the Eastern Sierra
Click on any of the links below to see how you can combine Mammoth Lakes with other nearby spots in the area.
Have you visited the Mammoth Lakes Basin?
Ready to Pin? Let's do this!