Sometimes life takes you through totally unknown paths. This is precisely what happened when I had the opportunity to travel to Thailand. The country seemed really fascinating but, for some reason, it was not on my "Countries to Visit" list. It seemed like one of those faraway places, a land difficult to reach. But because life has the capacity to surprise you with wonderful things, I ended up visiting the Kingdom of Siam.

As usual, during one of my trip planning phases, I couldn't decide where to go. I researched several places and Thailand kept showing up. Hands down, it offered the best price for a period of two weeks. I had no choice but to "sacrifice" and choose this place as my big trip of the year.

You cannot imagine how many spectacular moments I experienced in the country. What can I say, I love to explore different, unique, incomparable places!!!!!

Since I have been obsessed with the country since my visit, I have put together a detailed 2 weeks itinerary for those who wish to visit. It's a beautiful journey, full of color. Read on, plan and go!
2 Weeks in Thailand Itinerary – Schedule Overview
Here is a brief overview of the 2 weeks Thailand itinerary.
Enroute to Thailand (Day 1) -> Bangkok (Days 2, 3, 4) -> Chiang Mai (Days 5, 6, 7) -> Chiang Rai (Days 8, 9) -> Enroute to Sukhothai (Day 10) -> Sukhothai (Day 11) -> Enroute to Ayutthaya (Day 12) -> Ayutthaya (Day 13) -> Bangkok (Day 14) -> Go back home (Day 15)
2 Weeks in Thailand Itinerary – The Details
Day 1
This is a long travel day.  Time will be spent mostly on planes and/or crossing the International Date Line. You may need to take a connecting flight to reach your final destination.  Sit back and relax.
Day 2 – Bangkok
Arrival time to Bangkok varies depending on your initial destination.  If you departed early enough, you may arrive late afternoon.
If that is your case, I recommend checking in, refreshing a bit and starting to explore the city.
Tip: Every time I travel somewhere far from home, I do not rest or sleep until the end of the day.  I do this no matter how dead tired I feel. In this way, the jetlag effects are minimal.
Wat Po
Wat Pho, Bangkok's oldest and biggest temple, is an excellent place to get a good dose of what Bangkok has to offer.  This temple is famous because it houses Southeast Asia biggest reclining Buddha.
Start your visit by admiring the pagodas, statues, fountains, and doors in the courtyards. The first glimpse of Thailand's peculiar architecture and intricate designs left me speechless.  What I saw surpassed everything I have seen in photos, videos or movies.
After taking some time to take it all in, it is time to visit the Reclining Buddha.  This enormous statue is forty-six meters long and fifteen meters high. Each of its features has meaning for his believers.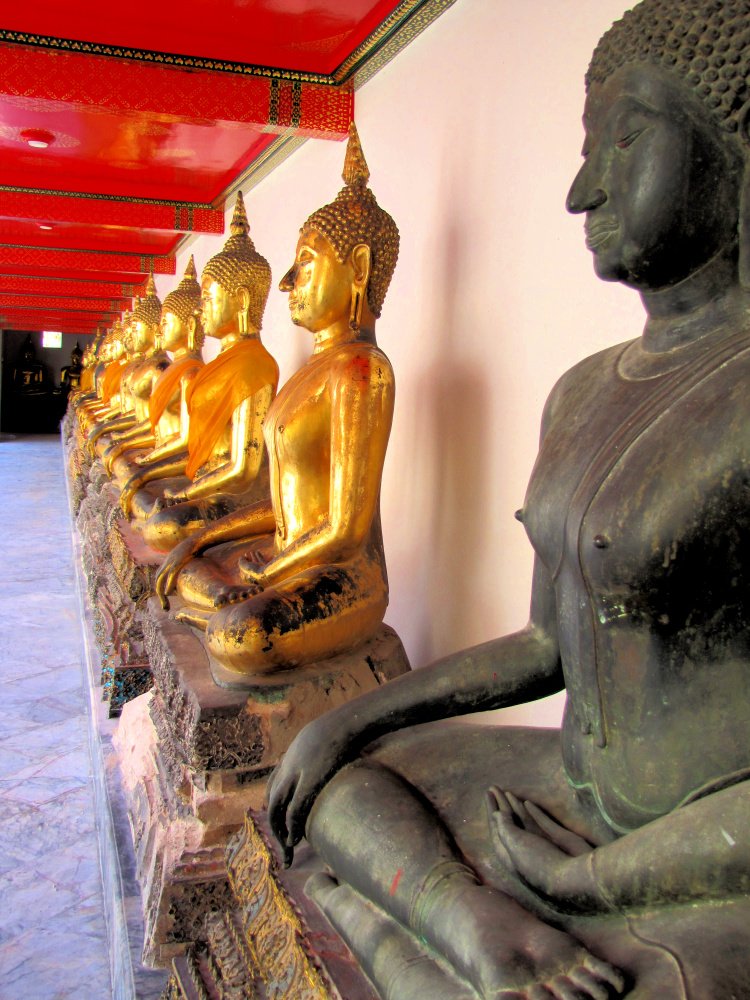 The hair is conformed of multiple circles.  This shows the Buda's infinite wisdom (because a circle does not have a beginning or end). His ears are long because this represents long life.
Sometimes his fingers or toes have the same length.  For the Buda, everybody has the same value. He treats all of his followers in the same way.
Tip: Keep an eye on your valuables during your visit to Wat Po and other popular attractions in the city.  These areas are frequented by pickpockets.
Once you are done with the temple, you can have something to eat at a nearby restaurant or find a place to eat at popular spots like Khao San Road, Chinatown or Silom.  If you want to end the day with a punch, head to one of the citie's rooftop bars. Vertigo, Cielo, Zense, and Three Sixty are good options.
Day 3 – Bangkok
Grand Palace

Once you are done with breakfast, head to The Grand Palace, a must visit in any Thailand itinerary.
Bangkok's Grand Palace is truly spectacular. With so many elements diffused in the area, you don't know where to fix your gaze. Real and imaginary beings of all sizes, materials, and colors, watch you from their respective positions.
Buildings bathed in the warm sunlight wait to be discovered. Huge chedis raise their impressive bodies towards the sky. Your feet do not know where to move. You feel like a kid in a toy store. You like everything you see. A tingling sensation invades you from head to toe.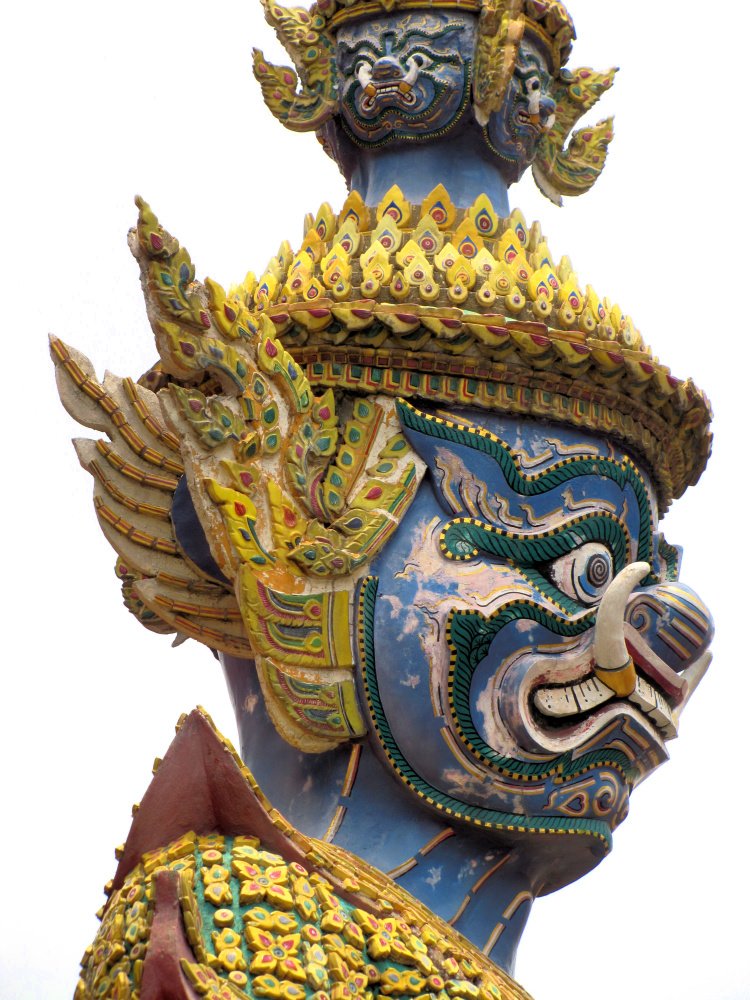 We entered the royal complex through Wat Phra Kaew or the Temple of the Emerald Buddha. In Thailand, the country's most important temple is adjacent to the residence of the kings.
Once we crossed one of the entrances, we found ourselves in an open area were mythological guardians observe silently the hordes of visitors. It is also an area full of pagodas and chedis. A chedi is a hill-like structure containing Buddhist relics. They are known as stupas, as well.
We continued walking towards the structure which houses the Emerald Buddha. This is the most revered statue in Thailand (that is why is in the temple next to the royal house). Legend tells the statue has thousands of years.  In fact, the statue is made of jade, not emerald. The size of the statue is surprising. It is quite small (45 cm).
There is an interesting fact I learned at the palace. The statue has a set of clothes for each season. It has a change for summer, one for winter and one for the rainy season. Of course, no fabric is exquisite enough to touch the paladin of Thailand.
His clothes are made of pure gold. The two changes of clothes that the statue is not using at a specific season can be found at one of the palace's museums. I do not remember the name of the museum but is close to the ticket office (in case you want to take a look).

It is time to see the actual palace.  The Grand Palace construction began during the 18th century.  It was commissioned by Rama I, the first king of Bangkok. The current king does not live in the palace. However, many royal rituals and ceremonies are celebrated every year in the royal complex.
After this, you can opt to stop by some museums. There is one hall where the Temple of the Emerald Buddha restoration process is explained.  Another museum presents tons of royal artifacts. I think it is worthwhile to take a look at them.
Or, you can choose to resume your visit.  If you decide to do so, it makes sense to have lunch before continuing with your sightseeing.
The eating options at the palace are limited. If you want to eat a proper meal, you have to exit the complex grounds. There is an onsite store/cafeteria selling frozen meals (they are heated in a microwave), ice cream, snacks, and beverages.
I would say that you need at least two or three hours to take a good look at this impressive site. Plan to be there more time if you want to visit the museums.    Additionally, if you are going in the hot season, prepare yourself by bringing a hat and applying sunblock.  Do not forget to bring water.
Tip: Dress modestly for your visit.  Try to cover the shoulders and use long pants.  Staff will require you to rent a cover-up for entering if they deem your outfit not appropriate.
Warning: Do not believe people who tell you the Grand Palace is closed for x or y reason.  Scammers come up with all sorts of stories and offer "free" city tours. They say they will take you to several temples (in a tuk-tuk) and bring you back once the palace opens. Instead, they will take you to their partners' shops where high-pressure selling techniques are employed.  It would be very difficult to escape the scammers and resume your sightseeing. Be vigilant and do not fall for these!
If you didn't have time to visit Wat Po on Day 2, make sure to stop by.  This temple is located across the Grand Palace.
Even if you visited, it may be a good idea to walk around. Wat Po's open areas are full of food stands.  They resemble a small market.
I love to watch the culinary artistry of the Thais.  They cook right in front of you. You may have the opportunity to learn about dishes and snacks you may have never seen before.

They have things such as spicy sausage, deep fried fish skin, pork meatballs, shrimp chips, made to order omelets, roti, fruits, ancient ice cream, Thai pancakes and sweet drinks (with jelly).
This is a fantastic place to fill your belly up!
Wat Arun
Wat Arun or the Temple of Dawn is located on the edge of the Chao Phraya River.  It sits directly across the Grand Palace and Wat Po but on the opposite river bank.  
Because of that reason, you need to take a cross-river ferry.  The pier stop, Tha Tien, is located behind Wat Po. Once you get on the ferry, try to sit around the front so you can take pictures of the temple while you are getting close. The ride is extremely short hence you are going to have a few minutes to snap pictures.

This is a must-see attraction.  The temple style is Khmer and its pagodas are covered with Chinese porcelain mosaics.  Furthermore, you can climb to the top of the pagodas to enjoy sweeping views. From the high point, you are going to be able to appreciate the Grand Palace, Wat Po, the Chao Phraya River and some of the Bangkok skyline.  
If you want to climb to the top, remember to bring appropriate clothes (pants) and shoes.  I had the great idea of using a skirt that day. Let's say climbing with strong winds is not the greatest experience.

Wat Arun is like a little city.  There are alleys, pond, and interesting statues.  You can do a lot of exploring.
Visit a Mall
After a long day of sightseeing day, having a bit of relaxation sounds like a good idea.
When I visited Bangkok, I was tired and hot (it was over a 100 degrees Fahrenheit).  I ended visiting the MBK mall or center.  
I suspect I just gave a heart attack to those experienced travelers looking for authenticity when I mentioned my visit to the mall. But, this is not your typical mall. If you live in the United States or somewhere in the western hemisphere, I am pretty sure you haven't seen anything like it.
MBK is a large, indoor shopping and entertainment center located near Siam Square (or the city center). This place is huge. It has eight floors and offers over 2,000 shops and services.  You can find everything you've dreamed. And most important, prices are great. So great, that you can shop till you drop.

We were able to relax and enter into a semi-comatose state. We ate there (did I mentioned there is like a food court per floor). I had a facial and my husband a massage. We walked around, browsed the shops and observed people.
My advice for you is to give it a chance.  It doesn't hurt to take a look around. I'm sure there are better places to shop and eat (and at better prices) but this is a place where you can find an incredible concentration of interesting things.
Other options are Siam Paragon, Terminal 21, Emporium, CentralWorld and Siam Discovery.
Finish your Day at a Night Market
To finish your day, I recommend visiting a night market.  You will find everything from food, snacks, clothes, vintage goods, and even massage services.
Some of the most popular are Silom, Rot Fai, and Asiatique.
Day 4 – Bangkok
Your second full day on Bangkok should be more relaxed than the first one since the main attractions have been checked from the list.
I have listed several options so you can have an idea of what to do. Mix and match depending on your preferences.
For those interested in religious tourism, temples abound in Bangkok.  Some of the more interesting are Wat Saket (temple over a mound), Wat Intara Wihan (32-m image of Buddha) and Wat Prayurawonsawat,
Museum lovers can visit the National Museum, National Gallery and/or the Royal Barges Museum. In addition, the Vimanmek Palace, a golden teak structure, is worth a visit.
If you are visiting during the weekend, you should not miss the Chatuchak Market, Thailand's biggest market.  Depending on the source, the number of stalls on this place can be estimated between 8,000 to 15,000.  If you are going, research a bit on how to make the most of your visit.
The Or Kor Tor Market is located across Chatuchak and it is worth a visit too (it has been listed as one of the top produce markets in the world).  Also, keep in mind the flower market occupies its own area.
Another popular thing to do is to visit a floating market.  Damnoen Saduak has gotten very touristic over the years but it still get visitors.  Amphawa may be a more authentic option.
There are many more things to do in the city.  You can opt for a tour, river cruise, cooking class or spa treatment.
Whatever you choose to do, I am sure it will be fun!
Day 5 – Chiang Mai
After breakfast, it is time to transfer to the airport for a one hour flight to Chiang Mai, the Rose of the North.

The interesting part about Thailand's northern lands is that for many years they were ruled by the Lanna kingdom.  Lanna was a kingdom independent from the ruling of the Kingdom of Siam (known today as Thailand).
King Mengrai founded Lanna in present-day Chiang Rai (of course, he gave the city his name).  Later, the Lanna capital was moved to Chiang Mai. As a matter of fact, Chiang Mai means "new city".  With time, the kingdom entered a period of decadence and was later annexed by Siam.
The point of this short history lesson is to highlight the fact that the northern part of Thailand posses a series of unique cultural characteristics which can't be found anywhere else in the world.
Wat Phrathat Doi Suthep
After arrival and checking in at the hotel, it is time to check out Wat Phrathat Doi Suthep.  People simply refer to this temple as "Doi Suthep".  It is interesting to notice that Doi Suthep is the mountain where the temple is located.  Yes, the temple is located at the top of a mountain and it offers spectacular views of the city of Chiang Mai and its surroundings.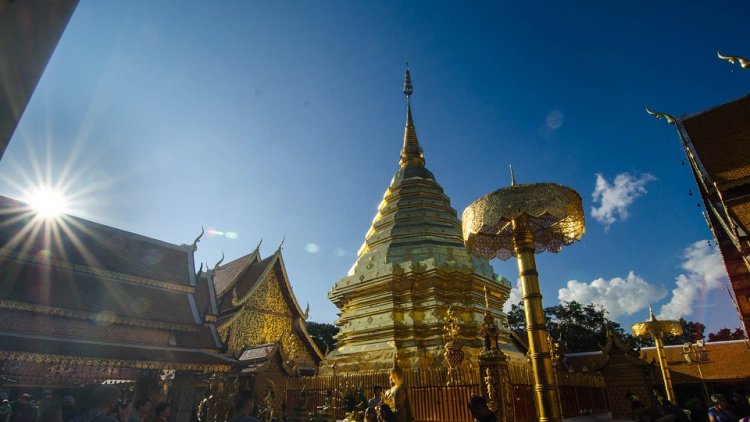 The legend surrounding the construction of the temple is mesmerizing.  The myth tells about a monk from Sukhothai who had a dream about going to a certain place in order to look for a relic.  He followed his dream and found a bone which many believe is the Buddha's shoulder bone.
The relic had amazing powers. It was able to move, glow and replicate. The monk brought the relic to the king of Sukhothai.   The king did not give a lot of importance to the relic (the king doubted the relic's powers). On the other hand, the king of Lanna heard about the relic and called the monk.  
The king told the monk to take the relic to Lamphun where the relic apparently split into two pieces.  One piece was enshrined there and the other was put in the back of a white elephant. The elephant climbed to the top of Doi Suthep and died shortly after arriving at the top.  The king saw the situation as a symbol and ordered the construction of the temple.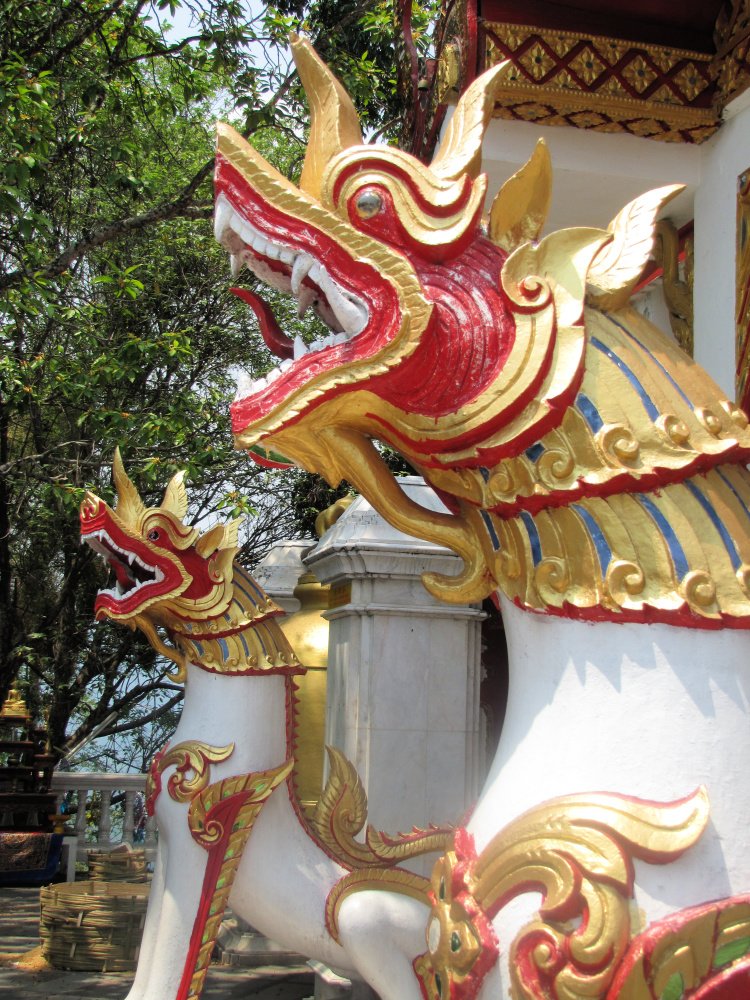 There are two ways to arrive in the temple from the parking lot area. You can take a tram or the stairs.  The stairs have many steps and they are beautifully framed by nagas. We decided to take the tram up and then the stairs down.

The main sight in the temple is the big Lanna style chedi where the relic of the legend is located.
Tip: Take socks to the temple since you have to remove your shoes to enter. Also, dress appropriately.

Wat Phrathat Doi Suthep is located about 7 miles (15 km) from the city of Chiang Mai. The temple is located at the top of the Doi Suthep Mountain and is surrounded by the Doi Suthep – Doi Pui National Park.  The road that leads to the top is well paved but is curvy and tricky.
Small and big buses are constantly making the route from Chiang Mai.  
Tip: I discovered that visitors like to go to the temple in rented motorbikes.  If you are not an experienced motorbike driver, I don't think this is the best way to cover the route.  It was painful to watch a lot of motorbikes being almost passed over by big buses.
Remember that in Thailand driving is on the left.  This adds more danger to westerners trying to go by motorbike. If you want to be safe, arrange private transportation or use public buses.  I don't feel like this is the right situation to get adventurous.
Wat Chiang Man (Old City)

It is time to head to the city and see the most notorious sight located inside the wall. Wat Chiang Man is Chiang Mai's first and oldest temple.  Historians believe King Mengrai lived here when he was still planning and building the city.  They are able to date the founding of the city because they know the temple's age.
It is incredible but the temple was built around 1292.  We are talking about a more than 700 hundred years structure.  Imagine all the events that have witness those structures.

The oldest part of the temple is a bell-shaped chedi supported by a base of plaster elephants facing outward on all sides.  Nowadays, some of the elephants are not present anymore because of the delay involved with time. From all the structures and buildings I saw in Thailand, this is one I remember as unique.  The elephant details are so lovely. Of course, for Thais elephants are special creatures.

The other structures in the temple are excellent examples of buildings decorated in the Lanna style (remember that Chiang Mai was ruled by the Lanna kingdom for many years).  In summary, the Lanna style can be recognized by the abundant use of red lacquer, the emphasis on red roofs and the utilization of multicolored tiles of mirrored glass.
The wiharn at the north end of the complex shows the typical Lanna style.  Almost all the surface of the building, including the stairs, is decorated with sparkling mirrors.  A wiharn is a building housing an important Budhha statue. The Thai temples often contain one or more wiharns.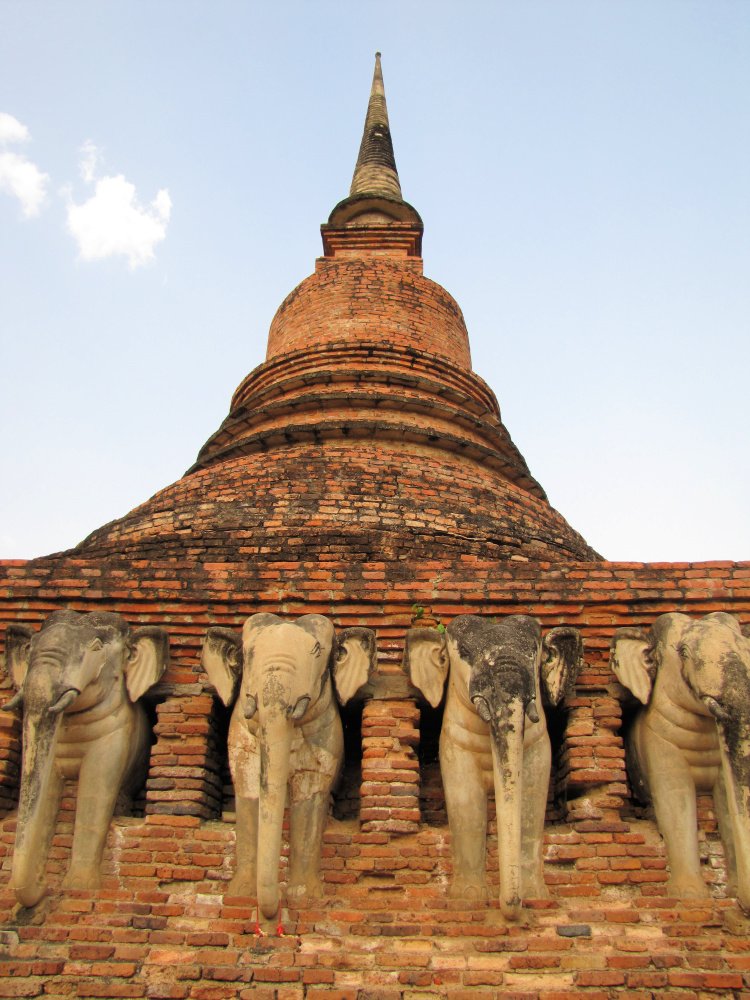 Dinner and Cooking Demonstration
During my visit to Chiang Mai, I had the opportunity to have dinner at a private home.  The family's house was made of teakwood. It was interesting to notice that the residence was owned by a middle-class family.  I can't imagine how the houses of the upper classes are.

The evening was fantastic.  We were received by the house owner and her daughters.  They offered us appetizers and a cooking demonstration. One of the appetizers was particularly interesting.  We were presented with a tray full of different garnishes like coconut, peanuts, shallots, lemongrass, garlic and limes with their skin (everything was cut into little pieces).  
Then, we were supposed to put what we wanted on a leave (I can't remember the type of leave), roll it and eat it.  I was a little bit hesitant to try at first but my husband insisted. I felt such a burst of flavor in my mouth. This is a case for trying all foods at least once.  Limes with skin anyone?
While in the city, I recommend arranging a similar experience.

Night Market
Well, we didn't end the evening there.  Once we went back to town, we pay a visit to the Chiang Mai Night Bazaar.  This is an incredible place. Get prepared to find a vast array of goods and services (including foot massages, love those). It is a good idea to look for a good plate of Khao Soi, one of the best-known dishes of the area.
Day 6 – Chiang Mai
Chiang Mai has a fantastic vibe.  For years, it a has been a digital nomads and backpackers paradise.  On this day you can choose to stay in the city enjoying more of its Old City, markets, cooking schools, yoga classes, quirky cafes, and unique dishes.
If you want to check nearby attractions, head to Wiang Kum Kam, an ancient city dating back to the eight century or Bo Sang, the village where umbrellas are made by hand.
Day 7 – Chiang Mai
I would fit an extra day in Chiang Mai in order to fit an excursion or day trip.
A lot of people visit Chiang Mai because they want to have close encounters with elephants.  I am not sure you have heard but several Thai elephant camps have been under fire because of controversial practices and improper animal treatment.
If you want to interact with elephants, do your own research and find a place with ethical practices.  There are full day tours leaving daily from the city.
And, I want to mention that operators offer tours to visit hill tribes villages.  If you are interested to learn more about these minorities, make sure you are participating in something where a cultural interchange is the main goal.  Several of these tours do not respect human dignity.
Nature lovers opt for booking a tour to Doi Inthanon, hiking around town, whitewater rafting or, ziplining.
Day 8 – Chiang Rai
It is time to move even further north.  The ride from Chiang Mai to Chiang Rai takes about 3.5 by bus.  If you have a rental, the drive can be done in 3 hours.
Currently, there is only one bus company making the trip so, there is not really an option.  However, travelers agree the service is good and reliable. Try to leave Chiang Mai as early a possible to make the most out of the day.
Golden Triangle and the Hall of Opium
The Golden Triangle area has been given this name because it is where the countries of Thailand, Myanmar (Burma) and Laos meet.  The countries' frontiers are delineated by the Mekong and Sob Ruak rivers.
I recommend booking an excursion to learn more about the fascinating history of this area.  Plus, who would not want to explore the legendary Mekong River?
This area has always been notorious for its opium cultivation.  Even though it is illegal to cultivate opium nowadays, there are still many shady operations in the surroundings.  The mother of the previous Thai monarch contributed to the construction of the Opium Hall, a museum designed to illustrate the history of opium and to show the social, economic and physical impact of illegal drugs (or what is considered illegal drugs in many countries).
To be honest, I wasn't expecting much of this place.  I have to admit I was wrong. The place ended up being really informative and interesting.

I didn't know about the role opium had in Chinese history.  Many still associate the use of the drug to the loss of Hong Kong and the economic obscurantism the country endured for many years.  
I also learned how opium was the primary pain killer before the invention of aspirin.  The problem was the dreadful secondary effects (addiction) associated with the drug. Labs all over the world raced to discover an alternative.  I think it would be an attractive place for those interested in drugs legalization debates.
Mekong River Cruise

To digest all the acquired new knowledge, we moved to another location in the Golden Triangle.  Because this is a border area, you can find many markets, temples, and shrines. Of course, the mighty Mekong is probably the most famous attraction in the area.  
I am sure you have heard about this river of mythical proportions.  It is born in the Tibetan Plateau and, after touching six countries, it meets the ocean south of Ho Chi Minh City, Vietnam.  With all this said, it is no wonder I was really excited about a river cruise we were going to take. The idea was to board the boat in Thailand, navigate upriver to see the Burma side and then navigate downriver to disembark for a little while on the Laos side.
DonXao, Laos
As mentioned,  we stopped at DonXao, Laos.  This was a quick stop to take a look around.
The Laos side offered some attention-grabbing culinary adventures.  Culinary is probably not the best word to use in this case but right now, I can't think of anything else.  I guess you get my point. There were some unusual things to eat (like elephant dung larva).

Then, there was the snake or scorpion liquor.  For what I was explained, the animal is placed alive in a bottle and then the container is filled with the liquid.  The resulting beverage is said to be aphrodisiac. The bottles were everywhere. It wasn't the most pleasant situation for me.  I hate snakes and seeing one every time I turned my head was a thousand lights years away from my idea of fun.

Overall, it was an interesting visit.  I don't consider this a proper visit to Laos.  I hope to do a more extensive visit in the future.  
Mekong Sunset
While returning to the Thailand side, we were able to admire the sunset from the river.  Well, not every day you have the opportunity to observe the sunset from the Mekong River while surrounded by three countries.   A magical ending for a fantastic day.
Day 9 – Chiang Rai
On our second day in Chiang Rai, we decided to take an all-day excursion in order to see as much as possible.  I want to share my experience because I enjoyed the places we visited and learned a lot about the area.
Akha Village
We started by visiting an Akha village.  The Akha are one of the six main hill tribes of Thailand. The population of this group is estimated to be around the 500,000s and they are distributed among China, Myanmar, Laos, and Thailand. Civil wars in Laos and Myanmar forced large numbers to move to Thailand in the early part of the 20th century.

Most Akha live in the Thai northern provinces of Chiang Mai and Chiang Rai.  Their villages are found at high altitudes and they can be visited on trekking tours.

Note: I already elaborated on the ethics of visiting hill tribes in Thailand.  Do some research before booking tours.
In the tour I took, we visited the Akha in their proper surroundings.  We were able to take a look at their houses and how they live. An elder gentleman showed us his house.  Additionally, the women showed us how they cook.

They also showed us their weaving skills. I felt privileged to admire the beauty of the Akha people. I really wanted to stay in the village learning more about their traditions and culture.  
Doi Mae Salong
We continued climbing the mountains of the Chiang Rai province in a small, open vehicle.  Suddenly, we started to contemplate the undulating lines of tea plantations. We were heading to a small town called Doi Mae Salong.  The actual name of the town is Santikhiri which means "hill of peace."  However, it is mostly known by its former name.

Doi Mae Salong may be small but it is notorious for a unique combination of culture and history.  Once you start walking around town, you start to find a lot of Chinese elements. Well, the thing is that the town inhabitants are not ethnic Thais; they are Yunnan Chinese.  The original settlers of this area were part of a political party opposed to the communist takeover of China.

Even though the early settlers arrived more than 50 years ago, the current villagers are true to their ethnic roots and values.  As I said, the town looks like a slice of China in Thailand. From time to time, new migrants arrive from China. This contributes to the enforcement of authentic traditions and community.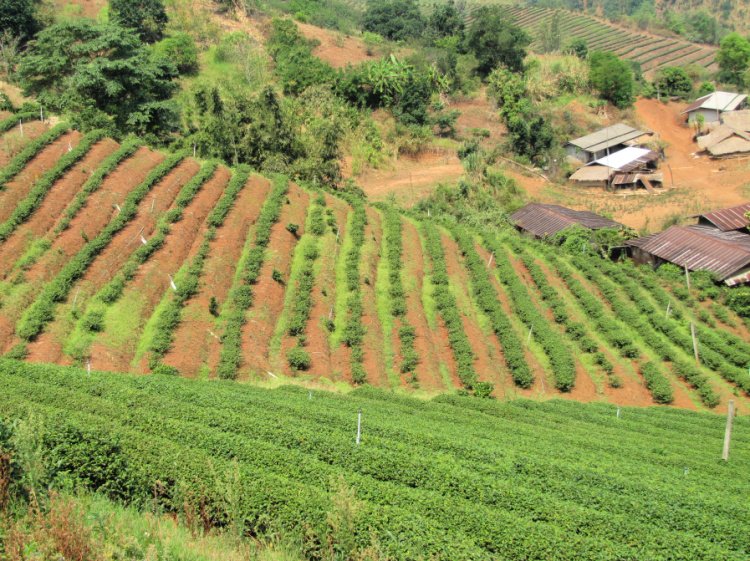 Today, Doi Mae Salong is renowned for its orchards, tea plantations, and herbs.  We visited a tea plantation where the elaboration process was explained. Believe it or not, all types of tea come from the same plant or leave.  
The leaves are exposed to different processes (fermentation, wilting, etc.) and that is what yields the different varieties.  Also, actual tea is the product of the Camellia Sinensis plant. The word tea has been given other meanings. We call tea any liquid prepared with some leaves (or spices) and hot water.

I also learned that the words tea and chai have the same meaning.  Both refer to the hot beverage but have origins from two different Chinese dialects.  So, in some countries, the beverage is called tea and in others chai (it depends on what word was introduced first to a country's language).  
Therefore, when you go to Starbucks and order a chai tea, you are really mentioning the word tea twice.  You are asking for a tea tea. The correct name of the beverage is Masala Chai which has an Indian origin.  I found all this quite interesting.
Myanmar Crossing

The last part of the tour consisted of crossing the border into Tachilek, Myanmar.

If you are a westerner, you need a visa to visit Myanmar.  Because this border crossing was short and we were not moving deep inside the country, we just needed a special permit.  The guide arranged everything for us.

Once the border was crossed, transportation was awaiting us.  The vehicles waiting for us were motorized rickshaws (they are different from tuk-tuks).  Our drivers gave us a ride around the city. The difference between Thailand and Myanmar is evident. I was surprised at how even the two nation's alphabets are so different.

The first stop in our little tour was the Tachilek Shwedagon Pagoda.  This is a copy of the famous Shwedagon Pagoda located in Yangon.  Yangon is the most important of Burmese cities (for many years it was the capital).  The pagoda there is the most sacred in the country.

At least, we were able to enjoy the beauty of this pagoda in here.  The whole complex is well kept and charming. You can take your time admiring the structure.  Additionally, the whole compound is at a high point so you can see the whole city from there. You are not going to observe skyscrapers or extremely high buildings.  But you can see architecture styles differing from the ones in Thailand.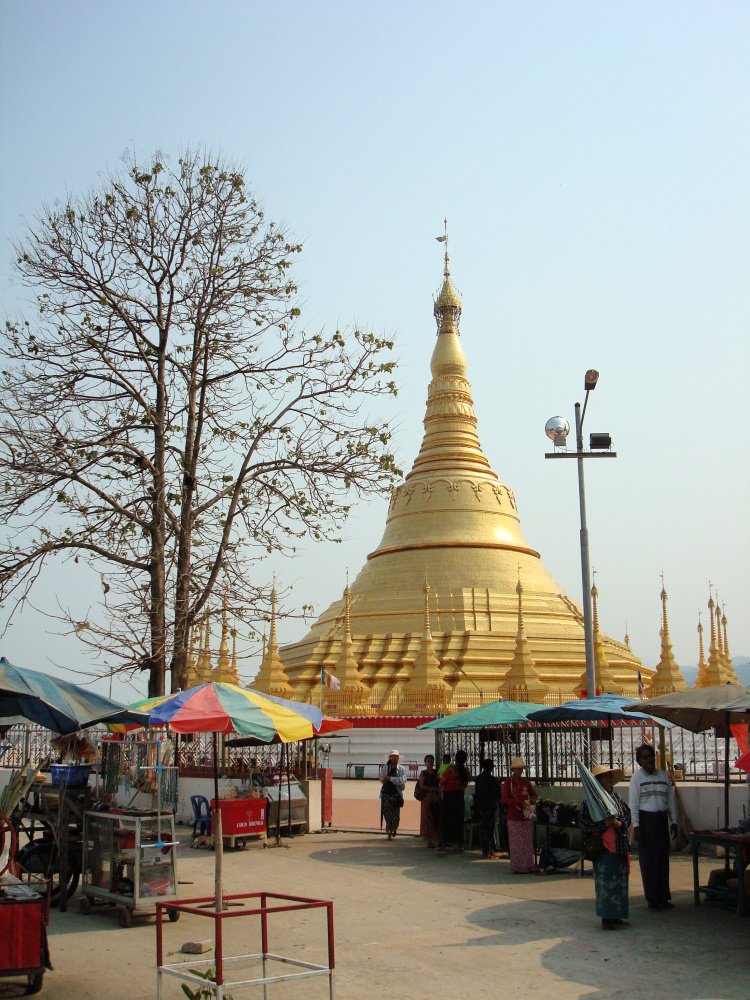 Our second stop was a beautiful and simple temple.

The third stop was the local market.  It is always interesting to visit the market but this is not a common selling area.  The place was even different from the ones I visited in Thailand.

We started to take a look around the fruit area.  There was a great abundance of mangoes, longans, rambutans, and mangosteens.

After we saw the fruit are, things started to change.  We saw insects, whole animals (I am referring to species like deer and beaver) and live rodents and eels. Things were different here indeed.
Other Chiang Rai Excursions
I have provided a sample of what I did nearby Chiang Rai.  You can pick up an activity that fits your preferences (trekking, arts, crafts, detailed Mekong cruises, etc.)
Day 10 – Chiang Rai to Sukhothai
On the morning of day 10, it is time to leave Chiang Rai and headed to Sukhothai, Thailand's first capital.  The trip would take most of the day.
Buses take 8 to 9 hours to arrive (via Lampang).  If you have a car rental, travel time is about 6 hours.  You can break the long drive with stops in Phayao and Phrae.
Head to the Sukhothai Historical Park for sunset (if you make it in time).
Day 11 – Sukhothai
Sukhothai Historical Park
Most of the day should be spent seeing the main attraction at the Sukhothai Historical Park.

This was the center of the great Sukhothai kingdom which lasted from 1238 to 1583.  This monarchy controlled parts of present-day Thailand, Laos, and Vietnam.

The kingdom flourished during the reign of the third monarch.  He is known as Ramkhamhaeng the Great. He is credited with the creation of the Thai alphabet and the establishment of Theravada Buddhism as the official religion of the empire.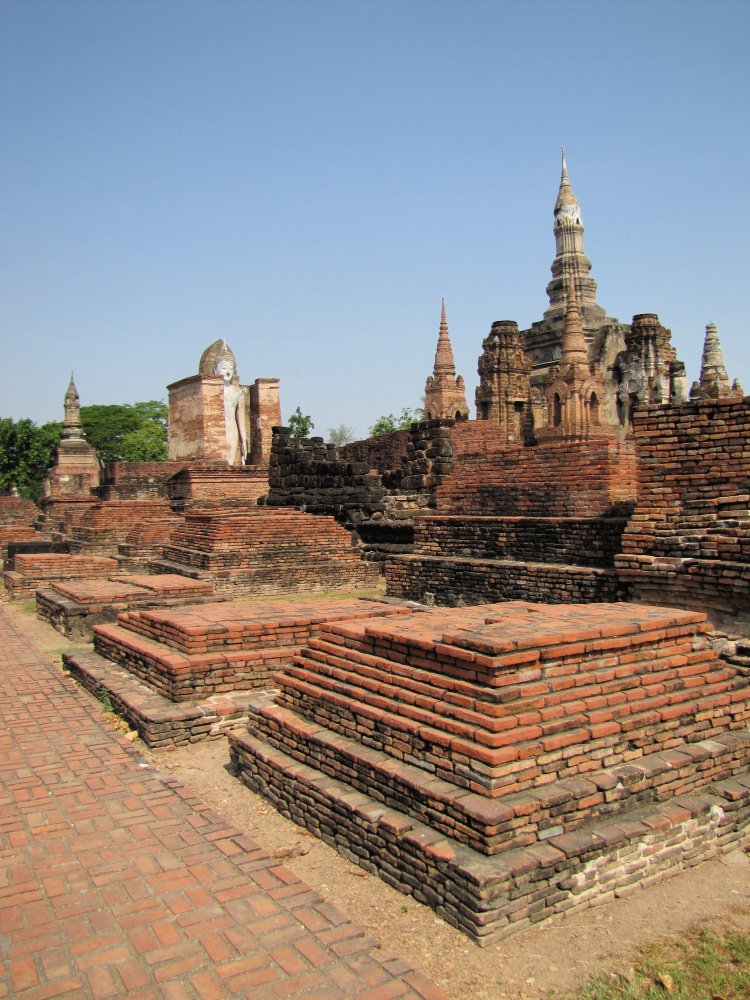 The Sukhothai Kingdom wasn't a dominant power for very long. Once Ramkhamhaeng died, many parts of the kingdom started to break away.  What was left, submitted to the prevailing Ayutthaya (which is Thailand's second capital).

What is left of the old capital is located about 6 miles (12 km) from the more modern Sukhothai.  The remains of the one glorious empire headquarters are now ruined and have been declared a UNESCO World Heritage Site.   I have read that there are 193 ruins in the area. There is even a ruined temple behind the hotel where we stayed. We had a guided tour of the most important sights.
After taking a good look at the main structures, we went directly to the bicycle rentals.  For less than two dollars you can rent a bicycle to wander around the ruins. A lot of people skip Sukhothai completely.  The ones who make it, take a look at the main temple ruins and leave. But the Historical Park, which comprises the remaining of the old capital, has more to offer.  That is why we decided to rent bikes to take a deeper look around.

Everything inside the park has an attractive appeal.  The place is full of ruins, Buddha statues, moats, chedis, and bridges. There is even a Khmer influence structure. You stroll under the shade of the trees and stop by hidden structures.  I guess you can get your Indiana Jones fantasies fulfilled while discovering the place.

Day 12 – Sukhothai to Ayutthaya
After leaving enchanting Sukhothai, head towards Thailand's second capital, Ayutthaya. This is another long day.  So, get prepared to have some downtime.

Ayutthaya was the second capital of the country and after more than 400 years of glory, the Burmese burned it in 1767.  It was in here where the Thai culture and customs bloomed. Sources affirm that 33 kings reigned from here. The remains of the once magnificent capital are now part of a Historical Park and UNESCO has declared the place a World Heritage Site.

Once in the area, you can visit Wat Chaiwatthanaram.  This is a Buddhist temple at the west bank of the Chao Phraya River and it is one of the most famous structures in the Historical Park.

The temple name means "temple of long reign and glorious era".  The architectural style is Khmer. The central prang (carved, finger-like spire) has 35 meters of height. The central platform is surrounded by 8 chedi shaped structures.   
The cool part is that it is permitted to climb the main prang.  The steps are tricky because they are kind of eroded because of the exposition to the elements.  However, it is not a difficult climb. I always like to see things from the top. It was fantastic to take a look at the surroundings from the high point.
Day 13 – Ayutthaya and Bang Pa-In Palace
Bang Pa-In Palace
Spend the morning seeing more of Ayutthaya and then proceed to the Bang Pa-In Palace, the summer palace of King Rama 5.  It is located about 15 miles (30 km) from Ayutthaya on an island over the Chao Phraya River. The construction of the palace was started during the late Ayutthaya period.  When Ayutthaya was burned and sacked by the Burmese, the place was deserted.

Once the Chakri dynasty was founded (the current reigning Thai Dynasty), the palace was restored and extended.  The architectural styles are all over the place. There are Chinese, Khmer, Thai and European influences. This is really interesting.  You can be admiring a Chinese style structure one minute, then you turn around the corner and you can find a European style building.

Some structures stand out from others.  For example, Wehart Chamrunt (Heavenly Light).  This is a Chinese-style royal palace and throne room.  After observing the particular Thai architecture, I was not expecting to see a Chinese style palace.  All the materials for this building were brought from China.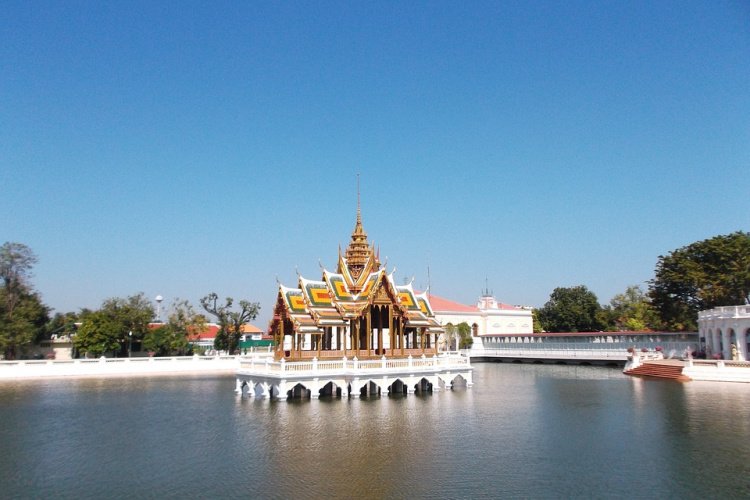 And of course, my favorite structure in the whole complex, Ho Withun Thasana (Sages' Lookout).  This is a brightly painted lookout tower which was used to look at wild animals.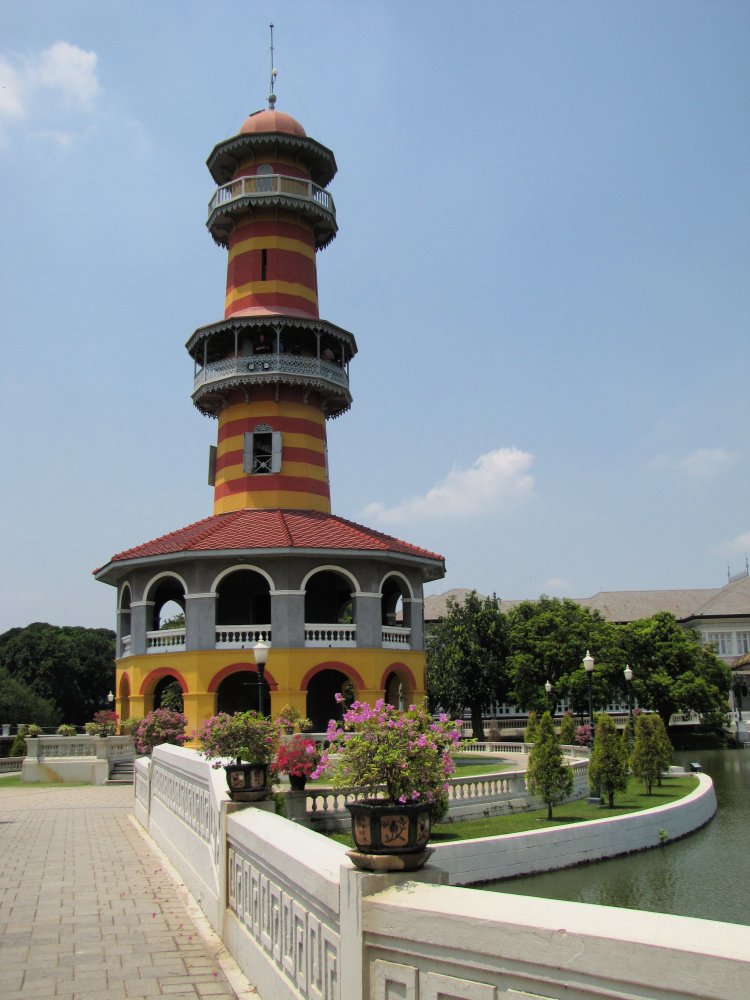 Not a lot of foreigners visit this place but it is worth a stop.  I am still amazed by the lookout tower. For some reason, I like that building a lot.  Maybe it is because how different it is. Well, the whole place is different. That is what amazes me of Thailand.  There are so many places to discover.
Chao Phraya Cruise
After taking a look at the beautiful summer palace of King Rama V, we headed to Bangkok.  Let me tell you we didn't arrive in the usual mode of transportation. Instead, we arrived in style on a ship!!! Close to the summer palace, we boarded a medium size ship that was taking us to the capital.  Ayutthaya is located on the Chao Phraya River banks just like Bangkok. Therefore, the waterway connects the old and new capitals.

Lunch was served on the ship and we were able to observe temples, houses, and people conducting business on small boats along the river banks.

Things started to change once we got closer to Bangkok.  The traffic on the river is as dense as the traffic on the streets.  Big boats and ships started to pass next to us. Others just crossed our path.

Once again, we were able to see the Grand Palace and Wat Arun.

Moving a little bit further revealed the new Bangkok, one full of modern and posh buildings.  Buildings full of charm and grace. At one point, we were able to see the whole skyline. At that moment, I understood why is known as the City of Angels.
After disembarking, we headed to the hotel and spent the evening in one of the city's night markets.
Day 14 – Bangkok
Well, this is your last day in Thailand. You can use it to relax, do some shopping or revise your favorite spots. I have already provided plenty of ideas for your time in Bangkok.
Day 15 – Return Home
All good things come to an end.  Say bye to Thailand (for now) and head back home!
2 Weeks in Thailand – Alternate Itinerary
I am providing an alternate itinerary since I am aware a lot of people planning a trip to Thailand are interested in visiting the beaches and islands.
This is a possible alternative:
Enroute to Thailand (Day 1) -> Bangkok (Days 2, 3, 4) -> Chiang Mai (Days 5, 6, 7) -> Phuket (Days 8, 9, 10) -> Krabi (Day 10) -> Krabi (Day 11, 12, 13) -> Bangkok (Day 14) -> Go back home (Day 15)
The first seven days of this alternate itinerary are identical to my detailed itinerary.  On day 8, you will need to take a flight from Chiang Mai to Phuket. On day 11, you will transfer to Krabi (by bus and ferry) and on day 14 you will return to Bangkok.
Or, you can follow this itinerary:
Enroute to Thailand (Day 1) -> Bangkok (Days 2, 3, 4) -> Chiang Mai (Days 5, 6, 7) -> Chiang Rai (Days 8, 9) -> Phuket (Days 10, 11, 12, 13) -> Bangkok (Day 14) -> Go back home (Day 15)
The first nine days are identical to my detailed itinerary and you fly to Phuket on day 10.
Best Season to Visit
The best time to visit Thailand (especially the beaches) is from November to April.  The rest of the year is considered the rainy season and major storms can affect travel plans.
If you are staying away from the beaches, May and October (shoulder season) may be good times to go.
Take into consideration April and early May are the hottest times of the dry season.  We are talking of temperatures over 100 degrees Fahrenheit. This may sound like nice beach weather but it would be a pain in big cities.
Festivities
When planning your trip, it does not hurt to check if you will be visiting during a major holiday.  Chakri, Labor and Coronation Days can completely affect your planned activities.
One of the major festivities of the year, Songkran (Thai New Year), last several days.  Entire cities participate in huge water fights. This event may disrupt your trip. Businesses are going to be closed and people will be throwing water at you even if you do not want to participate.
Safety Issues
Thailand is well-known for its safety.  However, that doesn't mean people would not try to take advantage of you.  Be aware since there are several scams taking place all over the country.

Never, never trust people that seem to appear out of nothing.  Moreover, beware of people who are standing alone around touristic areas, speak perfect English and offers you free tours around the city. They will take you to stores and pressure you to buy.  It is very complicated to get rid of them.
We were approached by this type of crooks when visiting the palace, Wat Pho, Wat Arun, and other popular sites.  
Do not believe people who tell you an attraction is closed.  Research openings and closing times and go with that.

If you need help, direct your questions towards people who are walking around (preferably people who are in groups or with their families), police officers or employees of a particular attraction.  If it is possible, find a touristic information office.

Never use transportation hailed by total strangers.  Ask taxi drivers to use the meter.
Use reputable companies to book tours, excursions, and transfers.  There have been cases where visitors "book" something and do not receive the service.
___
Hope you have enjoyed this 2 weeks in Thailand itinerary. Have you been? What would you add?
If you enjoyed this post, remember to share!
Pin "2 Week in Thailand Itinerary" for later!