If you want to sample the best dishes of the Coachella Valley under one roof, head to the Palm Desert Food Festival
I can't believe this time of the year arrived.
We had the opportunity to attend, for the second consecutive year, the fabulous and marvelous Palm Desert Food & Wine Festival.
I was beyond excited to try again the best bites from the most prestigious restaurants in the area.
The festival, organized by Palm Springs Life (magazine), was a celebration of the culinary sophistication existing in the Coachella Valley area (Palm Springs, Palm Desert, Rancho Mirage, La Quinta, etc.). In addition, chefs from around the country contributed their expertise to the educational purpose of the event.
The celebration took place in what is known as the 'Big White Tent' on the intersection of Larkspur Lane and El Paseo (Palm Desert's premier shopping area often compared to Beverly Hills).
The festival began with a James Beard 4-course gourmet luncheon (Friday) and continued with 'Grand Tastings' (Saturday and Sunday).
Here is a comprehensive review of what happened during the weekend.
VIP Hour
The event started with caviar served over blinis, prime rib over pea puree and a cooking demonstration by Gale Gand, a James Beard Award winner.
Palm Desert Food Festival – Grand Tasting
I have to admit that in a battle against food festival vs. Ruth, this time, the food festival won all the rounds.
I discovered a different side of things I do not like (ex., pears, figs).  These chefs reignited my desire to try new things (and cook new things too).
Everything I tasted was flavorful (beyond flavorful I should say) and fresh.  So sad, I got full so fast (but I tasted everything!)
The atmosphere was jovial due to the well curated musical selection, the friendly restaurant representatives and the brightness of fellow attendees.
Here is a sample of what we had.
Caramel popcorn and chocolate toffee bar from Brandini Toffee
Delicious Mediterranean pita from Clementine Gourmet Marketplace and Café
Variety of fresh bread from Sadie Rose Bread Co.
Sushi and Fish Ceviche from The Venue Sushi Bar
Prime rib and lobster mashed potatoes from The Steakhouse
As usual, one of my favorite samples was from Roy's Hawaiian Fusion Cuisine.  They were serving super tender octopus over rice.
Sauteed Wild Mushrooms from Lantana
Ceviche tostadas from Three Sixty North Bar & Grill 
Hacienda Cantina & Beach Bar served chorizo tostadas with black beans and arugula
Dates with Blue Cheese and Almonds from Cork & Fork
BluEmber set the bar high by serving sashimi style tuna marinated in citrus soy sauce and topped with mango salsa.  They also served two stunning deserts.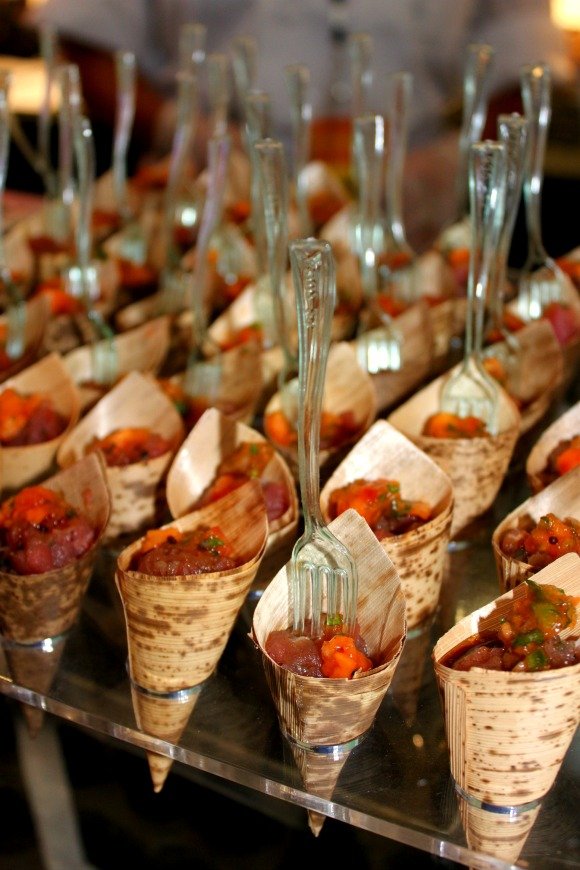 Cheesy potatoes from Fleming's 
One of my favorite tastings came from Marriott Desert Springs.  The salmon tartare was delicious.  They also served a desert with a good balance of creamy, sweet and crunchy elements.
Another knockout dish came from Balisage Bistro.  They had grilled salmon, shrimp and lamb skewers (oh, so soft and tender).  The proteins were served with a fruit pilaf and fig cake.  That fig cake has stuck in my memory (and I do not even like figs).
The dumplings from Legacy Thai Cuisine were delicious!
In addition, I enjoyed the biscuits with the triple berry and strawberry jams from Wilma & Frieda's Café
The breakfast theme continued with waffles from Broken Yolk Café 
And, what is a food festival without chocolate.  I had the opportunity to try the chocolate made from the lovely ladies at BJS Chocolates. 
Chef Demonstrations
This year I learned a lot form the chef demonstrations.
I saw Chef Jennifer Town from the purple Room preparing a purple poached pear salad (with goat cheese mouse, arugula and spiced pecans).  She distributed recipes and I am definitely want to give it a try.
I attended Chef Lulu Powers demonstration too.  She prepared grated coconut balls, roasted carrot hummus and squash salad with cashew crumble. Her food is so simple to make yet so flavorful.
Palm Desert Food Festival – Vendors
There were several vendors offering goods such as books, sweets and handicrafts.  Even though the vast majority of the room space was dedicated to food and drinks, there were interesting goods offered.
Sarabella Tuscan Jars
Olea Farm
Coast to Coast Cruises
Savory Spice Shop
Sponsors
Celebrity Cruises participated  as the official glass sponsor for the second year in a row. The cruise company provided tastings of world-class wines (some that are served onboard) sampled in Celebrity Cruises logoed wine glasses, including California's oldest run winery, Gundlach Bundschu.
In addition, guests had the opportunity to win instant prizes and take home a gift bag with articles such as wine charms and recipe books.
Suggestions
For maximum enjoyment, visit on Saturday.
If you want to avoid the big crowds, go on Sunday.
Deal with hot weather by wearing light clothes.
Take a backpack or big bag to save all the promotional materials and goods given by the sponsors.
There is free parking right in front of the venue.
Take a look at my review of last year's event here.
Have you experienced the Palm Desert Food Festival?
Disclosure: I attended the event with a media pass.  However, all the opinions expressed here, as always, are my own.