Interested in learning more about El Salvador? This post discusses fun and interesting facts about El Salvador!
How much do you know about El Salvador?  This small country in Central America does not receive the attention it deserves.
Many years ago, I married a Salvadoran.  As an outcome, I have lost count of the times I have visited the country.  And, you know what? I love it in there!
Even though I have been there more than 10 times, I feel like I have only scratched the surface.  There is so much I still want to see, do, eat and experience in El Salvador.
The truth is that El Salvador is more "developed" and varied than many people think. Since I am not visiting anytime soon, I want to celebrate the "Pulgarcito de America" by sharing a good number of interesting facts with you.
Enjoy!
General Facts About El Salvador
Fact #1
El Salvador is the smallest country in Central America and the only one without a Caribbean coastline.
The country has an extension of 8,124 square miles.
Fact #2
El Salvador is known as the "Land of the Volcanoes" because of the more than 20 volcanoes in the territory. Some of them can be visited or and even climbed (like the Santa Ana Volcano). Two of them are currently active.
And, talking about volcanoes, check out the comments section if you want to learn more about the government agency in charge of studying the country's vulcanology.
Many people have written me to tell me El Salvador has 177 or over 200 volcanoes.  These numbers are based on a text written in the early 70s.  Modern GPS and survey technologies trump over this 45+ years old text.
Fact #3
The modern name of the country comes from conquistador Pedro de Alvarado who named the area,"Provincia De Nuestro Señor Jesus Cristo, El Salvador Del Mundo."  The name was later shortened to El Salvador.
The official name is Republica de El Salvador (Republic of El Salvador). The capital city is San Salvador.
Fact #4
El Salvador has a population of 6.4 million in an area slightly smaller than the state of Massachusetts (or Wales).  This fact makes El Salvador the most densely populated country in the Americas.
Fact #5
El Salvador was part of the Federal Republic of Central America from 1823 to 1841.  Hence, the five volcanoes and five flags in the national shield (they represent the 5 core Central American countries: El Salvador, Guatemala, Honduras, Nicaragua, and Costa Rica).
Note: Nowadays, we have two additional countries in Central America; Belize (which was part of Guatemala) and Panama (as part of Gran Colombia). The Republic of Central America included the Mexican state of Chiapas as well (it was part of Guatemala).
Fact # 6
The country became Republica de El Salvador (Republic of El Salvador) when the Republic of Central America dissolved.
Fact #7
The rainy season (May to October) is called winter (invierno) even though those months are considered summer in the Northern Hemisphere (this is so confusing to me, it took me some time to assimilate it). 
On the same note, the dry season goes from November to April.  This is a great time to visit since rain is minimal (but go prepared) and the weather is pleasant.
Fact #8
El Salvador is the only country in Central America that has no visible population of African descent. This is in part due to laws established during colonial and modern times prohibiting entrance to the country of people of African descent.
Note:  I am not saying there are not people of African descent in the Republic of El Salvador. The fact simply states that the population of African descent in El Salvador is significantly less than in other countries in Central America.
Fact #9
Various indigenous groups such as the Mayas and the Lencas inhabited El Salvador's territory during pre-Columbian times.  However, the country was "conquered" when the Spaniards took control of the Kingdom of Cuzcatlan inhabited by the Pipiles (a group descending from inhabitants of the Mexican Central Valleys).
Fact #10
64% of the population lives in urban areas.  The biggest cities in the country are San Salvador, Soyapango, and Santa Ana.
Fact #11
Salvadorans are extremely friendly, warm, and welcoming. Your heart will feel like exploding once you experience the kindness of Salvadorans.
Language Facts About El Salvador
Fact #12
Salvadorans are known as "guanacos."  There are many versions about the origin of this nickname.
Fact #13
Spanish is the official language but Nahuatl is still spoken in some regions. Nahuatl was spoken by inhabitants of the Central Valleys of Mexico too (for example, the Aztecs).
Fact #14
Salvadorans use voseo like Argentineans and Uruguayans (they use "vos" as the second person pronoun instead of "tu").
Fact #15
Some words used in El Salvador include chucho (dog instead of perro), chuco (dirty instead of sucio), pisto (money instead of dinero), and salu (goodbye instead of adios).  A lot of words unique to El Salvador are "nahuatlismos" (Spanish words derived from Nahuatl)
It is a good idea to learn some Salvadoran slang (even if you are a Spanish speaker) before visiting El Salvador.  If you are interested, here is a list of Spanish words of Nahuatl origin.
Fact #16
If you have spent some time in other Latin American countries, specifically Mexico, do not assume words in El Salvador have the same meaning as in other countries.
For example, a quesadilla is a type of cake in El Salvador (not two flour tortillas filled with cheese and other ingredients).  Or, an empanada is a dessert made with mashed sweet plantains (not a turnover).
You get the idea.
Fact #17
If you are visiting El Salvador, do not expect locals to dominate the English language.  Youngsters, people who have lived in the United States, and people residing in heavy touristic areas (El Tunco, El Zonte) may understand and speak English.
Do not let the language barrier change your plans to visit El Salvador.  English or not, Salvadorans will get out of their way to help you.
Facts of El Salvador: Food
Fact #18
The national flower of El Salvador is called flor de izote.  This flower can be eaten pickled, steamed, or mixed with eggs.  It is a wonderful addition to soups too (and believe me, the flower petals are like candy to Salvadorans).  
Fact #19
The national dish is the famous pupusa (which dates from pre-Columbian times). A pupusa is a thick corn tortilla stuffed with a savory filling. It is eaten with curtido (pickled cabbage and other veggies) and tomato sauce (a watery version, sometimes it is spicy).
Pupusas can be found literarily in every corner.  I encourage you to try as many fillings as possible.  You can order them filled with cheese, refried beans, or a combination of pressed pork, cheese, and refried bean (these are called pupusas revueltas).
Do not miss the pupusas con loroco (a vine flower bud).  They are super delicious!
Fact #20
There are pupusas made with rice flour too. As a matter of fact, some say those are more delicious than their corn counterparts.  The town of Olocuilta is famous for rice pupusas.
Fact #21
The food in El Salvador is delicious! This is not an exaggeration.  The food is good (like in Mexico and Guatemala) because the recipes and techniques date back hundreds of years.
Another important factor about food in El Salvador is variety. There is so much to eat in the country beyond pupusas.  I recommend trying dishes such as gallo en chicha, sopa de gallina india, salpicon, panes con pollo, tamales de chipilin, and the typical breakfast (eggs, fresh cheese, refired beans, fried plantains, cream, and tortillas).
Fact #22
When visiting El Salvador, you may notice people drinking Kolashampan, an orange-colored, carbonated beverage.
You have to give it a try.  It tastes like a fruit called mamey (mamme apple) in the country.  And, if you have been to Peru, its flavor is almost identical to Inka Cola.
Fact #23
Other drinks popular in El Salvador include cebada, ensalada (pineapple or passion fruit juice served with pieces of fruit), horchata (different from the ones served in Mexico), and fruit juices (tamarind is very popular).
Fact #24
Coffee cultivated in the western part of the country is famous all over the world.  I have spotted coffee from El Salvador in several high-end coffee shops in Los Angeles.  A pound of coffee can be sold between $12 – $20 in the US.
Fact #25
Do not forget to try a minuta, the Salvadoran version of a snow cone.  You can get it in flavors such as tamarind, cherry, grape, mint, apple, and more.
They also have a treat called charamusca.  This frozen treat is created by pouring a flavored liquid into a bag and then freezing it.  You eat it by making a small hole in the bag and sucking what is in the interior.
Fact #26
Salvadoran liquors include Tic Tack (sugarcane spirit),  chaparro (made from white corn and panela) and Muñeco (sugarcane spirit too).
El Salvador Interesting Facts: Nature
Fact #27
The national bird is known as the torogoz (Turquoise-browed Motmot). Consider yourself lucky if you spot one (they are gorgeous!).  And, if you do not see a real one, well, their images are painted all over the place.
Fact #28
The national tree is the maquilishuat (tabebuia rosea) which turns completely pink when the flowers are in full bloom.
Fact #29
Tropical forest and overall forest cover have expanded in the last two decades making it one of the few countries experiencing reforestation.
Lately, I have heard about reforestation initiatives by the government.  So, the country is definitely improving in this area.
Fact #30
Four species of sea turtles make the coasts of El Salvador their home (hawksbill, olive ridley, leatherbacks, and green). 
Respect these beautiful creatures if you spot them on one of the beaches.  And, do not contribute to the decline of these species by eating turtle eggs or buying products made of turtle shells.
Fact #31
The country has declared five national parks: El Imposible, Cerro Verde, El Boqueron, Walter Thilo Deininger, and Montecristo. Try to visit them all!
El Boqueron is the closest park to San Salvador. The Walter Thilo Deininger National Park is located very close to the Puerto de la Libertad and Playa El Tunco.
Another place to visit is the Conchagua Protected Area.  From here, you can see spectacular views of the Fonseca Gulf.
Fact #32
Even though the country has tropical weather, snow has been spotted at the top of Cerro El Pital (the highest mountain in the country).
El Salvador Facts: Culture
Fact #33
There is one UNESCO World Heritage Site in El Salvador: Joya de Ceren.  This site was buried in ashes by a volcanic eruption and it is considered the "Pompeii of the Americas."
Fact #34
Other archeological sites include El Tazumal, Casa Blanca, Cihuatan, and San Andres.
My favorite site is El Tazumal.  You can find plenty of locals selling jade jewelry in the surrounding area (I am a big fan of rings and I have bought several there).
Fact #35
Salvadorans love a music genre called cumbia. You can hear cumbia blasting from speakers in houses, cars, and markets.  In the country, other genres such as rock, hip hop, and rap are popular too.
Fact #36
Oscar Romero (Monseñor Romero), a Catholic priest assassinated while giving mass in 1980, was El Salvador's first saint. 
Fact #37
At the time of this writing, Rutilio Grande is in the process of being beatified by the Catholic church.
Fact #38
Jose Castellanos, El Salvador's Consul General for Geneva during World War II, has been declared "Just Among the Nations" for saving about 40,000 Jews from the Nazis.  He did this in conjunction with a Hungarian businessman.
Fact #39
Fernando Llort is one of the most famous artists in El Salvador.  He taught residents of a small town called La Palma how to make a living out of art and crafts.  Llort's legacy is alive all around the country. You will find his unique motifs in all sorts of goods (purses, backpacks, towels, etc.)
Fernando Llort passed away in 2018.
Fact #40
Antoine de Saint-Exupery, author of The Little Prince, was married to a Salvadoran called Consuelo.  The Rose in the story was inspired by her.
El Salvador Interesting Facts: Socio-Politics
Facts #41
El Salvador experienced a bloody civil war from 1979 to 1992. Some estimate 80,000 perished during the war.  This is a sensitive topic and I recommend not bringing it up if not necessary.
You can ask questions to tour guides (in a respectful way) or at institutions (like museums) dedicated to the topic.
Fact #42
After the Civil War, one political party controlled the country for over 20 years.  The country has started to experience a positive kind of change in the last 10 years (once a different political party took over).
Fact #43
The current president of El Salvador, Nayib Bukele, is one of the most popular head of states in the Americas.  He has been dubbed the "Millenial President."  He continues to draw attention to the country through the actions implemented by his government.
Fact #44
The U.S. dollar is the currency used in El Salvador.
Fact #45
Since June 2021, Bitcoin is legal tender in El Salvador.  This makes this country in Central America the first in the world to use a cryptocurrency as legal currency.
Fact #46
And, talking about Bitcoin, the beach town of El Zonte (maybe the poshest Pacific Ocean town in the country) is known as "Bitcoin Beach."  Since 2019, a non-profit organization has been promoting Bitcoin as a exchange medium in the town and surrounding areas.
Fact #47
Experts estimate that as many as three million Salvadorans live in the United States. The largest concentration is found in Los Angeles.  As a Los Angeles resident, I can tell you the Salvadoran presence is felt and has become part of what being an Angeleno means.
Fact #48
Los Angeles and San Salvador are sister cities. San Salvador other sister cities include Mexico City, Guadalajara, Medellin, Caracas, La Paz, Managua, Madrid, Montreal, Saint Petersburg, Panama City, Sao Paulo, Tel Aviv and Washington D.C.
Fact #49
Los Angeles has its own Salvadoran Corridor (along Vermont Avenue, west of Downtown).
Fact #50
Cell phone density is one of the largest in the world (135 per 100 persons).  I have witnessed this first hand since I know people with 2 or 3 cell phones. I have seen simple ones for $10 in the supermarket.
Interesting Facts of El Salvador: Economics
Fact #51
El Salvador has the third-largest economy in Central America (behind Costa Rica and Panama).
Fact #52
19% of the population lives with less than $1.25 per day.
Fact #53
Tourism is the fastest-growing sector of the Salvadoran economy.
There are a lot of initiatives trying to attract people interested in surfing, gastronomy, and culture.  The last time we visited, we took a free tour and visited specialized restaurants, coffee shops, and breweries.  Those were not part of the touristic offering a couple of years ago.
Fact #54
Beach towns such as El Tunco, El Sunzal, El Zonte, and Puerto de La Libertad are experiencing huge growth in terms of tourism.  The government is heavily investing in this corridor (the development is called Surf City). Some of these towns are part of the Central American backpacking route.
Sports Facts About El Salvador
Fact #55
The national soccer team has attended the FIFA World Cup two times.
Fact #56
The Cuscatlan Stadium can fit 45,000 people.  That makes it the largest stadium in Central America.
Fact #57
Many critics and journalists consider Salvadoran soccer player, Magico Gonzales as one of the best soccer players in history.  He played for many years for a team based in Cadiz, Spain.
Fact #58
El Salvador has a great National Beach Soccer Team.  They have played in World Cups and have been CONCACAF champions twice.
Fact #59
International surfing competitions have taken place in El Salvador because of its beaches.  It is common to see people with surfing boards at the international airport.  
If you want to feel the surfing and hipster vibe, head to the beaches located close to San Salvador (El Tunco, El Sunzal, Atami).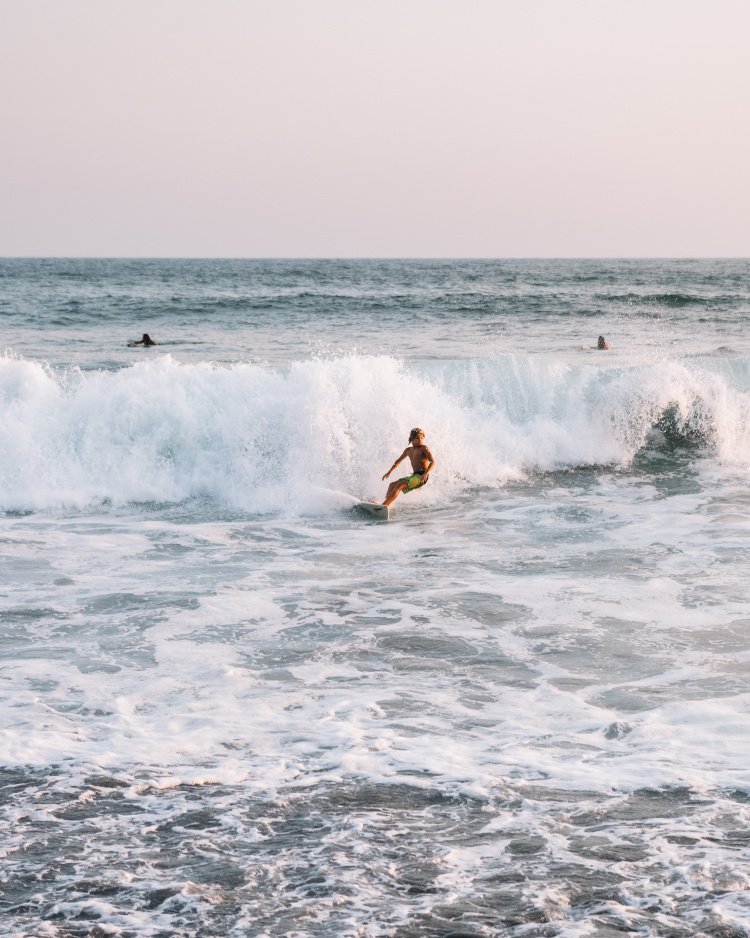 Frequently Asked Questions
If you want to learn even more about El Salvador, here are some of the most common questions I get asked about the country:
What is El Salvador known for?
Or, What is El Salvador famous for? / What are Salvadorans known for?
El Salvador is known for its pupusas, volcanoes and long waves (making them ideal for surfing).
Unfortunately, El Salvador is associated with violence as well.  However, more than ever, the government is working hard to make the country a safer place.
Where is El Salvador?
El Salvador is located in Central America (adjecent to Guatemala and Honduras).
Where is San Salvador?
San Salvador is located on the eastern-central part of the country, only about 20 miles of the Pacific Ocean.  
Who founded El Salvador? How old in El Salvador?
Pedro de Alvarado led the first expedition to the territory.  Then, the territory became an independent country after several political moves.
If we consider 1841 as the year of the country's international recognition, El Salvador is 180 years old.
What is it like to live in El Salvador?
Like with all countries, this depends on where you live and your means of subsistence.
I have friends who live in cities, have their own businesses or work for international companies. They own their house, send their kids to private schools and have disposable income.
Also, I have friends who live in rural areas where they perform seasonal jobs (like picking coffee) or go to the city to work.
And, of course, I have friends who live in the suburbs of San Salvador that have to be a bit more careful on how they move or who they frequent.
Is El Salvador a good country to visit?
"Good" is a relative term that can mean different things.  If you love food, culture, natural attractions and water sports, El Salvador is a great country to visit. 
More About El Salvador
El Tunco Complete Travel Guide
Food in El Salvador: Best Dishes, Desserts, and Drinks
The Colorful Town of Concepcion de Ataco
Exotic Fruits Discovered in El Salvador
What other facts about El Salvador would you add? Let me know in the comments section below.
Pin "Facts About El Salvador" for later!