Los Angeles is a monstrous metropolitan area full of sights, experiences, and eats.  A lifetime would not be enough to do and see it all (a bit of drama but you get the point).
So, what happens when you only have a day in LA?  
I know, it sounds crazy but, in a lot of instances, travelers and vacationers have to deal with a limited amount of time.  It may not be ideal but it is what it is.
For those, who count with a day in Los Angeles, I have prepared 4 itineraries detailing how to spend that amount of time Downtown. You can pick one or create your ideal version using ideas from several ones.
Therefore, make the most of your day and have a wonderful time in the City of Angels!
Please note: This article contains affiliate links, meaning I may earn a commission if you make a purchase by clicking a link. Of course, this comes at no extra cost to you and helps me to keep offering solid information to readers.
Who Are These Itineraries For
Before getting into details, let's make sure we are on the same page in here.  I designed these itineraries with the following in mind:
Those who have been previously to Los Angeles, seen the popular sights and are interested in seeing a different face of the city
First-time visitors who are not attracted by Beverly Hills or Hollywood.  They rather spend their time away from the crowds
Residents who want to get to know better the Downtown area
People interested in arts, culture, and food
First-time visitors can use the following article for planning purposes.
One Day in LA: Itinerary for First-Time Visitors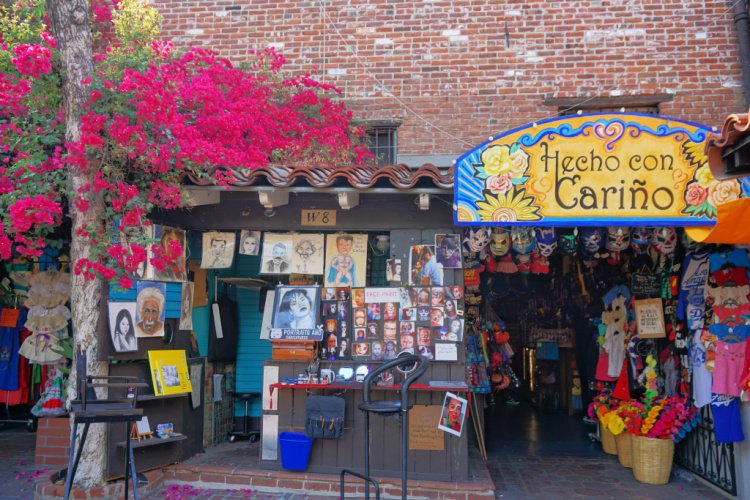 What to Keep in Mind
I am assuming you are interested in squeezing as much as possible on your day in Los Angeles. If that is the case, expect to move around and walk a lot.  For those interested in a relaxing day in Los Angeles, it is best to pick a (relatively) small area or neighborhood and take it easy.
This itinerary assumes you have an entire day in Los Angeles.  That means that you spent the night before in the city and are within close distance of the starting point.
Los Angeles is big.  If you are staying an hour away from Downtown (which is common for some visitors), you need to subtract the transfer time from the hours you have available to sightsee.
If Los Angeles is big, you can expect its heart, Downtown, to be big too.  Downtown Los Angeles can be seen as a circle created by the 10, 110 and 101 Freeways. In a day, you may be able to explore one or two areas within that circle.  
In spring/summer, you will have 12 to 14 hours of daylight.  In winter, daylight hours are shorter. You may need to adjust the itineraries described below depending on the season you are visiting.
You need to start sightseeing early (9 to 10 a.m.) I know, it sucks.  But, hey, I want you to make the most of your travel time.
These itineraries are doable with or without a car.  Anyway, if you have a car, I recommend parking it for the day and walk around.
Traffic in Los Angeles is terrible (it is one of the worst in the entire world).  You want to avoid freeways during rush hours (6:00-9:00 a.m., 4:00-7:00 p.m.)
I tried to provide as many free options as possible.  I believe you do not need to spend a fortune to have an excellent time.  So, I will tell you when an attraction is paid.
Sightseeing Gear
Get ready for a day of sightseeing by bringing the right gear.  Here is a list of the items I pack to explore cities and towns in California.
A Day in LA – Downtown Itinerary 1
This itinerary concentrates on the Civic Center and Bunker Hill area of Downtown Los Angeles. This itinerary is doable by foot.
Morning
Start your day by having breakfast at Blu Jam Cafe. This establishment, located at the Spring Street Arcade, serves dishes such as crunchy French toast, chilaquiles, huevos rancheros, and Benedict eggs.  This place is highly recommended since their food is really yummy.
If you want different fare for breakfast, the Arcade has other options for you.  For example, Guisados, a Los Angeles institution born in Boyle Heights, serves 15+ types of tacos (they open at 9:00 a.m)  I like to order their sampler plate, which includes 6 small tacos, in order to try as possible. Don't leave without trying their horchata.  I am not a fan of this drink but their version is one of the best I have ever had.
Another option is Don Francisco.  They serve strong coffee plus Cuban sandwiches and pastries.
With a full belly, proceed to The Last Bookstore (corner of Spring and 5th Streets), an independent bookstore full of fun displays and local art.  Spend some time browsing their two floors and checking out what is inside the vault (yes, they occupy the building of a former bank).
Now, it is time to walk about 4 blocks to City Hall.  This art deco building is a symbol for the city and visitors are encouraged to visit.  Turns out, you can access the observation deck for free. Enter the building by the back, pass metal detectors, hop in the elevator and get ready to see Downtown, different cities comprising Los Angeles County, the San Gabriel Mountains, Catalina Island, and the Pacific Ocean.
On your way down, stop on the 3rd floor to see the monumental rotunda.  Once outside, cross the Grand Park to reach the Music Center.  Remember to take pictures of City Hall from the top part of the park.
It is time to take a look at the Dorothy Chandler Pavilion and at one of the most celebrated buildings on the West Coast, the Walt Disney Concert Hall designed by Frank Gehry.  Walk around the building trying to find the most photogenic spot.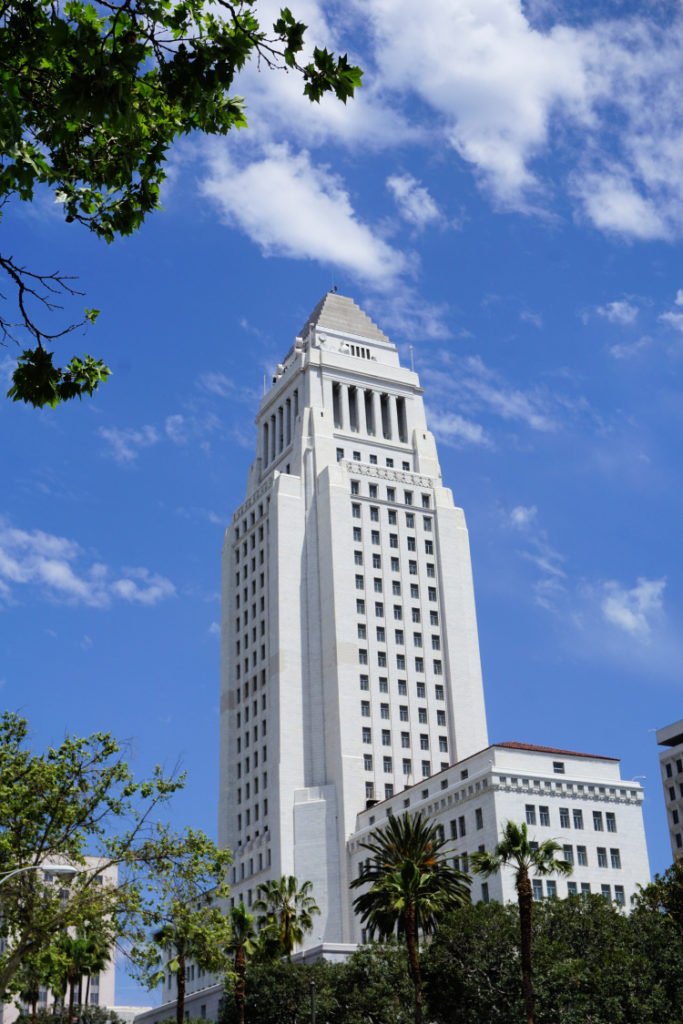 Afternoon
By this time, you may be hungry.  Close to the Walt Disney Concert Hall, you will find restaurants such as Kendall's Brasserie, Patina, and Otium.  Be prepared to pay a pretty penny on these restaurants.  They are the brainchild of some of the best chefs in Los Angeles.
For those on a budget,  walk a bit more on Grand Avenue and enjoy the Mexican fare of Pez Cantina or Ocho Mexican Grill.
Across the street, you will find Lemonade (serves salads, sandwiches, and poke) close to MOCA.  The California Plaza has establishments such as Mendocino Farms and Corner Bakery Cafe.
Your next stop is The Broad, the hottest museum in LA right now.  Entrance is free but, due to its popularity, you need to have reservations to get in.  If you want to visit this museum, I recommend getting your reservations (online) as soon as you know you are coming to LA.
They also have special exhibitions that require an entrance fee and reservation. Once again, make arrangements in advance if you do not want to miss those.
If you have time, and energy, end your day at one of the popular rooftops.  In the vicinity, you can go to The Rooftop at The Standard Hotel or to Perch, a restaurant serving French fare.
A Day in LA – Downtown Itinerary 2
This itinerary concentrates on the Chinatown, Pueblo of Los Angeles, and Civic Center areas.  You may need to drive from Chinatown to the Pueblo and then to the Civic Center. Or, you can take the train since each of these areas count with stations.
Morning
For breakfast, head to Homegirl Cafe for generous plates of mango upside-down cornbread, chilaquiles, granola, and quinoa pancakes.  Here, it is not only about good food. By visiting, you are contributing to the future of females who have experienced violence and incarceration.
Another option is Lately, a space acclaimed for their green tomato sandwich, soft scramble toast, and Liege waffle.  They started as a take-out window and morphed quickly into a full-service restaurant.
Those who love the classics can stop by Philippe The Original, one of the businesses in Downtown Los Angeles claiming to be the inventor of the French Dip Sandwich.
Los Angeles' Chinatown is not as lively as the Chinatowns in cities like San Francisco and Boston.  Expect quietness during the week. Weekends see more foot traffic and hecticness.
In the area, stop at the Chinatown Central Plaza for pictures.  Souvenirs, trinkets, clothes, and shoes can be found at the markets of Broadway Street.  Continue walking along Broadway if you want to peruse stores selling traditional Chinese ingredients, medicine, and goods.
Then, it is time to visit El Pueblo de Los Angeles, the site where the city was founded in 1781.  The spot is commemorated by a monument (statues, plaques, a gazebo).  During the weekends, a fair atmosphere, with live music, dance, and food vendors, is felt.
The more characteristic spot at the Pueblo is Olvera Street (in Spanish we called it Placita Olvera).  This pedestrian street has a permanent market selling all sorts of Mexican goods (traditional toys, candy, wrestling masks, cooking utensils, and more).  The street is lined with stores and cafes.
You can visit Avila Adobe, one of the oldest structures in Los Angeles.  I recommend trying the taquitos, drenched in avocado sauce, from Cielito Lindo. Yikes, I can drink that sauce by itself.
Across the street from The Pueblo, check out Union Station, one of the major transportation hubs of the city.  The building occupied by the station, an Art Deco and Spanish Revival landmark deserve attention.  What used to be the station's Harvey House has been renovated into the Imperial Western Beer Company.  Check it out if you need a break.
Afternoon
One of my favorite places in Downtown Los Angeles is the Grand Central Market.  This is the place to check out for lunch (even if you are not hungry).  Inside, you will find a staggering variety of food options.
For Mexican, try Tacos Tumbras a Tomas.  For seafood, try La Tostaderia.  For egg sandwiches, Eggslut is a good option.  For your, pizza fix, try Olio Wood Fire Piza.
The mentioned above are only a sample of what you can get. The idea is to walk around the market before deciding what to eat.  Or, order from different stalls and share with your group.
Read More: Grand Central Market
After the market, check out The Bradbury Building, a place known for its detailed ironwork.
Spend the rest of the afternoon, doing some of the things suggested on Itinerary 1.  You can go to the observation deck of City Hall, visit The Broad or chill out at one of the rooftops in the area.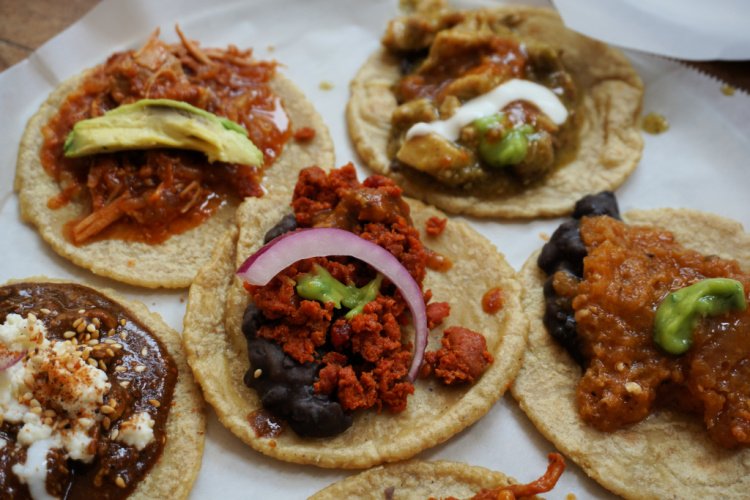 A Day in LA – Downtown Itinerary 3
This itinerary concentrates on the Art District and Little Tokyo areas.  The itinerary is doable by foot. You may want to hop into the car if you want to visit the southern part of the Arts District.
Morning
Start your day by visiting Zinc Cafe.  Their extensive breakfast menu features quiche, scrambled eggs, avocado toast, omelets, and Belgian waffles.  Their selection of hot and cold drinks is amazing. Don't forget to check it out.
I like ediBOL a lot. As the name implies, they serve herbed pork, shrimp & grits, and baked eggs bowls.  Breakfast (brunch) is only served during the weekends.
Yet another option is Cafe Gratitude, a crowd favorite serving taco plates, chickpea quiche, smashed red potatoes, and buckwheat flax pancakes.
The Arts District is famous for its murals and street art.  You will find mural after mural after mural in a compact area.  If this is your kind of thing, walk along Traction Avenue, S Hewitt Street, S Garey Street, 3rd Street, 4th Street (home of the Container Yard), and 5th Street.
LA Art Tours offers extensive tours of the area for about $12.  A company called Downtown LA offers 2 hours walking tours for $20.
Those who like to shop can explore stores such as Apolis, Warby Parker and Shinola on 3rd Street.  Other stores can be found at Santa Fe Avenue.
A nice number of distilleries have popped up in the Arts District.  You can visit, tour, and taste at places such as The Spirit Guild, Lost Spirits Distillery, or Greenbar Distillery.  The prices are reasonable ($12-$20).
Now, you will need a reservation to visit.  Tours are usually offered on Fridays and Weekends.  Check before approaching the place. I recommend checking Groupon for deals (deals are on the site almost all the time).
The Arts District is famous for its breweries too.  Lots of people stop by to visit Angel City, Arts District, and Iron Triangle Breweries.
Afternoon
For lunch, there is a hub of restaurants along 3rd Street and 4th Pl and Alameda.  You can try places like Manuela, Wurstkuche and Manna Korean BBQ.
There is another hub on in and around 7th Street.  You can stop by places such as Bestia, Church & State, Pizzanista! and Guerilla Tacos.
Or, walk to Little Tokyo and have ramen at Sushi Gen or ramen at Daikokuya.
Indulge by having ice cream at Salt & Straw or pie at The Pie Hole.
In terms of activities, you probably have enough with what I have already discussed in the morning section of this itinerary.
However, you can skip some of those activities and spend the rest of the day in Little Tokyo.  The Japanese Village Plaza has become a premier people-watching spot.  People have embraced the same custom of the Harajuku district in Tokyo.  They come to the area dressed in Manga characters and other imaginary creatures.
Those wanting to explore can head to the Nijiya Market, Mikawaya (sweets and mochi ice cream), Fugetsu-Do Bakery (traditional mochi), and Chado Tea Room (for all things tea).
If you want to learn more about what Japanese American experienced in their own country (the United States) during WWII, head to the Japanese American National Museum.
A Day in LA – Downtown Itinerary 4
This itinerary concentrates on the Fashion District, Staples Center, and Bunker Hill areas of Downtown Los Angeles.  You may need a car to move around.
Morning
Get a good start at The Original Pantry Cafe.  This notorious spot serves eggs accompanies by virtually anything you can think of: Portuguese sausage, ham, steak, pork chops, country fried steak, and more.  They have cake, pie, cobbler and shakes too.
It is hard not to love Bottega Louie.  When you enter the place, you find yourself in front of hundreds of macarons in all sorts of colors.  Their specialty is pastries but they have diversified and serve lavish breakfasts now. Try delicious morsels such as smoked salmon benedict, prosciutto & burrata, and lemon ricotta pancakes.
And, I cannot proceed without mentioning Poppy & Rose, one of the highest-rated restaurants in Los Angeles for breakfast.  People go for their fried chicken and waffles.
Poppy& Rose is located in the flower district.  After eating to your heart's content, check out the Los Angeles Flower Market.  You would not believe the colors and aromas.
If you are into shopping, you have arrived in paradise.  The Fashion District has everything you can imagine (mostly clothes, shoes, and accessories).  We call the area "The Alleys" or "Los Callejones."
You can find good deals here.  I know people that come to buy and sell back home (other states). Keep in mind the area can be overwhelming due to the crowds.
Sport lovers would not want to leave Downtown without visiting the Staples Center.  Technically, you cannot enter the installations when there is not an event (they do not offer public tours).  However, you can walk around and get pictures of statues featuring sports legends from the city.
Across the street, you will find the LA Live complex.  Visitors can go to the movies, bowl or visit the Grammy Museum.
Afternoon
Lunch options are endless in this area.  Close to the Staples Center, you can go to restaurants such as El Cholo, Broken Spanish, and Faith & Flower.
Or, you can move to 7th Street (close to Flower Street) and enjoy Engine Co. No. 28, Sugarfish or Little Sister.
Then, walk to Pershing Square to get awesome views of the tall buildings located at Bunker Hill.
A short walk away (on 5th Street), check out the art inside the Los Angeles Central Library.  You will find murals, statues, and paintings.
Guess what?  You are going to be able to see the library building from 1,000 feet over the ground.  The OUE Skyspace has the tallest open observation deck in California.  The sensation here is the glass slide visitors can ride.
This great experience comes at a price.  Prices start at $25 per person. Riding the slide has an extra fee.
For great views without the tab, stop by the nearby rooftop of The Standard Hotel.  Another option is the rooftop of the ACE Hotel.

More of Downtown Los Angeles
If you are interested in learning more about Downtown Los Angeles, feel free to check my detailed guides.  I have been living in the city for more than 15 years. So, I have made an effort to point you to the best attractions and restaurants.

Things to Do in Downtown Los Angeles

Pictures of Downtown Los Angeles
Things to Do in Chinatown Los Angeles
How to Reach Downtown Los Angeles
There is no doubt, Downtown Los Angeles is the best-connected place in the metro area.
By Plane
Los Angeles International Airport is the major airport in the area. Smaller airports are located in Ontario, Long Beach, and Burbank.
By Car
Sounds cliche but all major freeways in the area conduct to Downtown since it is the heart of the city.  In theory, it is easy to reach this part of town by car.
I am using the term "in theory" here because traffic plays a major role in Los Angeles.  A short ride can take up to an hour to complete. Try to avoid rush hours and expect congested roads (and aggressive drivers) all the time.  Take a look at my dedicated article to find more driving tips.
Once you have reached your destination, I recommend parking the car and walking.
By Ride-Sharing Services
There is no need to rent a car. Ride-sharing services such as Uber and Lyft can help you to move around.
By Train
Believe it or not, Los Angeles has an extensive metro system.  You can reach Downtown from popular areas such as Santa Monica, Culver City, and Hollywood by stopping at Union Station, Pershing Square or 7th Street.
More of Los Angeles

Since I adore my city, I have extensive coverage of it.  Feel free to keep exploring using the articles below.
Los Angeles Ultimate Bucket List
Best Things to Do in Venice Beach
Weekend Getaways from Los Angeles
More of Southern California
Ultimate San Diego Bucket List
150+ Places to Go in Orange County
Places to Visit in Santa Barbara
With a day in LA, what itinerary would you choose?  Any additional recommendations?
If you enjoyed this post, remember to share!
Pin "A Day in Los Angeles: 4 Amazing Downtown Itineraries" for later!