Decadent pasta dishes. Creamy cannoli. Flavor bursting gelato. Oven baked pizza.
If you do not live in Italy, I am pretty sure you are looking forward to find these scrumptious concoctions close to where you reside or in a city you are visiting.
In the case of New York, a lot of visitors flock to Manhattan's Little Italy.  This small area, centered around Mulberry Street, received thousands of immigrants from Italy in the 1880s.
I have to tell you a secret. The Italians are long gone from the area (except for some exceptions) and the businesses have catered to tourists for many years.  Sorry to break it to you in such a harsh way.  The area is like a movie set, a pretty façade and not a lot of substance inside.
But not everything is lost. You can still have a real Italian experience in New York.  The only thing is that you will have to leave Manhattan.  To be more specific, you will have to go straight to The Bronx.
History
In the late 1800s and early 1900s, a wave of Italian families moved to the Belmont area (in the Bronx) from Lower Manhattan. Some say it was because the development of the high line train made transportation easier, others say it was because the immigrants became affluent and wanted to settle down in more spacious areas and others say they were pushed out by the growing Chinese population.
These immigrants started to trade along Arthur Avenue. By 1940, an indoor retail market was designated as the official commercial hub for vendors. With the years, the area has received immigration from other countries but the Italian roots hold strong.
Authenticity
I had the opportunity to walk around Arthur Avenue four days before Christmas.  The lines on some businesses were more than one block long.  I heard people saying they waited two hours to get some goods from the Casa Della Mozzarella.
Waiting in line so long, to get food for the most important meal of the year, tells me a lot about the quality of the products sold around the area.
And, it was not only that.  I saw license plates from New Jersey and Pennsylvania.  People from other states were braving the traffic (and those pesky New York tolls) in order to shop here.
So, yeah, hard core foodies, lets unite and start eating our way on this side of the city.
Where To Go
Arthur Avenue Retail Market
You have to start your visit by stopping at the place where tons of food moves under one roof.  This is the retail market mayor LaGuardia (hence the name of the airport) conceived in the 40s.
According to the neighborhood's website, the market and its surroundings are home to "nine restaurants, five pastry shops, four butchers, two pasta-makers, six bread stores, three pork stores, five gourmet delicatessens, two fish markets, three gourmet coffee shops and one gourmet Italian wind shop – to list only the food category. And then there are the gift and house ware shops."
With so much variety, prepare to spend more than an hours exploring and sampling the delicious goods.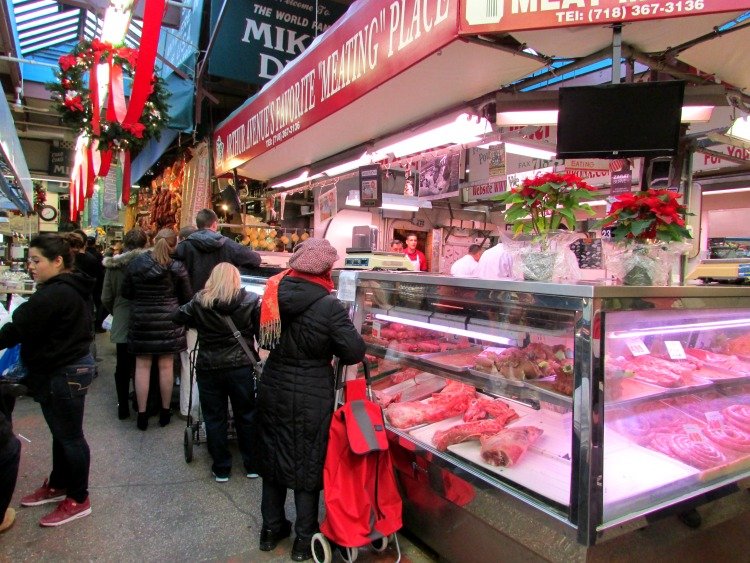 For those looking to have lunch, I recommend Mike's Deli.  This establishment is famous for its high quality cured meats, cheeses, pastas, oils, vinegars and other specialties.  They have a counter from where you an order sandwiches, hot pasta dishes, salads, bruschetta, paninis and plates stacked with cheese and cold cuts.
Believe me, the food is good and the servings huge.  And, half of the Food Network chefs seem to agree with me.  From Bobby Flay to Giada de Laurentiis to Mario Batali, all have been there.
The only thing is that the service is slow (snail pace slow).  Therefore, put on your patience suit for the day.  My sister says it is quicker to order to go (on the counter) than sitting down.
Casa della Mozarella
This place is said to have the best home-made mozzarella in New York.  They prepare provolone and ricotta too. In addition, they sell a smoked version of the precious mozzarella and prepare ingredients that complement the chesses (shredded eggplant swimming in oil and vinegar, grilled and marinated zucchini, seasoned artichoke hearts and roasted red peppers).
I got to see the place from the outside since it was packed because of the upcoming holidays.  So bad since I was dying to go in.
Pasta
Borgatti's Ravioli and Egg Noodles is the place to go for handmade pasta.
Bread and Pastries
For great bread and delicious pastries, you can stop by Terranova Bakery, Addeo Bakery or Madonia Bakery.
Other stores specialize in pastries only (they are pasticcerias).  Egidio and Artuso are great places to get cannoli or tiramisu.  To be honest, there are so many pastries on these places that I couldn't keep up with everything I was seeing. It was brutal to know I was no going to be able to try everything.  They had things with cool names like cat's tongue and lobster tails.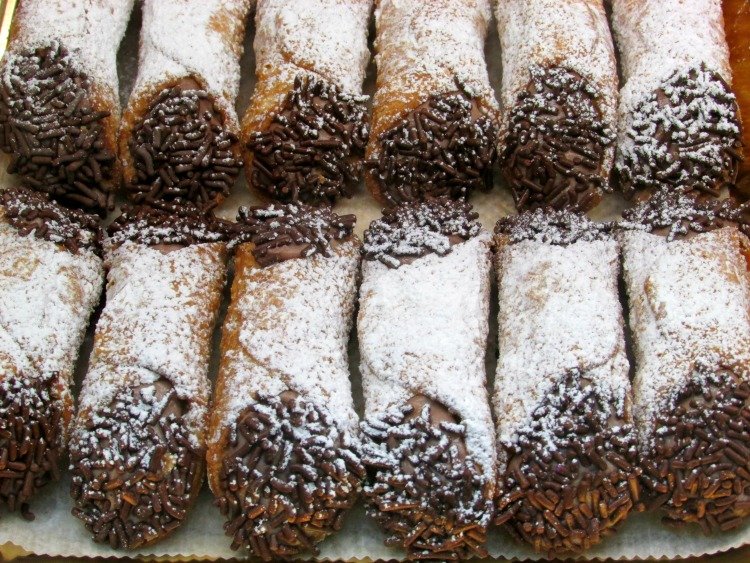 Fresh Meat and Fish
For the finest cuts of meat, stop by Vincent's, Peter's or Biancardi's.  The Calabria Pork Shop has the most ridiculous selection of pork goods you can imagine.
Fish and seafood can be found at Cosenza's.
Italian Specialties
The establishments inside the Arthur Avenue Retail Market have a great selection of specialties from different regions of Italy.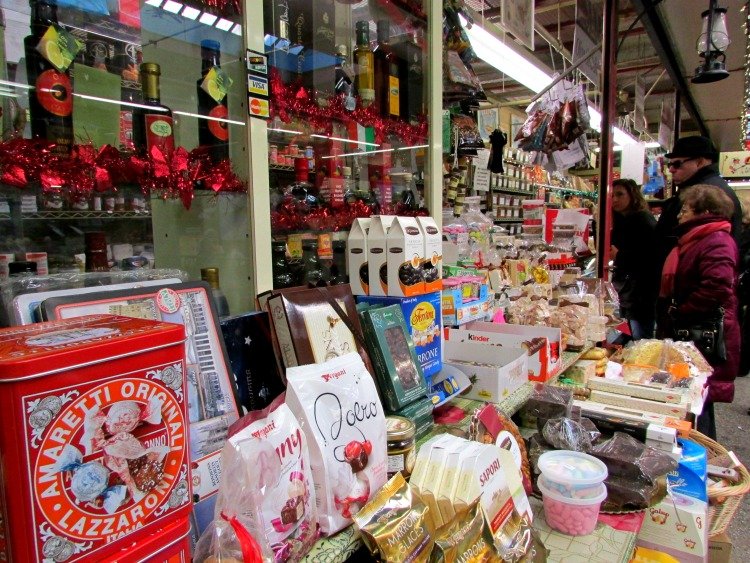 Teitel Brothers is another great place to stock on all things Italian.
Restaurants and Coffee
For restaurants, there are the following options:
Catania's Pizzeria
Pasquale's Rigoletto
Dominick's
Enzo's
Trattoria Zero Otto November
Antonio's Trattoria
Most of the establishments selling produce have deli counters.  Therefore, you will not go hungry around here.  Plus, you can decide if you want a casual or more formal dining experience.
Resources
Serious Eats has a very complete shopping and eating guide to Arthur Avenue.  Furthermore, they have an itinerary describing the top things to try and the places to get it.
 Nearby Attractions
If you make it all the way to the only borough located on the mainland (all the others are on islands, good to know!), you can visit the Bronx Zoo or the New York Botanical Garden. They are located minutes from Arthur Avenue.
If you visit during the holiday season, check out the Train Show at the Botanical Garden. Check my post about it here.
Details
If you are using the subway, take train #4 or D to Fordham Road and take bus #12 heading east. Remember you are going uptown. It takes about 45 minutes to reach Arthur Avenue from Midtown Manhattan
Once at the Bronx, you can move using taxis or Uber
If you have a car, take into consideration it may be difficult to find a parking spot on the weekends or during to the holiday season
Check business hours since a lot of establishments close around 5 or 6 and are not opened on Sundays
Would you like to visit Arthur Avenue (aka The Real Little Italy)?
Ready to pin? Let's do this!