Looking for beaches for dogs in Los Angeles?  We got you covered! Read on to find where to have a great day with your dog.
In many ways, Los Angeles is synonymous with beaches.
We residents love to spend time next to the water and a large part of visitors want to experience California's beach culture.
And, of course, a lot of people want to take their dogs to the beach.
But, here is the thing, Los Angeles County prohibits animals (dogs, cats, horses) on the beach.  There are only a few places where you can take your pet legally.
Even if this sounds restrictive, there are still plenty of ways to have a great beach day with your fur baby. 
In this article, I am discussing places where dogs are allowed on the beach.  Moreover, I am providing information on what parts of the beach cities and neighborhoods you can take dogs.  I have tons of ideas on pet-friendly restaurants, parks, and businesses.
Let start exploring the best pet-friendly places in coastal Los Angeles.
Please note: This article contains affiliate links, meaning I may earn a commission if you make a purchase by clicking a link. Of course, this comes at no extra cost to you and helps me to keep offering solid information to readers.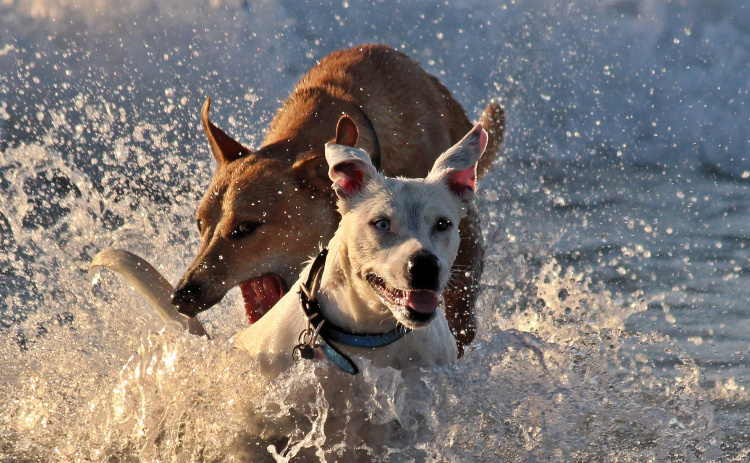 Beach Gear
As I spend a lot of time on the beach, I have my gear packed and ready to throw in the car.  Here is an idea of what I take to the beach.
Easy Set Up Beach Tent –  This is essential since most beaches in California do not have shaded areas.  >Check out this great tent option here
Big Portable Umbrella –  Sometimes, we prefer to use an umbrella since we want to sit on a chair verse lying on the floor.  Plus, I find it easier to adjust/move the umbrella to block the sun.  >Buy a beach umbrella
Beaches for Dogs in Los Angeles
Here are the places where dogs are allowed in the sand and water.  
Beaches in Point Mugu State Park
Point Mugu is an excellent option for those traveling or enjoying the day with their pets. Dogs are allowed, on-leash, in the park's beaches.  These include the following:
Mugu Beach
Thornhill Broome Beach
Sycamore Cove Beach
In addition, dogs are allowed in day-use areas and campgrounds.
Distance from LAX: 43 miles
County Line Beach
County Line Beach is a beautiful sandy beach located in the northern part of Malibu.  Dogs are welcomed on-leash. The cool thing is that Neptune's Net, one of the most famous restaurants in the area, is located across the beach.  
The place is notorious for the many motorcycles parked in front of the building at any given time.  It is a popular spot for those cruising the coast. You will be able to enjoy all sorts of seafood dishes, burgers and more with your pooch at your side (in outdoor areas).
Distance from LAX: 40 miles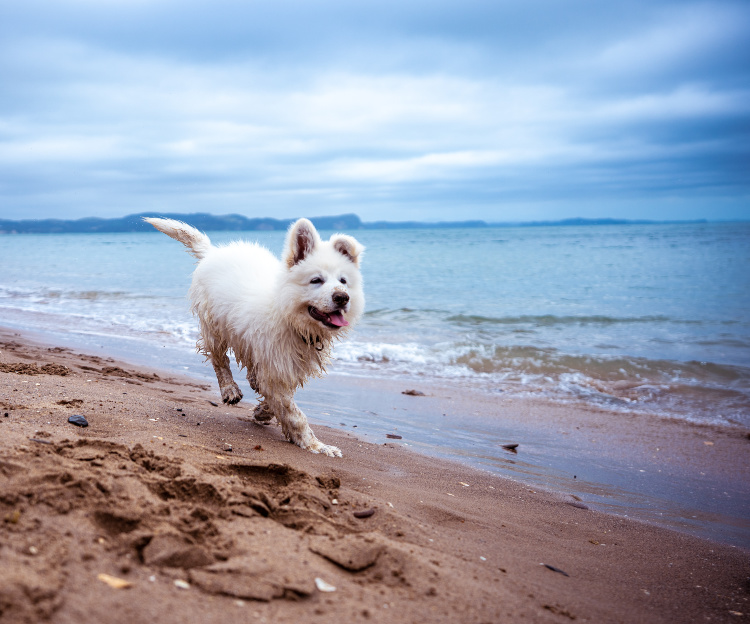 Leo Carrillo State Park
Dogs are allowed to roam the beach, on-leash, north of lifeguard tower 3.  A lot of people head with their pets to Staircase Beach, the northernmost part of the state park.  The area is popular with those who prefer seclusion.
Keep in mind this area is almost adjacent to County Line Beach.  So, you can explore more than one beach with your dog if desired.
Dogs are also allowed in day-use areas and campgrounds.
Distance from LAX: 38 miles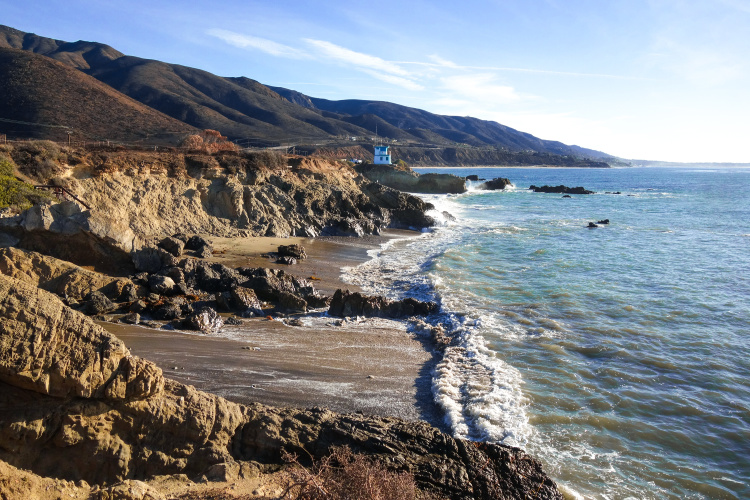 Little Dume Beach
This small beach seems to have its own rules.  You can walk with your pet in the public part of the beach which is where the sand is wet (or where the water touches your foot).  The dry part of the sand is technically private.
Now, Little Dume Beach can be accessed through Paradise Cove or Big Dume Beach (part of Point Dume State Park).  Dogs are not allowed on those beaches. Therefore, dogs have to be carried to Little Dume Beach. Those are the rules and I am obliged to pass the info to you.  It is up to you to deal with the situation (I think you can read between the lines).  
I recommend accessing this beach through Big Dume Beach.  By the way, these are some of the most beautiful beaches in Malibu.  Do not miss them!
Distance from LAX: 30 miles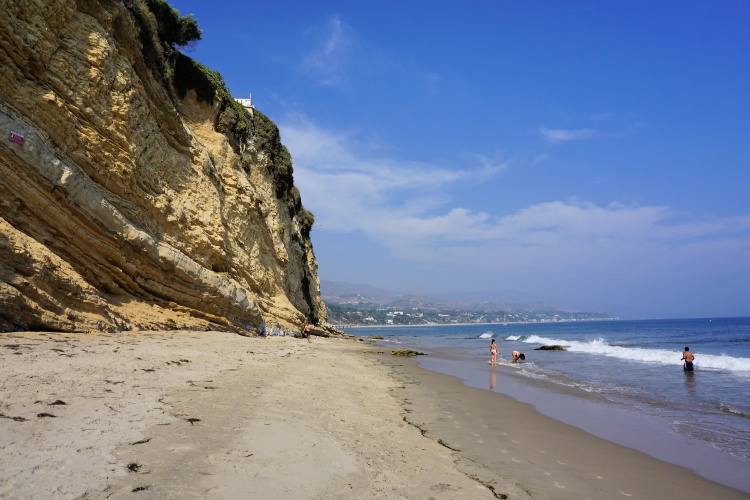 Rosie's Dog Beach
This is the only spot in the county where dogs are allowed (officially) off-leash. The dog zone is between Roycroft and Argonne Avenues along Ocean Boulevard.  Cones are often used to mark the dog beach limits. Amenities include restrooms, showers, lifeguards and bike paths.
Distance from LAX: 25 miles
Beaches for Dogs in Los Angeles – Where Else to Go
If your dog is not allowed on the beach (sand), that doesn't mean it is not allowed in other parts of beach cities or zones.
It is possible to have a beach day or a road trip with your dog.  In this section, I am discussing at length where you can take your pets in the different cities or neighborhoods of Los Angeles County.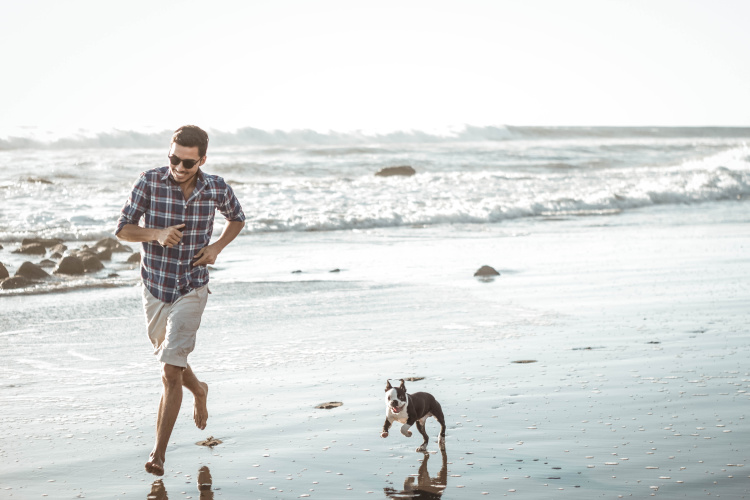 Malibu
As discussed above, Malibu is one of the most dog-friendly cities in Los Angeles County when it comes to beaches.
If you are exploring this part of the coast, places such as the Rosenthal Vineyard Tasting Room, Malibu Bluffs Park, Pepperdine Campus, and Malibu Country Mart are pet-friendly.  All these places are located along the Pacific Coast Highway.
If you like to hike, dogs are allowed on trails at the Zuma Canyon Loop, Corral Canyon Trail, and Charmlee Wilderness Park.
The Trancas Canyon Dog Park is located about one mile off the Pacific Coast Highway.
Dog-friendly restaurants with outdoor patios include Chart House, Coogies Beach Cafe, Taverna Tony, D'Amore's Famous Pizza, Ollo, Spruzzo, and Reel Inn.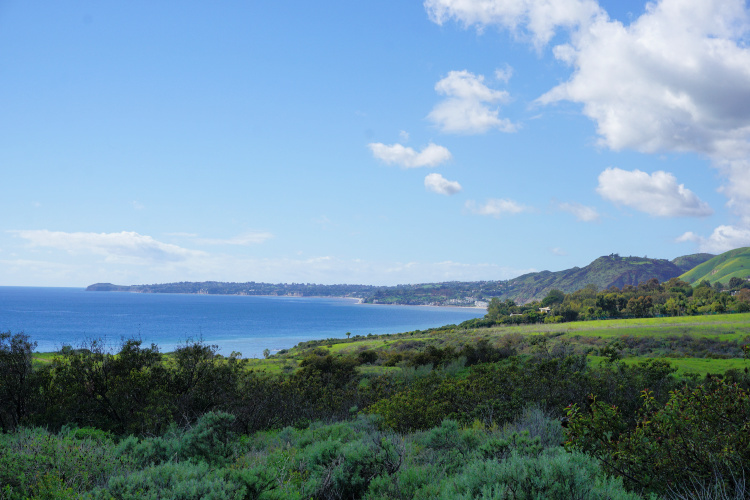 Santa Monica
Good news! Dogs are allowed in the Santa Monica Pier!  Just make sure they do not enter businesses or Pacific Park.
They are allowed on The Boardwalk too.  Nearby, Third Street Promenade, Downtown, and Palisades Park are pet-friendly.
In terms of off-leash parks, Pacific Street Dog Park is located two blocks from the beach. The Herb Katz Dog Park is located less than a mile from the beach.
If you want to pamper your fur baby (or babies), Santa Monica is the place to do it.  Head to Bark Williams, Paws & Effect Pet Spa or Paws & Whiskers Pet Spa.  
To Wag For offers doggie daycare services.
If hunger attacks, restaurants with outdoor patios include Hole in the Wall Burger Joint, Umami Burger, Urth Caffe, True Food Kitchen, Spitfire Grill, and Blue Plate.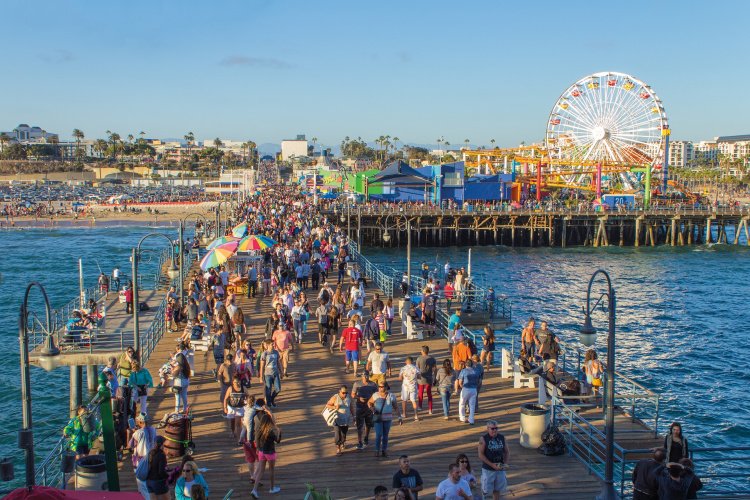 Venice Beach
Dogs are allowed in The Boardwalk (except weekends from Memorial Day to Labor Day) and in a large number of restaurants located along it (outdoor).  This means you will be able to enjoy the best of Venice (Muscle Beach, murals, skateboarders, shops, shows, etc.) with your pets.
Other popular areas of the neighborhood such as Abbot Kinney Boulevard, Lincoln Boulevard, and Rose Avenue are ideal to stroll with dogs.
The Westminster Off-Leash Dog Park is located two blocks from The Boardwalk.
Bruno's Dog & Cat Boutique is the highest-rated pet dedicated store in the area.  They sell toys, treats, collars, leashes, accessories and more.
Top eating options in the Boardwalk include James Beach, The Cow's End Cafe, Sidewalk Cafe, and Venice Ale House.  On Abbot Kinney Boulevard, you can take your dog to Greenleaf, The Tasting Kitchen, The Butcher's Daughter, Neighbor and French Market Cafe.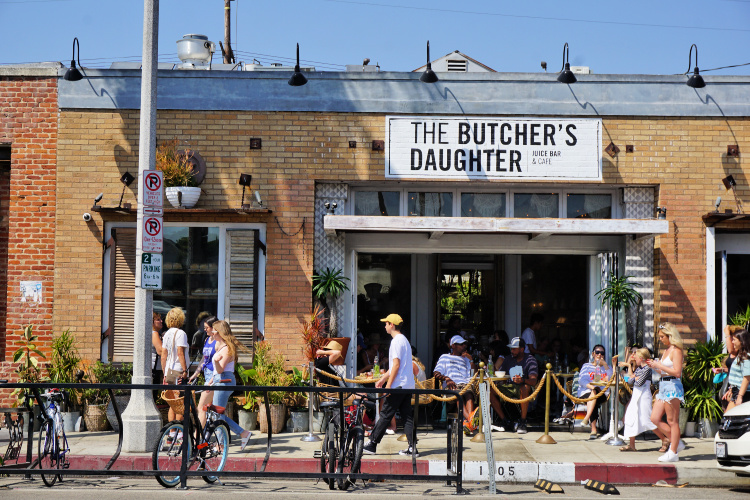 El Segundo
At El Segundo Beach, no dogs are allowed on the beach, bike path or parking lot.
However, there are plenty of restaurants you can visit with your dog in Downtown El Segundo.  For example, you will have a good time at Rock & Brews, The Tavern on Main, Good Stuff Restaurant, Blue Butterfly Coffee Co. and Ali'i Fish Company.
El Segundo Dog Park is located at 901 East Imperial Avenue.  El Segundo Pet Resort is conveniently located close to the Los Angeles International Airport and offers boarding, daycare, and spa services.
Manhattan Beach
Dogs are allowed in The Strand and streets of Downtown.  There are plenty of freshwater stations, with low bowls, along this part of the coast.  The Strand is miles long. Therefore, there is plenty of space to walk, jog and run with your dog.
The dog park in Manhattan Beach is located on the west part of Polliwog Park.  
Pet-friendly restaurants include Le Pain Quotidien, Uncle Bill's Pancake House, The Local Yolk, North End Cafe, The Rockefeller, and Pitfire Artisan Pizza (they have special treats for dogs).
A store called Just Food for Dogs creates gourmet meals using real, high-quality ingredients.  You may want to check it out.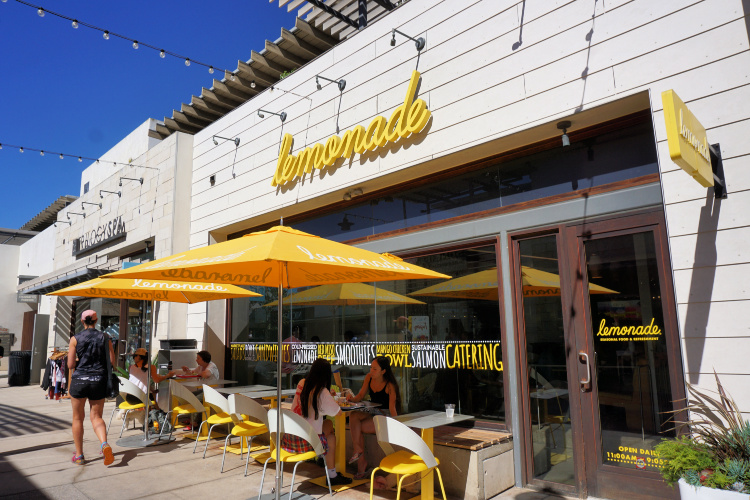 Hermosa Beach
In Hermosa, dogs are allowed in The Strand, Pier Plaza, and streets of Downtown.  I have seen dogs hanging in Noble Park too (located next to The Strand, close to the pier).
On restaurants and bars located at the Pier Plaza, people with pets sit on the outdoor booths/tables and tie their furry friends outside the restaurant (but the pets are still connected to them).
Pet-friendly restaurants on other parts of the city (Pier Avenue and Beach Drive) include Creme de la Crepe, Source Cafe, Boardwalk Fresh Burgers, Standing Room, Java Man, and Gum Tree.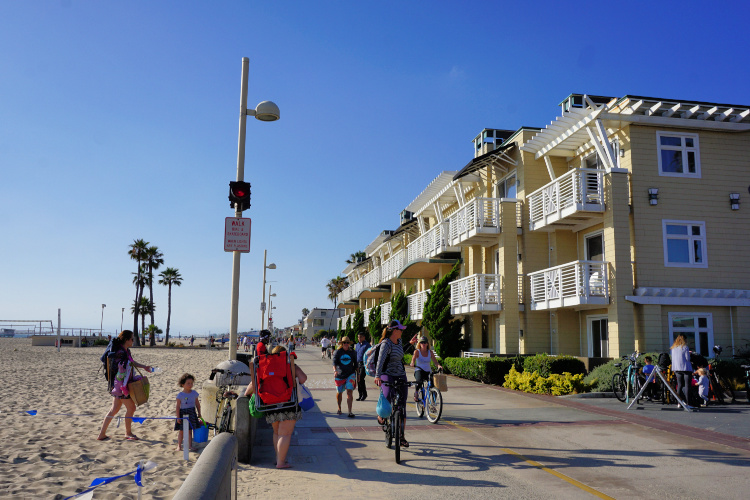 Redondo Beach
Redondo Beach has very strict laws when it comes to walking dogs in public places.  At the time of this writing, residents are fighting to have some laws relaxed (for example, allowing dogs, on-leash, in public parks).
For now, dogs are allowed in The Strand and The Esplanade.  Dogs are not allowed in the pier or international boardwalk.  Keep this in mind when connecting from the northern parts of Redondo (the marina area) to the beach south of the pier.
If you want to enjoy fresh seafood, Captain Kidd's Fish Market has a dog-friendly patio.  The other seafood restaurants are located on the pier and you will not be able to take your dog there.
For additional eating options, head to the Redondo Beach Village (located a few blocks from the beach).  Most restaurants there have outdoor seating.  If dogs are not allowed in the patio they can be tied on the sidewalk side (but they are still connected to you).
The most dog-friendly place in The Village has to be the King Harbor Brewery.  Dogs are allowed inside the locale and, it is dog insanity inside!  Pets are received with treats.
The Redondo Beach Dog Park is located at 190 Flagler Lane.  This huge park offers plenty of running space for dogs of all sizes (they have separated areas for different sizes).
Zoom Room is a fun store offering training, playground and private gym services.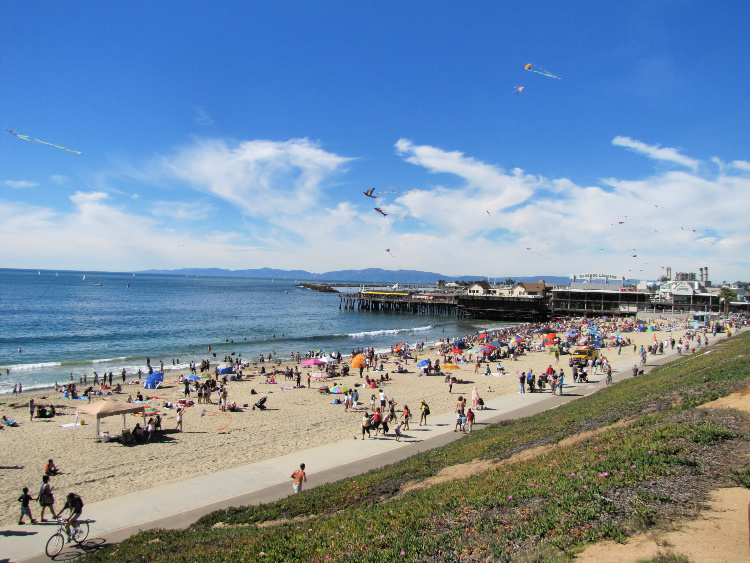 Torrance
Dogs are allowed at The Strand (walking/biking path) that runs parallel to Torrance County Beach.  They are also allowed at The Esplanade, the road that runs along to the beach (the road is located above the beach).
Miramar Park, a quite large green patch, welcomes dog on-leash.  This is a great place to picnic or rest with views of the ocean.
If you want to find a place to eat, I recommend heading to the Redondo Beach Village.
You will find plenty of pet-friendly restaurants if you choose to drive to inland Torrance.  The aptly named Lazy Dog Restaurant (located in the Del Amo Mall) is a fine choice.  Their dog menu (yes, you read that right) includes rice, burger patties, chicken breast, and veggies.
Torrance is the craft beer capital of Los Angeles County.  You can visit Cosmic Brewery, Monkish Brewing, Smog City Brewing Co., Strand Brewing and Absolution Brewing with your puppy.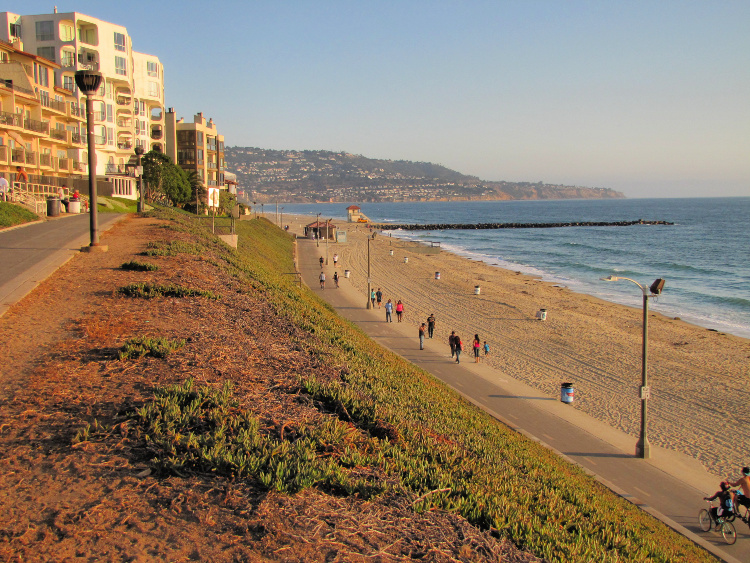 San Pedro
It is awesome to know that dogs are allowed in Point Fermin Park, a big space with a lighthouse, playgrounds, amphitheater, trails, picnic spots and wonderful views of the South Bay.
Another fun place to visit with dogs Brouwerij West Brewery.  This is one of the largest beer-drinking spaces in the area.  Therefore, you can move freely with your pooch. In addition, there are usually 3 or 4 food trucks parked next to the brewery.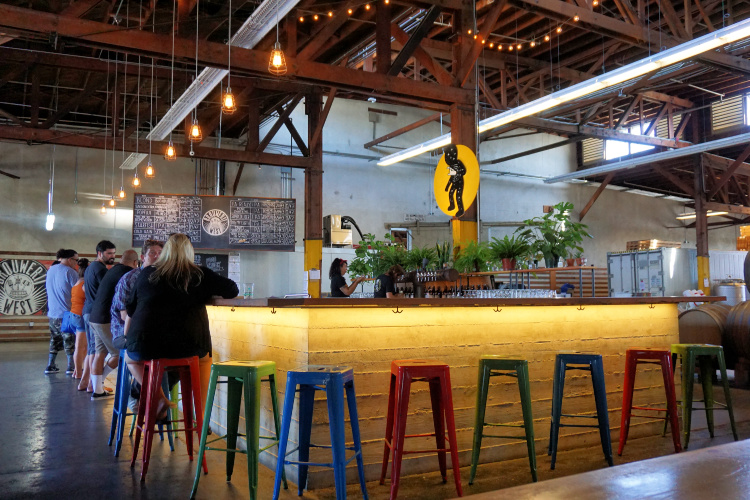 Long Beach
Long Beach is a big city.  That means there are plenty of places to visit with your dog.  As mentioned, the city has the only off-leash beach in Los Angeles County (Rosie's Beach).
In terms of eating and drinking, a lot of restaurants in Downtown, East Village and Belmont Shore have pet-friendly patios.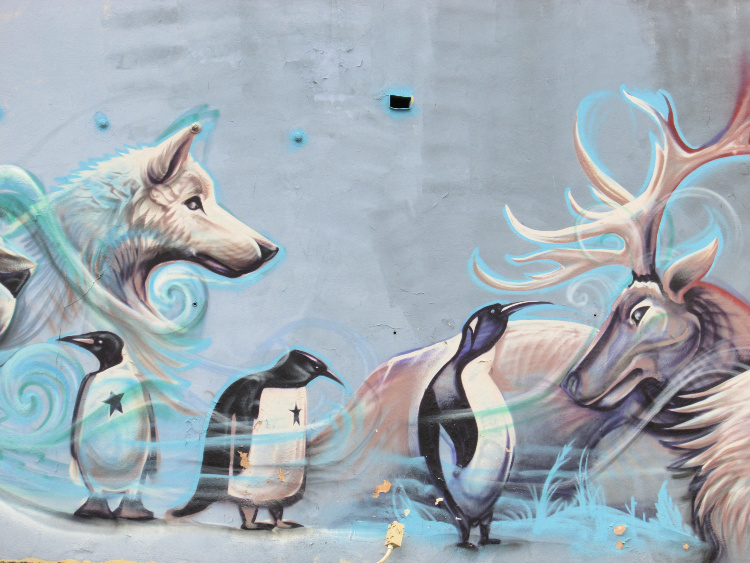 Nearby Dog-Friendly Beaches
One of the most famous off-leash beaches in Southern California is Huntington Dog Beach. Dogs are allowed to run and take a dip in the water on a patch of sand with a 1.5-mile length.
And, you may see some dogs surfing and standing over paddleboards with their owners.  I cannot forget to mention that this is where the adorable Corgi Beach days take place (in spring and fall).  
Distance from LAX: 37 miles
Beaches for Dogs in Los Angeles – Beach Safety Tips
Please observe the following precautions when taking your dogs to the beach:
Do not leave dogs in the car.  High temperatures can kill dogs in a matter of minutes
Make sure your dogs have access to plenty of freshwater
Hot pavement and sand can burn dog paws (have you tried walking barefoot on a hot day?).  It may be a good idea to stay out of hot surfaces during the hottest parts of the day. Consider investing in booties or socks.  Also, there are special moisturizers and wax that can help with paw protection
Along the same line, protect your dog from sunburns.  You can do this by applying a non-toxic sunscreen (ask at a pet shop what is the best option) or covering the dog with a sun shirt.  There are specialized balms that can be applied to sensitive areas such as the nose and tip of the ears
If your dog gets in the ocean, rinse him with fresh water before going home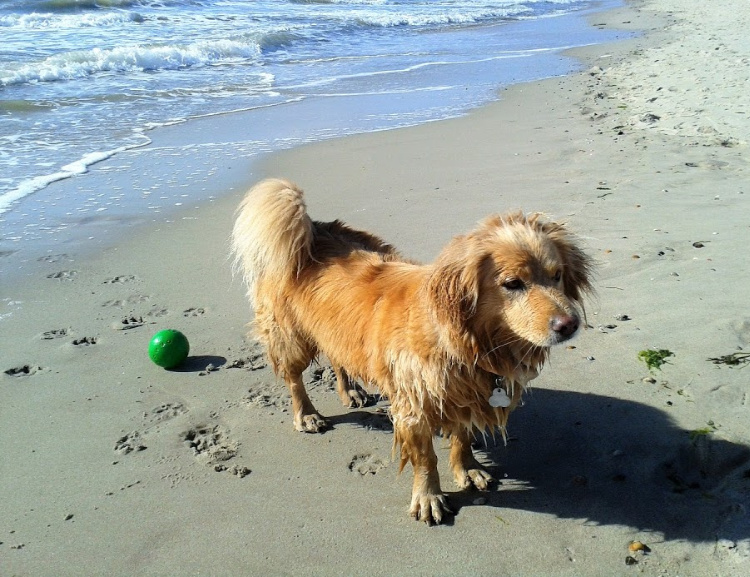 Beaches for Dogs in Los Angeles – Etiquette Rules
If you want to take your dog to public spaces, make sure he/she is well trained.  
Bring your own waste bags and clean up
Prevent barking and other noises
Respect leash rules
Monitor and control aggressive behavior
Realize not everybody is a dog lover.  Some people are scared of dogs and their fears/feelings should be respected.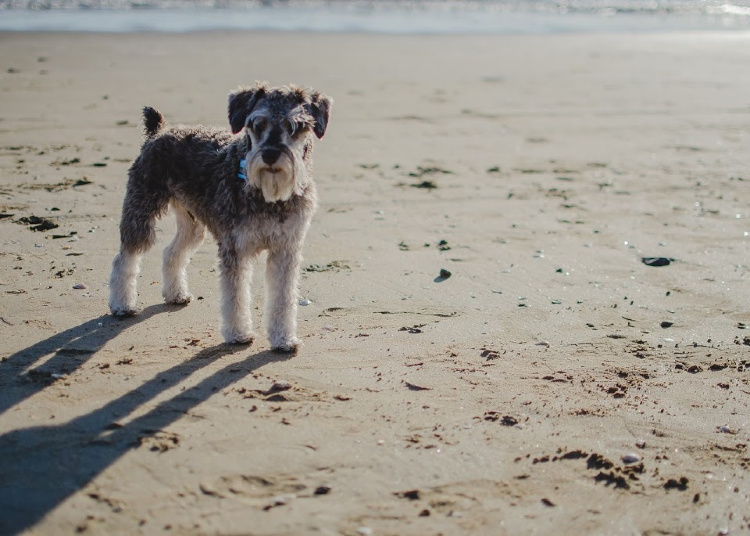 I hope I have succeeded in showing you the huge array of things that you can do with your dogs in the beach cities.  In a way, there are plenty of dog beaches in Los Angeles!  
More of Los Angeles
One Day in Los Angeles: Itinerary for First-Time Visitors
Two Days in Los Angeles: Downtown-Based Itinerary
Los Angeles Itinerary: 2, 3 or 4 Days in Los Angeles
Los Angeles Ultimate Bucket List
Weekend Getaways from Los Angeles
More of Southern California
One Day in San Diego: Itinerary for First-Time Visitors
Ultimate San Diego Bucket List
Places to Visit in Santa Barbara
150+ Places to Go in Orange County
In your opinion, what are the best beaches for dogs in Los Angeles?
Pin "Beaches for dogs for Los Angeles" for later!