Looking to experience the beaches in Southern California?  Well, let me tell you the beaches in Laguna Beach are some of the most beautiful in the area.  Read on to discover where to go!
Basking in a sunny and mild climate almost all year round, the city of Laguna Beach has over 35 beaches on its nine-mile coastline. Each beach is simply superb in its own unique way. Even though there are sections of the coastline with difficult access, there are many spots for locals and visitors to enjoy. 
Below are a few recommendations featuring long white sandy beaches, cosy little coves with fascinating tidal rock formations and dramatic cliff faces pounded by the powerful Pacific Ocean. This west-facing coastline is a photographer's paradise with sunsets to take your breath away from virtually anywhere.
Please note: This article contains affiliate links, meaning I may earn a commission if you make a purchase by clicking a link. Of course, this comes at no extra cost to you and helps me to keep offering solid information to readers.
Best Beaches in Laguna Beach
I have tried my best to provide plenty of information about the best beaches to visit in Laguna Beach.  Remember accessibility is key.  I have tried to be clear on how to get to the exact spot.  Plus, I am providing parking information to the best of my ability.
Pet lovers need to be aware that no dogs are allowed on most of the city's beaches. Others do allow dogs but they must be on a leash.  Pet owners are expected to clean after their dogs.
Moro Canyon Beach
Situated on the southern end of Crystal Cove State Park, Moro Beach is a popular spot for swimmers, stand-up paddle boarders, kayakers, beginner surfers, and shore fishermen. Relatively calm waters make this beach ideal for kids. 
If you do not want to be active, a long stroll to take in the stunning scenery is a good way to spend time. From Moro Beach, you can access the other beaches in the park, the Bluff Trail, and the backcountry trails of Moro Canyon. As with all Orange County beaches, sunsets here are to die for.
The Lower Reef Parking Lot and Lower Moro Parking Lot (with easy access to the beach through the tunnel under the highway) are closer to this beach.  The park has other parking lots (farther from this beach).  There is a fee to enter the park.  I recommend spending a good chunk of time enjoying the park facilities (there is a lot to do there).
Clean restrooms, lifeguards, potable water, campgrounds, and picnic areas are available for visitors. Dogs are not allowed on the beach.
The Beachcomber Cafe is located in the park's Historic District.  For more eating options, head to the Crystal Cove Shopping Center (located across the park).
Read More: Crystal Cove State Park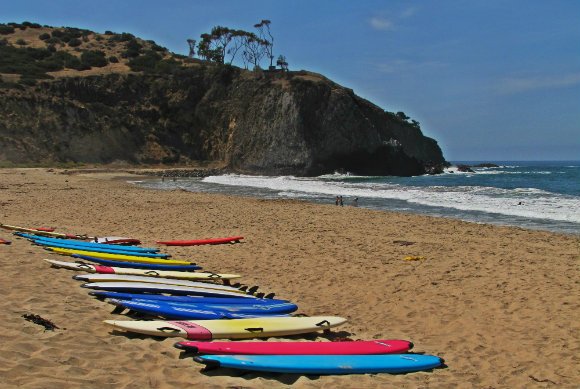 Crescent Bay Beach
A little south of Moro Beach is Crescent Bay Beach, arguably one of the best beaches in Laguna Beach. 
Nestled in between two rocky outcrops, this little picturesque beach is perfect for the entire family to spend a day.  The beach offers great swimming, body surfing, snorkeling, and sunbathing opportunities. 
Low tide exposes many rocky pools and coves (ideal for kids to explore). White sand and emerald green waters with the stunning hills of Laguna as a backdrop, all come standard features with this beach.
Parking is on the street and very limited. It is wise to get there early to grab a spot.  Another idea is to drive to Crescent Bay Point Park and park on Crescent Park Drive.  Then, you have to walk a bit to go down to the beach (a set of stairs connects the dead end of Crescent Park Drive to Circle Way). Restrooms are available at the beach.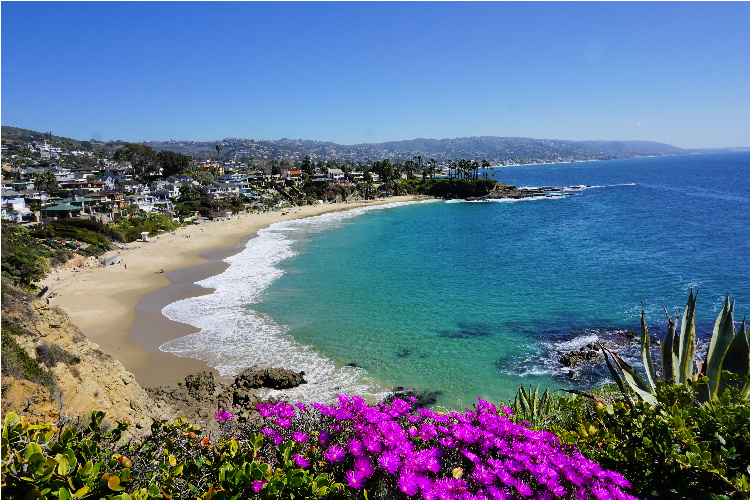 Shaw's Cove
Just around the corner from Crescent Beach, you will find Shaw's Cove, a little jewel for snorkelers and scuba divers. Being in a Marine Protected Area, the marine life here is simply stunning. Waves are seldom big here. This makes the spot an ideal family beach for swimming, kayaking, and paddleboarding.
There are lifeguards on-site but no restrooms. Free street parking is available. Fishermans Cove can be accessed from Shaw's Cove (another option to enjoy).
Beaches at Heisler Park
Heisler Park is one of my favorite places in Southern California.  I believe I will never get tired of visiting.  I am from the Caribbean and views from this park take me back to my island.
The park is a gem with incredible views in almost all directions, grassy picnic grounds, tables, benches, manicured lawns, and beautiful public art displays.
On top of all that, there are several accesses (mostly stairs but there are some ramps or paved roads) to the beaches located below the park.  I am not exactly sure how many coves and beaches are there but the options are plenty.  You can choose from long, sandy strands to rocky, hidden pockets.
Restrooms, showers, and potable water are available to the public.  Metered parking is available at Cliff Drive.  You may need to drive around a couple of times to find a spot.  Be patient since people come and go all the time.
Main Beach
Located in the heart of the city, Main Beach has every amenity thinkable to keep the entire family entertained for the entire day. With over a quarter of a mile of golden sand, cool rock formations, grassy picnic areas with benches/tables, and a wooden boardwalk running across its entire length, it rates amongst the best beaches in Laguna.
Volleyball nets, basketball courts, and a children's play area add to the usual beach activities, giving this special place a truly relaxing and laid-back vibe. 
Lifeguards look over the ocean from their towers. There are plenty of clean restrooms and public showers throughout the beach. To the north lies Heisler Park, from which you get stunning views of the beach and the ocean, especially at sunset. 
Metered street parking is scarce. Get down early if you want to grab a spot. The closest public parking lots are located on Ocean Avenue, Glenneyre Street, and Pacific Coast Highway (777 S Coast Hwy).  Those get filled quickly as well. There are plenty of shops, eateries and fast food joints to suit every taste.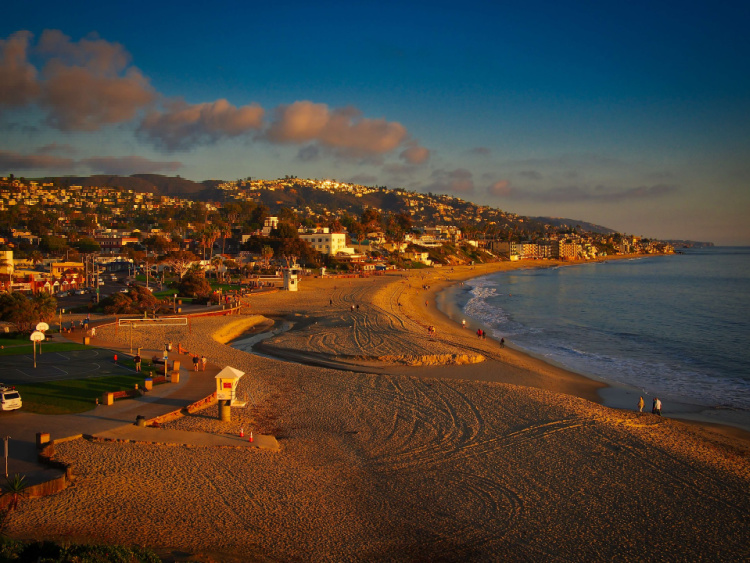 Thalia Street Beach
Unlike Main Beach, where no surfing is permitted during summer, just a few hundred yards south, you can catch a decent wave at Thalia Street Beach. Close by parking is available for early birds, with a set of concrete stairs leading you right onto the beach.
The shoreline is rather narrow and there is not much beach during high tide (make sure you check the tide charts before heading there). However, as mentioned,  this is the beach for surfers and skimboarders. 
The Thalia Surf Shop is located close to the end of Thalia Street.  You can rent or buy equipment if needed. 
Note: This beach connects with Main Beach.  Actually, there is a long strand of sand from Downtown Laguna to Cactus Point.  Like in other cities in California, locals give the different parts of the strand names based on the street used to access that part.  For example, north of Thalia Street Beach, you have Sleepy Hollow Beach, Cleo Street Beach, and St. Ann's Beach.  To the south, you have Anita Street Beach, Oak Street Beach, Brooks Street Beach, and more.
Woods Cove
Charming Woods Cove is perhaps one of the best-kept secrets of Laguna Beach! You will need to get there early enough to find parking and go down the eighty-something stairs, but the effort will be worthwhile. The best time to visit is when the tide is low. Once there, you can swim, snorkel, sunbathe or stroll along the sandy beach. 
Kids can spend hours exploring the shallow rock pools while the fascinating rock formations offer photographers amazing shots in every direction. Views of the beach and the ocean from the top are stunning as well. 
Ruby Street Park is located nearby.
Victoria Beach
A long stairway will lead you down to quarter-mile-long Victoria Beach. As with most Laguna beaches, parking is scarce and most people park off the highway or the side streets and walk down (Victoria Drive, Sunset Terrace) to Victoria Beach. The beach can also be accessed through a public walkway at the end of Dumond Drive.
Apart from the normal beach activities, Victoria Beach hosts one of Southern California's notorious landmarks – La Tour (French for The Tower). This 60 ft cone-shaped tower, also known as "Pirate Tower", was built in 1926 and stands on the side of a cliff on the northern end of the beach, almost on the water's edge. A circular concrete pool, now filled with sand lies close by. These iconic structures draw photographers like a candle to a flame. This is a really awesome place to spend the day.
Note: If you enter "Victoria Beach" on your phone's navigation app, you may be taken to the southern part of the beach.  You are not going to have views of the tower from there (you have to walk to the northern side).  Also, I think it is more difficult to find parking on this side.
Treasure Island Beach
A stone's throw to the south of Victoria Beach lies another picturesque spot, aptly named Treasure Island Beach. Protected from both sides by rocky outcrops, this sheltered little beach cove offers safe swimming in its calm and crystal aquamarine waters (although rip currents can occur at times). Low tide exposes some really beautiful rock pools for the kids to explore.
This beach is located within Treasure Beach Park.  There are other coves that can be enjoyed there.
Besides, the views from the park are breathtaking.  There are several benches along a walking path to stop and take in the secenery. A wheelchair ramp, clean restrooms, and grassy lawns overlooking the ocean make this little gem a favorite among all of Orange County's beaches.
Pay parking is available at the top of the beach.  If you do not find parking on that lot, there is metered parking on Coast Highway and Wesley Drive.
Aliso Beach
Immediately to the south of Treasure Island Beach, is the popular Aliso Beach, with a pay parking area almost on the beach. This beach is popular with surfers, bodyboarders, skimboarders, and anyone who enjoys getting pummelled by the waves. It is ideal for taking long strolls and exploring some interesting rock pools that get exposed during low tide.
Clean restrooms, a kid's play area, and lifeguards on-site make this a popular family beach. You need to check out the water quality as the Aliso Creek overflows during the rainy season (and some contamination can occur).
While you're there, if you are in for an interesting sight, pop across the Aliso Creek to view the iconic Laguna Beach Rock House. This multi-million dollar mansion has too many unique features for us to mention here. Just go and see it. You may even spot some celebrities there.
West Street Beach
West Street Beach is another one of those must-see beaches in Laguna Beach. Access to the beach can be difficult to find as it is "hidden" between houses, and there is a long and steep stairway to the beach. Therefore, this beach does not get crowded like some of the other beaches. But, believe me, it is stunning. 
The shoreline is pretty steep with fairly deep water close to the shore, which means kids and weak swimmers need to be supervised at all times. It has a volleyball court and is monitored by lifeguards. Street parking can also be hard to find, particularly on weekends. 
Unlike most Laguna beaches, where dogs are restricted by seasonal time limits, animals are permitted here as long as they're on a leash and their mess is picked up.
Table Rock Beach
Table Rock Beach is a real gem for some, but a no-go area for others. Apart from the usual long stairway to get to the beach, the shoreline is steep generating strong waves, dangerous undertows, and rip currents. Although there is one lifeguard on duty during the summer months, it is still not safe for small children and inexperienced swimmers. 
But, if you're a thrill-seeker, this is the best cliff jumping spot in Laguna Beach. It also has some really impressive rock formations and luxurious houses built into the dramatic cliff faces. This is a great spot to watch the moods of the ocean and meditate. Parking is limited, and there are no restrooms on-site. 
1000 Steps Beach
If you're looking to relax on a stunning beach and give your legs and lungs a real workout at the same time, you need to visit 1000 Steps Beach. The 240 steps (it just feels like 1000) stairway is found close to 9th Street with metered parking off the highway. There is a small restroom and shower on the beach next to the steps.
Nestled in between two rocky outcrops, this beach is ideal for swimmers, bodyboarders, and skimboarders. It can get pretty rough when the swell picks up. 
A walk to the south end during low tide, will bring you to an incredible sea cave and exposed rock pools. If you're a movie fanatic, why not visit or even stay at the John Wayne Beach House situated above this beach?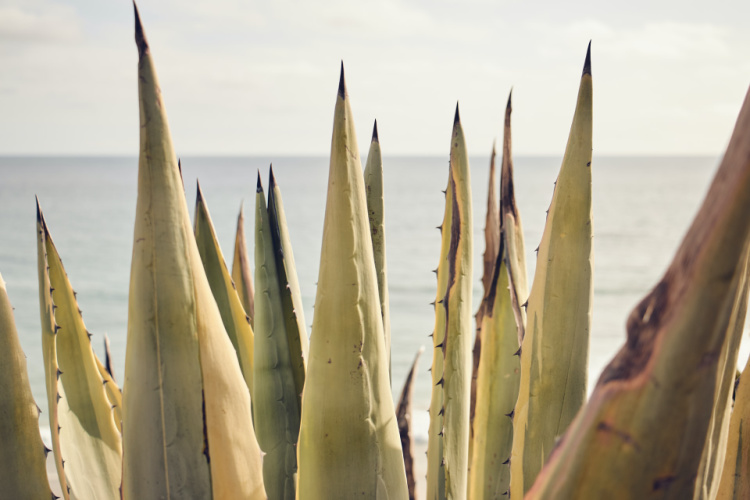 Beach Gear
As I spend a lot of time on the beach, I have my gear packed and ready to throw in the car.  Here is an idea of what I take to the beach.
Easy Set Up Beach Tent –  This is essential since most beaches in California do not have shaded areas.  >Check out this great tent option here
Big Portable Umbrella –  Sometimes, we prefer to use an umbrella since we want to sit on a chair verse lying on the floor.  Plus, I find it easier to adjust/move the umbrella to block the sun.  >Buy a beach umbrella
More of Orange County
What are your favorite beaches in Laguna Beach?
Pin "Best Beaches in Laguna Beach" for later!