If you are looking for authentic Mexican falsa blankets, this article is for you.  Below, I show you where to get a high-quality product in amazing colors.
As you may know, Mexico is one of my favorite countries.
And, yes, that fascination started when I moved to Los Angeles over 17 years ago.  I mean you are exposed to the food, music, and culture all the time.  Plus, being so close, you end up going to the country like 3 to 4 times per year.
As a lover of all things Mexican, I want to give you my recommendations when it comes to falsa blankets.  Because I have too many probably will acquire more (they are indispensable for the beach, campsites, and picnics).
Scroll down to check out my best authentic falsa blanket recommendations.
Please note: This article contains affiliate links, meaning I may earn a commission if you make a purchase by clicking a link. Of course, this comes at no extra cost to you and helps me to keep offering solid information to readers.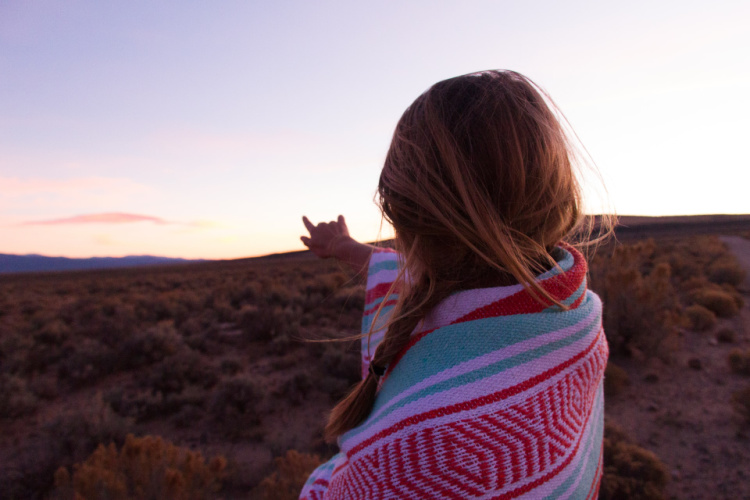 Best Falsa Blankets at A Glance
Here is a high-level overview of the products presented in this article.
What is a Falsa Blanket?
A falsa blanket is a rectangular textile woven with lines of different colors.  Sometimes, they have a thick band (or line) with a black and white "x" pattern (>><<<>>><<) while the other lines are colorful.  Some of these blankets come with fringes in the short edges.  The origin of the term "falsa" seems to have been lost over time.
The terms Mexican blankets, Mexican falsa blankets, and Baja blankets are often used to describe them.
A falsa blanket should not be confused with a sarape (sometimes spelled serape).  A sarape is a rectangular textile with a dominant element in the center (a medallion or diamond).  The rest of the design complements the main design.  Oftentimes, lines and geometrical patterns are added in different colors.  Sarapes are associated with the city of Saltillo (the capital of Coahuila).  These textiles are woven by expert artisans and can reach quite high prices.
The falsa blanket history goes beyond the scope of this article.  In Mexico, a rectangular textile called tilmatli (a type of cape or toga) was used in pre-Hispanic times.  After the Conquest, since shirts were introduced, seems like the tilmatli was adapted.  Numerous references to a blanket placed on the shoulders or with an aperture for the head began to surge.  Of course, the garment had regional variations and different names (manga, poncho, cotón, gabán, jorongo, capa y capote).  With time, these garments have evolved into fine pieces (like the sarapes) or textiles of common use (like the Mexican blankets we all know).
How to Select a Good Falsa Blanket
Traditional Mexican falsa blankets are very popular in Southern California (since we have a large Mexican population and are hours from the border).  These blankets are durable, versatile, stylish, and machine washable.  They can be used as bed covers, decorative accessories, and clothing.  A lot of people take them to the beach, campsites, picnics, and yoga studios.
If you are looking to get one, take into consideration the following:
Made in Mexico – Seems obvious but you want to make sure you are getting an authentic Mexican blanket.  In that way, you are supporting artisans from the country and obtaining a good of superior quality.  To be clear, I am only including blankets made in Mexico in this article.
Material – Materials such as cotton, acrylic, and polyester are used.  This creates a more durable blanket.  I have seen companies using 100% recycled materials.  I recommend picking a material mix that works for you or going the eco-friendly route.
Note: Even though Mexican wool blankets and Mexican fleece blankets exist, the falsa style is rarely made with those materials.
Softness – Since you are going to be in contact with the Mexican woven blanket, in one way or another, pick a piece that is pleasant to the touch.  Keep in mind these blankets become softer with time as they are machine washed.
Note Mexican style blankets are not waterproof, sand proof, or dustproof.   You need to care for them appropriately.  Besides, these are heavy Mexican blankets (2.5 to 3 pounds) when compared to blankets designed for outdoor use (they weigh about a pound).  Always read the label before washing and drying.
Falsa Blanket Top Pick
Blankets like the ones manufactured by Benevolence LA are woven on wooden looms by Mexican artisans.  They come in 10 different color patterns (coral, azure blush, mandarin, pink lemonade, sunrise, and more).  In all honesty, Benevolence LA has some of the most beautiful colors I have seen (the color combinations are more contemporary than usual).
The company guarantees their thick Mexican blankets will serve extremely well in outdoor environments (over the grass or sand, close to a river or lake).
These colorful Mexican blankets are made of recycled materials.  Once a piece reaches end of life, it can be used to create a totally new piece. In addition, each piece is tied to a cause (clean water, hunger, human trafficking). Buying a piece will help somebody in need.
Therefore, this is my top pick since you are getting an authentic, quality good while helping the planet and somebody in need.
Size: 75 x 50 inches
Other Falsa Blankets Options
I can never have enough soft Mexican blankets.  Plus, I buy them as a gift all the time.  Here are other incredible options if you are looking for that perfect Mexican falsa blanket.
Benevolence LA Premium Blanket
In addition to the blankets described above (my top pick), Benevolence LA sells a premium blanket (for an additional $10).
This premium blanket is a bit bigger and has a less traditional design.
Size: 80 x 50 inches
El Paso Designs
El Paso Designs sells high-quality falsa blankets woven in looms located in Tlaxcala (Mexico's smallest state).  The blankets are made of 100% recycled materials with a loose-stitch design.
There are tons of vibrant colors to choose from.  The blanket weighs about two pounds.  
Size: 74 x 51 inches
El Paso Designs have sells blankets with a different design/pattern for about the same price.  The blanket shown below does not have the thick "x" pattern (>><<<>>><<).
Hydration Nation
The blankets from Hydration Nation are handwoven in Tlaxcala.  They come in over 20 color patterns.  The colors offer by Hydration Nation are more traditional than the ones offered by Benevolence LA.  However, this does not mean their variety is incredible.
Each blanket is unique since it is handwoven.  You can expect a slight difference in size, weight, and pattern. And, talking about weight, these are only 2.3 pounds.
The blankets are made with 100% recycled materials (60% acrylic, 40% polyester).  The company promises a high-quality and durable piece.  This is backed up with a 5-year guarantee.
Size: 71 x 47 inches
Laguna Beach Textile Company
The blankets sold by the Laguna Beach Textile Company have a custom design but still woven by artisans in Tlaxcala, Mexico.  In this blanket, the "x" pattern is repeated all over the length of the textile.  The pattern is complemented with red and blue lines.
The company ensures the blanket is good for outdoor (beach, picnic) and indoor (yoga, Mexican throw blanket) use.
Size: 70 x 48 inches
Zulay Home
Zulay wins the title when it comes to color options.  Their blankets come in more than 40 patterns.  I think I am in love!
Like other products mentioned in this article, the blankets are handwoven in Tlaxcala with 100% recycled materials.  The manufacturer offers a lifetime guarantee.
Size: 71 x 47 inches
Topaz Hill
If you are looking for a cotton Mexican blanket, Topaz Hill offers a product that is 60% cotton and 40% acrylic.
The blankets are manufactured in a small town in Mexico.  There are 5 colors to choose from.  The company offers a 30-day money-back guarantee and a 1-year replacement guarantee.
Size: 76 x 60 inches
Threads West
This company sells the traditional designs but they also have a design that I have not seen anywhere else.  They have a larger than usual block of single colors (not that many stripes).  Also, their blankets do not have fringes.  I like this design a lot.
Size: 68 x 52 inches
Other Mexican Blanket Styles
As mentioned, there are different styles when it comes to Mexican blankets. In this section, I am including styles different from falsa blankets. They are gorgeous as well!
Benevolence LA Falsa/Serape Blanket
I have already recommended some Benevolence LA falsa blankets. They have another blanket (shown below) that they describe as falsa but it is more a mix of falsa and sarape styles (it has a central design and stripes that resemble a falsa blanket). The blue blanket makes it super beautiful.
Size: 65 x 40 inches
El Paso Designs Mexican Sarape Blanket
As well as falsa blankets, El Paso Designs sell blankets that are woven based on the style of sarapes or serapes. The one shown below has colorful lines and bands (but does not have the characteristic medallion or diamond of a Saltillo Sarape).
Size: 76 x 50 inches. Larger sizes are available.
Open Road Good Mexican Diamond Blanket
This thick blanket has a central diamond like traditional sarapes (not as prominent as the fine ones). It is made with a cotton, acrylic, and polyester blender that makes it more durable (the manufacturer claims this makes it more durable than a falsa blanket).
Size: 78 x 52 inches
Falsa Inspired Accessories
If you love the falsa blanket design (and colors) as much as I do, I am sure you will be happy to take a look at the accessories recommended below.
Baja Hoodie
Baja hoodies are super popular in Southern California (more among surfers).  They are the perfect, cozy accessory for chilly mornings and nights.  Or, a nice alternative to sweatshirts on winter days.
El Paso Designs sell a piece will a great fit (it can be worn with jeans or thighs).  You can choose between 10 options.
Tote Bag
This completely cute tote bag can be taken to the beach, park, lake, or friend gathering.  It can even be used as a reusable grocery bag!
The bag provides tons of space and interior pockets for organization.  It is woven the same way a falsa blanket is woven.  
What do you think about these blankets and accessories?  Which one is your favorite?