Are you a huge beach lover?  Well, me too! Here I review the best beach mats and beach blankets that are a must for your next adventure.
As you guys know, I was born and raised in Puerto Rico.  After graduating college, I moved to a beach city in Southern California. 
So, me and the beach go together like bread and butter.
I spend so much time on the beach: hopping, walking, hiking, tide pooling, lounging, picnicking and more. 
And, let me tell you owning a beach mat or blanket (or two or three) is a must! Below, I discuss what are the best options when it comes to this versatile accessory.
Please note: This article contains affiliate links, meaning I may earn a commission if you make a purchase by clicking a link. Of course this comes as no extra cost to you and helps me to keep offering solid information to readers.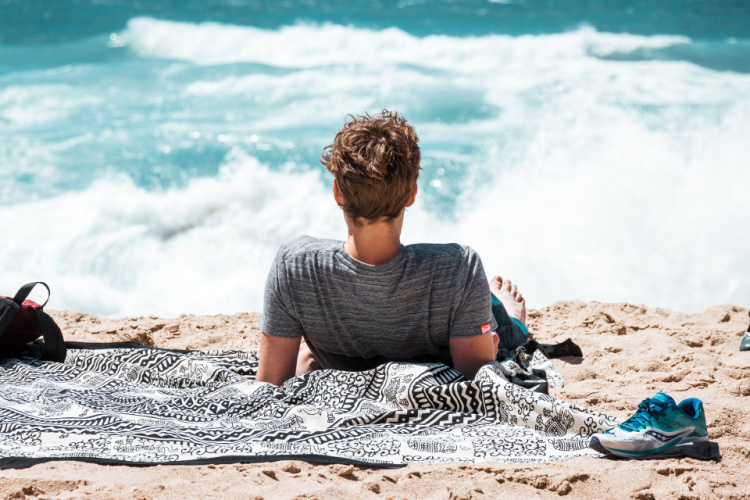 Beach Mats and Blankets At A Glance
If you do not have time to read this entire article, here are the top beach blankets and mats at a glance.  Choosing a beach blanket is a personal thing. Because of that, I have chosen to include in this article a wide variety of options.  
Why Do You Need a Beach Blanket or Mat?
If you visit the beach often, I seriously believe you need to invest in a beach mat.  With the wide range of options in the market, you can carry a  model in your car, even your day pack or bag, without having to worry about space or weight.
Here are some additional reasons why owning a beach blanket is a good idea:
Helps you claim your spot in the sand
Protection from hot sand or surface
Protects your clothes and skin from sticky sand or dirty surfaces
Comfortability
Can be used for picnic, camping or other activities
Can be used to protect you from the cold if needed
Let me mention I would use the terms beach mat and beach blanket interchangeably.  I believe there is not a real difference between the two.  We tend to associate the term "beach blanket" with soft fabric (like the ones used in bedding, some people even call them beach sheets).  The term "beach mat" tends to be associated with tougher, outdoors materials.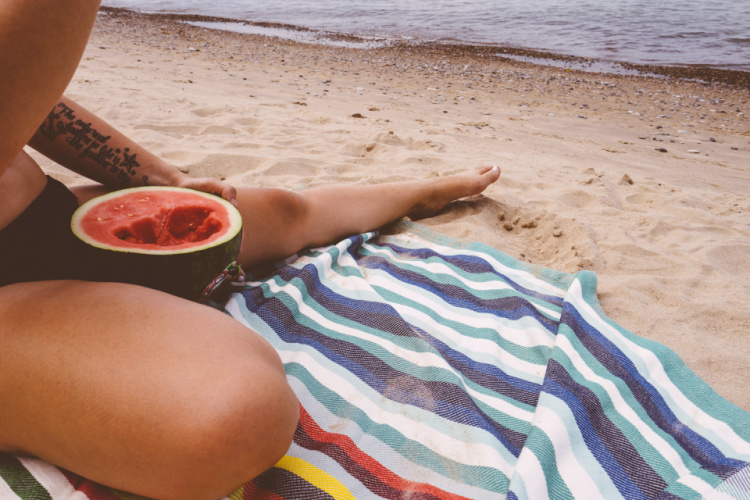 Which Are the Best Beach Mats or Blankets?
Even though the term "best" is subjective and personal,  I will provide my opinion on what factors I take into consideration when choosing a good beach blanket.
Sand Proof – Sand proof beach blankets (or sand free beach blankets or sandless beach blankets) are made of a material that easily repels sand.  This is a great feature because the amount of sand you are going to bring back to your car, garage or house is minimal.
Waterproof – Dealing with wet fabric is kind of a pain.  And, if things do not properly dry, well, the smell is not going to be pleasant.  You can avoid these kinds of situations by choosing a waterproof beach blanket.
Fabric – This is related to the two points discussed above.  A sand proof and waterproof material will work wonders but you also want a light, sturdy and easy to clean fabric.
Portability – Consider buying a beach blanket that is easy to fold/roll, takes minimum space and comes with a bag to carry.
Size – Take into consideration how many people you want to fit in the blanket (or how much space you want to have).  For some, a large beach mat will do the trick. Others will need to go the oversized beach blanket route to fit the entire crew.
Color – This is a less important factor on the list.  However, I would choose a dark color over a light color.
Style – I know we all want to own stylish goods.  Hey, I am all in when it comes to a cute beach blanket. However, I have noticed that it is kind of complicated to combine functionality with style.  Or, this combination comes at a higher price point.  So, it is up to you how you want weight functionality and price.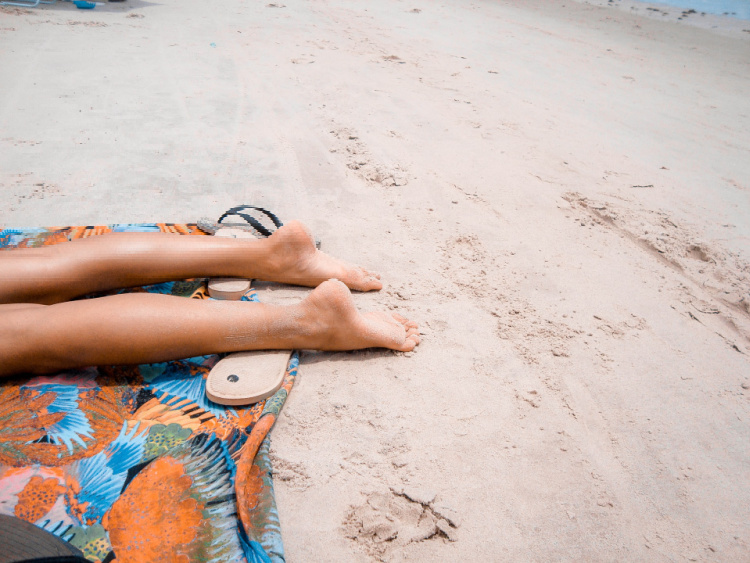 Best Beach Blanket – Top Pick
Before digging into different features and styles, I want to highlight my favorite beach blanket.
The Wekapo Sand Free Beach Blanket hits the most important features when it comes to this type of gear.
Check latest prices and buy now!
First, it is made of a nylon fabric similar to the one used in parachutes.  That guarantees a product that is going to last for several years.
The blanket can be carried and stored in an included pouch.  You do not have to even have to properly fold it or roll it.  You just can push it into the pouch and it will be compressed into a small oval.
Sand does not stick to this product at all.  It is actually fun to watch how the sand slips from this sand resistant beach blanket.
The blanket can be used for picnics, camping or other outside activities.
Pros
Large Beach Blanket (Fits 5-7 People)
Sand Proof
Light
Comes With a Pouch for Easy Storage
Corner Pockets
Machine Washable
Cons
Not Waterproof (But Quick Drying)
No Padding
Best Beach Mat – No Frills Pick
If you want to keep things simple and pay a rock bottom price for a convenient piece, the Camco Handy Mat is for you.
Check latest prices and buy now!
Actually, this piece is designed to step over it (works as a carpet) but fits the beach, camping, or picnic mat perfectly.
The mat is light, portable (comes with carry handles) and easy to fold.  When extended, it has enough room for 4 people.  This is not a sand proof or waterproof piece but it is resistant to the elements.  It can be wiped or hosed down.
Pros
Affordable
Roomy
Portable
Light
Pockets
Mold Resistant
Cons
Not Waterproof (But Water Resistant)
Not San Proof
No Padding
Hand Washed
Best Travel Mats and Blankets
Here are my top recommendations when it comes to outdoor beach blankets.
Best Sand Resistant Beach Blanket
The WildHorn Outfitters Sand Escape Beach Blanket is pretty similar in features to the Wekapo Beach Blanket but it sells for a lesser price.  Therefore, I am including it here for those who are looking for affordable but quality options.
Check latest prices and buy now!
Pros
Great Price
Durable Fabric
Sand Proof
Light
Portable (Comes With Compressible Pouch)
Zippered Pockets
Machine Washable
Cons
Not Waterproof (But Quick Drying)
No Padding
Soft Beach Blanket
As I mentioned before, when you think of a blanket, a soft and cozy piece of cloth comes to mind. And, there is no reason why you cannot enjoy these comforts while on the beach.
The ZOMAKE Large Beach Blanket has a pleasant fleece layer.  Do not worry, this upper layer resists water pretty well.  Drops are not absorbed right away.  Therefore, you have time to wipe away any liquid.
Check latest prices and buy now!
Also, the blanket has a waterproof bottom.  This keeps water, moisture, and snow from penetrating the upper layer.  The middle layer provides a good amount of padding.
This blanket is sand proof too.  You only need to shake off any natural elements before folding it for storage.
Pros
Great Price
Soft
Sand Proof
Waterproof Bottom
Stylish
Cons
Not as Large as Other Blankets Recommended
Beach Picnic Blanket
I am a big fan of vintage looks.  And, if on top of that things have an adorable pattern, well, I am smitten.
That is why I could not resist recommending the red checkered Three Donkeys Extra Large Beach Picnic Blanket.   The pattern of this blanket brings to mind tons of good vibes.  It reminds me of dinners, Vans sneakers, pajamas, fries served on a basket, and even In-N-Out Burgers.
Check latest prices and buy now!
But, it is not all looks.  This large beach blanket fits 6-8 adults, is made of three layers (including durable nylon and a plushy sponge), and it is easy to carry around (includes a carry handle).  On top of that, it is sand proof, waterproof, and repels dirt.
Of course, this great option can be used for all types of outdoor adventures and even for photoshoots.
Pros
Big Beach Blanket
Sand Proof
Waterproof Bottom
Easy Foldable
Padded
Machine Washable
Cons
Mexican Beach Blanket
Serapes, also known as Baja blankets or Mexican blankets, are pretty popular in Southern California.  The style and material of these blankets are used in jackets, sweatshirts, bags, and backpacks too. 
Blankets like the ones manufactured by Benevolence LA are woven on wooden looms by artisans.  They are extremely warm and are often used to cover beds (or to accent other rooms on a house or as beach throw blankets).
Check latest prices and buy now!
They are not waterproof or sand proof but are durable.  It is important to notice that these are made of recycled materials.  Once a piece reaches the end of life, it can be used to create a totally new piece. In addition, each piece is tied to a cause (clean water, hunger, human trafficking). Buying a piece will help somebody in need.
Pros
Durable
Stylish
Eco-Friendly (Made of Recycled Materials)
Machine Washable
10 Colors to Choose From
Each Piece Tied to a Charitable Cause
Cons
Weights 2.5 Pounds
Not Waterproof
Not Sand Proof
Individual Piece (For One Person, Maybe Two)
Boho Beach Blanket
The Mexican Beach Blanket discussed above is a nearly perfect fit for those who like the boho style.
However, the LIVN LIFE Extra Large Beach Blanket comes in four patterns that scream boho all the way!
Check latest prices and buy now!
Even if this beach mat features bold patterns, it has a lot of the features we want like waterproofness and sand proofness.
The only thing that I do not like is that this is not a machine washable piece.  You will need to wipe away dirt and stains.  If it becomes too dirty, it will need to be hand washed and left to dry.
Pros
Beautiful Patterns
Stylish
Waterproof
Sand Proof
Portable
Easy to Clean
Cons
Not Machine Washable
No Padding
Circular Beach Blanket
The Rajsee Blue Circular Beach Blanket is ideal for those who are looking for a unique shape and pattern.  These look gorgeous extended over the sand!
Check latest prices and buy now!
Now, the manufacturer has created this product for different uses.  You can choose to use it as a tapestry, rug, table cloth, seat cover, throw, or blanket.  Keep in mind it is made of cotton and it does not possess the features of other products that have been designed for outdoor living.
I do think this is a beautiful round beach blanket option. It makes more sense if you are into the hippie or bohemian look.  Plus, I believe it will work great for photo sessions.
Pros
Beautiful Patterns
Light
Machine Washable
Cons
Not Waterproof
Not Sand Proof
No Padding
Does Not Come with Pouch to Carry
Beach Towel Blanket
I understand that some people would like to keep things simple and use a single item as a towel and blanket.
If that is your case, I recommend getting a WETCAT Turkish Beach Towel.  
Check out latest prices and buy now!
These towels are manufactured in Turkey using high-quality Turkish cotton, dyed with natural ingredients.  Since the material is thinner than terry cloth (the most common material used in towels), you can expect quicker drying times and an absence of unpleasant odors.  The good thing is that these towels, which can be used as Turkish beach blankets, are absorbent, sand proof, and soft.
Since these are extra large towels, they can be used at the gym, spa, campsite, pool, bath and beach.  Some people even use it for decorative purposes since they have a nice aesthetic.  And, I have to admit their branding is top notch.
Pros
Quick Drying, Cotton Beach Blanket (Waterproof does not apply here since the idea is to use it as a towel too)
Sand Proof
Light
Stylish
24 Colors to Choose From
Machine Washable
Can Be Ironed (Low Heat)
Cons
No Padding
For a Single Person
Pocket Beach Blanket
Continuing with the minimalism theme, I am providing an option for those who want to carry their beach blankets in a purse, backpack, luggage or pocket.
The BEARZ Outdoor Pocket Blanket, when in its included pouch, fits in the palm of your hand.  When extended, it fits 2 people and up to 4 people in a sitting position.  The blanket is easy to fold and store.  The manufacturer states it can be used as a tarp, rain cover, or water barrier since it is completely waterproof.
Check out latest prices and buy now!
Of course, I have recommended other giant beach blankets ideal for numerous families or crews.  This blanket is on the smaller side but I am sure it will fit the needs of several outdoor enthusiasts.
Pros
Portable
Light
Waterproof
Sand Proof
6 Colors to Choose From
Cons
Fits 2-4 People
No Padding
Hand Wash Only
Personalized Beach Blanket
I know some of you may be looking for a personalized or custom beach blanket.  I was not able to find a product that perfectly fit the descriptions.  However, I believe this Towels2 Large Beach Towel will do the trick.
Check latest prices and buy now!
You can add a name or word of your liking to the towel.  This is done before placing the order.  There are several designs to choose from.  For a beach themed blanket choose from the watermelon, pineapple, flamingos, or ice cream options.
Kaufman Personalized Beach Towels may be a better option for kids.  Their designs include mermaids, sharks, turtles, sunglasses, palm trees, flip flops, and ice cream.
Check latest prices and buy now!
Well, I hope you have enjoyed getting into the world of beach mats and blankets.  I enjoyed the ride for sure!
What is your favorite beach blanket or mat?
Pin for later!