This article provides plenty of details on the best beaches in San Luis Obispo County!
California beaches are famous all over the world.
However, that fame brings tons of visitors, clogged streets, and high prices.
But, let me tell you a secret.  San Luis Obispo County, located in Central California, has 80 miles of coastline.  Oh, and there are tons of unspoiled beaches packed on those 80 miles.
So, if you want to enliven your senses, feel the scent of salt in the air, and wiggle your toes in the sand (without having to battle the crowds), here are some blissful stretches of sublime beauty in San Luis Obispo.
Please note: This article contains affiliate links, meaning I may earn a commission if you make a purchase by clicking a link. Of course, this comes at no extra cost to you and helps me to keep offering solid information to readers.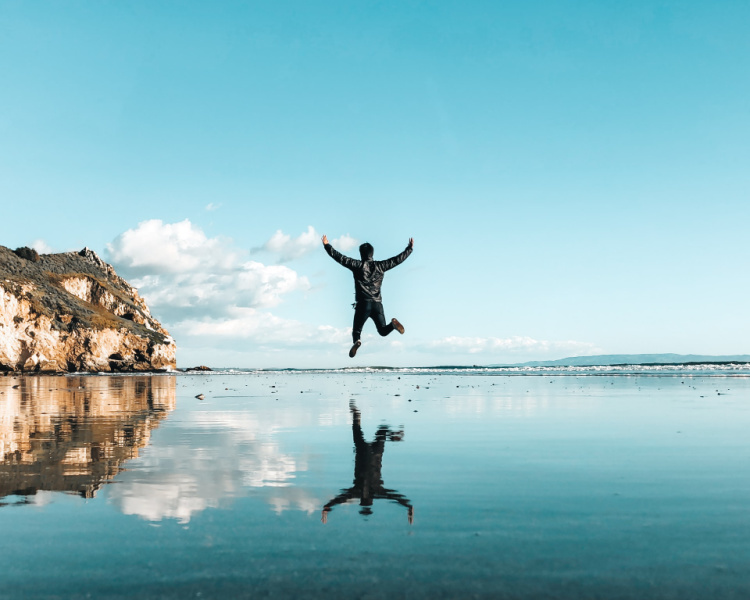 Best Beaches in San Luis Obispo
Here are my recommendations when it comes to visiting beaches in San Luis Obispo.
Because of the moderate weather, there are plenty of activities to practice on these beaches all year round.  You may not be able to take a dip in the water during some months (unless you are a brave soul) but there is a lot more to do.
Do not hesitate to visit when you have a chance!
Pismo State Beach
The dunes at Pismo State Beach are said to be the finest on the entire coast of California. And, those dunes are what attract hundreds of visitors annually.
But, let's backtrack for a moment.  It is not all about the dunes. Pismo State Beach is about 17 miles long.  With that length, you are going to find an exciting mix of attractions. Activities include fishing, swimming, birdwatching, hiking, bike riding, horseback riding, and camping. Plus, the sublime climate makes this beach attractive all year long. 
The northernmost part of the beach is located at the south end of town (it is aptly named North Beach).  This area is home to the Monarch Butterfly Grove.  Western monarch butterflies can be observed between the months of November and February. 
South of North Beach, you will find the Oceano Dunes Beach Preserve, a portion of the state beach with trails, a creek, and a lagoon.
The Oceano Dunes State Vehicular Area starts below this section.  This is one of the few areas in California where vehicles are allowed in the sand.  If you do not have the appropriate vehicle to navigate the dunes (4-wheel or all-wheel drive), there are several local businesses renting the proper gear (dirt bikes, ATVs, Jeeps).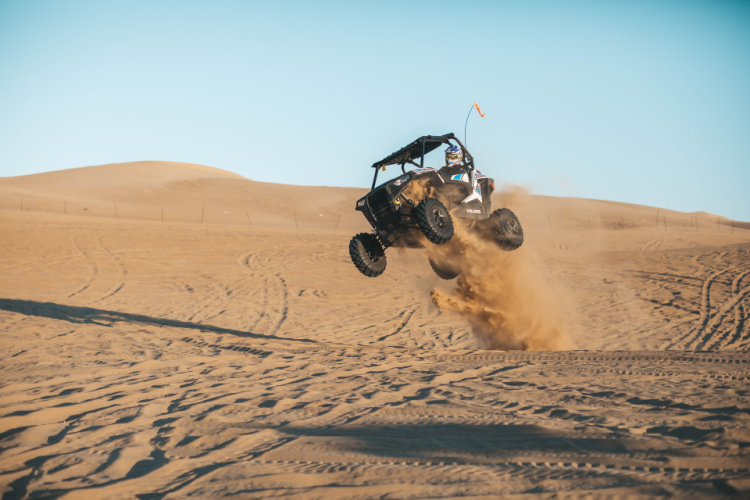 Be sure to visit the Oceano Dunes Visitor Center, where the friendly staff will be happy to answer all your questions about the park and the adjacent areas. The beach is open from 6 am to 10 pm for pedestrians and 7 am to 8 pm for vehicles. 
Camping is allowed at the North Beach and Oceano Campgrounds. People also camp south of Post 2 on the Vehicular Area.  These campsites are less developed than the ones on the other parts of the beach.
Dogs are allowed, on a leash, at the beach, and on trails. Dogs are not allowed at the Dunes Preserve.
Amenities include showers, restrooms, food stands, and drinking water. There are multiple designated parking lots along the beach. Nearby attractions include Downtown Pismo Beach, Pismo Beach Pier, and Shell Beach.
Read More: Things to Do in Pismo Beach
Shell Beach Neighborhood in Pismo Beach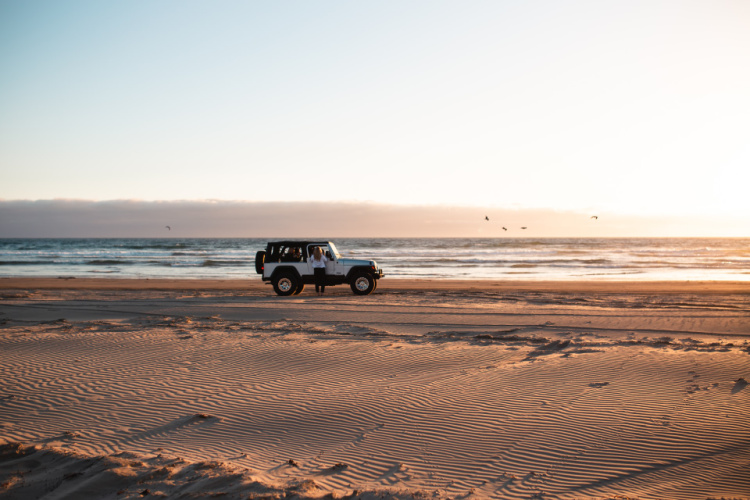 Pirates Cove Beach
There are no trash cans, no restrooms, and no amenities, but Pirates Cove is a shockingly beautiful beach. Well protected and hidden from the elements, this is the party/nude beach of the area. You have been warned!
There are two ways to reach this beach.  From Pismo Beach, you will find a parking lot on Bluff Drive (close to the intersection of El Portal Drive and Indio Drive).  From there, take the Shell Beach Bluff Trail. You are going to see the beach right away.
From Avila Beach, drive to the end of Cave Landing Road and park.  This will take you to the other end of the Shell Beach Bluff Trail.  You will have spectacular views right away.
Please note that the trail to Pirates Cove Beach is kind of steep and can become a challenge to some who are not fully fit.
As mentioned, there are no amenities.  Bring all you need with you.  Parking is free and dogs are allowed on leash.
The area surrounding Pirates Cove is one of the prettiest in San Luis Obispo. I recommend hiking around (Shell Beach Bluff Trail, Ontario Ridge Trail, Sycamore Crest Trail) or just exploring the caves, coves, and sea arches between Pirates Cove and Fossil Point. This is such a spectacular place.  
Nearby attractions include Downtown Avila Beach, the Central Coast Aquarium, Avila Hot Springs, and the Avila Valley Barn.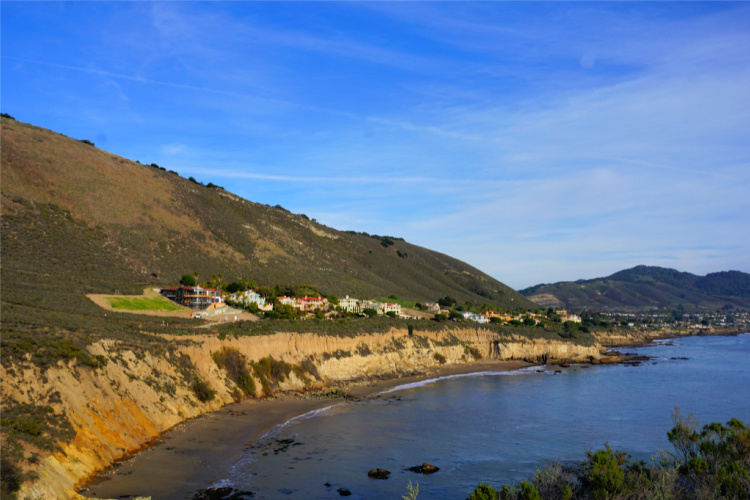 Avila Beach (Main Beach)
The magical thing about Avila Beach is that it receives way fewer visitors than its neighbors.  For some reason, the small town seems to be a secret even though it has pleasant weather, tons of amenities, and outstanding natural beauty.
The Main Beach extends for about a mile from the mount of the San Obispo Creek to Fossil Point.  The nice thing is that restaurants, wine tasting rooms, coffee shops, boutiques, apartments, and hotels are located right across the beach.
The Avila Beach Pier is open for recreational fishing.  You can even walk below the pier.  There is another pier in town but it is private.  It makes for cool photos though.
A Farmer's Market takes place every Friday.  The Avila Beach Park and Central Coast Aquarium are located close to the beach as well.
This site has also become a good spot to watch gray and humpback whales during their migratory season.
Free parking is available on the street but spots may fill up quickly during summer or busy holidays.  There are public lots that charge about $6 for the day. Dogs are allowed on the beach before 10:00 am and after 5:00 pm.  They are allowed in most areas of the town.
Amenities include restrooms, showers, and potable water. In the vicinity, you can visit the Avila Beach Golf Resort, Avila Beach Hot Springs, and Cave Landing Area.
Read More: Things to Do in Avila Beach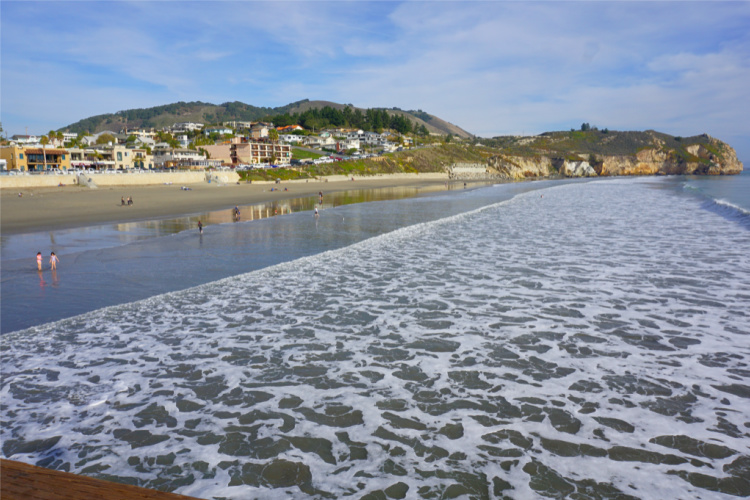 Olde Port Beach and Fisherman's Beach
Even though these beaches are located close to Avila Beach's Downtown, I had to include them because they are even more secluded than Main Beach.  And, surprise, they are close to Port San Luis Pier, the third pier in town.  Such a unique area!
Olde Port Beach is a wide sandy stretch open from 8 am to 5 pm and accessible from Avila Beach Drive. Fishermen's Beach is adjacent and closer to the pier. 
There are basic restrooms and fire pits available to visitors who also have the option to launch small boats from the beach. 
Port San Luis Pier is a working pier with businesses offering sportfishing, kayaking, stand-up paddling, and whale watching services.  Restaurants serve delicious seafood dishes including clam chowder (a specialty in the area).
While dogs are allowed on leash on Fishermen's Beach they can roam free on Olde Port Beach. There is plenty of free parking in the area.  The Port San Luis RV Campground caters to RVers and boaters.
Another wonderful activity in the area is a guided walk/tour to the Port San Luis Lighthouse.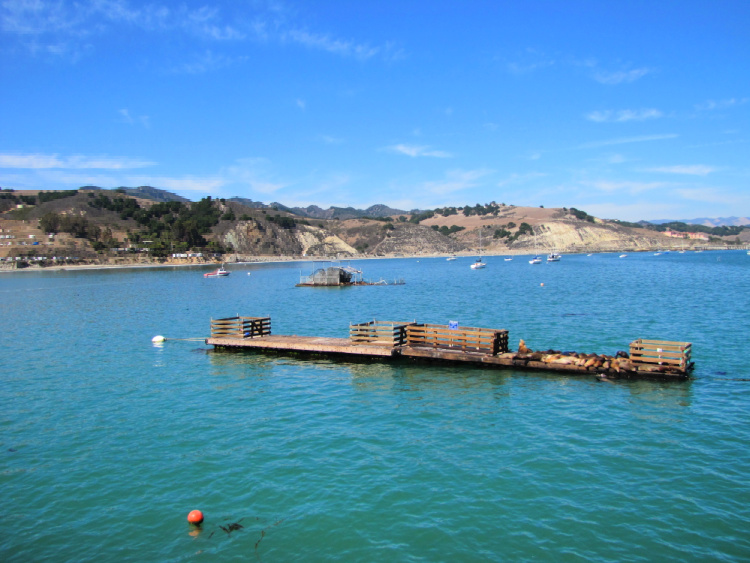 Spooners Cove
Spooners Cove is one of the most beautiful beaches in Montana de Oro State Park. Besides, the park itself is one of the most stunning in California (for real!)
The park's name (Mountain of Fire) incidentally comes from the large numbers of California poppies that bloom during the spring season. This park makes for an outstanding day-long outing. Beginner and expert hikers will love the mix of coastal and inland trails. The amount of land and marine animal life is staggering as well.
A lot of the activity in the park surrounds Spooner's Cove.  Think about it as the main beach in the park.  This beach boasts caves, tidal pools, and some unique rock formations (which are worth climbing up to during low tides). 
Families can use the picnic tables, restrooms, and drinking water facilities. The Spooner Ranch House (the park's visitors center) and Islay Creek Campground are located in the vicinity of the cove.
From Spooner's Cove, you can access the Bluff Trail, an easy 4.1 (roundtrip, you can walk as much as you want) trail that takes visitors along the park's rugged coastline.  Other hikes in the park include Valencia Peak, Badger, and Oats Peak.  Besides, you can access the Point Buchon hiking area from Montana de Oro.
The park opens daily from 6 am to 10 pm.  The entrance is free. Visitors can bring dogs, provided they are on leashes of no more than six feet.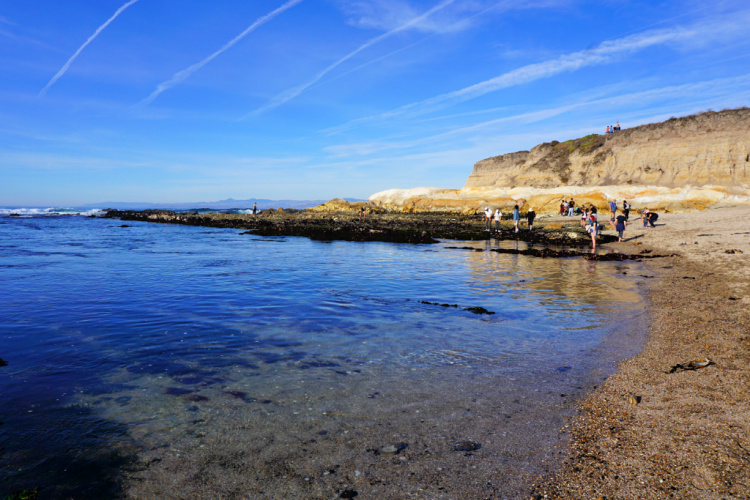 Morro Strand State Beach
This expansive (5 miles) sandy paradise is located north of the world-famous Morro Rock.  
In the northernmost part of the beach (it is complicated to establish limits, to be honest), there is a day-use area at the end of 24th Street.  Sometimes, this area is called Sand Dollars Beach.  From here, it is easy to walk north to Cayucos.
Then, there is a long stretch called Morro Bay Dog Beach or Toro Creek Dog Beach.  And, you guessed it, dogs are allowed to roam free here.
There is another day-use area accessed from Yerba Buena Street.  There is an ocean-front campground here.
Then, there is a big day-use area at the end of Azure Street, close to Cloisters Community Park.  And, of course, you can enter the beach from Coleman Park, closer to Downtown Morro Beach.
There is an abundance of activities available here year-round. You can surf, kayak, sunbathe, walk, run, jog, windsurf, bird watch, kite fly, and fish. The town has tons of restaurants, shops, and accommodation choices.  Amenities include restrooms, showers, picnic tables, drinking water, and trails.
Other beaches in the area include:
Coleman Park & Beach
Morro Rock Beach
Morro Bay State Park Beach
Sandspit beach
Morro Rock Jetty Beach
Some nearby attractions not to be missed include the Embarcadero, Museum of Natural HistoryMorro Estuary Bay Zoo, and Elfin Preserve. 
Read More: Things to Do in Morro Bay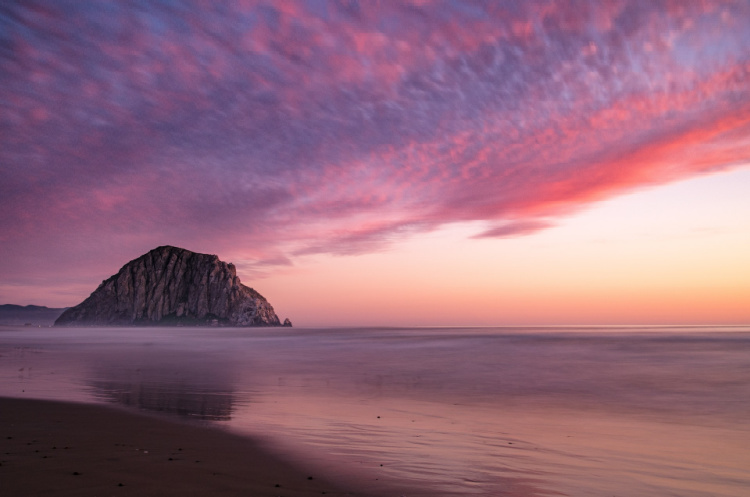 Cayucos Beach
Cayucos is a small town located five miles north of Morro Bay. 
Not a lot of people seem to know about Cayucos (even people born and raised in California).  Therefore, this is a great spot to take it slow and enjoy the calm atmosphere.
The Cayucos Beach (or Cayucos State Beach or Main Beach) is located across the center of town.  It extends for about a mile from Cayucos Creek to the Morro Strand State Beach.
The Cayucos Pier, built by Captain James Cass, is open fishing and strolling.  From the structure, you can enjoy views of Morro Rock, the Santa Lucia Mountains, and coastal cliffs.  
Visitors sunbathe, swim, surf, jog, or walk (some walk as far as Morro Bay). There is a tide pooling area in the northern part of the beach.  Amenities include restrooms, showers, picnic tables, and playgrounds.
Free parking can be found on the streets of the town.  Dogs on a leash are allowed on the beach.
There are plenty of restaurants on Ocean Avenue.  I recommend not missing Ruddell's Smokehouse (for smoked fish tacos) and Brown Butter Cookie Company (they add sea salt to some of their cookies).
Read More: Things to Do on Cayucos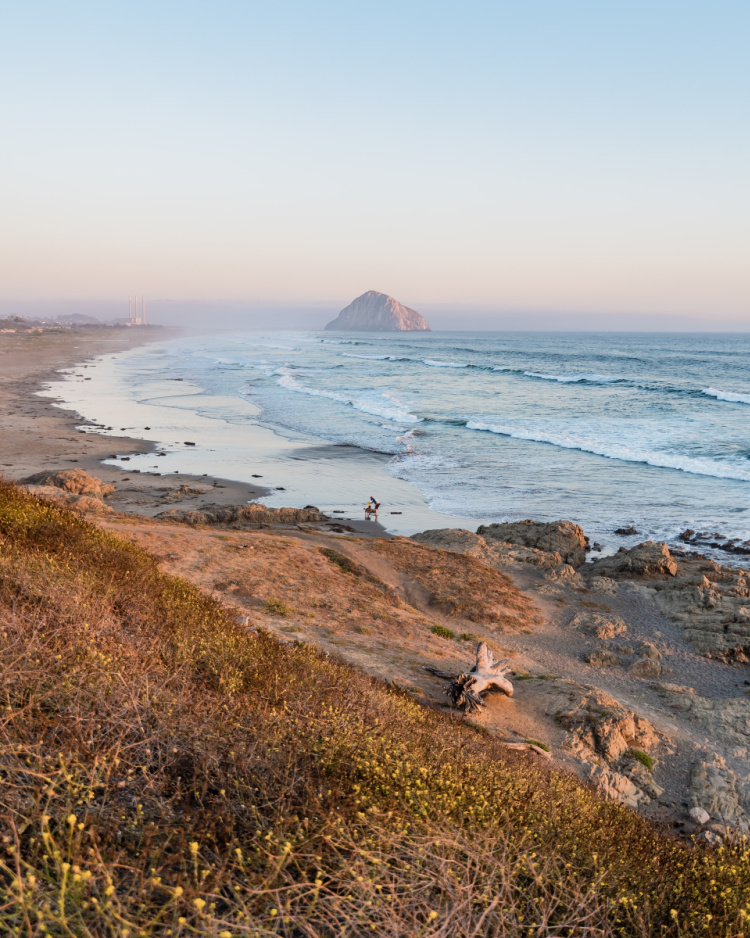 Estero Bluffs State Park
If you want to have a beach all to yourself, I recommend heading to Estero Bluffs State Park.
On this park extending along 4 miles of coast, there are plenty of undeveloped beaches.  I am sure you are going to be able to find one where you can gaze at the ocean for hours without being disturbed.  
While driving on Highway 1, you will see several rustic, unpaved parking lots (at least there are 4 of them).  From each lot, there are trails that take you to the beaches, low hills (with great views of the area), or along the bluffs.  
I have found great beaches at the southernmost part of the park (close to Cayucos).  The biggest beach is located in the northernmost part of the park.  You may want to check the tides since it is easier to find a good spot in the sand during low tide.
There are no facilities in this park.  Bring everything you need.  Dogs are allowed on a leash.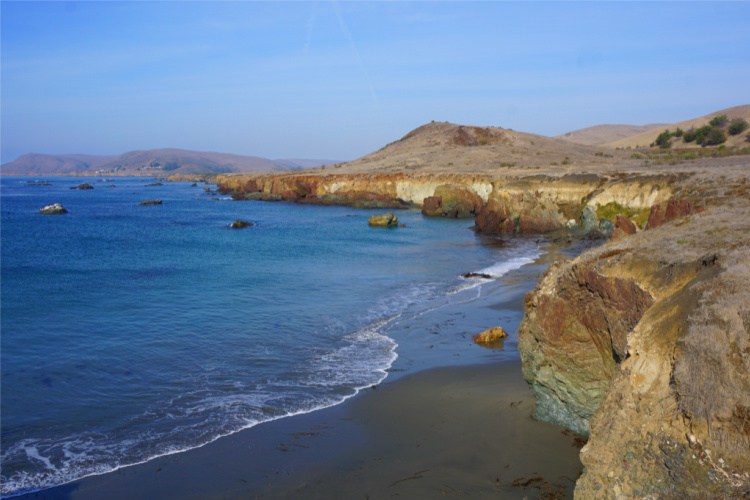 Moonstone Beach
If you are looking for the most beautiful beaches in San Luis Obispo, you definitely need to check out Moonstone Beach.
This strand of beach, located in Cambria, gets its name from rocks displaying a pearly or opalescent aspect.  Locals and visitors claim these can be spotted often on the beach.
The other thing that makes Moonstone Beach famous is its wooden boardwalk, a feature that makes the spot accessible to everybody.
The beach extends for about a mile from Leffingwell Landing to Santa Rosa Creek.  You can park for free on Moonstone Beach Drive or at one of the day-use lots at both ends of the beach.  
Other than parking, there are no amenities on the beach.  There are some restaurants located on Moonstone Drive.  You may be able to buy something to eat/drink or use one o their restrooms.
Dogs are not allowed at the beach.  It is fine to walk them on a leash on the boardwalk.
Cambria's center or downtown is located a bit inland.  There you will find restaurants, shops, wine tasting rooms, and other services.  North of Cambria, you will find the Hearst San Simeon State Park (with two campgrounds), Hearst Castle, and the Piedras Blancas Elephant Seal Rookery.
Read More: Things to Do in Cambria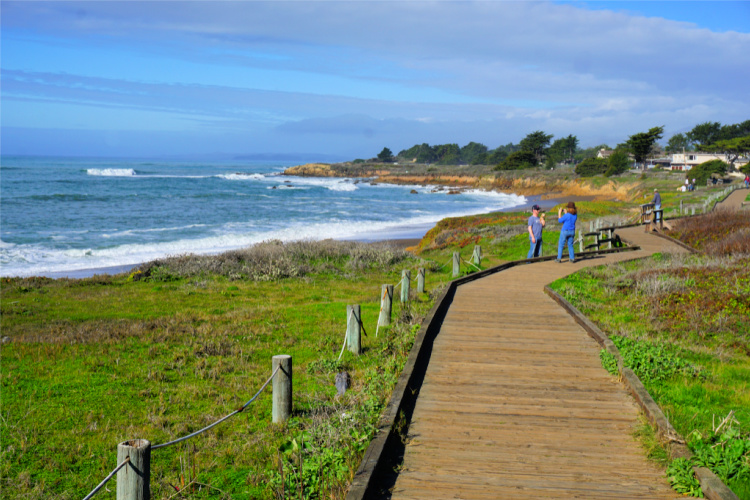 William Randolph Hearst Memorial State Beach
Now, this is another of my favorite beaches in San Luis Obispo.
The William Randolph Hearst Memorial State Beach is located across Hearst Castle.  In fact, the pier located on the beach was built to receive materials used to build the Castle (they arrived by boat due to the seclusion of the place).
The beach is open from dawn to dusk and visitors have a chance to swim, fish, walk, sunbathe, and beachcomb here.  A kayak and boogie board concession operates on the beach (seasonal).  In addition, you will find the trailhead to San Simeon Point Trail.
Amenities include restrooms, showers, picnic sites, rentals, and a small store.  There is a free parking lot on-site. Dogs are not allowed on the beach.
From this beach, you can visit Cambria, the Piedras Blancas Rookery, the Piedras Blancas Lighthouse (guided tour only but you can take a look from the distance), and Hearst Castle (guided tour only).
Read More: Things to Do in San Simeon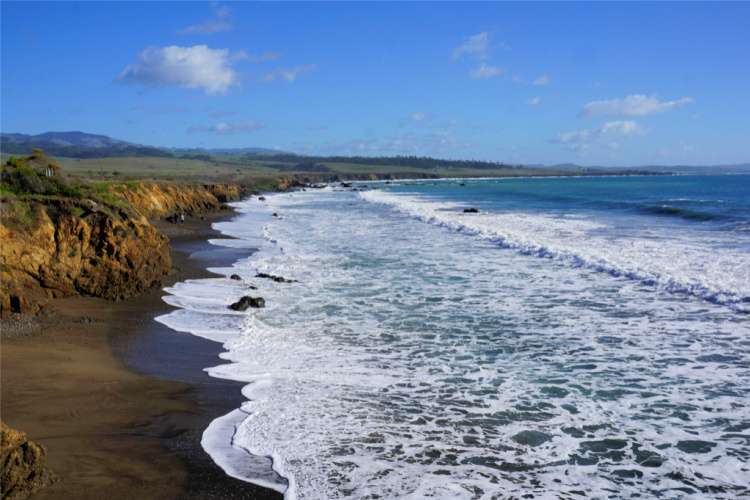 Arroyo Laguna Beach
Between San Simeon Point and Ragged Point, the northernmost part of coastal San Luis Obispo County, there are about 15 miles of beaches.
Arroyo Laguna, a beach lying at the mouth of Oak Knoll Creek stands out since it is a kiteboarding and windsurfing paradise. There are no signs pointing to the beach but you will either see windsurfing sails or cars parked north of San Simeon Point.
Between December 15 through April 30 there are signs indicating the beach is close since elephant seals come to shore to give birth. Irrespective of what the signs say, water-based activities are permitted, providing the seals are left undisturbed. 
The beach has no facilities.
Beach Gear
As I spend a lot of time on the beach, I have my gear packed and ready to throw in the car.  Here is an idea of what I take to the beach.
Easy Set Up Beach Tent –  This is essential since most beaches in California do not have shaded areas.  >Check out this great tent option here
Big Portable Umbrella –  Sometimes, we prefer to use an umbrella since we want to sit on a chair verse lying on the floor.  Plus, I find it easier to adjust/move the umbrella to block the sun.  >Buy a beach umbrella
Hope you have gotten tons of ideas on what beaches to visit in the county.  And, once you visit, I hope you love these places as much as I do.
What are your favorite beaches in San Luis Obispo?
Pin "Amazing Beaches in San Luis Obispo" for later!