Get ready to discover the best beaches in Santa Barbara County!
Santa Barbara is my home away from home.  
Its gorgeous geographical features, Spanish revival architecture, mind-blowing culinary scene, and warm-hearted residents keep luring me in.
I am a particular fan of Santa Barbara's coastline.  I have spent countless hours exploring its nook and crannies.  And, let me tell you, every time I get curious about a particular area or spot, I am rewarded with touching beauty.  I feel like freezing time and staying in one of the county's beaches forever.
That is why I cannot wait to share my list of the best beaches in Santa Barbara!  
In this article, I am sharing information about location, features and eating options.  In that way, you can pick a beach that fits your preferences. And, let's be honest. You may not want to pick.  You may feel like visiting all the beaches on the list!
Let's start digging in.
Please note: This article contains affiliate links, meaning I may earn a commission if you make a purchase by clicking a link. Of course, this comes at no extra cost to you and helps me to keep offering solid information to readers.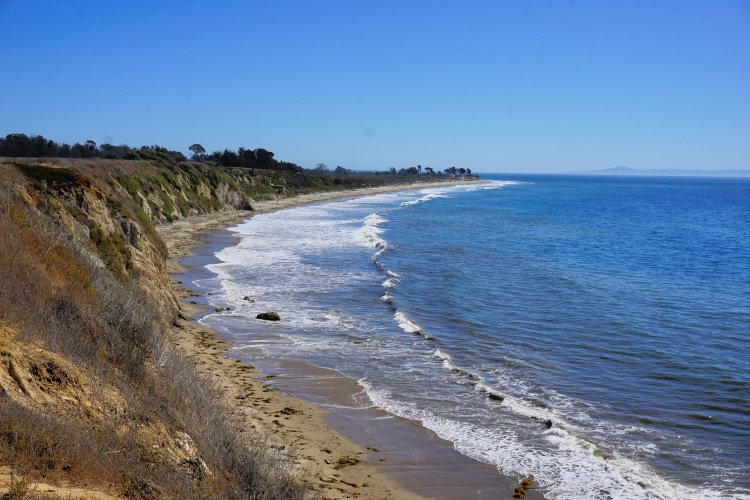 What to Know Before You Visit
With more than 100 miles of coastline, it would be impossible to cover every single beach in the county here.  I have selected a few based on factors such as proximity to main cities, facilities and ease of access.
Santa Barbara (and Southern California) is famous for its Mediterranean climate.  That means you can visit the city year-round without worrying about extremely low temperatures.
Now, even though you will find excellent weather in Santa Barbara, water temperatures average 65 degrees in summer and 55 degrees in winter.  Keep that in mind if you want to bathe. This is not the Caribbean folks!
I have said many times that the Pacific Ocean is anything but pacific.  Get ready for some wave action.
The other thing is that there are natural tar pits in some parts of the coast.  Do not get into the water if you notice oil or other sticky fluids.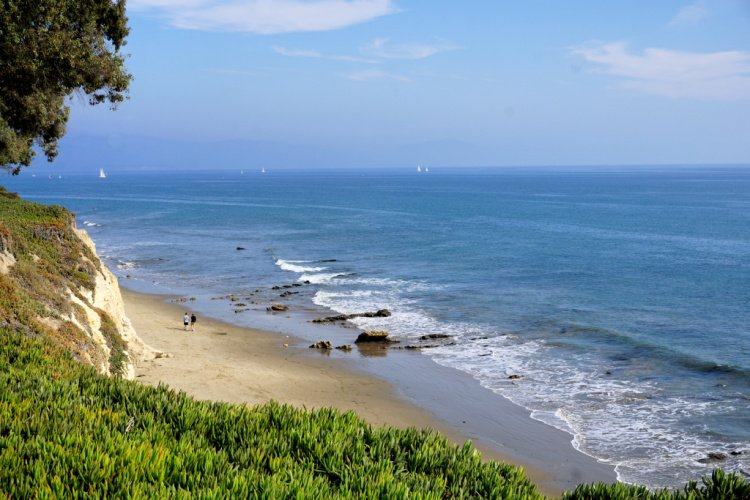 Beach Gear
As I spend a lot of time on the beach, I have my gear packed and ready to throw in the car.  Here is an idea of what I take to the beach.
Easy Set Up Beach Tent –  This is essential since most beaches in California do not have shaded areas.  >Check out this great tent option here
Big Portable Umbrella –  Sometimes, we prefer to use an umbrella since we want to sit on a chair verse lying on the floor.  Plus, I find it easier to adjust/move the umbrella to block the sun.  >Buy a beach umbrella
Best Beaches in Santa Barbara: East Beach
As the name implies, East Beach is located east of Downtown Santa Barbara and Stearns Wharf (pier).  
This is the place to be if you want to enjoy the beach and remain close to the city amenities.  Since this is a long beach (about 1.6 miles), walk as far as possible from the wharf to escape the crowds.
If you need any type of help, the Visitors Center is located nearby (1 Garden Street).
What to Do: Other than lounging around in style, you can walk or bike the coastal path.  If you are in need of a bike, head to Wheel Fun Rentals (many branches in the city but closer to East Beach is located next to the Hilton).
Chase Palm Park (with trails, playgrounds, and carrousel) and a skating park are located close to the western part of the beach.
A ballpark, volleyball courts and a bird refuge (Andrew Clark) are located close to the eastern part of the beach.
Facilities: East Beach counts with several public restrooms, showers and potable water fountains.  Public restrooms are located in Chase Palm Park too.
There are several parking lots along the beach.  You will need to buy a permit (from on-site machines) to park.  Public buses circulate around Cabrillo Boulevard.
Where to Eat: A well-know joint called East Beach Tacos is located on Milpas Street.  There are several restaurants, with ocean views, in the hotels/resorts located between Milpas Street and Ninos Drive.
I recommend heading to the Funk Zone for a beach break.  This part of Santa Barbara is full of taprooms, wine tasting rooms, restaurants, galleries, and murals.  People rave about eateries such as Goat Tree, The Lark, and Tyger Tyger.
Mony's serves delicious Mexican food and McConnell's to-die-for ice cream.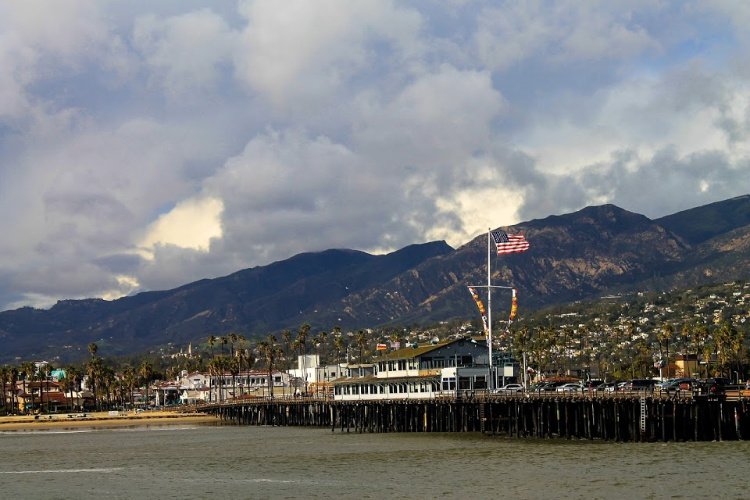 Leadbetter Beach
This is my favorite beach in the City of Santa Barbara for many reasons.  
The location is good, it has a beach cafe and it can be seen in its entirety from the aptly named Santa Barbara Point.
What to Do: As with East Beach, you can walk or bike the coastal path.  Towards the western part of the beach, the path goes up and culminates in Shoreline Park.  This is where you are going to find Santa Barbara Point, a premier photo spot that will allow you to capture Leadbetter Beach, Santa Barbara and the Santa Ynez Mountains.
From the park, you can access other beaches (mainly small coves).
The Santa Barbara Marina and Maritime Museum are located close to the eastern side of the beach.  You can combine your visit to Leadbetter with a sailboat or whale watching excursion.  Believe me, you want to see the city from the water!
Facilities: There are plenty of restrooms in Leadbetter Beach and Shoreline Park.  Showers and potable water are available at the beach.
The beach counts with a big parking lot where you can leave the car for an affordable rate.
Where to Eat:  The only eating option on the beach is Shoreline  Beach Cafe.  The menu includes items such as omelets, pancakes, tacos, sandwiches, burgers, and salads.  If you only want to buy drinks, they allow you to have them in their ocean-facing patio (they have stools designated for this).
In the marina, you will find Brophy Bros. and On The Alley.
You will have to walk towards the Wharf for other eating options.  It makes sense to bring your own food or filling snacks if you are thinking about spending here the majority of the day.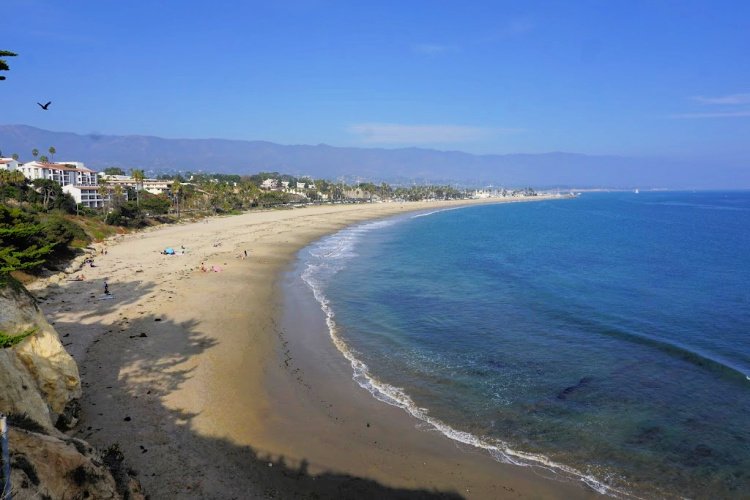 Best Beaches in Santa Barbara: Arroyo Burro Beach
Also known as Hendry's Beach, Arroyo Burro is still within the City of San Barbara limits but feels ages away from an urban core.
It took me years to visit.  Do not make that same mistake.  The beach is flanked by cliffs and walking around during sunset feels magical.
Dogs are allowed to be in the sand without a leash.  When I have visited, there have been dozens of dogs running around.  It is actually very fun to be surrounded by them. I ended up making several friends.
What to Do: This is a place to chill down, walk, jog or sunbathe.  
The Douglas Family Preserve is located over the cliffs framing the beach.  It is a nice place to walk, hike and photograph amazing views.  I do not remember seeing a path or stairs connecting the beach to the preserve.  You will need to drive from one place to the other (do not attempt to go down the cliffs from a non-maintained path).
Facilities: The beach has one restroom and a small parking lot.  If you cannot find a parking space, you may need to wait till somebody leaves.  It can be almost impossible to find a parking spot during high season.
Where to Eat:  The only eating option on the beach is Boathouse, a restaurant famous for its lavish brunches and seafood platters.  Visit for breakfast (not brunch) and lunch if you want to have a meal with a view and save some money.
Boathouse is one of the reasons why the beach's parking lot gets packed.  You may want to avoid arriving at peak meal times.
There are no other eating options on this beach.  You will need to drive out to get something to eat (unless you ask for a delivery).  Bring your own food if you have the intention to stay for a while.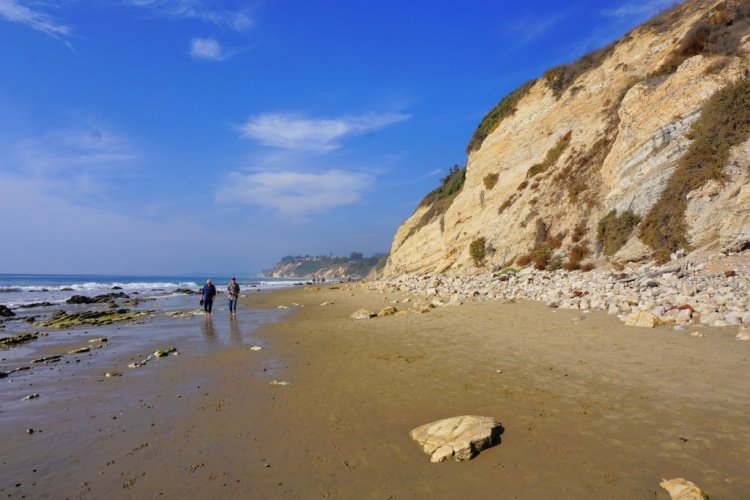 Butterfly Beach
Butterfly Beach appears in a lot of brochures related to Santa Barbara (it is actually located in Montecito) but it feels like a local spot. 
The views from here are beautiful (super duper beautiful). Plus, there are palm trees lining some parts of the coast.  This is kind of a rarity in California.  
What to Do: Things are kept simple in here.  You can walk, bike or sunbathe.
On foot, you can reach East Beach to the north or Hammond's Beach to the south.  Keep in mind this may not be possible during high tide.
There is also the possibility to bike from Santa Barbara since there is a path connecting the Wharf to this beach.  You have to pedal less if you are based on East Beach.
Facilities:  There are no public restrooms and parking is on the street (free).  The Biltmore, a Four Seasons Resort, is located across the beach but staff members are located at every entrance (blocking access to non-guests).
Where to Eat:  There are no places to eat on the beach.  However, since you are in Montecito, you may want to stop by Coast Village.  You can have breakfast at Jeannine's or Bree'osh and lunch at Los Arroyos or Tre Lune.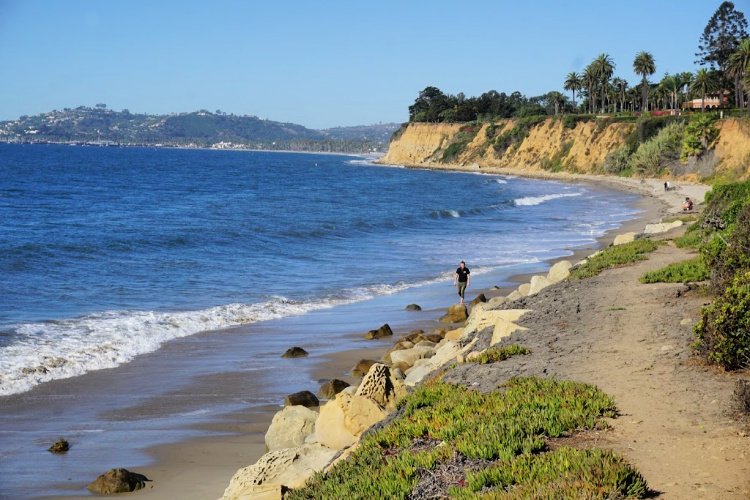 Best Beaches in Santa Barbara: Carpinteria State Beach
For a small beach town experience, head to Carpinteria.
The vibe in this place is different from what you are going to find in Santa Barbara.  Plus, the opportunities to meet locals is higher here.
At the end of the main drag, Linden Avenue, you will find the Carpinteria State Beach.  So, you can combine a day at the beach with shopping and eating.
What to Do: The list of things to do in or near Carpinteria State Beach is long.  I have an entire post dedicated to the city. I recommend you take a look.
In short, you can camp, walk, hike or bike in or near Carpinteria Beach.  If you have kids, there is a neat playground (Tomol Interpretative Play Area) next to the campsites and steps away from the beach.
To the north, you can visit Marsh Park.  To the south, you can spend some time at the Tar Pits Park, Seal Sanctuary or Bluffs Nature Reserve.  
The town has two breweries: Island Brewing Company (close to the beach) and Rincon Brewery (Linden and Carpinteria).
Facilities: You do not have to worry since the beach offers all the things you need to have a great day.  Convenience stores are located within walking distance (in case you need something).
Where to Eat: To be honest, you do not have to worry about eating well in Carpinteria.  While at the beach, you can head to The Worker Bee Cafe or Crushcakes & Cafe for breakfast or lunch.  I also like Nutbelly, Lucky Llama and Siam Elephant.  The food at the Rincon Brewery is good too (everything in the menu is beer-inspired).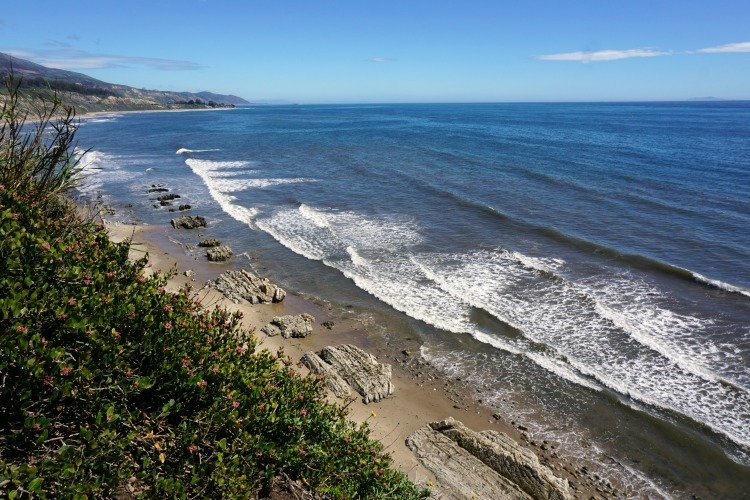 Goleta Beach Park
Goleta Beach Park, located close to the airport and the university (UCSB), is a great place to spend some time with friends and family.
I am including it here because it offers a variety of amenities to visitors. 
What to Do:  The park has a pier from where you can fish without a license (like from all piers in California).
A paddle sports center is located on-site.  In there, you can rent paddleboards, kayaks, and other equipment.  
If you feel like exploring, you can walk north towards the university and take a look at the campus or Campus Point.
Facilities:  The park has a bike trail, playground, volleyball court, boat launch, restrooms, BBQs and picnic tables.  One thing I like about this place is the grassy areas. I prefer to set camp over grass (instead of sand).
Dogs are allowed on leas.
Where to Eat:  The only eating option on the beach is Beachside Bar-Cafe.  Expect dishes such as ceviche, oysters, sandwiches, salads, paella, and fresh fish.
Other than that, the closet eating options are located in Isla Vista.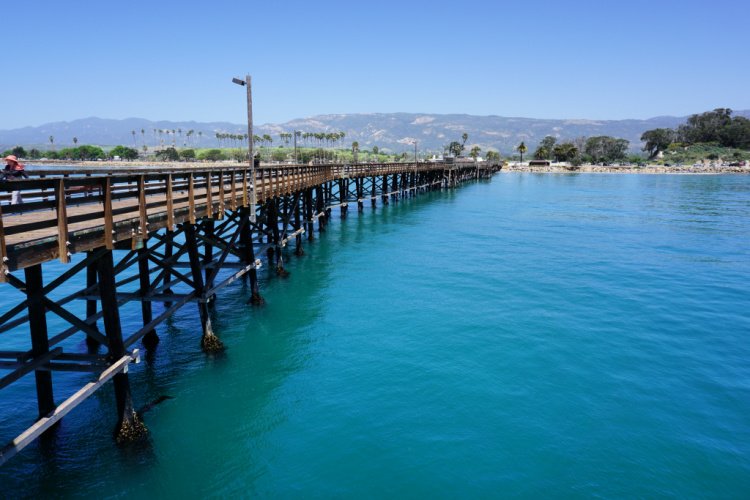 Best Beaches in Santa Barbara: Gaviota Coast
The Gaviota Coast is Southern California's largest stretch of undeveloped coastline, containing approximately 50 percent of its remaining rural shores.  Located in Northern Santa Barbara County, this 76-mile swath of pristine beaches and hilly landscapes passes through National Forest lands and five state and county parks.
I know it is a crime to include as a single entry in this article 76 miles of coastline with dozen of beaches but I have done this since the area has similar characteristics.
There are three state beaches in the Gaviota Coast: El Capitan, Refugio, and Gaviota.  Yes, all of them have names in Spanish (The Captain, Refuge, and Seagull).
A fee is charged to enter the beaches.  However, when you pay at one of the beaches, you are given a pass that allows entry to all beaches that same day. 
Other beaches on the coast are undeveloped.  You are going to see cars parked next to the freeway. If you are interested in checking some spots, follow the lead and park your car where you see other cars.  Be careful since you have to cross the train rails to get closer to the coast and/or beach.
What to Do: On the state beaches, you can camp, hike, fish, bathe, play volleyball and learn about the flora and fauna of the area.
My favorite beach is Gaviota.  There is a pier and tons of cool rock formations along the cliffs.  You can tell there used to be a lot of volcanic activity in this spot.
Plus, Gaviota is not only a state beach but a state park.  There are miles and miles of hiking trails.
Make sure to stop by Arroyo Hondo Vista Point.  This spot has fantastic views of the Gaviota Coast and interpretative signs discussing history, interesting events, and the local ecosystem.
Facilities:  The usual facilities can be found inside the state beaches. There are no services in this stretch of land (food, gas, etc.).
There is a rest area after the north of Gaviota State Beach.
What to Eat: As mentioned, there are no food services in this area.  El Capitan has a beach store and that is pretty much it.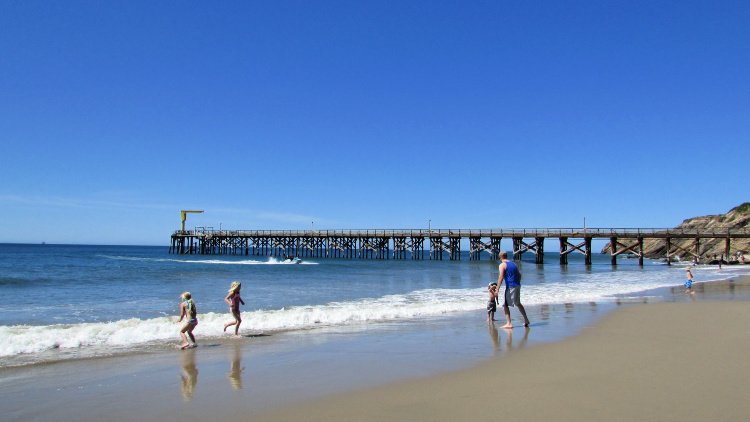 Jalama Beach
If you want to get off-the-beaten-path, go to Jalama Beach.  
You will be able to experience a wild beach while having access to some basic amenities.
Jalama is located close to Lompoc, one of the cities in the Santa Ynez Valley.  To reach this beach, you have to drive north on US-101, take the Lompoc exit (CA-1) and take a smaller road to reach the beach. It sounds a bit complicated but the journey is worth the effort.
What to Do:  You come to a place like Jalama to connect with nature.  I will refrain from writing suggestions. You decide how you want to spend your time here.
Facilities: The beach (a county park) has tent spaces equipped with BBQs and a picnic table.  Campers have access to showers with hot water, restrooms, and potable water.
Trailer and RV spaces are available too.  A beach store is located on-site.
What to Eat:  The Jalama Beach Store serves dishes such as clam chowder, apple pie, and the famous Jalama Burger.
That is the only option in the area.  Make sure to come prepared with what you want to eat.
Other Beaches
I have provided tons of great options in terms of beaches in Santa Barbara.  However, I feel like I need to mention other wonderful spots I have discovered during my years visiting the county.
Rancho Guadalupe Dunes Preserve – Located near the border with San Luis Obispo County, this preserve has a wild coastline, great views (you can see till Point Sal) and sand dunes with a wavy surface.
Haskell's Beach – From the beach, you have views of the Ritz-Carlton Bacara, and a private pier.  There are interpretative signs on the path from the parking lot, a beach house (serves food during summer) and the nearby Sandpiper Gold Club.
Ellwood Mesa – This park has a Bluffs Overlook Trail with great views of the coast.  It is easy to go down to the beach.
Summerland Beach – This beach can be accessed from Lookout Park.  If you want, you can walk all the way to Loon Point (or access the strand of sand from Loon Point).  Lookout Park has all the facilities needed to spend the day next to the beach.
Padaro and Santa Claus Beaches – These popular beaches, located north of Carpinteria State Beach, get packed during summer.  
Rincon Beach – This is one of the premier surfing spots in the county.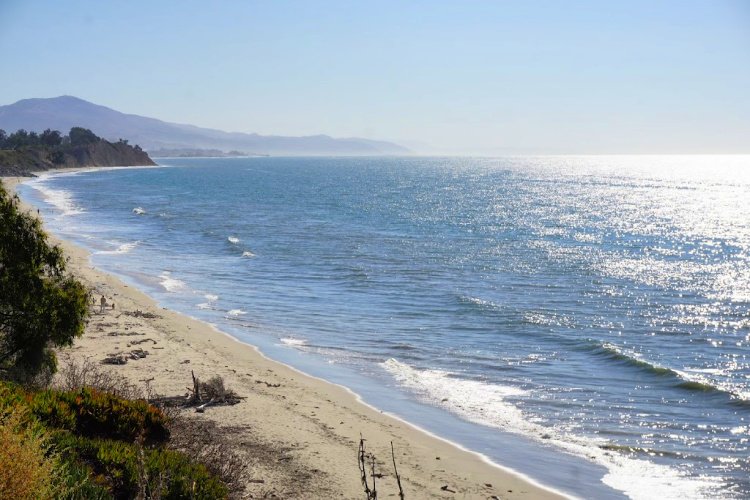 I really hope you have enjoyed this article dedicated to the best beaches in Santa Barbara.  I know I had a blast writing it and rememorating the places I have been.
As always, let me know if you have recommendations or questions.
More of Santa Barbara
Places to Visit in Santa Barbara
What other beaches do you like in Santa Barbara?
Pin "Best Beaches in Santa Barbara" for later!