If you are an outdoors fan like me, I am pretty sure you enjoy camping next to lakes.  If so, here are the best lakes for camping in California!
You just cannot talk enough about lakeside camping without waxing eloquently about the 400+ spots where you can pitch a tent in the Golden State. With so many bodies of water dotting the region, there is no better place to spend a night under the stars than next to some of these idyllic lakes. 
So, here are twelve of our eternal favorites, where you can escape into the wilderness to enjoy an out-of-the-world lakeside camping experience. Since the state has a wide array of options, we are sure our location scouting will make your task of finding the perfect spot much easier.
Please note: This article contains affiliate links, meaning I may earn a commission if you make a purchase by clicking a link. Of course, this comes at no extra cost to you and helps me to keep offering solid information to readers.
Lakes for Camping in California
Keep reading to find out the best places to camp next to a lake in California.
Donner Lake
For an awesome base for all your outdoor adventures, nothing beats the dozens of campsites located near the shores of Donner Lake.  The lake is part of Donner Memorial State Park, a well-known recreation facility that can be accessed from the beautiful town of Truckee.  The park is located 100 miles from Sacramento and only 20 miles from the northern area of Lake Tahoe.
This legendary alpine park welcomes campers (RVs, trailers, and tents) to its 154 spots divided into three groups or areas (Ridge, Splitrock, Creek).  The campgrounds are equipped with restrooms, showers, and fire rings.  
Activities in the park are plenty.  You can opt to swim, fish, boat, and hike (there are over 8 miles of trails in the park). Day use is permitted during light hours.
In addition, you can spend some time at the Visitor Center exploring exhibits about the native inhabitants of the Sierra as well as the people who through the years crossed the mountains in search of a better life.  These include the Donner Party, a group of pioneers who were trapped in the area due to bad weather.  The Pioneer Monument, which was erected in 1918, occupies a vantage position atop a 22′ pedestal facing Donner Pass.
If you feel like exploring beyond the park, well the options are broad.  Ski resorts such as Sugar Bowl, Crystal Bowl, and Boreal Ridge are located a few miles away.  Golfers can play a round or two at the Coyote Moon Golf Course or Tahoe Donner Golf Course.  And, of course, you can head to Historic Downtown Truckee to get a feel of what a mountain town is all about.
Note: Since the park is located at a 6,000 feet altitude, campsites are open during the warm months.  Besides, you should be ready for temperatures dropping to the 40s at night.
D.L. Bliss State Park (Lake Tahoe)
When you lay your eyes on Lake Tahoe you will understand why many call it "The Jewel of the Sierra."  This stunning body of water is said to be one of the best lakes in California to camp, hike, swim, boat, and relax.
The D.L. Bliss State Park is home to 165 campsites divided into five groups: Beach Camp,  East Ridge, West Ridge, Lower Pine, and Upper Pine.  As the name implies, the Beach Camp is closer to the water.  However, any spot in the park is good.  Overall, the park has a five stars location (more like 1,000 stars).  Amenities include firewood sales, fire rings, a dumping station, restrooms, and showers.
Campers can enjoy activities such as swimming, sunbathing, scuba diving, kayaking, canoeing, and paddleboarding.  When it comes to hiking, you can choose between the Balancing Rock Trail (a huge stone of granite tilting precariously on its stone base) or the Lighthouse Trail.
The Rubicon Trail, one of the most sought-after hikes around the Tahoe area, can be accessed from the park.  It is about 4.5 miles to the Vikingsholm Castle (about 11 miles roundtrip). This part of the trail will afford you fantastic views of Emerald Bay and Fannette Island.  There are two additional miles of the trail after the Castle.
The park has a day-use area but parking spots fill quickly during the high season. It is recommended to arrive very early to find a space. Dogs are allowed on the campground, picnic sites, and paved roads.
Note:  Camping spots on the park may be smaller than you are used to.
Tip:  Paid entrance to one of the state parks in California will grant you access to all other state parks on that day.  The same happens if you pay to enter a state park in Nevada.  So, you can park hop in California one day (D.L. Bliss, Emerald Bay, Sugar Pine Point) and do the same in Nevada on a different day (Spooner Lake, Sand Harbor, Cave Rock).
Read More: Driving Around Lake Tahoe
June Lake
Family-friendly June Lake may be a bit off the beaten path (which is strange since it is super close to Mammoth Lakes), but if you really want to spend time in nature, well, this is the place to be. Plus, I will venture to say this is one of the finest lakes in California for camping.
Apart from providing access to the Ansel Adams Wilderness, this lake falls within the June Lake Loop, an area where three other serene lakes (Silver Lake, Gull Lake, and Grant Lake) can easily be accessed by car. 
As far as camping is concerned, the June Lake Campground, located in the southern part of the lake, has 28 campsites featuring potable water and flushing toilets.  The campground is within walking distance of the June Lake Marina and the small town of June Lake (which has a decent number of restaurants and services). The area is a prime wildlife habitat so keep a sharp lookout for cougars, mule deer, and especially bears, who like to search your food if it is not safely stored inside bear lockers.
The Oh! Ridge Campground is located on the eastern side of the lake.  This is a bigger campground with 143 sites (plus wonderful views and a beach).  You will find the Gull Lake Campground (11 sites) and the Silver Lake Campground (63 sites) in the vicinity.
Visitors can indulge in swimming, fishing, kayaking, and biking besides other outdoor pursuits.  Hiking to Parker Lake is a popular activity (about 4 miles roundtrip, easy to moderate).
If you are looking for even more adventure, you should check the Mammoth Lakes Basin, Mono Lake, and Convict Lake.
Read More: June Lake Loop
Lakes Basin Recreation Area
The Lakes Basin Recreational Area is home to 20+ glacial lakes.  Most of the lakes are accessed by hiking or horse riding.  That tells you a lot about how pristine this area is.  In a way, this is one of the Sierra's best-kept secrets.
The Recreational Area is accessed through the Golden Lake Highway, a thoroughfare bearing the name of the largest and most developed lake in the region.
There are several options when it comes to camping in the area.  You can choose among the Lakes Basin Campground, Gold Lake Campground, Goose Lake Campground, and Haven Lake Campground. High clearance vehicles are suggested for the last two campgrounds mentioned.  
These campgrounds are equipped with vault toilets, fire rings, grills, and tables.  The sites can accommodate tents, trailers, and RVs (check requirements before choosing a site). Double family and group sites are available in some campsites.
There is another developed campground on the southern end of Gold Lake but a 4 x 4 vehicle is required for access.  You will find plenty of dispersed camping in the area as well.
Hiking is one of the main features here with trails located close to campsites. Some of the most popular trails include the Bear Lakes Loop, Frazier Falls, Round Lake Loop, Smith Lake, and Mt. Elwell Loop.
Visitors can partake in mountain biking, horseback riding, hunting, swimming, boating, and picnicking. There are plenty of chances to encounter a variety of birds and animals in this prime natural habitat.
Clear Lake
Clear Lake is the largest freshwater lake in California.  A lot of people think Lake Tahoe has that distinction but the thing is that Tahoe is shared with Nevada and the Californian part of the lake does not surpass the surface of Clear Lake.
Anyway, this is yet another fantastic place to use as a base for all sorts of adventures.  Also, it is not that far from Sonoma and Mendocino.
There are four campgrounds within the Clear Lake State Park: Upper Bayview (33 sites), Lower Bayview (22 sites), Cole Creek (26 sites), and Kelsey Creek (65 sites).  All campgrounds feature fire rings, tables, food storage boxes, flushable toilets, and showers.
Only Kelsey Creek has lakeside sites. Cabins can be reserved as well (8 are available). Dogs on leash are allowed in the parking lot and campgrounds.
Campers can swim, fish, boat, and hike (trails include Indian Nature, Dorn, and Kelsey Creek).
Outside the State Park, you can camp at the Clear Lake Campground, a vintage campground on the shores of Cache Creek, Clearlake Resort, Pinedell Resort, and The Oasis Campground.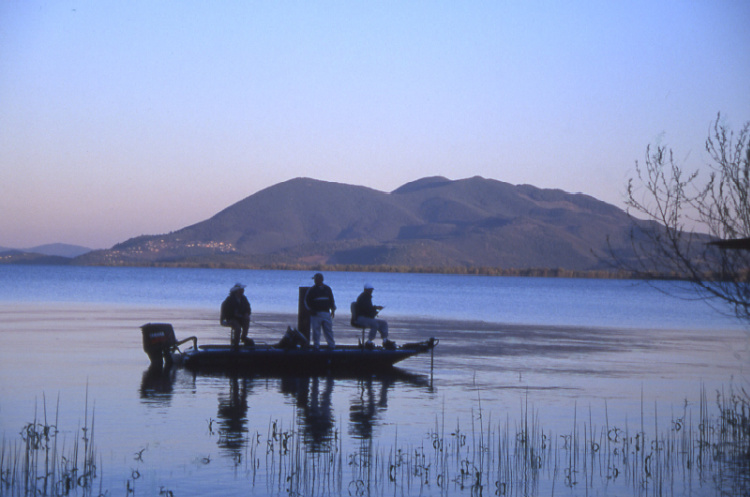 Photo by the California Department of Fish and Wildlife
Lake Almanor
Lake Almanor is one of the top-class camping lakes in California. This place is all about boating, fishing, and hiking amidst the backdrop of the mighty snow-covered Lassen Peak, which can be seen from all points on the lake shores.
The lake lies 12 miles from Chester, 50 miles from Chico, and 40 miles from Lassen Volcanic National Park.
The Almanor Campground sits on the western shores of the lake and offers numerous single/family facilities. Each site has a grill, table, and fire ring with drinking water and accessible vault toilets.  
This particular campground is located close to the Canyon Dam Picnic Area, Lake Almanor Recreation Trail, and Almanor Scenic Outlook.
Other campgrounds around the lake include the North Shore Campground, Soldier Meadows Campground, and Rocky Point Campground.  The nearby Butt Valley Reservoir has campgrounds as well.
Photo by Ken Lund
Trinity Lake
Trinity Lake is an outdoor paradise located in the heart of the Trinity Alps. This 16,000 acres body of water is the third largest manmade lake in California. Located west of Redding, it offers recreation by way of fishing, boating, snowshoeing (winter), and camping.
The Tannery Gulch Campground is located on the lake shores.  Campers have access to a swim beach, boat ramp, potable water, and flush toilets.  Keep in mind sites here are small and rustic. 
The Hayward Flat Campground is a bit more developed and favored by watersports enthusiasts.
When it comes to private campgrounds, you have the option to stay at the Trinity Lake KOA.  This campground/resort is comprised of 70 acres.  It offers RV, tent, and cabin camping.  The list of amenities offers is huge (kayak rentals, bike rentals, mini-golf, heated pool, and more).
The main accommodation for RVs in this region is inside the Pinewood Cove RV Park which has 45 full hook-up campsites (28 tent sites too) spread across 22 acres. Amenities include restrooms, showers, pool, playground, and laundry.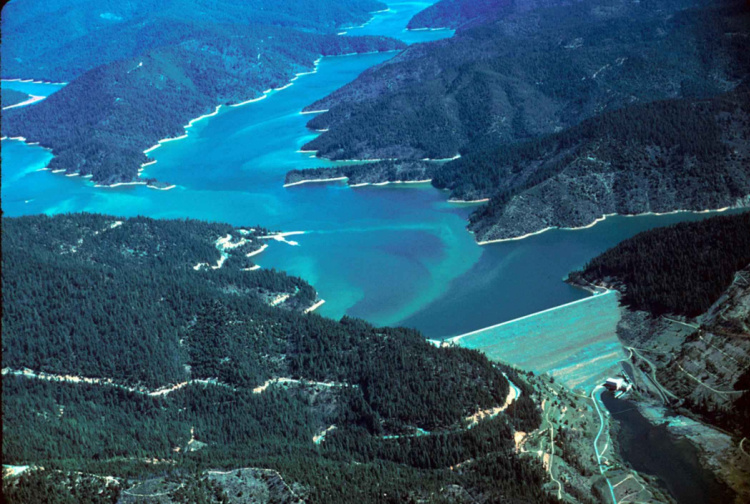 Bass Lake
Among the best in the Sierra Nevada, Bass Lake lies around 20 miles south of Yosemite National Park. 
If you are not aware, it is extremely complicated to find a camping spot (tent or cabin) in Yosemite National Park.  Therefore, staying in Bass Lake is an excellent option.
Most public campgrounds are spread on the western shore of the lake. These can accommodate RVs, trailers, and tents.  The most popular campgrounds are Lupine-Cedar Bluff (51 sites), Forks (27 sites), Spring Cove (50 sites), and Wishon (47 sites).
Apart from fishing, boating, and waterskiing, visitors can visit Wishon Cove, Angels Falls, and Devils Slide Falls.  Boats and watersports equipment can be rented from a concessionaire located in front of The Pines Resort.
From the lake, you can visit the charming town of Oakhurst or the Madera Wine Trail.
Read More: 2 Days in Yosemite
Photo by Pacific Southwest Forest Service
Big Bear Lake
Big Bear is usually associated with winter.  After all, it has one of the ski resorts closest to Los Angeles.  And, it is simple to drive for a day of snow play too.
The thing is that when the snow melts, the pine forests surrounding the lake are ready to welcome campers and hikers.  The place is gorgeous during the warm months.
There are a number of campgrounds to choose from, but the one you must give a shot is Holloway's Marina and RV Park. The marina has 50 full hookup sites.  Amenities include restrooms, showers, a playground, lake views, a tackle shop, rentals, and their signature Pirate Ship Lake cruise.
When it comes to public options, the Serrano Campground (111 sites) is located pretty close to the lake shores.  The Pineknot Campground (47 sites) is located a bit away from the shores but within close driving distance.
With a plethora of mountain biking trails, hiking paths, boating, and fishing facilities, there are scores of activities to keep you busy.  Do not miss visiting the Big Bear Village! 
What is more, close to Big Bear Lake, you will find Lake Arrowhead and Silverwood Lake, two other resort areas with campgrounds.
Read More: Things to Do in Big Bear During Summer
Lake Henshaw
Lake Henshaw is located at the foot of the Palomar Mountains. This is a relatively unspoiled place even though it is located close to Downtown San Diego (65 miles).
Depending on the season and the level of water, offerings may vary but the site is a great place to unwind and get mental rest. Though swimming is prohibited, there is a pool and spa on-site. Other activities include boating, birdwatching, wildlife viewing, and nature walks.
The two campgrounds (Upper and Lower) are located under a lovely grove of oak trees. The Roundup Grill has a full menu with wonderful lake views. Pets are allowed.
The lake is located 17 miles away from Julian, a town known for its mining past and shops selling apple pies.  Rancho Cuyamaca, Lake Cuyamaca, and the Volcan Mountains are located nearby as well.
During the weekends, wineries located close to Warner Springs open their door to the public.  Also, close to Warner Springs, you will find the trailhead to Eagle Rock, a peculiar rock formation.
Read More: Things to Do in Julian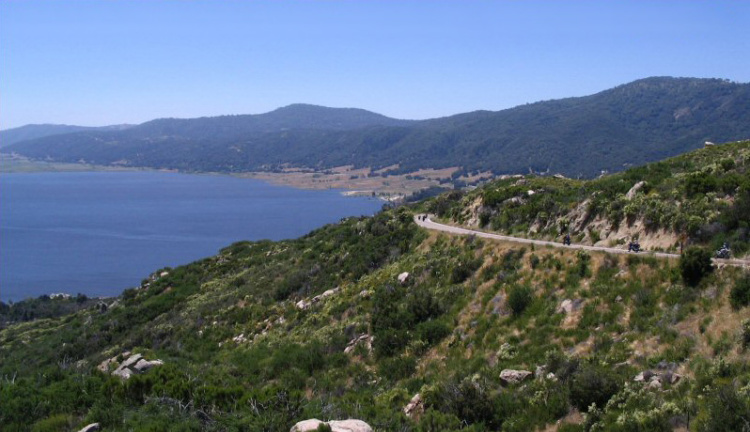 Lake Hemet
Lake Hemet is one of the most popular spots for camping and fishing in Southern California. The lake is surrounded by the San Jacinto Mountains, one of the wildest areas in this part of the state. I think I do not have to emphasize that the scenery is absolutely stunning.
There is a variety of accommodations around the lake.  There are lakefront and interior individual sites (fitting up to 8 people), RV sites, equipped glamping tents, and cabins.
Amenities include the  Soaring Pines Cafe, Splashing Eagle Swim Zone, marina rentals, and bait & Tackle shop. 
Dogs are allowed at the campground but must always be on a leash. Fishing, boating, and camping are available all year round.
Lake Hemet is located only 9 miles away from Idyllwild, a mountain town offering more camping opportunities, hiking trails, restaurants, cafes, and a vibrant arts scene.
Photo by Paul Mason
Dixon Lake
Nestled in the hills above Escondido, Dixon Lake shines like a jewel in the crown. You will not believe the color of the water!
This lake is equipped with 45 campsites (RVs, tents, and trailers). Eleven of those sites have full hook-ups. 
Campground facilities include restrooms with flush toilets, drinking water, an amphitheater, and the Jack Creek Nature Trail (1 mile).
Lake Dixon is known for its excellent fishing opportunities. Be ready to catch trout, bass, and catfish. The best part is that you can fish from the shore, from a dock, or from a boat (rentals are available).
Daley Ranch is located next door (or we can say Lake Dixon is part of Daley Ranch).  This huge nature preserve features trails, views of Downtown Escondido and a ranch house.  Escondido has much more to offer.  You can check the Elfin Forest Recreational Recreational Reserve, Del Dios Highland County Preserve, and Lake Hodges.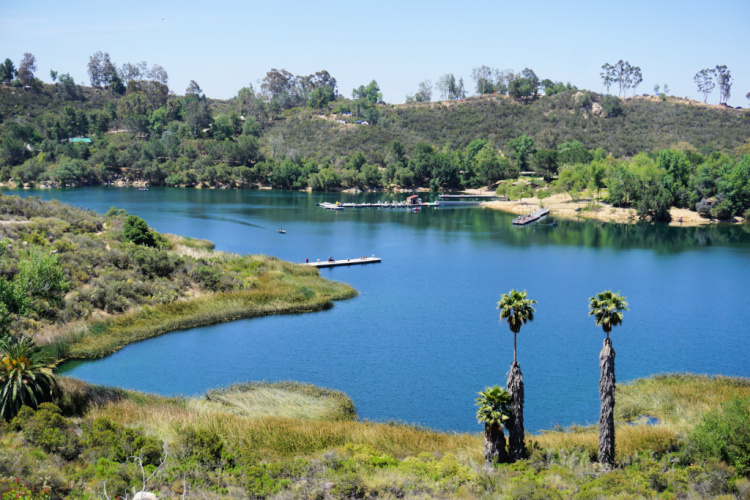 More Lakes for Camping in California
For more ideas with respect to lakes for camping in California, you can check my Lakes in Southern California article.  Almost all lakes featured in that article have campgrounds (so you have 15 additional options).
My article about Camping in San Luis Obispo has information about Lopez Lake, Santa Margarita Lake, and Lake Nacimiento.
My article about Camping in Southern California gives you a good understanding of how to find camping spots in the area.
Camping Gear
I consider myself a minimal camper.  I try to keep the amount of gear at bay.  In addition, I always have my gear packed, ready to throw into the car.  Here is an idea of what I take on camping trips.
Easy to Set Up Tent – A tent is at the core of camping for many.  I recommend investing in a tent that you can set up in a couple of minutes and it is built to last.  This makes all the difference when you change campsites often or are setting camp after a tiring day or at night. Coleman is an excellent brand. >Check Coleman's tents here  
Inflatable Mattress – If you want to have a comfortable night's sleep, an inflatable mattress is the way to go. EnerPlex manufactures super plush mattresses.  >Buy an inflatable mattress here
Sleeping Pad – If you want to ditch the bulky and heavy inflatable mattress, you can opt to acquire a sleeping pad.  I have enjoyed my self-inflatable Sleepingo pad way too much.  >Take a look at my sleeping pad here
Travel Pillow – I just can't make it without a pillow.  Therm-a-Rest compressible pillow is a dream.  >>Buy camping pillow here
Cold Weather Sleeping Bag – The appropriate sleeping bag is another must that I recommend investing in.  Even in Southern California, depending on where you are camping and the season, temperatures can drop below 20 degrees Fahrenheit.  >Check out this affordable option from HiHiker
Foldable Chairs – Portable chairs allow you to hang out on the campsite, under a tree, by the fireplace, lake, river, or beach. A classic Coleman camping chair is a solid choice. >>Buy portable camping chair
Pillows and Quilts – I pack extra bedding just in case the weather goes bananas.
Waterproof Camping Blanket – This serves as a picnic blanket, tablecloth, and throw. >Click to buy a super functional camping blanket
Soft Cooler Bag – If we are camping for a couple of days, we bring a soft cooler bag with enough capacity for drinks and some food items.  I love my CleverMade collapsible cooler bag.  >Take a look at my cooler here
Hard Cooler – For longer camping trips, we take a 48-quart cooler (and the soft cooler too).  We have had a Coleman cooler for years.  >Buy the same cooler I use here
Solar Powered Lantern – With time, I have gotten tired of battery-operated lanterns.  I have upgraded to a solar-powered one.  The one manufactured by LuminAID works great. >Learn all about this lantern here
Headlamps – These are a great addition to any camping arsenal.  >Click to check these top rated headlamps
Water Bottle – Do not forget to bring water! Keep yours cold by taking a beautiful Hydro Flask water bottle.  >Check out the insane options her
THERMOS Tumblers – I have been a fan of the THERMOS brand since I received a tumbler as a gift. The tumblers keep drinks hot for hours.  >>Buy THERMOS insulated tumblers here
Power Inverter – This is a must if you want to charge the phones fast in the car or charge multiple devices at once. >Check out this option by BESTEK
Flip Flops – I always pack flips flops to walk around the campsite and use on public showers.  I am partial to the Tevas brand.  >>Take a look at these beautiful flip flops
Towels –  This is the accessory I always forget about.  WETCAT's Turkish Towels take minimum space and dry fast.  >Buy a Turkish towel here
Portable Power Bank – It is a pain to keep phones charged while camping.  Having a power bank is a lifesaver.  The Anker portable charger can charge a phone 5 times. >Buy this incredible power bank here
Even in summer, I bring warm clothes because I do not want to be surprised by the weather.  That includes a long sleeve shirt, long pants, thermal socks, and a thick jacket.
I pack clothes and toiletries on my Hynes Eagle Carry On Backpack.  My husband uses a Columbia Backpack.
More Camping Gear Guides
Best Camping Gift Ideas for Camping Lovers
Camping Essentials You Need to Pack
What are your favorite lakes for camping in California?
Pin "Best Lakes for Camping in California" for later!