Check out the most beautiful lakes in Northern California! These lakes are ideal for a short or long adventure!
There is no doubt that Northern California has some of the most majestic scenery on the West Coast of the United States. 
If happen to be in this part of the state, you will probably encounter redwoods, mountains, vineyards, and wild beaches.
However, Northern California is also packed with way too many gorgeous lakes.  In this article, we try to bring your attention to some of the most notable lakes in Northern California.
Please note: This article contains affiliate links, meaning I may earn a commission if you make a purchase by clicking a link. Of course, this comes at no extra cost to you and helps me to keep offering solid information to readers.
Lakes in Northern California
Keep reading to learn about the best lakes in Northern California.  The article provides tons of ideas with respect to activities and amenities around or close to the lakes.
Lake Tahoe
When you lay your eyes on Lake Tahoe you will understand why many call it "The Jewel of the Sierra."
Straddling between the California and Nevada state line, Lake Tahoe is the second-deepest lake in the United States.  And, that is not all.  With  72-miles of shoreline, this is the largest alpine lake in North America.
Due to the lake's size, it is one of the premier boating lakes in Northern California. Also, it is a  great place for other water sport activities such as water skiing, parasailing, wakeboarding, paddleboarding, kayaking, and even scuba diving. You can also do fish from boats as well.
Or, you can decide to spend the day at one of the gorgeous beaches scattered around the shoreline.  As far as suggestions go, you can choose among Kiva, Pope, Lakeside, Nevada, and Zephyr Cove Beaches. 
While there, you can also bike along designated paths or go mountain biking. You can ride to the ski resorts (like Squaw Valley), visit the state parks, or play golf at Incline Village.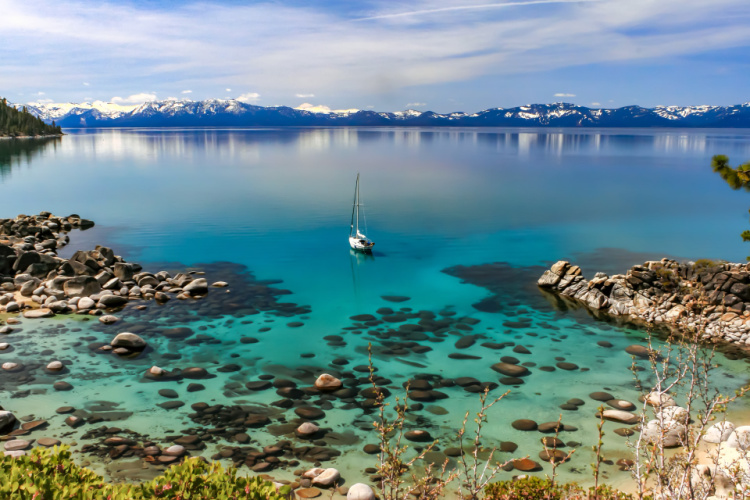 Camping is another popular activity. For example, the D.L. Bliss State Park is home to 165 campsites divided into five groups: Beach Camp,  East Ridge, West Ridge, Lower Pine, and Upper Pine.  Amenities include firewood sales, fire rings, a dumping station, restrooms, and showers.  
And, of course, the hiking opportunities in the area are mind-blowing.  There is something for everybody.  I love the Rubicon Trail, one of the most sought-after hikes around the Tahoe area. It is about 4.5 miles from the D.L. Bliss State Park to Vikingsholm Castle (about 11 miles roundtrip). This part of the trail will afford you fantastic views of Emerald Bay and Fannette Island.  There are two additional miles of the trail after the Castle.
I have provided a short taste of the things you can do around Lake Tahoe.  However, the possibilities are endless.  Pick an area and explore.  I am sure you will be coming back for more.
Tip:  Paid entrance to one of the state parks in California will grant you access to all other state parks on that day.  The same happens if you pay to enter a state park in Nevada.  So, you can park hop in California one day (D.L. Bliss, Emerald Bay, Sugar Pine Point) and do the same in Nevada on a different day (Spooner Lake, Sand Harbor, Cave Rock).
Read More: Driving Around Lake Tahoe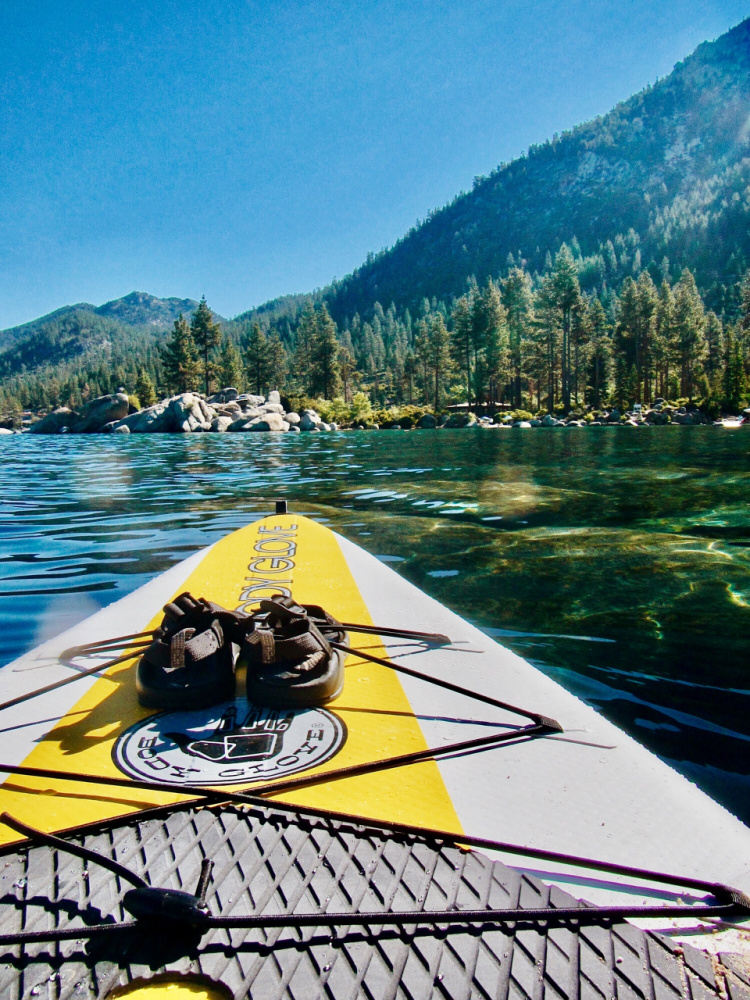 Fallen Leaf Lake 
Nestled just one mile southwest of Lake Tahoe, Fallen Leaf Lake is a hidden gem tucked away in plain sight (as most visitors prefer to hang around larger Lake Tahoe). 
But, make no mistake.  Fallen Leaf Lake is as pristine as Tahoe and it may feel like you have the lake all to yourself.
A big campground (206 sites) is located in the northern part of the lake.  Six yurts are available for rent as well. 
This lake is a perfect spot for all kinds of water activities like wakeboarding, waterskiing, tubing, kayaking, and fishing. Rumor says the fishing in Lake Tahoe is better.  I guess you will need to check by yourself.  Swimming in the lake is allowed but there are no designated beaches.
The Taylor Creek Visitor Center is located across the campground (you need to cross Highway 89).  Here you can enjoy exhibits, walk the boardwalk and stop by nearby historic sites. 
The trailheads for Mt. Tallac, Glen Alpine, and Moraine are located around the lake. You can also take a hike to Angora Lakes (these lakes are over the top gorgeous).
Lake Berryessa 
Located in the Vaca Mountains, Lake Berryessa (a reservoir) was the result of the construction of the Monticello Dam on Putah Creek in the 1950s. The lake's "Glory Hole" is one of its most notable features.  The "hole" is a spillway that helps drain the lake when the water levels are high.
Oh, and did I forget to say the lake is located in Napa county?  If that doesn't make it one of the best lakes in Northern California, well, I am not sure what will.  Visiting the lake places you close to 370+ wineries.
Day use areas around Lake Berryessa include Eticuera Creek, Pope Creek, Smittle Creek, Oak Shores, and Olive Orchard. You can spend the night at the Steel Canyon or Putah Canyon Campgrounds. 
Lake Berryessa is ideal for water skiing, jet skiing, house boating, sailing, canoeing, kayaking, and fishing. The Pleasure Cove Marina offers plenty of services.
While in the area, you can hike in the Bothe-Napa Valley State Park, Robert Louis Stevenson State Park, or Lake Hennessey. Lake Berryessa has limited hotel/motel lodging but you can look for options in the towns of Angwin, Winters, and Woodland.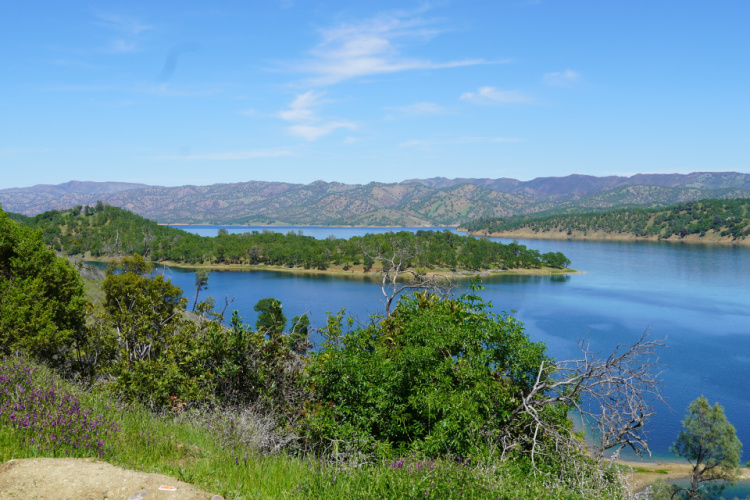 Mono Lake 
Mono Lake is one of the oldest lakes in North America. It is a gorgeous place having the Sierra Nevada as a background.  At the same time,  it is an eerie place.  Let me tell you why.
On the eastern and southern sides of the lake, you will find tufa towers.  These formations are the result of calcium-rich spring water coming in contact with the carbonate-rich waters of the lake (the lake has thrice the salt content of the ocean).  Tufa grows underwater but we can see them because a lot of the water of the lake has been diverted over the years.
The tufa towers give Mono Lake a very different aesthetic.  It looks like a place from another planet!
You can observe the tufa towers from the Mono Lake Park, Tufa State Nature Preserve, or the South Tufa Area.  I also recommend stopping by the Visitor Center. It is a phenomenal place with lots and lots of interesting exhibits.
Outfitters like Caldera Kayaks offer tours around the lake (you can see the tufas, brine shrimp, underwater springs, and migratory birds). Or, you can rent a kayak and launch it from Navy Beach.   There are no options for fishing and water sports. 
Mono Lake has a privileged location close to Highway 395.  Staying in the area allows you to explore Yosemite National Park, hot springs, freshwater lakes, mountain passes, waterfalls, meadows, and much more.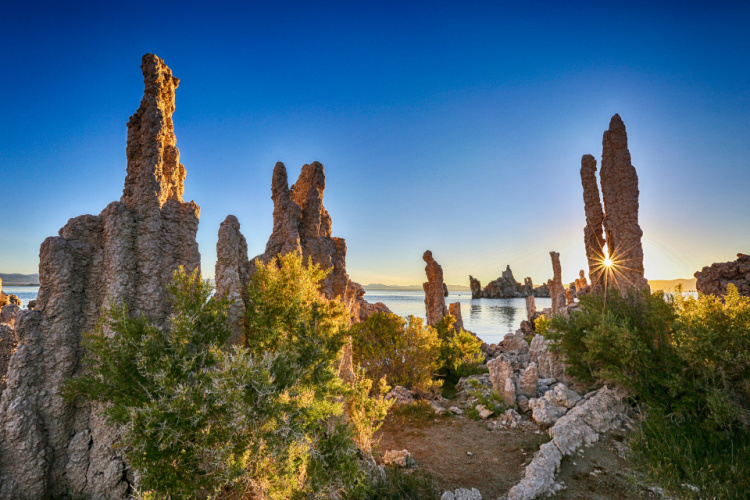 Folsom Lake
Formed by the Folsom Dam, Folsom Lake is a reservoir located in the foothills of the Sierra Nevada. The lake is a perfect getaway for the residents of Sacramento, California's capital. Activities such as wakeboarding, water skiing, swimming, sailing, fishing, kayaking, paddleboarding, and camping are a must here.
The Folsom Lake State Recreational Area pretty much surrounds the lake.  It also surrounds Lake Natoma, a smaller lake that was formed by damming the American River (the same river which created Folsom Lake).
So, the Recreation Area is huge.  Entrances are scattered around three counties (Sacramento, El Dorado, and Placer).  For more info, click here.
The area has 95 miles of biking and hiking trails to explore. Horseback riding is allowed as well. You can picnic at Granite Bay or Folsom Point (two of the most popular day-use areas). 
There are three campgrounds around the lake: Peninsula (100 sites), Beales Point (69 sites), and Negro Bar (group camping only).
Folsom Lake is located close to historic towns such as Auburn, Coloma, and Placerville. You can find plenty of hotel/motel accommodation options in the towns of Folsom, Loomis, Auburn, and Rancho Cordova.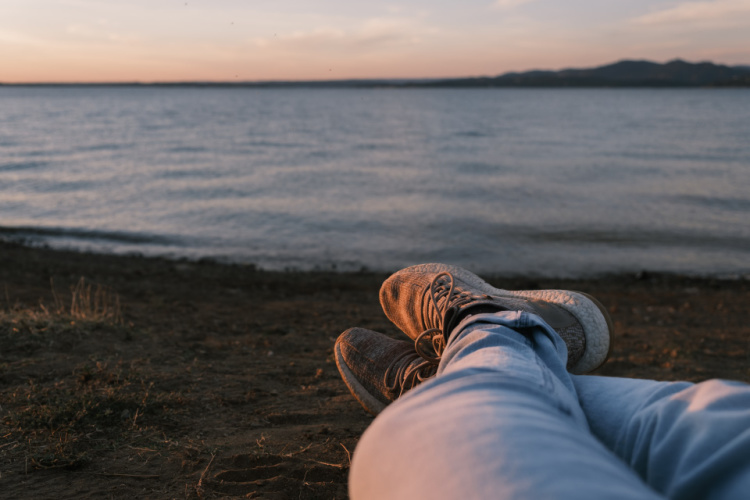 Silver Lake 
Silver Lake is a reservoir located in the Sierra Nevada (Amador County). It is one of the picture-perfect alpine NorCal lakes located off Highway 88. This lake is a perfect spot for those who want to explore nature in its untouched form. 
Highway 88 traverses Carson Pass (or Kit Carson Pass), an area full of history and natural beauty.  A drive around the pass will take you close to Red Lake, Caples Lake, and Kirkwood Lake.  More lakes can be accessed from minor roads or trails.
Silver Lake offers activities such as boating, fishing, kayaking, swimming, and canoeing.  There are two campgrounds located north of the lake.
If you are into hiking you can choose from one of the many trails located close to the lake (like Granite Lake Trail or Thunder Mountain Trail).
Note: There is another Silver Lake located in the June Lake Loop (Eastern Sierra).  That is a gorgeous lake to check out as well.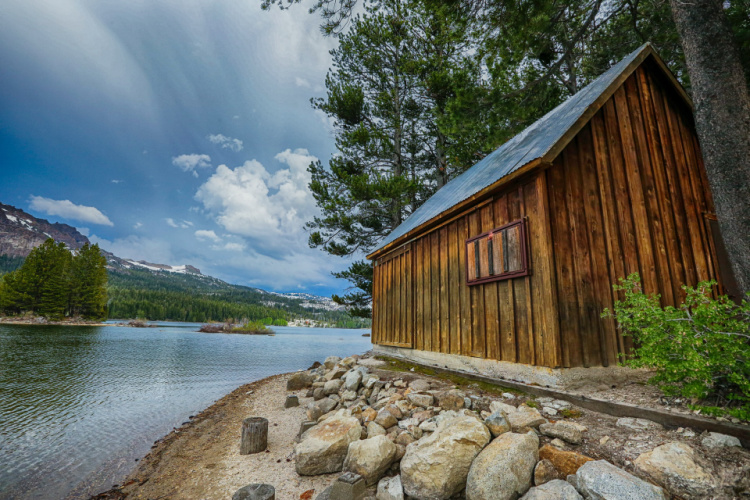 Shasta Lake 
With a total area of 30,000 acres, Shasta Lake is the largest reservoir in California. The lake, with 365 miles of shoreline, has scenic views from almost every corner. 
The lake is located close to Redding, a city known for its Sundial Bridge (designed by Santiago Calatrava), and the Turtle Bay Exploration Park.  In the vicinity, you will find Lassen Volcanic National Park, Whiskeytown National Recreational Area, Trinity Lake, and, of course, Mt. Shasta.  So, you are guaranteed an amazing adventure if you visit or stay around Shasta Lake.
Boating is big in the lake. You can rent a boat for the day (Sugarloaf Marina, Digger Bay, Packers Bay, Bailey Cove) or a houseboat and spend the night on boat-in campgrounds (now, that is cool).
Fishing is another popular activity.  There are tons of options due to the size of the lake.  I recommend taking a look here in order to understand the regulations and find prime fishing spots (which vary depending on what your want to fish).
The Lake Shasta Caverns offer a unique opportunity to explore below the surface.  A two-hour guide tour includes a 10-minute boat ride, a 10-minute bus ride, an hour traversing the underground, and a return trip.
Other activities around the lake include golfing, hiking, cycling, and bird watching. There are over half a dozen campgrounds around the shoreline.
There are plenty of cabin rentals, resorts, and luxury properties around as well.
Note: The Lake Shasta Caverns can only be visited by tour.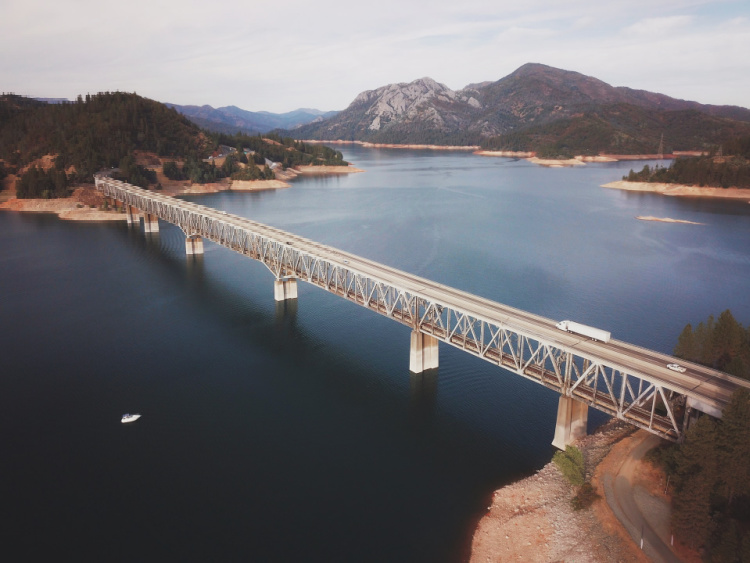 Lake Sonoma
Created by Warm Springs Dam, Lake Sonoma is a reservoir located in, you guessed it,  Sonoma County. The lake is tucked in a coastal mountain range 30 miles north of Santa Rosa. 
As with Lake Berryessa (discussed above), Lake Sonoma is located close to the 400+ wineries housed in Sonoma County.  If that is not enough, the lake is located a few miles away from the Anderson Valley, an American Viticultural Area located in Mendocino County (home to the famous Anderson Valley Brewery Company too).
This reservoir is a great place for activities like boating, swimming, fishing, picnicking, cycling, horseback riding, and camping.
You can spend the day (and have access to several activities) at the Lake Sonoma Recreation Area, Warm Springs Recreation Area, or Yorty Creek Recreation Area. 
You can practice archery at the Sonoma County Archery Range. The Warm Springs Recreation Area has a 9-hole 2800-yard golf course. There are 40 miles of hiking, biking, and equestrian trails.
You can find great accommodation options in Cloverdale, Healdsburg, and Santa Rosa.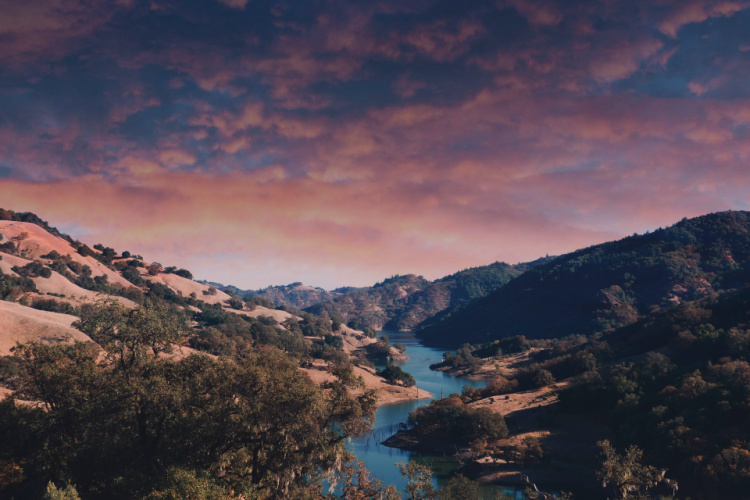 Lake Alpine
East of Bear Valley, in the Sierra Nevada, you will find Lake Alpine, a high lake formed by snowmelt.  This is a relatively small lake but I had to include it since it is the perfect place for those looking to escape the cacophony of the urban jungle. 
Boating (low speed), kayaking, swimming, fishing (trout is planted regularly), standup paddleboarding, biking, and hiking are popular activities during the summer.
Lake Alpine Recreational Area is the most popular spot to spend the day.  The Marmot and Chickaree day-use areas are open to the public as well.
Camping options are plenty with 5 campgrounds: West Shore, Pine Marten, Silver Valley, Silvertip, and Lodgepole.
Hiking options include a trail around the lake (easy, 4 miles), a trail to Duck Lake (moderate, 2 to 4 miles), and a trail to Inspiration Point (overlooks the lake, moderate, 2 miles). 
If you have the time, I recommend checking the giant sequoias at Calavera Big Trees State Park (26 miles).
Lake Mendocino
Lake Mendocino is a reservoir located in a region abundant with redwoods, vineyards, and hot springs.
The lake has a privileged location between Mendocino and Lake Counties' wine appellations.  By the way, Mendocino Lake is located about 30 miles away from the northern shores of Clear Lake, California's largest natural lake.
The lake offers boat-in camping options along with 15 miles of hiking and biking trails. You can also visit for water activities like boating, swimming, water skiing, and fishing. 
The Bushay Recreational Area offers day use and camping facilities.  Hot springs such as Vichy Springs and Orr Springs can be accessed from resorts with the same name.  Nearby Ukiah is a fun place to visit.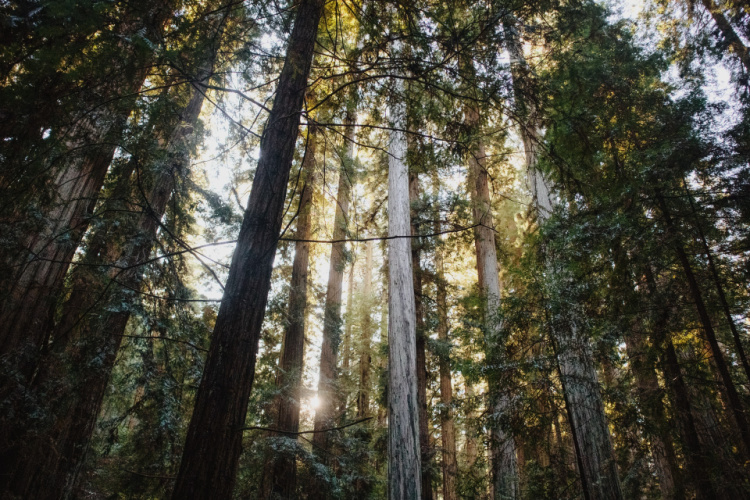 Lake Oroville
Lake Oroville is the second-largest reservoir in California. The lake is known as the best lake for bass fishing in California. Catfish, sturgeon, crappie, and other fish can be caught as well.
Do not worry if fishing is not your thing.  The lake offers a great experience for those who like boating, swimming, house boating, water skiing, camping, and hiking. 
You will be able to access these activities from the different recreation areas scattered around the lake's shore (Goat Ranch, Bloomer, Foreman Creek, Potters Ravine, Kelly Ridge, Loafer Creek, Craig, Sycamore Creek).
The Lake Oroville Visitor Center has 47 feet tall tower offering spectacular panoramas of the lake and surrounding area. You can go hiking, biking, and horseback riding on various trails that lead to Feather Falls. The North Table Mountain Ecological Reserve is home to a basalt (ancient lava) mesa, waterfalls, and wildflowers (during spring).
You can find various vacation rentals, resorts, and motels in Oroville.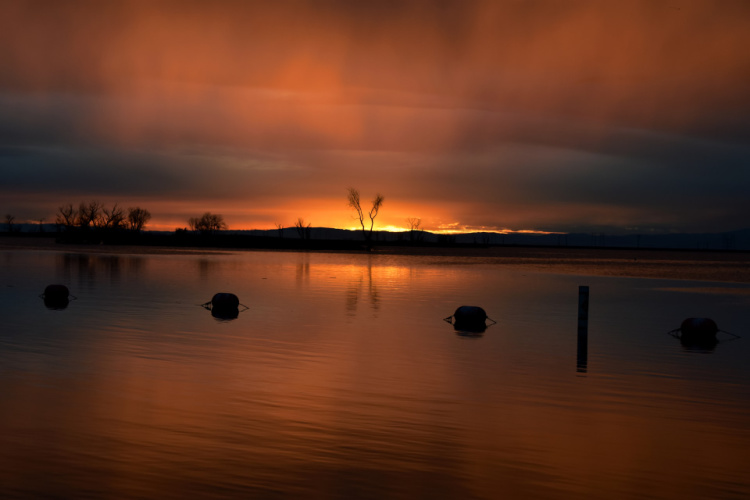 New Melones Lake
New Melones Lake was formed when the Stanislaus River was dammed.  The lake offers smooth waters for those who enjoy boating, swimming, water skiing, jet skiing, paddle boarding and kayaking, canoeing, rafting, and sailboating.
A lot of the aforementioned activities can be accessed through the Tuttletown Recreation Area or Glory Hole Recreation Area (a marina is located here). 
The neat thing is that this lake is located close to several towns with a history that goes back to California's Gold Rush.  Visiting Columbia, Angel Camps, Sonora, and Murphys may take you back in time.  
Also, you can visit the Moaning Caverns Adventure Park and the Natural Bridges (limestone caverns accessed by a 2-mile trail).
More Lakes in Northern California
For more about lakes in Northern California, I recommend checking my article about Lakes for Camping in California.  The article covers the following lakes in Northern California (so you have 7 additional options):
Donner Lake
June Lake
Lakes Basin Recreational Area
Clear Lake
Lake Almanor
Trinity Lake
Bass Lake
In addition, I have an article about Lakes in Southern California.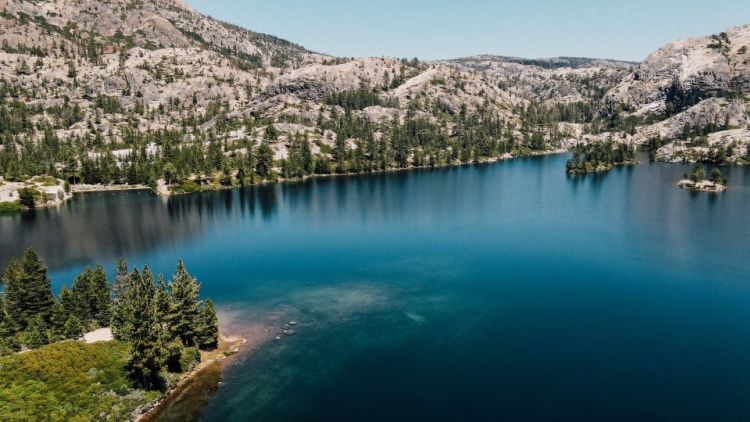 Lake Gear
As I spend a lot of time near the water, I have my gear packed and ready to throw in the car.  Here is an idea of what I take to the beach, lake or river.
Easy Set Up Beach Tent –  This is essential since most lake beaches in California do not have shaded areas.  >Check out this great tent option here
Big Portable Umbrella –  Sometimes, we prefer to use an umbrella since we want to sit on a chair verse lying on the floor.  Plus, I find it easier to adjust/move the umbrella to block the sun.  >Buy a beach umbrella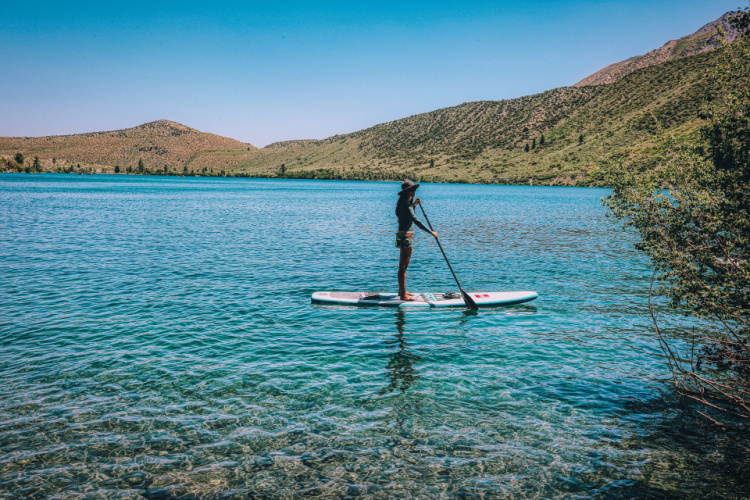 More Gear Guides
Best Camping Gift Ideas for Camping Lovers
Camping Essentials You Need to Pack
What are your favorite lakes in Northern California?
Pin "Stunning Lakes in Northern California" for later!