Do you want to get your adrenaline up with a thrilling and rewarding hike? If so, keep reading to discover the best Morro Bay hikes!
Home to Morro Rock, a natural marvel that has stood the test of time for thousands of years, Morro Bay stands proudly as one of the most sought-after destinations for outdoor activities. And, within those activities, hiking rises to the top. Imagine hiking a trail with an ancient volcano remnant as your backdrop. Sounds magical, right?
If you're looking for a breathtaking hiking spot, keep scrolling for a list of the best Morro Bay hikes!
Please note: This article contains affiliate links, meaning I may earn a commission if you make a purchase by clicking a link. Of course, this comes at no extra cost to you and helps me to keep offering solid information to readers.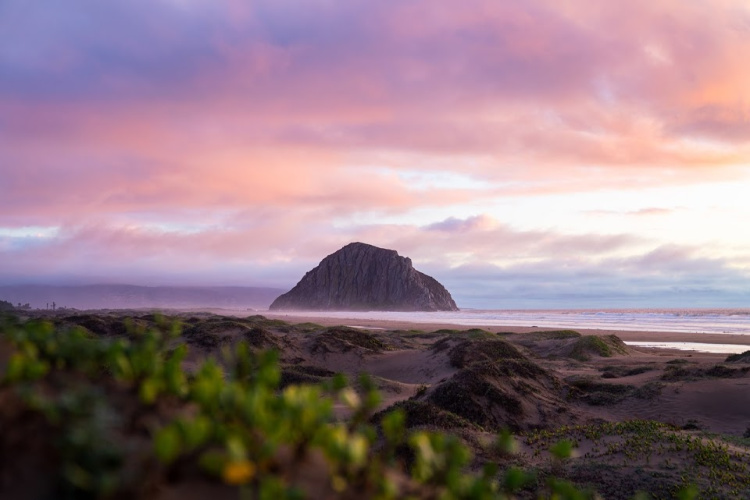 Morro Bay Hikes
As mentioned in the intro, Morro Bay stands out for its most prominent landmark, Morro Rock, which rises 581 feet (177 m) above the ocean as a volcanic plug, a geological formation created by hardened magma within a vent of an active volcano. The Rock is part of the Nine Sisters chain of volcanic peaks in San Luis Obispo County.
The presence of Morro Rock and a five-mile-long sand spit give rise to the formation of a bay that supports various ecosystems such as marshes, estuaries, and coves. And, that unique geography my friends is what makes the area an ecological treasure trove.
As a consequence, the broad network of Morro Bay hiking trails allows visitors to uncover one of the most unique places in California.
Let's take a look at what is waiting for you!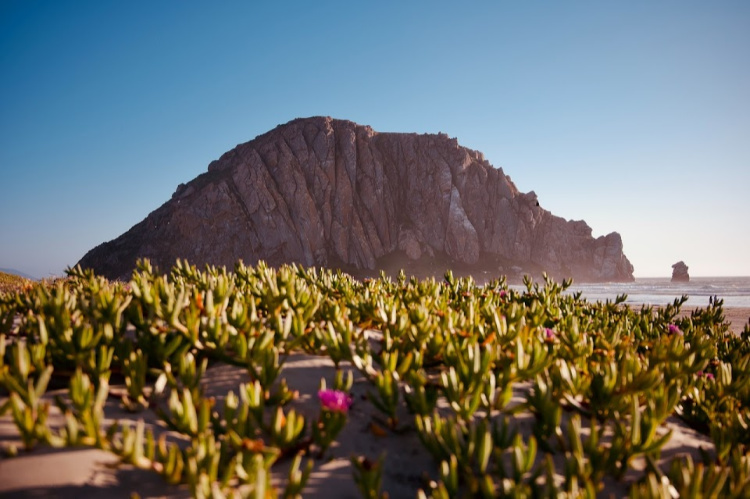 Embarcadero to Morro Rock
Let's start things easy.  Shall we?
I suggest walking from the Enbarcadero, the city's waterfront district, to Morro Rock.  The walk, on flat terrain, is about 1 mile one way (2 miles round trip, total walking distance depends on where you park).  To do this, walk along Embarcadero (that is the name of the road) and connect to Coleman Drive.
You can drive to the Rock but walking is way more fun.  Along the way, you will have a chance to take a look at the Embarcadero amenities (restaurants, shops, cafes, breweries, tour companies, and more), and spot sea lions and otters (sea lions climb onto the rocks along the way, there are several sea otters viewing points).
Eventually, you will make it to the base of Morro Rock.  I recommend not missing this particular spot since it is one of the most beautiful (and unique) places to visit in Morro Bay.
It is very interesting (and eye-opening) to see the Rock from up close.  I don't think you understand its massiveness until it is in front of you.
From the distance, the Rock appears to have a very smooth surface and curvy shape.  But, when you get close, you discover how it is all jagged.  There is even some vegetation among the big boulders. There is a fine sand beach at the end of the walk.  Go prepared if you want to take a dip and spend some time around.
Fun fact: A group of others is called a raft.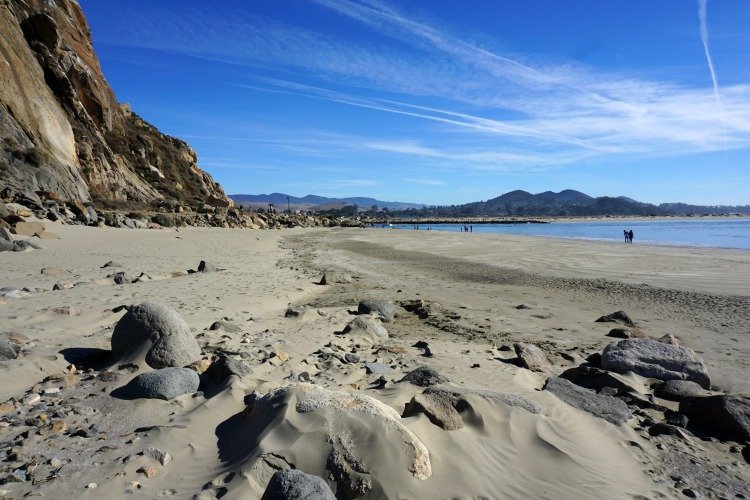 Marina Peninsula Trail
Located inside the Morro Bay State Park, the 0.5-mile-long Marina Peninsula Trail is more relaxing than adventurous, making it ideal for beginners and families with kids. 
Up the trail, you'll see Morro Rock, beautiful birds, sandspits, mudflats, and more. The trail goes through Morro Bay's estuary. Dogs are allowed, and the hike is wheelchair-friendly.
The trail can be accessed from the parking lot located across the Morro Bay State Park Campground.  Hikers can decide to connect to other trails around the estuary.
Black Hill Trail
With wondrous views of Morro Rock and running creeks, Black Hill Trail promises hikers a rewarding 3-mile trip up the hill. The hike is moderately easy and will take you a maximum of two hours. You can take your dog with you if it's leashed.
There are multiple ways to access the trail.  The most popular trailhead is located behind the Morro Bay State Campground.  There is another entry point on Main Street.
Now, I will tell you how to make this hike even easier.  Drive to the end of Black Mountain Road (sometimes called Upper State Park Road), park, and start walking from there.  In this way, you will only walk 0.6 miles (round trip) and gain less than 200 feet.  Sounds pretty good to me!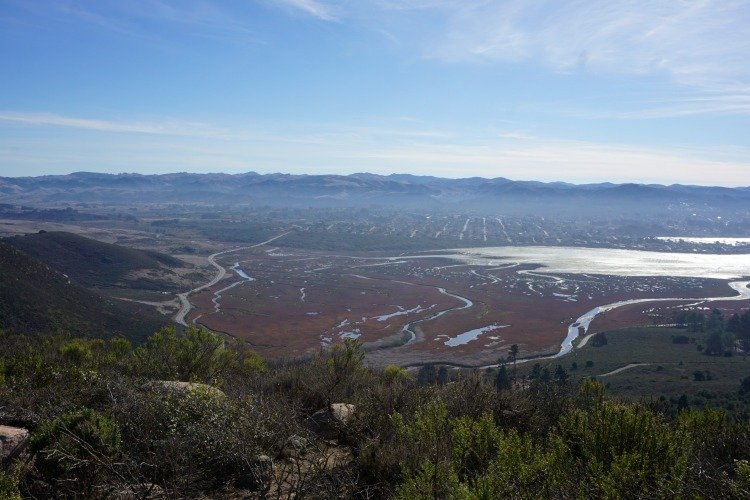 Cerro Cabrillo
Cerro Cabrillo is another of the best hikes in Morro Bay, thanks to its breathtaking views of the bay and moderate difficulty that makes it equally challenging and relaxing. The trail is singletrack and 2.5 miles long with steep and flat areas. The elevation gain is about 257 meters. 
This trail is located at Morro Bay State Park as well. As with Black Hill, the top of Cerro Cabrillo can be accessed from multiple points.  A lot of hikers start from the Quarry Trail trailhead (located at South Bay Boulevard).  Others start from the Park Ridge Trail.
Unfortunately, dogs aren't allowed up the path.
Portola Point Trail
The 2-mile Portola Point Trail is one of the most picturesque hikes in Morro Bay. It's an easy out-and-back trail that won't take more than an hour to finish. 
The trail takes hikers to the top of Portola Hill (329 feet).  The height of the hill does not make it stand out among other peaks in the area but it is high enough to offer amazing views of Morro Bay's estuary. In addition, hikers will have the opportunity to admire wildflowers and birds in their natural habitat and enjoy the cool breeze as they move along. 
Dogs are not allowed on the trail. Try to avoid hitting the trail after rainy days because it gets muddy.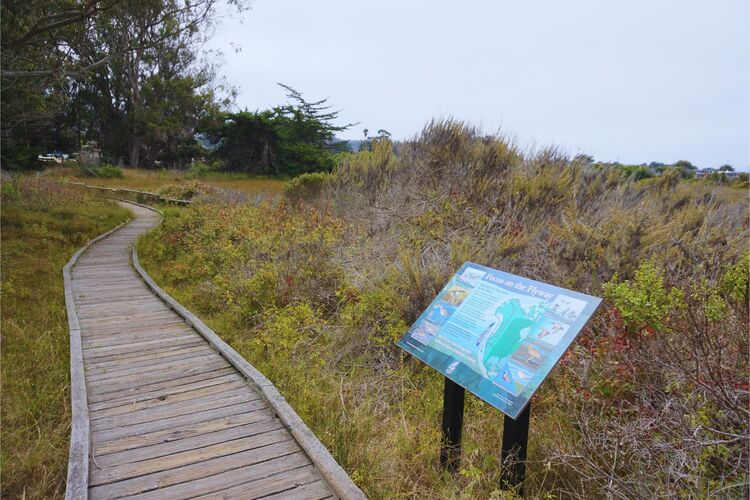 Morro Strand State Beach
Morro Strand State Beach is a 5-mile stretch of coastline located between Morro Rock and Cayucos.
The water at this beach is relatively calm, making it a great spot for swimming, boogie boarding, and other water activities.  The beach is also home to a variety of wildlife, including shorebirds, sea otters, and harbor seals. Visitors can often see these creatures frolicking in the waves or sunbathing on the rocks.
If you are up the challenge, you can walk the entire length of the beach (a lot of people do it).  For a shorter walk, start at the Morro Strand State Beach Campground.  From here, it is 3 miles to Cayucos (one way).
Cloisters Park to Morro Rock
Starting in the 2.6-acre Cloisters Park, you can complete an easy 4.4-mile trail that takes you to Morro Rock and back. Most hikers finish it in about 1.5 hours. This is yet another way to get close to the Rock.
Considering it's a popular trail for running and walking, you should expect company. You can take your dog with you, but only if you keep it on a leash and off the beach area (you will notice some people leave their dogs free but it is technically not allowed).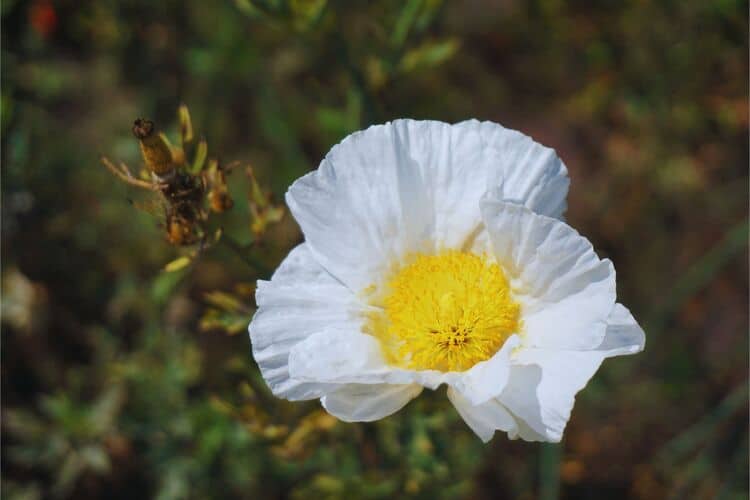 Hiking Near Morro Bay: Los Osos
Morro Bay is adjacent to Los Osos, a charming coastal community situated in the heart of the Los Osos Valley and surrounded by picturesque rolling hills, oak trees, and pristine nature preserves.
We can think of Los Osos as part of the unique ecosystem formed by the Morro Bay (the body of water, not the city).  Because of this, we can encounter tons of great trails in the area.  Los Osos is located very close to Morro Bay so, you do not have to worry about driving long distances if you are staying in the city.
See some of the highlights below:
Montaña de Oro State Park
Please excuse my bias, but I wholeheartedly believe that Montaña de Oro is one of California's most stunning state parks, and I highly encourage you to visit. The park boasts breathtaking coastal features that are the result of past volcanic activity, creating pure magic.
Translated as "Mountain of Gold" in Spanish, Montaña de Oro is named after the California Poppy, a vibrant orange flower that covers the dunes, coves, and mountain skirts with an incandescent hue during springtime.
Encompassing 8,000 acres (32 km²) of cliffs, sandy beaches, coastal plains, streams, canyons, and hills, the park offers a plethora of activities for visitors, including hiking, mountain biking, and equestrian trails. There is also a campground located across from Spooner's Cove, a popular beach destination.
Time is needed to see the highlights of this park. You can easily spend a day or more exploring. I am focusing on some trails below.  I recommend first time visitors focus on the Bluff Trail.
Bluff Trail
Located conveniently near the ocean, the Bluff Trail is one of the most beautiful and easiest hikes near Morro Bay. It's a 4-mile loop trail that takes about 1.5 hours to complete. 
Best of all, the trail is accessible to wheelchairs—with help occasionally needed in steep areas—and has a paved van-accessible space. 
You can hike as much as you want (do not be dissuaded by the length of the trail).  Just make sure to take a good look at the Spooner's Cove (you will probably start the hike from here) and Corallina Cove areas.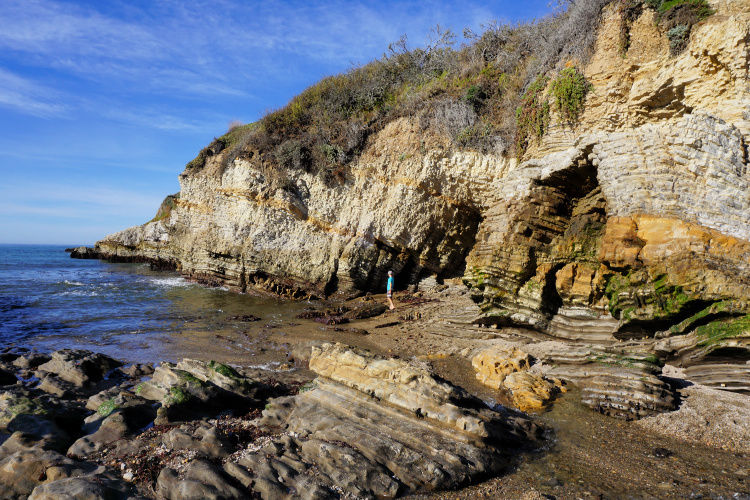 Valencia Peak Trail
Valencia Peak Trail will treat you to a much-needed adrenaline rush. It's a challenging 4.4-mile hike that takes you 383 meters above sea level and gives you panoramic views of Morro Bay and the Central Coast. You should expect to finish this trail in about 3 hours.
Islay Creek Trail
For those looking for a longer hike, the Islay Creek Trail is a 7.5-mile round trip that takes hikers through oak woodlands, riparian areas, and chaparral ecosystems. The trail follows Islay Creek and offers several water crossings, making it a great option for hot summer days.
Other Trails
Other notable trails in the park include the Hazard Peak Trail, the Oats Peak Trail, and the Rattlesnake Flats Trail. All of these trails offer unique experiences and stunning views of the park's diverse landscape.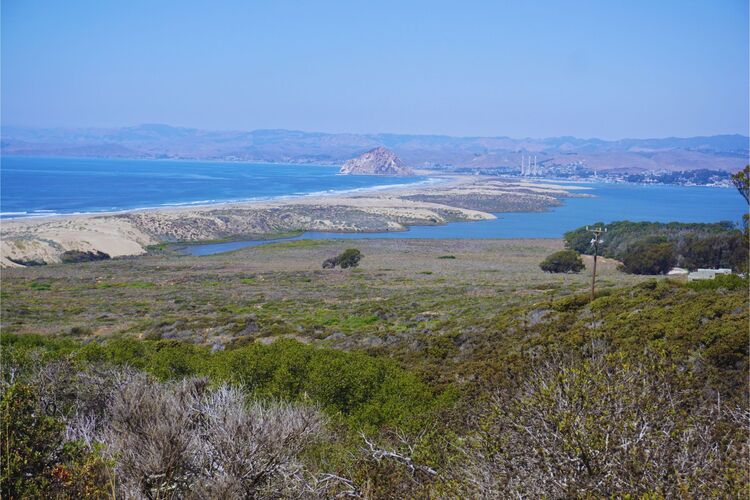 Point Buchon Trail
Although it's one of the longest trails on our list, with nearly 8 miles to finish, Point Buchon Trail is an easy out-and-back hike for hikers of all skill levels. Up the trail, you'll enjoy green sceneries and viewings of growing poppies (during spring). 
The elevation in this hike is nearly 190 meters, and it takes about 3 hours to finish. 
Now, you do not have to walk the entire length of the trail.  There is a 1 1/3 mile loop for those who are looking for something shorter. The views from the trail are stunning.  I do recommend stopping by if possible.
Elfin Forest Natural Area
The 90-acre Elfin Forest Natural Area protects coastal dune scrub, pygmy oak woodland, and maritime chaparral. The main hike in the area can be completed along a 1-mile long boardwalk. The trail takes about 30 minutes to complete.  
Up the trail, you'll enjoy views of greenery, flowers, and animals. While you can take your dog with you, you have to keep it on a leash except in some designated areas. A pamphlet located at the different trailheads has details about the points of interest around the boardwalk.
The "Elfin" name refers to the stunted height of the oaks present in the preserve.  Coast Live Oaks can grow up to 50 feet tall.  Here, height is limited to 12 feet because of the dune environment.  These oaks are about 200 years old and it is difficult to determine how many are in a groove because of twisty trunks.
Los Osos Oaks State Reserve
You can find the Oak Trail in the Los Osos Oaks State Reserve, which promises breathtaking greenery views. The 1.1-mile loop trail takes you through woodlands covered in oak and dwarf trees. 
Abstain from touching the flora since poison oak grows along the trail. Unfortunately, dogs aren't allowed on the Oak Trail. Also, keep in mind there aren't restrooms or potable water available in the area.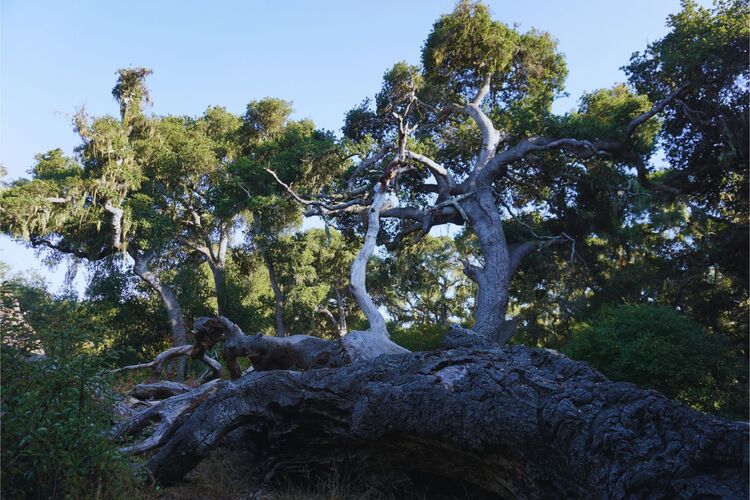 Sweet Springs Natural Preserve Loop
Open to the public from dawn to dusk, the Sweet Springs Natural Preserve Loop offers a serene nature observation experience for hikers. The trail is 0.5 miles long and takes about 10 to 20 minutes to finish depending on how much you stop. Dogs are not allowed in the Preserve.
You can extend your time in the area by walking to the Preserve from the Baywood Park Pier.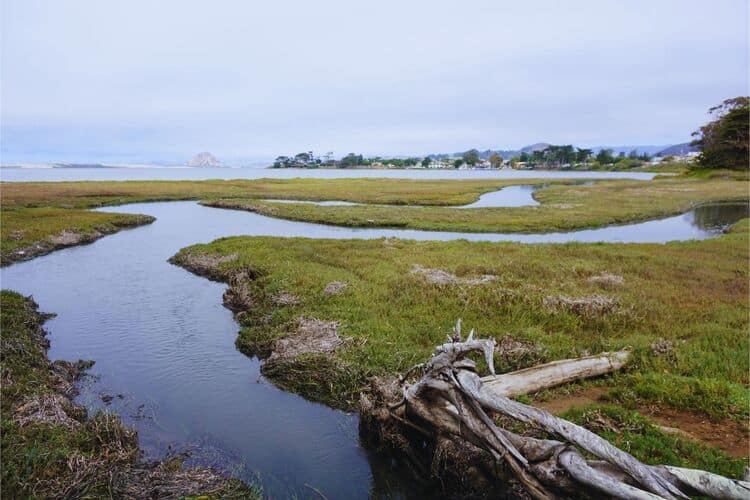 Morro Bay Hiking: San Luis Obispo
Whoa! We have discussed a great number of hiking trails in Morro Bay (and in Los Osos).  
If you are looking for even more trails (maybe you have completed most trails in the area) or different scenery, you can head to San Luis Obispo.  The city is located 14 miles from Morro Bay.
I have a dedicated article on hiking in San Luis Obispo covering over 12 trails.  Feel free to take a look.
Morro Bay Hikes Gear
I recommend taking into consideration the following when planning your San Luis Obispo hikes: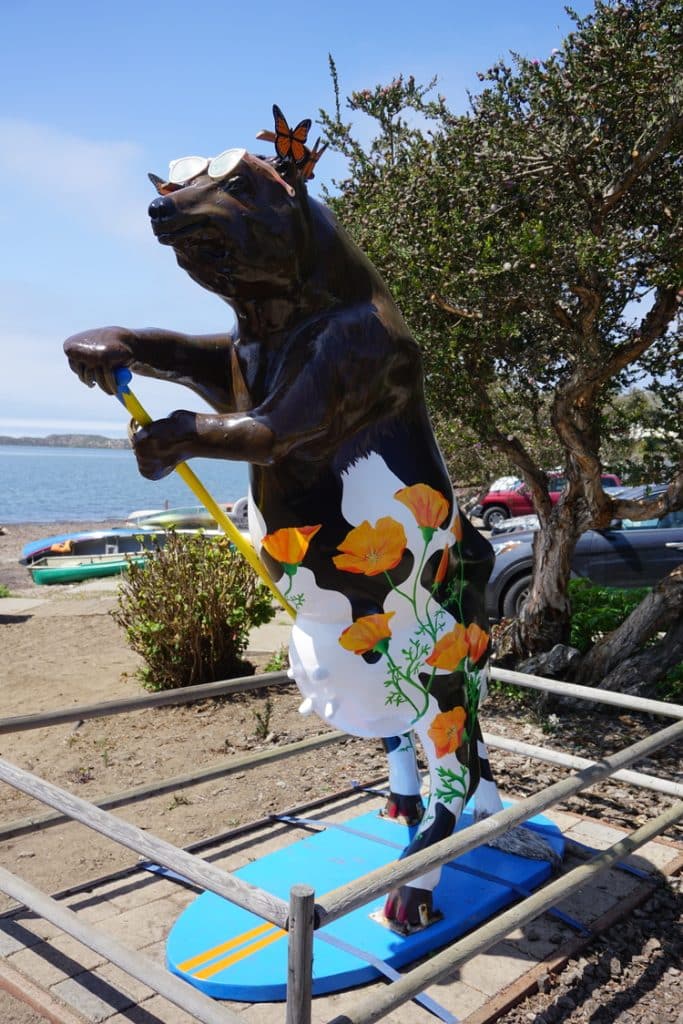 Location
Morro Bay is located between Los Angeles (213 miles) and San Francisco (232 miles) in San Luis Obispo County. It is located 14 miles from the city of San Luis Obispo (head of the county), 119 miles from Santa Barbara, and 143 miles from Monterey.
The closest airport is located in San Luis Obispo. If you are considering flying, the Santa Barbara airport may be a better option.  Anyway, both of these airports are small. Most visitors arrive by car (since major airports are located more than 200 miles away.
Morro Bay Bay can be accessed from the Pacific Coast Highway (CA-1) and is a fantastic stop on any California road trip itinerary.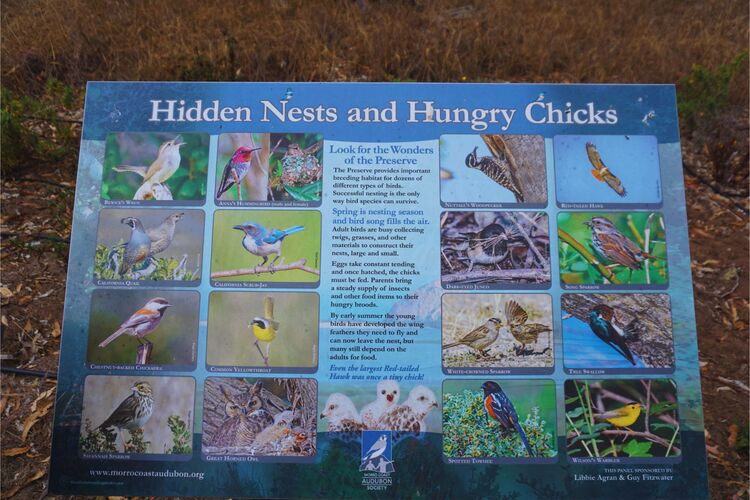 Alright, this is all for now. From flat trails to challenging hikes with stunning views, Morro Bay caters to hikers of all skill levels. Hope you enjoy what the area has to offer.
More of San Luis Obispo
If you are interested in more than Morro Bay trails, check my comprehensive articles covering a wide range of destinations in the county.
Shell Beach: Great Coastal Views
More of California
 Los Angeles Ultimate Bucket List
Ultimate San Diego Bucket List
150+ Places to Go in Orange County
Places to Visit in Santa Barbara
Things to Do in Ventura County
Have you completed any of the Morro Bay hikes in the article? Do you have additional suggestions?