Discover the beautiful Pacific Palisades hikes with this guide—explore scenic trails, picturesque views, and hidden gems away from city life.
Are you an adventurer looking for some wild and beautiful hikes? Then the Pacific Palisades hikes await!
Whether you're looking to take a short trip or embark on a longer expedition, Pacific Palisades has something for everyone.
Please note: This article contains affiliate links, meaning I may earn a commission if you make a purchase by clicking a link. Of course, this comes at no extra cost to you and helps me to keep offering solid information to readers.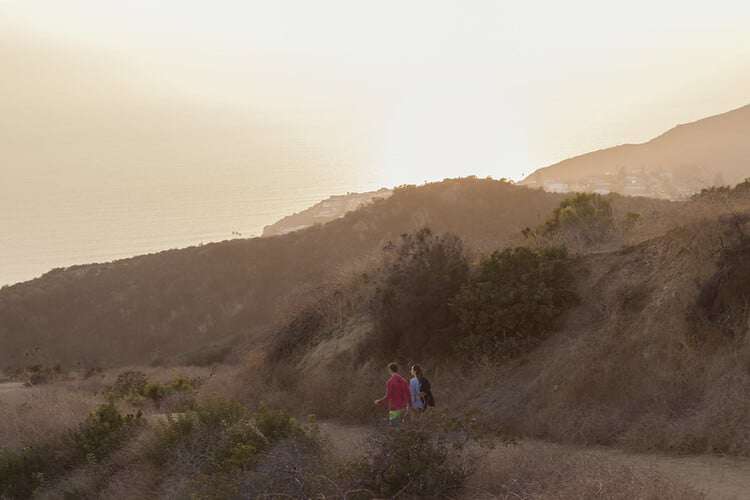 Best Pacific Palisades Hikes
Pacific Palisades is a coastal neighborhood in the city of Los Angeles.
The neighborhood is surrounded by incredible natural spaces.  Please notice this article highlights trails in these spaces adjacent to the neighborhood.  In other words, these hikes in Pacific Palisades are not technically in Pacific Palisades (even though pretty much everybody says they are in Pacific Palisades, a bit confusing, I know, but this is Los Angeles).
Having clarified this, get ready for your dose of Pacific Palisades hiking trails!
Temescal Canyon Loop
Length: 3.4 miles
Difficulty: Moderate
Estimated hiking time: 1 h 53 min
The Temescal Canyon Loop Trail is a great escape from the city, offering stunning views of a deep canyon as well as the Pacific Ocean. Located off Temescal Canyon Road near Palisades Village, this popular urban hike connects to Topanga State Park and other trails in the Santa Monica Mountains. 
The winding path offers varying shade levels under a canopy of trees while treating hikers to breathtaking views (and a waterfall as well).
This loop is formed by two trails (Temescal Canyon Trail and Temescal Ridge Trail) that connect at the top of the canyon.  There are options to hike only one of the trails (and go back the same way), hike the loop, or connected to different areas.
I have specific details in my Temescal Gateway Park article.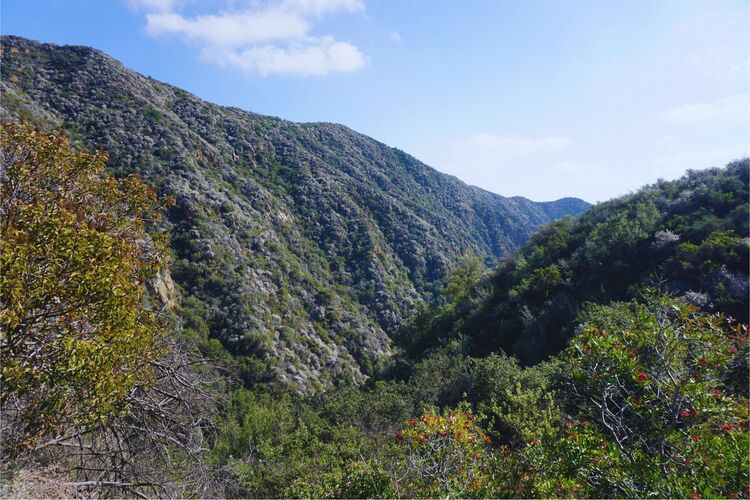 Skull Rock Loop
Length: 4 miles
Difficulty: Moderate
Estimated hiking time: 2h, 20 mins
Skull Rock Loop is an excellent choice if you're looking for a scenic hike with just a bit of extra challenge. It's an extension of Temescal Canyon Trail.  Hikers connect to the Temescal Ridge Trail at the top of the canyon but continue north (instead of south to complete the Temescal Canyon Loop described above).  This extension offers minimal elevation gain (from the top of the canyon) but can offer quite a rewarding experience. 
Aside from the stunning ocean views from Skull Rock, it's also a thrill to scramble across this naturally-formed rock formation!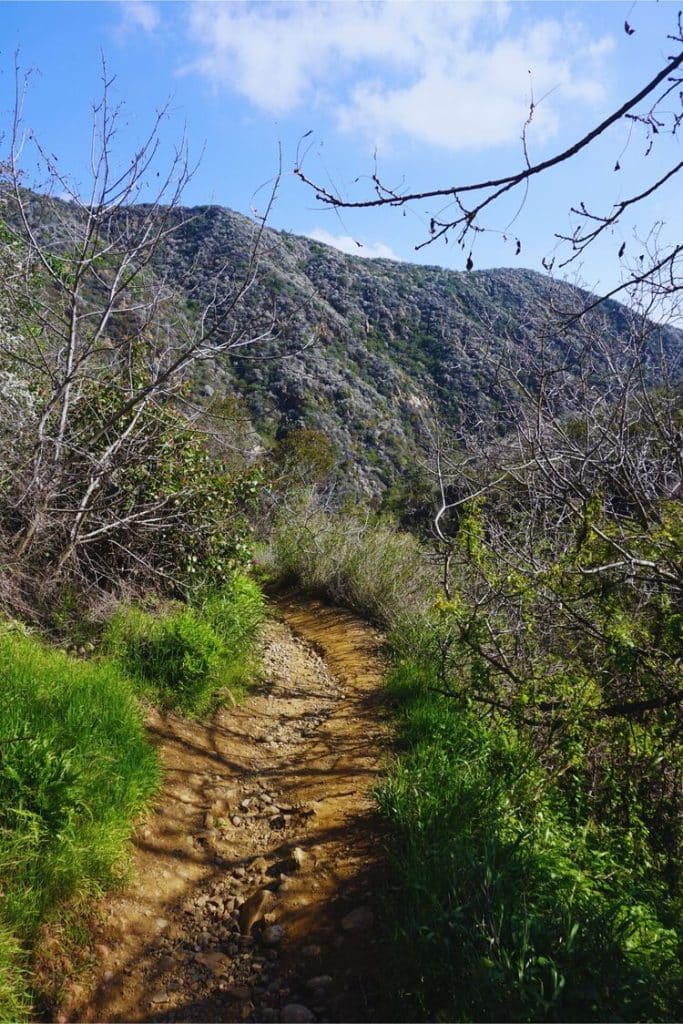 Santa Ynez Canyon Waterfall Trail
Length: 2 miles
Difficulty: Easy
Estimated hiking time: 50 minutes
The Santa Ynez Canyon Waterfall Trail won't disappoint if you're looking for a beautiful hike with plenty of shade and adventure. Although the waterfall at the end is worth the trek, it isn't well-marked, so beware of getting lost. Bring along bug repellent as well; you never know what you may come across!
This is a great hike to complete with kids.
Note:  This is a seasonal waterfall.  Prime hiking time is late winter/early spring.
Inspiration Point Trail
Length: 2 miles
Difficulty: Easy
Estimated hiking time: 1 hour
The Inspiration Loop Trail is an absolute must-do if you're looking to escape the ever-busy Los Angeles and get an unparalleled view of the L.A. basin and Santa Monica Bay. 
The trail is located within the Will Rogers State Historic Park.  The Ranch on the property can be visited before or after the hike. Tours are offered from Thursdays to Sundays.  The is no charge for the tours (but there is a fee to park).
Combined with the Backbone Trail in Topanga State Park, you'll gain even more stunning vistas inside Los Angeles' great outdoors while getting in some wonderful exercise along the way.
The trail connects to Temescal Gateway Park through the Rivas Canyon Trail.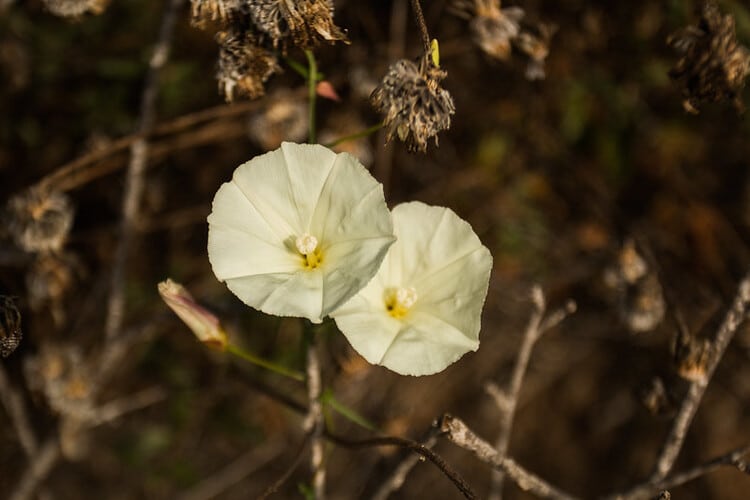 Murphy Ranch Trail
Length: 3.4 miles
Difficulty: Moderate
Estimated hiking time: 1h, 39 mins
Murphy Ranch Trail is a great hike, but be warned: you must traverse 524 steps on the way up! That said, the road to get there has some stunning coastline views, so it's definitely worth the trek. It's best to start your loop by walking clockwise, beginning with going down the stairs to the left. 
During the hike, you will encounter abandoned buildings (and vehicles, objects, etc.) covered in graffiti.  This is a popular trail for those looking for unique photo opportunities.
Sullivan Canyon
Length: 2 to 10 miles
Difficulty: Moderate to difficult
Estimated hiking time: Depends on how much you walk
East of Murphy Rach, you will find Sullivan Canyon Park.  The trail in the park has a length of 5 miles (almost 10 miles roundtrip).  Now, you do not need to hike the entire trail.  Hiking a mile (2 miles roundtrip, elevation gain is 750 feet) will give you a good overview of what this place is all about.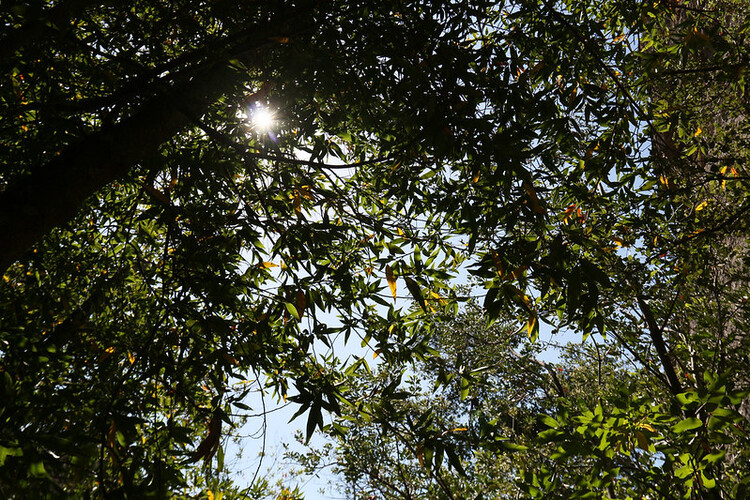 Los Liones Trail to Paseo Miramar Viewpoint
Length: 2.4 miles
Difficulty: Moderate
Estimated hiking time: About 1.5h
Los Liones Trail is one of the best hikes in Pacific Palisades.  And, it is one of the most popular as well.  So, expect to hike with plenty of company (especially during the weekends).
The trail takes hikers to the top of Los Liones Canyon.  Even though there is an elevation gain of about 800 feet, it is not that hard to go up because the trail has some switchbacks (switchbacks help to conserve energy).  
Once at the top, hikes will reach the Paseo Miramar Viewpoint.  From here, the views of the San Monica Bay and Los Angeles are incredible.
You can go back the same way or connect to the Paseo Miramar Trail.
Paseo Miramar Trail
Length: 5 miles
Difficulty: Moderate
Estimated hiking time: 2h, 42 mins
If you're looking for an invigorating hike with plenty of breathtaking views, then the Paseo Miramar Trail is your go-to destination. Though the initial trek down to the trailhead may add a half mile to the journey, it's worth it when you reach countless off-shoot trails with small bluffs boasting gorgeous vistas.
On this trail, you will reach the Paseo Miramar Viewpoint fairly quickly.  Then, hikers continue until the final destination, Parker Mesa Overlook.  Once again, the views from here will leave you amazed.  
Keep in mind this trail has a 1200 feet elevation gain.  Come prepared with the proper gear and equipment.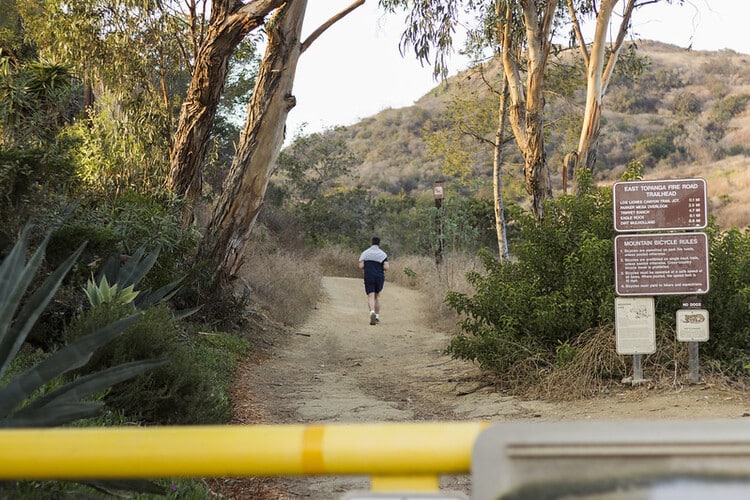 Parker Mesa Overlook via Los Liones Canyon Trail
Length: 7 miles
Difficulty: Moderately Difficult
Estimated hiking time: 3 hours
Alright, we have discussed Los Liones Trail.  We have also discussed the Paseo Miramar Trail which takes hikers to Parker Mesa Overlook.
And, I mentioned Los Liones Trail connects to the Paseo Miramar Trail.  So, for this trail suggestion, you will start at Los Liones trailhead, connect to Paseo Miramar Trail and make it all the way to Parker Mesa.  
This is a great combination for experienced hikers who are seeking a diverse and challenging trail (the elevation gain is about 1650 feet). This hike requires good shoes, but whether or not to wear long sleeve shirts and pants is left up to the individual hiker. If you're looking for a thrilling journey, this spot can provide it!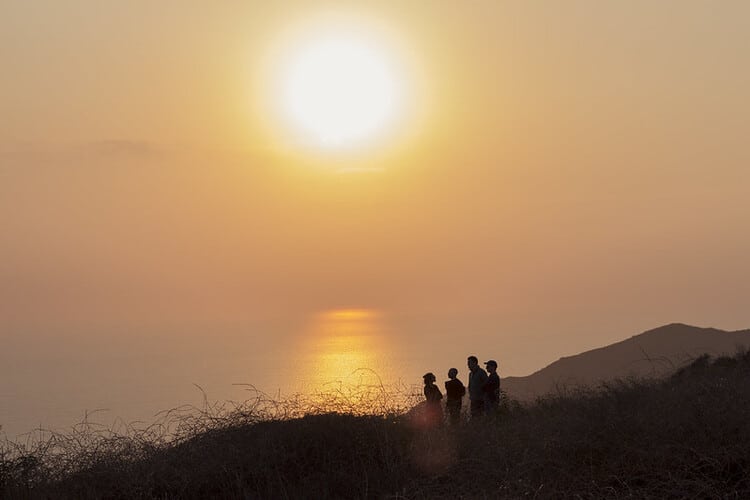 Eagle Springs Fire Road Loop Trail
Length: 5.5 miles
Difficulty: Moderate
Estimated hiking time: 2h, 43 mins
Eagle Springs Fire Road Loop Trail is a wonderful destination for hikers and nature lovers alike. 
From the Trippet Ranch parking lot (in Topanga State Park), take the Backbone Trail (also known as the Musch Trail).  In a bit more than a mile, you will reach Eagle Junction. 
Continue in the Backbone Trail to reach the majestic Eagle Rock—a boulder outcropping offering panoramic views of the area. If that doesn't take your breath away, the views of Cathedral Rocks and Temescal Peak should do the trick. 
Once at Hub Junction (at about 3 miles), take the Eagle Springs Fire Road.  That will take you back to Eagle Junction and the trailhead.
Hikes Near Pacific Palisades
Malibu is located a stone's throw away from Pacific Palisades.  These are fascinating news to outdoor and nature enthusiasts.  That means there are additional opportunities to experience fantastic trails.
Here are my top recommended Malibu hikes (I have hiked extensively in the area):
Corral Canyon
The 1000-acre Corral Canyon Park serves as a sanctuary for coastal sage shrubs, quails, deer, hawks, and other wildlife. The park can be conveniently accessed from the Sara Wan Trailhead, which features a small on-site parking lot. In the event that the lot is full, visitors can park at the nearby Pacific Coast Highway.
From the trailhead, hikers can embark on the Corral Canyon Loop Trail, a picturesque 2.2-mile stretch with a moderate 550-foot elevation gain. This route offers some of the best scenic views of Malibu's coastline, visible almost immediately from the start of the trail. 
Hikers can also exit the Loop Trail and connect to a trail leading to Mesa Peak, which spans about 3 miles one way and features even more stunning views, although it is a more strenuous hike.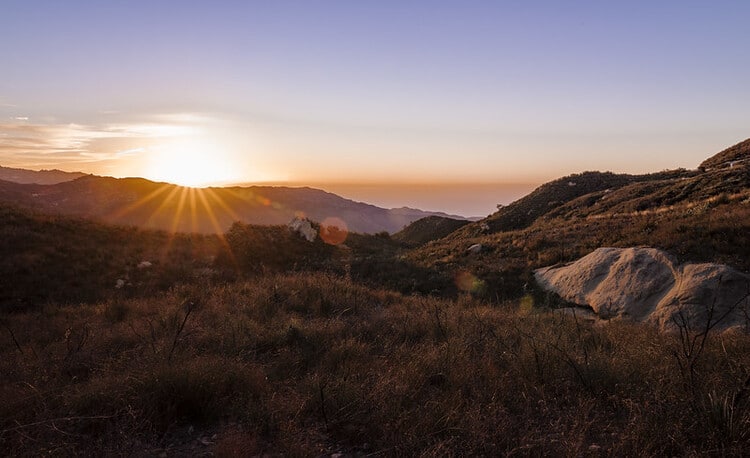 Solstice Canyon
Solstice Canyon Park is a must-visit destination in the Santa Monica Mountains National Recreation Area for hikers seeking a range of difficulty levels, from easy to moderate to difficult. 
The park boasts a diverse array of plant and animal species, offering nature enthusiasts a chance to appreciate its untamed beauty while encountering alligator lizards, woodpeckers, and parakeets.
Here are a few hike recommendations:
TRW Loop Trail (1.5 miles roundtrip, easy) – This trail provides visitors with a bird's-eye view of the park, including stunning ocean views.
Solstice Canyon Trail (2.1 miles roundtrip, easy) – Widely regarded as the top trail in the park, this route takes hikers along a flat terrain that features a ruined stone cabin, the remarkable Roberts Ranch House, a waterfall, and a dam.
Rising Sun Trail (1.5 miles, moderate) – This trail leads hikers through one of the canyon rims and can be accessed from the TRW Loop. It eventually ends up near the Roberts Ranch House, and hikers can return to the parking lot by taking the Solstice Canyon Trail.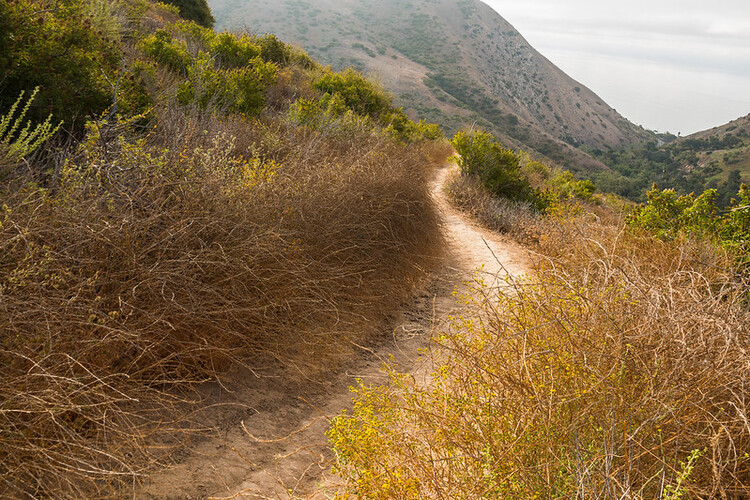 Escondido Canyon
Escondido Canyon Park is a serene wooded parkland that welcomes hikers, mountain bikers, and equestrians throughout the year. The 3.8-mile out-and-back Escondido Falls Trail leads hikers through oak woodlands, coastal sage scrubs, riparian vegetation, and Escondido Creek, culminating at the stunning 150-feet tall Escondido Falls.
As Escondido Falls and Creek rely on rainfall, early spring is the ideal time to embark on this hike. The falls are particularly breathtaking when they are flowing vigorously, adding to the hike's overall beauty.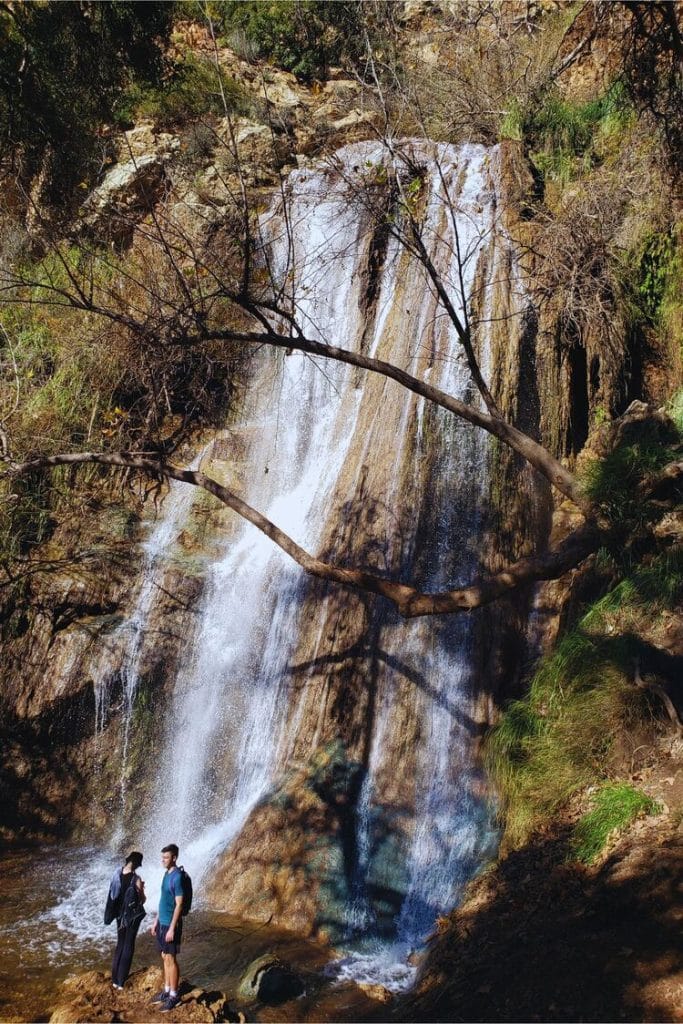 Tuna Canyon Park
Tuna Canyon Park spans over 1,255 acres of pristine natural scenery nestled between Topanga and Malibu. Accessing the park requires driving up the mountains to the trailhead located on Tuna Canyon Road. You'll know you've reached your destination when you see parked cars lining the street.
Upon taking the trail, I recommend veering left at the first major fork (Hearst Tank Motorway). A short climb will lead you to a breathtaking viewpoint – in my opinion, it's the best view in Los Angeles! This spot also features a labyrinth crafted by locals and a magnificent tree that is perfect for photographs.
After soaking in the scenery, head back to the fork and continue on the Big Rock Motorway. This trail also boasts awe-inspiring ocean views, but keep in mind that it will take you downhill, making the return journey challenging. 
If you prefer a shorter hike, walk a bit to capture great views of the Malibu Pier area. This trail also connects to the Budwood Motorway and Big Rock Lateral trails.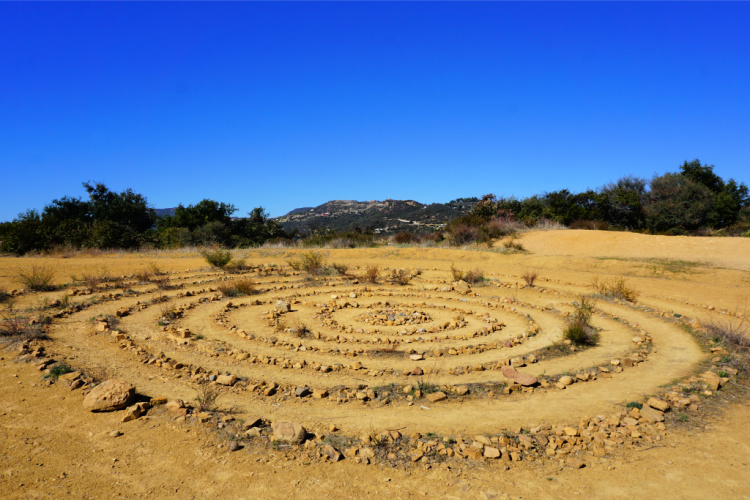 Pacific Palisades Hiking Recommendations
When it comes to hiking in Pacific Palisades, there are a few tips and recommendations to keep in mind to ensure a safe and enjoyable experience.
Be Prepared
Before heading out on a hike, make sure you are prepared with the right gear and supplies. This includes wearing appropriate footwear and clothing, bringing enough water, snacks, and a first aid kit. It's also a good idea to check the weather forecast and trail conditions beforehand.
Stay on the Trail
It's important to stay on designated trails to minimize impact on the environment and avoid getting lost. Straying off the trail can also lead to encountering potentially dangerous wildlife or getting stuck in hazardous terrain.
Leave No Trace
Pack out all trash and follow the "leave no trace" principle, which means leaving the trail and surrounding area in the same condition you found it. This includes not disturbing wildlife or vegetation, avoiding creating new trails, and properly disposing of waste.
Know Your Limits
Choose a hike that matches your fitness level and experience. Don't push yourself too hard, and take breaks as needed. It's also a good idea to let someone know where you are going and when you plan to return.
Respect Wildlife
While hiking, you may encounter wildlife such as snakes, coyotes, or even mountain lions. It's important to keep a safe distance and avoid feeding or approaching them. If you encounter a potentially dangerous animal, make noise and slowly back away.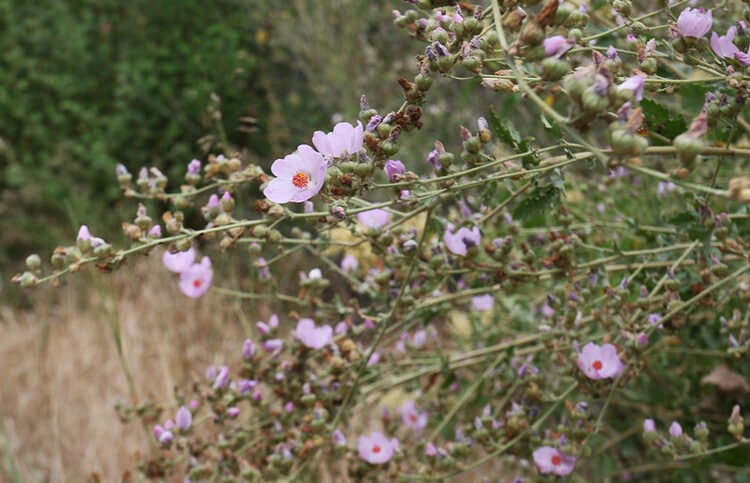 Pacific Palisades Hikes Gear
I recommend taking into consideration the following when hiking Pacific Palisades: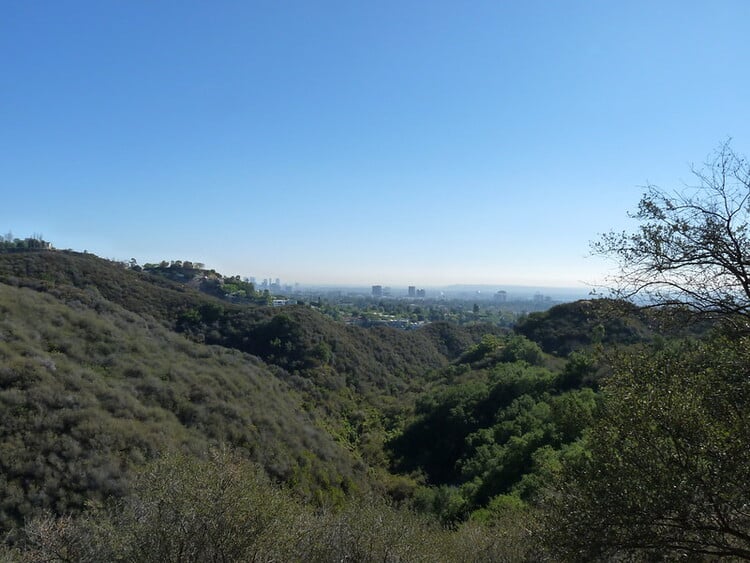 It doesn't matter what Pacific Palisades trail you choose.  I am sure it will end up being quite the experience. Hope you have enjoyed the article!
More Hikes in Southern California
Best Hiking Trails in Laguna Beach
What are your favorites Pacific Palisades hikes?