I have called Redondo Beach, one of the beach cities located in Los Angeles County, home for about 15 years.
Given my love for good food, you can imagine I have explored the culinary scene of the city extensively. In this article, I am sharing my favorite Redondo Beach pier restaurants.  The pier is the most popular attraction in the city.  So, I got your bases covered in terms of what to eat there.
Let's dig in!
Most Important Thing to Know
I am starting this article by informing you about some facts a lot of visitors to the Redondo Beach Pier seem to miss.
Most people access the pier's parking lot through Torrance Boulevard.  Once they walk out of the lot, they are going to find themselves at the main pier area.  In that area, there are several restaurants (more like food stands with open air sitting) selling seafood, Chinese food, hot dogs, burgers, pizza, and other food items.
I am going to put it plain and simple, do not eat at these places.  The food is mediocre (or less than that) and without flavor.  They may be some exceptions (and I'll discuss them later) but I would avoid these.  I never eat in those places and believe other locals follow the same rule.
There is an area on the pier called The Boardwalk.  Restaurants in that strip offer much better quality and variety.  Also, keep in mind there are several restaurants in the Redondo marinas (north of the pier) offering upscale dining.
Best Redondo Beach Pier Restaurants
Now, let's get into the nitty-gritty of things.  Below, I am sharing my favorite restaurants in the Redondo Beach Pier.  These are the places I frequent often and where I take my out-of-town visitors.  Hope you are ready for this mouth-watering journey!
Quality Seafood
This is my top recommendation for eating seafood in the pier.  This establishment has been operating for more than 60 years and claims to have the largest selection of seafood on the West Coast.
And, I do believe their claim since their variety is mind-blowing.  Here is a partial list of what they usually have in stock: more than 30 varieties of fish (salmon, snapper, cod, tilapia, mahi-mahi, sardines, anchovies, etc.), squid, octopus, sea urchin, crab, 10 kinds of clams, 25-30 types of oysters, lobster, scallop, shrimp, snails, mussels and much more.
Everything starts by selecting what you want to have from the market area.  Then, you choose the cooking method (steamed, fried, grilled).  While waiting for your food, you proceed to claim a table and cover it with a big piece of paper (rolls are available on-site).  Once the food is ready, you place it over the table (or distribute it over the paper so everybody at your party can take a bite).  After enjoying the wonderful seafood, you roll the paper and deposit it on the trash can.
If nothing in the market catches your attention, there is a snack bar selling prepared food, poke, and ceviche.  And, of course, you can take your treasure home and prepare it the way you want.
Tip: The most popular fish market in Los Angeles County is in the city of San Pedro.  If you want to save money (like a lot of money) and have a more authentic experience, visit the fish markets and restaurants in the Redondo Beach Pier.
A Basque Kitchen
I am obsessed with Spain and its food.  A few years ago, I visited Bilbao and San Sebastian (in Basque County) and had some of the best food I have had in my entire life.  Then, a couple of months after I got back, I found out a Basque restaurant opened on the pier.  I almost cried of happiness.
Let me tell you something.  It is very difficult to find a good Spanish restaurant in Los Angeles.  However, A Basque Kitchen gets everything right: the ingredients, the flavor, and the decor.  I would love to eat there every day (but I would probably have a heart attack).
Without any shame, I admit I have tried everything on the menu.  I recommend the squid cooked on its own ink, the Basque tortilla (omelet), the octopus pintxo, the beef cheek stew, and the cured meat & cheese board.  For brunch, I like to order the pork belly patatas.  They keep things interesting by offering paella on Thursdays and chef seasonal specials.
I can recommend this place enough!
Tip: Save some money by taking advantage of the week daily specials (3:00 p.m. – 6:00 p.m.)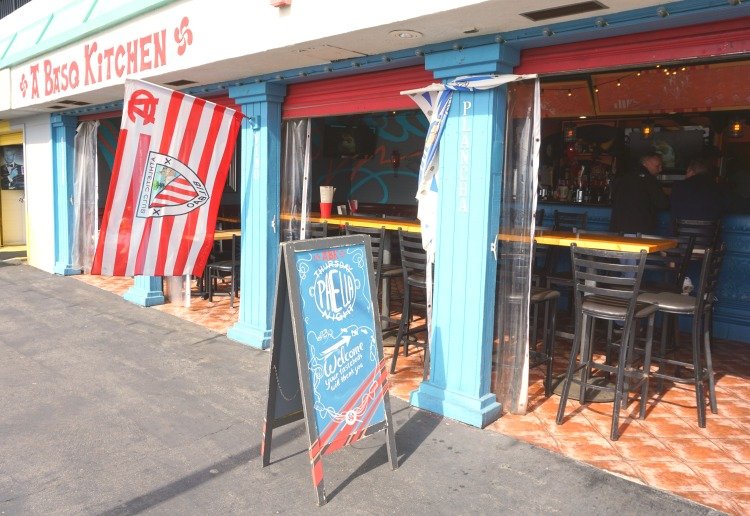 Polly's on the Pier
For many years, Polly's was located on the Redondo Beach sportfishing pier (north of the main pier).  Recently, the business moved to The Boardwalk area.
It doesn't matter the location, this local favorite keeps pleasing with its egg combination dishes (they can be served with steak, pork chops, machaca, ham and corned beef has), eggs benedict, omelets, French toast, pancakes, burgers, and sandwiches.
This is the place to have breakfast and/or an early lunch (they close at 2:00 p.m.)
R/10 Social House
I discovered R/10 Social House since once of my former bosses was a fan of it.  She used to invite me and my coworker to lunch meetings in this place (you can see she was awesome!)
Since those days, the restaurant has not lost its greatness.  To start, they have a very ample space offering views of the Redondo Beach Pier/Marina and the Pacific Ocean.  On top of that, the gastropub offerings are delicious.
The dishes have a modern twist, but they still feel like comfort food (at least to me).  I cannot have enough of their chicken & waffles, pulled pork sandwich and the short ribs.  It is hard to decide but I think my favorite dish is the mussels in Thai curry sauce.
In addition, they serve a wide selection of salads and vegetable-based dishes.  And, since I am a fan of charcuterie and cheese boards, I have to mention theirs is pretty good.
Tip: The have weekday specials from 3:00 p.m. to 6:00 pm.  On Mondays, specials are available from 3:00 pm. To close. The portions are generous.
Captain Kidd's Fish Market & Restaurant
This is another place chock-full of amazing seafood selections.  It is not located on the pier per se but close enough to mention it here.  To find it, keep walking north on The Boardwalk (past R/10 Social House) and you are going to see it on your right in a couple of minutes.  If you access the pier's parking lot through Pacific Avenue or Harbor Drive, you are going to see the restaurant when entering the lot.
In here, you pick your fish and create a plate or sandwich.  You can add sides such as coleslaw, macaroni salad, corn on the cob and hush puppies.  Or, you can order from their prepared food section.  You can have your food at one of their three patios.
They sell fresh and seasonal ingredients.  That means their menu changes during the year.  Keep that in mind when you visit.
Kincaid's Fish, Chop & Steak House
Kincaid's is the more upscale place recommended on this list.  I have chosen this restaurant to celebrate special occasions.
Just to be clear, many dishes surpass the $30 mark.  Brunch items are around $20 and daily specials can be had for $8 – $10 (expect small portions).
However, if you can afford it, it is a wonderful place to enjoy delicious food while surrounded by 360-degree views of the ocean.  They excel at preparing wagyu sirloin, filet mignon, and New York steak.
Other Restaurants to Try
The following restaurants serve decent food in nice settings.
Pacific Fish Center & Restaurant
This is not my personal first pick for seafood on the pier but locals like it and the long lines prove it.  Plus, Los Angeles top food critic, Jonathan Gold (now deceased) used to recommend this place.
This is yet another restaurant serving raw and live seafood.  Their spicy fish soup (Korean style) is very tasty and unique in the pier.  Give it a try if you are after something different.
The Slip Bar & Eatery
As the name implies, this place is a bar serving food. However, the food is decent, and they have a surprising selection of vegetable-based dishes on the menu.  This is a good place to eat if you want to watch a sports event.
Ruby's Dinner
I am not prone to recommend chains, but Ruby's is a California institution associated with the beach scene on the state.  As a matter of fact, they have restaurants in the Balboa (the original), Huntington Beach and Oceanside piers.
The restaurants are designed to look like diners from the late 30s and early 40s.  They serve hamburgers, sandwiches, soups, salads, and, above all, delightful shakes.
It is a fun place to visit with family and friends!
Samba Brazilian Steakhouse
I have always had mixed feelings about Samba.  I mean, I love churrascarias but Samba feels a little bit too overpriced and hyped to me.
Redondo Beach and nearby areas (Culver City, Torrance) have a fair share of Brazilian residents.  As a consequence, there are plenty of small restaurants selling excellent churrasco style dishes at a fraction of the price you would pay at Samba.
But, if you want the experience in a phenomenal setting, this is an option.
Barney's Beanery
This gastropub chain has several locations in Los Angeles. It specializes in classic American fare and big breakfasts.  This is another place to check if you are interested in watching football, baseball or basketball.
Redondo Beach Pier Coffee and Sweets
We all need something sweet even if we are spending a day at the beach.  To calm your sugar cravings, you can stop by Churros Pier Bakery, Bella Gelato or Jade Snow.  If you need a cup of coffee Kona Koffee Company is the place for you.
Redondo Beach Marina Restaurants
As previously mentioned, there are several good restaurants located in the marinas located north of the Redondo Beach Pier. In theory, you can walk from the pier to the marinas but if you are looking into dining only, it is better to use the marina's parking lots.  Restaurants validate tickets.
In the Portofino Marina, you can try Baleen Kitchen, Sea Level Restaurant and Blue Water Grill Seafood. In the King Harbor Marina, stop by Chart House.
Keep in mind the prices of these restaurants are higher than the restaurants in The Boardwalk (in general, there may be exceptions).
Parking
The pier parking can be accessed from the Pacific Coast Highway. (make a turn at Torrance Boulevard).  At the end of the street, there is ample covered parking.  You pay at a machine on site and it is possible to add more time from your cell phone (if you enter your cell phone number when paying).
The parking lot can be accessed from Harbor Drive too.  In addition, uncovered, ample parking lots are located in front of the marinas.
Weather and Seasonality
Redondo Beach is blessed with an excellent year-round weather.  In summer, temperatures reach the 80 degrees Fahrenheit.  Winter temperatures oscillate around 60 degrees.
Even though the weather is pleasant all the time, some businesses observe shorter operating hours during winter.  Other businesses are only open during the weekends.  If you are visiting during this season and have your eyes set on a particular place, make sure it is operating during your visit.
The pier gets extremely crowded during summer.  Expect to share the place with others during this time.
Things to Do in Redondo Beach
If you are interested in details about the things to do in Redondo Beach, I have an entire article dedicated to the topic. Feel free to check it out!
Things to do in and around the Redondo Beach Pier
More about the Beach Cities
While in Redondo, it is a good idea to check its sister cities Manhattan Beach and Hermosa Beach. Read the following articles to get to know these places better.
Torrance and the Palos Verdes Peninsula are located south of Redondo and offer even more attractions and eating options.
More of Los Angeles
More of Southern California
What are your favorite Redondo Beach Pier restaurants?
If you enjoyed this article, remember to share!
Pin "Redondo Beach Pier Restaurants" for later!