Are you a huge camping and outdoor lover?  Well, me too! Here I review the best solar camping lanterns that are a must for your next adventure.
As you guys may know, I am an avid camper.  As a matter of fact, I booked yet another camping trip before starting to write this article.
When going on camping trips, I used to take our Coleman LED Lantern.  This is a no-brainer.  A lantern is a huge need when you are in a pitch-black space.  The Coleman lantern is bright, portable, and good-looking (at least in my opinion).
But, it is battery operated.  And, that comes with a lot of different pain points.  For that, and other reasons, I have started to camp with solar powered lanterns.
In this article, I am sharing information about the best solar lanterns for camping.
Please note: This article contains affiliate links, meaning I may earn a commission if you make a purchase by clicking a link. Of course, this comes at no extra cost to you and helps me to keep offering solid information to readers.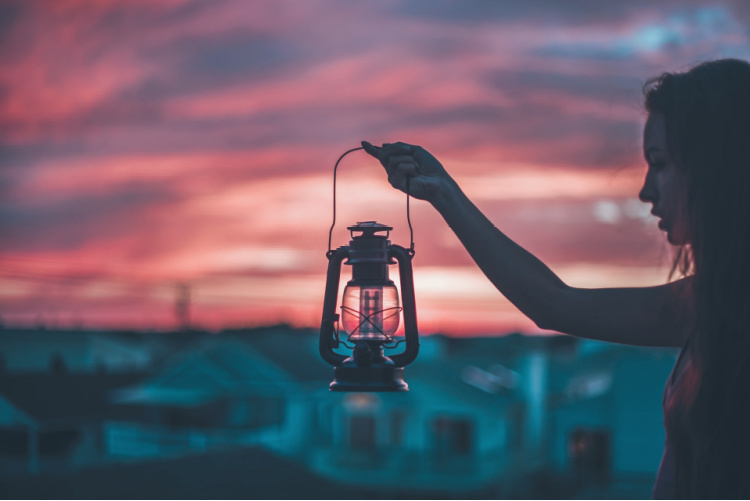 Best Solar Camping Lanterns At A Glance
If you do not have time to read the entire article, here are the top solar powered camping lanterns at a glance.  Choosing an outdoor solar lantern is a personal thing. Because of that, I have chosen to include in this article a wide variety of options.  
Why Do You Need a Solar Camping Lantern?
When it comes to solar camping gear, a lantern is essential.  It doesn't matter if you camp on a tent, RV, or trailer, at night, you need light for many things.
For years, I camped with a battery-operated lantern.  With time, this object added expense and hassle to our trips. And, if you know me, you know I am all about keeping things simple and affordable.
Big batteries can be expensive.   That is money that does not come back since most of these batteries are not rechargeable.  Plus, you always need to have additional batteries since you do not know when the ones you are using are going to die.  On top of that, you have to properly dispose of those batteries.  It is not as easy as throwing them in the trash.
And, I do not know about you but I am finding it harder and harder to find D batteries in supermarkets and pharmacies.  It is like nobody carries them when you need them the most.
So, enough is enough.  With a solar powered camping lantern, I do not have to worry about those things.  Those solar camping lights charge while I am sightseeing, driving the car, or setting camp.  They are a great tool for any outdoor enthusiast!
Which Are the Best Solar Camping Lanterns?
Even though the term "best" is subjective and personal,  I will provide my opinion on what factors I take into consideration when choosing a good solar rechargeable lantern.
Solar Charged (For Real) – The main problem I have had with camping solar lanterns is that a lot of them advertise as "solar rechargeable" but the solar panel barely works.  These are charged mainly through a USB port.  Of course, they get glowing reviews but reviewers have not even tested the solar function.  Be careful when choosing a lantern that can be charged in multiple ways.  The solar panel may be there as an advertisement, non fully functional option.
Brightness – This is one of the most important aspects to take into consideration when choosing a solar camping light.  Brightness is measured in lumens.  The greater the number of lumens, the greater the space illuminated by a single light.  Most solar lights are within the 10-75 lumens range.  
As a comparison,  my battery operated light has a brightness of 400 lumens.  That is quite a difference. There are solar powered lights with more brightness but the price is higher.  The number of lumens needed can be lower for solar tent lights, reading lights, headlamps, or flashlights.
Efficiency – In this case, I am referring to the efficiency of the solar panel on your lantern.  Take into consideration under which conditions a solar lantern will charge.  Good quality panels allow charging even on cloudy days.
Lasting – How many hours of light will my solar outdoor lantern provide with a single charge?  You may need several hours of light depending on the season and at what time you go to sleep.  A lot of people choose solar LED lanterns since they are energy efficient. 
Also, keep in mind most solar charged lanterns start to lose brightness as power diminishes. Many manufacturers specify how the lumens decrease as the charge diminishes.
Waterproof – Electronics and water do not mix well (believe me, I am an engineer).  A waterproof lantern will be a great asset.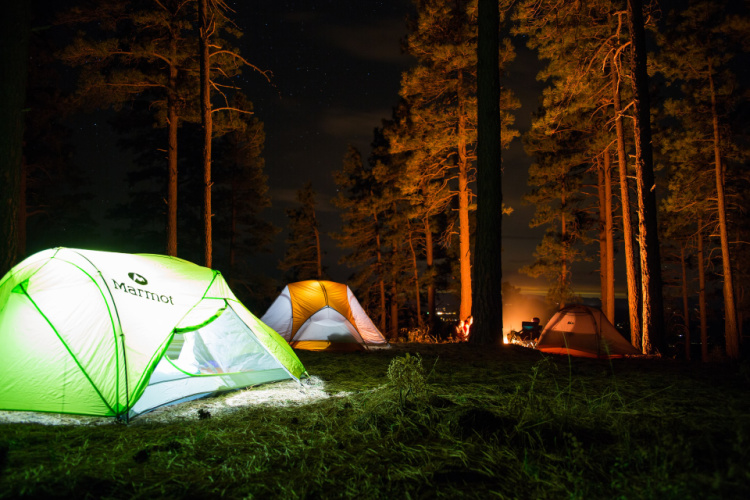 Versatility – Do you want a solar hanging lantern? Do you want a lantern that can be placed over a table? Are you looking for a solar wall lantern? Do you want to hang the lantern somewhere in the tent?  Or, do you need something that can be used over different surfaces? 
Weight – I love to pack light.  Nonetheless, I know a small solar lantern may not be enough.  As a matter of fact, I have one large solar lantern and several smalls ones.  Whatever your need, try to go as light as possible.
Guarantee – Consider buying a lantern that can take some beating. And, even if you believe the thing can survive rough conditions, a manufacturer guarantee can give you peace of mind.   Oh, you have no idea how many lanterns I have dropped or knocked to the ground.  
Light Color – This is a less important aspect to consider and highly personal.  Most people choose a white light since they are the brightest.  Others would love a solar color changing lantern for mood or fun reasons.
Light Mode – Related to the item above, some solar powered lamps allow you to change the lights setting.  For example, you can adjust the brightness of the light, have a flashing light or red light for emergency situations.  Some even flicker like a candle! How cool is that?  I will definitely love to have a solar flickering lantern.
Phone Charger – Last but not least, many solar powered camping lights allow you to charge your cell phone using a USB cable.  These types of lights are usually $10-$15 more expensive than lights that do not come with this feature.  The investment may be worth the extra dollars since keeping phones charged during camping trips can be a headache.
Note:  Make sure the phone charging function of the lantern you decide to buy works with iPhones (if you happen to have one).  A lot of lanterns do not work with Apple devices.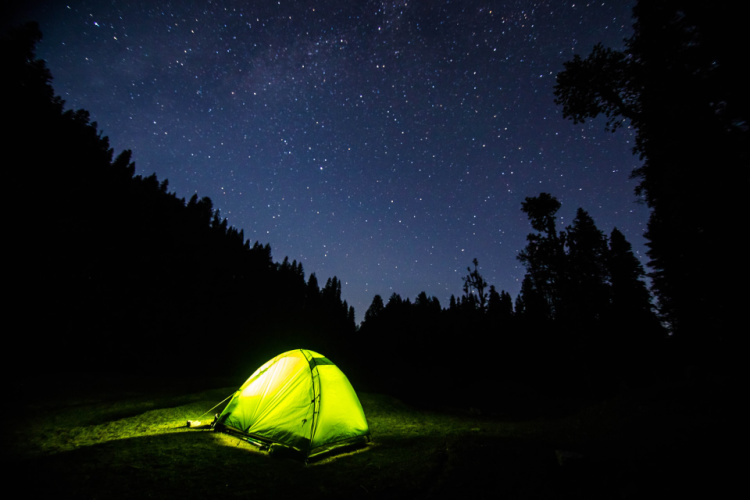 Best Solar Lantern – Top Pick
When taking into consideration critical factors such as functionality, brightness, and price, I need to recommend the LuminAID Nova Solar Camping Lantern as my top pick.
This super bright, collapsible solar lantern (packs flat) has many amazing features.  First, this is a product that truly works with sunlight.  It has been used in many disaster relief efforts.
The lantern is completely waterproof.  You can even submerge it in water and it will not get damaged.  In addition, it is built to resist other outdoor elements such as dust, sand, and dirt.
You can hang the LuminAID Nova from a tree, wall, backpack, or tent.  Since it is light, you will not need a particularly strong hanging location.  Also, it can be inflated and place over a table or on the floor.
On a high setting (75 lumens), the battery lasts 5 to 6 hours.  You can lower the brightness to make the battery last longer.  The lantern can be also be charged using a USB cable.
Pros
Bright (75 Lumens)
Light
Easy to Store
Durable (Waterproof, Shatterproof, Dustproof)
Lasting
Backup Charging Method (USB Cable)
Different Light Modes
Cons
Cannot be Used as Phone Charger
Best Solar Camping Lanterns
Here are my top recommendations when it comes to the best solar camping lights.
Bright Solar Lantern
If you are looking for a bright solar lantern with great reach, you should take a look at the LuminAID PackLite 2-in-1 Phone Charger Lantern.
It has all the fantastic features of my top pick, the LuminAID Nova, but it has two times the brightness (150 lumens) and charges phones.
I did not select the LuminAID PackLite as my top pick because of the price.  It cost two times the amount of the LuminAID Nova and more than two twice the amount of other solar lanterns in this article.
Of course, the brightness level of the LuminAID PackLite places it in a different category.  However, the point is that you need to determine the amount of brightness that works for you. 50 to 75 lumens may be ok and you will not have to pay for a more expensive, brighter light.
Pros
Bright (75 Lumens)
Light
Easy to Store
Durable (Waterproof, Shatterproof, Dustproof)
Lasting
Backup Charging Method (USB Cable)
Different Light Modes
Cannot be Used as Phone Charger
Cons
If you determine you need more brightness, LuminAID has a model called Titan that provides 300 lumens of brightness.
Inflatable and Portable Solar Lantern
The Goal Zero Crush Light Solar Powered LED Lantern can add tons of ambiance to your campsite.  This light and easy to carry lamp has a flickering mode. So, think about it as your solar candle lantern!
In addition, it has three other light settings.  On high, the lantern provides 60 lumens of brightness.  Brightness can be adjusted to make the battery last longer.
The lantern can be charged using a USB cable if desired or needed.
Pros
Bright (60 Lumens)
Light
Easy to Store
Lasting
Different Light Modes
Cons
No Mention About Outdoor Performance
Does Not Charges a Phone
The Zero Goal Crush Light Chroma has an additional multi-color light mode.  The light color alternates among green, aqua, blue, orange, magenta, and red.  These colors will give a homey or party feel to any camping trip.
Another Solar Inflatable Lantern Option
The MPOWERD Luci EMRG: Solar Inflatable Lantern provides excellent value to those looking to walk at night around the campsite, read inside a tent or illuminate different spots on the campsite.  Because of the low price, you can buy several and scatter them around.
These light lanterns barely take space when charging or stored.  They are designed for the outdoors.  You do not have to worry about dropping them or splashing water over them.
The lantern lasts 7 hours with a single charge and have 5 light modes.  The only thing is that the brightness is low on this lantern.
Pros
Good Price
Light
Easy to Store
Durable (Waterproof, Withstands Pressure)
Lasting
Different Light Modes (Including Red Light)
Cons
Low Brightness (35 Lumens)
Does Not Charges a Phone
Efficient Solar Powered Camping Light
The d.light S200 Portable Solar Lantern for Camping is probably the most efficient lantern on this list. Its manufacturer assures the lantern charges on sunny and cloudy days.  That gives you peace of mind since you know the device is charging even in low light conditions. 
The other thing I love about this product is that it can easily be placed over a table or hanged from a wall, post or tree.  
In addition, the manufacturer offers a 2-year guarantee and ensures the product has a 5-year lifetime.  The lifetime takes into consideration exposure to outdoor elements.
Pros
Bright
Light
Easy to Store
Durable (LED Solar Lantern)
Lasting
Different Light Modes
Charges Phones
Cons
D.light has brighter solar powered lanterns.  Check out the d.light S500 Portable Solar Lantern for Camping
Solar Powered Flashlight
A flashlight may be the product that offers more bang for the buck. 
As an example, the NPET T09 Solar Flashlight has a brightness of 200 lumens, is resistant, has 7 light modes, and charges a phone.  Plus, it can be used in an emergency situation to get out of a car or cut a seat belt.  All of this for about the same price as other solar camping lights I have recommended in this article.
Of course, the main issue with the flashlight is that the light source is unidirectional.  It will not "fill" space.  Also, flashlights work better when handheld.  The NPET T09 has a magnet that allows the flashlight to be attached to a metal surface.  This is a plus but will not replace the versatility of products that be placed over a flat surface or hanged.
Pros
Good Price
Super Bright (200 Lumens)
Light
Easy to Store
Water and Shock Resistant
Lasting
Different Light Modes
Chargers Phone
Cons
Light Goes in One Direction (lanterns reviewed here are mostly omnidirectional)
Does not work that well when placed over a table
Difficult to hang
Hanging Solar Camping Lights
We have discussed plenty of solar powered hanging lanterns but maybe you are looking for a set of lights that can be used to decorate or add ambiance to a campsite.  I have to confess that I feel envious and see these types of lights on campsites.  They look so cool!
If you are looking for these, I recommend you pay special attention to solar camping string lights. To me, these make more sense than strings with lightbulbs.
The Brightown Outdoor Solar String Lights are bright, efficient, lasting (8-10 hours), waterproof and beautiful.  They come in 7 different colors, so you will be able to mix and match.  The other nice feature is that these lights have 8 lighting modes. Oh, and in each order comes with two strings of light.
If you want a string of lights with bulbs, make sure the bulbs are shatterproof.  The Brigthtech Ambience Pro comes with 12 bulbs.
Note About Solar Table Lanterns
You may have noticed that I started the article by talking about my battery operated Coleman Camping Light.  Then, I did not include a recommendation for that specific style.  
Well, it is because the table lanterns I tested did not charge well with the solar panels.  Some did not charge at all.  Therefore, I do not feel comfortable recommending these products as "solar powered" or "solar rechargeable" when the solar panel has ornamental or advertisement purposes.
I encourage you to read well product specifications and customer reviews when considering these types of models.
Having a solar camping lantern is so helpful! Hope this article has helped you to select a pretty cool model!
Now, your turn, what are the best solar camping lanterns?