This article highlights the best things to do in Goleta, California.
There is a lot to explore in Santa Barbara County.
If you are looking for outstanding natural scenes, good food, beautiful parks, and a bit of glamour, this is the place to visit.
And, even though most roads lead to the city of Santa Barbara, I encourage you to seek outside its boundaries.  
In this county, you do not have to go far.  Twelve miles north of Santa Barbara, you will find the city of Goleta, a haven for those looking for beaches, culture, and gastronomic variety.
Come with me and let's explore the absolute best things to do in Goleta.
Please note: This article contains affiliate links, meaning I may earn a commission if you make a purchase by clicking a link. Of course, this comes at no extra cost to you and helps me to keep offering solid information to readers.
Things to Do in Goleta, California
As mentioned, Goleta is located a short drive away from Santa Barbara.  Therefore, visitors can opt to visit for half or a full day. I recommend staying longer if you want to see the sights and enjoy the different offerings without feeling rushed.
Keep in mind some attractions are only open during the weekends.  Check openings times when planning a visit.
Goleta is usually associated with the University of California, Santa Barbara (UCSB), and the airport.  If you take a look at a map of Goleta, you will notice these are not within city limits but in a satellite suburb of Santa Barbara called Isla Vista.
In this article, I will discuss things to do, see and eat in Goleta.  In addition, I will provide ideas on what to do in adjoining areas like Isla Vista.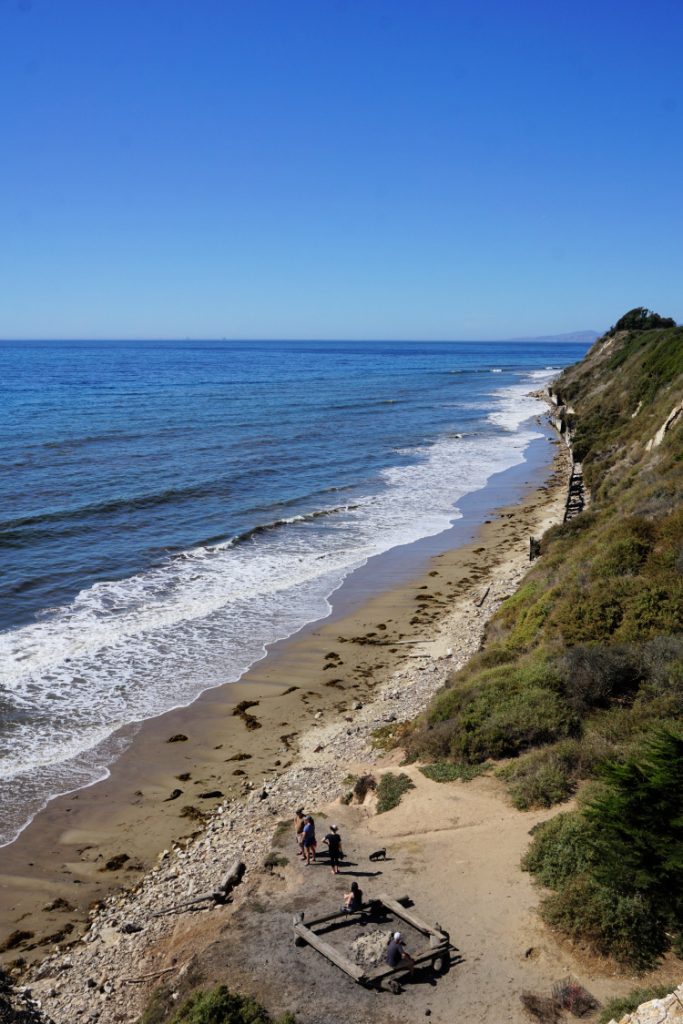 Find a Treasure in Old Town
Without any desire to be rude or offensive,  I didn't find Old Town Goleta as charming or bustling as I thought it would be.  I wasn't able to find stores selling unique/artisan goods or eye-catching architectures.  
However, I think the area is worth a stroll if you are trying to find something to eat.  Locals frequent places such as Old Town Coffee, Noodle City, and Goodland Kitchen.
Those looking for Mexican food would be able to satisfy their cravings at Pepe's, Altamirano's and, Domingo's.  Do not miss the pastries and cakes at Goleta Bakery.
On Hollister Avenue, a bit away from Old Town, you will find Crushcakes and Cafe and South Coast Deli (the sandwiches in here are monstrous and delicious).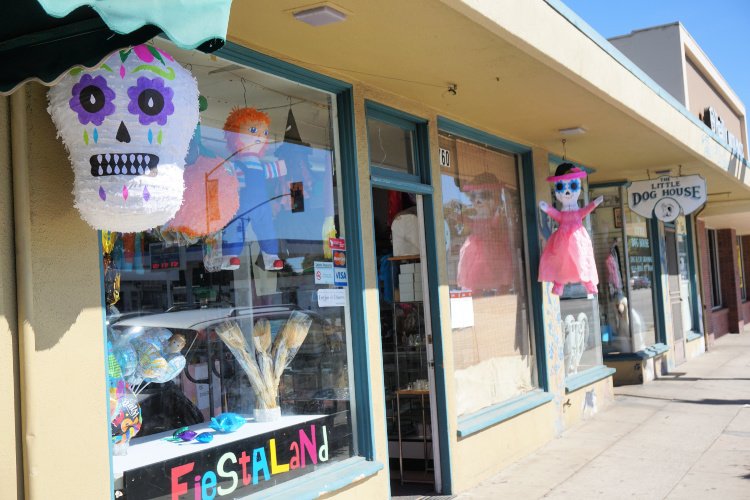 Go Back in Time at Rancho La Patera
Rancho La Patera is a great place to learn about Goleta's pioneer days.
Within the rancho, you will find the Stow House, a carpenter gothic ranch house built by Sherman Stow.  Stow was one of the first residents who planted lemons and irrigated areas of the Goleta Valley for commercial purposes.  
The house remains and can be visited on Saturdays and Sundays from 1:00 p.m. to 4:00 p.m.  During that time, you can take a guided tour, stop by the visitors' center and learn about the city's history.  The house can be seen from outside the specified hours.
Within the property, you can also see The Bunkhouse (a structure built for Stow's workes) and Edgar Stow's laboratory (Sherman's son).  In this laboratory, Edgar did all sorts of experiments with the purpose of keeping alive lemon farming.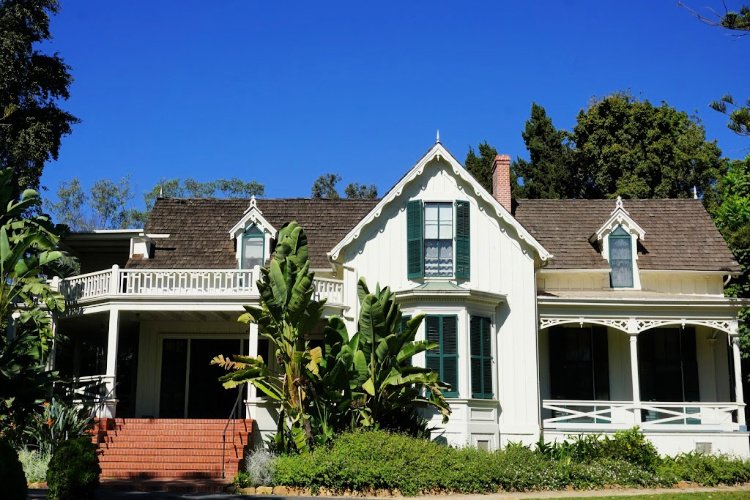 See the Goleta Depot
Very close to the Stow House, you will find the Goleta Depot, a Southern Pacific Railroad train station.  After the depot was closed, it was moved to its current location for preservation purposes.
With a miniature railroad, a caboose, and a model train set, it is part of the South Coast Railroad Museum. Opening times are Fridays, Saturdays, and Sundays from 1:00 p.m. to 4:00 p.m.  Again, you can take a look even when the museum is not open.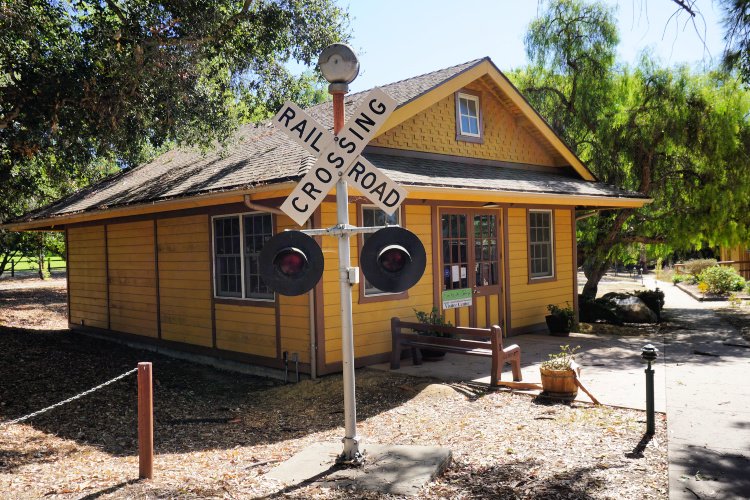 Walk around Lake Los Carneros
Lake Los Carneros Park offers visitors multiple trails, wildlife viewpoints, and fishing opportunities.  The trails are multi-use, therefore, expect people on foot, bike, or horse.
My recommendation would be to visit the park during winter or spring.  The area is dry and dusty during summer and fall. There are multiple entry points to the lake.  If you are not familiar with the area, it is a good idea to enter through the trail located close to the Stow House.
The area is a bit desolated.  My advice is to visit with a friend (or in a group) during the week.  Public restrooms are limited to a porta-potty. Do not expect it to be squeaky clean.  
Hike the Ellwood Mesa
I fell in love with the Ellwood Mesa!
Also, known as the Ellwood Bluffs or the Santa Barbara Shores Park, this area has tons of hiking trails leading to wonderful coastal views.  I was amazed at how beautiful the bluffs and beaches are here.
I got really close to not scratching this place from my "to do" list since the GPS took me to the wrong place.  Thanks to my husband, we were able to find the entry point and enjoy the area.
So, I guess the GPS may fail you depending on how you searched for this place.  I entered the area through a gate at the end of Santa Barbara Shores Drive. I found out there is a parking lot directly off Hollister Avenue but you will have to walk more to the beach (I am lazy, I know).
Once inside, it is time to head to the Bluffs Overlook Trail and enjoy the views!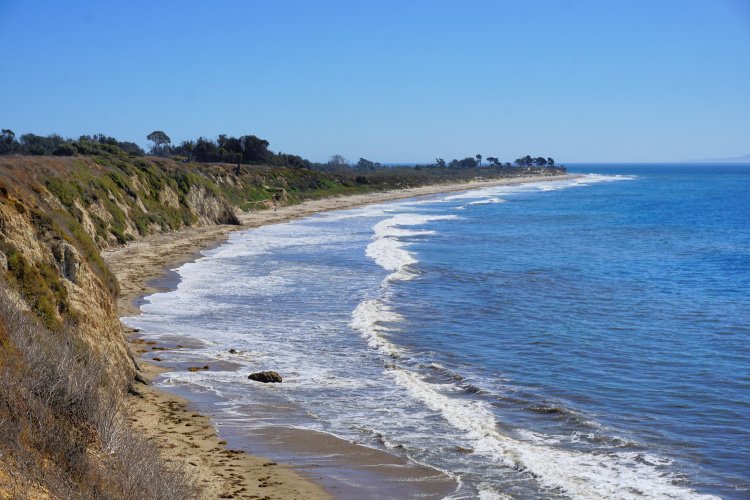 Hang Out with the Butterflies
Goleta has two butterfly preserves: the Goleta Monarch Butterfly Grove and the Coronado Butterfly Preserve.  Both of them can be accessed through the Ellwood Mesa area.
As you may know, monarch butterflies migrate to their winter homes in Mexico (Michoacan and Mexico states) every year.  Some of them stay in certain areas of the western coast of the United States including Santa Barbara County.
You can spot them in the Goleta Butterfly Grove from November to February.  I visited in mid-October and saw several monarchs flying around.
Note: Pismo Beach has a protected butterfly grove too.
Play a Round of Golf
If you enjoy playing one or two rounds of golf, your heart would be content in Goleta.  Even if you are not a fan of the sport, I am sure you will enjoy the scenic location and manicured grounds of the golf courses.
Sandpiper Golf Club is located next to the coast and it has palm trees and a lake.  Even if you do not golf, you should consider having breakfast or lunch at the Sandpiper Grill.  You will be able to have a meal while witnessing amazing ocean views.
The Glen Annie Golf Club is another favorite in Santa Barbara County.  This course has the Santa Ynez Valley mountains as a background, scenic views of the Pacific Ocean and a landscape of lakes, bridges and leafy foliage. On-site dining options include the Frog Bar & Grill.
The Twin Lakes Golf Course is a great place to learn to golf or improve your skills.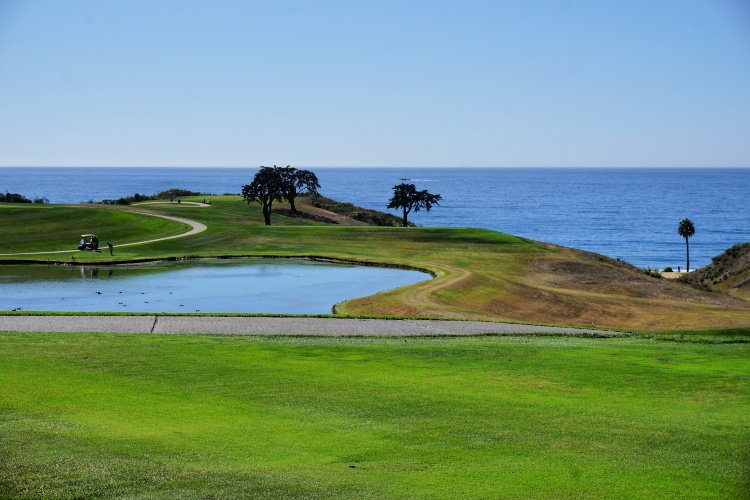 Spend the Day at the Goleta Beach Park
Goleta Beach Park (or Goleta County Beach), located close to the airport and the university (UCSB), is a great place to spend some time with friends and family.
The park has a pier from where you can fish without a license (like from all piers in California). A paddle sports center is located on-site.  In there, you can rent paddleboards, kayaks, and other equipment. 
The park has a bike trail, playground, volleyball court, boat launch, restrooms, BBQs, and picnic tables. Dogs are allowed on leash.
The only eating option on the beach is Beachside Bar-Cafe.  Expect dishes such as ceviche, oysters, sandwiches, salads, paella, and fresh fish.  It is a good idea to bring food and snacks if you plan to stay for a while.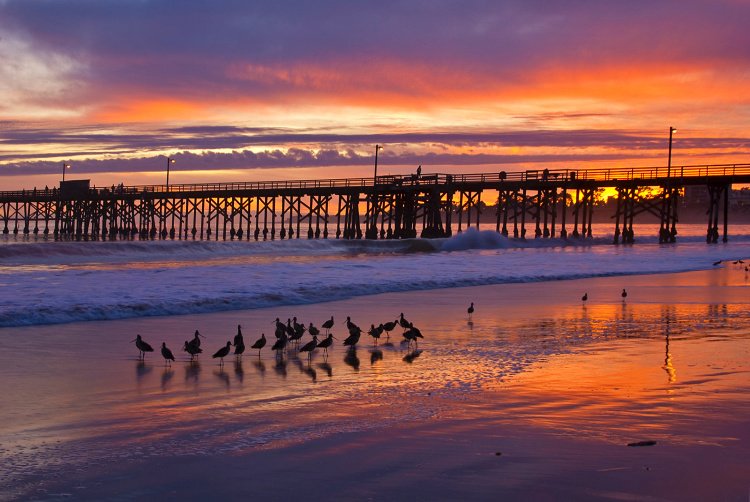 Photo by Damian Gadal
Visit Haskell's Beach
Yes, yet another beach.  But, hey, I love beaches!
Haskell's is a favorite of mine because it feels like a secret.  From the parking lot, you walk a short trail full of interpretative signs (about the different plants found in the area).  In the end, the trail opens into a beautiful beach that extends to both sides.
On one side, you have the Ritz Carlton Bacara and a private pier.  On the other side, you can walk next to bluffs and other small piers (or structures) can be seen in the distance.
A beach house with a cafe (operates during summer), showers, and restrooms are located on-site.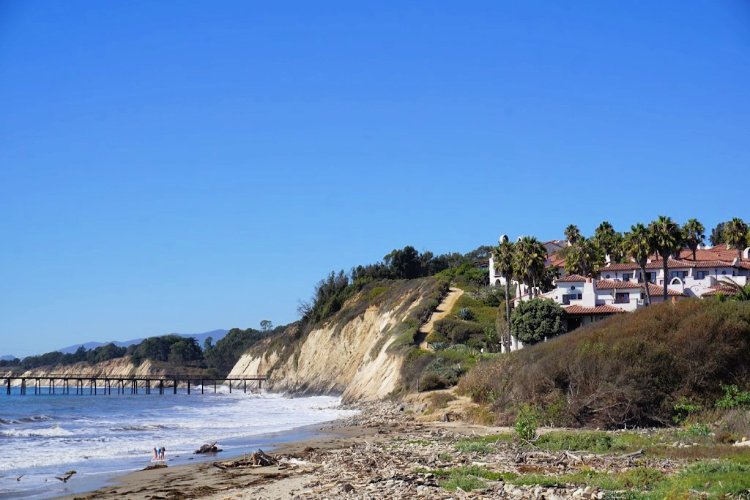 Drink to your Heart's Content
Southern California possesses a thriving craft beer industry.  You can find hundreds of businesses creating unique flavor profiles.
Goleta itself has four breweries.  Yes, you read that right! Not bad for a city of 30,000.
The breweries are the following:
Captain Fatty's 
M Special
Draughtsmen Aleworks
Hollister 
The last three breweries are located close to each other.  As a consequence, you can do your own tasting tour (with a designated driver, of course). 
If beer is not your beverage of choice, you may enjoy one of the 12 ciders available at the Santa Barbara Cider Company.  Flavors change with the seasons.  That means you can find something new every time you visit.
Another cool experience is visiting the Goleta Red Distilling Company.  You can taste their line of rums, agave spirits, and gin from Wednesday to Sunday.  Other than tasting, you can learn about the distilling process of different liquors.
Santa Barbara is famous for its wines.  Because of this, it is not a surprise that a place such as SAMsARA offers regular and elevated wine tasting experiences.  On a regular wine tasting, you will try 5 wines for a given fee.  In an elevated experience, you will taste wine and learn about winemaking from the pros (this activity requires a reservation).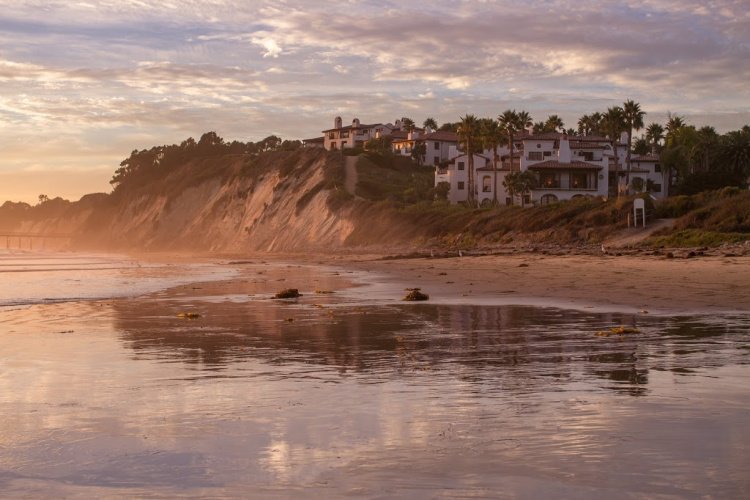 Photo by Yeti-legs
Have Fun at the Bowling Alley
If you are visiting the area with kids or several friends, bowling is an activity that will spark fun (and maybe some competitiveness).
Zodo's, a bowling alley, arcade, taproom, grill, and store, is the perfect place to burn a couple of hours.  The place is modern and offers competitive rates. In addition, you can participate in one of the many planned events or hear live music.
This is a place not to miss!
Things to in Isla Vista
As you have read, there are tons of things to do in Goleta.  If you are in the area, you may want to check the attractions in Isla Vista.  After all, some see this neighborhood as part of Goleta.
Ride or walk the Obern Trail – This 4 -mile trail (approximation) goes from Santa Barbara to Goleta Beach State Beach.  It is a flat and easy-to-complete trail.
Ride or walk the Goleta Beach Trail – This one-mile trail connects the Goleta Beach State Beach to Campus Point.  It is a good trail to complete for those who want to exercise while enjoying ocean views.
Walk to Coal Oil Point – You can walk to this bluff area from Sea Lookout Park or the end of West Campus Lane.
Visit the Beaches – Along this part of the coast, you will find beaches such as Campus Point, Devereux, and Sands.  These beaches are undeveloped (no services).
Tour the University Campus –  The University of California, Santa Barbara's campus has a privileged location next to the sea.  You can take a look at the different faculties, the lagoon, and emblematic points. The visitor center is located at 501 University Road.
Visit The REEF – On Saturdays, The Research Experience & Education Facility (REEF) is open to the public.  Visitors can enjoy an aquarium-like experience under the leadership of university students.
Explore the More Mesa – The More Mesa Preserve and Beach are located close to Isla Vista and offer yet more hiking, exercising, and sightseeing opportunities.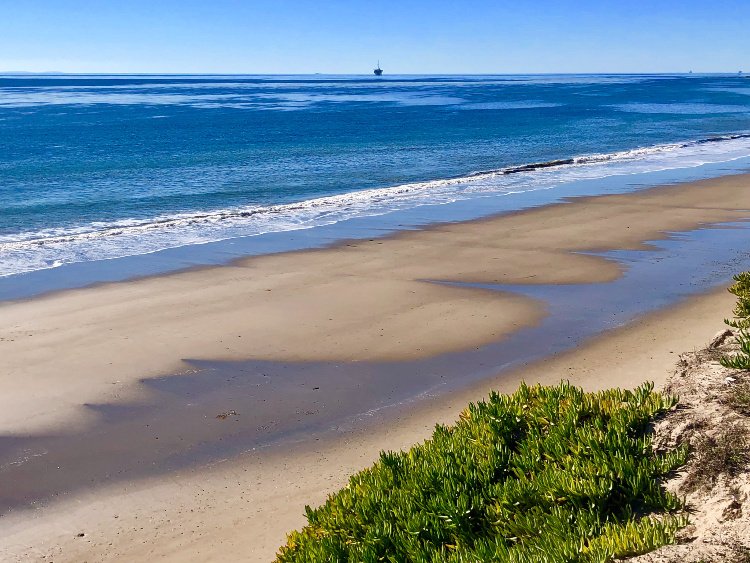 Photo by Glenn Beltz
Things to Do Near Goleta
North of Goleta you will find the Gaviota Coast. State beaches in this stretch include Refugio State Beach, El Capitan State Beach, and Gaviota State Park & Beach.  You can read my post about the area here.
Santa Barbara is located about 12 miles south.  Make sure to visit this beautiful city.
Things to Do in Downtown Santa Barbara
If you are into small beach towns, I recommend stopping by Carpinteria.  That is another fun place to visit!
Ventura County is adjacent to Santa Barbara County.  While there, you can visit Downtown Ventura, Ventura Pier, Ventura Harbor, or the beer/wine district.
Things to Do in Ventura County
Goleta Restaurants
Here are some options to calm your hunger while sightseeing.
Kyle's Kitchen – With many locations in the county, Kyle's serves monster burgers (even an ahi one), salads, loaded fries, shakes, and ice cream.
Goleta Sushi House – This local favorite has Japanese classics such as salmon teriyaki vegetable tempura, yakisoba, and gyoza.  Their specialty rolls are a big hit (and delicious too).
Buddha Bowls – This place specializes in bread bowls.  They have developed original combinations like mac & cheese, Meditteranean, and pizza.
Nikka Fish Market and Grill – I am a fan of fish and seafood so, I love the tacos (salmon and ahi), charbroiled trout, and fried calamari from Nikka.
Three Pickles – Yikes, this is a fabulous place to get a sandwich.  I am a fan of the meatball, Lobero, and Goodland Club.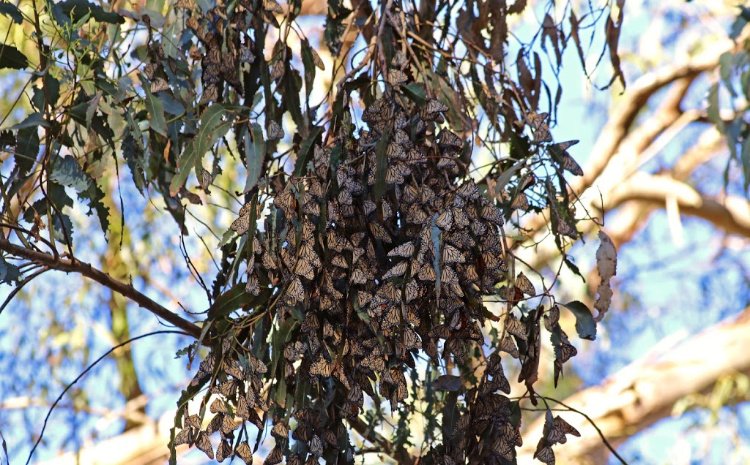 Photo by Joanna Gilkeson
Beach Town Gear
As I spend a lot of time on beach towns, I have my gear packed and ready to throw in the car.  Here is an idea of what I take to the beach.
I hope you have gotten some ideas on what to see, do and eat in Goleta.  This is an area full of beautiful and interesting sights. Hope you can travel there soon. Let me know if you visit!
More of Southern California
Los Angeles Ultimate Bucket List
Weekend Getaways from Los Angeles
Ultimate San Diego Bucket List
150+ Places to Go in Orange County
What other fun things to do in Goleta do you recommend?
Pin "Things to Do in Goleta California" for later!