A Big Sur drive is an idea that almost anyone would jump at because of the opportunity to explore one of the most beautiful coastlines in the United States. Irrespective of how far and wide you have traveled, a Big Sur road trip would leave you breathless.
This enormous territory facing the Pacific is characterized for early morning haze, hiking trails offering stunning vistas, unique beaches, redwoods forest, and even a waterfall falling into a cove. This rugged section of California's Central Coast makes the most dramatic scenery you can ever imagine.
Big Sur has transitioned from a haven of quietness to a popular attraction that attracts millions of visitors each year. Therefore, to get the most amount of fun possible, you need to plan the trip effectively.
All that there is to enjoy in Big Sur can leave you overwhelmed without proper planning. The following article is your best tool to conquer the area.
Please note: This article contains affiliate links, meaning I may earn a commission if you make a purchase by clicking a link. Of course, this comes at no extra cost to you and helps me to keep offering solid information to readers.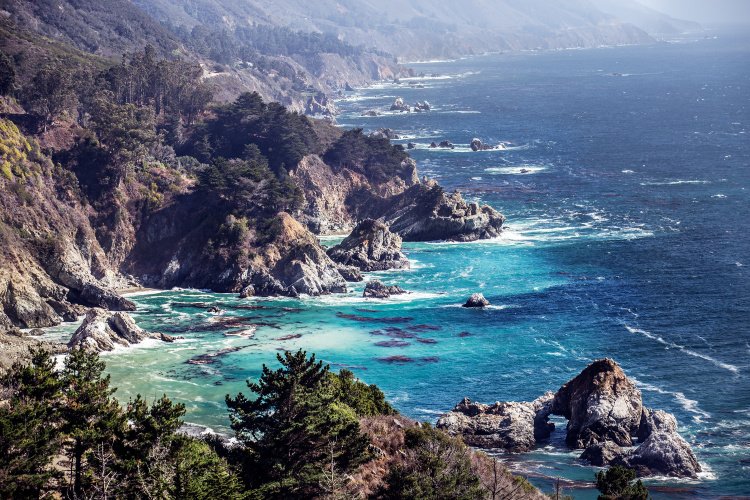 Things to Consider When Planning A Big Sur Drive
Big Sur is not a place with specific boundaries.  Trustworthy sources state the area extends from south of Carmel to San Simeon.  We are talking about an 80 to 90-mile drive. Add to that the mileage from your point of origin.
A Big Sur drive is an ideal day trip from places such as Monterey, Carmel, Santa Cruz (all those are located to the north),  Cambria and Morro Bay (those two are located to the south).
San Francisco is located about 120 miles from Carmel (point of origin for this road trip).  As a consequence, a day trip from there is going to be extra long. It is advisable to stay the night in the Big Sur area (or in the Carmel area) and return to San Francisco the next day.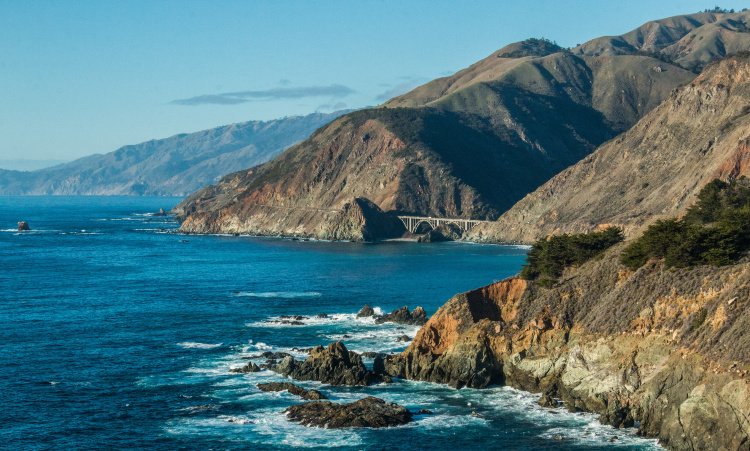 For first-time visitors with a limited amount of time, I recommend driving and stopping at the most iconic locations.  You can come back at a later time to keep exploring lesser-known spots.
Driving north to south is recommended for the maximum wow factor. Thus, no cars or structures would block your view of the ocean. Now, if you are scared of heights or are prone to car motion sickness, driving south to north may be a better option.  There are no guardrails on the road. It can get very scary sometimes.
And, since we are talking about the road infrastructure, remember this is a dangerous drive too. This is not the place to speed or be distracted. 
The trip can be extended north to as far as Fort Bragg while it can be extended south to as far as Orange County and San Diego.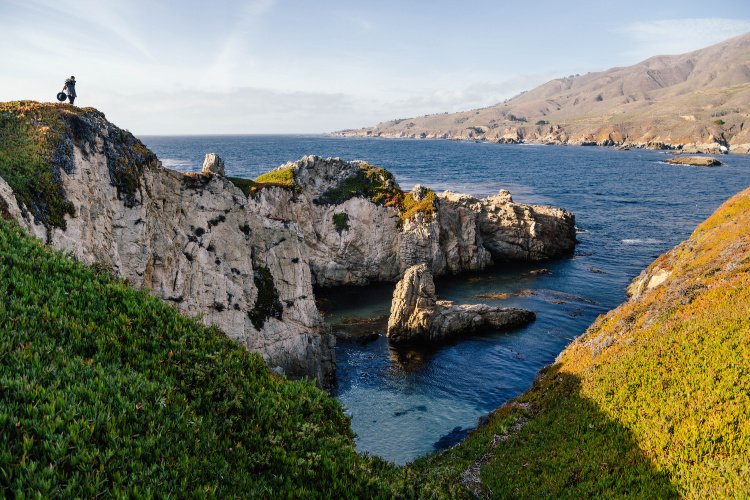 Best Time to Do a Big Sur Road Trip
 A common belief is that the best time to make a Big Sur road trip is between April and October.  As a 15+ resident of California, I will visit in spring and fall. I will skip summer.
First of all, summer is the high season.  There is a high possibility of being stuck in traffic, having trouble finding a parking spot and having to pay ridiculous prices for lodging.  Plus, the nature of the place (one main road with one lane in each direction) is not designed for crowds.
The other important factor to consider during summer is the famous June gloom.  During summer, a thick layer of fog covers the coastline during the morning and some days, till the afternoon.  You are not going to be able to enjoy the scenery as you should.
It is fine to visit during winter if it is not raining.  Check weather conditions before heading there. Mudslides happen occasionally, so it is necessary to check for highway conditions before you start driving.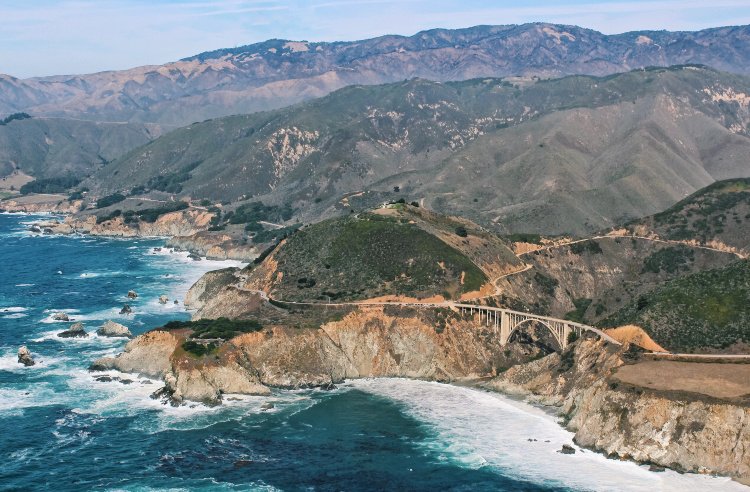 Beach Town Gear
Since on this road trip you will be spending a lot of time along the coast, you need to prepare with the proper gear. As I spend a lot of time on California's coast, I have my gear packed and ready to throw in the car.  Here is an idea of what I take to the beach.
Portable Power Bank – It is a pain to keep phones charged on beach trips.  Having a power bank is a lifesaver.  The Anker portable charger can charge a phone 5 times. >Buy this incredible power bank here
Things to Do in a Big Sur Drive
This section is designed to provide comprehensive information about the places to visit in Big Sur.  You can pick the select to visit the places that appeal the most to you.
Keep in mind you will probably want to stop a hundred times while driving around Big Sur.  It is one fantastic view after another.
Garrapata State Park
This state park protects 4 miles of coastline and a large piece of inland (backcountry) territory.  Because of its extension, different trails and points of interest are marked with numbered placards that represent gates.
Popular stops in the park include the Soberanes Trail (gates 8, 9 or 10, this is where the often photographed Soberanes Arch is located) and the Garrapata State Beach (gates 18 or 19).
Entrance to backcountry trails is through gates 7 and 8 (or across them on Highway 1).  Public restrooms are available on gate 8.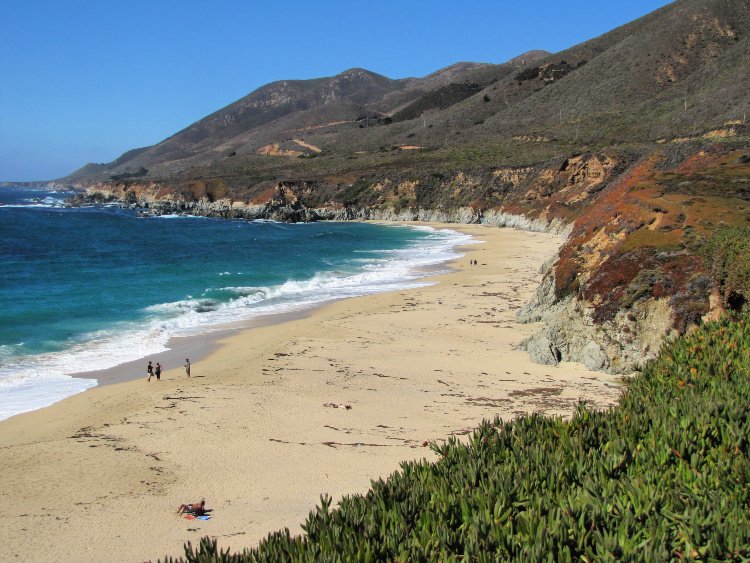 Bixby Creek Bridge
This bridge, and the views that can be seen from its surroundings, is one of the main attractions in the Big Sur area.
And, "attraction" may be a big word to describe it since this is merely a photographic stop.
Be prepared since a lot of people (tourists) may be congregated around Bixby Bridge.  There is a small lot where you can park but since it is often full, people park on the highway.  I do not recommend walking on the bridge (it does not have pedestrian lanes and it is narrow). Exercise caution when crossing the highway.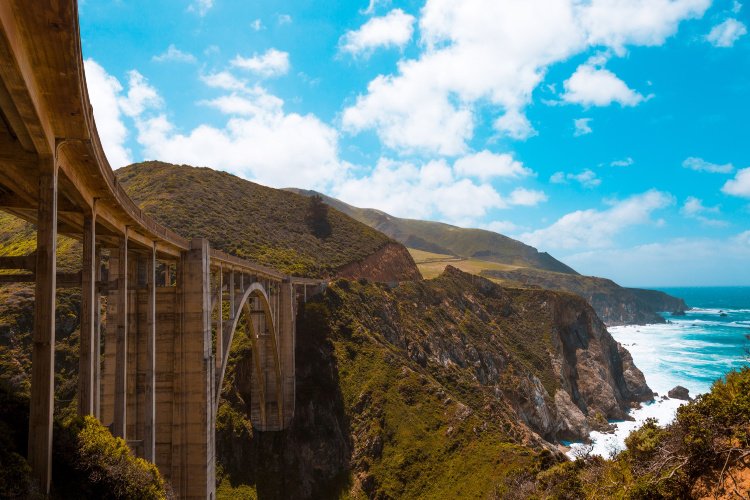 Hurricane Point
About a mile south of Bixby Bridge, you are going to encounter Hurricane Point.  This is the perfect spot to capture the ocean, mountains and the Bixby Bridge at once.
Little Sur River Beach
This is one of my favorite views in Big Sur.  In this white sand beach, the Little Sur River turquoise waters reach the sea.  It is a sight to see. Believe me.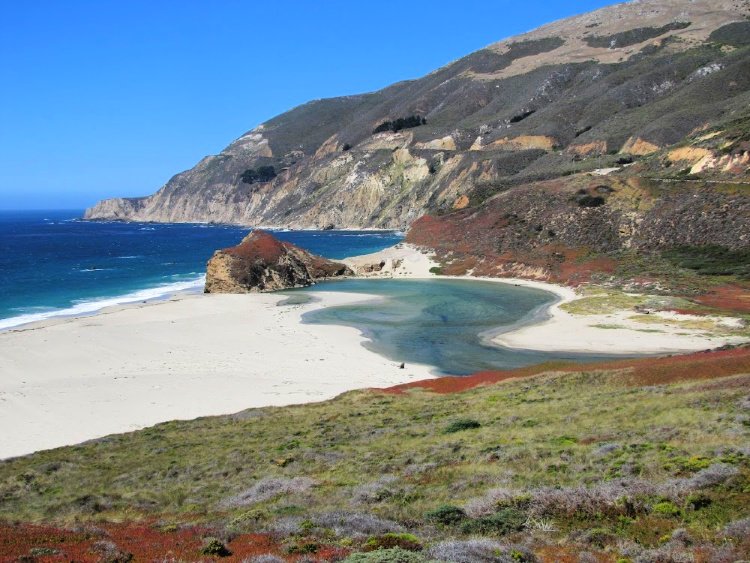 Point Sur Lighthouse
The Point Sur Lighstation is located over a 361-foot-tall rock of volcanic origin.  The light started operations in 1889 and it is working till this day (lenses have been changed through the years).
Three hour-long walking tours are offered year long on Wednesdays, Saturdays, and Sundays.  For exact times and conditions, click here.
Andrew Molera State Park
This is a big park ideal for hiking, swimming, camping, and surfing.  In addition, you can visit the Molera Ranch House and the Condor Discovery Center.
The easy Creamery Meadow Trail takes you to the beach.  Once there, you can walk the Bluff Trail and reach the Big Sur River mouth or the Molera Beach.
A fee is charged to enter the park.  However, you can enter other State Park the same days.
Big Sur Town
The "town" consists of a small conglomerate of hotels, restaurants, cabins, and campsites.  Not a lot to see here but you may stop to stretch or eat something.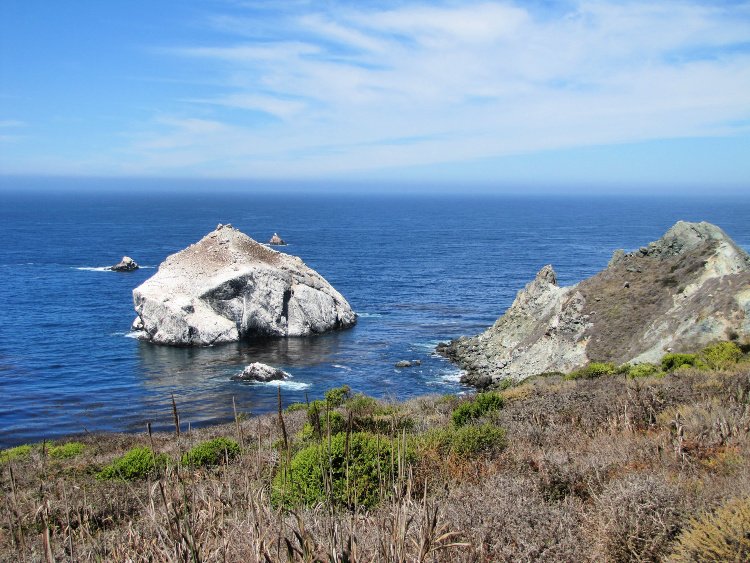 Pfeiffer Big Sur State Park
This park offers camping, picnicking, and hiking facilities.  There is no beach or ocean access from the park. Therefore, all hiking is done in a forest setting and, in some cases, along the Big Sur River.
Popular trails take visitors to the Valley View or Pfeiffer Falls.
Pfeiffer Beach
About a mile south of the Pfeiffer Big Sur State Park, you are going to find the turn-off to the famous Pfeiffer Beach.  This beach is not part of the California State Park system and a separate entrance fee is charged.
Pfeiffer Beach is famous because it has purple sand sections and because of a big rock formation with an arch or keyhole on it.  People prefer to visit during sunset in order to capture the sunlight passing through the keyhole.
The Henry Miller Memorial Library
 In honor of the legendary writer who lived on the Big Sur coastline, this library hosts concert series outdoors and jazz, zydeco, and folk performances along the River Inn.
Partington Cove
This small but lovely cove is accessed through a short hike.
Julia Pfeiffer Burns State Park
You have seen pictures of this park before. Right, this is where everyone takes the picture of McWay Falls falling into a cove.   It is a beautiful view indeed.
McWays Falls are located in the Julia Pfeiffer Burns State Park.  This is yet another park full of hiking trails at all levels. 
The park counts with a big parking lot for visitors.  A lot of people park on the street (that is not designed for parking) and trespass into the State Park property to see McWay Falls.  Please, do not be one of these people. Even if you park outside the park boundaries, enter through the proper gates and pay the required fees.
Note: This is the turning point for a lot of people doing Big Sur as a day trip from points north.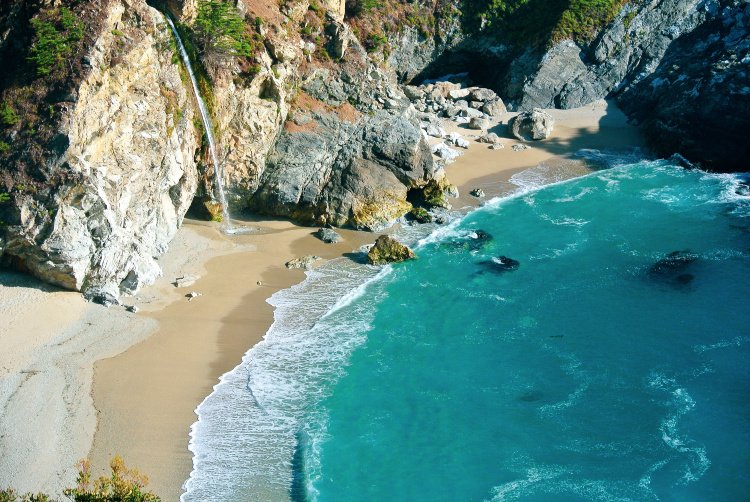 Big Creek Bridge
Not as famous as Bixby Creek Bridge, Big Creek is worth making a stop to see.  The best views are a bit south from the Big Creek Cove Vista Point or the Gamboa Point.
New Camaldoli Hermitage 
This 50-year-old peaceful monastery provides you with the opportunity to join their Eucharist, or visit their nice bookstore. You could even lodge in one of their rooms.
Limekiln State Park
This park has a beach, a redwood forest, a trail to a waterfall and a trail to the namesake lime kilns.
Sand Dollar Beach
This is Big Sur's largest beach. It is home to sea anemones, crabs, and other crustaceans.  Jade Cove is located south of it. The beach counts with a day-use area.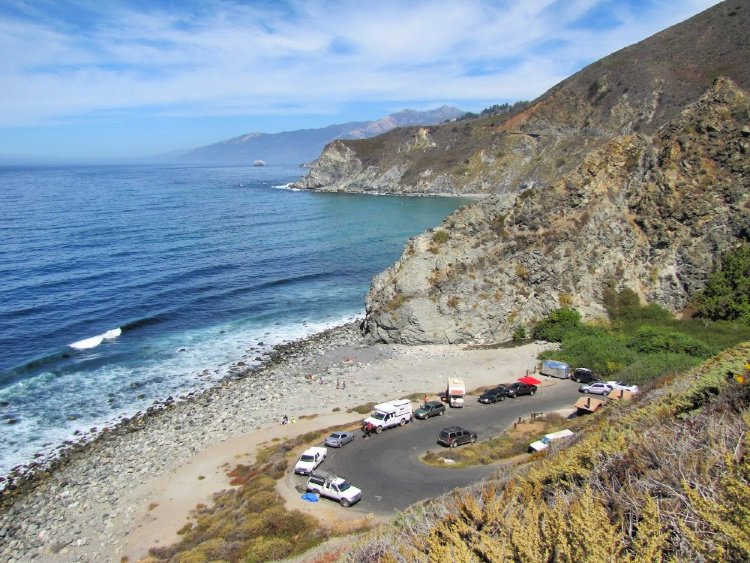 Ragged Point
Depending on which direction you are driving from, this can be the southernmost point on Big Sur or the gateway to Big Sur.
While there, do not miss the "Million Dollar View." In addition, you can hike to a waterfall or walk around the Ragged Point Inn grounds.
Read More: Ragged Point and the Million Dollar View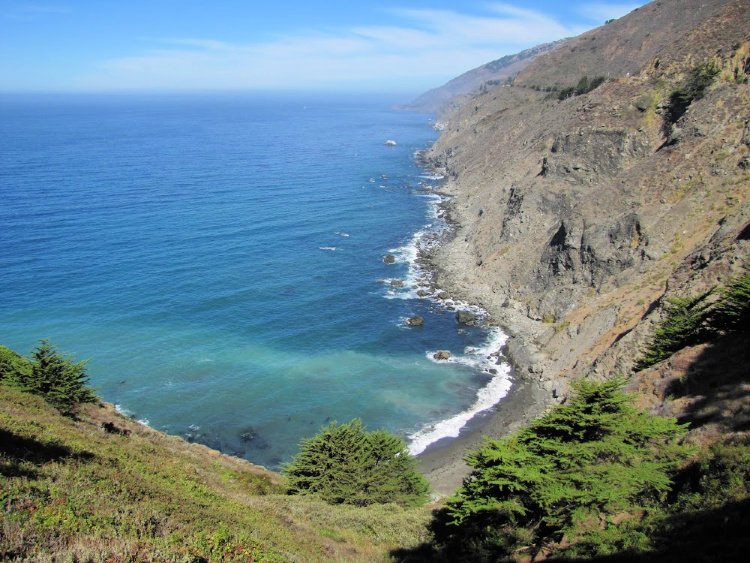 Things to Do Near Big Sur
If you are driving along the California Coast and need additional ideas to extend your trip, this section is for you!
Monterey – The former capital of California is known for its world-renowned aquarium. However, there is much more to see.  Make sure to visit the historic presidio, Cannery Row and fisherman's wharf (and sample as much clam chowder as possible.
Carmel – This is one of the most charming towns in California.  Do not miss the Mission (with Junipero Serra's mausoleum), Downtown and main beach.
Pacific Grove – This small town is known for its butterfly groves, impressive coastal views and the carpet of flowers.
Read More: Things to Do in Pacific Grove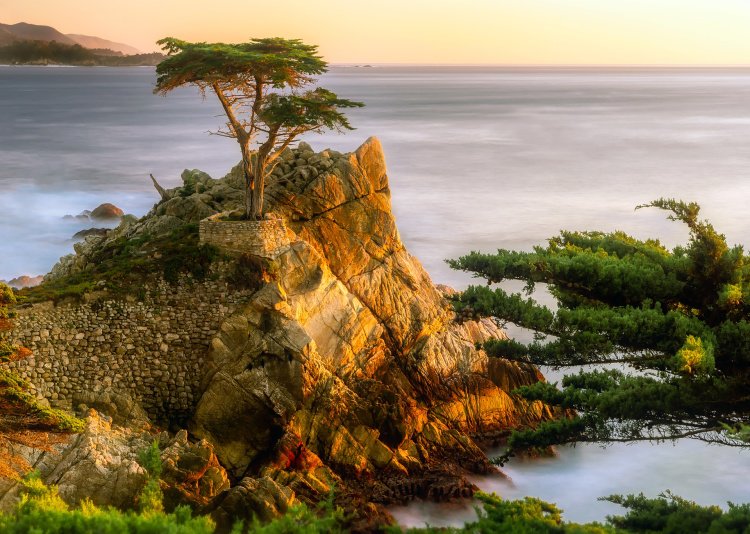 Point Lobos – The state preserve has wildflowers, coves, tide pools, rocks, sea birds, baby sea lions, and a host of other natural life. It has been dubbed the most beautiful state park in California (and I have to agree with that designation).
Read More: Point Lobos – A Must Along the California Coast
San Simeon – The most famous attraction here is the Hearst Castle but you can all visit the memorial pier, the Piedras Blancas lighthouse or the elephant seal rookery.
Read More: Things to Do in San Simeon
Cambria – This town is full of hiking preserves, wine tasting rooms, and good restaurants.
Read More: Things to Do in Cambria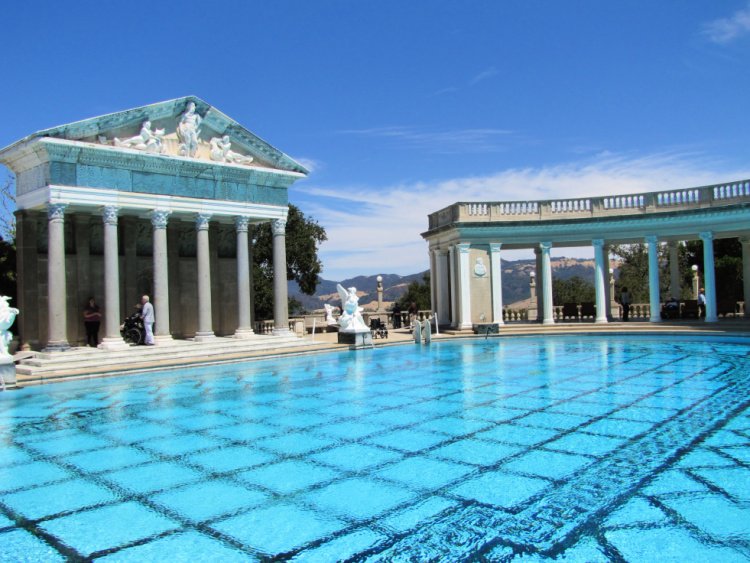 Where to Eat on a Big Sur Drive
Eating options in Big Sur are somehow limited and expensive.
Those who want to save money should bring their food with them.  If you are coming from the north, Carmel has a Safeway on Highway 1.  If you want more variety, there is a Trader Joe's in Monterey. If you are driving from the south, Morro Bay has supermarkets and drugstores.
If buying groceries is not your thing (or if you just don't have the time), here are recommended places to grab a bite.
Big Sur Bakery – If you want California-style seasonal dishes, superb coffee, tasty sourdoughs loaves, and craveable pastries, then this is the best place to be. You would always be welcome to try out their signature breakfast pizza cooked in wood-fired ovens. Flatbreads, soups, entrees, and salads are other great options.
Big Sur Taphouse – This pub offers tacos, wings, sandwiched and charcuterie plates.  Beers are always on rotation
Nepenthe – This fascinating restaurant is made from redwood and bricks. It is a significant part of Big Sur's history, having been established since its early days. Thus, it would always be a good option for any tourist or traveler.
Sierra Mar –  The restaurant offers prix fixe lunch options and a la cart dishes such as Wagyu short ribs and black cod
Sebastian's General Store – Located at Hearst Ranch in San Simeon, it is one of the best places to get lunch (and even taste wine). You can indulge by ordering a burger or roast beef sandwich.
Robin's in Cambria – Robin's is popular for its well-executed menu of international offerings.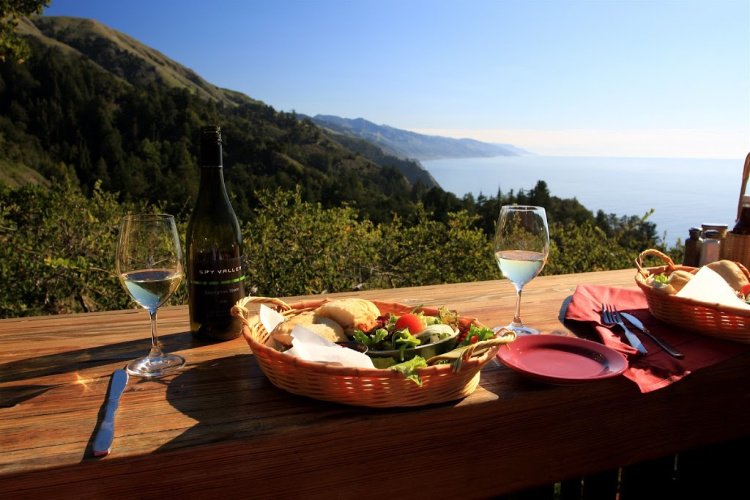 Photo by TravelingOtter
Where to Stay on a Big Sur Drive
Some locations come with their own unique experiences. The best places to stay are highlighted in no particular order below:
Ventana Big Sur – This place makes you want to remain on the property forever!. It has 59 recently refurbished guest rooms with views of the highlands and oceans. Two heated outdoor pools, hammocks laced on the grounds and wine tasting opportunities are some of the most prominent amenities. Rooms have a private deck as well as a fireplace.
Hotel Carmel – This place is old school fashioned. A Brophy's tavern reveals an inviting pub right on the first floor. The décor represents the Northern California style, and the energy is refreshing.
Post Ranch Inn – Do you want to see the wild Santa Lucia Mountains or the Pacific Ocean? Well, you get to see the two from here since the property is located 1,200 feet above sea level. The in house restaurant offers four-course meals, a prix fixe menu, and much more. Its spa offers one of the best services in Reiki and vibrational resonance. With only 39 rooms, peacefulness is ensured (kids are not allowed).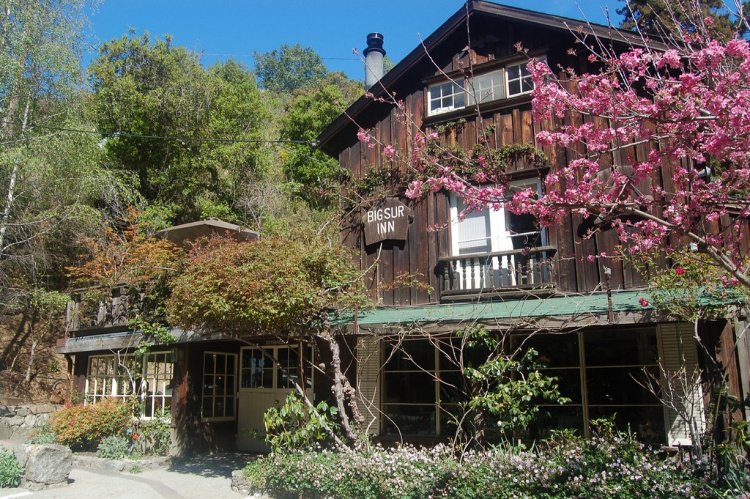 Photo by TinyFroglet
Treebones –  This is one of the most unique accommodations in the area. Solar-powered yurts, bare campsites, and an organic garden instill in you the unconventional hippie spirit. You also get to enjoy some time out with the absence of Wi-Fi.
Deetjen's Big Sur Inn – Recently re-opened, the 16-room structure takes you back in time with its worn-out, rusty outlook. The property's wisteria bushes are in full bloom in March.
Redwood Canyon Glampsites at Ventana – Talk about being treated like royalty. Amenities at Redwood Canyon include daily housekeeping, s' mores, fire pits, Wi-Fi, heated blankets, charging places for your devices, coffee in the morning, a private bathhouse, etc. Additional premium services include access to the resort, spa, gym, and social house. The 15 safari-style tents are a great option to relish your Big Sur road trip experience.
Ritz Carlton Half Moon Bay – It is perched on a cliff that overlooks the ocean on one end and a golf course on another. In the cool of the evening, you can order foods to any of the fire pits on the patio. Watching the sunset from this cliff is invaluable.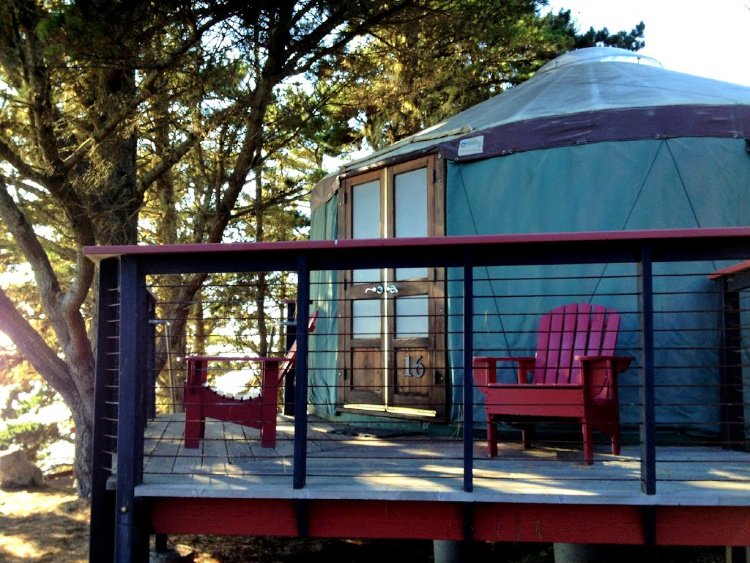 Photo by r0wb0t
Note: The places highlighted above are amazing but come at a heavy price.  If you are in a budget, search for hotels in the Carmel area. It is better to reserve with time.  It is way cheaper to stay in Salinas, a city located 20 miles from Carmel.
Additional Tips
For those who have one day to cover the Big Sur (and possibly need to drive back to the Bay area), I recommend at least stopping at Bixby Bridge, Pfeiffer Beach, and McWay Falls.  You can add other stops and some short trails to complete your day
I know some people want to include the 17-mile Drive, Point Lobos, and Carmel as part of their Carmel adventure.  With only a day, head to the three Big Sur stops I mentioned above, do the 17-mile Drive and leave Carmel for last.
There is hardly any cell phone service in Big Sur. Hence, it might not be possible to use Google Maps.  You do not have to worry since signage is excellent in the area.
Dress in layers to account for weather fluctuations
Bookings happen fast. You may need to book your reservations ahead of time.
I have said it before but lodging is relatively expensive.  It may be more cost-effective to stay outside the area.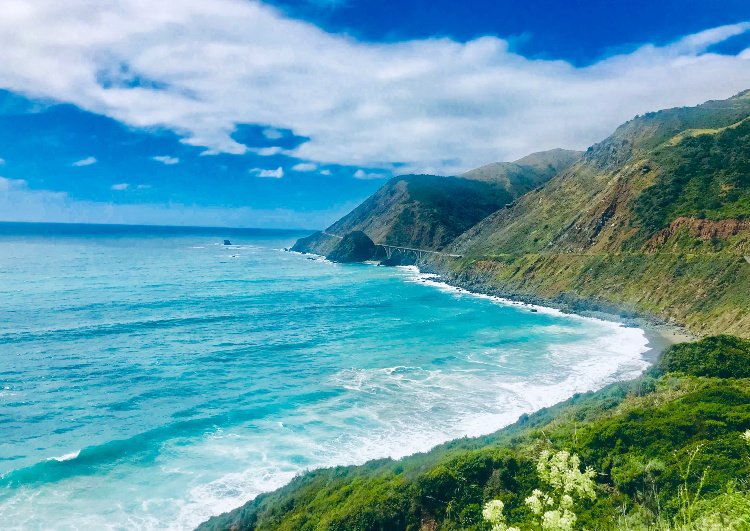 Planning a Big Sur road trip should not be hurried. More deliberate planning would ensure that you do not miss anything you have on your bucket list. It is best to dedicate a few days to cover all that you want to do.
The list of things to do and places to visit will always be endless. However, the recommendations above will guide you in planning a Big Sur drive. I wish you the best on your trip.  Reach out if you need additional help
More California Planning and Road Trips
LA to San Diego Drive (2 Itineraries to Choose From)
5-Day Pacific Coast Highway Itinerary (From Los Angeles to San Francisco)
Los Angeles to San Francisco Drive (Inland Road Trip Itinerary)
Los Angeles to Santa Barbara Drive
Have you done a Big Sur drive or road trip?  What are your recommendations?
Pin "Big Sur Drive" for later!