"What is that moving in the water," I asked my husband.
I saw dolphins the other day jumping around the Manhattan Beach pier and wandered if they were putting a show around here too.
"Dolphins don't move like that.  This is something else," replied my husband while trying to get closer to the shore.
After a few minutes, we were able to determine what was in the water, scuba divers! Ok, I didn't know people were able to scuba dive around the Palos Verdes Peninsula.  It makes sense though.  A giant kelp forest lies underwater.  I imagine the vast array of creatures this ecosystem holds.
As the divers in black suits were coming out of the water one by one, I continued to take a look at my surroundings.
This time we were exploring Bluff Cove, one of the first sheltered spaces in the Palos Verdes Peninsula (if you are driving north to south).  As many times, we arrived at this point by mistake.
I was trying to find a specific trail along Paseo del Mar and end up driving a short slope.  I saw cars parked at one side of the road and, well you know, I got curious to find out why people were stopping.
We left the car under a shadow and started to walk down thru a dusty, unpaved trail.  Rocky heads, tide pools and even a small hammer –liked arch started to appear in front of us.
We continue walking between tall, golden cliffs and a sea painted in different blue tones.  The houses at the top of the cliffs looked very small so we descend quite a bit.
Then, we found the showstopper spot in here.  An emerald colored cove surrounded by a multicolored wall was lying underneath a sky adorned with fluffy clouds.  A big, gray spot in the cliff caught my attention.  What mineral caused that coloration?
The waves were hitting hard the pebbles lining the beach. The sound of the rounded rocks, moving when the water was retrieving, got to our ears.
Without a doubt, this is a beautiful place.  Not only that, I found it interesting too.  It is not only because of the diver we observed for a while.  We also see guys spear fishing (we saw guys carrying their spears and even saw a "Missing Spear" sign). Another time we visited, we saw a photo shoot (or commercial) taking place next to the waves.  And let's not forget about the burnt spots close on some areas near the beach.  It looks like some people come here during the pitch dark hours to start a fire.
I guess I need to get lost more often.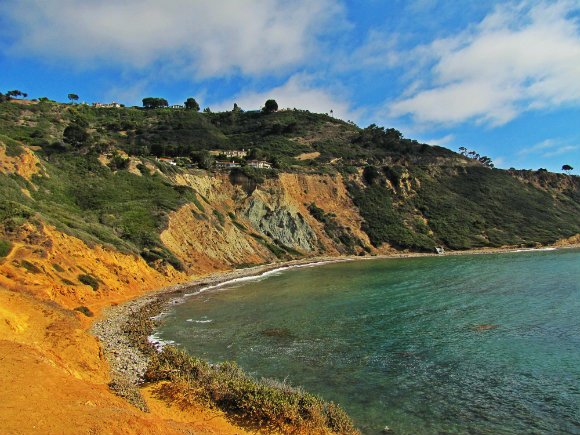 Same spot on an cloudy day.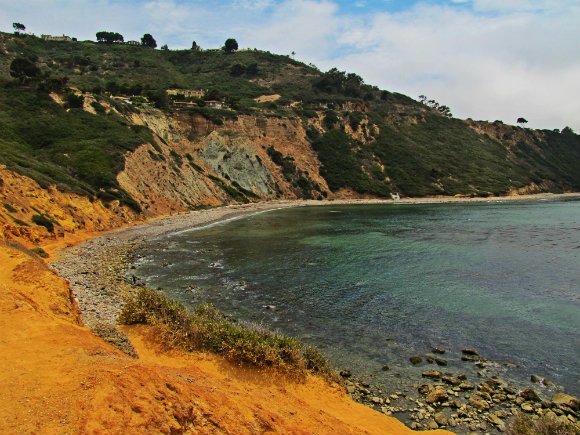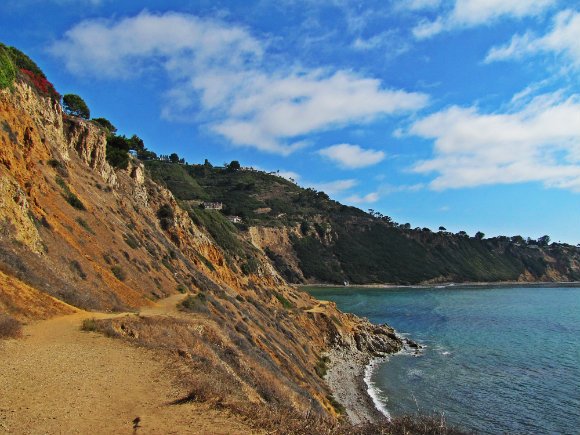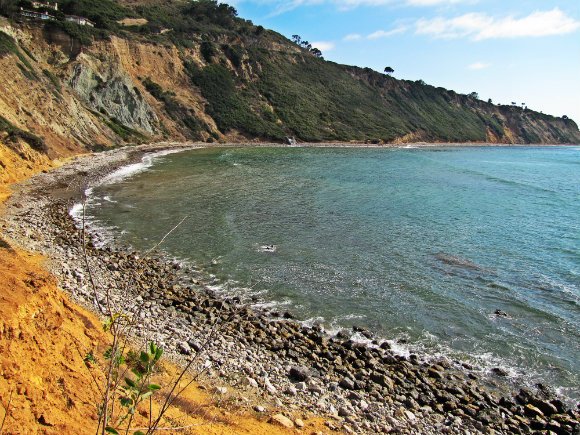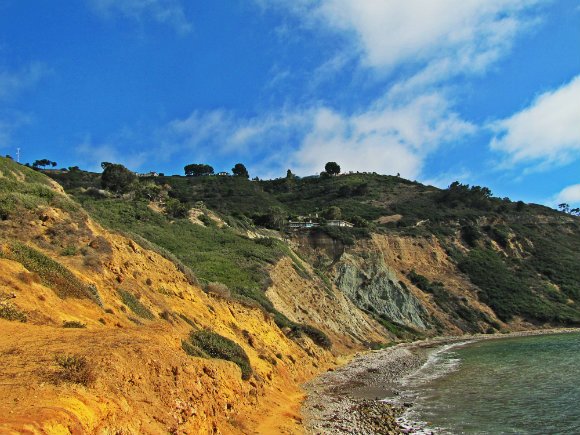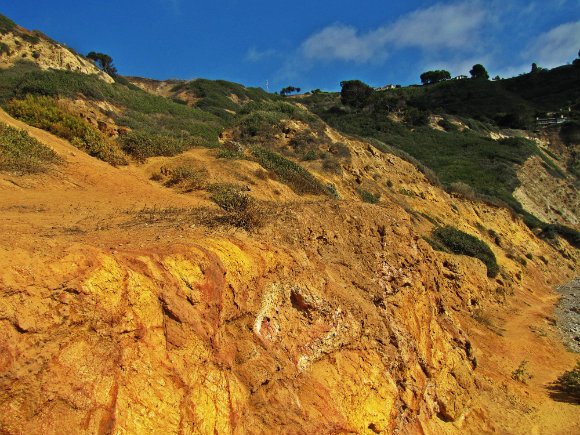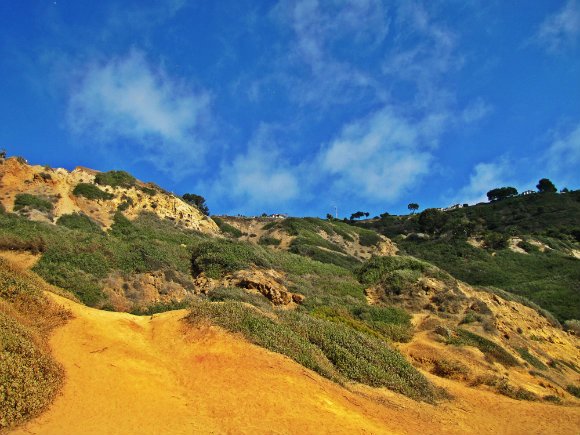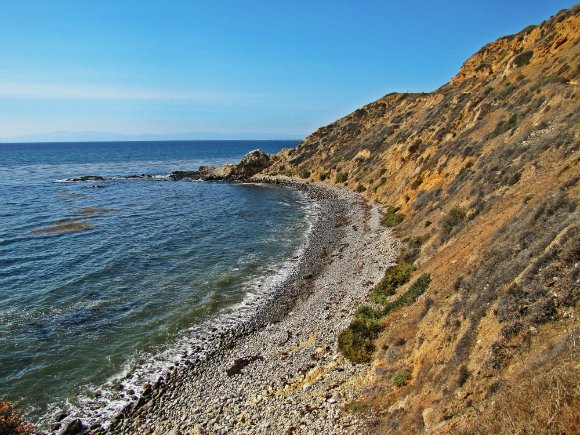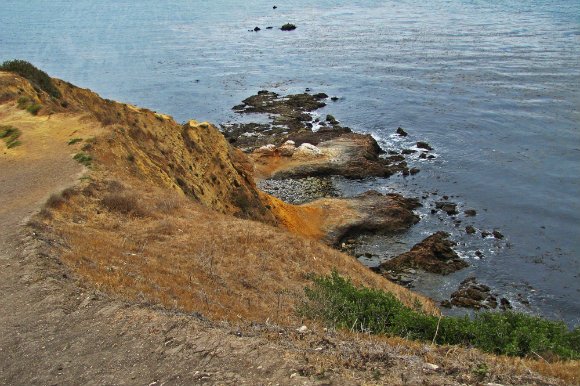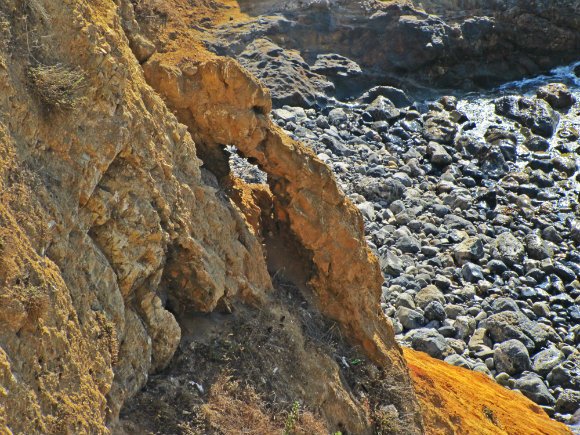 Divers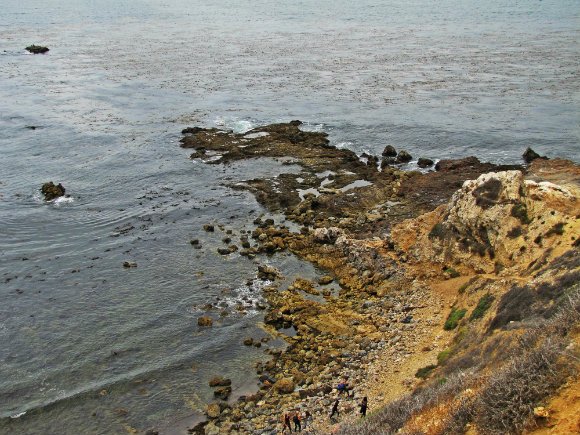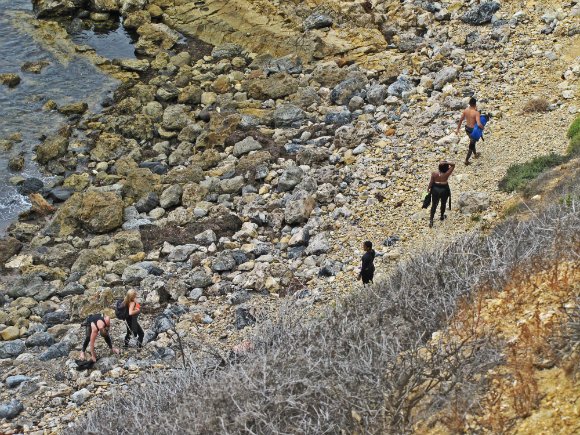 Spear Fishers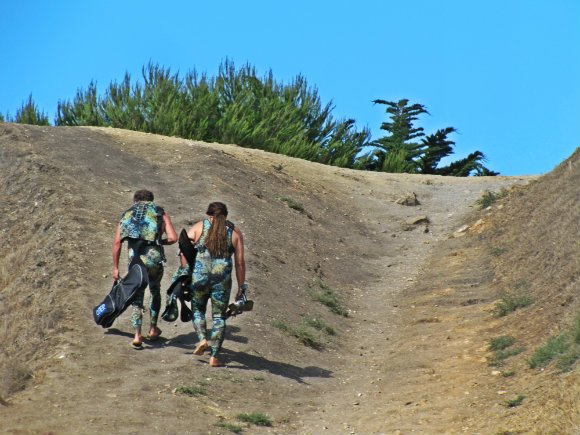 Photo Shoot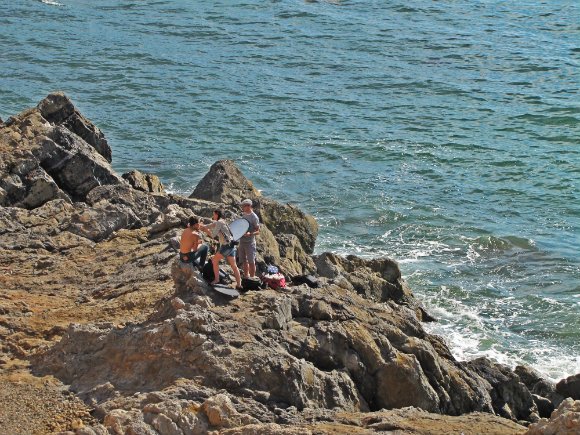 The Details
–          Bluff Cove is located along Paseo del Mar (that is the actual name of the road) in Palos Verdes.  Find directions to Malaga Cove and drive a little bit south.  You are going to find the cove to your right (you are going to see the cars parked).
–          Parking is on the street.  Check signs for restrictions before leaving the car.
–          This is a spot to check out and combine with other attractions in the area.  In other words, walk around, take photos and move on.
–          There are no public services.  You will need to go back to the Palos Verdes Drive in order to find a restroom or a place to eat.
–          There are signs of people making fires close to the beach but this practice is not allowed or encouraged.  Please protect the area.
Have you found a great place while lost?