After taking a look at Leme Beach and morro, I started to explore the Copacabana side.
The beach wasn't full or packed as I expected. Well, we have to take into consideration that I visited in the Southern Hemisphere mid-fall. Therefore, it wasn't the beach high season.
Anyway, it was interesting to observe the beach at that time of the year. Quickly, I realized Rio has a true beach culture. A lot of people's daily life surrounds around the beach. After work, residents (and visitors) head to the beach. And that is the beauty of this place. We are talking about urban beaches but these are more than strands of sand. Cariocas don't need malls, shopping centers or movie theaters. They have the beach.
Let's take a look at the many activities that take place on the beach.
As usual, people go to sunbath and rest. There are multiple guys and gals offering chairs, umbrellas, food and drinks. You don't have to move from the sand for anything (if you don't want).
If you feel hungry, you can stop by the fruit juice stands selling tons of juice varieties.  You will feel overwhelmed by the multiple choices. There are also stands selling everything from pizza, Chinese food, chilled coconuts to fried fish.
Let me give you a better understanding of how long is Copacabana Beach.  Different sources in the Internet state the beach is 2.5 miles long.  That doesn't include the Leme side or what I had to walk from my hotel to the beach.  In total, I can say I walked about 4 miles till the last lifeguard post.  If you continue to Ipanema, the walking distance increases.  So, it is quite a long beach.
Tip: there are mini buses or vans running along the beach.  They are a cheap way to move to different places in Copacabana and Ipanema.
The length of the beach is perfect for those who want to stroll or exercise.  You see people of all ages having a good time while breathing the salty air.
The next thing I am going to say should be no surprise.  The boulevard that goes parallel to the beach is full of prestigious hotels.
One of the most famous hotels in this strand is the Copacabana Palace.  You have probably seen this building before.  It has appeared in movies, soap operas and gossip related programs.  The other day I saw an old music video of Elton John and I knew parts of it were filmed at the property.
While I was staying at Copacabana (like 6 days), the hotel's front part was packed with people (mostly girls) screaming and cheering a name (or names).  I tried and tried to find out what famous star was staying at the hotel.  I didn't find out who was there. I just know these girls were going crazy.  Well, one of the things you have to experience when you visit Rio.
There are people who use the beach to express themselves in artistic ways.  While walking around, there are multiple groups presenting their sand statues, paintings and/or crafts.  Some days, there was a small night market selling interesting objects.
Rio is a city full of people who love to practice sports.  The beach seems to be the perfect gathering place to play or practice with friends. There are tons of volleyball nets set up.
Guys love to play soccer (or futbol) in the sand.  I spent some time seeing little kids practicing futbol.  I guess here is where a lot of stars start playing.
To me the most interesting activity to witness is the futevolei.  This is a sport which combines aspects of beach volleyball with soccer.  When playing, you have to pass the ball over a net without touching it with the hands. Actually, it was invented in Copabana Beach.  Multiple schools practice at night.  Take a look at the next two videos to have a better idea of how the sport is played.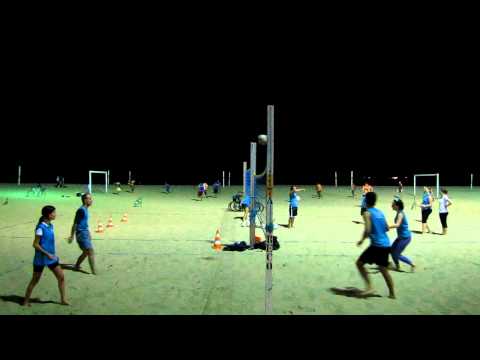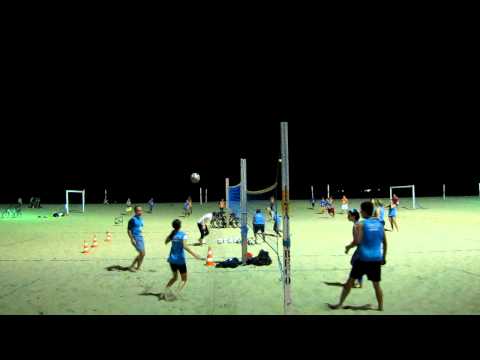 Once we hit the end of Copacabana, we kept walking to take a look at Ipanema.  We arrived at dusk.  We sat down for a while to admire the sun getting down over one of the world most famous beaches.  Incredible!!
Believe it or not, we walked back to our hotel which was located at one tip of Copacabana.  I took some pictures of the beach at night.
I ended up walking like 10 miles that first day.  However, I believe it was the perfect introduction to Rio de Janeiro.  I was already excited for day 2.  Stayed tuned to find out what iconic places we visited on day 2.
Have you experienced Brazil beaches at night?  Let me know in the comments section below.