In Europe, you do not have to break a sweat trying to find an enchanting place.
The continent is full of massive cathedrals, imposing castles, breathtaking river views, captivating islands and unique structures such as the Eiffel Tower or the Leaning Tower of Pisa.
You are guaranteed to bump into places oozing with charm and grace.  Plus, that guarantee includes a memory card full of exhilarating photos.
But, here is the thing.  Once in a while, you are going to find yourself in a place that surpasses most places you have seen in terms of gorgeousness.
Once you set foot on a place like that, you head is going to start to spin in all directions.  You are not sure where to focus because, in all honesty, every single feature surrounding you is blasting with color and life.  Add to that a touch of quirkiness and you have the perfect recipe for astonishment.
That is exactly how I felt when I visited Colmar.
Oh! I felt a rush of energy when I started to walk the streets of the historic core.  I wanted to examine the façade of every building.  I wanted to enter every specialty store.  I wanted to study how residents converted simple object into exuberant decorations.
In some way, I couldn't believe I was there.  It was all so surreal.
Since I really loved this place, I gave a lot of thought on how to present it in this blog.
I can write at length about things to see, do and eat in the town.  However, I do not want to reduce to a checklist a place so precious to me.
In order to be able to present Colmar fairly, I have to use the help of narrative.  Plus, I need to show you photos.  Tons of photos!
When I was researching the logistics for Colmar, I got discouraged since people on travel forums were advising to skip Colmar.  They argued the town lacked real attractions or interesting activities.  One guy said an hour was enough to see "everything."  Others suggested visiting "real" places such as Basel or Freiburg.
I have to admit I was a prisoner of those thoughts for about three days.  I started to see how it was possible to combine Colmar with another town in the area.  It wasn't easy since bigger cities require a two hours train trip from Strasbourg.  Small villages located nearby are not connected by train (and I didn't have a car).
I "gave up" and decided to spend two hours or so in Colmar and then go back to Strasbourg.  I was a bit sour about the final plan.
Wow, I was so wrong!
I should have known better (and I could have used my time in a wiser way).  When people start despising or rushing places, something may not be right.
I understand the clock is ticking and we want to see as much as possible.  I have been there a lot of times.  However, I feel like in some way we want to bring our daily urgency, crankiness and desperation to the travel experienced.  By doing that, we kill the spark that makes travel rich and special.
In Colmar, we ate croissants, tasted dried fruits on a specialty store, engaged in conversation with a French girl who wanted to practice her Spanish, had lunch on the Petite Venice, tried regional salamis, had a café in one of the main plazas, engage in conversation once again with a lady who sat next to us on that café, had coconut and passion fruit ice cream and got eating recommendations from a waiter.
In addition, we saw many castles while riding the train, walked a lot of the streets, marveled at the stunning Medieval architecture, sat on a park for a while and had a bit of time to take a look at the gare (train station).
We absolutely loved our day in the town.  I could not have asked for a better place to spend a sunny day.  After all, Colmar has been called "the most beautiful town in France."  I played the lead on an original (written by me) fairy tale.
My advice? If you have the opportunity to visit Colmar, go ahead and make your visit special.  I am not saying you have to spend the entire day there (like I did) but make an effort to spend some time there on your own terms.  Imagine if you can say "I did this or that in Colmar" every time you see a photo of the place? The same applies to virtually every place you visit.  I leave the challenge in your hands!
Now, let's take a look at some photos!
Rue des Marchands
Gran Rue
Place de la Ancienne Douane
Rue de Tanneurs
Covered Market
La Petite Venice and Poissonnerie Quarter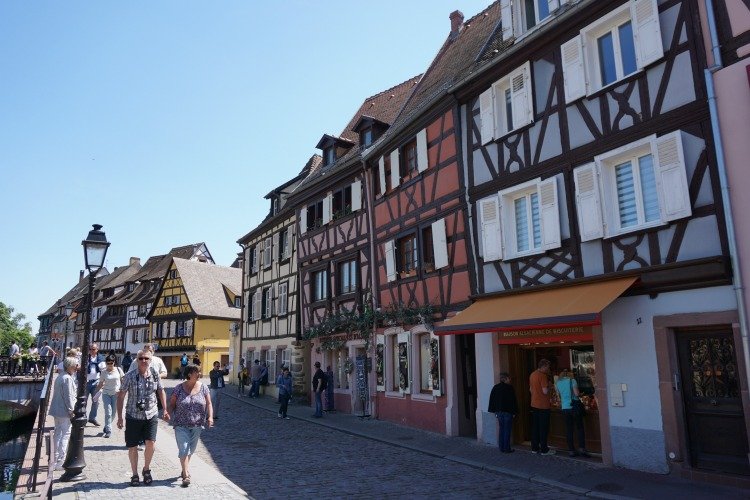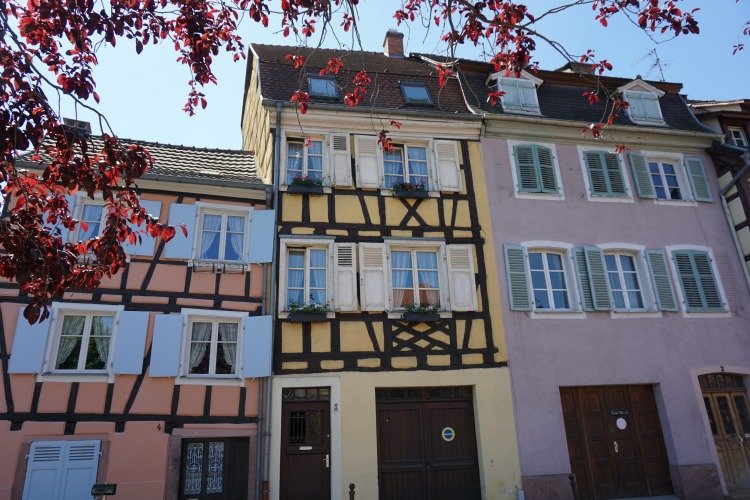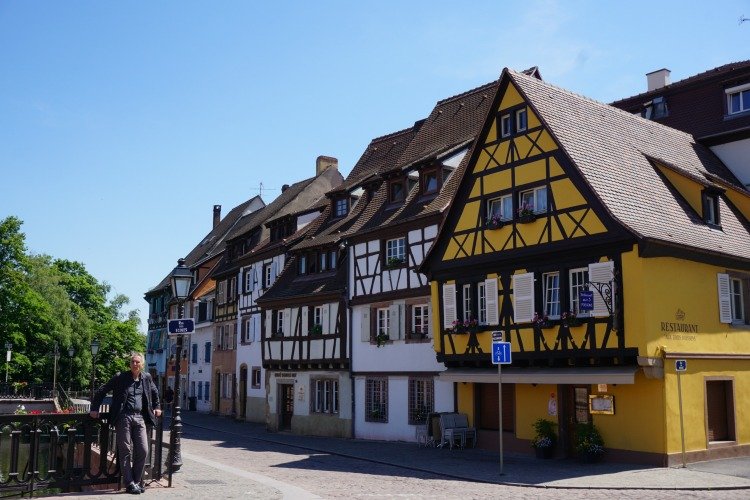 Rue de la Poissonnerie
Rue Turrene
Musee Unterlinden Area
Eglise and Place des Dominicains
Sights in Colmar
Here are some places you may want to visit once you are done seeing the architecture of the rown:
Musee Unterlinden
Eglise des Dominicains
Ancienne Douane
Eglise Saint Martin
Eglise Saint Matthieu
Maison des Tetes
Toy Museum
Bartholdi Museum – birthplace of the Statue of Liberty sculptor
The city is on the Alsace Wine Route. It is possible to visit local vineyards and other charming towns
This page has ideas on what local products you should buy while on town
Details
Colmar can be visited from Strasbourg as a day trip. The train ride takes 40 minutes (no need for reservations)
The train station is located about a mile from the center of town
If arriving by car, there are multiple parking lots outside the historical core. Most streets in town have been designated for pedestrians
Some merchant will let you sample their products. Try to buy at the moment if you are interested in acquiring the good.  A lot of times I have not been able to go back to a store for something I want and I end up regretting not buying when I had the opportunity.
What are your thoughts on Colmar?  What other fairy tale towns have you visited in Europe?
Ready to pin?  I know you are ready for this!