Looking for platforms that facilitate trip planning?  Let me show you how I was able to book a fabulous Downtown LA food tour with Musement.
You guys know I am all about experiential travel.  
I love to plan my trips, independently, to retain full control of what I see, eat and drink.  I can decide where to stay based on my budget and needs. And, most important, I can choose the cultural, gastronomical or outdoor experiences that would help me to get to the core of a place. 
That is why I was so thrilled to discover a website called Musement.  This online platform allows me to start the trip planning process by immersing myself in a sea of ideas.  On Musement, you will find thousands of activities, tours, shows, and events for destinations all over the world.
Sound exciting, right?  Join me in discovering more about Musement and its offerings.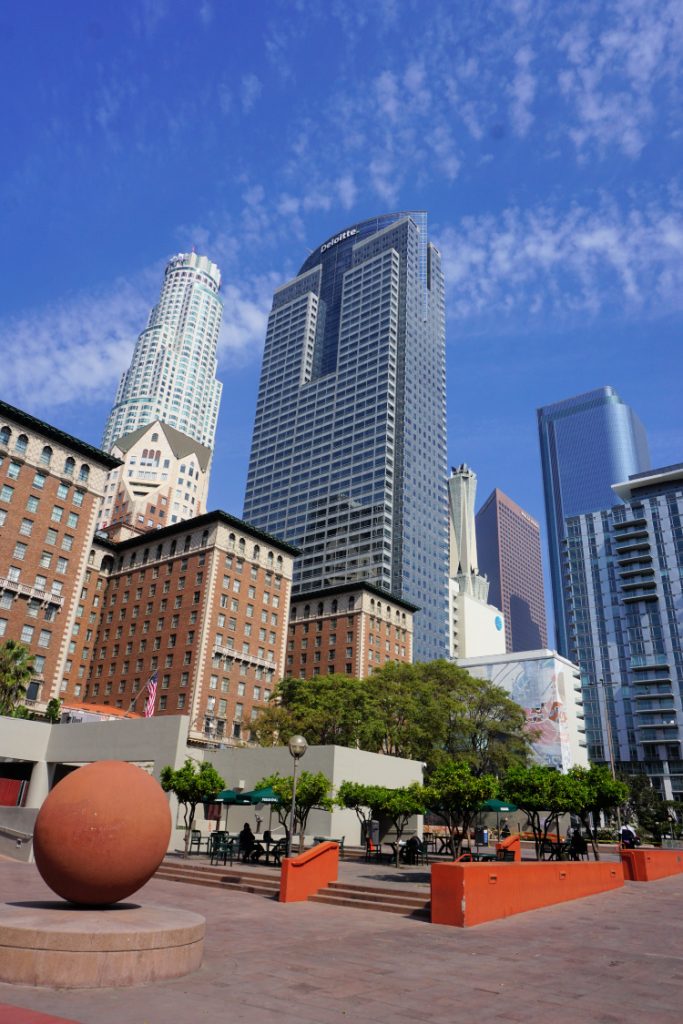 Why Plan your Trip with Musement?
Musement aggregates activities from thousands of vendors in the tourism industry.  This means that you do not have to go to multiple websites to book tours, museum tickets, events, and shows.  All that information is at your fingertips in a single place.
Using Musement is super easy.  To start, visit their website and type the place where you want to go.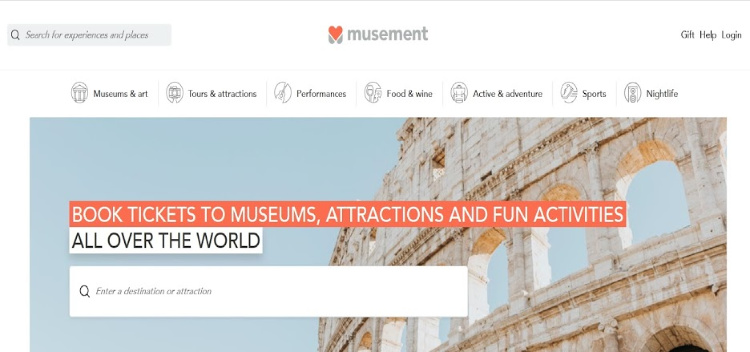 If you are starting the trip planning process and are looking for ideas, you can search by type of activity (for example, food & wine or tours & attractions), check the featured experiences, get inspired by the top attractions or read an article from the Musement Mag.
Keep in mind Musement is available in the following languages: English, Italian, French, Spanish, German, Dutch, Polish, Portuguese and Russian.  You can select the currency that applies to you as well.
Once you select a destination, the platform is going to show you all the activities available in the area.  You can narrow the search by choosing a category.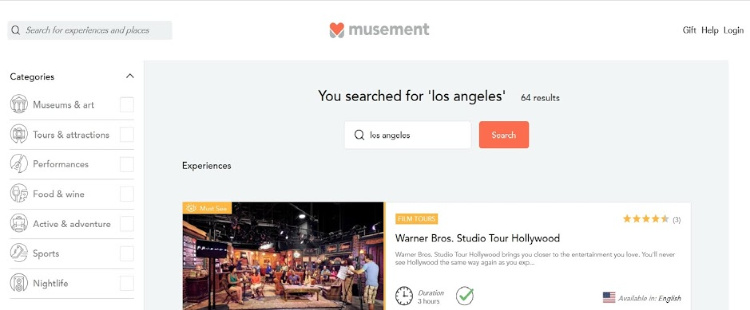 You can drill down further by choosing a subcategory.
One of the things I love about Musement is that you can choose and pick using features.  For example, I can buy tickets for a museum and ensure I am going to skip the line. This is a must nowadays due to the popularity of certain destinations.
Another feature I consider essential is free cancellation.  I like to plan way in advance and want to make sure I would get my money back in case something goes wrong.
Also, it is great to see that Musement has an equal access feature.  This would help people with limited mobility to find activities suitable for them.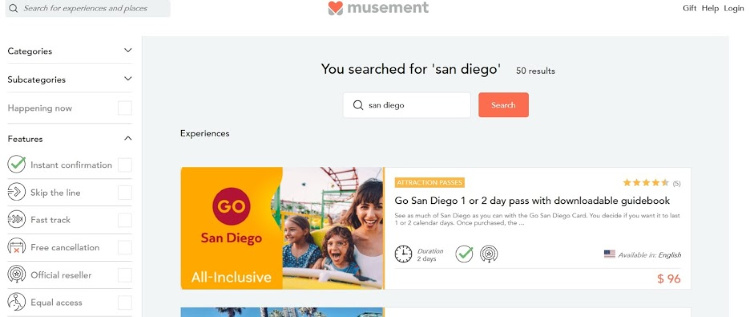 When choosing an activity, you will get information about what to expect, what is included, what is not included, price, hours of operation, availability, cancelation policy, tips to make the most of your time and reviews. Payment can be done with a credit card, Paypal or iDeal.
Another cool thing is that you can download Musement's app and book from your phone.  This ensures connection to the platform from anywhere. If for some reason you need to book at the last moment, you can do that from the phone.  Plus, you can have all your vouchers organized and ready to show.
Musement offers 24/7 customer service.  If you need to connect to an agent immediately, you can call or start a conversation through chat.  
Downtown LA Food Tour with Musement
I would not recommend a company without experiencing its goods and services.  I gave Musement a try by searching for activities in Los Angeles.
I was presented with plenty of options in different categories.  To be honest, I was surprised by the variety of suggestions. 
Since I love to eat, I narrowed my search using the food & wine category.  There were many tempting options but I decided on a Downtown LA food tour with a company called Sidewalk Food Tours.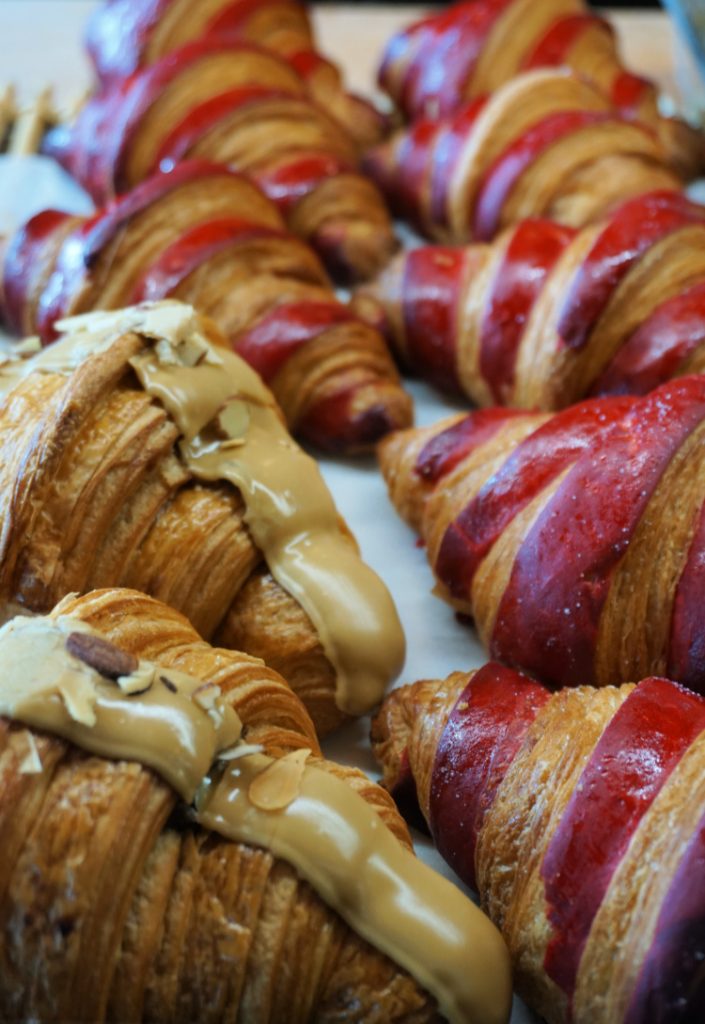 The booking process was a piece of pie and I got my voucher in seconds.  On the day of the tour, our guide met us near Pershing Square and the fun began.
During the tour, we tried food samples from seven different establishments.  We had a mix of well-known spots and hidden gems. As you guys know, I have lived in Los Angeles for over 15 years.  Most of the places on the tour were new to me (I loved that part).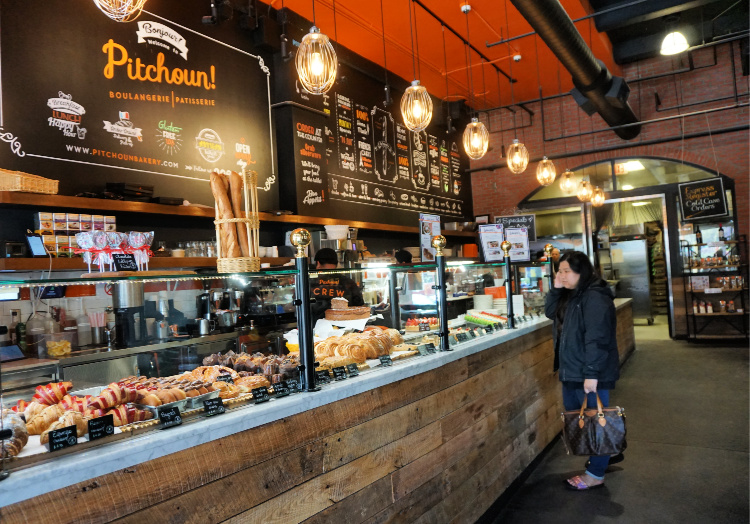 Here is a summary of the places we visited:
Pitchoun! – Authentic French bakery serving pastries, sandwiches, artisan bread, hot dishes, salads and more.  This is a foodie paradise. We tried the almond croissant which, by the way, was to die for (I want one right now)
Horse Thief BBQ – In general, LA has a lack of good BBQ spots but if you want to indulge, go to Horse Thief.  The brisket melts in your mouth. We saw plates with fried chicken and pulled pork sandwiches and ginormous sides of mac n cheese and sweet potato casserole.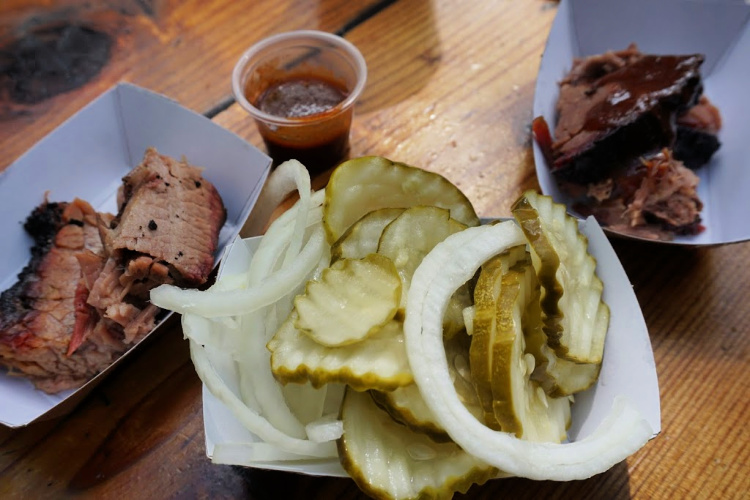 DTLA Cheese – We had a grilled cheese sandwich and pickled veggies from this cheese shop inside the Grand Central Market.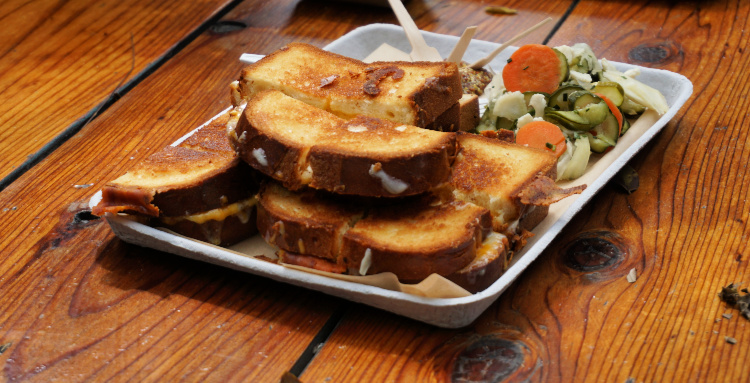 Spread – In this place, we sampled hummus, falafel, a pita chip and veggies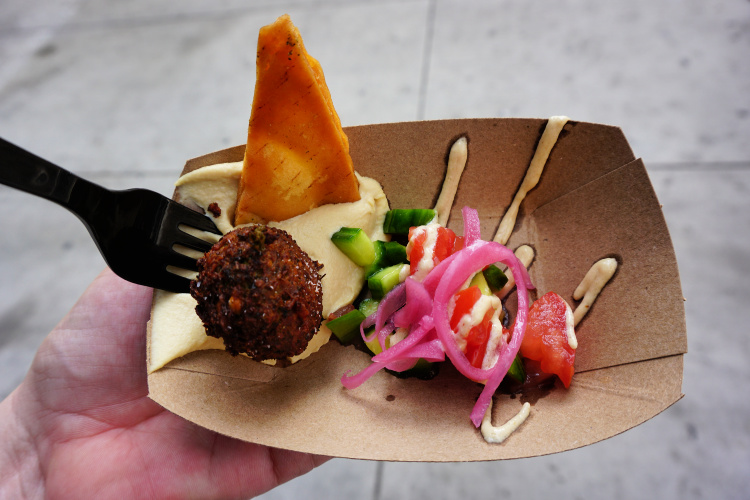 Guisados – I was so happy when I found out Guisados was included in the tour.  They have some of the best tacos in Los Angeles. I had the chicken mole taco and my husband had the steak one.  There were mushrooms and other veggie options. If you go to Guisados, I recommend trying the horchata. It is so so good.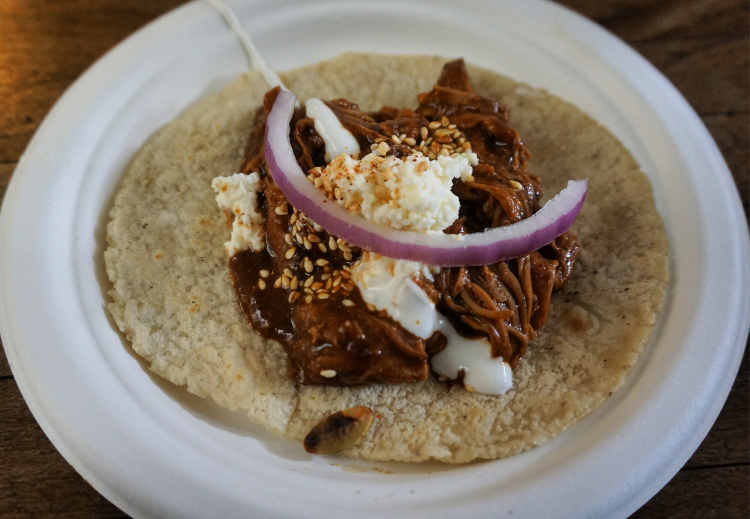 Pizza Napolita – This newcomer makes authentic Neapolitan pizza.  We tried a slice of the Margherita pie. Wow, it was so yummy. You will get an explanation of what it takes to serve authentic Neapolitan pizza and how the pizza scene in Los Angeles is changing for the better.
Bottega Louie – The last stop of the tour was at another favorite restaurant of mine.  We had a beignet (not one from New Orleans but a type of German donut). I got a Nutella one but plain and raspberry options were available.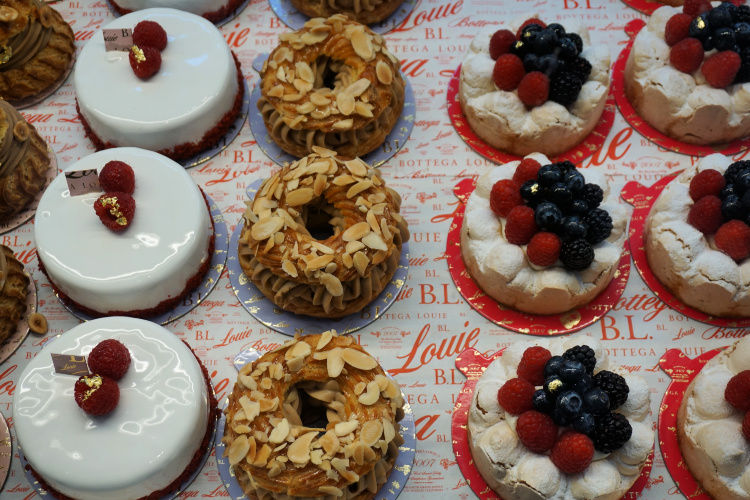 This is a sample of what you will get to eat on a tour. Keep in mind the offerings change based on the day/season.
Between food stops, we got the opportunity to visit the Biltmore Hotel, Grand Central Market and the Bradbury Building.  We got commentary about the history of Los Angeles, and prominent landmarks such as the Million Dollar Theater and the Los Angeles City Hall.
The other cool thing is that we were able to meet people from all over the world.  On the tour, we had people from Germany, Hawaii, and Kyrgyzstan.  The tour guide was a native Californian and he gave us his recommendations on some awesome places to eat.
In summary, we had an outstanding three-hour experience.  I am looking forward to booking more tours with Musement.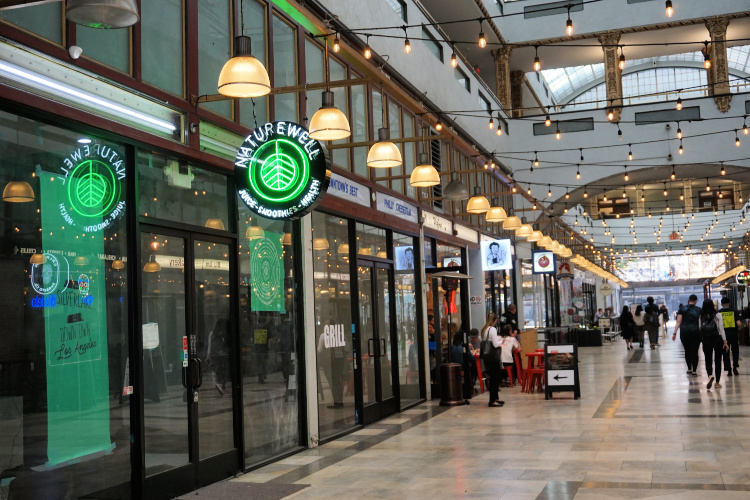 More about Musement
Find more about Musement on their website.  Download the platform's app here. Follow Musement on Facebook, Twitter or Instagram.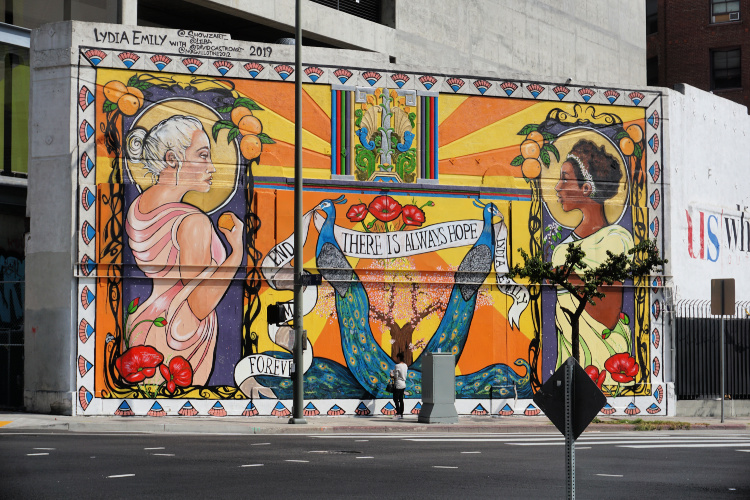 More of Los Angeles
Los Angeles Ultimate Bucket List
One Day in LA: Itinerary for First-Time Visitors
2 Days in Los Angeles: Downtown-Based Itinerary
Things to Do in Downtown Los Angeles
A Day in Los Angeles: 4 Downtown Itineraries
More of Southern California
One Day in San Diego: Itinerary for First-Time Visitors
Ultimate San Diego Bucket List
Places to Visit in Santa Barbara
150+ Places to Go in Orange County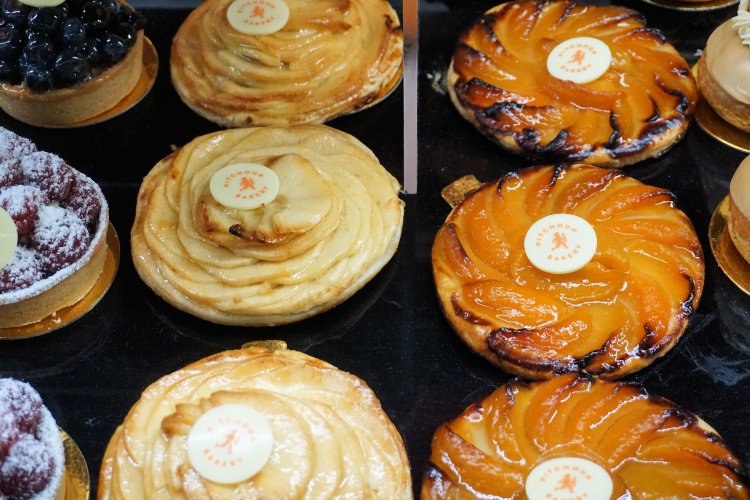 Disclose: Musement kindly provided complimentary tour tickets for me and my husband. As always, my opinions are my own. Read more of our editorial guidelines here.
Have you booked an experience with Musement? Have you done a Downtown LA Food Tour?
Pin "Downtown LA Food Tour" for later!