Downtown Santa Barbara is the heart of the so-called American Riviera.  I have put together everything you need to know about this exciting destination!
Travel helps us satisfy that sense of escape a lot of us crave.  Who does not want to break the tedious and monotonous routine?
If you want to add an exciting travel experience to your repertoire,  I have the right spot for you. Have you heard about Santa Barbara? Because, let me tell you, Santa Barbara is amazing! Plus, it is the land of eternal summer.  The weather is so kind there.
If you are interested in visiting and compiling a to-do-list, you have to keep reading to discover all the dream-worthy things to do in Downtown Santa Barbara.
I have crafted this article to help first-time and returning visitors.  My complete guide to Downtown Santa Barbara is jam-packed with information regarding attractions,  restaurants, shopping destinations and hotels.
So, without further ado, let's jump on to the bandwagon to the mesmerizing town of Santa Barbara.
Please note: This article contains affiliate links, meaning I may earn a commission if you make a purchase by clicking a link. Of course, this comes at no extra cost to you and helps me to keep offering solid information to readers.
About Santa Barbara
Santa Barbara is one place that comes to mind when talking about pristine coastline, beautiful beaches, natural encounters, romance and fine dining. The city offers you everything you ever wished to experience while visiting a vacation spot. 
Santa Barbara is located about 100 miles from Los Angeles.  If you are coming out of state, chances are you will arrive in Los Angeles and then, move to the city proper.  
Santa Barbara has an airport but due to the city size, the flight selection is not huge.  There are some direct flights from major cities in the US.  Do your research to see if you can snag a nonstop flight at a good price.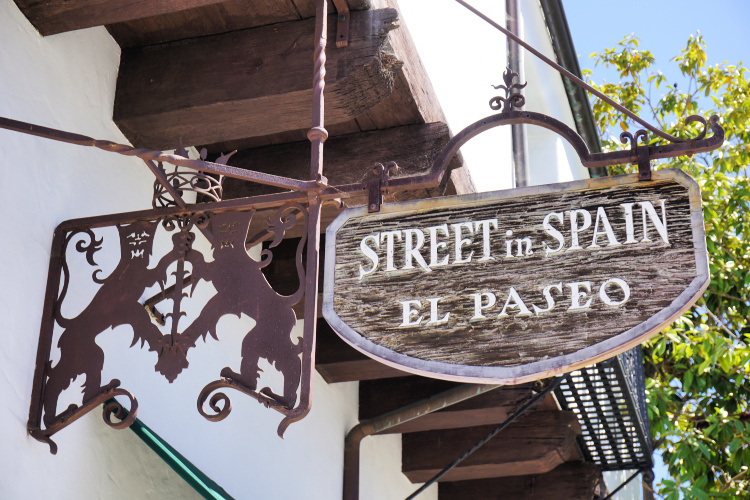 Sightseeing Gear
Get ready for a day of sightseeing by bringing the right gear.  Here is a list of the items I pack to explore cities and towns in California.
Downtown Santa Barbara
In Santa Barbara, you can surf or sunbathe at famous spots such as Butterfly Beach, Leadbetter Beach, and Arroyo Burro Beach. You can embrace nature by opting for a visit to Channels Island National Park or even have some history lessons.
Yes, there are tons of things to do in the city but Downtown Santa Barbara is the focal spot of this article. With beautiful architecture, well-manicured gardens, excellent food, and fashionable shops, this is a happening area you will hit more than once during a visit.
There are many definitions with regard to the boundaries of Downtown Santa Barbara.  In this article, I want to cover the 12 blocks among Arrellaga Street and Gutierrez Street.  
This part of the city is bisected by State Street, a tree-lined road featuring eateries, coffee shops, public art, boutiques, and shops. 
The whole area can be explored by foot, bicycle or electric shuttle (runs along State Street).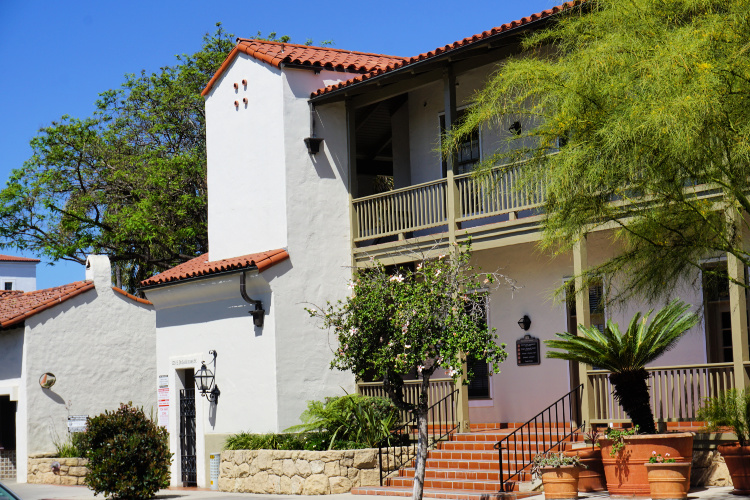 Things to Do in Downtown Santa Barbara
Downtown never falls short of attractions. From historical museums to cultural venues, there are plenty of things you can do and see. Here is a comprehensive list that will help you to plan.
Do a Self-Guided Walking Tour
One of the best ways to discover Downtown Santa Barbara is to walk around its charming streets.  
I know I said the area is comprised of 12 blocks but hold on. I am not trying to kill you!  You can hit the most significant historical spot and architectural masterpieces in 4 blocks.
Where you start your tour it is not necessarily relevant.  If I were you, I would initiate this little adventure at the corner of State Street and De La Guerra Street. 
At De La Guerra Street, you will be able to see Casa de la Guerra, the house of the fifth Presidio commandant, Plaza de La Guerra, and the City Hall.  Steps away from this complex, you will find the Orena Adobes.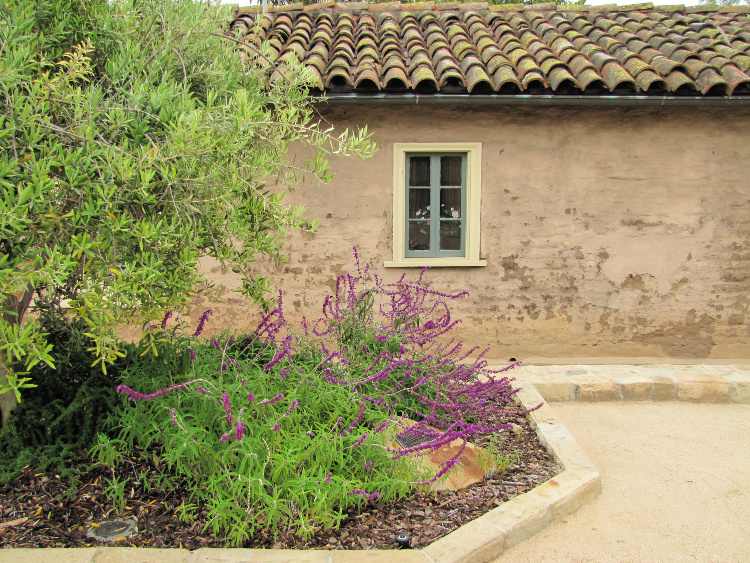 Keep walking on De La Guerra until encountering Presidio Avenue.  Take a look at the Presidio Gardens.  On the corner of De La Guerra and Santa Barbara, you can enjoy the Santa Barbara Historical Museum, the Lugo Adobe, and the Casa Covarrubias.
Casa Covarrubias (also known as Covar Abode) is an L-shaped Spanish-style adobe where the last Mexican assembly met.  This is one of my favorite places because of the contrast between the sandy walls and the bright flowers adorning the place.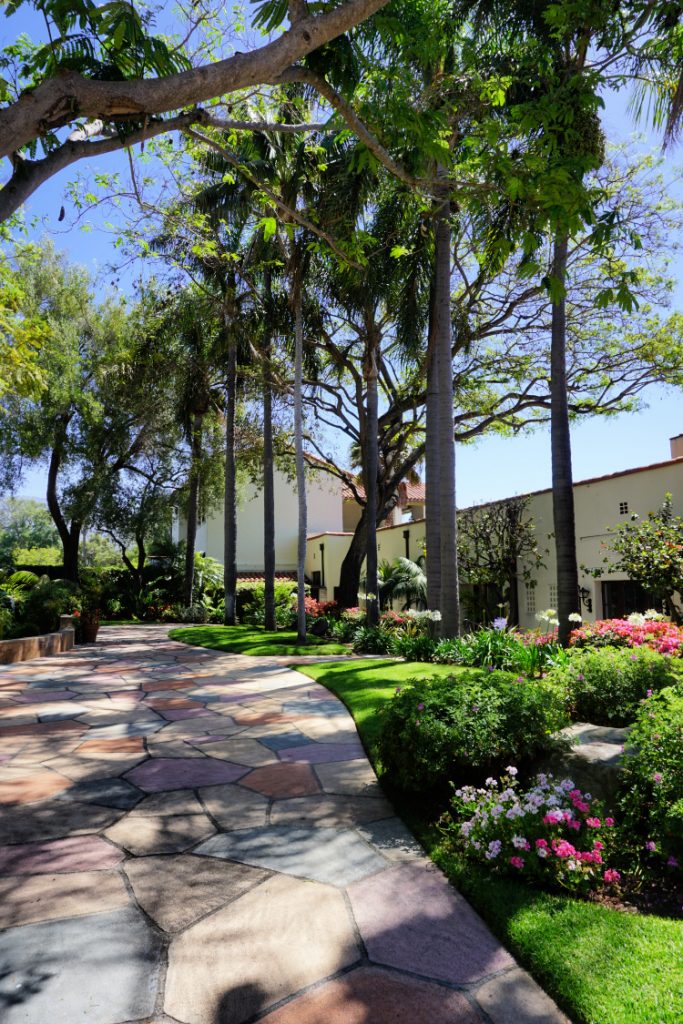 Continuing north on Santa Barbara will take you face to face with the place where everything started: El Presidio.  This is the site of the founding (1782).  You can take a look at the chapel, the Canedo Adobe (the original part of the Presidio residential area), and the Cuartel.  The adobes have demonstrations of how daily life was conducted in colonial times.  You can observe the rooms, kitchen, gardens, and looms.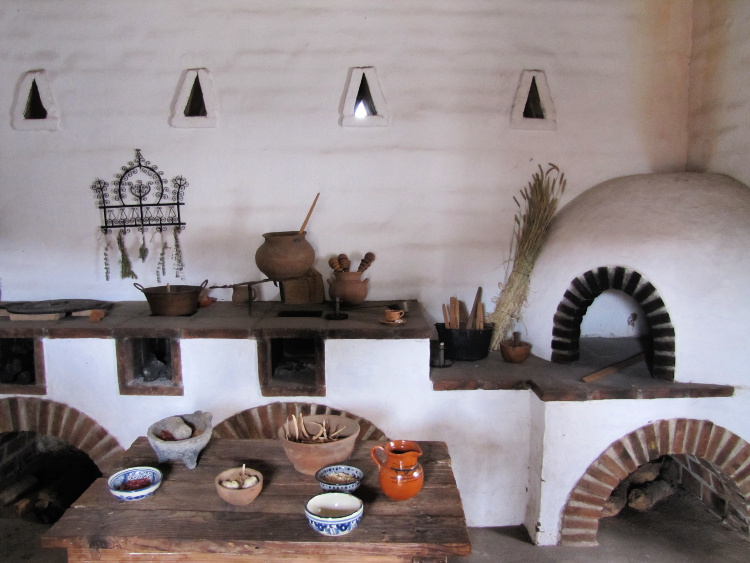 Across the Presidio, do not forget to take a good look at the art deco Post Office.  The impressive Lobero Theater is located at the corner of Anacapa and Canon Perdido.
Walking one more block along Santa Barbara Street (or Anacapa) will take you to the County Courthouse, the gem of Downtown.  The building is not from the colonial period (completed 1929) but it fits well in the city since it exhibits Spanish-Moorish influences.  
Make sure to admire the front and back of the building (in the back you will find the sunken gardens).  Go inside to take a look at the tiles, the murals, and the stained glass work.  Don't miss a view of the city from above.  Ascending to the top of the 85 ft courthouse observatory tower is free.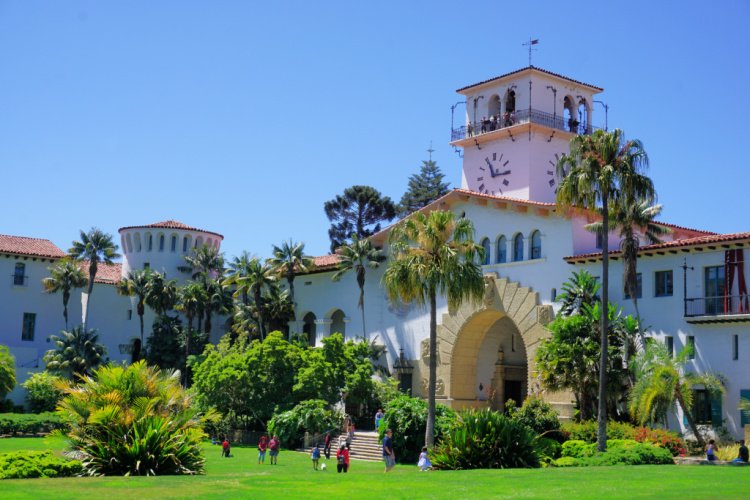 If you do not mind deviating a bit, I have two suggestions for you.  After the Courthouse, walk one block (east) towards Garden Street.  In that way, you will be able to admire the beautiful First United Methodist Church.
And, if you walk two blocks north of the Courthouse, you are going to bump into Our Lady of Sorrows Church, one of my favorite in the area.
Keep walking towards State Street to find other landmarks such as the Public Library, the Art Museum, and the Arlington Theater.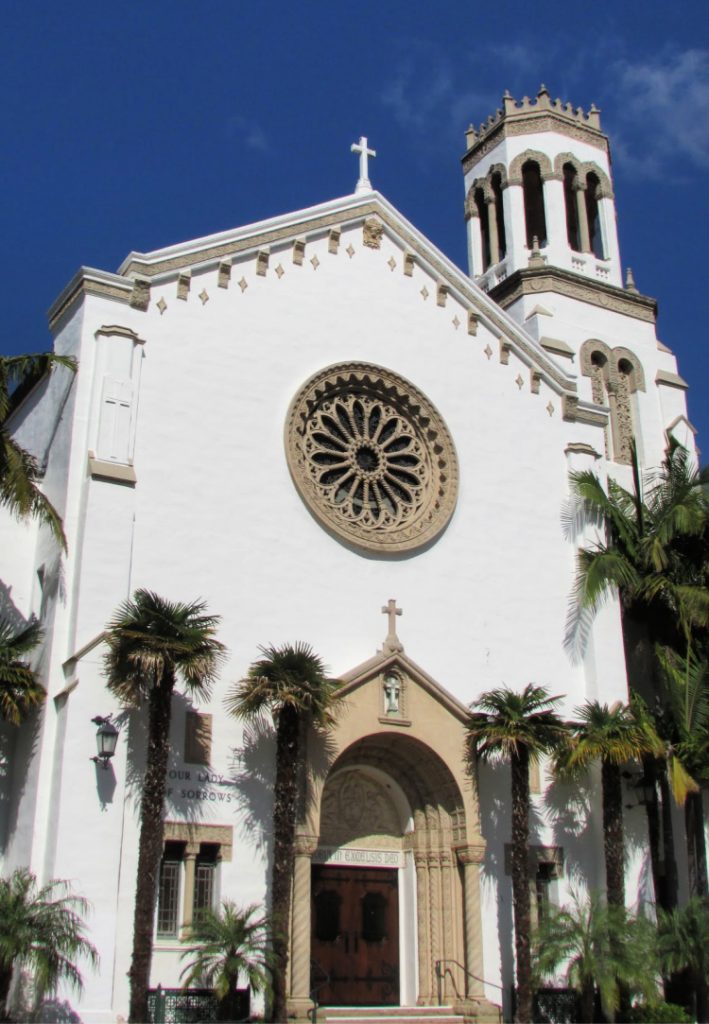 Visit a Museum or Gallery
Culture vultures will be spoiled with choice when it comes to art and history institutions.  Here are the top museums and galleries to add to the to-do list.
Santa Barbara Museum of Art – The premier institution of the city offers a wide collection of Monet paintings and other exclusive artwork from Asia, America and Europe
Santa Barbara Contemporary Museum of Art – With its rotating exhibitions (rotate 3 times per year), this institution aims to advance creativity and develop critical thinking.  Admission is free.
Santa Barbara Historical Museum – Prime spot to visit if you are interested in learning about the different people (Chumash, Spaniards, Mexicans, Chinese, Japanese) who have shaped the city of Santa Barbara.
Susan Quinlan Doll & Teddy Bear Museum – This museum, featuring one of the largest collections of dolls and teddy bears in the United States, will make you smile for sure.  In addition to the collection, it counts with a library, tea room, and murals.
Santa Barbara Fine Art Gallery – This place is full of impressive work created by locals.  Most pieces of art featuring the county's beaches, mountains, and vistas.  You will want to buy everything!
Glen Dallas Gallery – The gallery is renowned for offering contemporary art from around the world.  This is a place for those who are into avant-garde and eclectic design.
10 West Gallery – The works displayed are designed to complement a modern design.  A lot of pieces are abstract and open to wide interpretation.
Note: Certain places already mentioned in the article are technically museums (Casa de La Guerra, Presidio).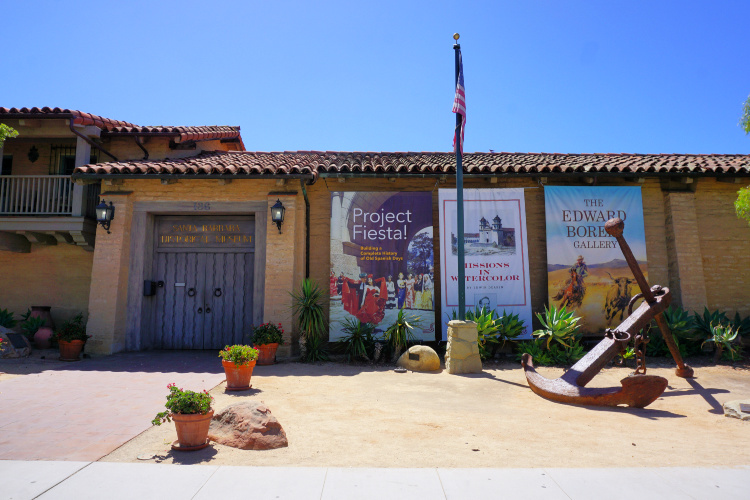 Go Wine Tasting
If you weren't aware, Santa Barbara (the county) has one of the most prestigious wine regions in California.  The Santa Ynez Valley, located 30 miles from the main city, has over 120 wineries, dozens of tasting rooms, and a plethora of wine-related activities.
Due to the proximity, you can expect producers wanting to capitalize on the city's tourism industry.  A lot of the tasting rooms are located in the Funk Zone.  However, Downtown Santa Barbara has its fair share of wine offerings too.
There is a cluster of wineries at De la Guerra Street (where I started the walking tour).  Jamie Slone, Happy Canyon, Barden, and Grassini are highly rated and offer impeccable service.
Frequency Wine Company is located close to the Presidio and Sanford Winery is close to the Courthouse. 
In terms of wine bars, you will not go wrong with Armada Wine or The Wine Shepherd.  In one of those establishments (or both, ahem), you will be able to taste wines from different labels.
If you want to take your tasting experience a level up, I recommend stopping by C'est Cheese to pick up a selection of cheeses, dried meats, and other goodies.  They can make suggestions based on the type of wine you like (and intend to drink).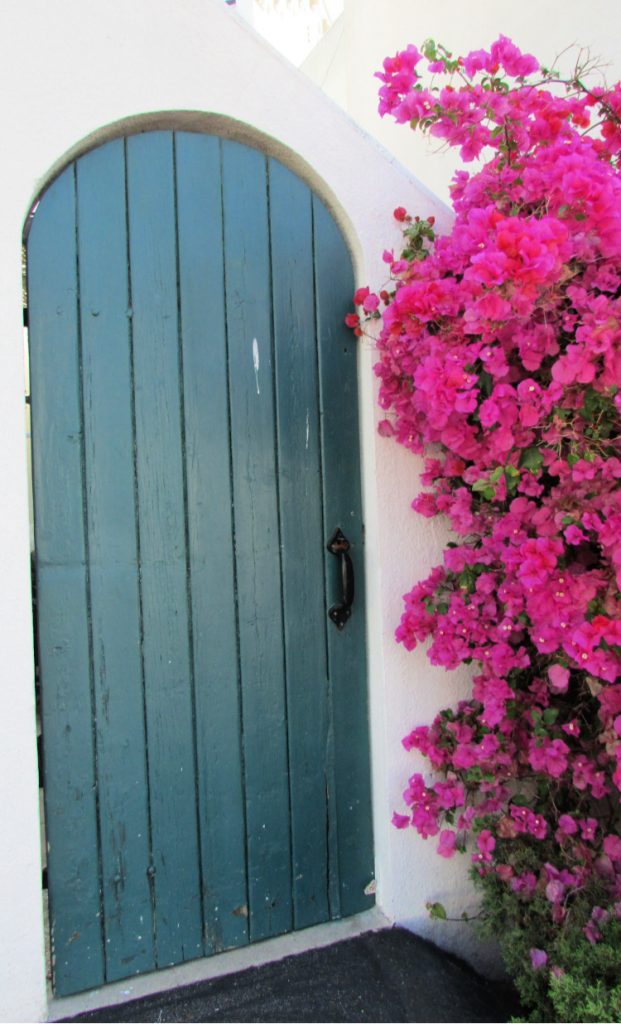 Indulge in the Public Market
If the members of your party cannot decide what to eat, what about heading to the Public Market and trying different types of gastronomy.
The Santa Barbara Public Market has gourmet noodles, inventive Mexican cuisine, sushi, sashimi, artisan pizzas, craft beers, regional wines, cupcakes, and ice cream in unique flavors.
You can spend hours eating your way around.  There is plenty of space to relax, chat, and laugh.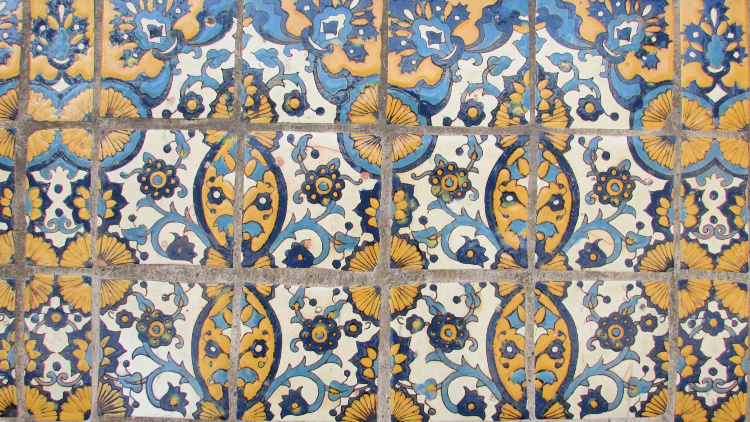 Pamper Yourself
For a relaxing afternoon, you should check Salt, a business featuring pink Himalaya salt cave rooms, massages, and facials.  You can book a treatment, join a yoga class or shop for their unique products.
Other businesses offering body treatments, massage, and facials include FLOAT Luxury Spa, Spa Cia, and 805 Rolfing.  It is imperative to call ahead and make the proper bookings.  
For manis and pedis, head to One Carat or SB Nail Salon.  I am very picky when it comes to businesses offering nail services.  I encourage you to check ratings and read reviews before deciding on a place.
Stretch Your Legs at the Park
When on vacation, I tend to look for green, open spaces to calm my mind.
In Downtown Santa Barbara, you will find Alice Keck Park, a large space featuring a botanical garden, pond, playground, and public restrooms.  It is a nice place to exercise in the morning or take the kids for a break.
The Adams Spencer Park is also located in Downtown.
Other green areas include the sunken gardens of the County Courthouse, Plaza de La Guerra, and Plaza de Vera Cruz.  Remember you can pick up supplies at the supermarket, specialty shops, and wine tasting rooms and have a picnic in one of these places.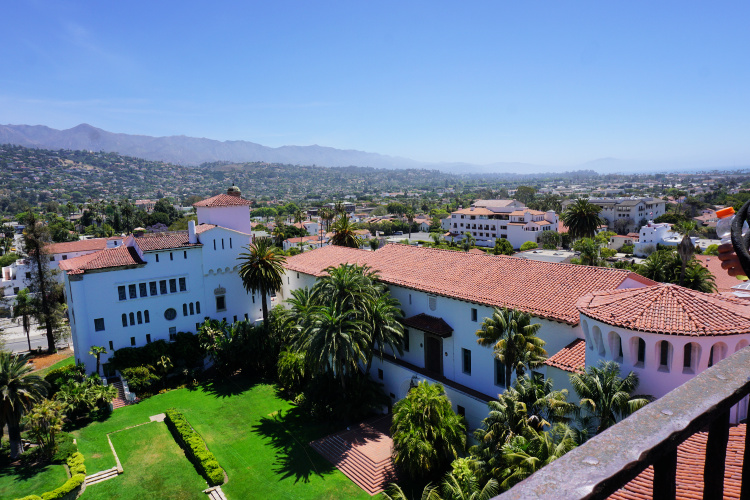 Visit Farmers Market
I am a huge fan of farmers markets.  Here in California, we can have them year-round because of the weather.
Santa Barbara County has phenomenal produce.  Because of that, the markets are blooming with fruits and vegetables (produce from Ventura County is sold too).  
A big market is set up every Tuesday at the lower part of State Street.  It is open from 4:00 p.m. to 7:30 p.m.
On Saturdays, another sizable market takes place at the intersection of Santa Barbara Street and Cota Street.  Operating hours are 8:30 a.m. to 1:00 p.m.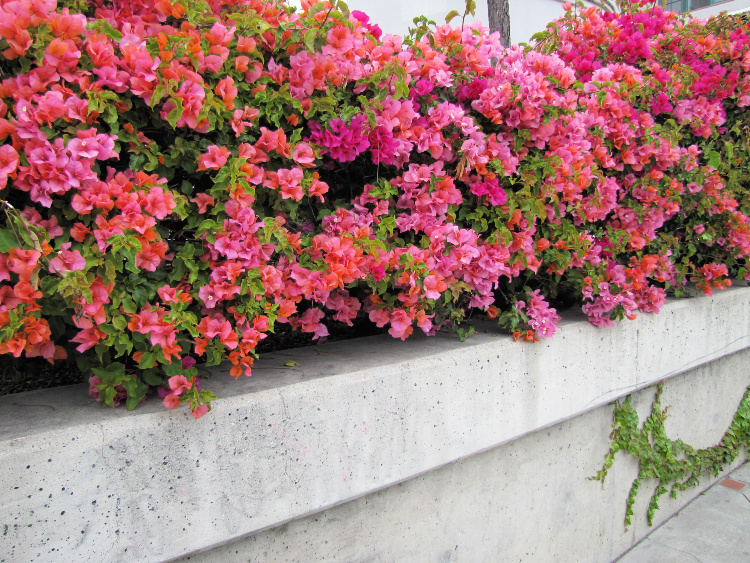 Downtown Santa Barbara – Where to Eat
Downtown Santa Barbara offers a great variety of dining options. You will find plenty of restaurants and eateries offering the finest quality of food. It is possible to taste options made by world-renowned chefs using farm-fresh ingredients from the local markets. If you are on a budget or have a sweet tooth, there are many options for you too. Here are my recommendations.
Breakfast
Jeannine's Bakery – This is my favorite place to get breakfast in Santa Barbara.  I have tried most of their dishes (I know, I know) and can attest to their deliciousness.  Favorites include the Banana Kahlua French Toast and the Salmon Bagel Plate.
Scarlett Begonia – This restaurant prides itself on serving dishes made with organic and local ingredients.  For breakfast, try the lemon ricotta pancakes and broccoli scramble.
Andersen's Danish Bakery – This Solvang (Santa Ynez Valley) transplant offers a wide assortment of pancakes, waffles, French toast, and Danish pastries.
Dawn Patrol – This place offers the opportunity to customize your own hash (potato or sweet potato-based) with ingredients such as chorizo, peppers, onions, mushrooms, cheese, sausage, chicken, and more.  The result is topped with eggs cooked in any style and smothered in a sauce (gravy, Hollandaise, aioli).
Note: All the eateries in this section offer lunch entrees.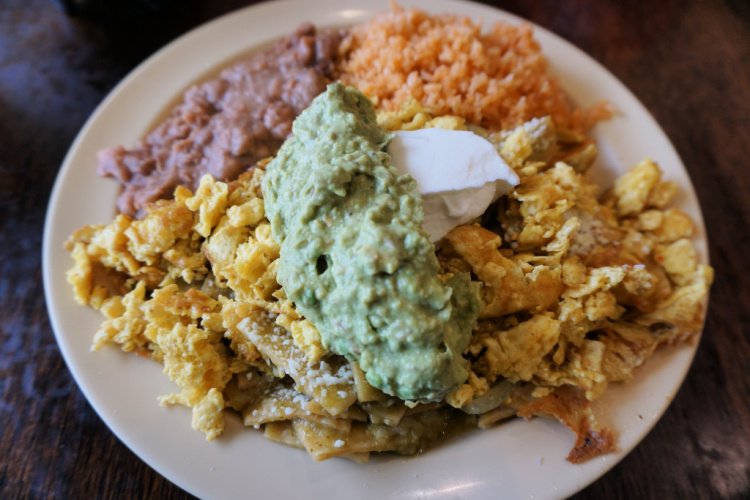 Lunch and Dinner
Blue Owl – Asian flavors ooze from the dishes served at this restaurant.  For example, you will find Thai basil cheeseburgers, fried rice, miso kale salad, and nam toc burritos on the menu.
Sama Sama – This is one of the few places cooking Indonesian food in Southern California.  With time, they have diversified into a more South Asian profile but still serve gado gado, mie goreng, and nasi goreng.
Black Sheep – The cool thing about Black Sheep is that they pull ideas from all over the world for their creations.  It is surprising to find Mexican, Japanese, Italian, and Spanish food under the same roof.
Savoy Cafe – This cafe has won numerous prizes over the years.  Cold dishes include Bhutanese red rice salad and albacore tuna cranberry salad.  The hot dishes are so yummy.  My knees get weak when I think about their coconut curry chicken.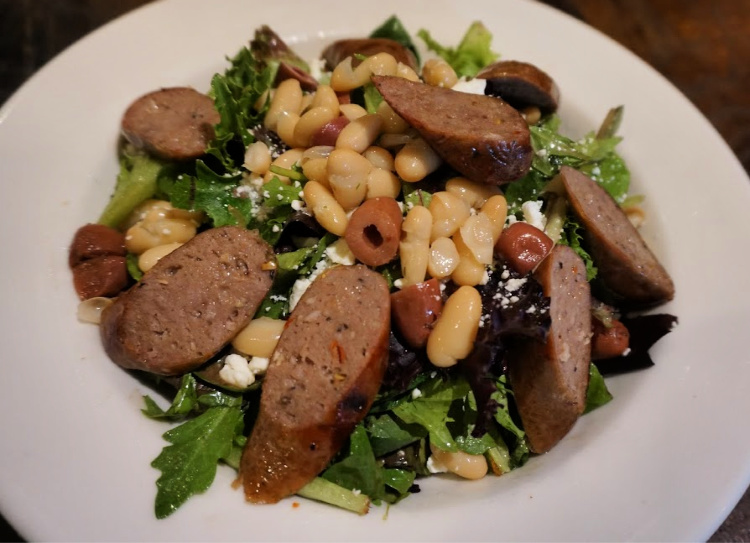 Affordable Eats
South Coast Deli – I cannot stop dreaming about the delicious sandwiches from the South Coast Deli.  I am a fan of the Meatball and Pesto.  Sandwich prices oscillate between $8 to $11.  The portions are huge.  That means that two people can eat from one order.  Complement with sides if needed.
Pickle & Swiss – This is another sandwich shop serving formidable food at good prices.  They have soups, salads, and wraps on the menu as well.
Lily's Taqueria – I am not sure what are the right words to describe Lily's.  I can use all the superlatives you can think of.  The tacos here are the real deal and for $1.5 apiece, you can eat as many as you want.  Believe me, you want to try this place.
Natural Cafe – This eatery has plenty of healthy, vegetarian, and vegan options.  You can pick from their selection of sandwiches, salads, flatbread pizzas, and burgers.  They have a dedicated vegetarian section on the menu.
Coffee Shops
Handlebar – This coffee shop sells coffee from different regions of the world.  They roast their beans in-house.  You can buy it by the pound too.
Good Cup – This is one of the best places to grab Americanos, cappuccinos, chai lattes, hot chocolate, and green latte.
Dune Coffee Roasters – The coffee beans from Dune are sourced from Kenya, Brazil, Panama, Honduras, and Ecuador.
Note: The aforementioned coffee shops offer small bites ideal for a light breakfast or lunch.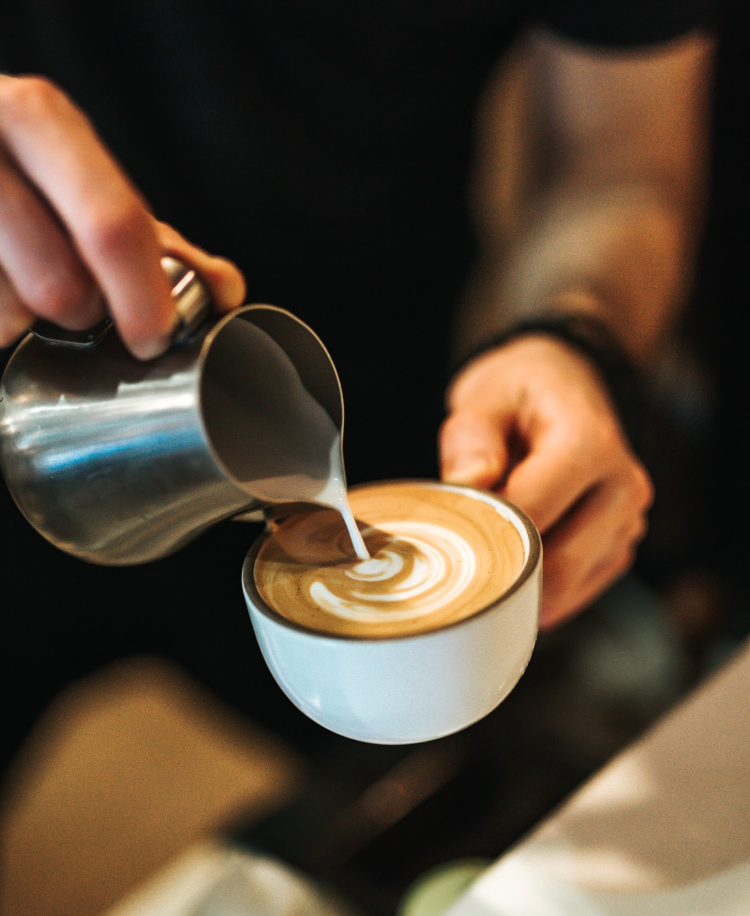 Sweet Treats
McConnell's – Santa Barbara is the birthplace of this well-known creamery (it has expanded beyond the city limits).  Flavors are unique and they come up with seasonal masterpieces.  Give a try if you want to have a memorable ice cream experience.
Renaud Patisserie – Almond croissants are my favorite type of pastry.  And, guess what?  There seems to be a consensus about Renaud serving the best almond croissants in Southern California.   So, you know I love the place.  They also master cakes, eclairs, tarts, and macaroons.
Lilac Patisserie – All the goods served here are gluten-free. They specialize in cookies, tarts, lemon bars, cheesecakes, tiramisu, and cupcakes.
Hook & Press – Donut lovers will be tempted by the gourmet flavors of Hook & Press.  You can try combinations such as burnt honey rosemary, grapefruit tarragon, and strawberry habanero.
Chocolats du CaliBressan – I cannot leave out of the list this store selling French chocolate.  Each piece is an explosion of flavor.  Check out the cute bonbons.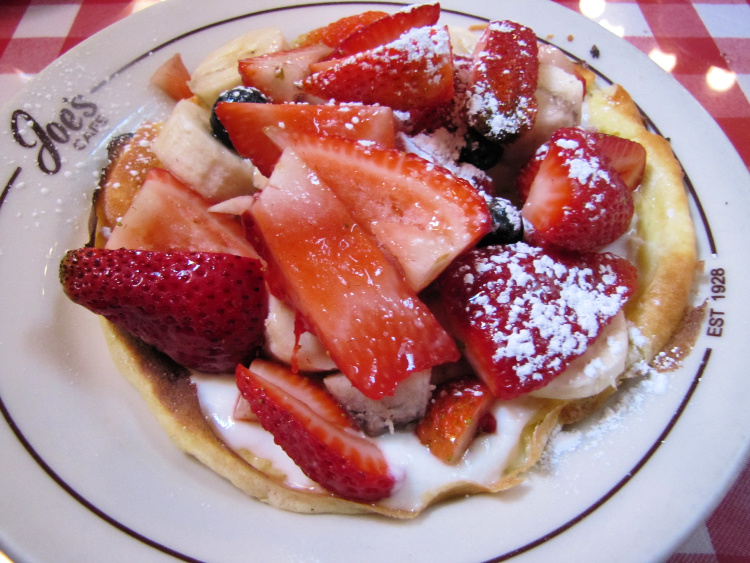 Downtown Santa Barbara – Nightlife
Downtown has a hip and varied nightlife offering.
Beer lovers can head to Night Lizard, Institution Ale, and The Cruisery. A lot of these places close around 12:00 a.m.  For more options, you can go east of Downtown.  Places to try include Third Window, Telegraph, or Pure Order.
Those who want to keep things on the quieter side should explore the offerings of Armada Wine, Villa Wine, and The Wine Shepherds.
If you are craving a decadent cocktail, options abound.  A lot of people prefer places like The Good Lion, The Pickle Room, and The Glass House.
Some of you would prefer a sports bar (tons of TVs, munchies and lively atmosphere).  If that is what you are looking for, I suggest Sportsman, Old Kings Road, or O'Malleys.
Venues with live music include The Red Piano, The James Joyce, and EOS Lounge.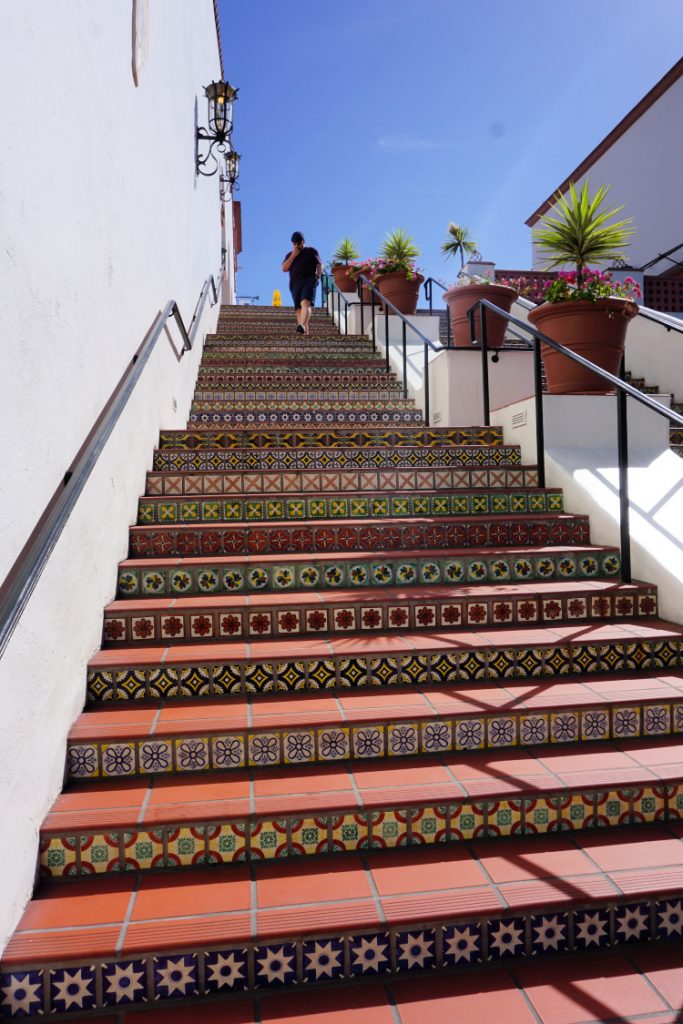 Downtown Santa Barbara – Shopping
Downtown Santa Barbara is known as the shopping hub for the Central Coast. The area is loaded with shops and boutiques offering a 360-degree shopping experience. 
You can find a wide variety of shops including surfing clothing/accessories, home goods, antique stores, and local souvenirs. The area has a decent representation of local, national, and international brands. 
Paseo Nuevo is a lovely Spanish-style, open-air shopping complex offering apparel, cosmetics, jewelry, shoes, and a variety of restaurants. If you are craving for a more local shopping experience, then wander off into local boutiques like Jewelry Bar, Wendy Foster, Lewis & Clark, A Tropical Affair, Lola, and Lovebird.
While in Downtown Santa Barbara, do not forget to visit La Arcada, a courtyard offering an alternative to shopping malls. With mesmerizing sculptures, lush-green landscape, tiled walkways, sidewalk cafes, and fountains, this courtyard houses some of the top businesses in the area.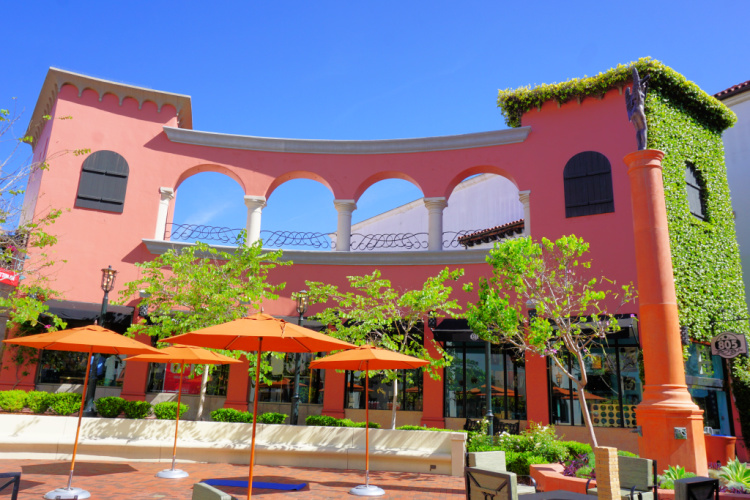 Parking
If you are arriving in town by car, follow the signs directing you to a public lot. The first 75 minutes are free.  You will have to pay $1.50 per hour after the free period and there is no daily maximum.
Finding completely free parking in Downtown Santa Barbara is a complicated task.  Parking spots on the streets are metered and the time limit is 90 minutes.  If you are staying for several hours in the area, parking at one of the lots is more convenient.
There is free parking on the streets of the Funk Zone. However, the walk to Downtown is long. An idea is to take the electric shuttle to Downtown.  One ride cost 50 cents and a day pass $1.
Downtown Santa Barbara – Hotels
Worried about finding a decent place to crash after a long day of sightseeing? Well, luckily, in Downtown Santa Barbara, you can find different options within walking distance to various tourist attractions. 
The Canary Hotel has a rooftop pool, restaurant, luxuriously decorated rooms, and valet parking.  Its central location (2-minute walk to State Street) and superior service make it one of the top options in the city.
However, if you are looking for a place to stay right in State Street, you can opt for Hotel Santa Barbara. The hotel is located across the famous Joe's Cafe. You can observe all the action from the balcony.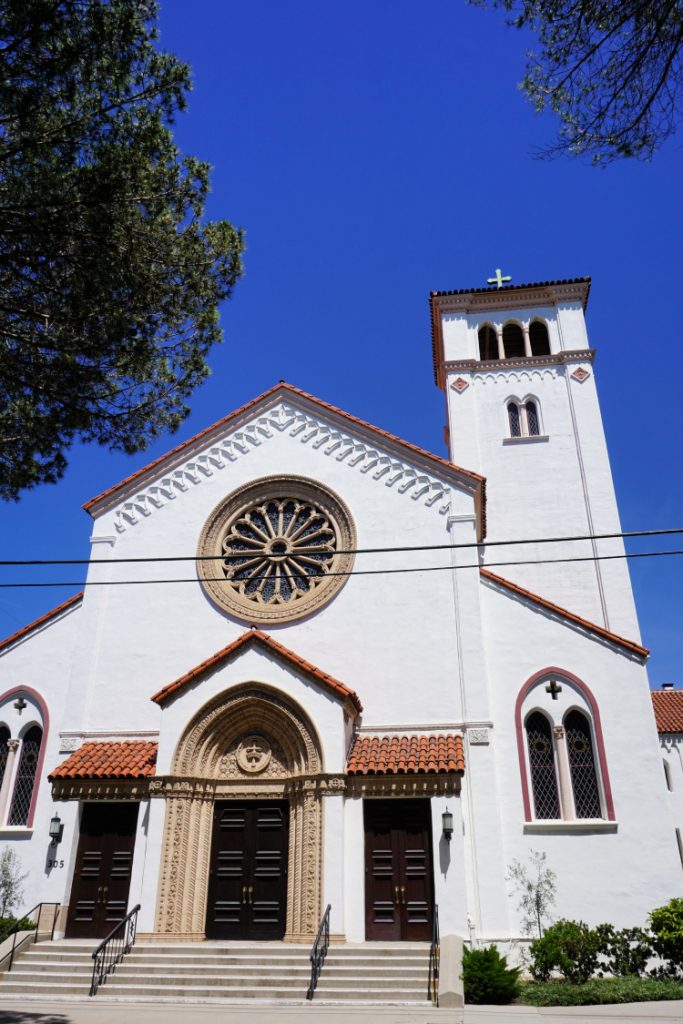 It has been a pleasure to share the awesomeness of Downtown Santa Barbara.
I am not exaggerating when I am saying that Santa Barbara is heaven.  You will give me the reason if you visit. if you want to share your experience or favorite spots, please do so in the comments section.
More of Santa Barbara
If you are interested in exploring other parts of Santa Barbara, I have plenty of material about the city and county.  Check out these articles!
Santa Barbara Day Trip (Visit from Los Angeles, Ventura or Orange Counties)
Places to Visit in Santa Barbara
Los Angeles to Santa Barbara Drive
Day Trips from Santa Barbara
Have you been to Downtown Santa Barbara?
Pin "Things to Do in Downtown Santa Barbara" for later!