Last year, after touring Yosemite's Tioga Road, we descended to the Owens Valley area and visited some beautiful places like Mono Lake and Fossil Falls.
In addition, we had the opportunity to drive the 12-mile road known as the June Lake Loop.  This road provides easy access to the namesake lake and three other lakes.  At that time, we were blown away by the spectacular mountains and pristine waters.
The day we visited was gloomy and windy.  It was our intention to return at another time with better weather conditions.
Our desires became a reality this past weekend.  We drove to June Lake from Bishop on Saturday morning and were rewarded with mild autumn weather, clear blue skies and lakes that resemble mirrors.
On top of that, the June Lake Loop is known for its vibrant fall colors (the area is full of aspens).  We arrived a little bit too late. The trees were past peak by a couple of days but there were still yellow, orange and red shades everywhere.
I am still on a high note because of this trip.  It is not my intention to tarnish the following photos with my clumsy words.  That is the reason why I am going to keep commentary to a minimum.  Hope you are a lake lover like me!
June Lake
This is the lake which gives the name to the loop and main town on the area.  It is considered a subalpine lake and it is located in the Mono Basin. There are two marinas on the lake (see the boats in the photos).  Fishing, kayaking and swimming are popular activities practiced by visitors.
The June Lake town is small but it cover visitor's necessities very well (restaurants, motels, sporting goods stores, etc.).  In addition, a popular ski resort is located in the vicinity.
Gull Lake
This smaller lake is located very close to June Lake.  It has a marina and a general store full of quirky wood carvings, signs and posters.  The lake is known as "The Home of the Monster Trout."
Silver Lake
We started to see a lot of aspens while driving to Silver Lake.  I love the reflection of the yellow trees on the water.  Some parts of the mountain behind the lake were bursting with yellow flowers.
Grant Lake
This is the larger lake in the area. The Grant Lake Marina is a full service marina with docks, fishing boat rentals, and launch. The marina has snacks, refreshment, tackle and gasoline.
Since the water level was a bit down, cars were going down to the lake bed using unpaved roads.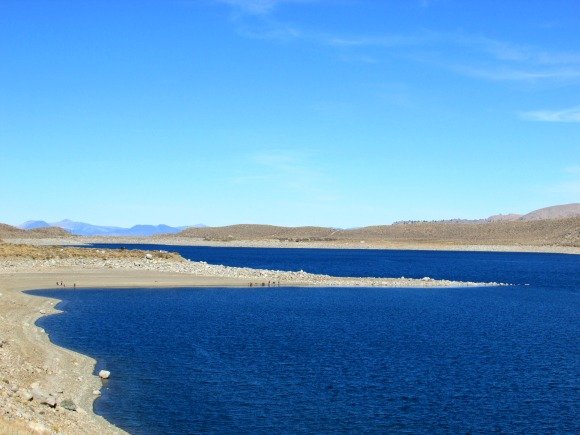 Details
June Lake is located 12 miles south of Lee Vining or 60 miles north of Bishop. It is a 4-5 hours drive from Los Angeles.
The town of June Lake provides services to visitor's. In addition, there are many resorts around the main road.  Restaurants and other facilities can be found in there.
A drive around the loop with plenty of stops can be done in half a day. However, there is no reason to rush your time there.
There are plenty of hiking opportunities in the area. Stop by the visitor's center for more information.
If you are a winter sports fanatic, this is the place to be once the snow starts to fall.
The Eastern Sierra area is abounds with places to see and things to do. You can use June Lake to explore the surrounding area (and even to visit Yosemite).
Have you driven the June Lake Loop?  Which is the most beautiful lake you have visited?
Pin it for later?
Trying to get healthy for that fun trip?  Monica's Health Magazine offers a plethora of fitness, beauty and food related advice.