For those who enjoy outdoor activities, today I present you with the best easy hikes in Los Angeles.
Here in Los Angeles, we are so fortunate to be living in a city surrounded by such natural beauty.  We have beaches, mountains, and deserts.  A lot of these are protected at the county, state, or federal level.  Hence, there is plenty of infrastructure in place to enjoy these amazing areas.
There are close to 1,000 nature trails in close proximity to the City of Angels.  It is not simple to choose from all those.  I have made my best effort to prepare a list of the most awesome easy hiking trails in Los Angeles.
Please note: This article contains affiliate links, meaning I may earn a commission if you make a purchase by clicking a link. Of course this comes as no extra cost to you and helps me to keep offering solid information to readers.
About these Hikes
Let me start the article by saying that I love to walk/hike but I am not an experienced hiker.  
I do not own professional gear, have not done long backpacking trips, and am not in the best of physical shapes.
However, I believe Los Angeles has something for everybody when it comes to walking and hiking.  I have picked these hiking places in LA because I have personally done them.  If I have been able to complete them, a good number of people can complete them too.  
So, whatever your condition, I want to encourage you to go out and tackle one of these Los Angeles hikes. Bring the family or a group of friends.  Remember to take it easy.  There is no reason to rush.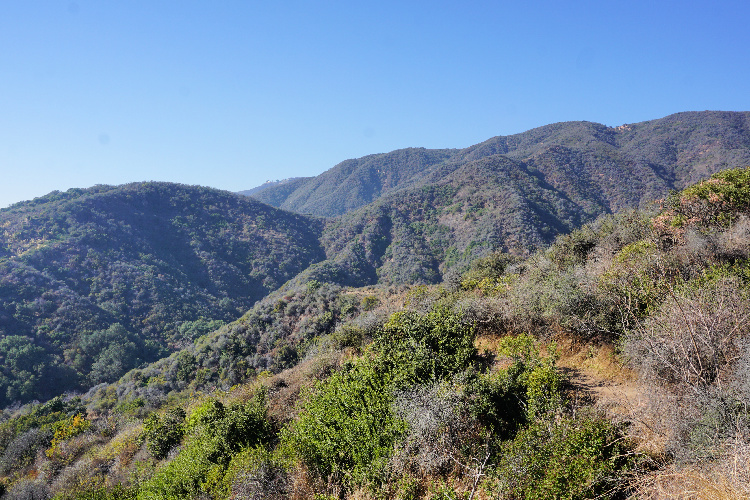 Hiking Gear
Even though this article focuses on easy hikes trails in Los Angeles, I recommend hiking with the proper gear. Here is a sample of the gear I take on my hiking trips.
Hiking Shoes – Wearing the right shoes is essential when hiking.  I recommend investing in a good pair.  Merrell shoes have always been good for my crooked feet.  Not long ago, I was using tennis shoes to hit the trails.  That was until I hurt my left foot.  Since then, hiking shoes have done wonders for me. >Check out my hiking shoes
My husband is more of a fan of the Salomon brand when it comes to hiking.  >Check out Salomon hiking shoes
Hiking Socks – Wool hiking socks provide support, cushion, and prevent blisters. EnerWear sells an excellent 4-pair set for a good price.  >Check them out here
Insoles – Insoles are another way to protect your feet when hiking.  They do a great job absorbing shock.  Walk Hero's insoles have some of the best ratings in the market.   >Get them here
Crossbody Bag – I take the minimum with me when I go on trails.  I keep everything organized in a small Herschel crossbody bag.  >Buy this great crossbody bag here
Day Pack – My husband prefers to take a small backpack to carry drinks and essentials.  >Buy a lightweight, water resistant day pack here
Hiking Poles – Hiking poles are lifesavers on trails with an incline (more if you have wobbly knees). TrailBuddy's trekking poles are such a great help. >Check these hiking poles
Sunblock – Do not leave the house (or the car) without applying sunblock.  I repeat, always wear sunblock when outdoors. >Buy sun block here
Lip Balm with Sunscreen – Protect your lips by applying a balm with sunscreen. >Get one of the best lip balms here
Wide Brim Hat – A wide brim hat is a great way to protect your scalp, face, and neck.  The ones manufactured by FURTALK come with an anti-UV function.  >Buy this amazing hat here
Sunglasses – These are another must when it comes to protecting from the sun.  A polarized, sporty pair works better for hiking. >Take a look at this wonderful pair
Water Bottle – Do not forget to bring water! Keep yours cold by taking a beautiful Hydro Flask water bottle.  >Check out the insane options her
Snacks – It is a good idea to carry snacks such as granola bars, protein bars, trail mix, nut, and jerky
Camera – I have never gotten used to taking pictures exclusively with my phone.  I prefer to use the Sony Alpha a6000.  It is compact and takes gorgeous pictures. >Buy Sony Camera here
Easy Hikes in Los Angeles
Let's get to the fun part of the article.  Below, I have details about each chosen easy hike in the Los Angeles area, including location, distance from Downtown Los Angeles (for reference), special notes, and ideas on where to head after the hikes.  And, I am calling these hikes but some of them are better described as walks.
Eaton Canyon
Location: Altadena, 6 miles from Pasadena
Distance from Downton Los Angeles: 20 miles
There are several trails one can go on in the Canyon, with the most popular being the Waterfall Trail. It is a clearly marked trail, ideal for the whole family and beginners. It is 3.5 miles long (roundtrip) and, at a leisurely pace to take in the scenery, it should take approximately 2 hours to complete. 
Entry is free and booking a day in advance is essential as no same-day walk-ins are permitted. Pets must be on a leash.
There are great views of the San Gabriel and Santa Monica mountains along the way, with the highlight being the beautiful 40-foot waterfall and pool at the end (where one could stop and cool off). 
During spring the landscape becomes ablaze with colorful wildflowers everywhere. The first section is pretty flat and easy, but once you enter the canyon, it gets a little rugged and the scenery spectacular. There will be some boulder hopping and streams to cross, so wear decent hiking shoes and carry an extra pair of socks.
There are several connections to other trails, with the Altadena Crest Trail to the Henninger Flats being a popular option as it offers benches to rest and enjoy stunning views of the city below. 
Parking and bathroom facilities are available at the entrance to the Eaton Canyon Nature Center. 
This trail can become a little crowded during weekends but less on weekdays.  The trailhead is located at 1750 North Altadena Drive Pasadena, and reservations can be made online at https://reservations.lacounty.gov 
Important Note: There are other waterfalls in the canyon but there is not a safe way to reach them.  You may notice people climbing and scrambling to reach these other spots.  Please be safe and limit yourself to the established trails.
Where to Go After the Hike: Old Town Pasadena or Pasadena's Playhouse District
Read More: Hiking to Eaton Canyon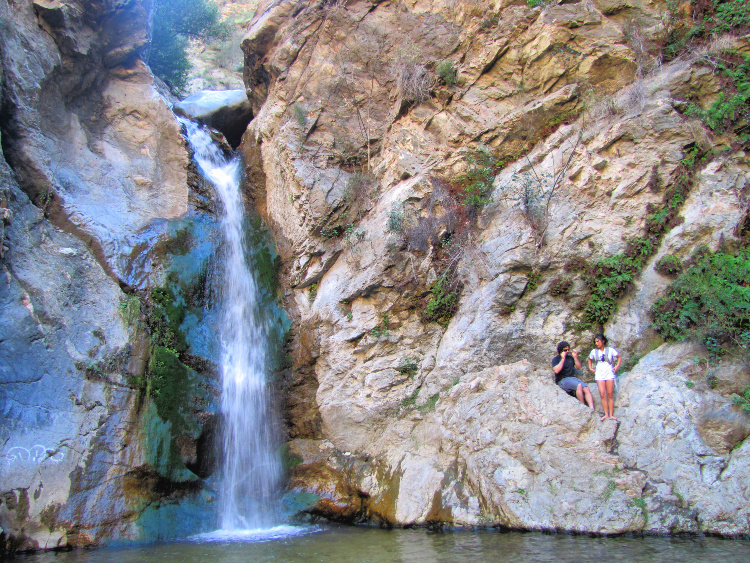 Santa Monica to Venice Beach
Location: Santa Monica, Venice Beach (Neighborhood of Los Angeles)
Distance from Downton Los Angeles: 16 miles
For those who want to stretch their legs and breathe the fresh ocean air, there is no better place to do that than the three-mile stretch from the Santa Monica Pier to Venice Beach and back. This historic pier is a great place to start.
If you can resist the draw of The Pier, head south along The Boardwalk, soaking in the sights and sounds of people having fun along the way. You will pass by "Muscle Beach," where bodybuilders pump iron at the open-air gym, and then by "Chess Beach," where intellectuals battle it out over chess boards embossed onto long picnic tables.
In addition, you will encounter skateboard parks, play areas, volleyball courts, basketball courts, murals, street entertainers, an array of shops, and eateries catering to all cravings. 
Of course, it is the people who add life, color, and vibe to this iconic stretch with spectacular views of the ocean as a background. In no time you will reach Venice Beach, where you could turn back. If you're tired of pounding the pavement, go onto the beach and return along the shore. 
If you're up for it, and you want to turn this into a proper hike, you could continue through The Boardwalk and even along the historic Venice Canals before turning back. There are no shortages of restrooms along the entire beachfront as well as being wheelchair and pet friendly. Dogs must be on a leash. Pay parking is available near the pier and along the entire stretch.
Where to Go After the Walk: Not many people can resist taking a walk on one of the most famous landmarks of the city – the Santa Monica Pier. Here one could easily spend a few hours. Apart from the free entertainment provided by performers and vendors, you can enjoy the amusement park, historic carousel, Ferris Wheel, Route 66 history, aquarium, and uninterrupted views of the famous Californian coastline. Overall, a truly wonderful place for any local or tourist to go on a walkabout. For photographers, the sunsets here are to die for!
Read More: Things to Do in Venice Beach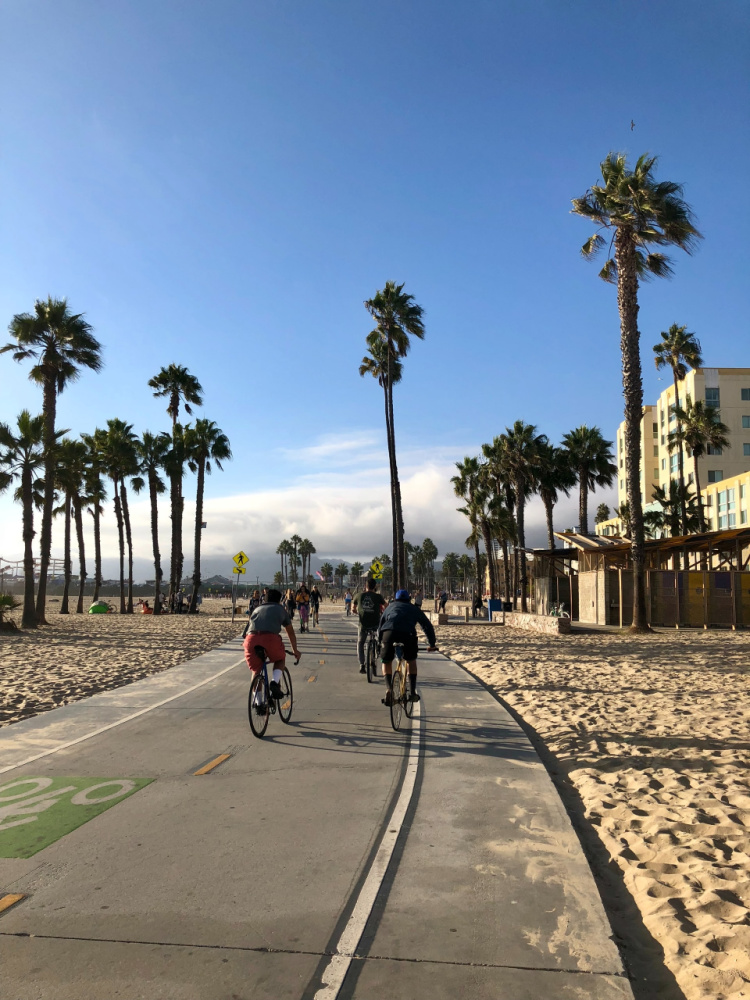 Seascape Trail – Easy Hikes in Los Angeles
Location: Point Vicente Area, Palos Verdes Peninsula
Distance from Downtown Los Angeles: 32 miles
Here is another easy, family-friendly trail with stunning views to take your breath away. Almost the entire trail is on the cliff-edge overlooking the blue Pacific waves crashing against the rugged cliffs of the Palos Verdes Peninsula. There are benches along the way to take in the views of the Point Vicente Lighthouse and Catalina Island.
The trail is approximately two miles long and should take about an hour, in which you can also enjoy the abundant wildlife that thrives here. Pelicans and seagulls constantly fly over your head while resident falcons live and breed here among the cliffs. 
During late winter, thousands of gray whales pass through this stretch.  Members of the American Cetacean Association are usually on-site monitoring the migration (counting whales and dolphins) and answering visitors' questions. Kids will love to spot whales from the cliffs.
The trail starts near the Point Vicente Interpretive Centre, a free museum showcasing the history of the area as well as local marine life facts and a wonderful gift shop. Dogs on a leash are welcome. Ample free parking is available.
Where to Go After the Walk:  You can continue enjoying wonderful sea views at Pelican Cove, Terranea Resort, and Abalone Cove.
If you are interested in learning about where to go in the Palos Verdes Peninsula, I recommend reading my Palos Verdes Hikes and Trails article.
Read More: Point Vicente Interpretative Center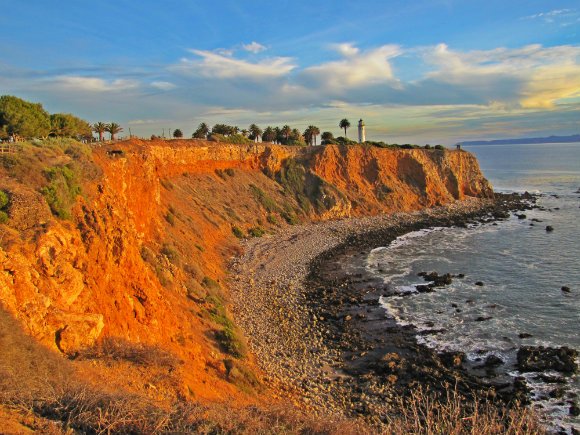 Catalina Trail 
Location: Ocean Trails Reserve, Palos Verdes Peninsula
Distance from Downtown Los Angeles: 29 miles
There are numerous trails available in the Ocean Trails Reserve. The great thing is that they suit everyone's needs/fitness level and offer stunning scenery from beginning to end. In my opinion, this is one of the best hikes around Los Angeles (even though it is kind of a secret).
The Catalina Trail, which runs adjacent to the Trump National Golf Course, is about 4.4 miles long and may take about 1-3 hours to complete. You can also choose to hike only one or two sections, depending on how much ground and what type of terrain you wish to cover.
Take the Sagebrush Trail for the panoramic views of the ocean, or venture inland onto the Gnatcatcher Trail for stunning views of the canyons below. The Catalina Trail, as the name implies, offers breathtaking views of the island across the channel.  I am partial to this trail since it allows you to see a lot and it is super easy.  Plus, you can connect to shorter trails that afford awesome views of the Portuguese Bend Beach.
There are paths leading down to the rocky shores, so wear a decent pair of shoes. 
Now, there are two ways to access the trail.  You can park in the Founder's Park lot.  I recommend this option to those who are more interested in enjoying the views than hiking.  
You can also park in the lot located at the end of La Rotonda Drive. From there, you will take the Lakeview Trail to the Catalina Trail.  Then, you can walk to the Founder's Park area and back to the parking lot.
Restrooms and potable water are available close to both parking lots. A picnic area is located in the Founder's Park.
Where to Go After the Walk: You can explore more of the Palos Verdes Peninsula or head to the San Pedro area.
Read More: Things to Do in San Pedro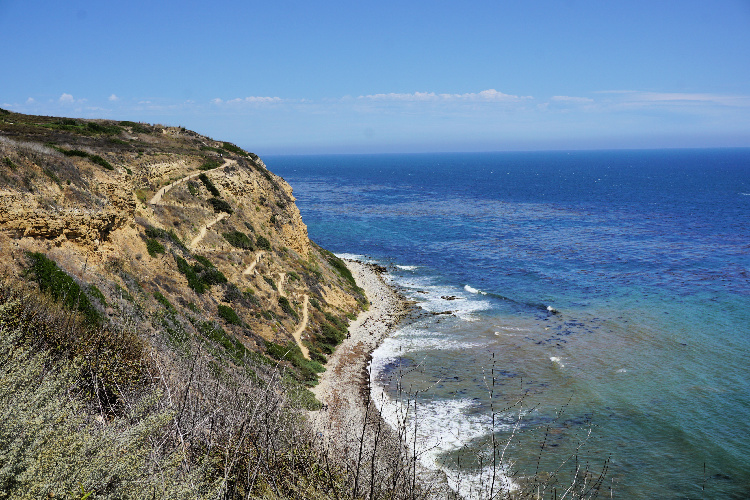 Los Liones Trail – Easy Hikes in Los Angeles
Location: Pacific Palisades
Distance from Downtown Los Angeles: 21 miles
It's no wonder that this is one of the most popular hiking spots in Los Angeles. It offers majestic scenery as well as various trail options and distances for the casual walker and serious hiker. It becomes a little crowded on weekends, but it thins out the further you go. The trailhead is located on Los Liones Drive off Sunset Blvd.
Staying on the Canyon Trail, after 1.3 miles and 550 feet of elevation, you will be rewarded with a bench to rest and magnificent views of the city below and the ocean beyond as far as the eye can see. 
You could return the same way to complete a 2.6-mile course, or if you are looking to break some sweat, press on for another 2 miles to an elevation of 1500 feet to the Parker Mesa Overlook. 
You will then be greeted by even more stunning views of Santa Monica Bay extending south along the Palos Verdes Peninsula and even to Catalina Island on a clear day. A sight to behold!
There are restrooms close to the Parker Mesa Overlook where you could fill your water bottles for the trip down. Having completed seven miles, this hike will give you a proper workout. 
Note: Even though the hike to the first viewpoint mentioned here looks daunting (after all you are hiking to the top of a canyon), the way up is very gradual.  I have done it and it is not bad at all.
Where to Go After the Walk: You can go to the Getty Villa, Will Rogers State Beach, or the Malibu Pier area.
Read More: The Getty Villa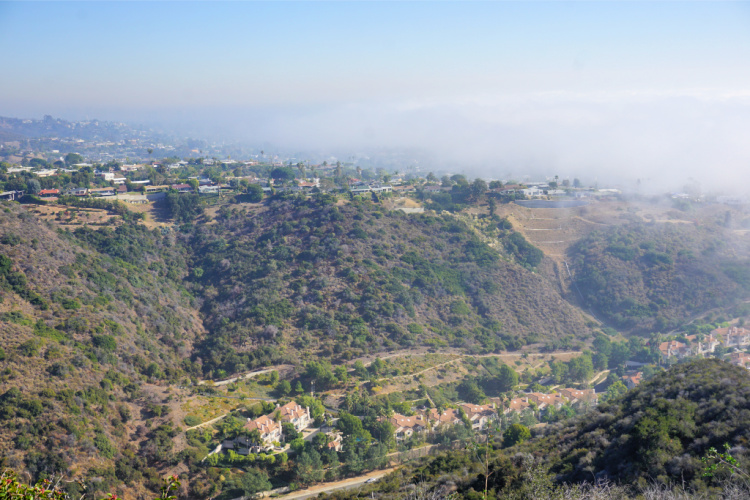 Kenneth Hahn State Recreational Area 
Location: Culver City
Distance from Downtown Los Angeles: 10 miles
If you are looking for something that can offer a little more than just a walk, then this is the place for you. This picturesque park, in the middle of western Los Angeles, has something for the entire family. You can choose from a variety of activities, from a vigorous walk along one of the many trails, or a leisurely stroll with the kids and grandpa.  
There are over seven miles of easy to moderate trails to choose from, with plenty of playgrounds for the kids, shaded picnic areas, a pond, a stream, a Japanese Garden, a waterfall, a fishing lake, and other sporting facilities. There are plenty of restrooms and dogs on leashes are allowed.
From the top of the hill, you get panoramic views of downtown LA with the San Gabriel Mountains as a backdrop. 
The entrance to the park is at 4100 South La Cienega Boulevard.  You can visit for free during the week.  A small entrance fee is charged during the weekend.
Where to Go After the Walk: The nearby Baldwin Overlook is another wonderful place to get 360-degree views of Los Angeles.  You can drive to the top and enjoy the views sweat-free. Or, you can check the scene at Downtown Culver City.
Read More: Things to Do in Culver City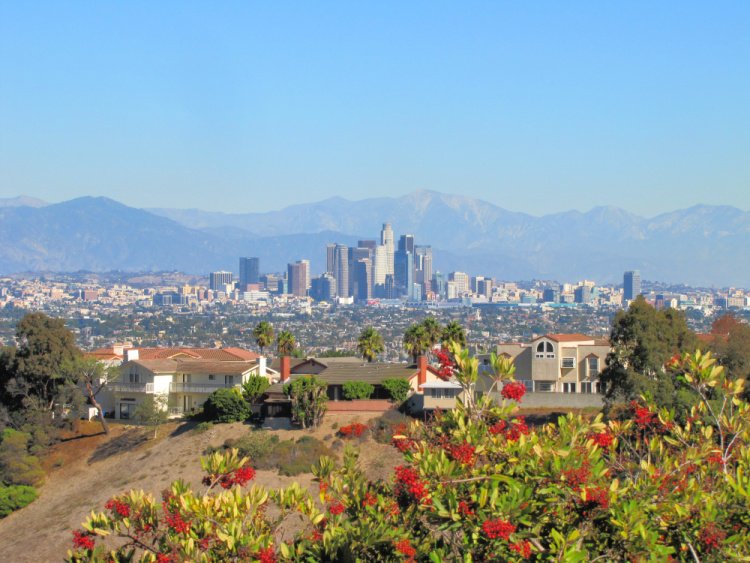 Inspiration Loop Trail 
Location: Will Rogers State Historic Park, Pacific Palisades
Distance from Downtown Los Angeles: 20 miles
Tucked away in the Santa Monica Mountains, this 157 000-acre park has several hiking trails. The 4.2 miles Inspirational Loop Trail is the most popular. It is not a difficult hike but is on a gradual incline for most of the way. 
The highlight of this hike is, as with most hikes around Los Angeles, the scenic views along the whole way. Reaching an altitude of 650 meters above sea level, Inspiration Point offers great views of L.A. and the ocean in the distance. During spring, wildflowers set the landscape alight in a blaze of color, making it a true spectacle for photographers and nature lovers.
Access is free but parking will cost you $3 per hour or $12 per day. Restrooms are only available at the car park, so take enough water and a little snack with you. Dogs on leashes are welcome.
The trailhead is located at 1501 Will Rogers State Park Rd, Pacific Palisades. 
Where to Go After the Walk: Similar to what to do after hiking Los Liones Trail, you can hit Will Rogers State Beach, Topanga State Beach, or the Malibu Pier after this hike.
Read More: Malibu's Pier
Fern Dell Nature Trail to West Observatory Loop 
Location: Griffith Park
Distance from Downtown Los Angeles: 10 miles
Located in Griffith Park, in the Santa Monica Mountains, the Fern Nature Trail is another fairly easy and short hike, suited perfectly for families with toddlers and grandparents too. The lush jungle-like vegetation provides sheltering shade. Although the path is on a gentle incline, the even surface, handrails, and benches along the whole way, make it an enjoyable outing.
Less than a mile from the start is The Trails Café, where you could stop for a drink or a bite before heading back to the trail Or, you could extend your hike by another mile to the Griffith Observatory. This section is a little more challenging with an altitude gain of 550 feet, offering wonderful views of the park and connecting to other trails. All in all, a beautiful setting with hikes that cater to all skills.
Entry is free and dogs on leashes are allowed.
The trailhead address is Fern Dell Drive & Black Oak Drive, Los Angeles. 
Where to Go After the Walk: If you make it all the way to the Observatory, it is a no brainer to enjoy the exhibitions and take plenty of photos of the Hollywood Sign.  Afterward, you may want to hang around the Hollywood Boulevard area.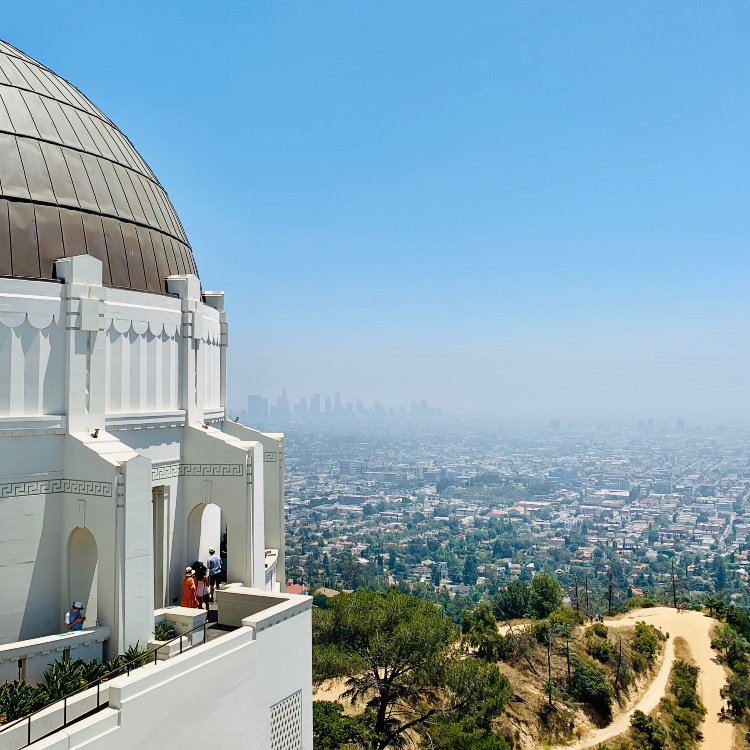 Bronson Caves – Easy Hikes in Los Angeles
Location: Griffith Park
Distance from Downtown Los Angeles: 10 miles
Located at the southwestern section of Griffith Park, a very short and easy trail will lead you to the Bronson Caves, which were made famous by the numerous Hollywood films and television series shot there. 
The desolate and rugged landscape has made it an ideal setting for westerns, science fiction, and movies requiring a bleak and barren backdrop. The main highlight here is the tunnel running through a 100-foot rock wall, known as "The Batcave", which was used in the 1960s Batman and Robin television series. The kids love playing in the caves! 
The second highlight is the fantastic views of the Hollywood Sign from the trail.
This little hike is a must for any movie fanatic or anyone with young kids. Entry is free and dogs on leashes are permitted.
The trailhead address is located at 2950 Canyon Drive, Griffith Park, Los Angeles.
Where to Go After the Walk: Same as above.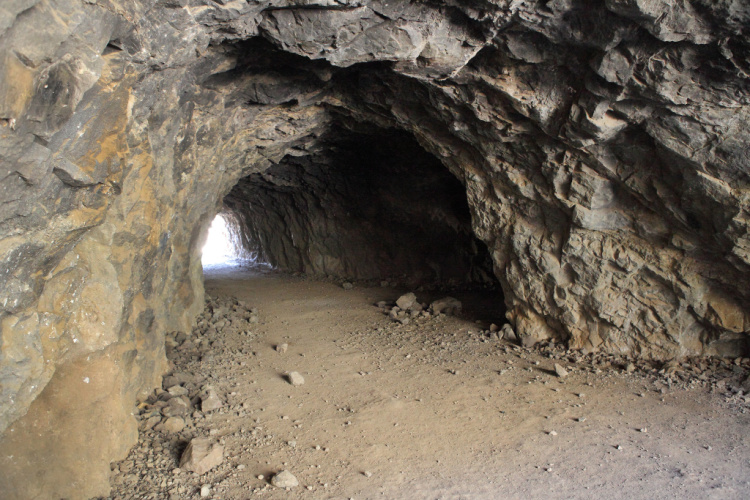 Photo by Steven Miller
Rose Bowl Loop Trail
Location: Pasadena
Distance from Downtown Los Angeles: 12 miles
Not really a hike, but this 3.2-mile circuit around the Rose Bowl Stadium is more suited for walkers, joggers, and cyclists. It can get crowded during weekends, and being so close to the street, it may not be ideal for small kids. There is plenty of parking space, but check out if there any events planned for the day first.
For those that want to avoid the crowds, there is an alternate route that borders the Brookside Golf Country Club and is mostly shaded. Cross West Drive using the crosswalk just north of the stadium and step into the path to begin your walk. Expect some stream-crossing if you visit after a storm.
Where to Go After the Walk: You can visit Old Pasadena, the Playhouse District, The Huntington, or the Norton Simon Museum.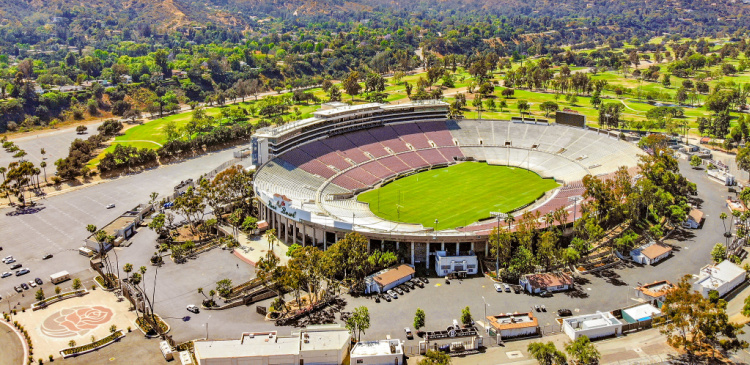 Photo by Ted Eytan
Whittier Narrows Recreation Area
Location: Whittier
Distance from Downtown Los Angeles: 12 miles
Located on both sides of the Pomona Freeway, at Rosemead Boulevard and Santa Anita Avenue, this 1492-acre park is one of the most popular recreation areas of Los Angeles. This is a truly family-oriented venue that offers a piece of tranquillity in the middle of a city and virtually every amenity a family could want.
This is a great place to walk, jog or cycle for miles, without having to head for the hills and mountains. The area has three lakes surrounded by beautiful trees and wildlife, (including turtles, woodpeckers, parakeets, owls, pelicans, ducks, geese, and many other water birds). It is possible to boat and fish too.
There are picnic tables, BBQs, a clay shooting area, a golf course, a military museum,  restrooms, and play areas for the kids throughout the park. Dogs on leashes are welcome and entrance is free. Parking will cost $6 on the weekends.
Where to Go After the Walk: You can head to Uptown Whittier or Downtown Los Angeles.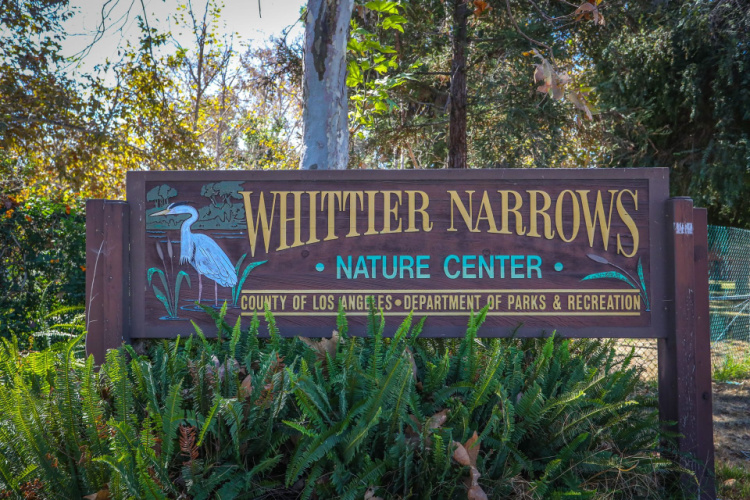 El Dorado Park – Easy Hikes in Los Angeles
Location: Long Beach
Distance from Downtown Los Angeles: 22 miles
This 105-acre park is another little gem if you are looking to escape from the city without having to drive for miles out of town. Situated at 7550 E Spring Street, in the middle of Long Beach, it offers a scenic trail through forested areas. The trail weaves between two lakes and a stream. An abundance of animal and birdlife can be observed at every turn.
The full circuit is about 2.5 miles long, but it is possible to cut the walk short at the halfway mark. There are numerous water fountains and restrooms throughout the trail as well as many picturesque spots beside the lakes to pause and enjoy nature in this little oasis.
The Nature Center inside the park is also a great place for kids to learn about the local fauna and flora. Parking fees vary from $6 to $9 per vehicle. All in all, a fantastic place for any family to spend a day.
Where to Go After the Walk: Long Beach is a big city with many offerings.  After the walk, you can stop by Downtown, the East Village, the Belmont Shore, or the 2nd Street.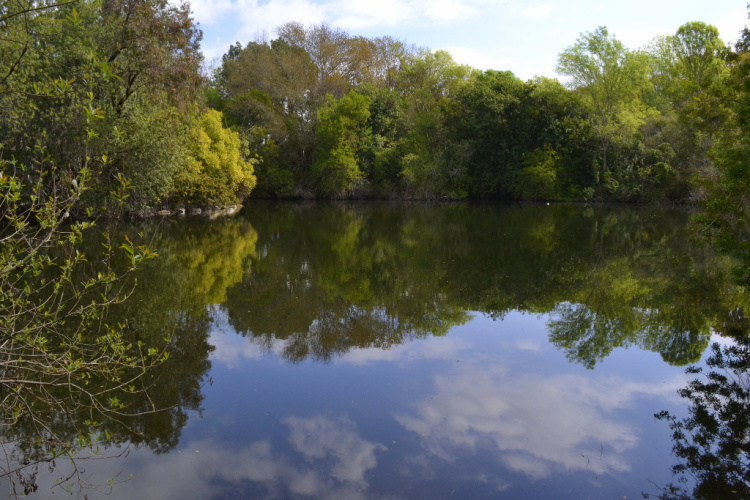 Photo by Tracie Hall
Hiking Tips
Before hitting the trails, take into consideration the following:
It is a good idea to hike with a full stomach.  Believe me, hiking while hungry is not fun.
Take water or an energizing drink with you.  Taking a snack works too.  Also, you should have additional water and something small to eat in the car.
Having proper shoes is essential.  You do not have to spend a fortune on shoes (even though I believe shoes are a good investment) but choose a comfy pair with a non-slippery sole.
Go protected for the harsh sun (sunglasses, hat, cap, long sleeves)
Follow the rules.  Do not put yourself in danger.  Do not damage the environment.
Pack your trash
Do not hike if the temperature is over 100 degrees Fahrenheit.  I will reconsider hiking if the temperature is between 90 – 99 degrees.
Hope you have plenty of easy hikes in Los Angeles to choose from! Now, it is time to go hiking!
More of Los Angeles
Los Angeles Ultimate Bucket List
The Best of Los Angeles in one day
Los Angeles itinerary: 2, 3 or 4 Days
More of Southern California
Ultimate San Diego Bucket List
150+ Places to Go in Orange County
200+ Places to Visit in Santa Barbara
What easy hikes in Los Angeles do you recommend?
Pin "Best Easy Hikes in Los Angeles" for later!