For those who enjoy outdoor activities, today I present you with the best easy hikes in Orange County.
With the sheer amount of breath-taking landscapes and amazing parks, getting out in Southern California is more than a pleasant experience.
Hiking in Orange Country is simply amazing, from easy flat trails to sloppy mountain hikes, and scenic viewpoints, you have a plethora of options to break the monotonous city life.
Whether you're hiking alone or hanging with family and friends, I have compiled a list of what I consider some of the best easy hiking trails in Orange County.
Please note: This article contains affiliate links, meaning I may earn a commission if you make a purchase by clicking a link. Of course, this comes at no extra cost to you and helps me to keep offering solid information to readers.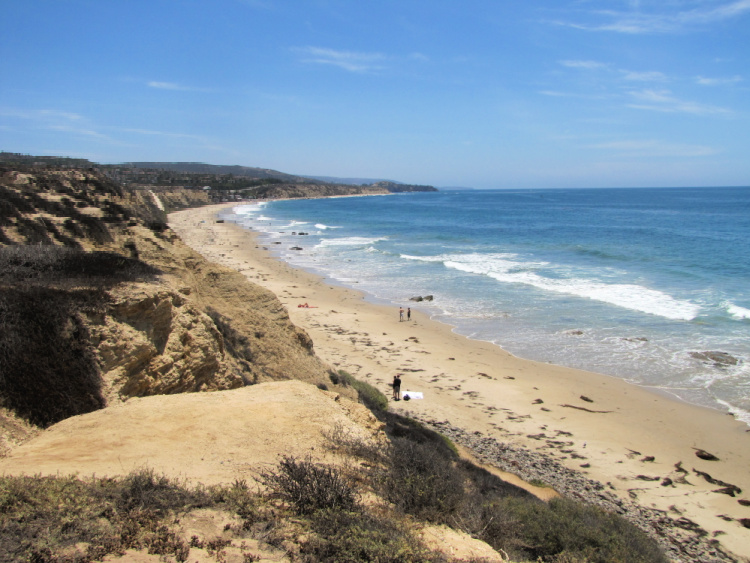 About These Hikes
Let me start the article by saying that I love to walk/hike but I am not an experienced hiker.
I do not own professional gear, have not done long backpacking trips, and am not in the best of physical shapes.
However, I believe Orange County has something for everybody when it comes to walking and hiking. I have picked these hikes because I have personally done them. If I have been able to complete them, a good number of people can complete them too.
So, whatever your condition, I want to encourage you to go out and tackle one of these Orange County hikes. Bring the family or a group of friends. Remember to take it easy. There is no reason to rush.
Important Notes: I recommend checking OC hiking trails status before heading to a particular place. Trails can get closed due to weather conditions (rain, fire) or other causes (mountain lion activity).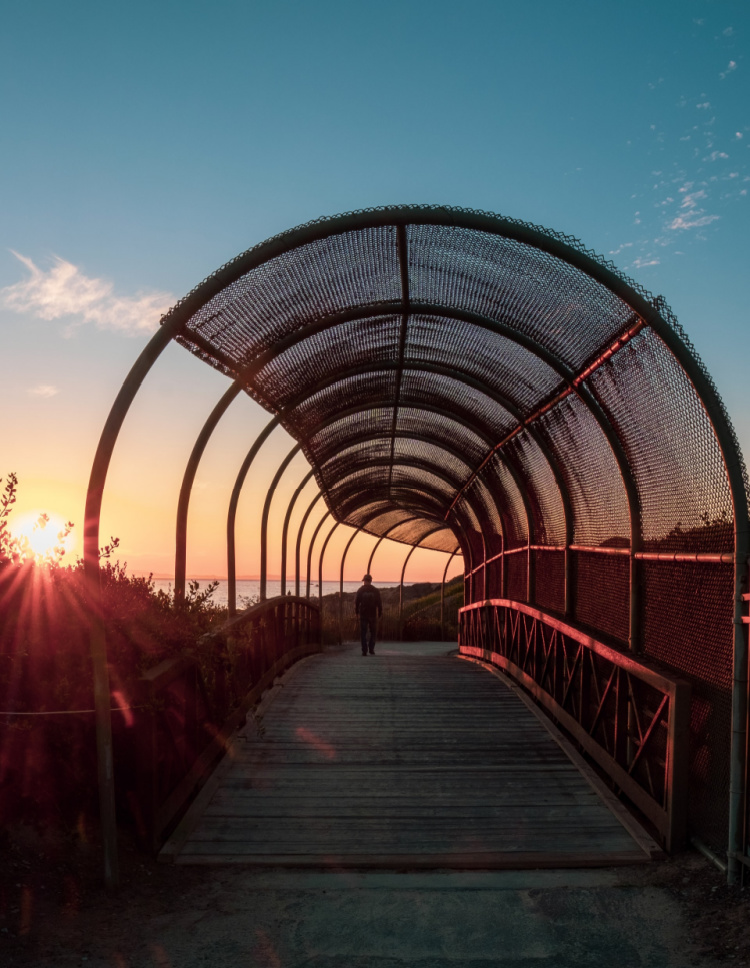 Hiking Gear
Here are some suggestions on how to get ready to tackle the different hiking trails in Orange County.
Hiking Shoes – Wearing the right shoes is essential when hiking. I recommend investing in a good pair. Merrell shoes have always been good for my crooked feet. Not long ago, I was using tennis shoes to hit the trails. That was until I hurt my left foot. Since then, hiking shoes have done wonders for me. >Check out my hiking shoes
My husband is more of a fan of the Salomon brand when it comes to hiking. >Check out Salomon hiking shoes
Hiking Socks – Wool hiking socks provide support, cushion, and prevent blisters. EnerWear sells an excellent 4-pair set for a good price. >Check them out here
Insoles – Insoles are another way to protect your feet when hiking. They do a great job absorbing shock. Walk Hero's insoles have some of the best ratings in the market. >Get them here
Crossbody Bag – I take the minimum with me when I go on trails. I keep everything organized in a small Herschel crossbody bag. >Buy this great crossbody bag here
Day Pack – My husband prefers to take a small backpack to carry drinks and essentials. >Buy a lightweight, water resistant day pack here
Hiking Poles – Hiking poles are lifesavers on trails with an incline (more if you have wobbly knees). TrailBuddy's trekking poles are such a great help. >Check these hiking poles
Sun Block – Do not leave the house (or the car) without applying sunblock. I repeat, always wear sunblock when outdoors. >Buy sun block here
Lip Balm with Sunscreen – Protect your lips by applying a balm with sunscreen. >Get one of the best lip balms here
Wide Brim Hat – A wide brim hat is a great way to protect your scalp, face, and neck. The ones manufactured by FURTALK come with an anti-UV function. >Buy this amazing hat here
Sunglasses – These are another must when it comes to protecting from the sun. A polarized, sporty pair works better for hiking. >Take a look at this wonderful pair
Water Bottle – Do not forget to bring water! Keep yours cold by taking a beautiful Hydro Flask water bottle. >Check out the insane options her
Snacks – It is a good idea to carry snacks such as granola bars, protein bars, trail mix, nut, and jerky
Camera – I have never gotten used to taking pictures exclusively with my phone. I prefer to use the Sony Alpha a6000. It is compact and takes gorgeous pictures. >Buy Sony Camera here
Easy Hikes in Orange County
Let's get to the fun part of the article. Below, I have details about each chosen hike including location, distance from Downtown Anaheim (for reference), special notes, and ideas on where to head after the hikes. And, I am calling these hikes but some of them are better described as walks.
The focus of this article is easy trails but I will provide info about moderate and/or difficult trails in the places described below.
Oh, and there are so many hiking trails in Orange County! It was difficult to determine which ones to include in the article. If I do not cover your favorite OC hike, let me know in the comments section below.
Santiago Oaks Regional Park
Location: Orange (Yes, there is a city called Orange in Orange County)
Distance from Anaheim: 13 miles
The Santiago Oaks Regional Park sits on a vast 1269-acre swath of land. This beautiful landscape provides a refreshing escape from the noisy city life. It's actually a whole new world with an abundance of wildlife and mature forest including shady groves.
The Santiago Oaks Regional Park is a preferred destination for those who genuinely love nature. It's a powerful magnet for hikers, bikers, and horse riders, thanks to the gorgeous vistas, a creek that gently curves through the wooded areas, and interconnecting foot-trails.
Easy trails include the Arizona Crossing Trail (0.04-mile), Bobcat Meadow Trail (0.28-mile), Lady Bug Trail (0.04-mile), Pony Trail (0.17-mile), Rinker Grove Trail (0.31-mile), Sour Grass Trail (0.09-mile), Towhee Trail (0.08-mile), Wilderness Trail (0.48-mile), Willows Trail (0.85-mile) and Winders Trail (0.19-mile). All of these trails are multi-use.
The Historic Dam Trail is considered easy as well but only people on foot are allowed.
The park has moderate and difficult trails for those who want to take things to a different level. In addition, you can connect to the Anaheim Hills Trail System.
Park's maps can be obtained onsite or online. Make sure to visit the nature center to learn about the area's history, fauna, and flora.
Parking is $3 fee on weekdays and $5 on weekends.
Where to Go After the Hike: Downtown Orange or Downtown Disney (free)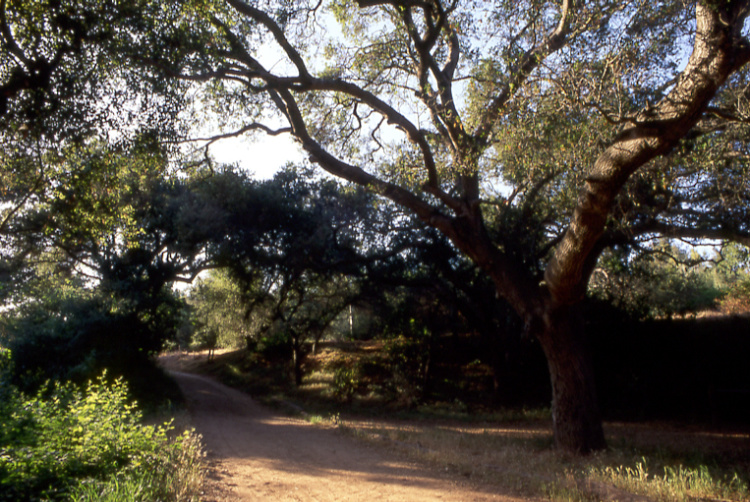 Photo by OCParks_CA
Peters Canyon Regional Park
Location: Orange
Distance from Anaheim: 15 miles
The Peters Canyon Regional Park comprises 340-acres of grasslands, marsh, and coastal sage scrub. Since within the park limits you can find the Upper Peters Canyon Reservoir, it is easy to observe different species of birds all year round.
One of the main attractions in the park (and on the OC trails system) is the Lake Valley Loop, a 2.5-miles, easy trail offering panoramic views of the reservoir. From the Lake Valley Loop, you can connect to the East Ridge View Trail and the Peters Canyon Trail and basically loop around the entire park. Keep in mind the East Ridge View Trail has a difficult rating.
These trails are multi-use, meaning that hikers, bikers, and horse riders are welcome.
Where to Go After the Hike: Downtown Orange or Downtown Disney (free)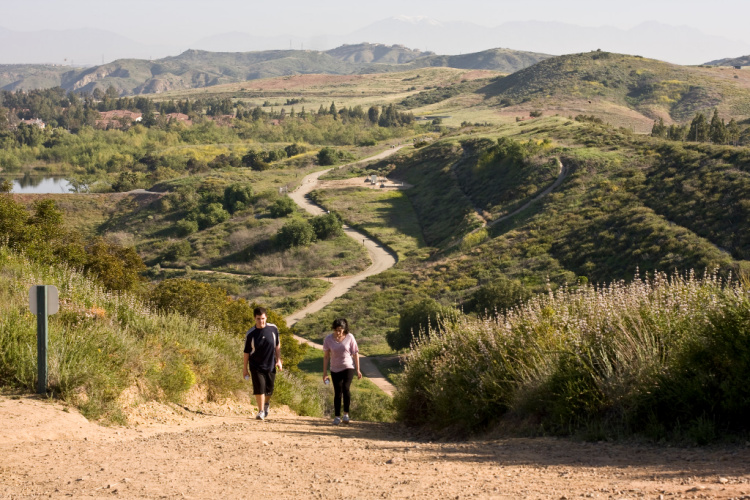 Photo by Tony Nungaray
Bolsa Chica Ecological Reserve
Location: Huntington Beach (technically this reserve is located in state land and does not fall within the limits of the City of Huntington Beach)
Distance from Anaheim: 24 miles
If your favorite pastimes include bird watching and photography, then the Bolsa Chica Ecological Reserve is the ideal relaxation place for you.
The Reserve, protecting freshwater and saltwater marsh, sits on 1300+ acres of land and it is home to over 200 bird species. It is a favorite spot for migratory birds. This wildlife-dense wetland is located just a few miles from Downtown Huntington Beach. Believe me when I say this is a great family destination.
It features a 4.5-mile network of trails. The reserve can be accessed from the Pacific Coast Highway. The exact address is 18000 CA-1. If you enter the name of the reserve or the exact address on a GPS, you will be taken to a parking lot from where you can start to walk the 1.5 mile Loop Trail (or Inner Bay Loop Trail). From this trail, you can extend your walk by connecting to other trails.
A second entry point is through the Bolsa Chica Conservancy Building or Interpretative Center (3842 Warner Avenue). You can learn all about the flora, and fauna of this coastal wetland. Then, you can explore the area by hitting the Mesa Trail. It is about 0.6 miles (one way) to the Mesa Trail Overlook. From the Overlook, you can continue to walk around the Bolsa Pocket or connect to the Loop Trail.
Dogs are not allowed on the trails.
Where to Go After the Hike: Bolsa Chica State Beach, Sunset Beach, or Downtown Huntington (to check out the pier, museums, eateries, or Pacific City).
Read More: Bolsa Chica Ecological Reserve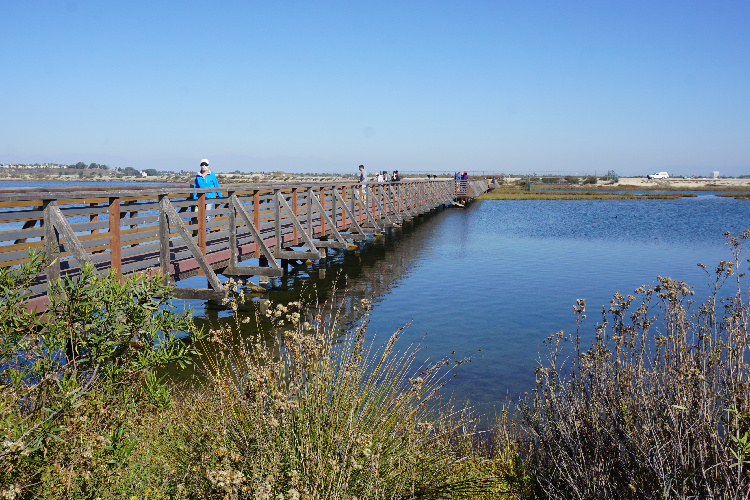 Badlands Park – Hiking Orange County
Location: Laguna Niguel
Distance from Anaheim: 30 miles
Talking about beginner hikes in Orange County, we cannot forget to mention the Badlands Park Trail (some people may call this trail the Seaview Trail because of a nearby park and trail).
It will take you just about 45 minutes to complete this scenic loop that snakes behind a residential area and affords breathtaking views of the southern Laguna Beach coast and Dana Point.
The trailhead can be found at 31671 Isle Vista. The 2.3-mile trail (roundtrip) is very easy to walk and offers ocean views along the way. The trail is heavily trafficked, so expect to have others around. Try to hike during the week to avoid crowds.
Furry friends are welcome on the trail but must be kept on a leash.
Where to Go After the Hike: Treasure Island Park (one of the most gorgeous places in Laguna Beach), Aliso Beach, or Salt Creek Beach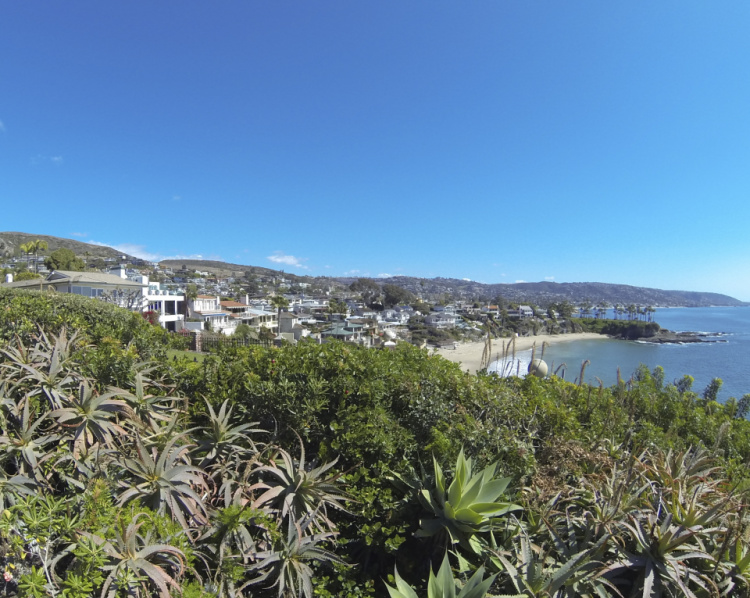 Back Bay Loop
Location: Newport Beach
Distance from Anaheim: 18 miles
Upper Newport Bay is a great place for nature and bird lovers. It attracts over 35,000 migratory birds during winter, and it's home to 6 endangered bird species. Moreover, the Bay offers access to bluff vistas, scenic spots, and several educational facilities.
The Newport Back Bay Loop, a 10.5 miles long trail, allows visitors to experience this ecosystem. Before you start screaming, no, I am not suggesting you complete this loop in one sitting.
There are multiple entry points. You can complete different sections at different times. Actually, this is what makes the Back Loop one of the top hiking trails in Orange County. You can walk it 3 or 4 times and see something new on every occasion.
The park is completely free and dogs are allowed.
The Back Bay Loop connects to the Mountain to the Sea Trail. You can walk from here to Peters Canyon Regional Park.
Where to Go After the Hike: Balboa Peninsula, Balboa Island, Fashion Island, or Corona del Mar
Read More: One Day in Coastal Newport Beach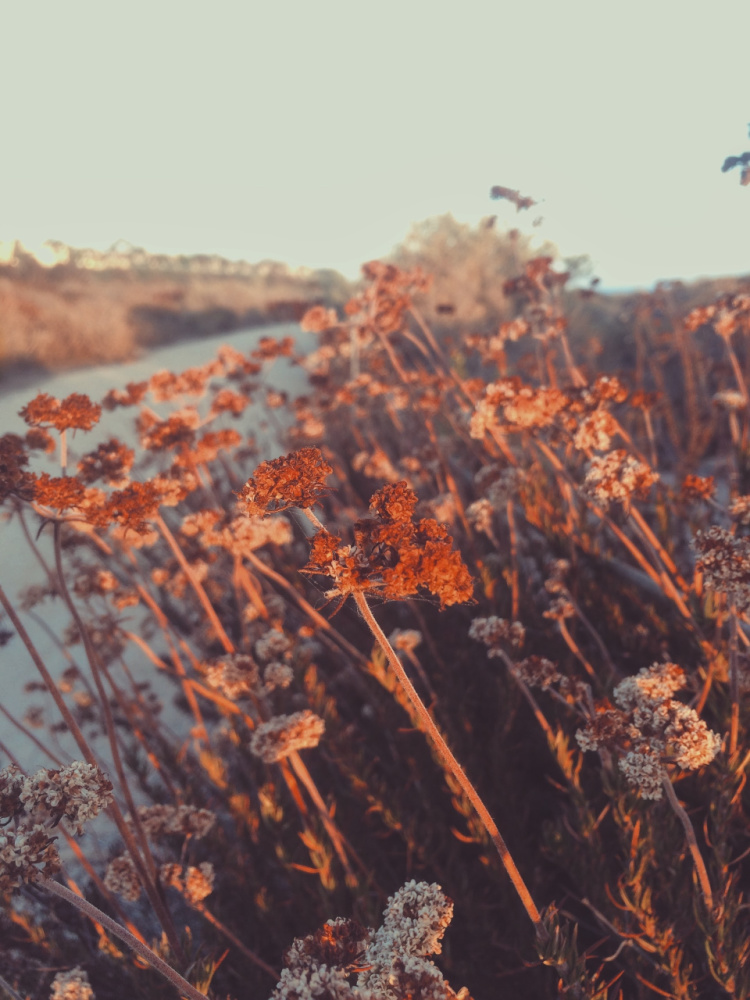 Red Rock Canyon in Whiting Ranch Wilderness Park
Location: Trabuco Canyon
Distance from Anaheim: 30 miles
This is one of the most unique walks on the list.
Within the Whiting Ranch Wilderness Park, there is an area containing red rock formations. I know these are not necessarily associated with California but we have some.
From the parking lot off Market Place Street (keep in mind there are several parking lots in the park), take the Borrego Canyon Trail (about 1 mile) and connect to the Red Rock Canyon Trail (you have to pass through Mustard Road).
Even though most people visit the park to see the red rocks, there are about 17 miles of trail within the property. There are other easy trails that can be started from the Glenn Ranch Road parking lot.
Where to Go After the Hike: Irvine or Laguna Beach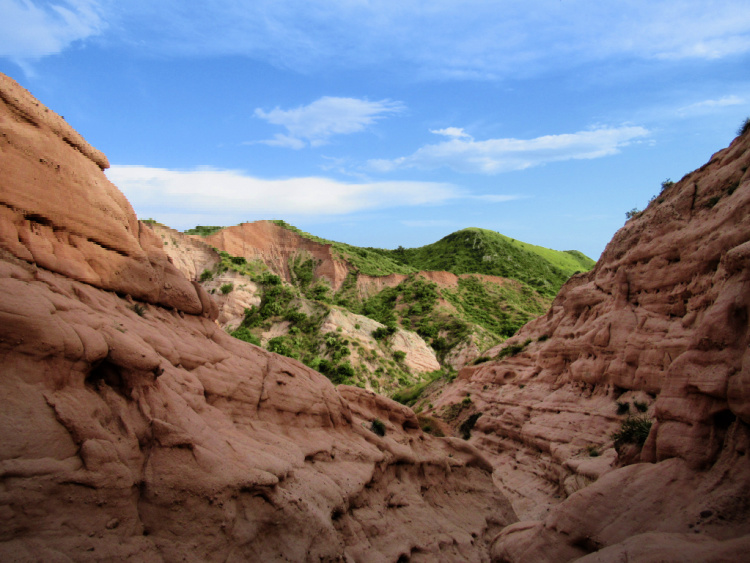 Photo by Carl Glover
Bluff Trail at Crystal Cove State Park
Location: Newport Beach and Laguna Beach
Distance from Anaheim: 24 miles
Crystal Cove State Park is huge (3,936 acres). The park comprises 3.2 miles of beach (in a natural state) where sunbathing, swimming, surfing, diving, and tide pooling are permitted. In addition, there are 2,400 undeveloped acres of land ideal for backcountry hiking and primitive camping.
This is my top pick on this list. If you can only visit one hiking area in Orange County, make it Crystal Coast. I am convinced this is one of the most beautiful parks in California.
The 3-mile Bluff Trail hugs the coast and offers crazy beautiful views of the Pacific Ocean. There are multiple entry points to the trail. You do not have to walk the 3 miles if you do not want to. The entire trail is unshaded, so may want to take your sunscreen along with a bottle of water and probably a hat too.
After hiking, make sure to check the beach cottages at the Crystal Cove Historic District, the tide pools, and the shakes prepared at Ruby's Shake Shack (because we all need a shake after hiking).
The park deserves the entire day (or most of the day). Make arrangements accordingly.
Where to Go After the Hike: I recommend enjoying the park for the day. If you want to keep exploring the area, you can stop by Corona del Mar, the Balboa Peninsula or Heisler Park in Laguna Beach (another top pick).
Read More: Crystal Cove State Park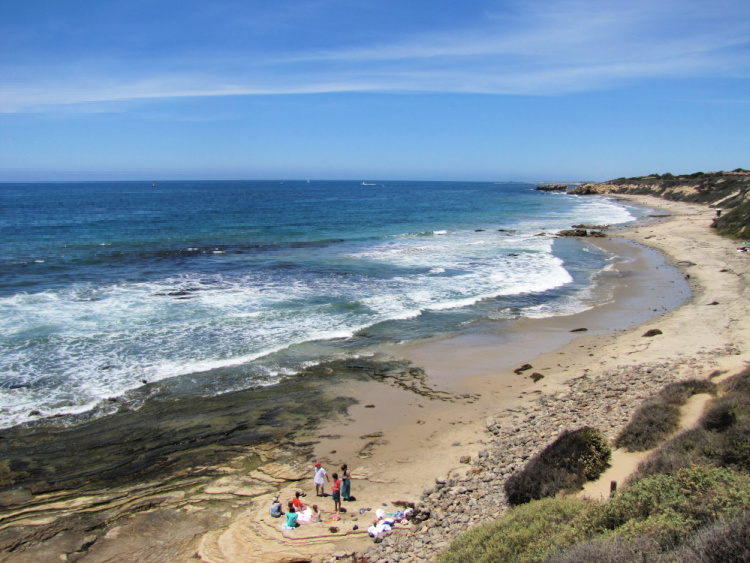 Buck Gully Reserve – Orange County Hikes
Location: Newport Beach
Distance from Anaheim: 22 miles
The Buck Gully Reserve can be seen as a long green belt located in the seaside neighborhood of Corona del Mar. The Reserve is completely surrounded by residences. The trailhead can be found at 872 Poppy Avenue. Park on the street.
The Bulk Gully Trail is about 5.2 miles long. It is a fairly easy trail with just enough incline for a good workout.
Be ready to spot wildflowers, insects, birds, and small mammals. For a little more challenge, you can try the shorter but steeper Bobcat Trail. Dogs are not allowed, but you can have a good outdoor time with your kids.
There are no facilities onsite. Bring enough water and have a bathroom break before heading to the trailhead.
Read More: Little Corona del Mar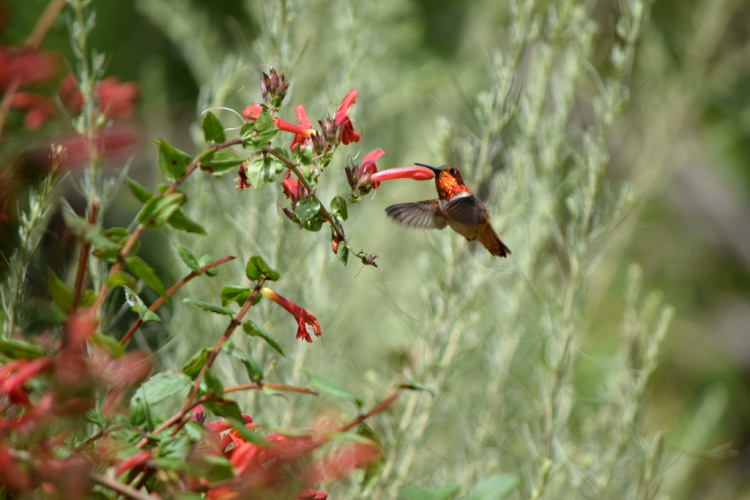 Photo by Tracie Hall
Carbon Canyon Regional Park
Location: Brea
Distance from Anaheim: 12 miles
Carbon Canyon Regional Park is a favorite among locals because of its lake, fishing piers, sporting facilities, grassy fields ideal for picnics, and scenic trails.
The showstopper in the park is the 3-acre Redwood Groove (the only one in Orange County). This area is accessed through the 1.1-mile Redwood Trail. Do not miss the redwoods if you visit!
Other easy trails in the park include the Carbon Canyon Creek Nature Trail and the Bell's Vireo Trail. In total, there are about 2.5 miles to enjoy.
Other amenities include volleyball courts, tennis courts, playgrounds, paved biking paths, baseball fields, horseshoe pits, a native garden, and picnic pavilions.
The parking fee is $3 on weekdays and $5 on weekends.
Where to Go After the Hike: There is enough to do in this park for an entire day. There are more hiking opportunities at the adjacent Chino Hills State Park.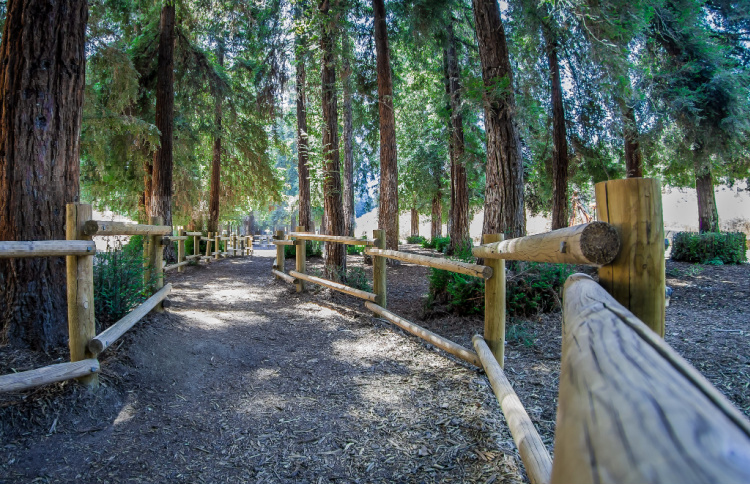 Photo by Ron Reiring
Quail Hill Trail – Orange County Trails
Location: Irvine
Distance from Anaheim: 20 miles
Quail Hill Trail is a 2-mile loop hike located at the Irvine Open Space Preserve. This trail is easy enough for beginners and offers a relaxing walk through native grassland. It has a slight incline which is simple to tackle by kids, bikers, and joggers.
The trailhead is located at 34 Shady Canyon Drive. Free parking is available at this spot.
Other trails in the Irvine Open Space Preserve include the Bommer Meadow Trail, Nature Loop Trail, and Bommer Pass Trail. The Quail Hill and Bommer Canyon trailheads are connected by the Shady Canyon Bikeway. You can drive between the two areas (since there are about 3 miles between them).
Also, it is possible to connect to trails in the Laguna Coast Wilderness Park.
Where to Go After the Hike: Irvine, Newport Beach, or Laguna Beach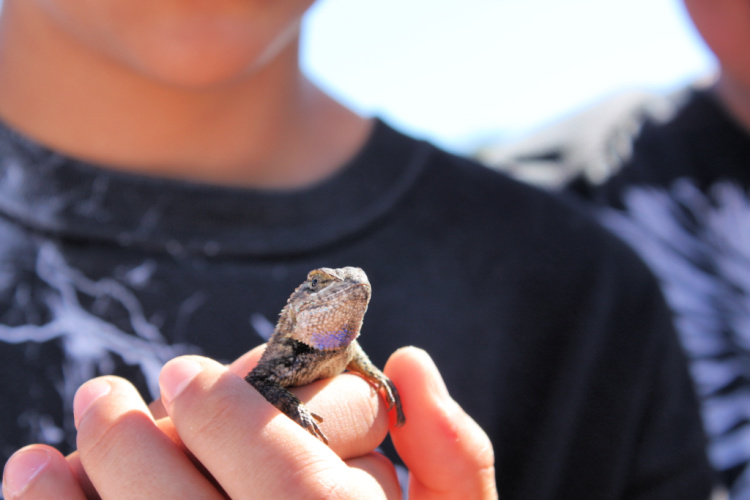 Top of the World – Hikes in Orange County
Location: Laguna Beach
Distance from Anaheim: 30 miles
As the name implies, the Top of the World Trail leads to panoramic views of the Pacific Ocean, hills, canyons, Catalina Island, and even Mt Baldy.
The trailhead can be found at 580 Canyon Acres Drive. Park on the street. Let me warn you this is a steep trail leading up (about 1 mile, 2.4 miles round trip).
Now, I have included this trail here because you can "cheat" to make it to the top. All you have to do is drive to Alta Laguna Park. From there, you can access the trail (from the top) and walk as much as you want. Just keep in mind that the longer you go down, the harder is going to be to go back to the top.
You may have to bring some water, a hat, a hiking pole, and sunscreen. From here, you can connect to the West Ridge Trail (Moderate) and Dripping Cave Trail (Moderate).
Where to Go After the Hike: Heisler Park or Treasure Island Park for incredible coastal views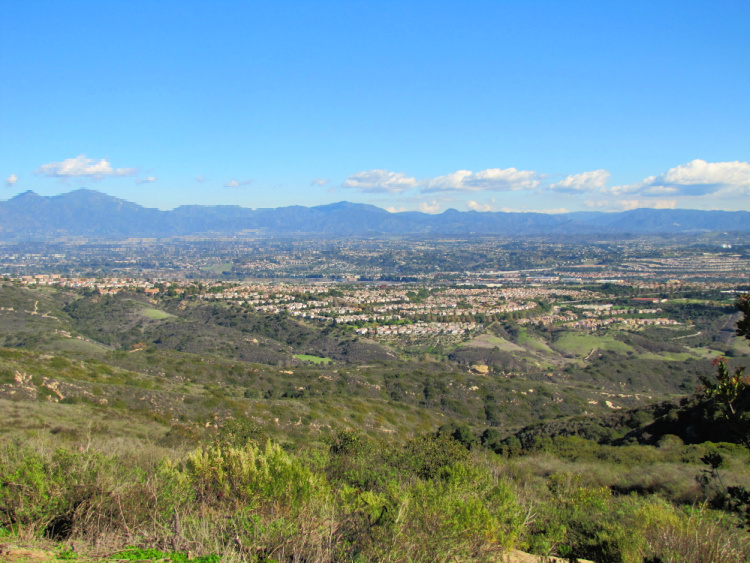 Ronald W. Caspers Regional Park
Location: San Juan Capistrano
Distance from Anaheim: 40 miles
Ronald W. Caspers Regional Park protects 8,000 acres of coastal oaks, sycamores, grassland, streams, and valleys.
Easy trails include the West Ridge Trail (2.27-miles), Juaneno Trail (2.68-miles), and Mesa Loop Trail (1-mile). As you can see, there are plenty of options when it comes to family-friendly hikes.
The options become even more varied when you take into consideration the moderate and difficult trails in the park. A map can be found online or onsite.
If camping is your thing, you can try to secure a spot in the park. This is one of the rare places where you can camp inland in Orange County (I am referring to public facilities). An equestrian campground is available as well.
Where to Go After the Hike: Mission San Juan Capistrano and/or Old Town San Juan Capistrano
Read More: Things to Do in San Juan Capistrano
Camping in Southern California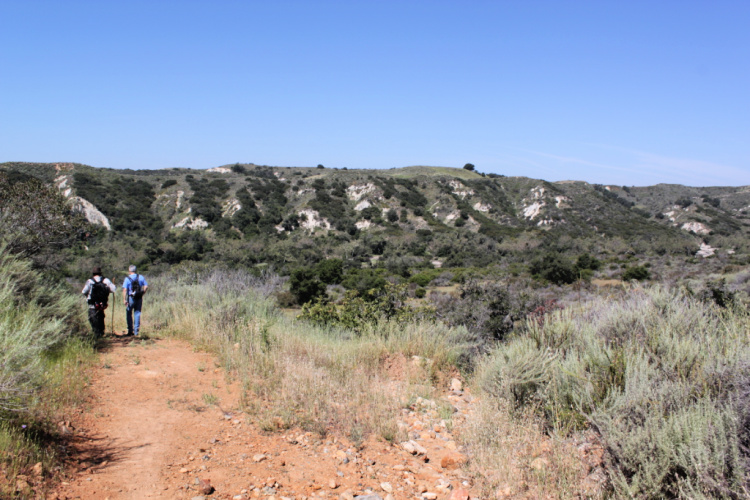 Dana Point Headlands
The Dana Headland can be seen for miles. Therefore, it makes total sense to explore this natural landmark.
The Dana Point Preserve, the actual land above the headland or promontory, is part of the Headlands Conservation Area Trail System. The trail around the preserve is one mile long. There are several viewpoints along the way. You can access the trail by parking at the Nature Interpretive Center.
Now, you can connect to other parks in the trail system. For example, the loop connecting the Dana Point Preserve, Harbor Point Conservation Park, and Hilltop Conservation Park is 1.5 miles long and rated moderate.
A 2.5 miles loop (rated moderate too) goes through all the places mentioned above plus the Strand Vista Park, Strands Beach, and South Strand Conservation Park.
As you can see, there are many options when it comes to this area.
This is another of my top recommendations when it comes to Orange County Hikes. I am so in love with Dana Point!
Where to Go After the Hike: Strands Beach, Salt Creek Beach, the Harbor (for water activities, sailing, whale watching cruises, eating, and shopping), or Doheny State Beach
Read More: Things to Do in Dana Point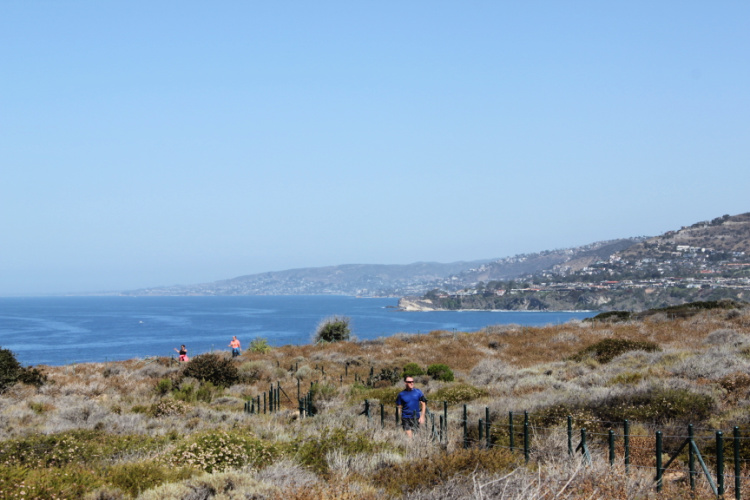 San Clemente Beach Trail
The Beach Trail is one of my favorite walks in Orange County In my opinion, this is one of the best coastal walks in Southern California. From the trail, you can see the Dana Point Headland, San Mateo Point, and the north shoreline of San Diego County.
This 2.3 miles (one-way) easy trail goes from North Beach to Calafia. Here are some ideas on how to tackle this OC trail:
Park at North Beach and walk all the way to Calafia. You can stop in the Downtown/Pier area for a break. This is a 4.6 miles round trip walk
Park at North Beach and walk to the Pier (1 mile, one way)
Park at Calafia and walk to the Pier (1.3 miles, one way)
Park at one of the Pier lots and walk north or south
Where to Go After the Hike: Downtown San Clemente, Trestles, San Onofre, or San Juan Capistrano
Read More: Things to Do in San Clemente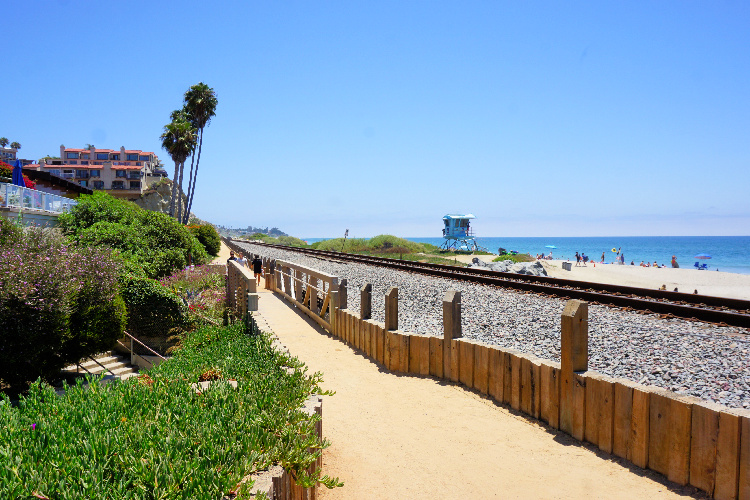 It has been incredible to share with you some of the best hikes in Orange County.  Happy hiking!
Travel Planning Resources
Plane Tickets: Travel aggregators like Kayak, Skyscanner, CheapOAir, and Momondo save you money by extracting the best route prices from different airlines. You can also use these to see what places have the most affordable flight prices for a particular date.
Book a Hotel: Booking.com is my go-to place to book accommodations. It is hard to beat them when it comes to prices. Plus, once you achieve the Genius level, you will be entitled to discounts. HotelsCombined is another great alternative (if you want to compare prices).
Vacation Homes: Vrbo allows you to book houses, condos, cottages, and cabins.
Rental Cars: Booking.com works well for car rentals. Holiday Autos is good too. This website has given me the best last-minute or high season prices.
Short-Term Car Rentals: Zipcar, a car-sharing service, allows you to rent a car for a period of minutes, hours, or day. After renting with an app, you proceed to pick up the car in a designated spot. In this way, you avoid going to a rental office and filling tons of paperwork.
Airport Parking: Airport Parking Reservations allows you to find the parking lot with the lowest price. Park Sleep Fly specializes in packages including hotel (the day before or after the trip), parking, and shuttle to the airport.
Insurance: Travelex offers policies covering trip cancellation/interruption, medical assistance, evacuation, and 24/7 assistance. They tend to pay claims faster than the industry standard.
Day Tours: GetYourGuide has an extensive offering of day tours or day trips. As an independent traveler, I book day tours to get insight into a destination or do fun activities.
Sightseeing Discounts: If you want to check out a city or area's hottest attraction, you can save some money with the CityPass, Sightseeing Pass, or City Sightseeing.
What are your favorite hikes in Orange County?
Pin for later!