For those who enjoy outdoor activities, today I present you with the best easy hikes in San Diego.
California is the home to fascinating beaches, incredible coastlines, majestic mountains, expansive deserts, and an almost endless list of tourist attractions. 
An impressive amount of these breathtaking landscapes and destinations can be found in San Diego County.
From the amazing sunsets to the expansive city life to incredible views from the top of a mountain, be prepared for an awestruck moment. And, a lot of those moments will come while hiking.
Here are the best hikes in San Diego!
Please note: This article contains affiliate links, meaning I may earn a commission if you make a purchase by clicking a link. Of course, this comes at no extra cost to you and helps me to keep offering solid information to readers.
About Hiking San Diego
Let me start the article by saying that I love to walk/hike but I am not an experienced hiker.  
I do not own professional gear, have not done long backpacking trips, and am not in the best of physical shapes.
However, I believe San Diego has something for everybody when it comes to walking and hiking.  I have picked these hikes because I have personally done them.  If I have been able to complete them, a good number of people can complete them too.  
So, whatever your condition, I want to encourage you to go out and tackle one of these San Diego hikes. Bring the family or a group of friends.  Remember to take it easy.  There is no reason to rush.
Important Notes: I recommend checking trail status before heading to a particular place.  San Diego trails can get closed due to weather conditions (rain, fire) or other causes (mountain lion activity).
Hiking Gear
If you are hiking around San Diego, I recommend taking into consideration the following gear.
Hiking Shoes – Wearing the right shoes is essential when hiking.  I recommend investing in a good pair.  Merrell shoes have always been good for my crooked feet.  Not long ago, I was using tennis shoes to hit the trails.  That was until I hurt my left foot.  Since then, hiking shoes have done wonders for me. >Check out my hiking shoes
My husband is more of a fan of the Salomon brand when it comes to hiking.  >Check out Salomon hiking shoes
Hiking Socks – Wool hiking socks provide support, cushion, and prevent blisters. EnerWear sells an excellent 4-pair set for a good price.  >Check them out here
Insoles – Insoles are another way to protect your feet when hiking.  They do a great job absorbing shock.  Walk Hero's insoles have some of the best ratings in the market.   >Get them here
Crossbody Bag – I take the minimum with me when I go on trails.  I keep everything organized in a small Herschel crossbody bag.  >Buy this great crossbody bag here
Day Pack – My husband prefers to take a small backpack to carry drinks and essentials.  >Buy a lightweight, water resistant day pack here
Hiking Poles – Hiking poles are lifesavers on trails with an incline (more if you have wobbly knees). TrailBuddy's trekking poles are such a great help. >Check these hiking poles
Sun Block – Do not leave the house (or the car) without applying sunblock.  I repeat, always wear sunblock when outdoors. >Buy sun block here
Lip Balm with Sunscreen – Protect your lips by applying a balm with sunscreen. >Get one of the best lip balms here
Wide Brim Hat – A wide brim hat is a great way to protect your scalp, face, and neck.  The ones manufactured by FURTALK come with an anti-UV function.  >Buy this amazing hat here
Sunglasses – These are another must when it comes to protecting from the sun.  A polarized, sporty pair works better for hiking. >Take a look at this wonderful pair
Water Bottle – Do not forget to bring water! Keep yours cold by taking a beautiful Hydro Flask water bottle.  >Check out the insane options her
Snacks – It is a good idea to carry snacks such as granola bars, protein bars, trail mix, nut, and jerky
Camera – I have never gotten used to taking pictures exclusively with my phone.  I prefer to use the Sony Alpha a6000.  It is compact and takes gorgeous pictures. >Buy Sony Camera here
Easy Hikes in San Diego
Let's get to the fun part of the article.  Below, I have details about what I consider the best hiking trails in San Diego. 
Details include location, distance from Downtown San Diego (for reference), special notes, and ideas on where to head after the hikes.  And, I am calling these hikes but some of them are better described as walks.
The focus of this article is easy trails but I will provide info about moderate and/or difficult trails in the places described below.
Oh, and there are so many hiking trails in San Diego! It was difficult to determine which ones to include in the article. I aimed for variety (north and south county, coast, mountain, and desert).  If I do not cover your favorite hike, let me know in the comments section below.
Torrey Pines – Best Hikes San Diego!
Location: La Jolla (Neighborhood of the City of San Diego)
Distance from Downtown San Diego: 16 Miles
Let's start strong.  Shall we?
The Torrey Pines State Natural Reserve is a 1,750-acre property overlooking the Pacific Ocean. It has about 8 trails that can be explored by hikers and bikers.  This place is AMAZING (yes, all caps amazing)!  Therefore, it is a top recommendation on the list.
As the name implies, the reserve protects the Torrey pines, a rare pine that can be found naturally in San Diego and Santa Rosa Island.  Besides, the landscape in the reserve is comprised of ravines, wetlands, cliffs, and shore. 
When I visit, I like to park close to the visitor's center, take the Razor Point Trail to Razor Point (0.7-mile), walk to the Yucca Point Overlook and connect to the Beach Trail to go down to the beach (about an extra half mile).  The perspective is completely different down from the beach.  You can then take the Beach Trail back to your car or walk along the coast and loop around the reserve.
Other shorts hikes include the Guy Fleming Trail (0.7-mile loop) and Parry Grove Trail (0.5-mile loop).
The reserve is open every day of the week.  Expect to pay an admission or parking fee. A lot of people visit to enjoy the beach facilities (not hiking).
Fun Fact: The largest Torrey pine is located in Carpinteria, a beach town located in Santa Barbara County.
Note: If you take the Beach Trail to the beach and walk south (you will know because you will pass by the appropriately named Flat Rock), you are getting outside the limits of the reserve.  The beach located south of Torrey Pines State Beach is called Black's Beach. This is a nudist beach.  So, yeah, if you walk south, your mind is not playing tricks on you.  You have been warned.
Where to Go After the Hike: Stop by the Torrey Pines Gliderport for insane views of the coastline.  It is also cool to see the paragliders taking off and landing.  La Jolla Shore Park and Beach are beautiful too.  And, of course, strolling around La Jolla Village is a must.
Read More: Torrey Pines State Reserve
Batiquitos Lagoon
Location: Carlsbad
Distance from Downtown San Diego: 30 Miles
The Batiquitos Lagoon is a coastal wetland and estuary sitting on 610 acres with a drainage basin of about 55,000 acres.  There are not many coastal wetlands left in Southern California. As a consequence, this is a special place. 
This 3.3 miles (out and back) trail is pretty flat and stroller-friendly. It is great for a family outing, casual stroll, jogging, and lots of sightseeing. 
The Batiquitos Lagoon isn't just wetlands, it's home to lots of wildlife and beautiful wildflowers. Expect to come across rabbits, mud hens, lizards, and different bird species. 
The Batiquitos Lagoon trail is free for everyone with a small parking lot by the trailhead. 
Fun Fact: Batiquitos comes from a word that means "little watering hole."
Where to Go After the Hike: One of the other lagoons in Carlsbad (Agua Hedionda or Buena Vista), Southern Carlsbad Beach (Ponto), or Carlsbad Village.
Mission Trails Regional Park
Location: San Diego
Distance from Downtown San Diego: 12 Miles
With over 60 miles of hiking trails snaking around a 7,000-acre open space, Mission Trails Regional Park is one of the largest urban parks in the United States. This park has activities for all tastes and levels. You can plan hiking, camping, rock climbing, boating, and mountain biking adventures.
Easy trails include the Visitor Center Loop (1.4-miles), Grasslands Loop Trail (1.9-miles), Kumeyaay Lake Trail (1.3-miles), Santee Mesa Loop Trail (1.6-miles), and Mission Trail (1.7-miles). Longer easy trails include Shepard's Pond Loop (3-miles) and Father Junipero Serra Trail (4.5-miles).
The well-known Cowles Mountain Trail is 3 miles long and considered moderate. The 5 peak challenge includes Cowles Mountain and four other peaks in the park.  It is pretty simple to understand while some believe the park has some of the best trails in San Diego.
The Mission Trails Regional Park is completely free for everyone.  Come well-prepared since a lot of the trails do not offer shade.
Note: Campsites are located in the Kumeyaay Lake area.  This campground has its own reservation system (you cannot find availability on state or county websites).  Therefore, it is a good place to check for last-minute availability.
Where to Go After the Hike: Santee Lakes (water activities and water park for kids) or Kearny Mesa (Convoy Street to be exact).
Read More: Santee Lakes Recreation Preserve
Sunset Cliffs
Location: Point Loma (Neighborhood of the City of San Diego)
Distance from Downtown San Diego: 8 Miles
The Sunset Cliffs Natural Park stretches along 3 miles of cliffs, panoramic ocean views, and an intertidal area. The Sunset Cliffs are popular because of the reddish cliffs, rock formations, and awe-inspiring ocean views. Of course, during sunset, the cliffs seem to be on fire (since the sun is hitting them directly).  This is the prime time to visit.
From the park, you can catch a glimpse of the California gray whales during their annual migration from the Bering Sea to the Baja Peninsula. 
Let me mention you can walk as much as you want along the cliffs.  It is not necessary to walk three miles to admire the beauty of the area.
An impressive sea cave (with an open ceiling) is located in the area.  Recently, I learned it is possible to walk to the cave when there is a negative low tide. I leave you the tip in case you want to check it out.
Dogs are allowed in the parks.  There are two free parking lots and more parking along the streets. There are no facilities onsite.
Where to Go After the Hike: Ocean Beach or Liberty Station
Read More: Sunset Cliffs Natural Park
Los Peñasquitos Canyon County Preserve
Location: San Diego
Distance from Downtown San Diego: 19 Miles
This is a great option when it comes to San Diego Hiking Trails. Los Peñasquitos Canyon County Preserve has 4,000 acres stretching over 7 miles between the Sorrento Valley, Mira Mesa, and Rancho Peñasquitos. On the trails, you will encounter lush vegetation, groves of oak, sycamore trees, a stream, a waterfall, and a small lake. 
Trails are heavily trafficked and range from 2.5 miles to over 7 miles. Trails are pet-friendly.
Easy trails include the Los Peñasquitos Canyon Trail (7.3-miles), Los Peñasquitos Creek Trail (6-miles), Rancho Peñasquitos Adobe Trail (3-miles), and Peñasquitos Falls (2.6-miles)
Despite the hikes being easy, come prepared with a water bottle and a hat, especially during the summer.
Where to Go After the Hike: Solana Beach, Del Mar, or La Jolla
Read More: Things to Do in Solana Beach
Photo by Ewen Roberts
Calavera Lake – Best San Diego Hikes
Location: Carlsbad, on the limit with Oceanside
Distance from Downtown San Diego: 40 Miles
Lake Calavera has a 4.8-mile loop with spectacular scenery of the lake and Mount Calavera, a volcanic plug. Yes, Mount Calavera is one of the smallest volcanoes in North America and it can be easily climbed.  Not many people know about this place but I believe it's one of the top hikes in northern San Diego County.
Lake Calavera is a man-made reservoir with sapphire-colored waters.  From the trailhead, it is easy to reach and explore its shorelines.  This is a simple walk that can be completed with kids.
Now, I want to encourage you to walk to the top of the volcano.  This will be a moderate hike but still within the capabilities of most people.  I saw tons of families at the top.
My recommendation is to walk from the trailhead to the top through the designated trails.  When we visited, we kind of decided 5 miles was too much for us (it is not).  We said we only wanted to circle the lake.  Well, once at the skirts of the volcano, we decided to go to the top.  We ended up scrambling through the incorrect face.  It had been 10 times easier to take the easy trail.  Don't be like us.
Where to Go After the Hike: Oceanside Pier, Oceanside Harbor, Downtown Vista, or Carlsbad Village
Read More: Things to Do in Oceanside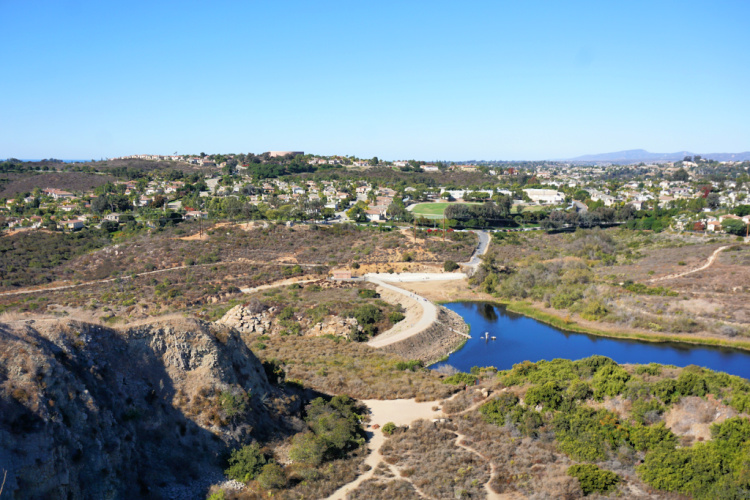 San Dieguito River Park
Location: Del Mar to Julian
Distance from Downtown San Diego: 21 Miles (Coastal Hikes)
The San Dieguito River Park stretches for 55 miles from Del Mar (mouth of the San Dieguito River) to the Volcan Mountain Preserve (source of the San Dieguito River). Park Administrators plan to complete a Coast to Crest Trail. So far, 48 of the 71 miles have been completed.
On the coastal part of the park, the 2.5 miles long San Dieguito Lagoon Interpretive Walk has several history, flora and fauna related stops. Rangers offer enlightening nature tours and history talks, but you can have a self-guided tour if you wish.
Other easy coastal trails include the Crest Canyon Trail (1.15-miles) and Dust Devil Nature Trail (1.7-miles).  
Easy trails in the valley (around Rancho Santa Fe and Rancho Bernardo) include the Bernardo Mountain Lake View Trail (1.15-miles), Piedras Pintadas Trail (2.20-miles) and Highland Valley Trail (2.10-miles).
For moderate and strenuous trails, click here.
Where to Go After the Hike: Del Mar or La Jolla
Photo by Sergei Gussev
Doane Valley in Palomar Mountain State Park
Location: Palomar Mountain
Distance from Downtown San Diego: 65 Miles
Palomar Mountain State Park is a place where you can have a mountain adventure without having to drive that far from the city.
The park is located in the western part of Palomar Mountain.  The cool thing is that the Palomar Observatory, with its 60-inch telescope, is located within the park's limits.  You need to check that for sure.
In the Doane Valley area, the easy 1-mile Doane Valley Nature Trail allows visitors to get a glimpse of the plants and natural features in the park.  Walking around the Doane Pond is possible as well.
There is a campground in the Doane Valley and the pond is stocked with trout.
From the Doane Valley Nature Trail, or from the campground, you can connect to the French Valley Trail and Lower Doane Valley Trail for a 3.6 miles loop around pines, firs, and cedars.
I also recommend parking close to the visitors center and walking the 2 miles Boucher Hill Loop.  If you do not want to walk, drive to the Bocher Hill Viewpoint to check the views and fire lookout.
Dogs are not allowed on the trails. You have to pay a small fee to enter the park.  Fill up the gas tank before heading to the mountain since there are no stations in the vicinity.
Where to Go After the Hike: La Jolla Indian Campgrounds (for tubing and camping) or Lake Henshaw
Borrego Palm Canyon Trail 
Location: Borrego Springs
Distance from Downtown San Diego: 75 Miles
This is one of the best places to hike in San Diego.  No joke!
The Anza Borrego State Park is the largest state park in California.  And, let me mention this is a desert park. It is best to visit between October and May.
Borrego Palm Canyon is the most popular trail in the park. The trail is about 3 miles long and features a spectacular palm oasis, waterfall, wildflowers (during spring) and wildlife (keep looking for bighorn sheep).
The trailhead is located at the Borrego Palm Canyon Campground. Bring water, snacks, and sun protection.
A short, Nature Trail is located close to the visitor's center.  As mentioned,  this park is huge.  You can do your own research or ask for the ranger's recommendations.
You have to pay a fee to enter the park. 
Where to Go After the Hike: Check out the Galleta Meadows sculptures
Read More: Borrego Springs' Sculptures
Cuyamaca Rancho State Park
Location: Julian
Distance from Downtown San Diego: 45 Miles
The Cuyamaca Rancho Park sits on 24,700 acres full of pine forests, meadows, granite hills, a small lake and seasonal wildflowers. The park has over 40 trails.  There are hiking trails for every level of experience. 
Easy trails include the Green Valley Falls Trail (0.4-mile), and Falls Fire Road (1.7-miles).  
The moderate Stonewall Peak Trail (3.9-miles) offers stunning views from the top. If you are up for the challenge, hike to the top of the Cuyamaca Peak (the second highest peak in San Diego) to behold the spectacular scenery. This trail is about 6 miles and well worth the effort. The easiest way to complete the hike is from the Azalea Green Loop.
This park is a great getaway destination for a variety of activities including horseback riding, picnicking, mountain climbing, biking, hiking, camping, and more. There are two campgrounds onsite and an additional horse camp. 
Where to Go After the Hike:  There are plenty of hikes to complete in the park.  If you want to boat and fish, head to Lake Cuyamaca.  And, do not miss Julian.  You need to grab an apple pie piece!
Read More: Things to Do in Julian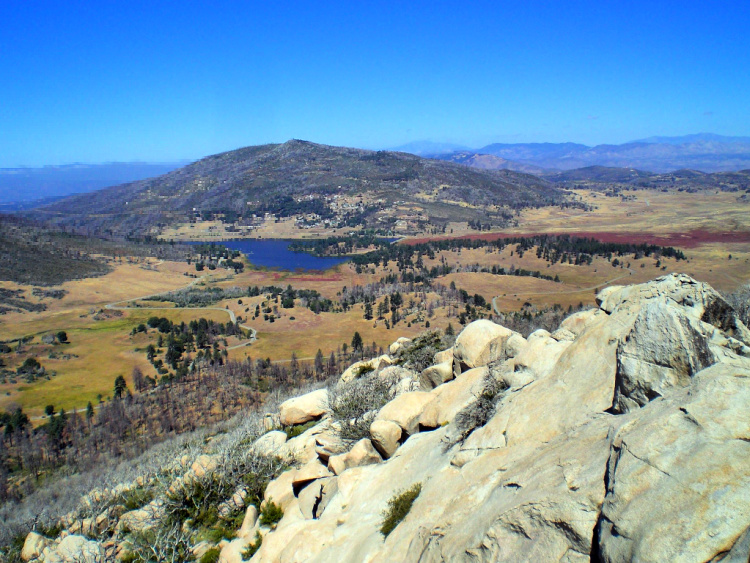 Photo by Chris Palmer
Bayside Trail in Cabrillo National Monument
Location: Point Loma (Neighborhood of the City of San Diego)
Distance from Downtown San Diego: 12 Miles
Cabrillo National Monument is the only national park unit located in San Diego.
The monument is worth a visit even if you are not planning to hike or walk. 
The Bayside Trail is an easy 1.8 miles walk with a moderate incline.  It can be done at your own pace and provides wonderful views of the San Diego Bay, Coronado Island (which is really a peninsula), and Baja California.
While on the property, check out the comprehensive historical exhibits located in the Visitor's Center.  There is a lot of info about the discovery voyages in the west part of the United States (I love that kind of stuff).
Of course, you need to check the giant statue of Juan Rodriguez Cabrillo which is considered the first European to set foot in California (I am referring to Alta California).  The landing site can be seen from the viewing area.
And, do not miss driving to the tide pool area of the monument.  An easy, 1-mile trail takes you around the bluffs, coves and arches in the area.
Where to Go After the Hike: Sunset Cliffs, Ocean Beach, or Liberty Station
Read More: Cabrillo National Monument
Blue Sky Ecological Reserve
Location: Poway
Distance from Downtown San Diego: 30 Miles
The Blue Sky Ecological Reserve has some easy trails that will delight all who visit.
The Green Valley Truck Trail to Creekside Trail is one mile long (roundtrip).  Highlights include an oak grove.
Walking the Green Valley Truck Trail to a shaded picnic area will have you walking 2 miles roundtrip.  From the picnic site, it is an additional mile to Lake Ramona (a total of 4 miles).  
From here, it is possible to connect to the Lake Poway Loop Trail.  On Lake Poway, you will find the trailhead to Mount Woodson and the infamous Potato Chip Rock (this is one of the top hikes in San Diego).
Where to Go After the Hike: Escondido or San Marcos
Photo by Chris Palmer
San Elijo Lagoon
Location: Cardiff by the Sea (Encinitas)
Distance from Downtown San Diego: 24 Miles
I am including the San Elijo Lagoon even though I recommended a coastal marsh hike already (Batiquitos Lagoon) because this is my favorite place when it comes to this type of ecosystem.
If you access the trails from the Nature Center, you are going to drive by a viewpoint from where you can see part of the marsh and the ocean.  Make sure to stop by!
The Nature Center is excellent and allows you to learn about the role tides and rain water play on maintaining a healthy marsh.  Plus, there is info about the flora and fauna of the area.
Then, it is up to you how much you want to to hike or walk. There is an easy loop that allows you to enjoy certain parts of the marsh.
There are other trails and access points to the lagoon.  For example, people love the Annie's Canyon Trail (walking to the viewpoint is easy, walking to the canyon is more challenging). La Orilla Trail is another good option.
Where to Go After the Hike: San Elijo State Beach, Swami's or Downtown Encinitas
There you have it! I have done my best to provide comprehensive info about the best hiking spots in San Diego.  Now, your turn.
More of San Diego
One Day in San Diego Itinerary
Ultimate San Diego Bucket List
LA to San Diego Drive: Road Trip Itinerary
What are the best easy hikes in San Diego?
Pin for later!