I know that lately I have been publishing a lot about food festivals but, what can I say, I love food!
This past weekend I had the opportunity to attend the Fifth Annual Los Angeles Food and Wine Festival. I thought about not publishing a review about the event.  However, I desisted of the idea after going thru the 400 hundred photos I shot on the two evenings.
I promise I would not bore you with words this time.  This is intended to be a highlight of the festival in photos.
The Los Angeles Food and Wine Festival is a four-day event showcasing the fine food culture throughout Los Angeles and the country.  This is an opportunity to get a sample of the food cooked by some of the industry biggest influencers and talents.
Beware foodies: this post may cause excessive drooling (keep your electronic devices safe!).
Asian Market
The Asian Night Market featured an abundance of unique tastings using Asian-inspired ingredients from some of the nation's most influential chefs.  In part, the event tried to mimic the multi-sensory street food experience of the night's markets of cities like, Chiang Mai, Kuala Lumpur and Taipei. However, this 'market' was a little different since the food was prepared with distinctive West Coast flavors
One Pico
Slow cooked pork belly & smoked pork tenderloin with napa cabbage-apple & chipotle BBQ Sauce
Fluff Ice
Mango and Coconut Fluff
Chaya
Tai snapper carpaccio with ume dashi puree & yuzu koshu jelly
Phorage
Crispy coconut rice cakes with shrimp
The District
Handmade noodles
Chef Daniel Jolly
BBQ Pork Sliders
Pakpao Thai
Kalua Taco
Kettner Exchange
Pork Char Siu Bao
Birch
Palm sugar glazed pork with fermented cabbage and zatar yogurt
The Slanted Door
Rice noodles with turmeric and pork
Holsteins Shakes & Buns
Reuben Egg Rolls with Russian Dressing
Campfire S'mores Trifle
Sambar
Sev Puri Chaat with mango & avocado
B Sweet
Assorted flavors of hot bread pudding
Ray's Stark Bar
Banh Mi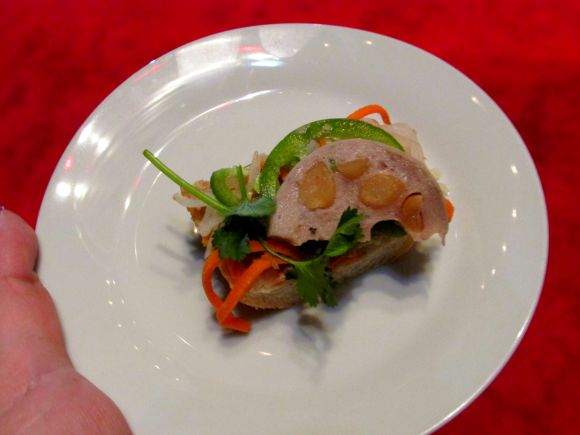 Hamasaku
Jewelry box
KRU / Fish Face
Sturgeon Poke with Marrow Soy
Patina
Duneness crab with cardammon, nuoc mam and green mango sorbet
Chef Jason Fullilove
Chef Steven Fretz
Okonomiyaki Dog
 Grand Tasting
The grand tasting event featured the best chefs from Los Angeles and beyond.
Scarpetta
Coppa di Testa with picked vegetables and salsaverde
Montage Hotel
Citrus marinated  hamachi with purple potato-date salad, jalapeno and ginger yourt
Mirabelle at Beaver Creek
Grilled chicken, avocado, tomatoes and micro greens
Manhattan Beach Post
Roasted Pork Shoulder with peach mostarda & escarole
Sotto
Goat meatballs with braised cabbage, pine nuts, currants and shaved goat cheese
Falk Yeah! Productions
Tomato-raspberry, avocado, Brazil nuts and marjoram
Bestia
Strawberry shortcake with mascarpone cream biscuit and sweet cream ice cream
Mourad
Tartlette, smoked salmon, dill, cucumber and lebni
Salt & Straw
Strawberry shortcake: ricotta cheesecake ice cream, strawberry vinegar, roasted strawberries and buttered almond
Bouchon
Salade Nicoise
FIG
Vadouvan rice bowl with crispy pork belly and charred octopus
Verve Coffee and Dark Matter Coffee
Espresso
The Grange Restaurant & Bar
Cowboy sushi: zabuton, uni, horseradish and shiso
McConnell's
Sea salt Cream & Cookies and Ereka lemon & Marionberies Ice Cream
Taco Maria
Squid, potato, cucumber and recado negro
Peach Tres Leches
Many thanks to Plated an M Booth PR for inviting me to be a part of the festivals and their roadtrip along the United States!
Make sure to read my post about Plate's Road to Discovery Roadtrip.
What dish would you like to try?
Pin it for later?
_______
Feel free to enter your link!
_______
This post is part of Wordless Wednesdays at image-in-ing, Wordless Wednesday at Oh My Heartsie Girl, Wednesdays Wanderlust at My Brown Paper Packages, Travel Photo Thursday at Budget Travelers Sandbox , Photo Friday at Pierced Wonderings,  Weekend Travel Inspiration at Reflections Enroute, The Weekly Postcard at Travel Notes and Beyond, Travel Tuesday at Bumble Bee Mum and Monday Escapes at Packing My Suitcase. Pay a visit to these wonderful blogs!