You can get attracted to a place because of the aesthetical aspect of it.
But, sometimes, the inherent beauty of that place gets relegated to a second plane when its 'reason of existence' touches your heart.
On our way to Cabrillo National Monument (Point Loma, San Diego), we encountered the Fort Rosecrans National Cemetery.
This place was off my radar.  I think I read about it while looking for attractions on the area but there was no intention or desire to visit.
On that foggy Saturday morning, the sight of thousands of white gravestones acquired a surreal connotation.  It was impossible not to stop to wander around.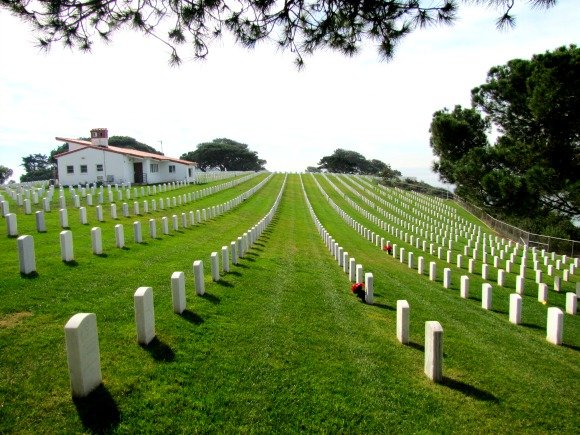 If I want to get technical, I should say this cemetery occupies 77 acres and contains more than 100,000 graves. Those were just some numbers to give you an idea about the magnitude of the place.
This is a federal military cemetery which has been in use since 1882.  Burial is available for eligible veterans, their spouses and dependents at no cost to the family and includes the gravesite, grave-liner, opening and closing of the grave, a headstone or marker, and perpetual care as part of a national shrine. For veterans, benefits may also include a burial flag (with case for active duty), and military funeral honors.
This place has nothing to do with the spooky and unkempt image some cemeteries tend to acquire.
The headstones are arranged in an artistic way.  Perfect lines and geometrical patterns can be seen in every direction.  Several monument and memorials have been erected throughout the property.
In addition, the necropolis occupies both sides (separated by Catalina Boulevard) of the thin Point Loma Peninsula.  To one side you have the Pacific Ocean and on the other side the Bay of San Diego smiles at you.  The views from here are to die for!
On our return from the Monument, the day finally cleared from the morning fog. We were once again attracted by the beauty of the place and by the views.
This time things were different.  While looking for a spot to take that perfect photo of Downtown San Diego, I saw a group of people walking to the niche area.
I observed from afar how they were saying goodbye to a loved one.  There were words, songs and tears.  In that moment, I saw the place from another perspective.  It doesn't matter how beautiful the place was.  At the end, this was a place of mourning.
Thousands of lost lives were practically lying in front of me.  Some of those are still remembered in a loving way by those who are alive.
At that moment, a sense of sadness invaded me.  At the same time, I understood the role of the place in the cycle of life.  Its splendor serves a higher purpose.  Several individuals (and we can say the government) have taken the care to create a wonderful place to honor life.
You can admire the beauty but you will miss a lot if you do not meditate why you are surrounded by that beauty.
Have you visited Fort Rosecrans National Cemetery?