This article highlights 50+ gifts for beach lovers.  There are options for individuals, dads, moms, couples, and beach houses.
If you have a loved one obsessed with the beach, ocean, and/or the great outdoors, do not worry.  I have you covered.
In this article, you will find an extensive list of beach lovers gifts.  
With so many incredible gifts to choose from, I am sure you will wow more than one person (and look like a sun and sand expert, ahem).
Now, scroll down and get ready for the fun!
Please note: This article contains affiliate links, meaning I may earn a commission if you make a purchase by clicking a link. Of course, this comes at no extra cost to you and helps me to keep offering solid information to readers.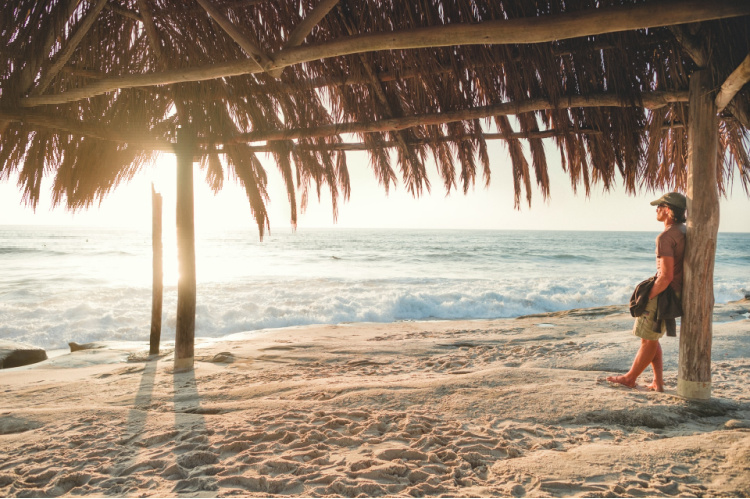 About This Gifts for Beach Lovers Guide
First of all, let me congratulate you for taking the time to find the perfect gift for that special beach lover in your life.
I want to share some things because I want that chosen gift to be memorable.
I am all about functional (something that can be used), experiential (sharing an experience or paying for somebody to have an experience), or gastronomic (if you want to send me a platter of different cheeses, I will gladly accept it) gifts.
When it comes to beach gifts, functionality is the way to go.  Think about it.  You are actually giving something useful that is going to simplify a person's life. Plus, the gift recipient will think about you when using the gift.
Because of that, the gifts for the beach lover presented here are intended to be useful.  That is going to be the bulk of the article.  Also, I am focusing on providing a decent balance between durability and value.   And, I know, we all want to have fun while on the beach.  Because of that, I will cover some cool beach accessories (or fun beach gifts) as well.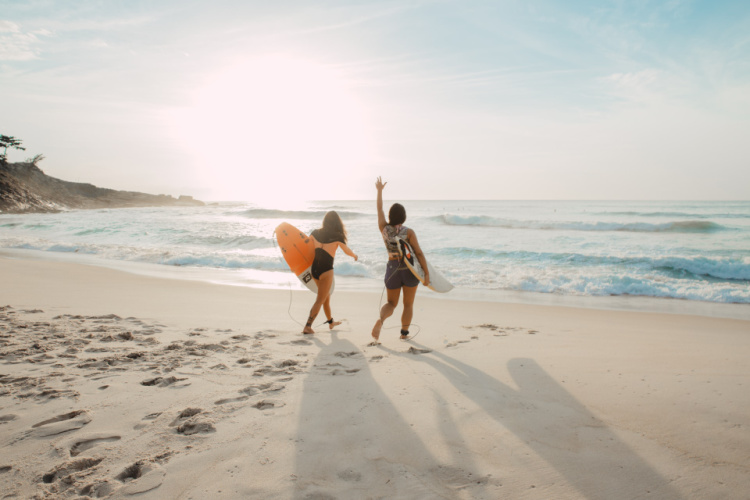 Contents of This Gifts for the Beach Lovers Guide
In this guide, you will find the following:
Essential Beach Gifts
Beach Lover Gifts: Clothing, Shoes, and Accessories
Beach Gift Ideas: Cooking Gear
Beach Gifts for Her
Beach Gifts for Him
Fun Beach Gifts
Gifts for Beach Houses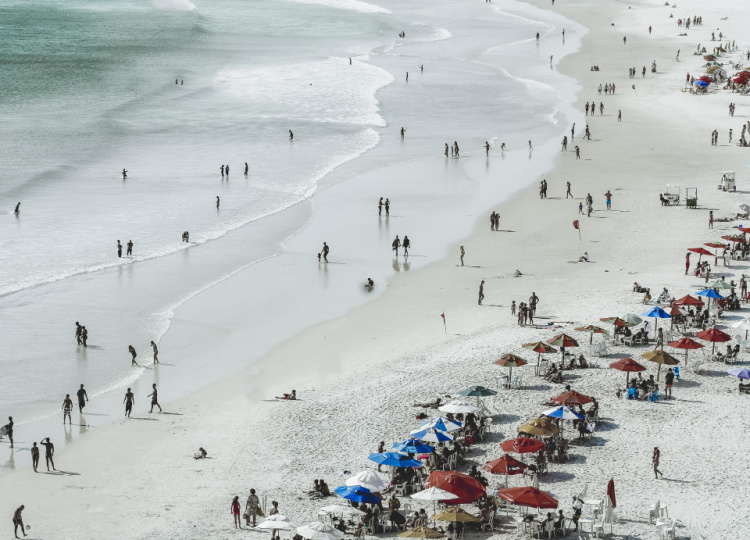 Essential Beach Gifts
Here is an extensive list of the most useful gifts for the beach.
Beach Shade
A shade is one of the best gifts for ocean lovers.  For example, here in California, there is not a lot of shade at the beach.  Staying an entire day in the sand without coverage is harsh.
The Coleman Pop-up Beach Shelter is made from a lightweight, 50+UPF sun-resistant material. It provides excellent protection from sun/wind and can be easily set up in 5 minutes (includes ground stakes).  On top of that, it has an extended floor mat that zips up for privacy and a back window that unzips for ventilation.
The shelter has integrated storage pockets with a built-in cord to dry wet clothing.
Portable Umbrella
Some people prefer an umbrella over a beach tent or shelter. Or, sometimes an umbrella is a more practical item (because you can place chairs under it instead of laying in the sand).
The Blissun Portable Umbrella is made from Oxford fabric with UPF 50+ protection that cuts down 99% of UV rays. A 7.2 ft canopy diameter offers maximum coverage.
It comes with a heavy-duty corkscrew type anchor and flip-down handles to easily secure the umbrella in strong wind (plus strong aluminum top pole with steel bottom pole and 8 sturdy fiberglass ribs to resist wind).  An air vent in the canopy center allows flow and adds stability. 
The tilt feature allows tracking of the moving sun. A carry bag is included and the product comes in 5 different colors/patterns.
Beach Chair
Comfort should be of maximum consideration when spending time on the beach.
Because of this, a KingCamp Low Beach Chair makes a great beach vacation gift.  This chair is extremely sturdy (supported by a rust-free, powder-coated alloy steel frame). And, at the same time, it is lightweight (weighs only 6.6 lbs but can support close to 300lbs)
Other features include breathable material that keeps a person cool in warm weather, foam wrapped armrests for extra comfort, a built-in cup holder, and a wide seat suitable for different weights.
No assembly is required.  The chair opens and closes in seconds. A zip-up carry bag is included.
Portable Table
A portable table is another wonderful beach gift.
Trekology sells a hardtop, folding, knee-height aluminum table. It is available in 3 different sizes so, you can pick up the one that fits your needs the best. It is lightweight but more durable than conventional wooden tables.  The top is easy to clean.  A carry bag is included.  No tools are required for assembling
This table is perfect for camping, picnics, beach, or for just hanging around the pool.
Camping Pad – Gifts for Beach Lovers
I have recommended chairs and tables.  However, if the person you are buying a gift for prefers to lay in the sand, buying him or her a sleeping pad may be a good idea.
POWERLIX makes a super light, waterproof, and insulating pad that outdoors lovers rave for.  When you see the storage size of this thing you will be left wondering how someone can inflate that to become so comfortable.  And, yes, it may be marketed primarily as a camping accessory but it works for the beach or other outdoor settings.
Travel Pillow
The same goes for pillows.  They can add a lot more comfort to a beach day. Therm-a-Rest Compressible Travel Pillow is 4 inches thick and compresses when not in use.  I prefer this over an inflatable pillow.
Beach Blanket
The Wekapo Sand Free Beach Blanket hits the most important features when it comes to this type of gear.
First, it is made of a nylon fabric similar to the one used in parachutes.  That guarantees a product that is going to last for several years.  Sand does not stick to this product at all.  It is actually fun to watch how the sand slips from this beach blanket.
The blanket can be carried and stored in an included pouch.  
Pocket Beach Blanket
Minimalists or space savers will prefer to carry their beach blankets in a purse, backpack, luggage, or pocket.
The BEARZ Outdoor Pocket Blanket, when in its included pouch, fits in the palm of your hand.  When extended, it fits 2 people and up to 4 people in a sitting position.  The blanket is easy to fold and store.  The manufacturer states it can be used as a tarp, rain cover, or water barrier since it is completely waterproof.
This blanket is on the smaller side but it is some of the best beach stuff out there.
Dry Bag – Gifts for Beach Lovers
The HEETA waterproof dry bag is ideal for all outdoor activities, such as kayaking, swimming, cycling, hiking, and anywhere in and around the water. It provides excellent protection for clothing, electronics, and other valuables in all weather conditions.
The bag is made with durable wear-resistant material using seamless technology. It comes in various sizes (5L, 10L, 20L, 30L, and 40L). It is available in 7 different colors, including clear, to find items easily without having to rummage.
Each bag comes with a free waterproof cell phone case and adjustable handle and shoulder straps allowing the bag to be handheld or carried as a backpack.
Waterproof Phone Case 
Hiearcool manufactures a submersible and waterproof phone case, ideal for use around water, heavy fog, humidity, snow, or dust.
The transparent cover allows easy use for touch screen and underwater camera functions. In addition, the case has space for cash, cards, and small items. It can be worn on the wrist or neck.
Waterproof Bluetooth Speaker
If you are looking for some fun beach stuff, the Kunodi waterproof Bluetooth speaker may be what you are looking for.
This product has a silicone design and interface that ensures the product is waterproof, dustproof, and shockproof. An aluminum attachment enables the speaker to be attached or hung anywhere. A built-in microphone and hands-free function allow owners to pick up a call when connected to a smartphone.
The speaker comes with a built-in high capacity lithium battery.  Supports devices such as iPads, iPhones, Samsung phones, Macbooks, MP3 players, or laptops.  Available in black, red, or blue.
Insulated Tumbler
An insulated tumbler is another must since it allows easy access to drinks (it can be placed on a beach chair/car cup holder).  The Thermos Vacuum Insulated Travel Tumbler is the way to go.  It keeps drinks hot for 8 hours and cold for 12 hours.  Its stainless steel construction makes it basically indestructible.  You can see why it makes the list of gift ideas for beach lovers.  I actually received this as a gift!
Insulated Mug
The YETI Rambler Mug is another option to keep beverages warm or cold.  The advantage of a mug is that it can hold food because of its wide mouth (it is easier to wash too).  Therefore, it is an efficient way to keep meals warm as well.  And, it comes in such cute colors!
Water Bottle
For keeping beverages icy cold for up to 24 hours, it is hard to beat the stainless steel, wide-mouth bottles from Hydro Flask. These come in a wide array of colors.  The cool thing is that the coating is designed to last and to be slip-proof.  They come in four sizes (20, 32, 40, and 60 ounces).
Collapsible Cooler
A portable cooler is one of the most important beach accessories for adults.  It is great to have cool beverages at hand while at the beach or while driving to the beach.
The CleverMade Collapsible Cooler Bag is better than most coolers because it collapses flat for storage.  Plus, it can hold 30 cans without letting a single drop out.
Quick Drying Towel
The OlimpiaFit Microfiber Towels come in 3 size packs (include a big-sized towel, medium-sized towel, and washcloth).  The towel material is soft, quick-drying, and antibacterial. So, yes, you can say bye to bad odors.  What is more, the towels can be condensed into a thin roll and stored in an included mesh pouch.
Power Bank
Anybody who is used to enjoying the outdoors knows how difficult is to maintain a phone charged.  More if you are using it to take pictures, post on social media, navigate, make calls, and many other things.  
A power bank, like the Anker Portable Charger, is what has worked the best when it comes to keeping phones alive.  This device can charge a phone 5 times.  That is a game-changer when you do not have access to a power outlet in a day or two.  And, carrying the charger is like carrying another phone (it is that small).
Beach Lover Gifts: Clothing, Shoes, and Accessories
Now that we have discussed the essential beach lovers gift ideas, it is time to discuss gifts that beach lovers can wear (or will help them enjoy the beach more).
Wide Brim Hat
FURTALK's stylish, comfortable and functional brimmed sun hat is great for the beach (it can be worn with a dress, shorts, or swimsuit). 
The hat is made of high-quality straw material. The brim offers full-face high UV UPF50 protection. A wicking sweatband prevents sweat from dripping into the eyes.
It comes in 2 sizes with an adjustable Velcro strap to achieve the perfect fit. A removable chin strap is handy for windy days. The hat is foldable for easy packing.
Sunglasses 
Sunglasses are another beach must.
KALIYADI sells stylish lightweight, plastic frame sunglasses for men and women. The polarized lenses eliminate glare making them ideal for any outdoor activities. On top of that, the lenses are anti-reflective, shatterproof, and offer UV protection.
Sunglasses are available in tortoise frames and blue lenses or matte black frames and black lenses. Each pair comes with a gift box, dust protection pouch, microfiber cleaning cloth, and polarized test card to test the polarizing effect of the lens. All KALIYADI sunglasses come with a 30-day money-back guarantee.
Flip Flops
When it comes to ocean gifts or ocean themed gifts, flip flops have to be on the top of the list.
Teva makes my favorite flips flops (I have owned over 10 pairs).  The Olowahu flip flop is made with a textile upper and synthetic sole. The cushy contoured footbed form to the owners feet, providing arch support. A decorative thong strap and two cross straps secure the foot, preventing it from sliding around, even when walking on sand.
It is available in 18 different colors.
Salt Water Sandals 
If you are looking for a gift for a fashionable beach lover, I recommend checking the Salt Water Sandals by Hoy Shoe.
They are made of 100% genuine leather upper and a synthetic rubber sole.  These combine comfort with functionality and style.
Once worn and submersed in water, the sandals form the shape of the foot for that extra comfort. Buckled ankle strap ensures that perfect fit, without the risk of it falling off.
These versatile sandals are made for wearing on the beach, walking in fresh or seawater, or just hanging out anywhere. They are available in 20 different colors.
Water Shoes
Water shoes are perfect for boating, sailing, windsurfing, snorkeling, yoga, exercise, or just walking on the beach or among coral or rocks.
The VIFUUR slip-on unisex water sports shoes are made with breathable smooth fine stretch material uppers. The durable rubber sole offers protection against gravel, rocks, or rough ground. The smooth design prevents chafing and does not allow debris to enter the shoe. Feels almost like walking barefoot.
The shoes are lightweight, flexible, comfortable, and soft.  Just wash and let them dry after use.  All sizes (kids/men/women) are available and come in over 40 different colors and trendy designs. 
Swimsuit Cover Up
If you have noticed, we are all about sun protection here. The HARHAY Swimwear Cover Up is extremely light, soft, and comfortable.  Looks attractive worn over a swimsuit or paired with shorts and sandals. The breathable material keeps ladies cool in hot weather.
Each size fits many body sizes and shapes.  It is available in no less than 28 different stunning colors and designs.  Hand washing is recommended to prevent stretching and snagging.
Turkish Towel
The WETCAT Turkish Beach Towels are manufactured in Turkey using high-quality Turkish cotton, dyed with natural ingredients.  Since the material is thinner than terry cloth (the most common material used in towels), quicker drying times are expected This is important since unpleasant odors need to be avoided as much as possible.  The good thing is that these towels are absorbent, sand proof, and soft.
Swimming Goggles
Aegend Swim Goggles (come in a two-pack, great gift for people who love the ocean) are anti-fog and leak-proof. One pair is clear and the other is mirrored. The clear pair is excellent for night or indoor swimming while the mirrored pair is perfect for bright sunlight.
Outer lenses are coated to offer maximum UV protection.  High-quality silicone and excellent design ensure a comfortable fit on all face shapes and sizes with no annoying leaks.  They come with a protective case (in aqua or bright rose colors).
Snorkeling Gear
The Greatever Dry Snorkel Set comes with a drainable diaphragm that is made with a silicone mouthpiece, flexible silicone tube, and dry tip for extra comfort. The clear lenses provide panoramic views. The mask is made from soft hypoallergenic silicone with a single-layer tempered glass lens.
It fits most face shapes with an adjustable strap for that perfect fit without irritating leaks.
Beach Gift Ideas: Cooking Gear
If you want to provide gifts to people who cook while at the beach (or eat food bought from home), here are some beach lover gift ideas related to cooking or consuming food.
Stove 
On beach trips, we usually cook on the grill that is part of the fire ring.
If you want to provide more cooking freedom, the Coleman Gas Camping Stove is a hard-to-beat classic.
Pots
When it comes to pots and pans, you may want to gift portable cooking sets like the ones manufactured by MalloMe or Odoland.
Hard, Big Cooler
If cooking while on a beach trip or day trip, a portable cooler will not hit the mark.  You need something bigger and more stable like the Coleman 48-Quart Performance Cooler.  
Grilling Set
For all the chefs out there (or wanna-be chefs), a grilling set will work wonders.  ROMANTICIST sells a 20 piece, professional set including a spatula, thongs, brush, kabob skewers, corn holders, and more. Everything can be stored in a compact included case.
Bowls
For outdoor activities, I prefer bowls over plates since I can use them to eat and store food.  I like the bowls manufactured by ColorCoral and ECOmorning.
Eating Utensils
For the beach, you can gift eating utensils or buy a set including a plate, bowls, mug, spoon, and fork.  UCO sells a really cool one.
Beach Gifts for Her
In this section, I am covering beach gift ideas for moms and women (or beach gift ideas for her).
Beach Tote
Of course, a big beach tote is a must to keep all beach themed accessories organized.
AOMAIS sells a high-quality, durable material tote designed to carry towels, water bottles, toys, sunblock, snacks, and everything needed for a day on the beach. It is ideal for large families or groups.
Its 8 outside pockets (waterproof) are designed to keep items like keys, money, phones, and shades. There is one concealed zipped pocket on the inside. 
It comes with a comfortable, reinforced, padded, removable strap for easy carrying. The tote can be taken anywhere since it folds nicely. A lifetime guarantee is offered.
Vintage Picnic Blanket
I am a big fan of vintage looks.  And, if on top of that things have an adorable pattern, well, I am smitten.
That is why I could not resist recommending the red checkered Three Donkeys Extra Large Beach Picnic Blanket.   The pattern of this blanket brings to mind tons of good vibes.  It reminds me of dinners, Vans sneakers, pajamas, fries served on a basket, and even In-N-Out Burgers.
But, it is not all looks.  This large beach blanket fits 6-8 adults, is made of three layers (including durable nylon and a plushy sponge), and it is easy to carry around (includes a carry handle).  On top of that, it is sand-proof, waterproof, and repels dirt.
Personalized Beach Blanket
I know some of you may be looking for a personalized beach themed gift.  If that is your case a custom beach towel, makes a nice gift.   The Towels2 Large Beach Towel will do the trick.
You can add a name or word of your liking to the towel.  This is done before placing the order.  There are several designs to choose from.  To make it a beach themed accessory choose from the watermelon, pineapple, flamingos, or ice cream options.
Kaufman Personalized Beach Towels may be a better option for kids.  Their designs include mermaids, sharks, turtles, sunglasses, palm trees, flip flops, and ice cream.
Wine Tote Bag
And, ahem, beach-going ladies will need a beautiful wine tote.
Tirrinia makes a super cute, insulated, and padded tote bag (fits 2 bottles) that keeps wine chilled for hours. The adjustable elastic inner divider keeps bottles separate, preventing them from crashing into each other. Elastic band secures bottles and tumblers (you can fit 2 bottles or 1 bottle and tumblers).
The sturdy handle and adjustable shoulder strap have been designed for easy carrying. The tote comes in 11 different colors and stylish designs.
Insulated Wine Tumblers
Here in California, wine is everywhere.  Yes, we drink on mugs or red plastic cups but a wine tumbler is a more stylish option.
SUNWILL Insulated Wine Tumblers are beautifully built (the color choices are insane), maintain the temperature of a beverage, and come with a lid to prevent spills.
Beach Tumbler
The wine tumbler suggested above is cool but this article is all about beach themed gift ideas.  So, keeping that in mind, you have to check out the Bevvee 12 oz double-wall, stainless steel tumbler.  This cute tumbler will keep beverages ice cold and coffee piping hot for hours.
It was designed with vacuum-sealed thermal insulation and a sliding lid to prevent slips. The lid is dishwasher safe, but hand washing the tumbler is recommended to protect the vacuum seal.
Available in trendy teal with permanent laser-engraved design.
Beach Gifts for Him
In this section, I am covering beach gifts for dads or beach gifts for men, or father's day beach gifts.
Guayabera
Get all the Miami Beach vibes (even in California) with a classic linen guayabera from Cubavera.  The shirt has 4 pockets and comes in over 4 colors.
Hawaiian Shirt
Ok, folks, a Hawaiian shirt may be the best gift for beach lovers.  Everything about these shirts screams beach vibes.
Amazon's Hawaiian shirts have excellent ratings and come in more than 25 patterns.
Straw Hat
The Quicksilver Men's Beach Straw Hat protects the scalp, face, and neck from the harsh sun.
Flip Flops
GUBARUN flip flops are designed for the outdoors.  They provide arch support, cushioned sole, and good grip (to handle slippery surfaces).  There are over 10 colors to choose from.
Sports Combo
The Franklin Sports Fun Combo Set hits the mark when it comes to ocean gift ideas.  After all, your friends will need to have a way to keep busy during the day.  This set comes with accessories to play volleyball, flip toss, badminton, flying disc, and ring toss.
Fun Beach Gifts
This is the section where I discuss cool beach themed gifts and unique beach gifts.  
Sofa Hammock
A sofa hammock may be a nice gift for those who want to hang around the beach in comfort while keeping things simple.
If you do not know what I am talking about, just take a look at the Tekapo Inflatable Lounger Air Sofa.  This cool designed portable coach does not require a pump to inflate.  It has been created with an ingenious way to easily inflate and deflate it. It fits two people sitting and one lying down.
Hammock
Of course, I have to include a hammock on the fun list.  I mean, oftentimes, a hammock is a synonym of paradise. 
Wise Owl's Hammock is manufactured with the same material used in parachutes.  So, you know this is an item that is going to last ages (and withstands 500 pounds).  In addition, the hammock has been designed for easy setup.  No ropes or knots are needed.  The item packs small and it is easy to carry.
Mexican Blanket
Serapes, also known as Baja blankets or Mexican blankets, are pretty popular in Southern California.  The style and material of these blankets are used in jackets, sweatshirts, bags, and backpacks too. 
Blankets like the ones manufactured by Benevolence LA are woven on wooden looms by artisans.  They are extremely warm and are often used to cover beds (or to accent other rooms on a house or as beach throw blankets).  They add a pop of color to any camping trip.
Roasting Sticks
The Tapirus Roasting Sticks are great for cooking on the fire marshmallows, hot dogs, vegetables, and other items.  These sticks are unique since they can be extended for use and collapsed for storage.  As with other items on this list, it is all about being as compact as possible.
Hilarious Card Game
So, when it comes to having fun while on the beach, I can recommend a card game your friends are going to love. Judging from the name, These Cards Will Get You Drunk, you know this is not your typical game.
This popular set comes with 100 cards that pose challenges or instructions to players.  And, guess what happens if a challenge is not fulfilled.  Yep, somebody has to drink (shot or sip).  This game may take you into the wee hours.
Portable Campfire
A company called Radiate manufactures a portable campfire that provides 3 to 5 hours of fire without wood or embers.  Think about the product as a circular can (similar to the blue ones where Danish butter cookies come) filled with recycled soy wax and paper.  This is a single-use or reusable product that only weighs 4 pounds. 
Gifts for Beach Houses
If you are looking for gift ideas for beach houses, this section is for you.  There are tons of ocean themed accessories to choose from. I am recommending a few options below.
Beach-Scented Candle
The Yankee Large Jar Candle has a subtle yet evocative fragrance of the ocean and coconut milk lasting for well over 100 hours of burn time. This is a high-quality paraffin candle wax blended with scented oils. The natural fiber candlewick delivers consistent burn.
It is available in medium and small jars and also various other unique and exotic fragrances to choose from.
Beach Sign
Zazzy Signs "The Beach is My Happy Place" sign will make a nice addition to any beach house.
Lighthouse Wine Cork Holder
Continuing with the nautical theme, a lighthouse will fit perfectly on any beach shack.
Personalized Beach Sign
A personalized sign may be one of the best beach house gifts.  Names, last names, quotes, sayings, or special messages can be added to the signs manufactured by Auwozc.
I hope you have found this gifts for beach lovers guide useful. I have had a lot of fun looking for wonderful gifts or items that can help you create a beach gift bag.  
More Gift and Gear Guides
What are your thoughts on these gifts for beach lovers?