Hermosa Beach, one of the beach cities located in Los Angeles Country, can be seen as a food lover's paradise. I believe food is one of the top reasons to visit this city (and others in the area).
As a 15+ year resident of the community, I can tell you the real deal about the restaurants in the area. Today, it is my pleasure to introduce you to the Hermosa Beach Fish Shop, an eatery serving fresh and delicious food meters away from the water.
Let me show you why you need to visit this restaurant if you find yourself in the vicinity.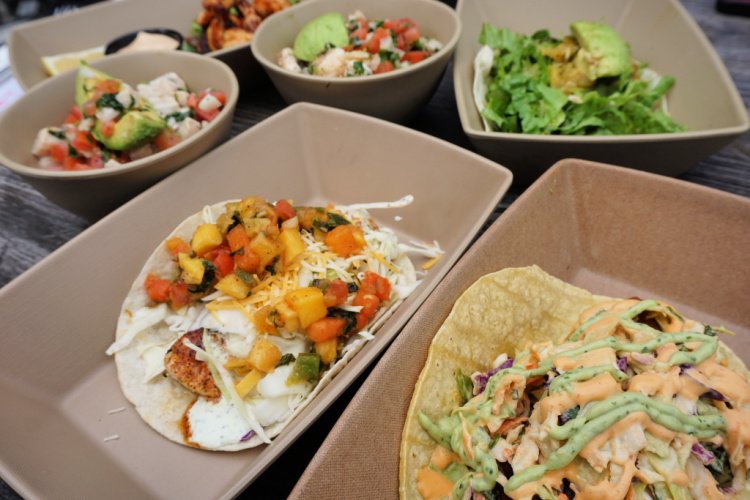 Fish Shop – Food
Let's dig right away into the most important aspect of the restaurant: the food!
The Hermosa Beach Fish Shop specializes in made to order seafood dishes.
You start by selecting a protein.  Options include ahi, albacore, scallops, shrimp, mahi mahi, red snapper, salmon, sea bass, swordfish, and yellowtail.
Then, you proceed to pick a marinade.  Blackened seasoning and chipotle glaze are my top choices.  
After those two selections, it is a matter of deciding if you want your fish served as a taco, sandwich, salad or plate.
And, voila, it is time to enjoy the food! You can create different combinations every time you visit.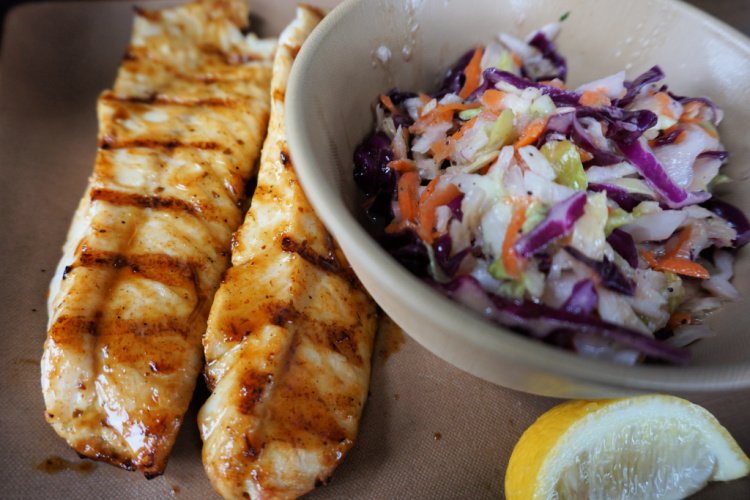 If you feel like having a seafood classic or a dish created by a chef, you can go that way.  The Hermosa Beach Fish Shop offers a wide selection of chowders, stews, ceviche, fried seafood, and house favorites.
Here is a partial selection of what you can find on the menu:
Clam Chowder – The clam chowder is thick and served with a generous portion of clams.  The potato is pureed and incorporated into the liquid base. That makes it extra creamy and smooth.
Shrimp and Mahi Mahi Ceviche – You can order these ceviches individually or mixed.  They are served with a big chunk of avocado (yes!) and chips.  Ceviche is a hit or miss dish for me. I like the ones from the Fish Shop since the shrimp and fish have a firm consistency.  The lime flavor is present without being bitter.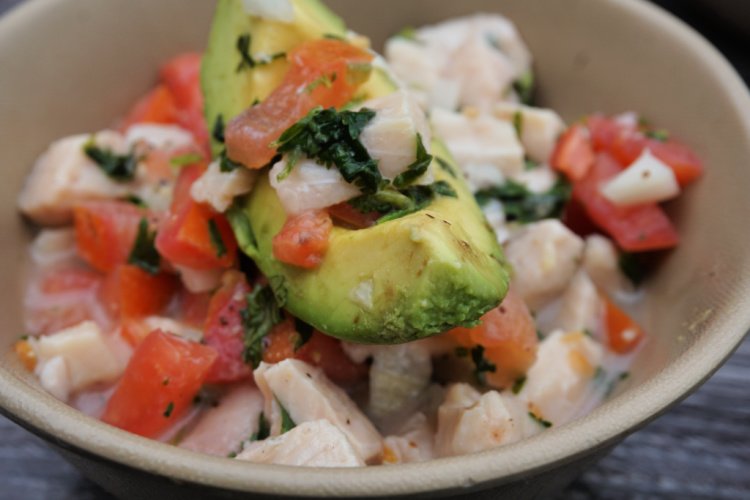 Ahi Poke – Can I have this dish every day?  I love the poke version of the Fish Shop. Fresh ahi tuna is mixed with soy sauce, ginger, red pepper, and sesame oil.  The plate is served with crispy wonton chips. This dish is perfection to me.
TKO Taco – For this taco, grilled mahi mahi is dressed with cabbage, cheese, cilantro sauce, and mango salsa.  The combination of ingredients works so well. However, the fish is the star of the taco. They know how not to overcook the protein.
Fish Shop Shrimp – This is another ridiculously good dish that I cannot stop thinking about.  The shrimp is marinated with Fish Shop seasoning and sautees. That cooking method creates a crunchy, addictive crust around the shrimp.  A chipotle aioli sauce is served for dipping. I recommend ordering this!
Spicy Dorado Taco – This taco is more along the lines of a classic fish taco.  Mahi mahi is used instead of cod or pollock. The taco is prepared with sriracha aioli slaw and avocado sauce.
In addition, dishes such as crab cakes, sashimi, oysters, fish stew and fish & chips are available on the menu.
Drinks
The Hermosa Beach Fish Shop is considered a local hangout for its good food but for its wide offering of drinks too.
When dining there, you will be able to pair your food perfectly with wine or beer.  Plus, the beer served in the restaurant comes from local purveyors.
Kids Menu
If you are visiting with your little ones, you do not have to worry.  A kids' menu with several options is available.
The menu includes grilled cheese sandwich, chicken fingers, quesadilla, popcorn shrimp and fish & chips.  Everything is served with fries and juice.
If your kid likes fish, he or she can have a bowl, salad or plate in the appropriate portion.
Fish Shop – Specials
If you need yet more reasons to visit the Hermosa Beach Fish Shop, well, they have very good specials during weekdays.
On Tuesdays, kids receive a free meal with the purchase of an adult meal.
Wednesdays are Wine Down Day! All bottles of wine are half off and you get one dollar off from wine glasses.  You are welcome to bring your own bottle since there is no corkage fee. Keep in mind there is a supermarket across the restaurant.  You can get stocked in there.
Oysters reign on Thursdays.  They are sold for $1 and you can choose from more than 10 varieties.'
Happy hour takes place weekdays (except Thursday) from 3:00 p.m. to 6:00 p.m.
Facilities and Service
The Fish Shop counts with indoor and outdoor seating.  That means you have your choice when it comes to where you want to be located.  In addition, they have a mix of booths, tall tables, and short tables.
The outdoor area is ideal for families, pet owners, and group gatherings.  
Servers and hosts are super friendly.  You definitely feel like you are part of a big family.
Fish Shop – Location
The Hermosa Beach Fish Shop is located at 719 Pier Avenue, meters away from the Pacific Coast Highway (PCH). Therefore, you can access the eatery without having to transit around the Hermosa Beach Downtown.
The shopping center where the restaurant is located can be entered from PCH or Pier Avenue. Ample parking is available on-site.
Other Locations
If you love exploring Southern Califonia, keep in mind there are other Fish Shops located in San Diego County.  
Food offerings are very similar in all location but they may have some local specialties in the menus.  The beer menu does change depending on the location (they serve beers from the area).
Encinitas – 1010 S. Coast Highway 101
Pacific Beach – 1775 Garnet Avenue
Point Loma – 1110 Rosecrans Street
I hope you have the opportunity to experience the yummy food of the Hermosa Beach Fish Shop. Leave a comment below if you have visited or are thinking to visit.
More of the South Bay
Hermosa Beach: Things to Do, See and Eat
Things to Do in Manhattan Beach
Redondo Beach Pier: What to Do, See and Eat
Disclaimer: I was a guest of the Hermosa Beach Fish Shop. As always, my opinions are my own.  I have visited the restaurant on previous occasions.
Pin for later!