Julian may be considered the unofficial apple pie capital of Southern California,
This old mining town is small (we are talking about one or two roads). However, location is everything in this case. The town is located in mixed pine-oak woodland at 4,235 feet (1,219 m) above sea level. In other words, it is surrounded by mountains, lakes and geological formations.
For being such a small town, I believe there are a lot of interesting options in a 5-mile radius. A little bit more driving puts you in the middle of the wilderness (literally).
Therefore, think about Julian as a base for exploring the untamed areas of eastern San Diego County, as a gateway to adventure and open spaces.
Things to Do in Julian, California
I already mentioned the apple pie. After several slices, you will need to find certain activities that can help you to burn those extra calories consumed during breakfast, lunch, and dinner.
Here are some of the best things to do in Julian.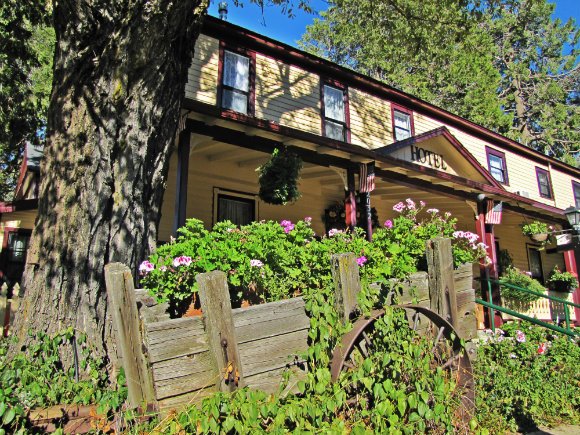 Eat as Much Apple Pie as Possible
The hallmark of Julian is apple pie. People drive miles to taste the old fashioned pies made in town.
The bigger (or maybe most marketed) player in town is the Julian Pie Company. They have been baking and pleasing palates since 1986. Since the demand for their pies is so high, they own a big apple orchard, deliver pies to San Diego and Riverside counties and ship pies throughout the United States.
As you can imagine, it is kind of exciting to visit their flagship store in the heart of Julian. They bake the following daily: original apple, Dutch apple, boysenberry apple, apple mountain berry, strawberry rhubarb, peach apple, and cherry pie. They also bake cookies, muffins, brownies, cider donuts and more.
Are the pies good? I would say they are delicious! And, this is coming from a person who does not like pie at all. The crust is flaky, the filling firm and the sweetness right on. The pies are so addictive that I crave them all the time.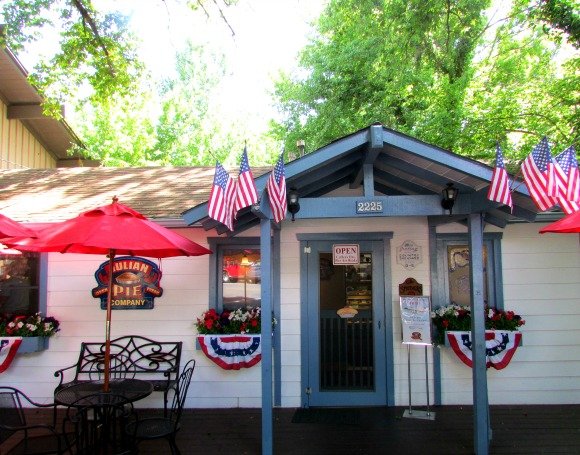 Mom's Pies is a business with another fairly big pie operation. I like to stop by because you can see them preparing the goods or taking racks fulls of pies out of the oven.
Locals have mentioned they have enjoyed baked treats from the Julian Pie Company and Mom's Pies for many years. Others prefer the pies from the Apple Alley Bakery since the crust is made by hand. Other operations, because of the demand, use frozen pastry to prepare the crust.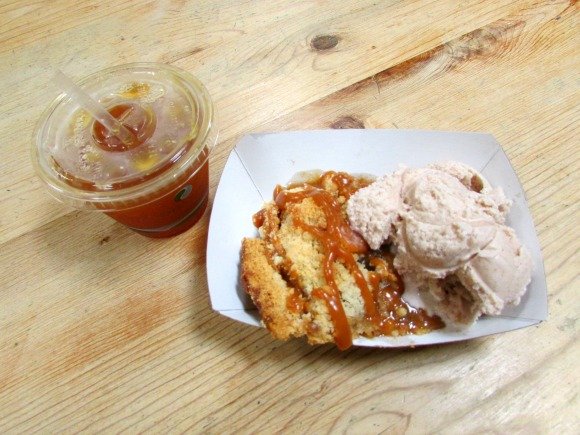 Pies can also be found at the Julian Café or at the Candied Apple Pastry.
Recommendations
The combination of regular apple pie or dutch apple pie served with cinnamon ice cream is great.
If you are thinking of buying a pie to bake at home, make sure you have the proper oven.
Pies from Julian are served outside Julian but, sometimes, they do not taste the same. I believe this is because they are not baked properly or served out of the oven.
The Julian Pie Company has another store in Santa Ysabel.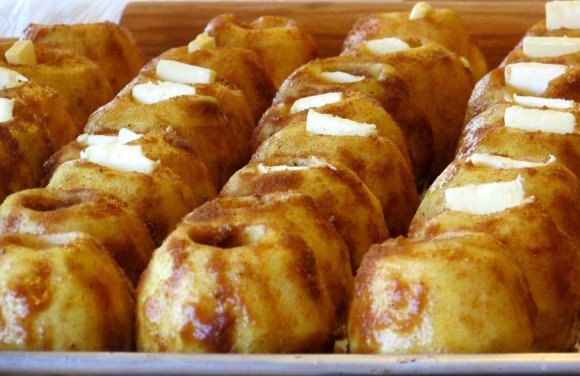 Pick you own Apples (In Season)
You may prefer your apples in a pie but there is no doubt picking your own fruit can be fun. Fall is the right time to stop by one of Julian's orchards. Most of them operate on an "u-pick" fashion where you pay a flat fee to fill a bag of determined size.
You can pick at places such as Apples and Art Orchards, Apple Starr Orchard, Calico Ranch Orchard, and Volcan Valley Apple Farm. To pick pears, head to O'Dell's Pear Orchard.
October and November are the best months to practice this activity.
See a Working Cider Mill
Julian Cider Mill has been in business for 30 years. Their success is directly related to the product they sell. At the store, you are going to find fresh cider, preserves, local honey, fudge, and an insane variety of candy. You can easily spend an hour browsing around the store.
If you visit during apple season, you may witness the antique cider press at work.
Go Retro at a Diner
Miner's Diner is the place to go if you want to go nostalgic. Once you enter the establishment, you are going to be surprised by the brick exposed walls, colorful booths, memorabilia, and the small train moving around the dining area. It is like going back in time!
In addition, they serve hand-mixed milkshakes, ice cream floats, sundaes, their own sodas, and other sweet stuff.
Burgers, hot dogs, sandwiches, salads, and soup are served too.
Tour an Old Mine
Julian came to life after gold was discovered in the area in 1869. In 1870, the mining claim was filled in the area and a tent city was established in a short period of time.
The Eagle Mining Company allow visitors to tour the Eagle and High Peak Mines. The tunnels, tools, and machinery have been restored to the "gold rush" times.
Tours last an hour and have a cost of $10. Gold panning tours are offered too. Visitors are encouraged to bring picnic supplies to enjoy in the facilities.
The Julian Mining Company offer activities such as gold panning, gem sluicing, Tomahawk throwing, cider pressing, and fruit picking. Check out their website since offering change with the seasons.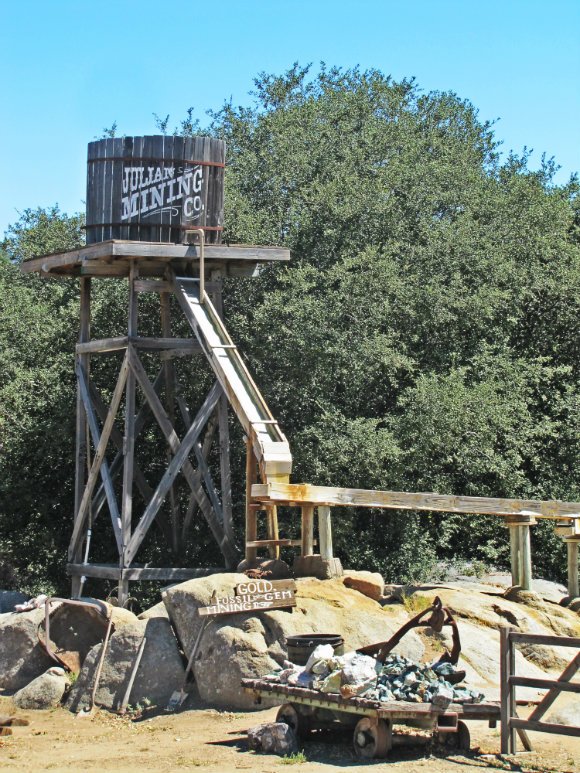 Go Wine Tasting
Mining and wine tasting do not seem to go together but they do in Julian. After all, the town is not that far from San Diego's wine country.
In town, you can head to the Blue Door Winery, a cozy space offering a good selection of wines and sangria (during weekends).
Two miles from the center of town, surrounded by orchards, you can visit Menghini and Volcan Mountain Wineries.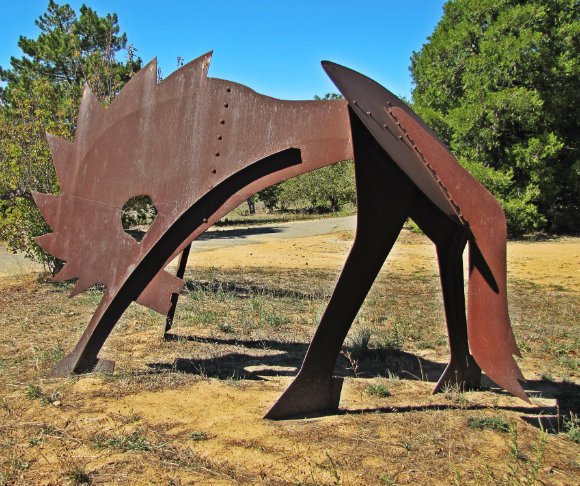 On nearby Winola Junction, there is a good variety of tasting rooms including Julian Wine & Chocolate. For cider, go to Julian Hard Cider. For mead (fermented honey and water, sometimes called honey wine), Golden Coast Mead is the place to taste.
Back in town, you can have a beer at the Julian Beer Company and Nickel Beer Company.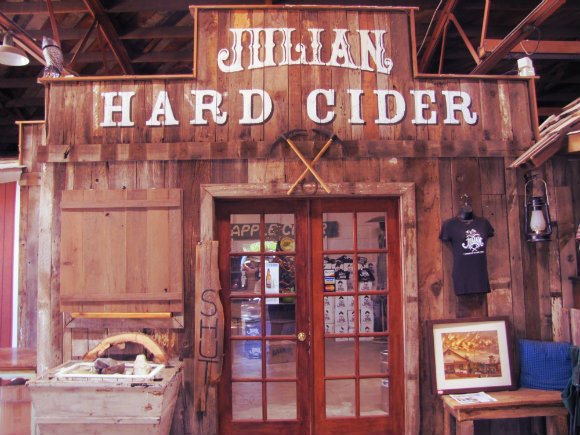 Visit the Pioneer Museum
The Julian Pioneer Museum displays Native American, gold rush and 20th-century artifacts. This is a good opportunity to learn more about the area. I always found city museums fascinating. Volunteer are available to answer questions.
Hike, Walk or Bike
I enjoy using Julian as a base to enjoy the great outdoors. Nearby parks and reserves are accessible and not crowded. Here are some of the places I recommend visiting:
Cuyamaca Rancho State Park – This park has over 100 miles of multi-use trails. Maps are available at the visitors center. Nearby Lake Cuyamaca offers fishing and boating opportunities. Campsite with a picnic table and fire rink are located onsite. Reservations are necessary during high season.
Mount Laguna – This mountain, located on the Cleaveland National Forest, offers hiking, biking, star gazing, camping and picnicking opportunities.
William Heise County Park – I love this place since I always stumble upon deer, wild turkeys and rabbits when I visit. Plus, I tend to find campsites even during holiday weekends. The park has 11 miles of multi-use trails.
Volcan Mountain Wilderness Preserve – This preserve has one main trail to the top of Volcan Mountain (about 5 miles round-trip).
Santa Ysabel Open Space Preserve – The preserve offers trails along with oak wood, grasslands, and wildflowers. Spring is the ideal season to hike in here.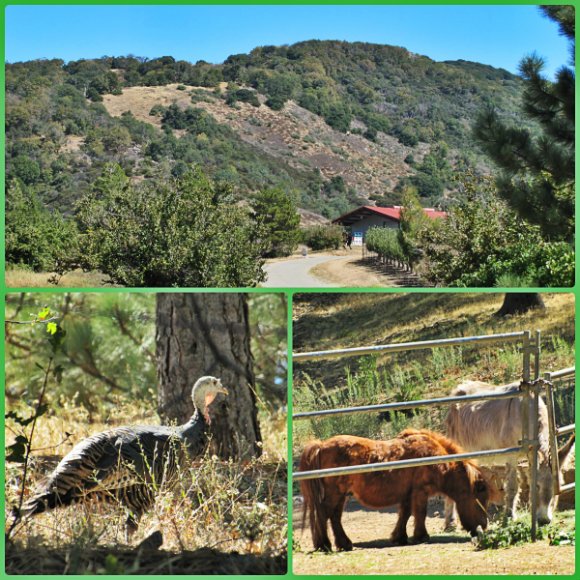 Visit the California Wolf Center
It is incredible that a place like this exists!
The California Wolf Center is dedicated to returning wild wolves to their natural habitat. They offer three different public tours involving wolf viewing. Reservations are required.
You can help this organization by volunteering, interning or donating.
Ride a Horse
The Julian area counts with several stables offering horse riding tours. For example, you can check the services of Kenner Horse Ranch, San Diego Horse Trail Riding, and Integrity Stables.
Shop the Unique Stores
I am not big on shopping but have to admit Julian has some cool stores along Main Street. Here are some standouts:
Pistols & Petticoats – They specialize on 18th and 19th pistol replicas
The Birdwatcher – This is a very quaint store selling birdhouses, bird feeders, and gardening tools.
Wandering Sage – This store sells Peruvian cotton apparel, unique jewelry, scarves, shawls, and home goods
Quinn Knives – Wide selection of knives. Owners are experts on the topic.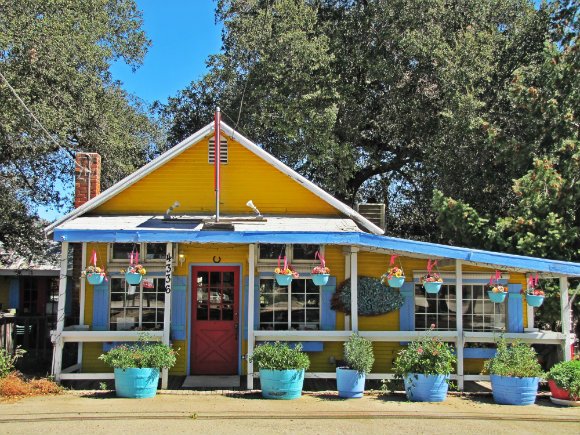 Attend a Historical Skit
A group called Julian Doves & Desperados perform historic, comic, gunfight skit, in front of the Historical Jail, every Sunday at 2:00 p.m. (weather permitting). This is a free event.
Attend an Event
Events offer such a great opportunity to meet locals and get a peek into the life of a town. I encourage you to visit one of the following events:
Gold Rush Days (April)
Taste of Julian (May)
Fourth of July Parade
Sip of Julian (July)
Grape Stomp Fiesta (September)
Apple Days (October)
Country Christmas (All-Season)
Read More: Julian Dressed in Red, White and Blue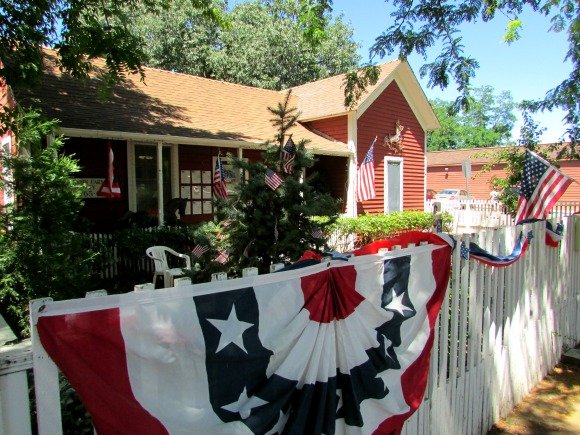 Things to Do in Julian – Details
No instructions are needed to find the pie shops. This is basically a one-street town and there are plenty of signs.
This small town of 1,500 residents can get very busy during the weekends (especially during the apple harvest season, September – October). If you don't want to share your personal space, restaurants, restrooms and parking spots with thousands of people (this is not an exaggeration, the town gets packed), consider visiting during low season.
Locals told us most businesses are closed Tuesdays and Wednesdays. On Mondays, some businesses cater to people who may have stayed in town from the weekend. I will check hours before leaving the house if you are interested in a particular activity.
If coming from San Diego, the road can get a bit windy. People prone to car or motion sickness should take the proper precautions.
Chains may be needed if you are visiting during winter.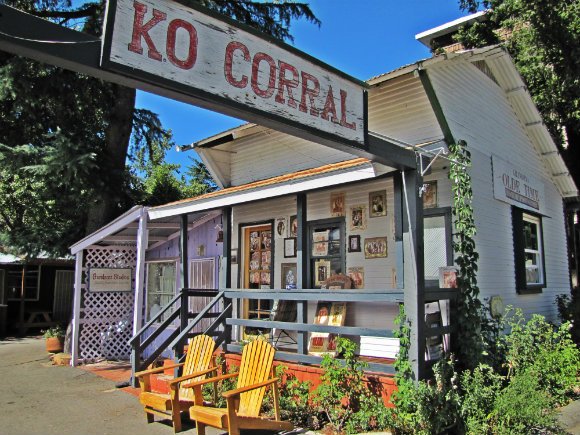 Where to Eat in Julian
If you cannot survive on apple pie only, you surely have other options. Due to the size of the town, expect simple fare with a few exceptions.
Jeremy's on the Hill – This is considered the best restaurant in town. Option include pulled pork sandwiches, pork chops, rack of lamb and fish & chips.
Romano's Restaurant – This establishment offers Italian classics such as eggplant parmigiana, chicken piccata, lasagna and spinach tortellini. They serve pizza and calzones too.
Wynola Pizza & Bistro – Decent tasting pizza at a good price.
Soups & Such Cafe – This place serves homemade soups (try the French onion), sandwiches and sides (potato salad, sweet potato fries, etc.)
Heroes Restaurant – This newcomer has revolutionized the eating scene of the town. On offer, there is a wide array of soups, burgers, wraps, sausages, and sandwiches.
The Julian Pie Company and Mom's Pie sell simple sandwiches of fresh bread.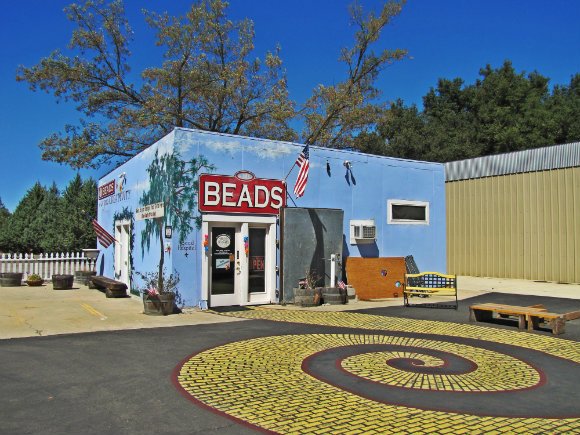 Nearby Places to Visit
Oasis Camel Dairy (13 miles) – This farm makes came milk soap and beauty products. Once a month, they open the farm to the public (animal feeding, show, and displays)
Ramona Valley (20 miles) – Area with more than 30 wineries, multiple dining options, and quaint accommodations
Lake Henshaw (18 miles) – Camping and fishing area. A nearby resort has a pool and spa.
Borrego Springs and the Anza-Borrego State Park (46 miles) – Descend from the mountains to the desert to explore an totally different ecosystem. It is best to visit during winter.
Palomar Mountain State Park (32 miles) – This state park offers camping, picnicking, hiking, and fishing at Doane Pond. You can drive to the Palomar Observatory and to one of the fire lookout towers.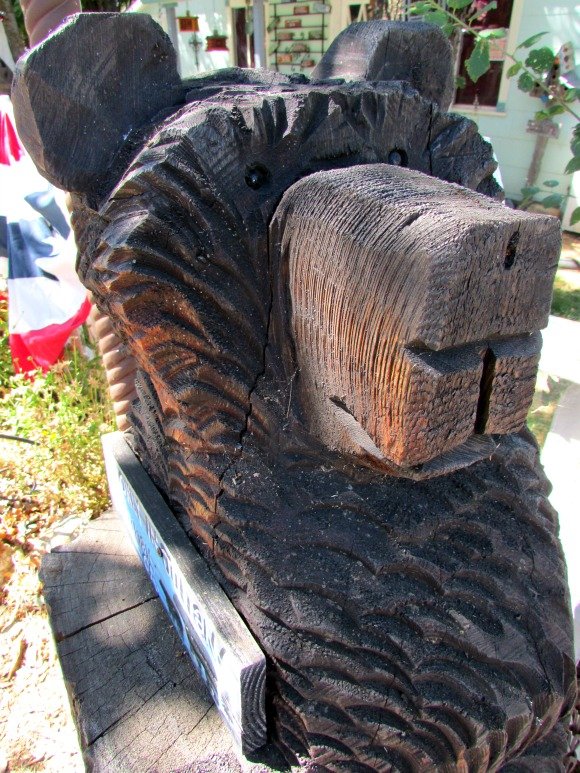 More of Southern California
Ultimate San Diego Bucket List
Los Angeles Ultimate Bucket List
Weekend Getaways from Los Angeles
150+ Places to Go in Orange County
Places to Visit in Santa Barbara
What other things to do in Julian do you recommend?
If you enjoyed this post, remember to share!
Pin "Things to Do in Julian" for later!