For quite some time, I have tried to find the correct way to word this post's introduction.
After all, this is a post about apple pie and I don't want, by any means, to offend America's most distinctive and beloved dessert.
In all honesty, I have always had a problem with apple pie. I wouldn't describe myself as a pie person but the disconnect goes beyond that.
Let start talking about the filling. Mushy apples? Sweeter than sugar stuff? Canned contents?  Well, I can deal with most of those blunders.
But trying to ingest a bland, unsavory or soggy crust is another matter.  When I am faced with a slice of pie, I try the crust first and then judge the entire product based on that flavor. Underwhelming crust? I eat only the filling or discard the entire thing altogether.
In my opinion, there are good pies or bad pies.  It is difficult to get a spot in the gray region covering those extremes.
*****
The hallmark of Julian, a historic golden rush mountain town located about one hour of Downtown San Diego, is apple pie. People drive miles to taste the old fashioned pies made in town. In addition, Julian has been described as one of the cutest towns in Southern California.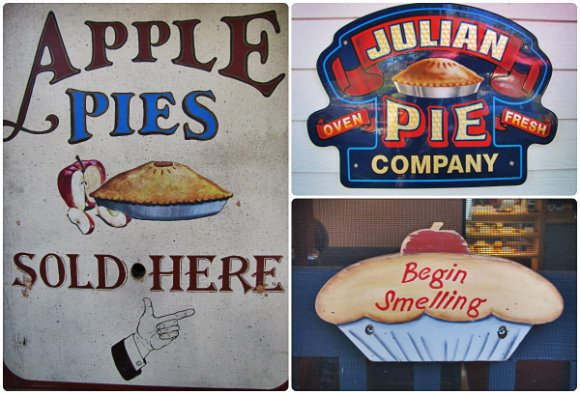 After hours of listening my friends, and 100,000 people on the Internet, raving about this place, I had to check it by myself.  My main goal: discover if my relationship with apple pie had a chance to be redeemed.
Starting with the basics
The bigger (or maybe most marketed) player in town is the Julian Pie Company.  They have been baking and pleasing palates since 1986.  Since the demand for their pies is so high, they own a big apple orchard, deliver pies to San Diego and Riverside counties and ship pies throughout the United States.
As you can imagine, I was kind of exiting to visit their flagship store in the heart of Julian.  We took advantage of their half sandwich, chips and pie slice lunch special.  I ordered a slice of the Dutch caramel apple pie and my husband ordered a slice of the pecan pie.
Ahhh, the three hour drive from Los Angeles was worth it.  May we start describing the crust? It was flaky, buttery and crispy.  I can eat this stuff by itself.  As a matter of fact, I couldn't resist and ate the back of the pie first. Summarized in one word? Perfect.
What about the filling? It. Was. Decadent. The apples were crisp, there was a good dose of tartness and the sweetness didn't overpower the overall flavor (even covered in caramel). The pecan pie was to die for too.
Julian Pie Company, as the first impression of town, won my heart (and tummy).
The only backside of this business? Trying to decide what pie to try.
For example, they bake the following daily: original apple, Dutch apple, boysenberry apple, apple mountain berry, strawberry rhubarb, peach apple and cherry pie.  They also bake cookies, muffins, brownies, cider donuts and more.
With so many choices, the process of selecting what to eat can be overwhelming.  The solution is to visit this place as many times as possible (wink, wink).
Taking the advice of locals
Locals in Julian are a friendly and heartwarming bunch.  My conversations with business owners made me realize how supportive the community as a whole is.  They talk good things about business in town even though some of these are their direct competitors.
In here, everybody loves to give visitors tips on what to do, see and eat in town.  Of course, most discussions were centered on one critical question, who makes the best pies in town?
A lot of folks mentioned how they have enjoyed baked treats from the Julian Pie Company and from Mom's Pies for many years (and that made me feel good).
One particular person, elaborated on his answer.
"If you are coming to Julian, it is better to eat something made 100% by local hands.  That is why I prefer the pies from the Apple Alley Bakery.  I always order my slice topped with cinnamon ice cream," he said.
According to him, the pies from the most famous baking houses in town are in so much demand that they have started to use frozen crusts.
"The owner from the Apple Alley Bakery still makes everything from scratch.  Besides, why are going to drive all the way here to have something you can buy in the metropolitan area." He had a good point.
The next morning we had a slice of boysenberry apple pies, an apple turnover and strong coffee for breakfast in the place suggested by our new friend.  It was great too (same good characteristics of the pie eaten the day before).
Seriously, I don't think there is a bad pie in this town.
Other Options
Mom's Pies is the other big player in town.  We only took a peek at the facilities and everything looked delicious.
Pies can also be found at the Julian Café.
Or at the Candied Apple Pastry.
How much pie can you handle?
I recommend you eat pie for breakfast, lunch and dinner (or at least two times per day).  In that way, you can sample many flavors and vendors.  Since you have to withstand traffic and twisted roads to get here, you better indulge in what this town is best known for.
Details
No instructions are needed to find the pie shops.  This is basically a one street town and there are plenty of signs.
This small town of 1,500 residents can get very busy during the weekends (especially during apple harvest season, September – October).  If you don't want to share your personal space, restaurants, restrooms and parking spots with thousands of people (this is not an exaggeration, the town gets packed), consider visiting during low season or during the week.
Locals told us most businesses are closed Tuesdays and Wednesdays.  On Mondays, businesses cater to people who may have stayed in town from the weekend.  So, Mondays are an option but you should aim for Thursdays and Fridays (or slow weekends).
Have you tried apple pie at Julian?