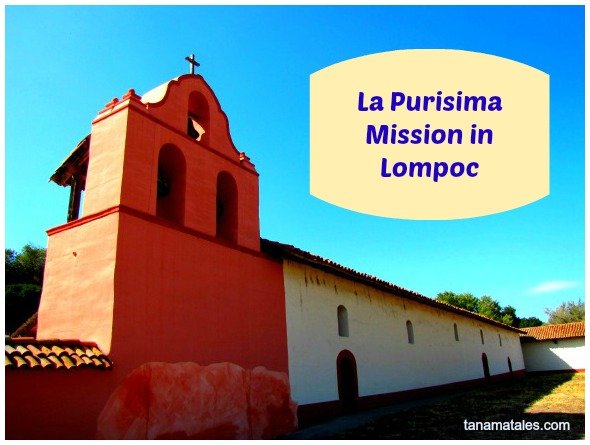 Have you ever had disagreements with your spouse on what to do on a trip?

Usually, my husband and I roll pretty well. I am a planner.  He is the king of spontaneity. Together, we operate with a base plan that can deviate to some extremes.  At a point, there is a readjustment and the plan returns to its original roots. That process happens many times during a trip.  It seems to fit our likes and expectations.

The last time we visited the Santa Ynez Valley, things didn't go that smooth.  We arrived at the town of Lompoc close to sunset time. I wanted to check the scene, the flower fields, and La Purisima Mission.

Ahh, let's say the place was dormant, the flower fields were 'hidden' somewhere and the Mission was already closed.  So, we decided to drive east to Solvang and pass the night there.

This is the thing, I really wanted to take a look at the Mission (this is something every history freak cherishes).  I had already missed the place during previous visits so I was very vocal about my desire to come back the next day.

"We'll be back," my husband said.

"Great," was my immediate thought.

As you can perceive from the tone of this post, the next day things deviated from the plan but this time there was almost no readjustment at all.  The morning was spent eating ridiculously delicious sweets around Solvang and driving thru the backroads of the valley.

After lunch, we stopped at the too-beautiful-to-believe town of Los Olivos.  We walked around, took a look at the shops and ate some more. Around 2:00 p.m., it was getting late to visit the Mission (it closes at 4:00 p.m.).  I told my husband it was time to go but he said wanted to stay in Los Olivos.

Don't get me wrong.  Los Olivos is a great town.  However, I had my eyes set on another target.  Plus, I am the kind of person who needs some kind of stimulation.  Really, how long can you spend in a one street town (I know this question has a rhetoric dimension)?

This was a battle between the foodie and the history lover.  I ended up convincing my husband. The downside? We arrived very late at the Mission.  I had less than half an hour on the site. Well, you know I made the most out of my time!

La Purisima Mission
La Purisima Mission has some characteristics that make it unique.

Most of the California Missions are located in urban settings.  Because of this fact, it is hard to imagine how it felt to live on those times when there were no other settlers (or structures) around.

La Purisima is located in a lot surrounded by rolling hills, trees and wildlife.  From the site, no signs of civilization are visible. Therefore, you feel in the same shoes of the original inhabitants.  You are in the wilderness out there.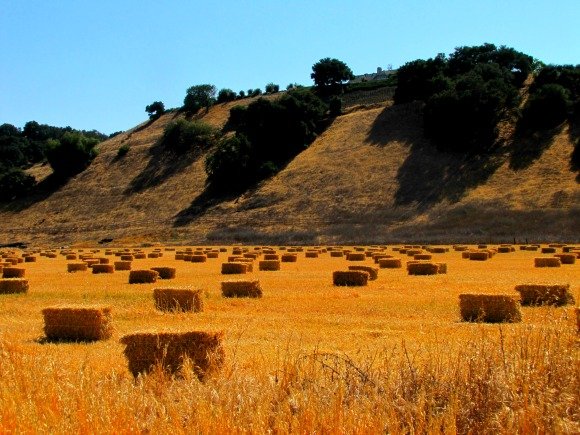 Ohh, and did I mention this Mission has some walls painted in bright pink?  See, how I am supposed to miss something like that?
The original Mission was established in 1787 and destroyed by an earthquake in 1812.  What we have today is a reconstruction dedicated in 1941.

La Purisima Mission is part of a State Historic Park operated by the California State Park Systems (it is not under the management of the Catholic Church like most of the Missions). That means there is a fee to enter ($5).  However, you will have access to a visitors center, exhibitions, tours, and hiking trails.

The first thing you notice when you visit the Mission is the façade and the pink bell tower (which is kind of its symbol).
Each mission was a self-sustaining community.  The farms and workshops were capable to provide for the needs of the residents.  In 1820, La Purisima had a population of about a thousand.
By crossing the walls of the Mission, you will encounter courtyards filled with artifacts used to fulfill the needs of past inhabitants.  There are ovens, stoves, grain mills, and olive presses.
Inside, there are some exhibitions that give you an idea of the living conditions in the 1800s.
I am sure there is more to see inside the buildings but I had to leave since one of the rangers was closing the building (with super long, old style keys).
I still had time to check the outside.  The arches and long halls caught my attention.
There are farming and garden areas.
There are stables where horses, donkeys, and oxen live.
There is a big vat where water was stored (the water system was restored too).
There is a hide racks area (where skins were hanged to dry).  The cowhides were used to trade for other goods.
And of course, there were some unexpected visitors stopped by.
The time spent on the Mission literality flew by.  I got a good grasp of how the padres, soldiers, craftsmen, and Indians lived.  But, but, but I would like to go back to explore with calm and hear some good stories from the rangers.  This time history won the battle. Let's see if it can win on a future occasion.

Just don't tell my husband what I wrote in the previous paragraph.  Deal?
How to Reach La Purisima Mission
Lompoc is located on the westernmost part of the Santa Inez Valley (Santa Barbara County).  The town can be reached in one hour (55 miles) from Santa Barbara, 30 minutes (22 miles) from Solvang and 2.5 hours (150 miles) from Los Angeles.  You will find La Purisima at the eastern edge of town.
The closest major airport is located in Santa Barbara.  There are ways to reach the town using public transportation but renting a car is recommendable.

An Amtrak station is located across Surf Beach (basically in the middle of nowhere).  If you arrive by train, you will still need transportation to reach the town and move around.
A visit to Lompoc and La Purisima Mission can be combined with other towns and attractions in the Santa Ynez Valley.
More of Lompoc and the Santa Ynez Valley
If you are interested in visiting La Purisima, make sure to spend some time exploring the murals, wine tasting rooms and flower fields of Lompoc.  I have a detailed list of things to do in Lompoc. This small town will surprise you!
The Santa Ynez Valley is a destination unto itself. After visiting more than 20 times, I keep discovering places and meeting people.
If you are considering to visit this area, check out the following cities:
Solvang – this is California's Little Denmark.  Visit to discover all sort of Danish treats (architecture, food, sweets). This super cute town will capture your town.
If you are spending some time in Solvang or visiting for a day, I recommend you take a look at my detailed article on Things to Do in Solvang.
Los Olivos – this is the premier wine tasting town of the Valley.  With more than 30 tasting rooms, it would take you several visit them all. I have a complete guide on Things to Do in Los Olivos
Santa Ynez – this is the cowboy town of the valley

Buellton  – another small town with good restaurants and several tasting rooms
More of Southern California
Find out how to spend one fun-filled day in Los Angeles
Get inspiration by reading my Los Angeles Ultimate Bucket List
Ultimate San Diego Bucket List
150+ Places to Go in Orange County

Would you visit a place like this? Have you been to La Purisima Mission?
If you enjoyed this post, remember to share!