This article provides insight into how to do a Las Vegas to Death Valley day trip or how to visit Death Valley on the way back to Los Angeles.
Don't you love when unplanned things go very well?
One time, the night before leaving for Las Vegas, we received a suggestion to visit Death Valley National Park on our way back to Los Angeles.  I was intrigued by the proposition. Once I arrived home, instead of going to bed, I started to check distances and all sorts of other information.  
I guess the thoughts of visiting the driest, lowest and hottest place in the United States were enough to push us to consider the idea of driving hundreds of miles in one day.  The temperature was ideal and we were already close.
So, in a blur of a moment, we decided to go.  We bought water and food, filled up the gas tank, wrote directions on a piece of paper (just in case) and set the odometer to zero.
We had such an amazing day! Granted, we almost dropped dead when we arrived home.  But, what we saw in the park was incredible.
I am here to tell you everything you need to know about planning a Las Vegas to Death Valley day trip or drive.  
Let the fun begin!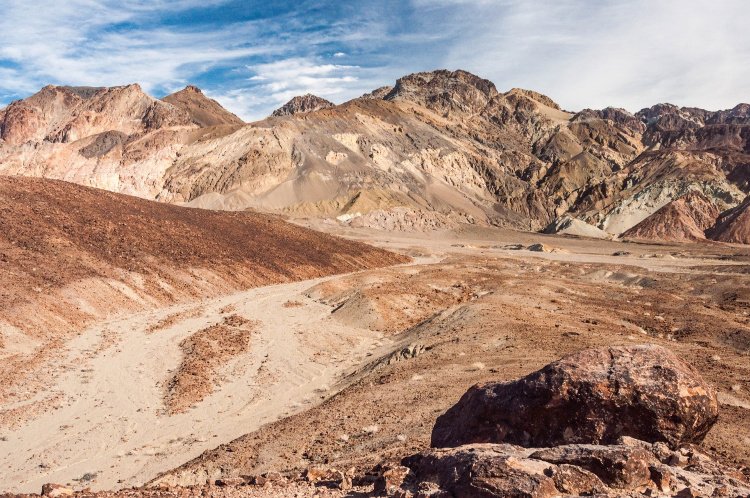 How to Reach Death Valley from Las Vegas
The distance from Las Vegas to the heart of Death Valley is about 150 miles.  However, the distance from Las Vegas to Death Valley Junction, close to the park's entrance, is about 110 miles.  That means you can start enjoying the beauty of the National Park in less than two hours.
Now, there are different ways to travel that distance.
Book a Tour
Tours depart daily from Las Vegas to Death Valley National Park.  These tours last 11 to 12 hours and are broken down as follows: 2 hours en route from Las Vegas to Death Valley, about 6 hours sightseeing in the park, 2 hours en route from Death Valley to Las Vegas and the rest of the time is spent eating meals and picking/dropping participants at different hotels.
A big pro of booking a tour is that you do not have to worry about anything.  You will travel with a professional guide, you will see quite a lot and meals are included.  In addition, most of these tours guarantee you will be back in town for the night shows.
However, you will end up paying $150 – $200 for this service.  Keep in mind that tours on the lower price range will spend less time in the park and will pack more people on a bus.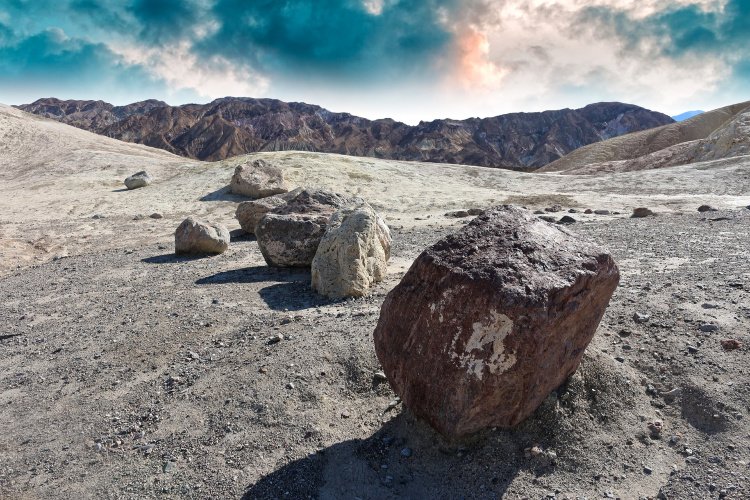 Rent a Car
If you flew to Las Vegas, renting a car may be the most cost-effective option to visit Death Valley.  My recommendation would be to rent the car the day before the drive. Renting the car the same day of the day trip would make you lose precious time.
Also, and this is very important, most rental car agencies forbid renters to drive their cars in Death Valley National Park during the hottest months of the year.  This is because of the nocive effects extreme heat has over the car machinery. If you are warned not to drive the car in the park, do not do it. You may incur a fine.  
Drive Your Own Car
Well, this is an easy one.  If you have your own car, then you only have to worry about fuel costs.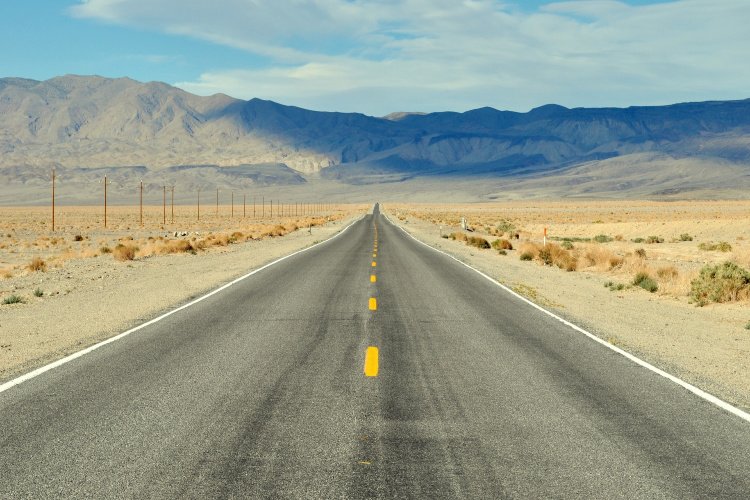 Las Vegas to Death Valley: What to Take into Consideration
Assuming you chose to do your own thing, here is how to prepare for a day trip from Las Vegas to Death Valley.
Departure
Depart from Las Vegas as early as possible.  I would say 8:00 a.m. is a good time to leave.  The earlier the better.
You need to have a full meal before entering the park.  There are not many eating options en route or at the park.  That means you need to have breakfast in Las Vegas. To make sure you are following, let's do the math.  My advice is to leave around 8:00 a.m. That means you should have eaten breakfast before that time.
Route
From Las Vegas, it is advisable to enter the park from Death Valley Junction.  To do this, you will need to take the US-95 North (88 miles) and NV-373 South (24 miles).  Then, you will connect to CA-190 West which will take you through the park.
Another option is to reach Death Valley Junction through Pahrump.  To do this, you will need to take NV-160 West (67 miles) and CA-127 North (26 miles).  Then, you will connect to CA-190. This route is shorter but takes a bit longer to complete.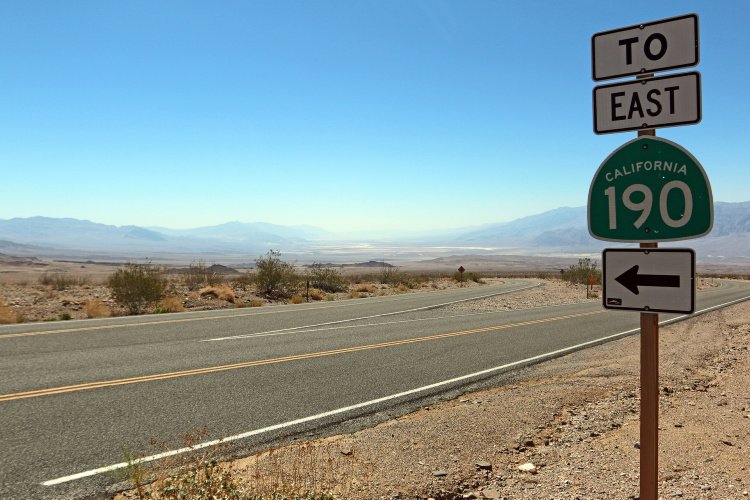 Food
You are going to need water (tons of water) and provisions for your day at the park.  Ideally, you would pick up these provisions one or two days before the day trip. There are several supermarkets, in the Vegas area, close to Route 95 (the route you are going to take to the park).  Another option is to load up at one of the pharmacies in The Strip (they sell everything you will need).
For provisions, I recommend bringing nuts, dry fruit, fresh fruit (apples, bananas), energy/protein bars, water or a beverage containing electrolytes.  It would be nice if you can have other things such as a sandwich, salad, hard-boiled eggs, etc.
If for some reason you were not able to bring food into the park, you can buy something to eat at the Furnace Creek Visitor's Center.  Options are limited to sandwiches and bottled beverages.
A resort called The Oasis at Death Valley offers breakfast, lunch, and dinner at its restaurant.  This place is located in the Furnace Creek area.
Wear
Wear comfortable clothes and shoes.  Make sure your clothes and accessories protect you from the sun (bring hats, caps, sunglasses).  Dress in layers so you can take the outer layer if you feel hot.
Apply sunscreen and use a lip balm with SPF to protect your lips from the sun and dryness.
If you are prone to motion sickness, bring the appropriate medicine/pills.  Some roads are curvy.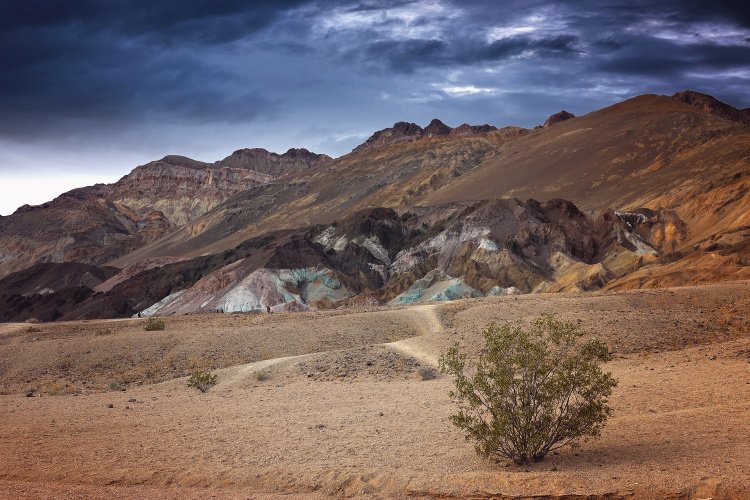 Road Conditions and Gas
The roads conducting to the park are in really good condition and the changes in elevation are gradual. This is a pretty easy drive.
However, make sure your car's fluids are at the proper levels and tires have the correct pressure.  You may be driving on roads with low transit. It can take a while to get help if something goes wrong.
There is no cell service inside the park.  This is not a reason to worry since there are a couple of main roads on the park and signalization is excellent.  It is advisable to pick a map at a kiosk or visitor center so you can navigate and calculate driving distances.
Fill up the gas tank before visiting.  The gas prices in and around the park are extremely high.
Respect speed limits and keep your eyes on the road. Park on designated areas only.
I do not recommend venturing into the backroads of the park if you do not have the proper vehicle (4 x 4 is needed in many cases).  The same applies to a rental car. You may be violating the renter's contract terms if you do this.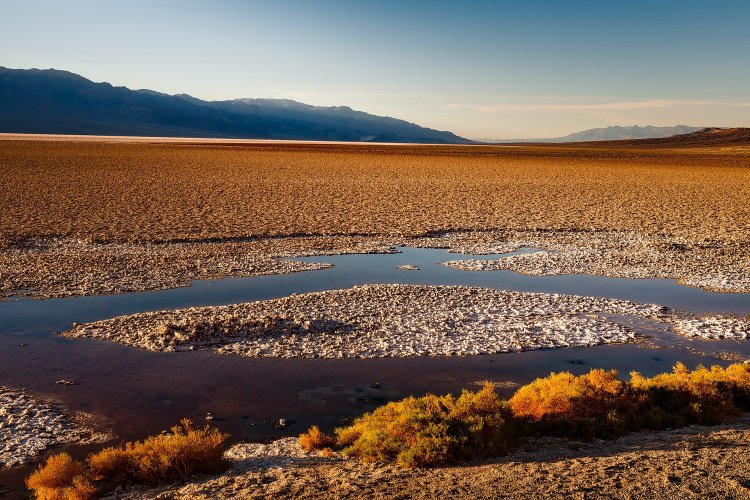 Weather
The best time to visit is from September to April.  In April, temperatures can reach 90 F. In summer, temperatures can rise to more than 120 F.
People still flock to the park during summer but I would not recommend doing this.  In all honesty, you may have to deal with low energy levels, dizziness, heavy breathing, nose bleeding, and other symptoms. I personally have had to deal with these issues in hot places (not in Death Valley).  The reality is that you may not be prepared (or aware) of the effect extreme heat has on your body.
Plus, as previously mentioned, you need to have a car in an optimal condition to survive the heat. And, you may still be hot even with the air conditioning on high.
Entrance Fee
Make sure you pay the entrance fee.  There are no booths or rangers on the park's entrances.  It is up to you to pay what is due (there are pay stations in different areas).  To me, this is an important point because the money from visitors is used to maintain the park.  Nowadays, National Park barely gets the money needed to operate from the government.
Additionally, the park has excellent roads, clean restrooms, signals, visitor centers and more.  I do not regret paying to have all these facilities in such a remote place.
General
Follow all instructions to keep the park in pristine condition.
The park is huge, it has an area of 3,000 sq mi and it is 140 miles long (that is longer than Puerto Rico).  My itinerary will take you around the most popular spots on the southwestern part of the park. You need more than a day to see all that the park has to offer.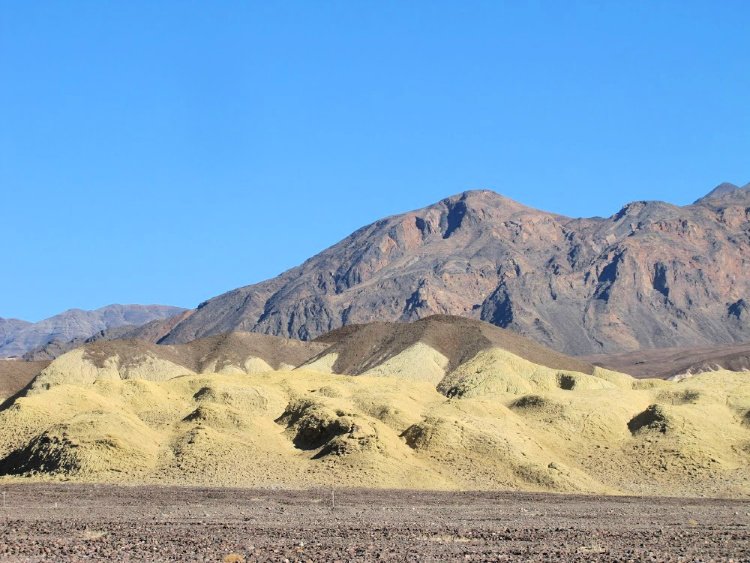 Las Vegas to Death Valley: What to See
Once you have driven about 100 miles, you are going to see the sign welcoming you to  "Death Valley National Park – Home of the Timbisha Shoshone." A stop for a photo is a must.
Suddenly, the mountains are going to start turning into red, yellow, and green shades.  Some rocks seem to be melting over the slopes of some peaks.
 A few miles ahead, you will find a pay station.  This is where you pay the entrance fee (on a machine) and take a visitor guide which contains a big map (essential in a place where modern phones lose their smartness).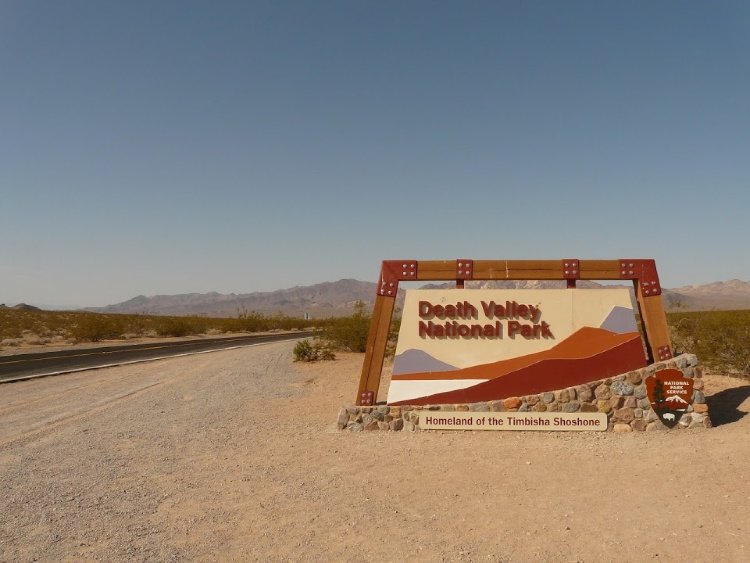 Dante's View
Right after the pay station, on the left, take Furnance Creek Wash Road and connect to Dante's View Road to reach the best viewpoint in the park.
We use the term Dantesque to describe something sublime.  Dante's View takes its name from the fact that you can observe the entire valley floor from it.  On top of that, you can see the lowest (Badwater Basin) and the highest (Mount Whitney) point in the (continental) United Stated at the same time.
This is a spot not to miss!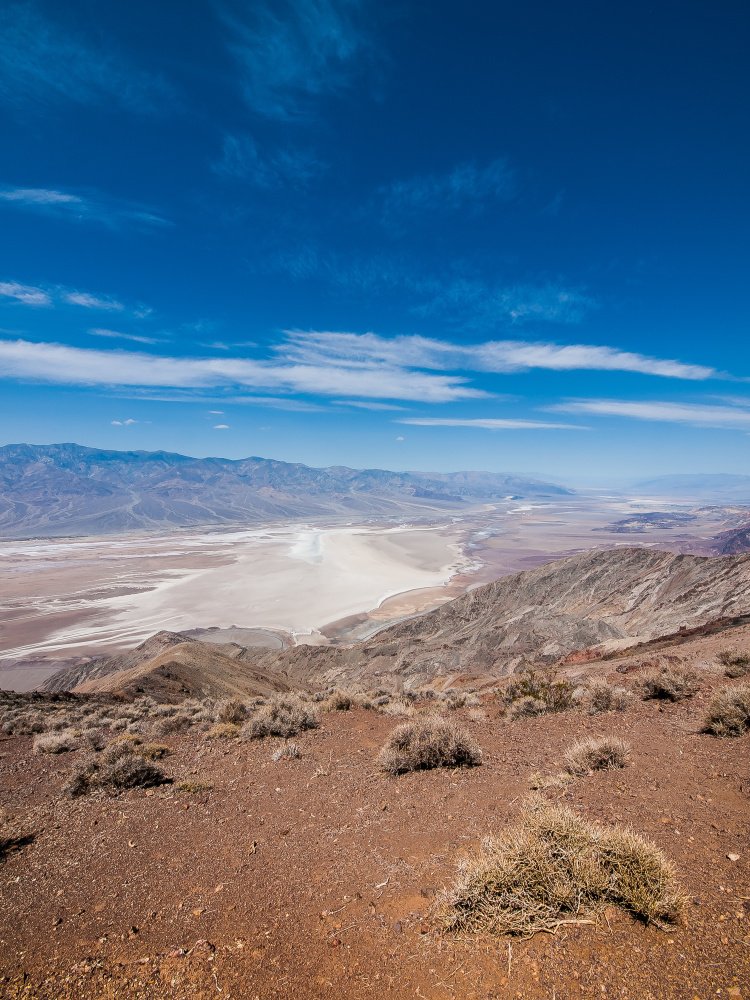 Zabriskie Point
Once you return to the main road, you are going to find a parking lot to your left.  Zabriskie Point is an area surrounded by vibrantly colored badlands.  It is going to be your first taste of how multihued the desert can be.  You can keep walking and get lost in the maze of curves.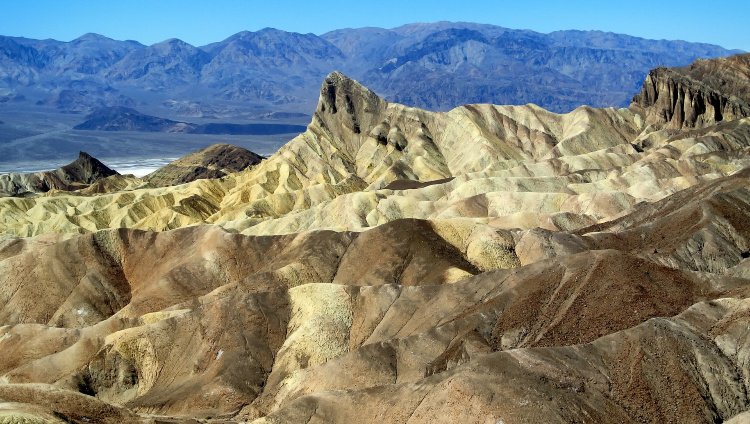 Furnace Creek
Furnace Creek is the core of the west side of the park. This is where you are going to find a visitor center, campgrounds, a golf course, lodging, food, a gas station, jeep rentals, a post office, and a museum.
You can stop by to learn more about the park's geology, flora, and fauna or to ask rangers questions you may have.
Mustard Canyon
Continue on CA-190 towards Mustad Canyon.  This area is characterized by small, mustard mounds against a backdrop of higher chocolate hills.  The road cuts thru the "canyon," so it is difficult to stop and take a good look. You can stop further down the road at the Harmony Borax Works parking lot in order to appreciate the beautiful views.  
Take time to explore the now abandoned borax (a component of many detergents, cosmetics, and enamel glazes) mine.  Mules were used to transport the crystals from Death Valley to nearby towns.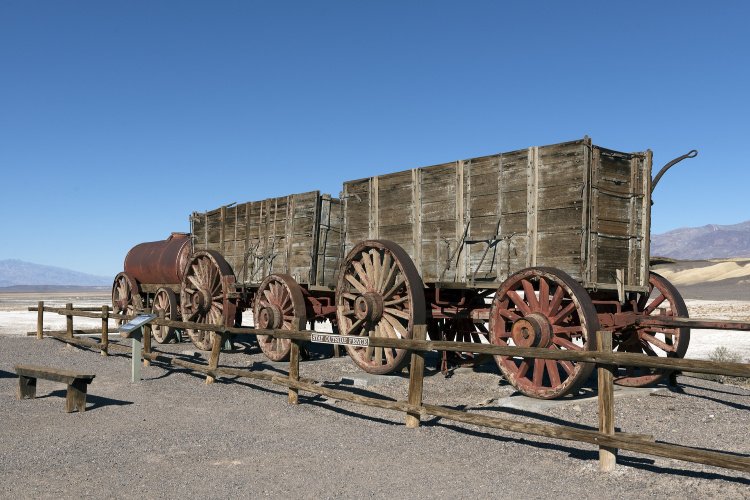 Salt Creek
In this area, a short (0.5 mile) walk takes you to a spring where pupfish (a fish found only in the park) thrive.  Spring is the best season to visit and spot the pupfish.
The road leading cars to the spring is unpaved but apt for sedans (drive carefully).
Devil's Cornfield
The Devil's Cornfield consists of an area covered by a plant called arrow weed.  People who like to give a jovial tone to everything started to compare the weeds to corn (maybe because of the yellow hues of the plant) and started to say only the devil could eat the corn coming from those plants.
Mesquite Flat Sand Dunes
Sand dunes.
The term evokes images of distant lands where the desert covers a vast amount of miles. Vegetation barely exists. The wind works its wonders by forming well-defined crests at the top of piles of sand.  The movement of the sun keeps changing the color of the panorama during the day.
In California, we have deserts (Mojave, Great Basin, Colorado) but they are not covered by tall 'mountains' of sand.  For dunes to exist there must be a source of sand, prevailing winds to move the sand, and a place for the sand to collect. The eroded canyons and washes of the deserts provide the sand, the wind seems to always blow but there are only a few areas where the sand is 'trapped' by geographic features such as mountains.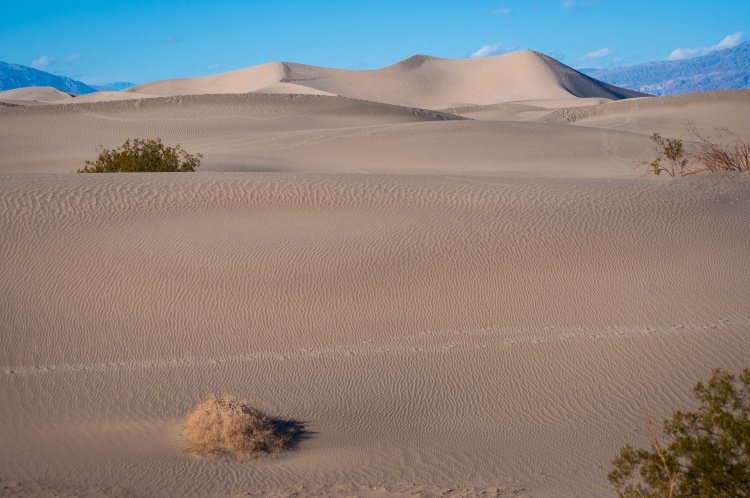 In Death Valley National Park (which lies on the Mojave Desert), there is an area surrounded by mountains on all sides (a perfect trapping site).  There lies the notorious Mesquite Flat Sand Dunes.  They are not famous because of their height (tallest dune is about 100 feet which is kind of small) but because of their accessibility.  It is easy to check out the dunes from one of the roads crisscrossing the park (there are other dune habitats in Death Valley but the access is more complicated).
Ohh, and these dunes are famous because of their relative proximity to Hollywood.  Yes, Hollywood! Several movies such as Star Wars have been filmed in the area.
So, if filmmakers are able to use this place to recreate fantasy worlds, well, I think mere mortals can let their minds assemble all sorts of scenarios when encountered with such a place. And yes, the rangers will allow you to slide down the dunes.
The primary source of the dune sands is probably the Cottonwood Mountains which lie to the north and northwest. Experts believe large pieces of rock covered the field.  With time, water and wind worked their magic and ended up creating the tiny grains we see today.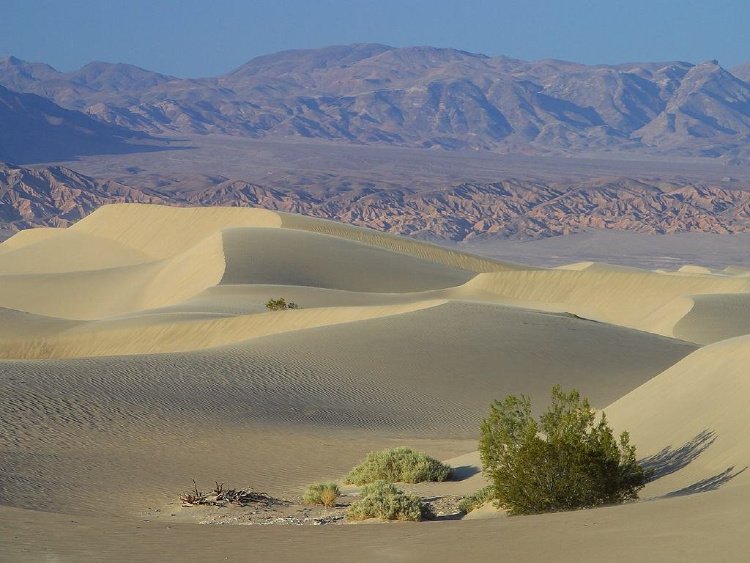 This part of the valley was covered by mesquite trees (hence the name of the place) before the dunes took over. The trees still survive in the new surroundings.
An interesting fact to point out is that the Mesquite Flat dune field includes three types of dunes (oh boy, everything is classified nowadays): crescent (mounds wider than longer, the wind blows them from one direction), linear (mounds with straight ridges, they can present a slight curvature on the ridge), and star-shaped (several arms radiate from the top of the mound).  Wow, who knew?
Spend as much time as possible around the dunes. As mentioned, it is not that common to encounter them in this part of the world.
Time to Turn Back
Since we have time limitations (we are on a day trip folks), after playing in the Mesquite Flat San Dunes, it is time to turn back on CA-190 (the same way you came from).
If you need to use the restroom or eat something, drive to the nearby Stovepipe Wells Visitor's Center and then turn back.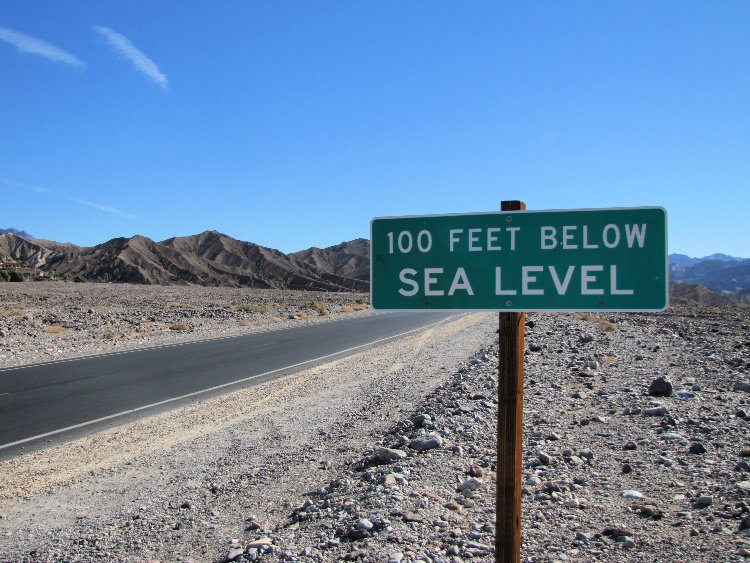 Optional: Scotty's Castle and Ubehebe Crater
Personally, I believe adding a visit to Scotty's Castle and the Ubehebe Crater in a one day drive (or visiting while en route to Los Angeles) is too much.  But, I will leave that decision to you.
Visiting these sights will add about three hours to your sightseeing.  Remember you still need to see the Badwater Basin area. I will give priority to that attraction.
Anyway, it is going to take you one hour to drive from the sand dunes to the crater.  Then, you need some time to walk around the rim, drive to the castle and snap some pictures.  Then, it is another hour to drive to the junction with CA-190.
To reach these attractions, deviate from CA-190 towards Scotty's Castle Road.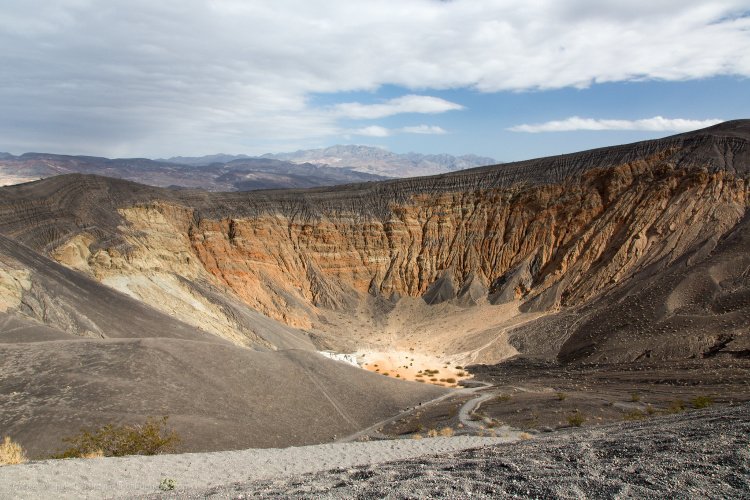 Photo by Mike Baird
Golden Canyon
If you decide to skip the castle and crater, backtrack on CA-190. After passing the Furnace Creek area, you will see the deviation towards Badwater Road.
The Golden Canyon trailhead is located 2 miles south of CA-190.  Golden and yellow are the predominant colors seen during the hike but expect to see tons of terracottas, ochers and baby pinks.  Red Cathedral starts to appear in the distance after walking a few steps inside this labyrinth-like crack.  This trail can be continued until reaching Zabriskie Point.  However, I recommend taking a short walk and returning to the car (due to time limitations).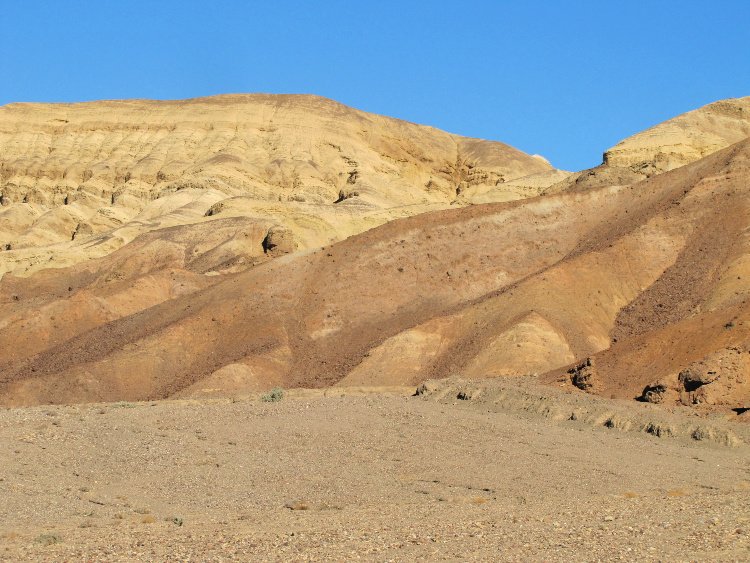 The Artist's Drive
Get ready to tackle the Artist's Drive, a one way, 9-mile loop where lengthy vehicles are not permitted.  The reason for the restriction unveils before your eyes. You start to pass through spaces so tight that can be easily described as mini canyons.  Cars appeared to be swallowed by tall walls of yellow and green earth.  
It is a bit difficult to see what is coming ahead.  The get a sense of where you are you have to look up.  Hills painted with magenta, mauve and wine tones give you a sense of direction.  Common sense starts to disappear. Should I pay attention to the mischievous road or to the unbelievable colors appearing before my eyes?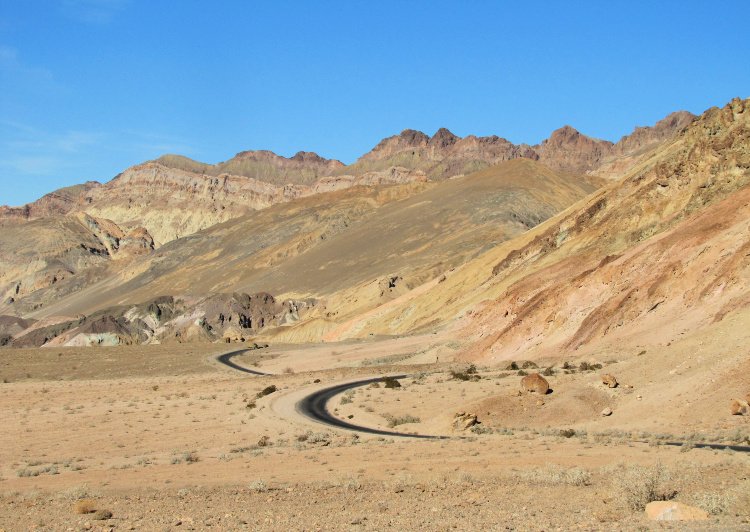 There are parts where the road is a maze of curves. There is no way to drive faster than 10 miles per hour.  Anyway, who wants to drive fast in a place like this? When we visited, we stopped in the middle of the road to take a good look at the surroundings.  At some points, we had the multi-hued volcanic hills at the right and the snowy mountains and valley floor to the left.
At other points, we went down precipitously.  I closed my eyes when we were about to take the rollercoaster ride.
When I thought things couldn't get any better, we got near the Artist's Palette.  It looked like a mad painter started to splash color all over the place.
What a beautiful ride!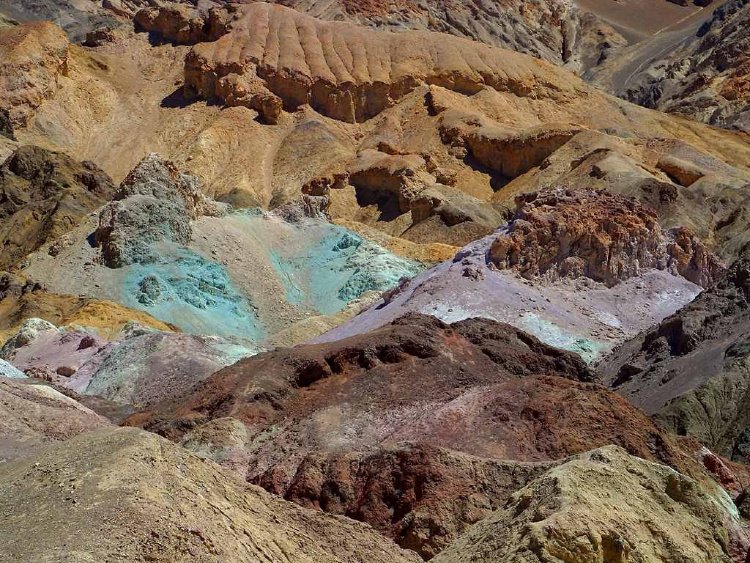 Devil's Golf Course
The Devil's Golf Course is a salt pan on the floor of Death Valley.  Large salt crystals are responsible for the rough look of the surface.  The area can be admired from a designated parking lot.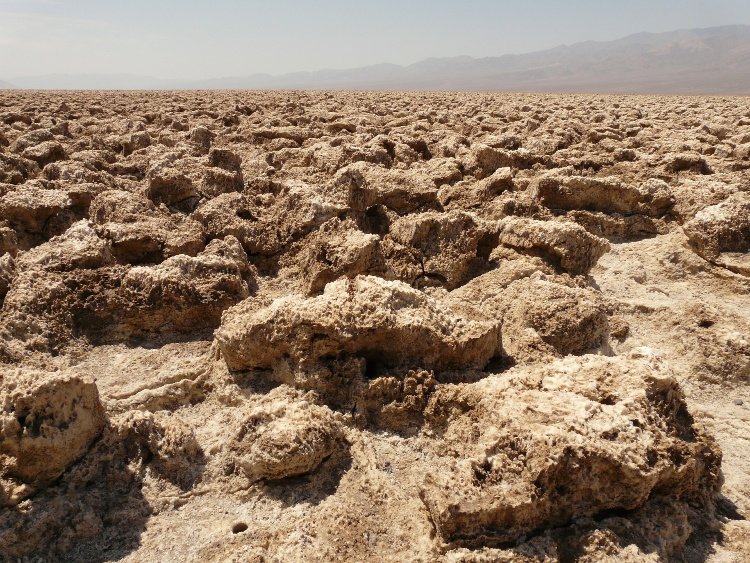 Optional: Natural Bridge
This easy (1-mile round trip) trail takes visitors to a natural sandstone arch. I am including this attraction as optional since you have to drive 13 miles of unpaved road to reach the trailhead.  The driving plus hiking can add up to two hours of sightseeing. Add to your itinerary depending on your preferences.
Badwater Basin
Badwater is probably the most popular attraction in Death Valley National Park. The basin is located at 282 ft (86 m) below sea level and a sign on a face rock behind the basin puts everything into context.
The basin gets its name from a spring-fed pool close to the road leading you to the access point.  Since the pool is surrounded by salt and other minerals, the water is undrinkable or "bad."
The color of the surface goes from white to light brown and this is understandable.  Thousands of dust, rock, organic matter and mineral particles cover the place. I thought the salt was going to be whiter.  
The surface gets more glistening the more you walk from where the visitors enter the area.  I walked and walked with the hope of seeing hexagonal sea crusts. However, the area is vast.  Time is needed to get to a point where you feel isolated.
If you are like me, you are going to feel the urge to taste the salt.  When I pick up a rounded crystal from the ground, it was so thick, hard and uneven, a totally different texture from what we consume on a daily basis. It tasted weird.  My little experiment didn't pay off.
Spend as much time as possible in Badwater.  The place is so unique!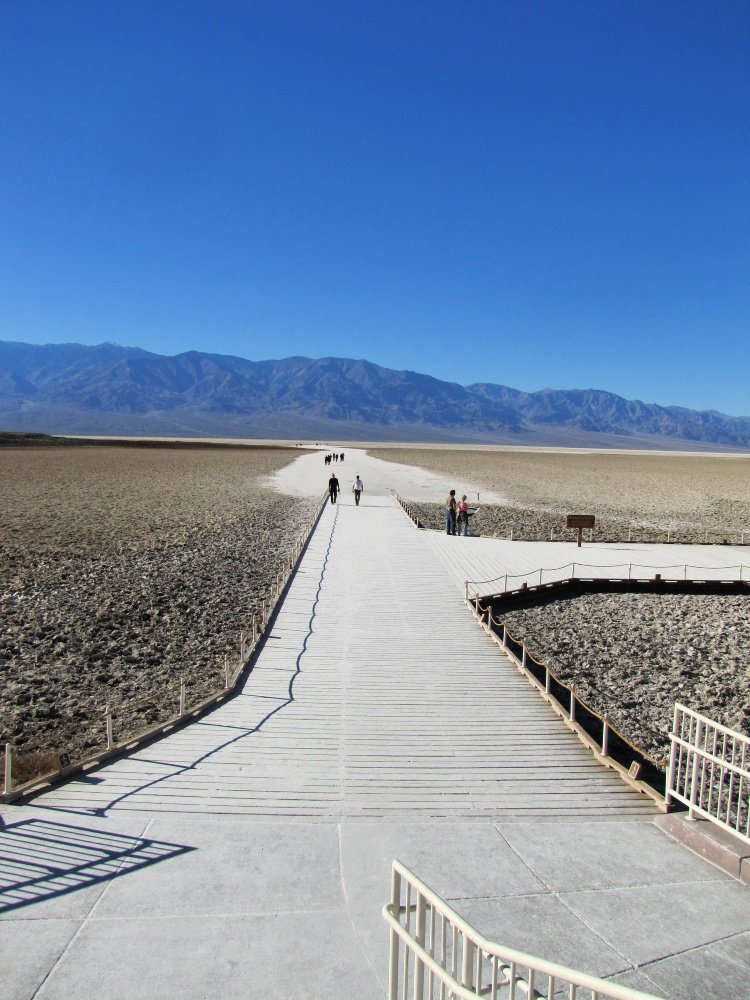 Las Vegas to Death Valley: Prioritizing Time
If you follow my ideas on what to see in the park (without the optional sights), you should end up spending 5 to 6 hours in the park.
Visiting the castle and the crater will add 2-3 hours to that total time.  The options provided are more than enough for a day trip from Vegas.
If you need to spend 2-3 hours in the park, I will concentrate on Zabriski Point, Furnace Creek, Mesquite Flat Sand Dunes, Artist's Drive and Badwater Basin.
Returning to Las Vegas or Continuing to Los Angeles
After visiting the Badwater Basin, it is time to go back to Las Vegas.  The easiest way to return is to take the same route you took in the morning.
People who want to extend the drive a bit, go south on Badwater Road, west on CA-178 and north on CA-127 (pass Death Valley Junction).  Then, they can merge into US-95 to reach Las Vegas. This route will take double the time to reach Death Valley Junction from Badwater Basin.
If you are continuing to Los Angeles, take the Badwater Road south, head west on CA-78 and south on CA-127.  This will connect you to the I-15 at Baker. You can rest in the Baker or Barstow areas and continue the drive to Los Angeles the next day. Or, you can continue straight to Los Angeles (drive time is about 3 hours, depending on where you are going in Los Angeles).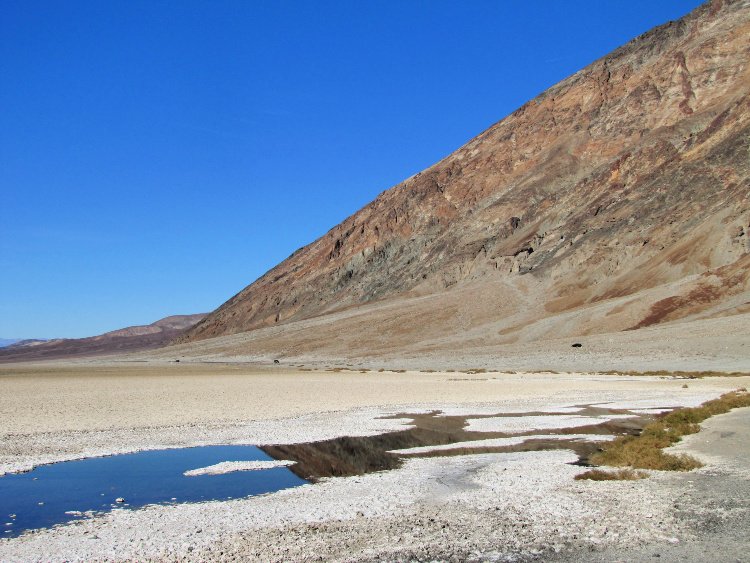 Other Things to Do in Death Valley
If you have the opportunity to spend more than one day in Death Valley, here are other things you can add to your list of things to do.
Moderate Hikes
Since this article is focused on a Las Vegas to Death Valley day trip, I have emphasized places that can be seen by car and places that require a short walk/hike.  Here are more ideas in terms of longer, moderate hikes. All distances shown below are roundtrip.
Darwin Falls (2 miles)
Badlands Loop (2.7 miles)
Golden Canyon (3 miles)
Desolation Canyon (3.6 miles)
Mosaic Canyon (4 miles)
Willow Canyon (4.2 miles)
The park has several strenuous hikes but they are recommended for experienced hikers.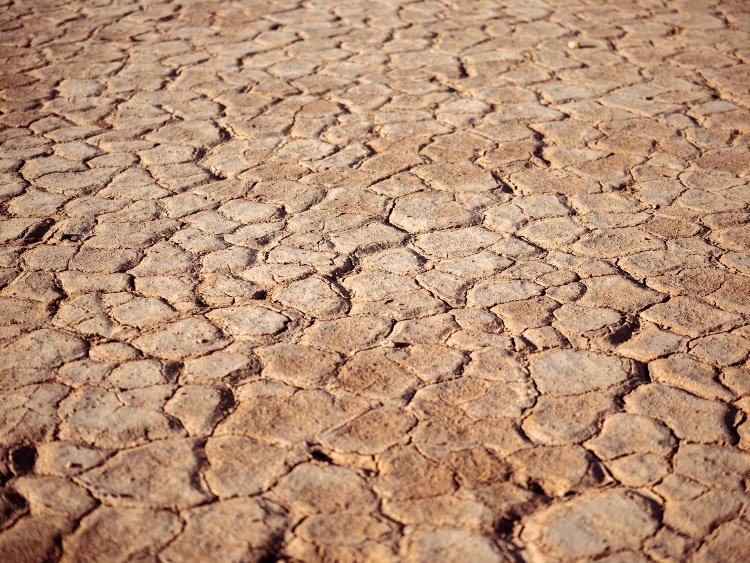 Ranger-Led Programs
If you want to learn more about the park, from an expert, join one of the daily ranger-led hikes.  They are included with admission and cover some of the most popular attractions in the park (Golden Canyon, Sand Dunes, Badwater, Harmony Borax Works). Guided walks are offered from December to March.
Rent a Jeep or Join a Jeep Tour
Death Valley National Park has more backcountry roads than other national parks.  To explore these, you need a 4 x4 vehicle. If you do not own one, a company called Farabee Jeeps offers jeep rentals from their Furnace Creek outpost. 
They will provide advice about how to stay safe in the wilderness and what are the best roads to explore.
If you prefer, you can join one of their guided tours to remote places such as The Racetrack (where rocks mysteriously move), Titus Canyon and Echo Canyon.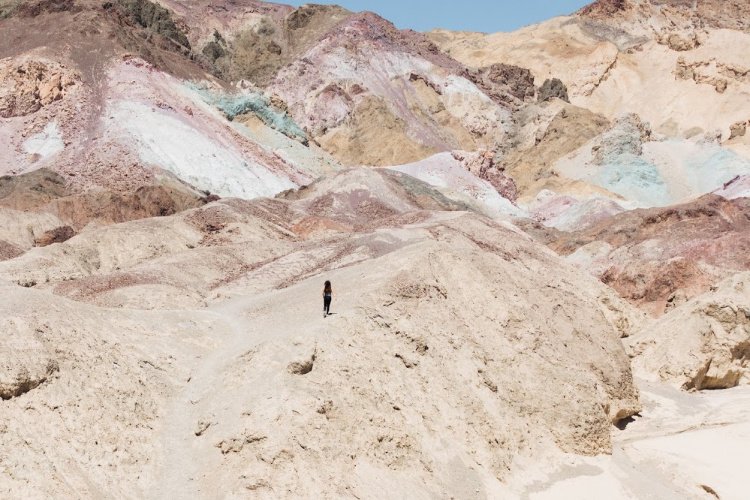 Things to Do Near Death Valley
The desert is a wonderful place to discover by car. If you are interested in exploring the area surrounding Death Valley, here are some options:
Amargosa Opera House and Hotel (Death Valley Junction)
Shoshone – Small town with a museum
Tecopa – The area around Tecopa has hot springs, breweries, resorts and a date farm (and bakery)
Rhyolite Ghost Town
Goldwell Open Air Museum (near Rhyolite)
Beatty – Small town with a museum
Ash Meadows National Wildlife Refuge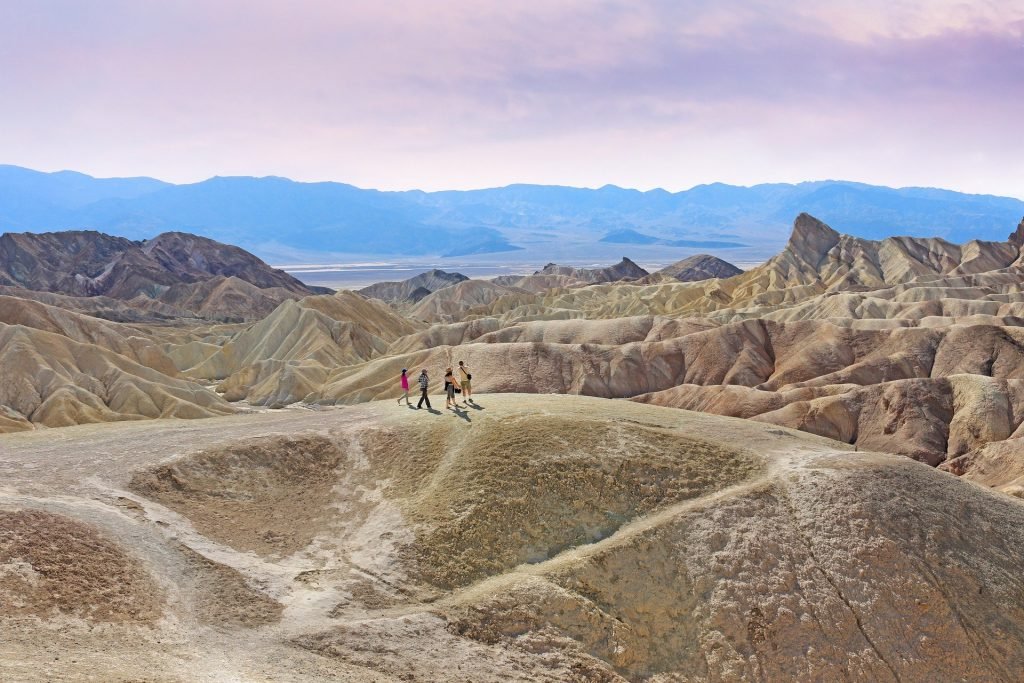 Death Valley National Park is one of the greatest places to visit in the United States.  I hope this article helps you to plan an amazing trip to the park!
More of National Parks
Things to Do in Joshua Tree National Park
Things to Do in Kings Canyon National Park
2 Days in Yosemite National Park
More Road Trips
LA to San Diego Drive (2 Itineraries to Choose From)
5-Day Pacific Coast Highway Itinerary (From Los Angeles to San Francisco)
Los Angeles to San Francisco Drive (Inland Road Trip Itinerary)
Los Angeles to Santa Barbara Drive
More of Southern California
Los Angeles Ultimate Bucket List
Ultimate San Diego Bucket List
150+ Places to Go in Orange County
Places to Visit in Santa Barbara
Have you done a Los Vegas to Death Valley day trip? What are your suggestions?
Pin "Los Vegas to Death Valley Day Trip" for later!