In a city as big and diverse as Los Angeles, multiple Chinese enclaves exist.  However, most residents would agree that the 'official' Chinatown is located in Downtown.
This area, located north of the Civic Center, lacks the size, vibrancy and exoticness of other Chinatowns located in prominent cities (example, San Francisco or New York).  Notwithstanding, the deficit of certain elements does not takes away the interesting and pleasant qualities of the area.
In some way, we cannot blame Chinatown for not 'fulfilling' our expectations.  The area has a turbulent past. Only one building from the original settlement remains.
'Old Chinatown' reached its heyday from 1810 to 1910.  After years of neglect, buildings were demolished to build what is now Union Station (the major rail and bus hub in Downtown).
What we see today is called 'New Chinatown' by historians.  Business people developed the area as a tourist attraction and gave streets names resembling Chinese cities. In the 80s, commerce got a big push with the creation of new shopping centers and mini-malls.
Most Chinese people have moved to the San Gabriel area (biggest Chinese population in Los Angeles and what residents call 'New Chinatown').  Because of this, Chinatown entered another period of neglect and scarcity.
Nowadays, the opening of new restaurants / galleries, the celebration of special events and the overall booming of Downtown Los Angeles have painted a bright rainbow over the area.
Here are some ideas on what to do, where to eat and where to shop.
Sightseeing / Activities
The main artery in here is Broadway Street.  There are signs pointing visitors to the main sights and buildings.  The place gets alive during the weekends.
Dragon Gate
This long gate, composed of two dragons looking at each other, marks the entrance to Chinatown.
Main or Central Plaza
Without a doubt, the prettiest part of Chinatown was created to resemble the streets of Shanghai.  Movies such as Lethal Weapon and Rush Hour have been filmed here.
Make sure to take pictures (or selfies) of the colorful buildings, statues, murals, gates and lanterns.  Eateries, cafes and souvenir shops abound around the plaza.
Walking Tour
The website http://www.chinatownla.com/ offers information on how to do a self-guided walking tour (link is located at the upper left side corner of site).
The site also contains information on how to sign in for The Undiscovered Chinatown Walking Tour which is offered every first Saturday of the month.  The tours costs $20 per person and reservations are needed.
Galleries
The majority of the galleries are located in Chung King Road.  Some galleries are open daily to the public but it is better to visit during a special art walks or during galleries opens.  Information can be found at http://www.chinatownla.com/
Eating
Food is one of the reasons I love to visit Chinatown.  Succulent food can be had at very reasonable prices.  It is best to come here midday and take advantage of the lunch specials. Overall, don't expect fancy decorations / furniture, stellar service or clean restrooms.  Bring cash.
CBS Seafood
This is the place to get Hong Kong style dim sum (daily), Cantonese seafood dishes and to-go food. Their soups and claypots are good (and a little bit exotic since not even servers can explain the ingredients).
Kim Chuy
I knew I was going to like this place when I saw the restaurant was packed, the tables were covered from corner to corner with plates containing mountains of food and the menu included a page with noodle type (thin egg, triangle, flat egg, thin rice, short rice, etc.) options.
We ordered the basics: soup, fried rice and seafood chow mein.  Sound a little bit unimaginative but Chinese food lovers know that some restaurants cannot even get right these items. I tend to avoid the fried rice because I find it bland in most places.
But there are good news about Kim Chuy.  The broth was rich, the rice was flavorful (full of pork bites, very similar to the rice I use to eat in Puerto Rico) and the noodles had a wok infused flavor that is hard to beat.  I can see myself visiting this restaurant many, many times.
Sam Woo Barbecue Express
This restaurant has tons of options and cheap Peking Duck.  The lunch specials provide good value for your money.
Other Places to Indulge
Ocean Seafood
Yang Chow
Full House Seafood
New Dragon
Golden Dragon
Ocean Seafood
Yang Chow
Vietnamese Food
One of the best places to get pho, spring rolls, bun and iced coffee is Gigo's Café and Deli.
Street/ Fast Food
There is a place called Yummie Sandwich and Food to Go located next to Saigon Plaza.  The tiny shop sells sandwiches, smoothies, tea -based drinks and ice cream.  However, the action happens in the makeshift tables placed in front of the place.  In there, fruit in pieces (rambutan, strawberries, jackfruit, coconut, mangoes, etc), eggrolls, spring rolls, shrimp toast, fresh sugar cane juice and more are sold.  You probably are not going to notice the name of the place but you would recognize it because of the long lines.
Many shops and restaurants have tables, outside their establishments, topped with sweet, cookies, savory snack and fruits. Be observant to decide what to try.
Coffee / Tea / Snacks
Broadway Street is full of small cafes and stores selling Vietnamese style iced coffee, Thai tea, boba drinks, smoothies, fresh juice and other popular drinks.  Consider yourself warned.  You are going to feel the urge to get a drink when seeing all the people walking around with tall glasses.
Bakeries
Bakeries in Chinatown offer a lot of choices.  You can choose from buns filled with sweet pork, chicken curry, red bean paste, taro or coconut.  Also, there a lot of French or Viennese pastries to choose from.  Remember a lot of the baked goods in these bakeries are already packed to go (just in case you are stuffed).  Some places to try include:
The Wonder Food Bakery
Phoenix Bakery
Chinatown Bakery
Non Asian Options
For those in search of other options, or in search of a place which have been featured in many TV shows, Philippe's, located in the edge of Chinatown, has been serving sandwiches for about 100 years.  They claim to be the inventors of the French dip sandwich.  There is a lot of hype surrounding the place (since it is a Los Angeles original) and it is famous for its humongous and cheap sammies.
Shopping
Souvenirs / Trinkets / Cheap Clothes and Accessories
Broadway Street is lined with many stores selling souvenirs, toys, luggage, clothes, accessories and everything you can imagine.
If you are looking to avoid the Fashion District (also known as 'The Alleys'), covered markets such as Saigon Plaza, Chinatown Plaza and Dynasty Shopping Center offer kind of the same variety of products in a less hectic (and maybe cheaper) environment.  Buying souvenirs (t-shirts, hoodies, jackets) is more cost effective here than in places like Hollywood, Santa Monica or Venice Beach.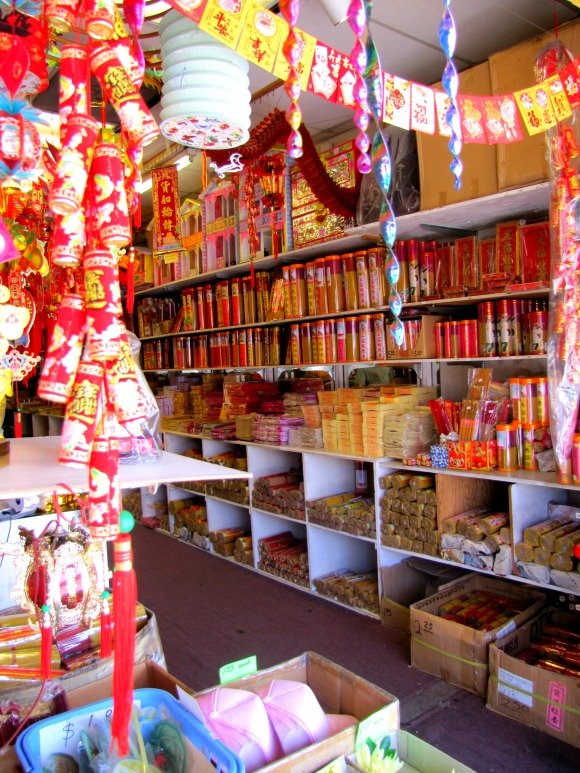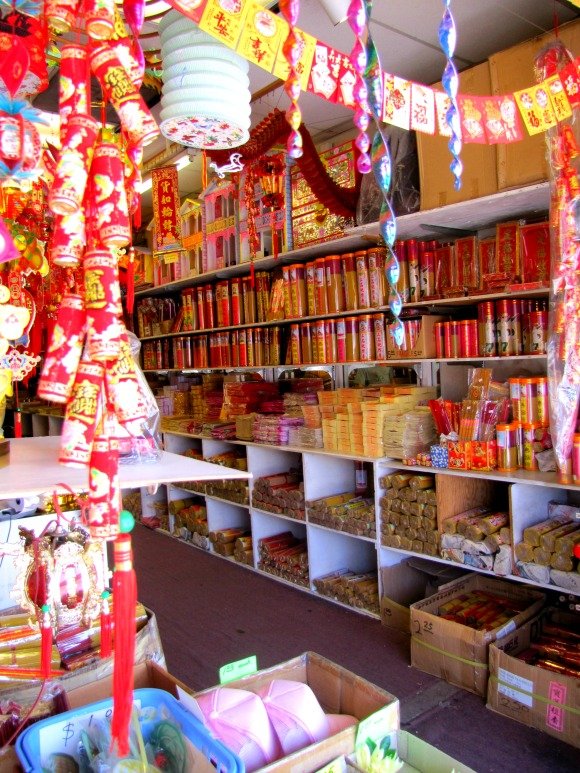 Oriental Products
Far East Center and Wing Hop Fung Ginseng & China Products offer a huge variety of oriental products (dried fruits, nuts, tea, spices, dried mushrooms, herbal remedies and more).  Even if you are not thinking about buying anything, it is interesting to take a look around and see what you can discover.
Fresh Poultry and Game Meat
Shops like Superior Poultry and Peking Poultry sell fresh chickens, old chickens, roosters, ducks and geese.  I have seen pheasant, guinea hens, rabbits, Silkie chickens (black skin), quails and other rare meats on their menus.
Other Details
Parking lots are widely available in the area.
If you are thinking about exploring Downtown Los Angeles, I suggest you park in Chinatown were all day parking is $4 to $5 bucks (as opposed to $15 to $20 in other area of Downtown).
Chinatown is served by its own Metro Station (yellow line).  From here, you can jump in a whim to other parts of Los Angeles.
Remember it is better to visit Chinatown during the weekends.
Bring cash since several establishments do not accept credit cards (and you will need cash to shop in the covered markets).
For more of Chinatown, check out my photo essay.
What is your favorite Chinatown?