As a 15+ year resident, I have created an amazing Los Angeles itinerary for first-time and returning visitors.
I decided to put all my ideas and notes together since I have been showing friends around for a long time. I am called back when they return to the city.  So, I assume they enjoyed the places I shared with them.
In addition, I have been receiving questions from readers by e-mail. There are a lot of concerns about how to move around, safe areas to visit and the number of days needed to cover the city.
I believe this itinerary will provide a good foundation for your trip planning.  Los Angeles is a fascinating city that people who love travel should make an effort to explore.
Take a look and let me know what else you want to know about Los Angeles.
Please note: This article contains affiliate links, meaning I may earn a commission if you make a purchase by clicking a link. Of course, this comes at no extra cost to you and helps me to keep offering solid information to readers.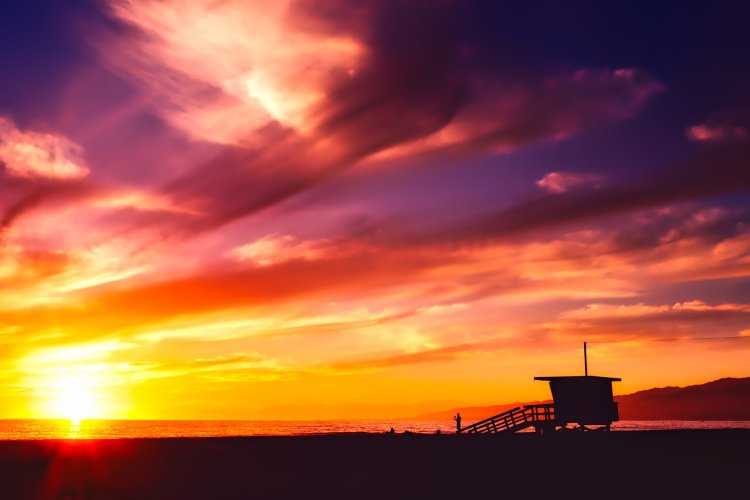 Know Before You Go
Before getting into details, I need to make sure we are on the same page.  The itinerary outlined below was drafted with certain assumptions in mind.
This Los Angeles itinerary works for first-time and returning visitors.  I am providing a lot of ideas for each day. Therefore, you may not be able to cover all the suggestions.  That is ok. You will have material for your next trip.
On the same note, Los Angeles is a huge metropolis.  On top of that, there are tons of beautiful and interesting places on a 100-mile radius.  Even though you are not going to cover everything in 3-4 days, I think that is a decent amount of time to get a good grasp of the city.
I am assuming you are interested in seeing the top sights.  That means you will be moving around a lot. If you want to chill, pick an area and explore at leisure.
I suggest starting sightseeing early (9 to 10 a.m.) to make the most out of your time.
A lot of people assume it is impossible to move around Los Angeles without a car. To a certain extent, that is true. Things will be simpler with a car and I recommend budgeting for one.
Now, I understand if you do not want to drive on the monster freeways.  On this itinerary, I am proving details on how to approach the situation if you do not count with a car.
If you are renting a car, you need to take into consideration parking expenses.  It may be more cost-effective to use ride-sharing services to move between spots.
If you do not have a car, I advise you to take Uber or Lyft between places.  There are public transportation options such as buses and trains.
Traffic in Los Angeles is terrible (it is one of the worst in the entire world).  You want to avoid freeways during rush hours (6:00-9:00 a.m., 4:00-7:00 p.m.).
I am known for my low budget itineraries.  Most of my sightseeing recommendations are free of cost.  It is up to you if you want to spend additional money on certain things. I will let you know when things have a cost.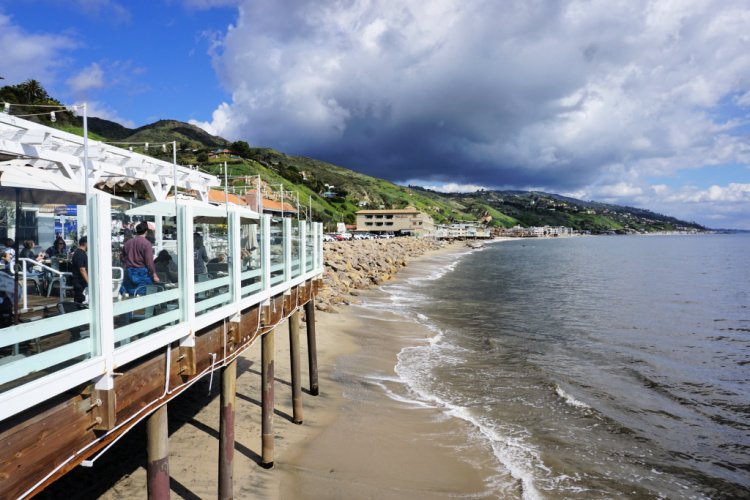 Sightseeing Gear
Get ready for a day of sightseeing by bringing the right gear.  Here is a list of the items I pack to explore cities and towns in California.
Los Angeles Itinerary Day 1 – Santa Monica / Venice Beach
Start your visit to Los Angeles on or near the beach.  I feel like this is what the body needs after a day of traveling.
Breakfast
Start the day at one of the following establishments:
Blue Daisy Cafe – Great selection of unique dishes.  For example, you will find croissant French toast, smoked salmon crepes, and baked eggs ratatouille in the menu
Bruxie Original Fried Chicken and Waffle – The name tells you this is a fried chicken paradise.  They have spicy, maple glazed and extra crispy versions
Jinky's Cafe – I do not where to start! This place has specialties like lemon pistachio cream French toast, pumpkin pancakes, and an Italian egg sandwich
Flake – Great place (with outdoor seating) serving burritos, sandwiches, wraps, and bowls
26 Beach Restaurant – This place serves a ridiculously decadent selection of French toast (s'mores, tiramisu, peach melba) and other hot dishes
Cafe Buna – Great spot to get burritos, breakfast quesadillas, scrambles, chilaquiles, omelets, waffles, and pancakes.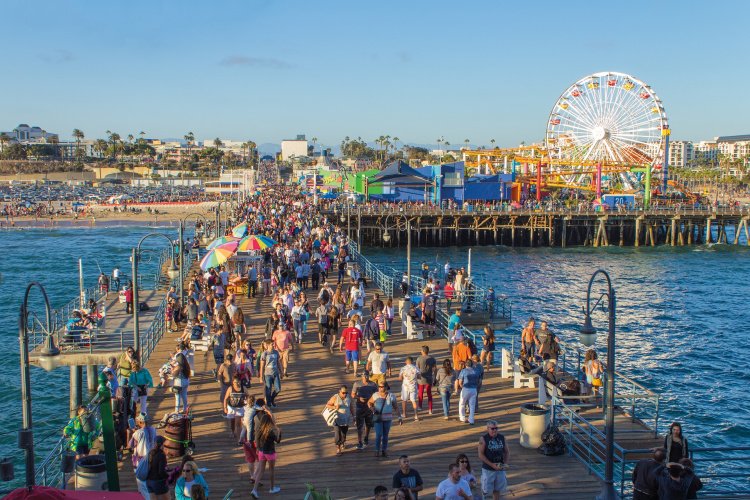 What to See and Do
After breakfast, it is a good idea to head to the Getty Center, one of the premier art institutions of the United States.
The Getty specializes in pre-20th-century paintings, illuminated manuscripts, drawings, sculpture, decorative arts, and photography.  
This is not your typical museum.  So, do not be put off if you are not a fan of them.  The Getty features impressive architecture, gardens, a maze and wonderful vistas of metro LA.  In addition, it has many open areas where visitors can sit and enjoy the surroundings.
Technically, the museum entrance is free.  The catch is that you have to pay $20 for parking.  Keep in mind a visit here can take up to half a day.  That would subtract time from the beach part of the day.
For more details check this post: The Getty Center
It is time to head to Santa Monica!  I would start by strolling along the Third Street Promenade, a pedestrian street full of cool restaurants, trendy restaurants, coffee houses and stands selling magazines and newspapers (very European).  Do not forget to snap pictures with the cute dinosaurs adorning the way.
Shopping fans will want to check out The Santa Monica Place, a modern designed mall with high-end stores and eating establishments at the top floor.
It is an easy walk to the Santa Monica Pier, a humongous structure holding an amusement park, restaurants, a trapeze school, shops and a parking lot.
Pacific Park and its famous (solar-powered) Ferris wheel will be a hit with kids.  Even if you do not do the rides, you can get all kind of fair treats such as popcorn, cotton candy, churros, and ice cream.
A fun fact is that the Santa Monica Pier has been declared the last stop of Route 66.  As a consequence, you are going to find a lot of signs (and memorabilia) commemorating this.  Again, this provides plenty of fun photo ops.
In the pier vicinity, you will find the Original Muscle Beach, Tongva Park, the Santa Monica Pier Museum, and the Camera Obscura Art Lab.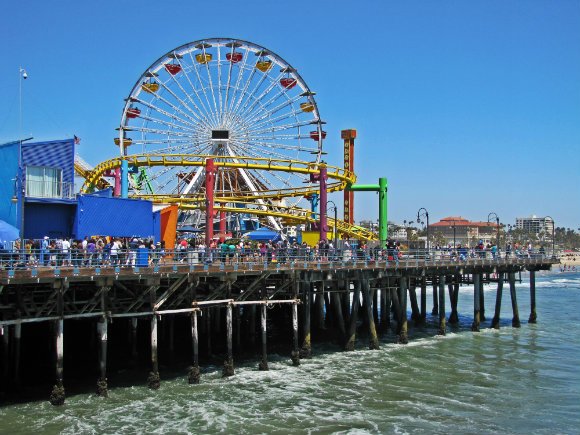 If you love to discover places by walking, Ocean Avenue is an excellent thoroughfare to see Art Deco, Modern, and Contemporary architecture.  Of course, taking the Ocean Front Walk south will take you to Venice Beach.
If time is on your side, walk, bike or drive to Venice Beach.  This Los Angeles' neighborhood is very different from Santa Monica.  Everything is hip, trendy and bizarre there.
Do not miss The Boardwalk, the oceanfront walkway where the action happens.  In there, you can see anything from disturbing shows (for example, a guy jumping over shattered glass), people hanging around with snakes, street artists, vendors selling all sort of goods and much more.  Add to that a marijuana dispensary at every corner.
For something less intense, head to Abbot Kinney Boulevard, a place full of independent stores, boutiques, restaurants, and sweet shops.  Plus, there are good quality murals at almost every corner. You can go crazy snapping away.
My favorite part of Venice Beach are the canals.  These are the remnants of the canal systems developed by Abbot Kinney and the reason behind the neighborhood's name (Venice of America).  This area feels completely disconnected from the city. Do not miss it if you are looking for quietness.
End the day at the Erwin Hotel's High Rooftop Lounge.  The views, shareable plates and drinks are great.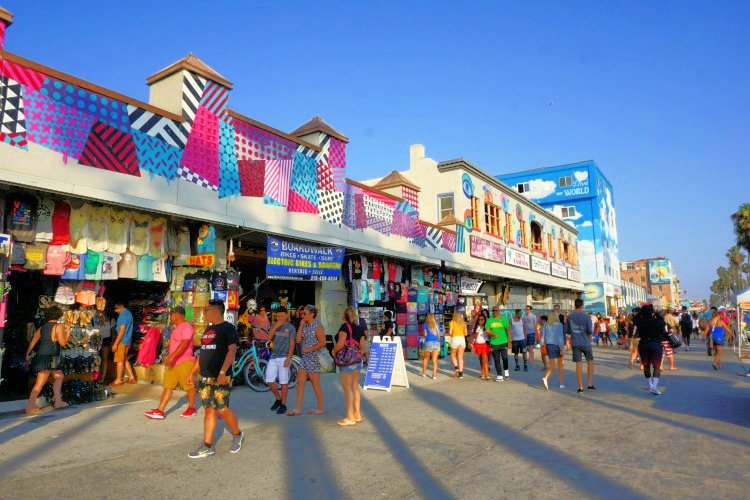 Lunch and Dinner
Here are some of my favorite places to eat in the Santa Monica and Venice Beach area:
Gjelina – Super popular place to try new American dishes.  As an example, you can order grilled pork collar, mushroom toast, crispy duck or Hawaiian kampachi crudo.  Be ready to wait since the restaurant seems to always be full
The Butcher's Daughter  – Plant-based eatery, café and juice bar with origins in New York City. Local enjoy the stone oven pizzas, cauliflower t-bone, and grilled artichoke hearts
Kreation Organic Kafe – One of my favorite place to eat kebabs, bowls, salads and sandwiches (the bread is delicious).  You have to try one of their juices or smoothies.
Greenleaf Gourmet Food – Yet another option for those days when you want to eat healthily and light. They have a large selection of salads, bowls, and sandwiches prepared with fresh ingredients
Abbot's Pizza Company – Good option for those who are sticking for a budget or want to eat fast
La Tostaderia  – Ok, for a meal full of flavor head to this restaurant.  Try as many of their octopus, shrimp ceviche and fish ceviche tostadas as you can.  The aguachile is delicious too
El Huarique – We all need a bit of Peruvian food in our life so, get the chaufa, fish ceviche or lomo saltado
Berlins – Another affordable and quick eat located on The Boardwalk.  They serve huge doners, a pita stuffed with meat, lettuce, tomato, cabbage, onions, and sauce
James' Beach – This is such a chill place to eat and drink.  They have taco platters, salads, sandwiches, lasagna, and rotisserie chicken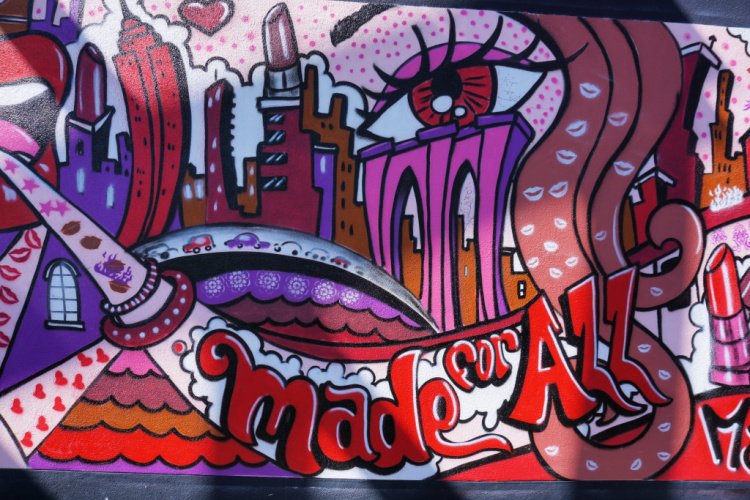 Ice Cream and Sweet Treats
Salt & Straw – This is my number one recommendation to get ice cream in Venice Beach.  The flavors (and taste) never disappoints
Afters Ice Cream – This chain is known for its creative flavors such as jasmine milk tea, cookie monsters, Vietnamese coffee, and banana walnut.  They can stuff the ice cream in a bun (if you want it like that)
DK's Donuts – I am glad I do not leave close to this store because my health would suffer horribly.  I am not a big fan of donut but the ones in here are addictive
Coffee Shops
Bluestone Lane – This small restaurant has an Australian inspired menu and as a result the coffee is excellent.  Enjoy their flat whites, long black and Aussie lattes
Love Coffee Bar – Neighborhood cafe serving high-quality coffee from small providers
Menotti's Coffee Stop – Nice place to get a latte, chai or cappuccino
Parking Details
In Santa Monica, you can park around the Third Street Promenade area or at the Santa Monica Place multi-level structure.  If you are only interested in the beachfront attractions, park on or next to the pier.
In Venice Beach, there are several parking lots behind Abbot Kinney Boulevard (Irvin Tabor Circle and Electric Street).  For beach parking, drive towards the end of Venice and Washington Boulevards.
If You Do Not Have a Car
Without a car, you should concentrate on covering the Santa Monica and Venice Beach areas. Start your day at one of the beach communities (by train or Uber) and explore the sights.
After that, you can walk or bike from one place to another through the ocean walk (or The Boardwalk).  The distance from Santa Monica to Venice Beach is 2 to 3 miles (depending on where you want to go).
If you do not feel like walking, take an Uber between the two places.
More of the Area
For more details on Venice Beach, check the articles I have written on this Los Angeles' neighborhood.
Venice Beach Murals, Graffiti and Street Art
Abbot Kinney Boulevard: Restaurants, Shops, and Events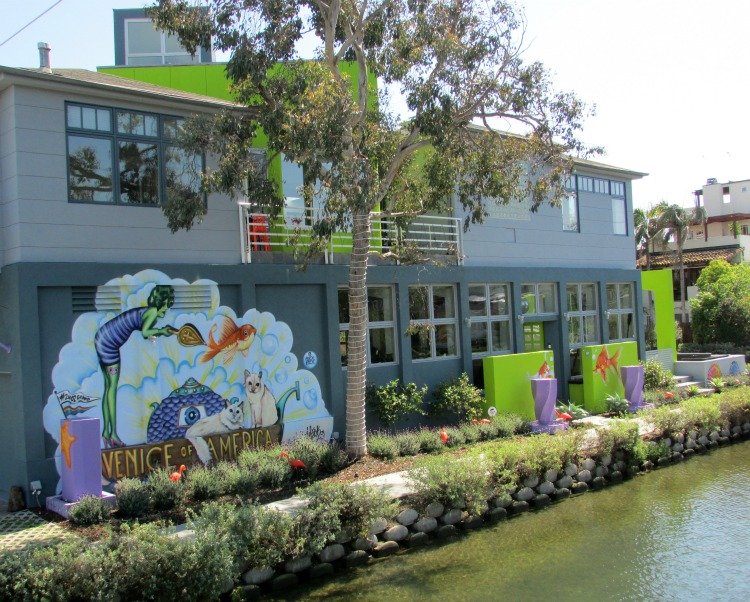 Los Angeles Itinerary Day 2 – Beverly Hills / Hollywood
After a fabulous day at the beach, it is time to explore some of the more iconic areas of Los Angeles.  Today, it is all about glitz and glamour.
Breakfast
Do not forget about breakfast! Here are some ideas to start the day with the right feet:
Prospect Gourmand – The weekend brunch includes smoked salmon club "BLT," lobster & brie omelet and grilled Spanish octopus salad
Joan's on Third – This spot operates on a marketplace concept.  You explore the different stations and select items such as fried egg sandwich, corned beef hash, pain au chocolate or rustic apple pie
Chaumont – I adore this place because of their Morrocan breakfast, mushroom & gruyere omelet and acai bowl
The Griddle Cafe – This "all-day" breakfast joint adds ingredients such as Oreos, coconut, peanut butter and liqueur to pancakes and French toast.  Their list of egg dishes is ginormous
Urth Caffe – The specialty here is organic coffee and tea but locals rave about the food too.  For breakfast, they serve bread pudding, granola bowls, beef hash and an assortment of bread and pastries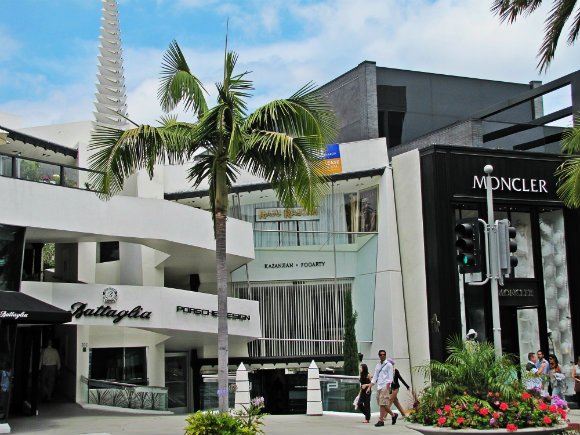 What to See and Do
This morning head straight to Beverly Hills.
The first stop should be the Beverly Gardens Park for a photo with the famous "Beverly Hills" sign.  The park has gardens, statues, and green areas.
Cross the street to hit Rodeo Drive, a synonymous of opulency around the world.  In this street, some of the most influential fashion houses have a presence.  Expect top-notch window displays, futuristic buildings and tons of luxury cars.
I particularly like the Prada, Bijan, Guess, and Van Cleef & Arpels stores. Be discreet if you enter one of the establishments.  Most places have security guards at the entrance.
Make sure to walk all the way to the end of the street (intersection with Wilshire Boulevard).  That is where you are going to find the Via Rodeo and Rodeo Drive intersection/sign and the Rodeo Drive Steps.  
Continue your walk by checking out Beverly and Canon Drives.  You can walk Beverly Drive past Wilshire too.
Do not forget to take a look at the beautiful Beverly Hills City Hall and the Wallis Annenberg Center for the Performing Arts.
With a car, you can head to the Beverly Hills Hotel.  Non-guests are allowed to visit the cafe and lounge. Reservations are recommended if you want to eat at one of the restaurants.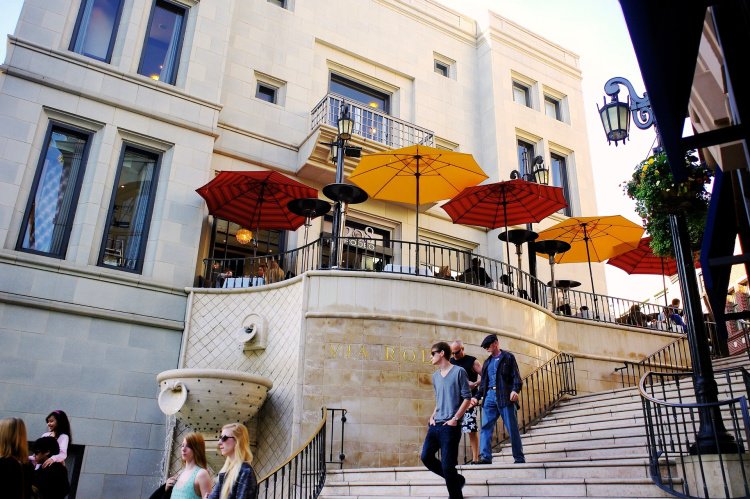 Ok, so it is time to move to the next destination.  Foodies will enjoy a quick stop at the Original Farmer's Market.  This open-air institution has stalls selling international food (Brazilian, Singaporean, Mexican, etc.), produce, gourmet cooking products and souvenirs.
The Grove, a luxurious, open mall is connected to the market.  This is another classic in Los Angeles and it is a charming place to walk even if you are not buying anything.
Hipsters would prefer to check Melrose Avenue for its murals, cafes and unique stores.
It is time to visit Hollywood and its main attraction: the Walk of Fame.  The walk starts at the intersection of Hollywood Boulevard and La Brea Avenue.  The attractions in Hollywood are located mainly along the boulevard of the same name.
Once at Hollywood Boulevard, you are going to see the stars right away.  If you are interested in finding a particular star, use this finder to locate the exact direction beforehand.
Other musts to see include the Chinese Theather, the Dolby Theather (where the Oscars take place) and the Capitan Theather.  
The Hollywood and Highland Shopping Center has great views of the Hollywood Sign.
Hollywood is full of paid attractions such as Madame Tussauds, Hollywood Wax Museum and Ripley's Believe It or Not.  Personally, I do not recommend these places because of the cost involved to visit ($25-$30 per person) and the low quality of exhibits.  I am mentioning them in case this is your cup of tea.
For sunset, head to the Griffith Observatory.  Exhibitions here are free of charge but people visit for the incredible views of the city.  In all honesty, I would skip Hollywood (to me it is overrated) and spend more time here. There are several hiking trails that can be accessed from the area.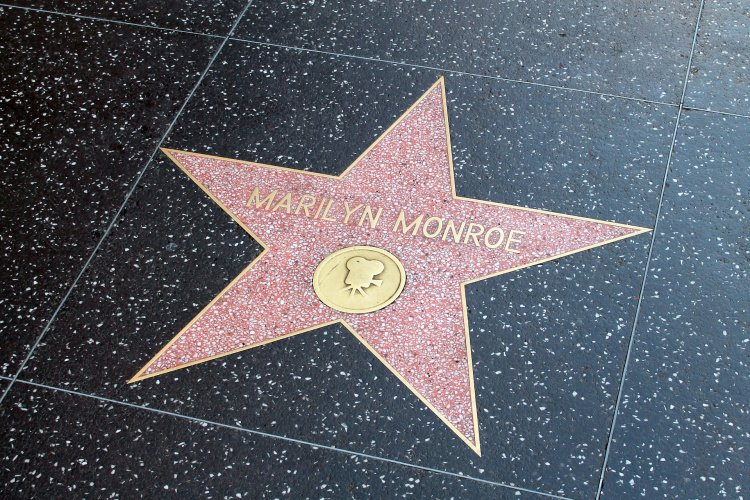 Lunch and Dinner
Eating options in Beverly Hills are better than in Hollywood.  You are going to be better off if you eat in there.
Le Pain Quotidien – Everything on the menu looks fresh and colorful. I enjoy their cheese platter, super grains bowl and Devon ham & cheddar baked tart (my favorite).
Nate n' Al Delicatessen – Classic New York style deli serving humongous sandwiches, cakes, and shakes.  Order half a sandwich since a whole one is for two people. Servers even have a New York accent.
M Cafe  – Food is dairy-free, organic and non-GMO.  They serve sushi, salads, soups, whole grain bowls, noodles, sandwiches, and burgers
Mulberry Street Pizzeria – New York style pizzeria.  The serve the whole pie, slices, pasta, and salads
Da Pasquale – Crazy good Italian food.  They have a wide array of pasta (raviolo, spaghetti, ziti, pappardelle, fettuccini), meat, fish, and pizzas
The Stinking Rose – I cannot leave out of the list this restaurant specializing in dishes cooked with tons of garlic.  I crave this place so bad!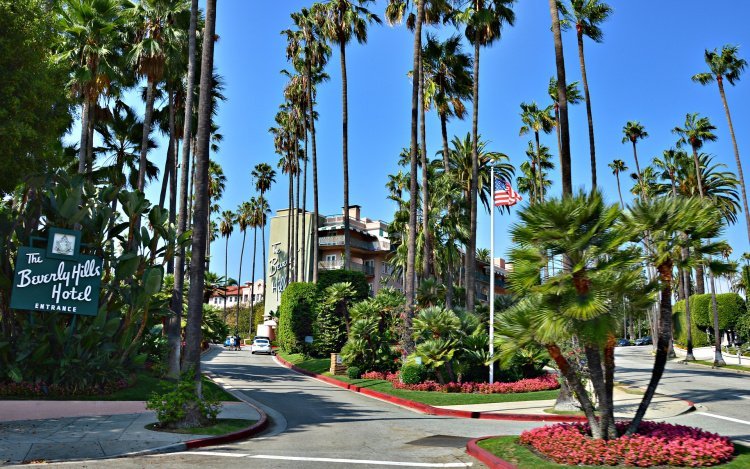 Ice Cream and Sweet Treats
Amorino – Shop famous for serving ice cream in the shape of a rose
Creamistry – Create your own ice cream or choose one of the signature creations (mangonada, cookie monster, party animal)
Sprinkles – Get your baked good from a cupcakes ATM (or you can go inside the store)
Coffee Shops
Alfred Coffee – One of the most Instagrammable coffee chains in Los Angeles.  Known for their matcha latte, drip coffee, cold brew iced coffee and chagaccino (chaga is a wild-harvested mushroom)
Comoncy – Great place to get expressos, lattes, and hot chocolate.  They serve food too.
La Colombe Coffee Roasters – This chain is known for unique blends and single origin products
Parking Details
In Beverly Hills, there are several public lots on Rodeo and Beverly Drives.  There are several large parking structures on Santa Monica Boulevard.
In Hollywood, there is parking on the street (metered), public lots on Hollywood and Sunset Boulevards and a parking structure at Hollywood and Highland (need validation from a merchant to get a cheap rate).  
Try to avoid private lots that charge a $20 to $25 flat rate. Also, pay attention to the small print before entering a lot.  A lot of places advertise parking rates as low as $5. However, when you enter, the rate is actually $ per 15 or 30 minutes.
Even if you have a car, it is not recommendable to take it to the top of the Griffith Observatory.  Parking is a nightmare there. It makes more sense to leave your car parked in Hollywood (you may have a flat parking rate anyway) and take a shuttle or ride-sharing service to the top.
If You Do Not Have a Car
Beverly Hills, Hollywood and the Griffith Observatory are close to each other.  You can use Uber or Lyft to move around.
More of the Area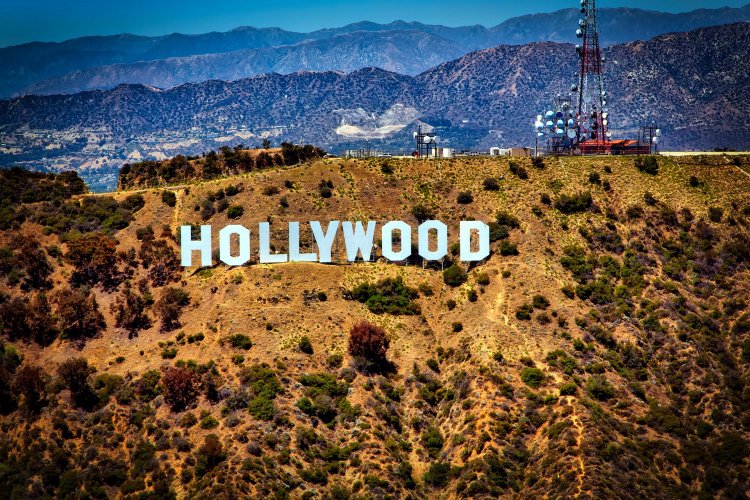 Los Angeles Itinerary Day 3 – Downtown Los Angeles
This day is dedicated to one of my favorite parts of the city: Downtown Los Angeles.  Contrary to what you may hear, this area is pulsating and diverse. I prefer Downtown over the other most popular areas in Los Angeles.
Now, Downtown Los Angeles is massive.  You would need more than one day to see all the different districts.  On this itinerary, I am concentrating on the Civic Center and Bunker Hill.
Breakfast
Food is one of the strengths of Downtown.  Check out one of the following restaurants:
Poppy & Rose – people visit Poppy & Rose for its chicken & waffles, poppy burger, fried chicken sandwich, and biscuits & gravy.  
Blue Jam Cafe –  serves dishes such as crunchy French toast, chilaquiles, huevos rancheros, and Benedict eggs.
Don Francisco –  They serve strong coffee plus Cuban sandwiches and pastries.
Zinc Cafe – The menu features quiche, scrambled eggs, avocado toast, omelets, and Belgian waffles.  Their selection of hot and cold drinks is amazing.
ediBOL – As the name implies, they serve herbed pork, shrimp & grits and baked eggs bowls.  Breakfast (brunch) is only served during the weekends.
Cafe Gratitude – Crowd favorite serving taco plates, chickpea quiche, smashed red potatoes and buckwheat flax pancakes.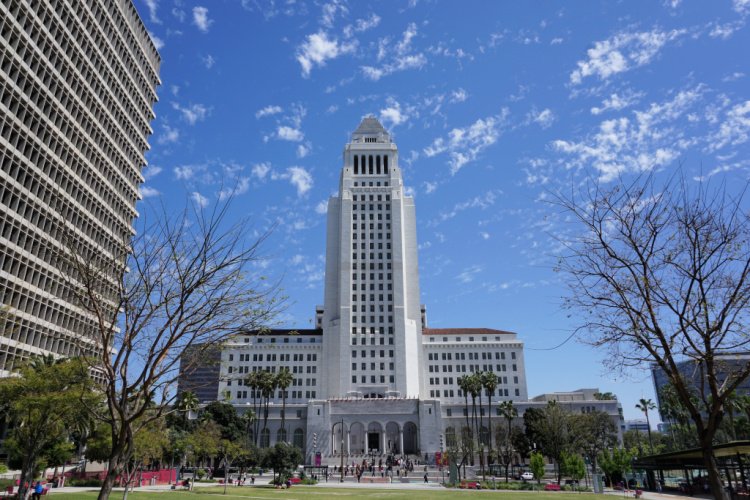 What to See and Do
With a full belly, proceed to The Last Bookstore (corner of Spring and 5th Streets), an independent bookstore full of fun displays and local art.  Spend some time browsing their two floors and checking out what is inside the vault (yes, they occupy the building of a former bank).
Now, it is time to walk about 4 blocks to City Hall.  This art deco building is a symbol for the city and visitors are encouraged to visit.  Turns out, you can access the observation deck for free. Enter the building by the back, pass metal detectors, hop in the elevator and get ready to see Downtown, different cities comprising the Los Angeles County, the San Gabriel Mountains, Catalina Island and the Pacific Ocean.
On your way down, stop on the 3rd floor to see the monumental rotunda.  Once outside, cross the Grand Park to reach the Music Center.  Remember to take pictures of City Hall from the top part of the park.
It is time to take a look at the Dorothy Chandler Pavilion and at one of the most celebrated buildings in the West Coast, the Walt Disney Concert Hall designed by Frank Gehry.  Walk around the building trying to find the most photogenic spot.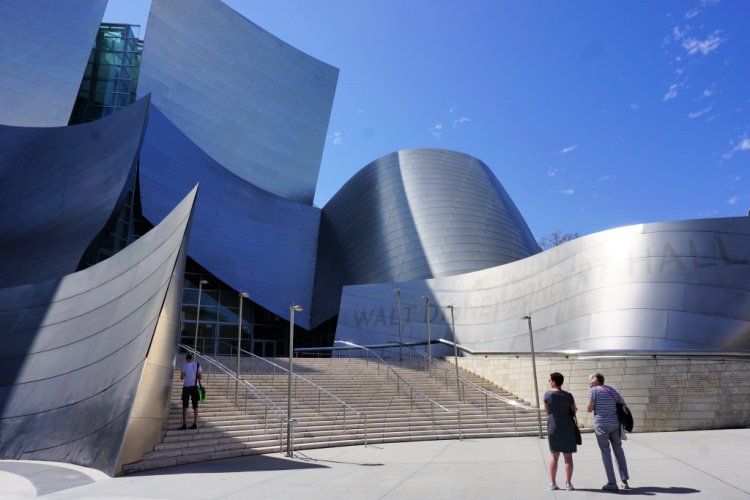 One of my favorite places in Downtown Los Angeles is the Grand Central Market.  This is the place to check out for lunch (an even if you are not hungry).  Inside, you will find a staggering variety of food options.
For Mexican, try Tacos Tumbras a Tomas.  For seafood, try La Tostaderia.  For egg sandwiches, Eggslut is a good option.  For you, pizza fix, try Olio Wood Fire Piza.
The stalls mentioned above are only a sample of what you can get. The idea is to walk around the market before deciding what to eat.  Or, order from different stalls and share with your group.
Read More: Grand Central Market
After the market, check out The Bradbury Building, a place known for its detailed ironwork.
Your next stop is The Broad, the hottest museum in LA right now.  Entrance is free but, due to its popularity, you need to have reservations to get in.  If you want to visit this museum, I recommend getting your reservations (online) as soon as you know you are coming to LA.
They also have special exhibitions that require an entrance fee and reservation. Once again, make arrangements in advance if you do not want to miss those.
If you have time, and energy, end your day at one of the popular rooftops.  In the vicinity, you can go to The Rooftop at The Standard Hotel or to Perch, a restaurant serving French fare.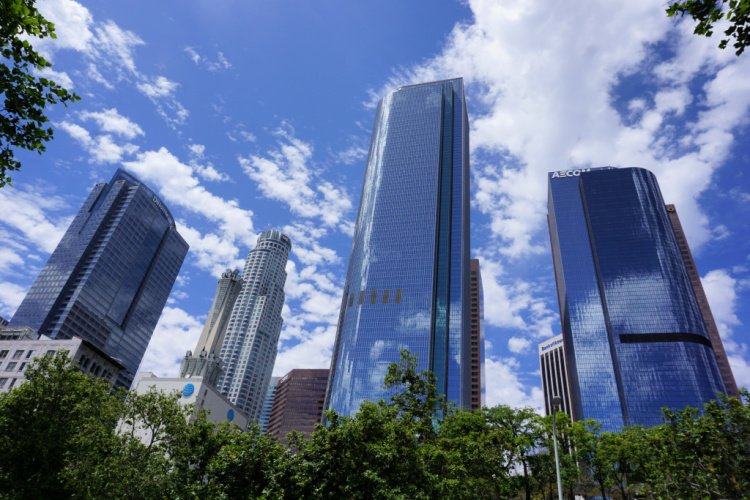 Lunch and Dinner
It is a crime to make a short list of recommendations to eat in Downtown Los Angeles.  You can spend a lifetime eating here. But, here are some good places to eat.
Cole's French Dip – Cole's claim to have invented the French dip, a sandwich consisting of sliced roast beef, Swiss cheese and onions placed on a French roll.  Beef broth is served on the side for dipping between bites. They serve a large selection of sandwiches, sides, pies, and floats as well.
Mezcalero – Traditional and modern tacos such as carnitas (pork), carne asada (beef), chicken in peanut mole and zarandeado (shrimp).  
Guisados – It doesn't feel right to go to Downtown and not stop by Guisados. Order a sampler with 6 different tacos fillings.  Do not miss their horchata.
Bar Ama – Upscale Tex-Mex and Mexican dishes.  They do taquitos, chiles rellenos and short rib chalupas.
Baco Mercat – Several of the dishes in here revolve around the Baco, a flatbread sandwich developed by the chef-owner.  
Astro Donuts and Fried Chicken – This place is perfect since it sells vanilla glazed, maple bacon, French toast donuts, chicken sandwiches and chicken baskets under the same room.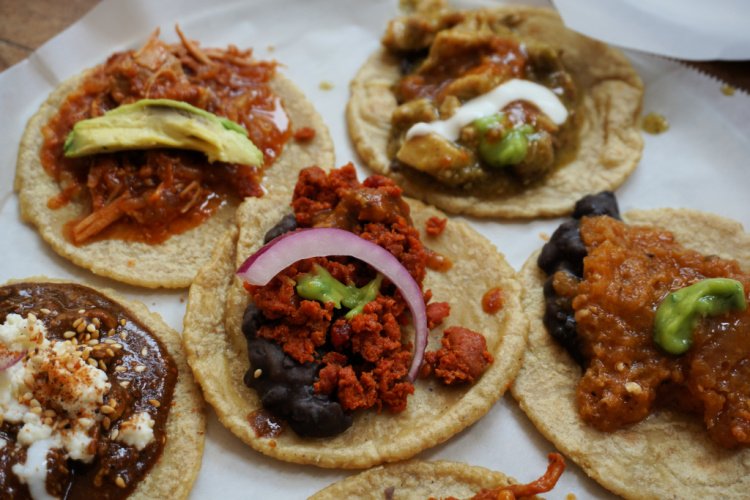 Ice Cream and Sweet Treats
Bottega Louie – This place feels like paradise! They have things such as macaroons, eclairs, tiramisu, and fruit tarts.
Pitchoun! – This French bakery does eclairs, croissants, beignets, tarts and many more things. They serve breakfast and lunch too.
Little Damage – The specialty here is soft-serve ice cream on charcoal cones.
Coffee Shops
Blue Bottle Coffee – This cult following coffee shop is located in front of the Grand Central Market
Tierra Mia – Specializes in coffee from Latin America (El Salvador, Guatemala, Honduras, Colombia, etc.)  
85 Degree Bakery Cafe – They have delicious pastries, cake, bread, coffee, tea, and smoothies. The selection is overwhelming so, bring a big appetite.
Masa Coffee Lab – Other than excellent coffee, this place sells avocado toast, Mediterranean toast, and oatmeal bowls.
Parking Details
There are multiple parking lots in Downtown Los Angeles.  It is advisable to pay a low flat rate per day ($8-$10), leave the car parked and move around on food.
If You Do Not Have a Car
You can reach the area by train or Uber.  Anyway, my advice is to walk around even if you have a car.
More of the Area
Things to Do in Downtown Los Angeles
A Day in LA: 4 Amazing Downtown Itineraries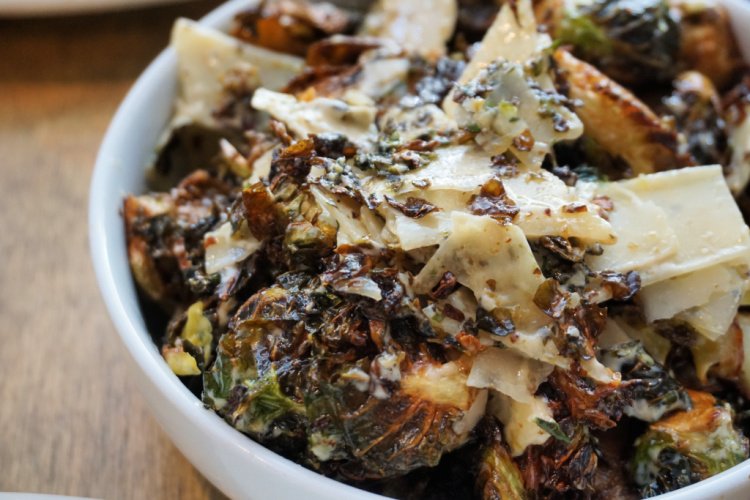 Los Angeles Itinerary Day 4 – Malibu
I get a bit upset when I hear people saying Los Angeles is a horrible mass of concrete.  It is obvious they do not understand the city.
That is why I want you to experience Malibu, one of the most beautiful coastal stretches in Los Angeles County.  Warning: this place may blow your mind.
Breakfast
Because of the nature of the route, I recommend having breakfast in Santa Monica.  One way or another, the drive would start there.
Another option is Cafe Vida in Pacific Palisades.  They serve huevos rancheros, avocado toast, and a morning wrap.  They have a juice bar too.
What to See and Do
Access the Pacific Coast Highway (CA-1) from Santa Monica (Freeway 10 ends here).  
The first stop is the Malibu Pier, an ideal place to admire the Santa Monica Bay and the Mountains.  Next to the pier, you have Surfrider Beach, the first surfing reserve in the world.
You can walk to the Malibu Lagoon and the Adamson House, an estate known for its intricate tilework (Tours cost $7).
Make a quick stop at the Malibu Country Mart.  This shopping complex is one of the top places In Los Angeles to spot celebrities.
For great sea views, head to Pepperdine University or Malibu Bluffs Parks.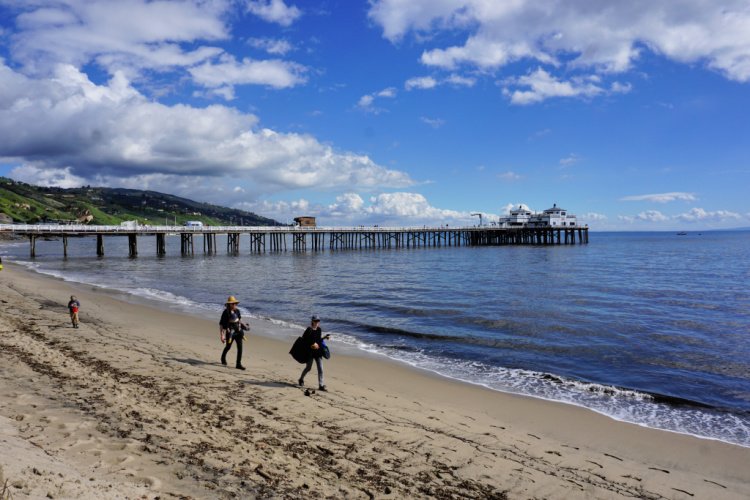 Do not miss East Beach and Point Dume.  These spots are used frequently on TV shows, music videos, and commercials.  Point Dume is a promontory with an incredible view. At one side, you have East and Zuma Beaches.  At the other side, you have the Dume Cove. You can walk to the bottom of this cove and keep walking to other smaller coves.
Another beach highly recommended is El Matador.  This cove beach is full of rock formations and tiny caves.
At one point, you will make it to Point Mugu, a huge promontory which is already in Ventura County.  This is your sign to turn back.
When driving in the other direction, try to stop at Paradise Cove. This place has the "other" pier in Malibu and you can have your meal over the sand. Now, the cafe on-site is notorious for restricting beach access to visitors.  
They are allowed to charge for parking but they cannot obstruct access to the beach.  What I do is park on PCH (which is normal here) and walk to the cove. If you are eating at the cafe, it makes sense to park since the amount charged for parking is credited to the food bill.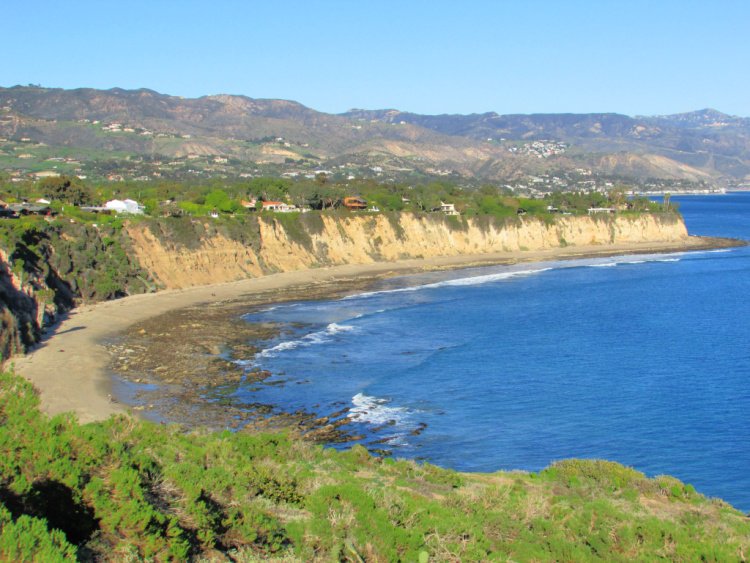 Lunch and Dinner
To me, the eating options in Malibu are lackluster.  Maybe I should clarify I feel like that about restaurants I can afford to eat.  I am sure there are plenty of delicious options at $40 or $50 (main dish).
What I am sharing here are the places I have personally tried.
Malibu Seafood – One of the most popular places to eat close to the water.  This humble shack serves fried seafood plates, freshly grilled fish, salads, burgers, and sandwiches.
Malibu Farm Pier Cafe – With a restaurant and cafe in the pier, chefs specialize in local, organic and fresh ingredients.  In the menu, you will find falafel, chicken broccoli quesadilla, and corn bacon panini.
The Country Kitchen – The food here feels home cooked.  They have breakfast, burgers, sandwiches, baskets (ribs, chicken tenders, battered cod) and comfort plates.
Tramonto Bistro – Uff, this place has excellent risotto, pasta, pizza, gnocchi, panini, and burgers.
Neptune's Net – This place does not serve the most flavorful food (it is ok) but it is a classic stop on a Malibu road trip.  You will notice this is a favorite of bikers. It is a spot to socialize, eat, drink and access the beach.
Malibu has very expensive and exclusive restaurants.  I have not given details about them because I have not visited (they are outside my budget range).  However, you can make plans to eat at Nobu, Duke's and Geoffrey's.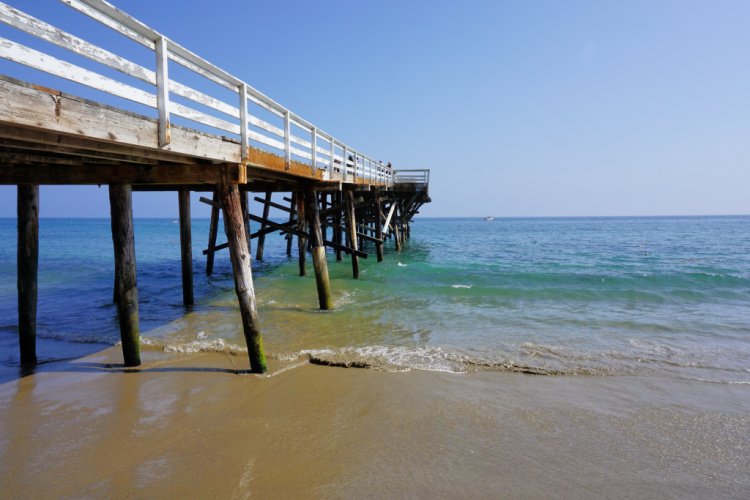 Ice Cream and Sweet Treats
Grom – An European friend claims Grom sells the best gelato she has ever tasted
Coffee Shops
Cafe Luxxe – Italian-inspired coffee menu.
Parking Details
Most places in Malibu have public parking lots.  If you do not want to pay for parking (and who wants this), find a parking spot on PCH. Be very careful if you need to cross the road.  
Finding a place on the road may be difficult during high season.  Be patient and keep moving around in. Do not block the road.
If You Do Not Have a Car
This day's itinerary would be impossible to follow without a car.  If you do not count with one, use the day to visit a more walking friendly area.
More of the Area
Point Dume State Beach and Preserve
Resources
For more information about the city, I recommend checking the following resources.  They may help you to get discounts or deals for events and restaurants.
LA Weekly
Los Angeles Times
Time Out Los Angeles
The Infatuation Los Angeles
Eater LA
Groupon
Yelp
TripAdvisor
Travelzoo Los Angeles
BlackBoard Eats
Well, here you have my Los Angeles itinerary.  As mentioned, let me know what else you would like to know about LA.  How this itinerary can be improved?
More of Los Angeles and California
Los Angeles Ultimate Bucket List
Weekend Getaways from Los Angeles
Ultimate San Diego Bucket List
150+ Places to Go in Orange County
Places to Visit in Santa Barbara
What you would add to this Los Angeles itinerary?
If you enjoyed this article, remember to share?
Pin "Los Angeles Itinerary" for later!