This article describes the advantages of doing a Los Angeles One Day Tour with ExperienceFirst.
Los Angeles' massiveness (the metro area is 4,850 square miles with a population of 13 million) can be intimidating to any out of town visitor.
So many questions come to mind: What are the must-see attractions? Should I rent a car? Will I be stuck on traffic all the time?  And, if on top of that the visitor has serious time restrictions, well, the pressure can get real.
If anything of what I have said above rings a bell, I have a great recommendation for you. What about seeing Los Angeles with a local?  Yes, tour companies such as ExperienceFirst offer private and semi-private tours around the city.  Their Los Angeles Highlights Tour will take you to the major attractions in one day.
Keep reading to learn how to make the most of your time in Los Angeles.
Why Take a Los Angeles One Day Tour with ExperienceFirst?
There are many ways to see Los Angeles. As a 15+ resident, I am here to tell you that seeing the city through the eyes of a local is the best way to go.
And, since you probably do not have family or friends in Los Angeles, you should consider booking a tour with a company that employs knowledgeable, local guides.
On my recent tour with ExperienceFirst, it didn't take me long to realize the immense knowledge my guide Chris has about Los Angeles.  He provided solid information about the history and architecture of the places we visited. In addition, he provided information about the best places to eat, have ice cream, have coffee, have bread, etc. 
He is not only knowledgeable. He has a passion for the city. That makes a huge difference when it comes to a tour guide.  Having a guide like Chris tells me ExperienceFirst goes to great lengths to choose their guides. Believe me, you want to book with a company that prioritizes this aspect.
Even though I am highlighting my great guide from ExperienceFirst (connecting with locals is the core of travel to me), there are many more reasons to book with the company.  
ExperienceFirst is an award-winning, top-rated company recommended by publications such as The New York Times and The Guardian.
What is more, in a Los Angeles one day tour, you can expect the following:
Professional, local guide (as mentioned)
Six to seven hours tour
Itinerary covering the major attractions in Los Angeles (you do not have to plan or research)
Time spent on most of the major attractions.  There is plenty of time to take photos and see the highlights
Leisure pace.  Minimum walking is required.  The vibe is fun and relaxing.
Transportation between attractions (you do not have to worry about logistics such as driving directions, parking, etc.)
Travel in a comfortable vehicle (we moved around in a mini-van with plenty of legroom)
Private or semi-private tour (no large groups here)
Recommendations on where to eat during lunch hour
On-time departure
Opportunity to ask questions and get insight into the city
Los Angeles One Day Tour Highlights
In this section, I am showcasing the places I visited on my tour with ExperienceFirst.
Stop 1: Venice Beach
While driving from the meeting point (9:00 a.m., Landmark Theaters) to Venice Beach, Chris discussed various facts about Los Angeles as a city and a metropolitan area.  
Once in Venice, we passed by the beautiful canals (an area that not so many out of towners get to see) and parked close to the Boardwalk in order to do a short walk.
During the stop, we visited Muscle Beach, the Public Art Walls and the famous skate park.
We were able to see many shops, murals, and local hangouts.
Stop 2: Santa Monica
Enroute to Santa Monica, we drove through Abbot Kinney Boulevard (one of the hippest streets in the United States) and Main Street, a thoroughfare full of coffee shops, restaurants, and independent businesses. 
Chris pointed out how street signs, landscaping, and even the pavement changes when you move from one city to another.  Being the geek that I am, I loved learning those little details.
We parked close to the sand and proceeded to the Santa Monica Pier.  In there, we were able to see the carrousel, Pacific Park and numerous signs letting us know that the pier is the end of Route 66.
The weather was perfect (where else do you have perfect winter weather?) so we had fantastic views of Santa Monica Bay and Malibu.
Stop 3: Los Angeles Original Farmer Market
Before having lunch proper, we drove through Little Ethiopia, Petersen Automobile Museum, Los Angeles County Museum of Art (LACMA) and La Brea Tar Pits.
Chris made a comment about the different fossils that have been found while excavating to expand Los Angeles' Metro.
Once at the Farmers Market, Chris walked us through the halls and gave us his personal recommendations on where to eat.  There was plenty of time to eat, have ice cream and a cup of coffee.
Stop 4: Hollywood and Highland
It was time to move to one of Los Angeles' most famous draws, Hollywood.  Before reaching the destination, we passed through the cool Fairfax and Melrose Districts.  We saw the original location of Pink's Hot Dog too (and the crazy, long line).
Once in Hollywood, we took a close look at the handprints and footprints located in front of the TLC Chinese Theather (after passing by the Dolby Theather, home of the Oscars).  Chris showed us noses, braids, horseshoes and much more on the pavement.
In addition, we were able to spot the stars of many famous actors and actresses and see the Roosevelt Hotel and El Capitan Theater.
After that, we headed to the Hollywood and Highland Entertainment Center which has good views of the Hollywood Sign.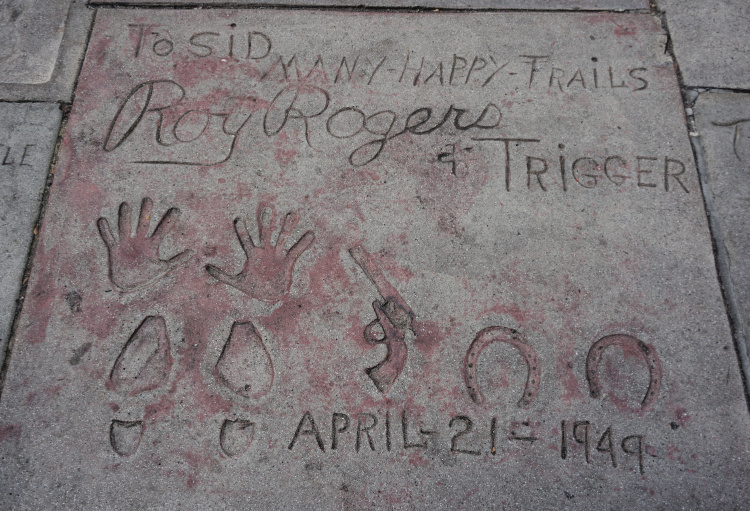 Stop 5: Graystone Mansion in Beverly Hills
The drive from Hollywood to Beverly Hills was through Sunset Boulevard, one of the major streets in Los Angeles.  The Sunset Strip is full of rock & roll and entertainment history.  Chris told us all about the different bands and comedians who had their big breaks in the area.  
I loved our stop at the Graystone Mansion (I visited a long time ago) because I felt like I was in a castle in Europe. Chris explained the different architectural details, the materials used for construction and why the property would be valued at 1 billion dollars.
After that, we drove around the residential part of Beverly Hills (you have to see those mansions) and ended the day by hitting Rodeo Drive.
Stop 6: Back to the Meeting Point
After a day full of sights, we parted ways with Chris back at the Landmark Theaters.  We were back at around 4:00 p.m.
To summarize our experience, I am going to use my husband's words, "You would not think it is possible to do everything we did today but it is possible."
And, he is right.  In a city as complicated as Los Angeles, you would not think it is possible to see as many places as we saw in one day.  However, it is possible, without any stress, when you leave the planning to professionals from a company like ExperienceFirst.  I have to emphasize we not only saw a lot but learned a lot (and gained a better appreciation of Los Angeles).
Los Angeles One Day Tour – After Tour Options
Since the tour ends around 4:00 p.m., you can still see more of Los Angeles if you choose to.
One possibility is to stay in the Beverly Hills area and explore a bit more of the commercial area.  After that, you can move to the Griffith Observatory (for a killer sunset) using a ride-sharing service.  You can let your guide know if you want to stay in the area (instead of going back to the meeting point).
Another option is to explore the Culver City or Sawtelle Japantown (ramen lover head here) area.  These are located minutes away from the Landmark Theaters.
If after the tour you are driving to your next destination in California (Santa Barbara or San Diego), I recommend getting in the freeway after 7:00 p.m.
More of ExperienceFirst
In addition to Los Angeles Highlights Tour, ExperienceFirst offers the following tours:
Downtown Los Angeles (2 Hours)
Adventure Hike (3 Hours)
Hollywood Sign Hike (2 Hours)
Griffith Observatory (3 Hours, Private Tour)
ExperienceFirst offers tours in New York, San Francisco, Paris, and Dallas as well.
More of Los Angeles
Los Angeles Ultimate Bucket List
One Day in LA: Itinerary for First-Time Visitors
2 Days in Los Angeles: Downtown-Based Itinerary
Things to Do in Downtown Los Angeles
A Day in Los Angeles: 4 Downtown Itineraries
More of Southern California
One Day in San Diego: Itinerary for First-Time Visitors
Ultimate San Diego Bucket List
Places to Visit in Santa Barbara
150+ Places to Go in Orange County
Disclose: ExperienceFirst provided complimentary tour tickets for me and my husband. As always, my opinions are my own. Read more of our editorial guidelines here.
Have you done a Los Angeles one day tour?
Pin "Los Angeles One Day Tour with ExperienceFirst" for later!