Thinking about doing something fun and different during the weekend.  Well, I have a great idea for you. What about a Los Angeles to Santa Barbara drive?  
Think about this as a short but mighty road trip.  The distance between the two cities is minuscule but there is a lot to do, see and eat in between.  
After having driven this route more than 20 times and explored most towns along the way, I have decided to give you my best advice on how to plan your own road trip.
The best thing is that you do not have to take vacation time to do this.  A weekend is enough to explore the best spots.
Are you in? Get into the car and let's go!
Please note: This article contains affiliate links, meaning I may earn a commission if you make a purchase by clicking a link. Of course, this comes at no extra cost to you and helps me to keep offering solid information to readers.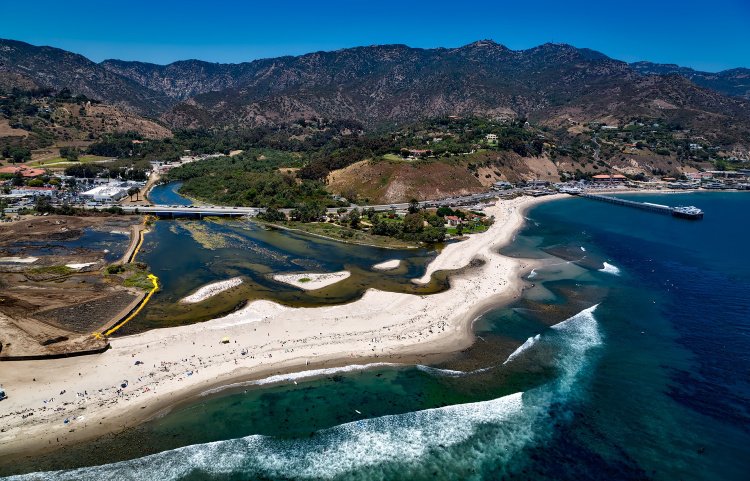 About This Itinerary
The driving distance from Downtown Los Angeles to Downtown Santa Barbara is about 100 miles.  In theory, you can travel from one place to another in less than two hours.  
However, the point is to take it easy and enjoy the coastal landscapes while in good company.  This itinerary will take you through some pretty awesome towns and natural spots.
Now, my idea is to help you discover the area on a long weekend.  You will need three days. It is up to you if you want to do a Friday – Sunday or a Saturday – Monday outing. I am providing alternate plans so the array of options appeal to most travelers. 
When road tripping, I like to get out of the freeways.  You are going to notice my itinerary uses a combination of coastal roads and the freeway.  Yes, driving the streets may take a little bit more time but it will help you to get a better understanding of the real Southern California vibe.
I have prepared this itinerary as budget-friendly as possible.  The attractions included in here are mostly free. It is up to you how much or how little you want to spend.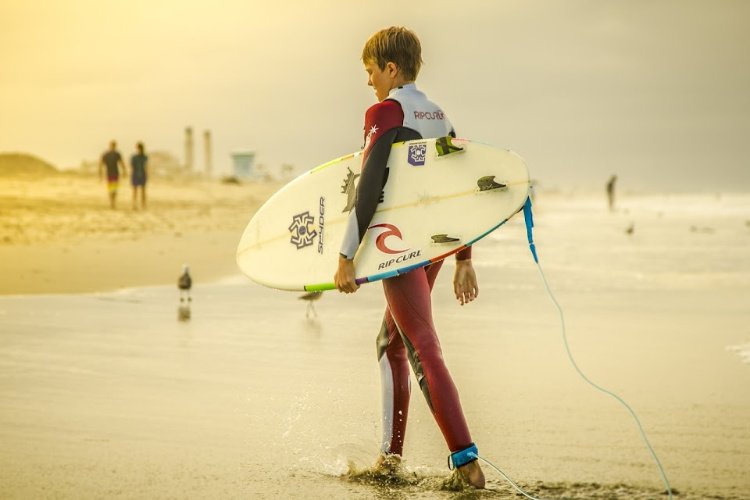 Best Traveling Season
The weather in California is pretty benign (some of the best in the world).  Average high temperatures are 80 degrees Fahrenheit in summer and 65 degrees Fahrenheit in winter.  That means you have a road trip weather all year long.
Now, I need to tell you some things about the seasons.  Summer sounds like the logical time to visit. However, we have a phenomenon between late May and early July called June Gloom.  During that period, a marine layer covers the coastal areas all morning. That means you are going to have forecasted skies for half a day.  That may be a problem for some.
During winter, the days are short. Sunset is around 5:00 p.m.
Having said all that, I believe the best travel seasons are spring and fall.  If you are a local, seasonality may not be a factor.
Beach Town Gear
Since on this road trip you will spend a lot of time along the coast, you will need the proper beach gear. As I have spent a lot of time on California's coast, I have my gear packed and ready to throw in the car.  Here is an idea of what I take to the beach.
More Road Trips
I am a die-hard fan of road trips.  If you want to explore more of California, check out the following itineraries:
LA to San Diego Drive (2 Itineraries to Choose From)
5-Day Pacific Coast Highway Itinerary (From Los Angeles to San Francisco)
Los Angeles to San Francisco Drive (Inland Road Trip Itinerary)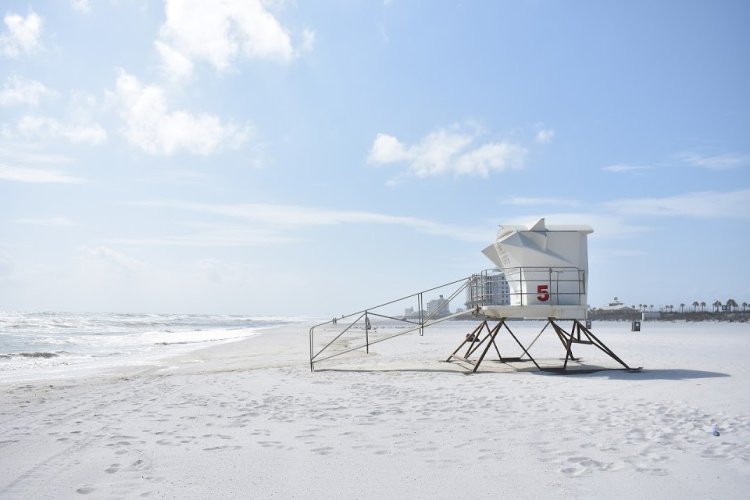 Los Angeles to Santa Barbara Drive – Itinerary
In this section, I am going to give you specific ideas on where to stop and what to do during your road trip.  Get ready to have tons of fun!
Los Angeles to Santa Barbara Drive Day 1 – Malibu / Ventura
Driving Time
As a reference, the distance from Downtown Los Angeles to the Malibu Pier is about 28 miles. This drive can take 40 minutes to an hour to complete.
From Santa Monica, the distance is 12 miles.  From Hollywood, the distance is 26 miles. From Beverly Hills, the distance is 21 miles.  I recommend having an idea of how long it will take you to reach the pier before starting the road trip.
From the Malibu Pier to Ventura, the distance is about 46 miles.  On this itinerary, those miles are going to be driven little by little.
Breakfast
For breakfast, you have several options.
Since Santa Monica is very near to the point of origin of this road trip, you can stop by the city to have some food. I recommend Blue Daisy (pancakes, crepes, omelet, scrambles), Cafe Lucy (quesadillas, burritos, wraps, sandwiches) or Jimmy's Famous American Tavern (chicken & waffles, eggs benedict, Denver scramble).
If you do not want to eat in Santa Monica (the city is a bit hectic), you will find places on the road such as Back on the Beach Cafe and Patrick's Roadhouse.  I am not a big fan of these eateries but including them in here since a lot of people find them acceptable.  Plus, both places have ocean views.
My personal recommendation would be Country Kitchen, a local favorite serving egg plates, omelets, burgers, and sandwiches.  The prices are some of the best you are going to find in Malibu.
Or, you can opt to eat at Malibu Farm, a restaurant who has achieved fame for its location (Malibu Pier) and dishes prepared with fresh, organic and local ingredients.  A full-service restaurant is located at the beginning of the pier and a cafe (with counter service) is located at the end of the pier.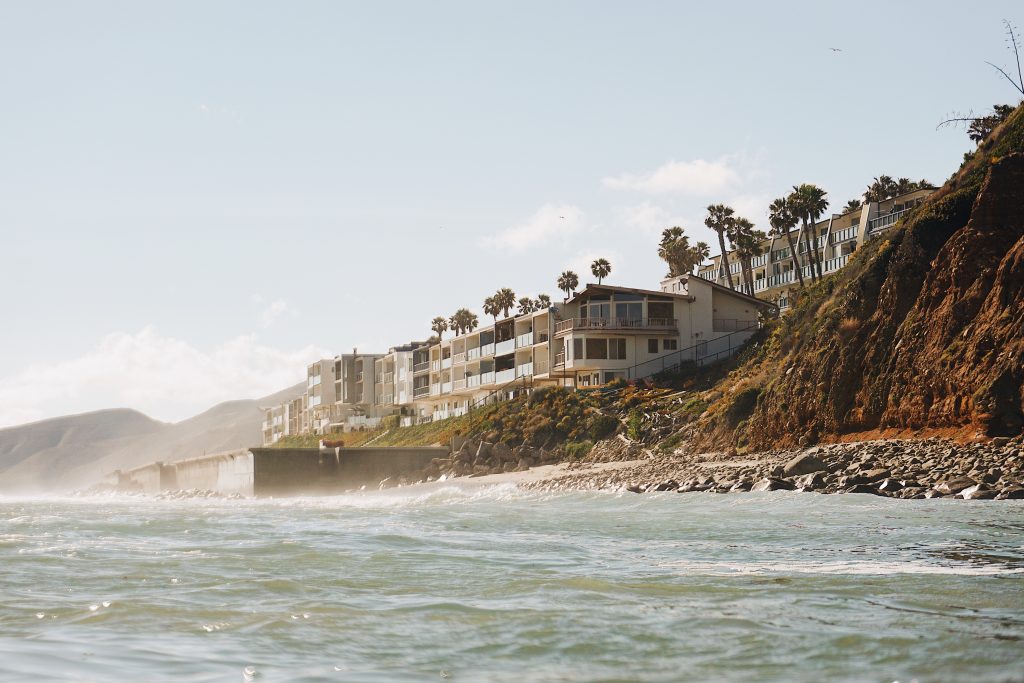 Morning
Start the day by exploring the area around the Malibu Pier.  From this point, you can see the Santa Monica Bay and Mountains and a good chunk of the Malibu coast.  Without a doubt, this is one of the best views in Los Angeles.
Make sure to get to the second floor on the pier and below the pier.  These are cool spots for photos.
Then, it is time to walk to the Malibu Lagoon.  If the weather is warm, you can give surfing a try.  This is a World Surfing Reserve. If you want to keep things a bit more low key, try to spot as many birds as possible in the lagoon.  I have seen up to 100 pelicans resting in the shallow waters.
If you have time, take a peek at the Adamson House, a residence known for its tile work.  Guided tours are offered on selected dates.
A quick stop at Malibu Bluffs Park will allow for great views of the area.
It is time to head to Westward Beach and the Point Dume Reserve.  Drive all the way to the end of Westward Beach Boulevard and find a parking spot on the street.  There is a paid parking lot at the end of the road too.  
Walk the entire length of Westward Beach towards the Point Dume Promontory.  This spot may look familiar since it has been used extensively on movies, music videos, and TV Commercials.  
You are going to see a set of stairs that will take you to the top of the promontory.  Beware! Your jaw will drop!
On one side, you are going to see Westward Beach, Zuma Beach and the Pirate's Cove.  On the other side, you will have splendid views of Big Dume Beach.  You can make it all the way to the bottom (there are stairs) but keep in mind this will burn time.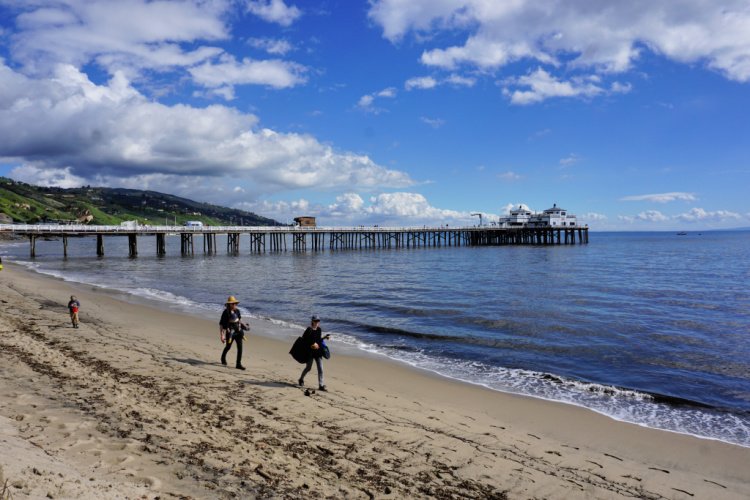 Lunch 
Malibu is not necessarily known for its gastronomic variety.  Therefore, lunch options may be limited.
The Sunset Restaurant (American) and Spruzzo (Italian) are good options but may be outside the budget of some people.
I love Lily's Malibu, an eatery known for its monster burritos.  For lunch, you can have carne asada plates, chilaquiles, flautas, and burgers.
Or, you can backtrack a bit and have a bite at Malibu's Seafood.  I say backtracking is worth the effort.  The food here is insane!
Afternoon
After passing Zuma Beach, you will encounter the "Malibu – 21 Miles of Scenic Beauty" sign.  Make sure to stop to snap several pictures.
El Matador Beach is one of the most beautiful beaches in Malibu (and Los Angeles County).  This pocket beach is full of rock formations and small caves. Make an effort to spend some time here.
There is a paid parking lot on the premises but a lot of people prefer to park on the street for free.  You can choose to stop at one of El Matador's sister beaches: La Piedra and El Pescador.
If you want to experience a classic, I recommend stopping at Neptune's Net.  This restaurant is a favorite of road trippers, bikes and people enjoying the scenery. A quick look will suffice if you are hungry.  Neptune's is located across the County Line Beach, a nice place to take a dip in the ocean.
Before exiting Malibu, stop around Point Mugu Beach to take pictures of the huge rock.  Getting to the base of it is a nice experience.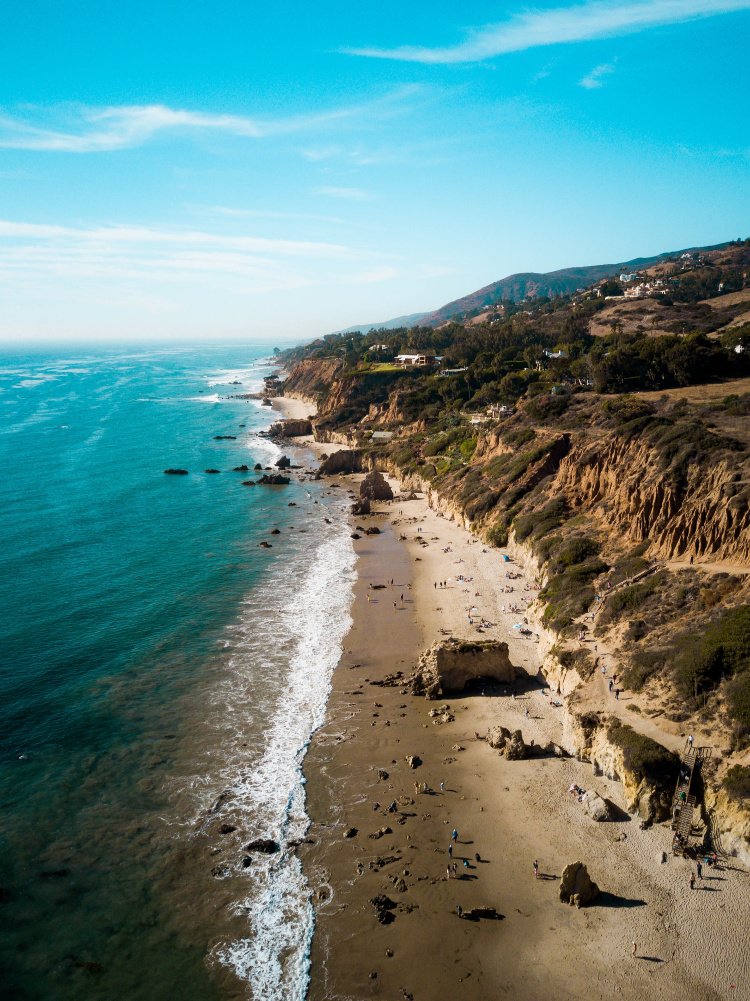 Dinner
While on the way to Ventura, you can have dinner in Oxnard at places such as Hook Burger, Cafe Amri or Hook Line & Sinker Seafood. The Collection at River Park (Shopping Mall) has several eating options.
In Downtown Ventura, there are plenty of eating options.  Places such as Lure Fish House, Rice by Mama and Rice Thai Cuisine stand out.
Stroll around Downtown or walk to the pier if you still have energy after dinner.
Alternate Plans
As an alternative, you can choose to spend part of the day in the Getty Villa.  This fabulous complex is home to a large collection of Greek, Roman and Etruscan artifacts.  
The most notable feature of the museum is the Outer Peristyle, an exact replica of Villa of the Papyri (a Roman villa located in Herculaneum, one of the towns destroyed by Mount Vesuvius in 79 AD).
The entrance is to the Getty Villa is free but requires advanced reservations.  The parking fee is $15. Two to three hours should be allocated for a visit.
Tips
Finding free parking in Malibu during a summer weekend can be a headache.  Carry some cash in case you have to opt for a paid parking spot.
If you park on the right side of the Pacific Coast Highway (going north), be careful when crossing the street to the beach.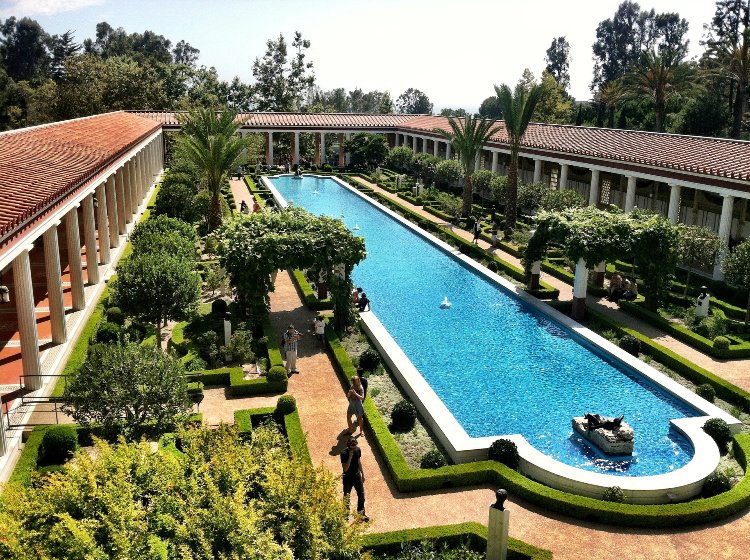 Los Angeles to Santa Barbara Drive Day 2 – Ventura / Carpinteria
Driving Time
The distance between Ventura and Carpinteria is about 17 miles.  You can make it from one city to another in 20 minutes.
In addition, this itinerary requires a bit of driving around the towns.
Breakfast
There are plenty of breakfast options in Ventura. Head to Pete's Breakfast House, Golden Egg Cafe or Galloping Hen (what an awesome name) for traditional breakfast fare (egg plates, pancakes, French toast, etc.)
If you are looking for more creative (and healthy) dishes, join locals at Harvest Cafe, Cafe Nouveau or Traveler Cafe.
For those looking for something quicker and lighter, recently-opened Bagelicious Cafe will do the trick.  Mexican food lovers would find delight at Taqueria Tepatitlan or Taqueria Cuernavaca.
Morning
Even if you checked a bit of Downtown the night before, make sure to revisit the place in the light of the day.
On Main Street, you will find the Mission San Buenaventura (do not miss the gardens), the Museum of Ventura County, historic buildings on Figueroa Street, China Alley, The Majestic Theather and the City Hall (with the huge statue of Junipero Sierra in front of it).
In addition, Main Street counts with many businesses selling vintage, second hand, and surfing goods.  A Farmer's Market takes place on Saturdays at the corner of Santa Clara and Palm Streets.
From Downtown, you can walk to the oceanfront in a few minutes.  This is where you are going to find the pier, promenade, and Seaside Park.  It is fun to walk or bike the promenade (rental stations are located close to the pier entrance).
The Emma Woods State Beach is located to the north and the San Buenaventura State Beach is located to the south.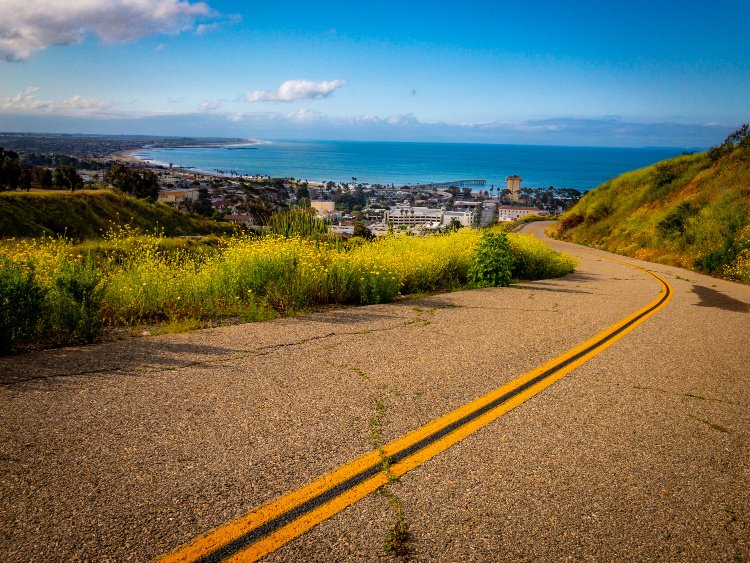 Lunch 
Paradise Pantry, Rumfish y Vino, Capriccio and Nature's Grill are good options for lunch.  Remember the restaurants recommended for Day 1 Dinner and Day 2 Breakfast offer excellent lunch options too.
Those on a budget will find plenty of pocket-friendly options.  I mean, In-N-Out (famous burger chain) is always a good idea.
If you are obsessed with bivalves, do not miss The Jolly Oyster, a long-time favorite specializing in different kinds of oysters, clams and sea urchins.  They are open on Saturdays and Sundays.
The City of Ventura has joined Southern California's craft beer craze.  Get your feet wet on the scene by visiting places like Topa Topa Brewing Company, Barrelhouse 101, Ventura Coast Brewing Company or Anacapa Brewing.
Afternoon
Before leaving the Downtown area, drive to The Cross, a viewpoint offering views of Ventura and beyond.
At the Ventura Harbor, you can walk around The Village area or take a harbor or whale watching cruise (seasonal).  Longer boat trips depart to the Channel Islands from this point.
On your drive to Carpinteria, make a stop at the Carpinteria Bluff Nature Reserve.  This area offers easy, flat trails with amazing views.  It is possible to make it all the way to the bottom of the cliffs (in a safe way).
There is a seal sanctuary/rookery located within the nature reserve.  With a bit of luck, you will see a significant number of harbor seals taking a sunbath.
A little bit more walking will take you to the Tar Pits Park.  On this part of the coast, tar naturally emanates from the ground.  You can see the big, solidified chunks in some areas. The Native Chumash used the tar to build their ships.
Carpinteria is a place where the real, small California beach town is felt.  Get yourself immersed by walking around Linden Avenue, checking the Carpinteria State Beach and admiring the world's largest Torrey pine (located across the public library).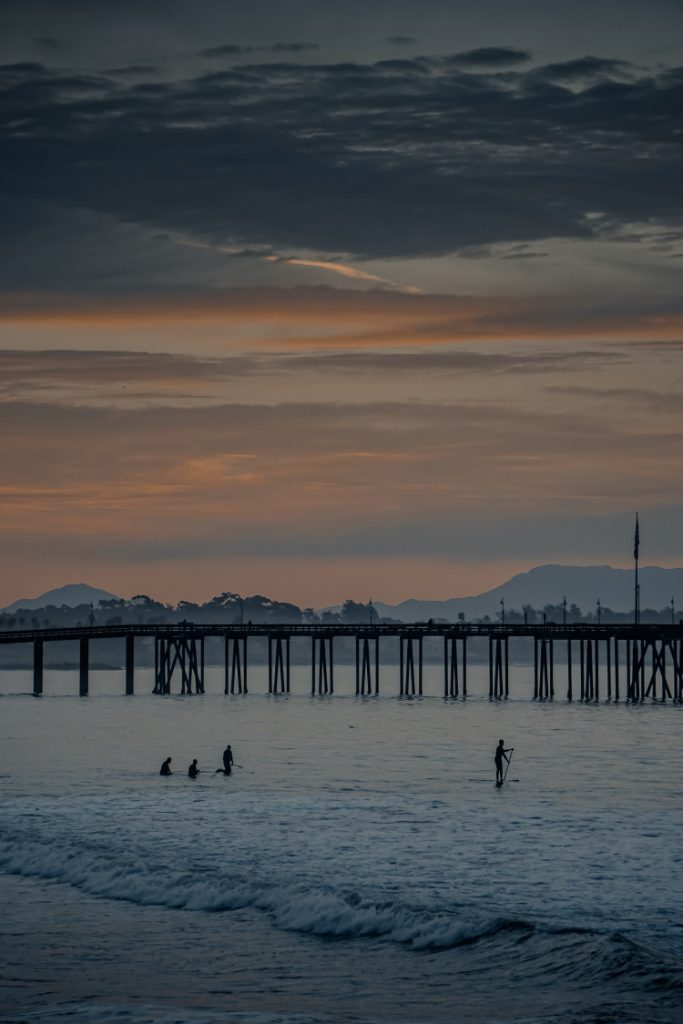 Dinner
I really like the food at Rincon Brewery.  My husband had the fish tacos and I had the La Reina trip tip tacos.  We cleaned those plates in a matter of minutes. Their menu consists of sliders, burgers, sandwiches, soups, and salads.  Their atmosphere is relaxing and welcoming.
In addition, I like the Thai food at Siam Elephant and the Japanese fare at Sushi Teri. For pizza, you can go to Nutbelly and for tacos go to Tacos Don Roge.
And, you cannot leave town without trying something from The Spot.  This small, unassuming shack has a killer line every single time I visit.  The serves burgers, pastrami sandwiches, hot dogs, nachos, fries, onion rings and shakes among other things.  This is a local favorite for sure!
Read More: Things to Do in Carpinteria
Alternate Plans
Ventura has a nice selection of wine tasting rooms.  At least, there are enough tasting rooms to have a fun afternoon.
In the Downtown area, you will find VinTura Tasting Room and Labyrinth Winery.  Several miles away, close to each other, you can choose among Plan B Wine Cellars, Panaro Brothers Winery and Four Brix Winery.
I would go to the Ventura Visitors and Conference Bureau (101 California Street) to see if these tasting rooms have specials for visitors (like 2 for 1 tasting).
Tip
Staying in the Carpinteria area is cheaper than staying in Santa Barbara.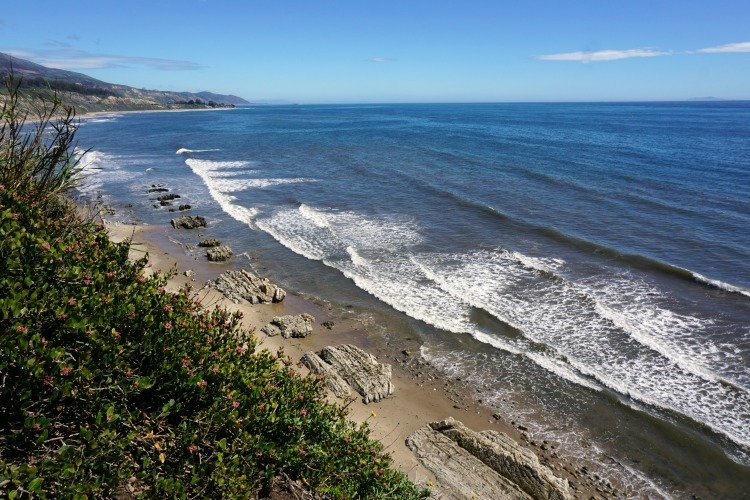 Los Angeles to Santa Barbara Drive Day 3 – Santa Barbara / Back to Los Angeles
Driving Time
The distance between Carpinteria and Downtown Santa Barbara is 12 miles.  This itinerary requires a bit of driving around Santa Barbara.
Of course, you will need to drive about 100 miles back to Los Angeles at the end of the day.
Breakfast
If something gets me excited about Santa Barbara is the food. The city is adorable, don't get me wrong.  But combining a good-looking place with delectable food is a dream.
My absolute favorite breakfast spot in the city is Jeannine's Bakery.  I tend to order the Banana Kahlua French Toast (the best of the best) or the Salmon Bagel Plate.  I prefer the Montecito location over the one in Downtown Santa Barbara.
Recently, I ate at South Coast Deli and ordered the meatball sandwich with pesto and mozzarella cheese.  My goodness, that was delicious! The value for the price is excellent. Portions are huge.  One sandwich easily feeds two.
My go-to for Mexican breakfast is Lito's.  I cannot have enough of their chilaquiles (with green salsa).
Other breakfast joints include Scarlett Begonia, Andersen's Danish Bakery and Dawn Patrol.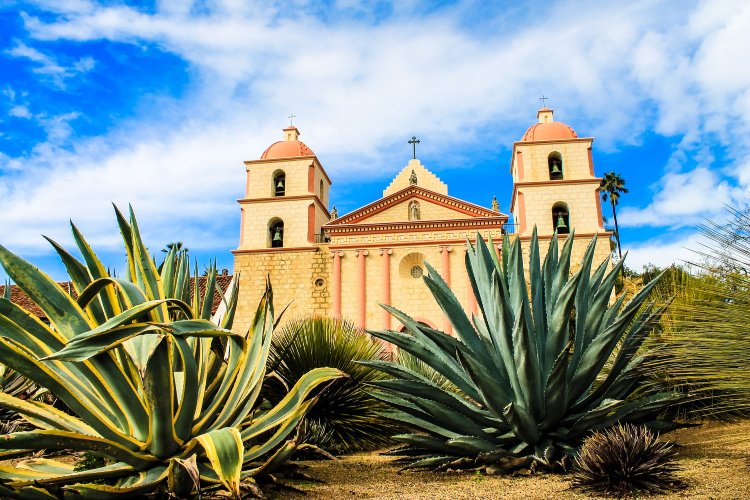 Morning
Start our day by visiting the Santa Barbara Mission.  This is a must-stop in the city.  You can choose to observe it from outside or pay a small fee to see the interior.  Remember to take a look at the rose garden located in front of the Mission.  
If you have never been to Santa Barbara, I recommend doing the Red Tile Walking Tour.  This self-guided itinerary will take you around to the most notable (and historic) structures in Downtown.  You will be able to explore the Presidio, Casa de la Guerra, the County Courthouse and State Street (the main drag).
You can find detailed instructions for the Red Tile Tour online or at the visitors' center (1 Garden Street).
Do not miss going to the top of the Courthouse (free) in order to get great views of the cities.  In addition, you can see murals and admire the architectural details.
Lunch 
There are plenty of options for lunch.  If you are traveling with family and friends, it may be a good idea to check the options on State Street.  There is everything from fine dining to fast food options.
I like Sama Sama (Indonesian), Lilac Patisserie, Lily's Tacos and La Super Rica.  Or, you can move to the Funk Zone (district closer to the beach) and try places such as Loquita (Spanish), Mony's (Mexican) or The Lark.
Make room for dessert! McConnell's has some of the best ice creams in California.  They have locations in Downtown and the Funk Zone.
Afternoon
For the afternoon, you have different options.  You can spend some time wine tasting in the Funk Zone.  This area has about 15 tasting rooms serving wines from the Santa Ynez Valley (30 miles north) and other Central Coast viticultural areas.  
If you are not into wine, use the afternoon to explore the city's waterfront.  You can explore the Stern's Wharf (pier), Chase Palm Park, the marina and Leadbetter Beach.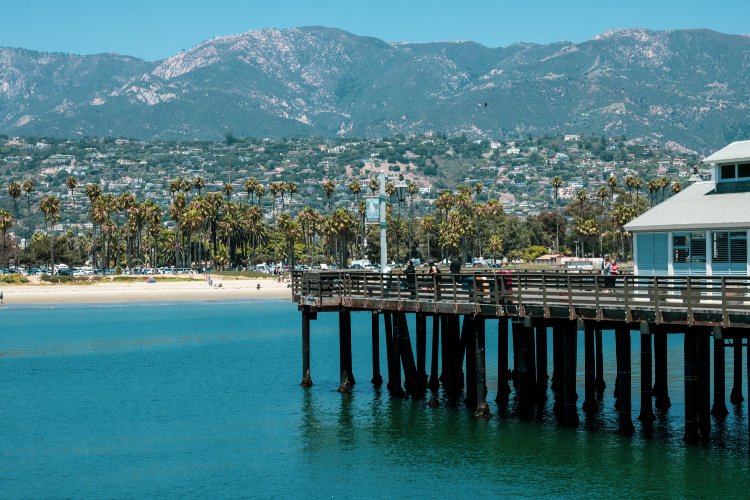 Dinner
I am not providing dinner suggestion for today since you are probably going to grab a quick bite when driving back to Los Angeles.
Alternate Plans
If you have been to Santa Barbara before and have explored the Downtown and Wharf areas, I recommend checking places like the Arroyo Burro Beach, Douglas Family Preserve, More Mesa, Goleta or Montecito.
Or, you can spend the day at the Santa Ynez Valley (30 miles north) and explore Solvang, Los Olivos or Buellton.
Read More: Things to Do in Goleta
Tips
Check Santa Barbara to Los Angeles drive times before heading back.  This route has taken me more than 3 hours to complete on certain weekends (summer weekends tend to be bad).
Sometimes, it is worth to start getting back around 6:00 or 7:00 p.m. (to avoid being stuck in traffic).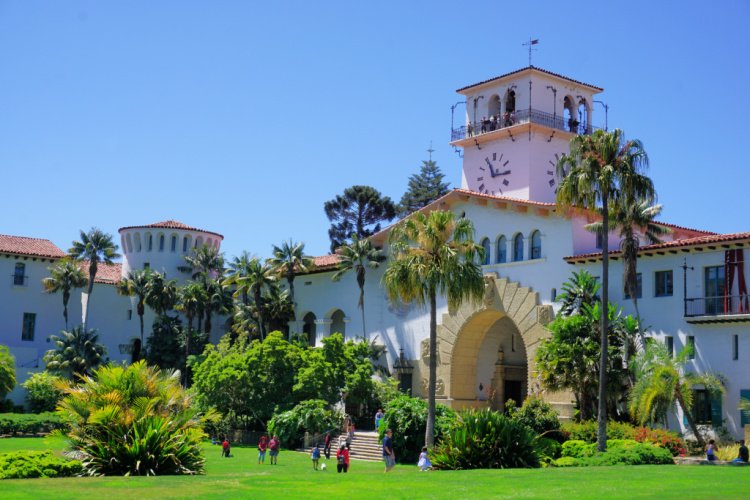 More of Los Angeles 
One Day in Los Angeles: Itinerary for First-Time Visitors
Two Days in Los Angeles: Downtown-Based Itinerary
Los Angeles Itinerary: 2, 3 or 4 Days in Los Angeles
Los Angeles Ultimate Bucket List
Weekend Getaways from Los Angeles
More of Santa Barbara
Places to Visit in Santa Barbara
What do you think about this Los Angeles to Santa Barbara drive itinerary?  What are your suggestions?
Pin "Los Angeles to Santa Barbara Drive" for later!