First impressions are important.
I do not think they have to be definite. When you met a person, you can keep the communication to develop a relationship. When you visit a new place, you can give it different tries until it grows on you.
But sometimes, a unique chance is all you get. My first visit to a restaurant is crucial. If I do not enjoy that first dish, the probabilities of returning are minimal.
Oh, I can tell you my first impression of the Monterey Bay was great.
After driving straight from Los Angeles  (about 6 hours), after your right leg becomes numb and your neck is all twisted, well, you are anxious to get that first glimpse of your destination.
I have been to the southern part of Peninsula before (Carmel, 17-Mile Drive). This time, I intended to visit the northern area and stop by several towns along the bay.
I knew I was close to where I wanted to go when I deviated in Salinas to Route 68.  About 20 miles later, I connect to CA-1 and ended up in front of the Monterey Wharf.  I kept driving east towards Pacific Grove, a small city located at the Peninsula's northern tip.
For awe inspiring ocean views, Ocean View Boulevard is the way to go.  Once I got to this route, I proceeded to park and get out of the car.
Ahh, and that is when I got to see the Monterey Bay for the first time.  Sapphire colored water, strong waves crashing close to the pavement.  Cypress trees bended in magical shapes by the wind. Craggy stones jutting out of the ocean.  This view was all I needed to relax after the drive.  This first impression was charged with tons of positive emotions.
Along this boulevard, there is a park called Lovers Point. It consists of a rocky promontory extending into the ocean.  The area closer to the road has amenities such as a café, picnic tables and benches to admire the view.
There is a cove colored with different blue hues.  People use it to sunbathe, swim or launch kayaks.
Some people walk towards the rocks and climb them. The views from the top give you an interesting perspective of the entire place.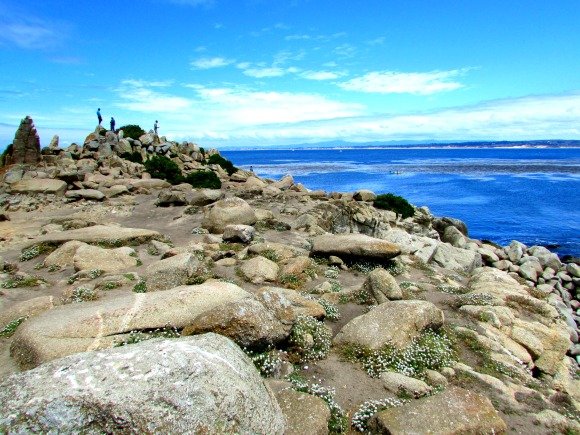 Everybody seems to be enjoying the balmy weather and the sound of waves breaking against the rugged coast.
I even think this little fella (pictured below) was having a good time. He was standing still even though the waves were crashing near him. Also, we got very close to him and he stayed.  He was concentrated on the grass / flowers he was eating.  We were able to see the wind moving his fur.
Now, one of Pacific Grove's claims to fame is known as the carpet of flowers.  This refers to the pink and yellow flowers blooming close to the ocean.  It is said this type of plants (lantana, yellow aster, Pride of Madera, and Mexican Sage) attract Monarch Butterflies.
Whatever the reason, seeing tons of flowers covering the jagged shores of the area is quite an spectacle.  It is not just me who thinks so.  I bumped into people visiting from Germany, Italy and Australia.
Judging by the amount of flowers, I think the blooming peak season was ending when I visited.  Anyway, it was a memorable sight.  I wish I could have stayed longer!
Since I mentioned the Monarch Butterfly, let me point out that they breed in here.  These Monarchs migrate 2000 miles to reach Pacific Grove after their summer in Canada (they migrate to other parts of the States and Mexico too).
The black-and-orange butterflies spend much of the fall and winter in the local Monterey Pine trees, roughly from Halloween until Valentine's Day.
There is more of Pacific Grove that I want to share in the blog.  For now, I leave with more pictures of the area surrounding Lovers Point.
Have you see a carpet of flowers extending close to the ocean?
Pin it for later?