Listen up! I have compiled a list of the best Malibu hikes. These are a must for all outdoor lovers out there!
With spectacular Pacific vistas, incredible mountainous landscapes, and picturesque natural scenery, Malibu is a nature lover's paradise.
Malibu hiking trails sport some of the most awe-inspiring views in Southern California. The variety is astonishing. We are talking about a spectacular coastline, wildflowers, creeks, canyons, waterfalls, and an impressive number of wildlife including some endangered native species.
Hiking in Malibu is more than a walk in the park. It is the discovery of a whole new world different from the familiar city life. If you're up for some exciting adventures, here I present you with the most scenic Malibu hikes.
Please note: This article contains affiliate links, meaning I may earn a commission if you make a purchase by clicking a link. Of course, this comes at no extra cost to you and helps me to keep offering solid information to readers.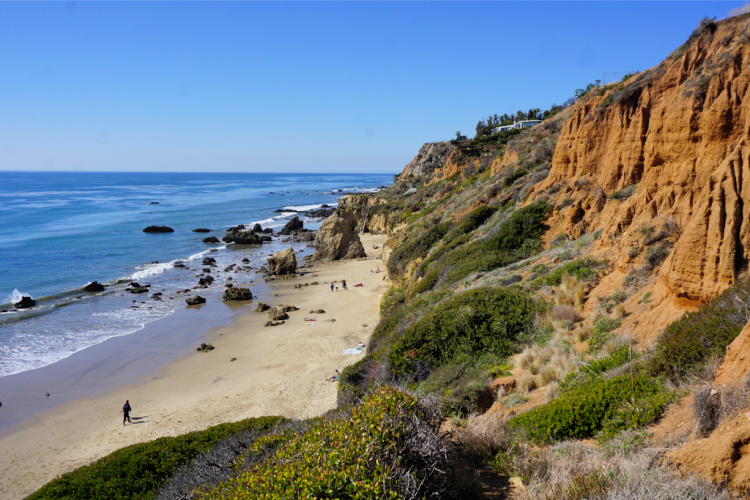 About These Malibu Trails
If you take a look at a map, you are going to notice the city of Malibu is pretty much a thin strip of land extending for 21 miles along the Pacific Ocean.
I am mentioning this because not every single hike mentioned in this article falls within Malibu's city limits. However, here in Los Angeles, when we talk about Malibu, we tend to refer to the big chunk of land between Santa Monica and Point Mugu, even if that definition includes multiple cities and even our neighbor, Ventura County.
Our definition of Malibu includes the mountains too. However, the "mountains in Malibu" are part of the Santa Monica National Recreation Area, the world's largest urban national park.
Let me also say that I love to walk/hike but I am not an experienced hiker.
However, I believe Malibu has something for everybody when it comes to walking and hiking. I have completed these hikes. I am not going to lie. Some have kicked my butt and left me in pain for several days. But, each drop of sweat has been worth the effort.
So, whatever your condition, I want to encourage you to go out and tackle one of these hikes. Bring the family or a group of friends. Remember to take it easy. There is no reason to rush.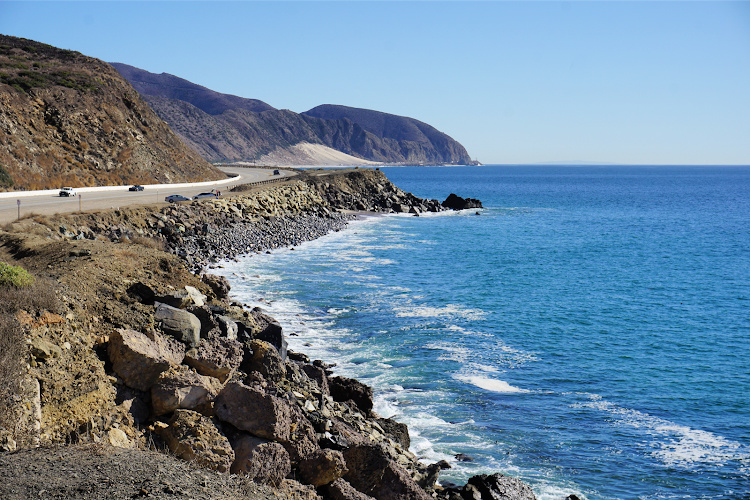 Hiking Gear
If you are attempting one of these hikes in Malibu, I recommend taking into consideration the following gear.
Hiking Shoes – Wearing the right shoes is essential when hiking. I recommend investing in a good pair. Merrell shoes have always been good for my crooked feet. Not long ago, I was using tennis shoes to hit the trails. That was until I hurt my left foot. Since then, hiking shoes have done wonders for me. >Check out my hiking shoes
My husband is more of a fan of the Salomon brand when it comes to hiking. >Check out Salomon hiking shoes
Hiking Socks – Wool hiking socks provide support, cushion, and prevent blisters. EnerWear sells an excellent 4-pair set for a good price. >Check them out here
Insoles – Insoles are another way to protect your feet when hiking. They do a great job absorbing shock. Walk Hero's insoles have some of the best ratings in the market. >Get them here
Crossbody Bag – I take the minimum with me when I go on trails. I keep everything organized in a small Herschel crossbody bag. >Buy this great crossbody bag here
Day Pack – My husband prefers to take a small backpack to carry drinks and essentials. >Buy a lightweight, water resistant day pack here
Hiking Poles – Hiking poles are lifesavers on trails with an incline (more if you have wobbly knees). TrailBuddy's trekking poles are such a great help. >Check these hiking poles
Sun Block – Do not leave the house (or the car) without applying sunblock. I repeat, always wear sunblock when outdoors. >Buy sun block here
Lip Balm with Sunscreen – Protect your lips by applying a balm with sunscreen. >Get one of the best lip balms here
Wide Brim Hat – A wide brim hat is a great way to protect your scalp, face, and neck. The ones manufactured by FURTALK come with an anti-UV function. >Buy this amazing hat here
Sunglasses – These are another must when it comes to protecting from the sun. A polarized, sporty pair works better for hiking. >Take a look at this wonderful pair
Water Bottle – Do not forget to bring water! Keep yours cold by taking a beautiful Hydro Flask water bottle. >Check out the insane options her
Snacks – It is a good idea to carry snacks such as granola bars, protein bars, trail mix, nut, and jerky
Camera – I have never gotten used to taking pictures exclusively with my phone. I prefer to use the Sony Alpha a6000. It is compact and takes gorgeous pictures. >Buy Sony Camera here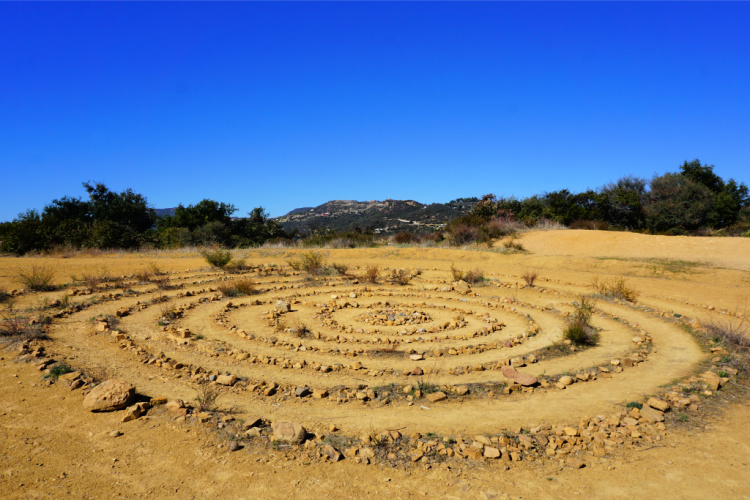 Best Malibu Hikes
Let's get to the fun part of the article. Below, I have details about what I consider the best hiking trails in Malibu.
Details include location, distance from Downtown Los Angeles (for reference), special notes, and ideas on where to head after the hikes. And, I am calling these hikes but some of them are better described as walks.
I am not necessarily focusing only on easy hikes in Malibu. The trails here are an easy to moderate mix.
Oh, and there are so many places to hike in Malibu! It was difficult to determine which ones to include in the article. I aimed for variety. If I do not cover your favorite hike, let me know in the comments section below.
Tuna Canyon Park
Distance from Downtown Los Angeles: 20 miles
The Tuna Canyon Park comprises 1,255 acres of untouched natural scenery between Topanga and Malibu.
To reach this park, you have to drive up in the mountains to the trailhead located at Tuna Canyon Road. You will know you have arrived since you will see cars parked on the street.
Once you take the trail, my recommendation is to turn left at the first major fork on the trail (take the Hearst Tank Motorway). With a small effort, you will be able to reach a viewpoint that will take your breath away. Seriously, I think this is the best view in Los Angeles!
In addition, there is a labyrinth created by locals and a huge beautiful tree waiting to be photographed.
After that, you can go back to the fork and walk the Big Rock Motorway. Again, this trail is full of amazing ocean views. Keep in mind this trail will take you down. Coming back will be the difficult part. If you do not want to do the entire trail, you can walk a bit to get good views of the Malibu Pier area. From this trail, you can connect to the Budwood Motorway and the Big Rock Lateral trails.
Note: The road leading to the trailhead is windy and narrow. The driver should be able to tackle these conditions without getting nervous.
Where to Go After the Walk: Go back to the coast and explore Las Tunas Beach, Big Rock Beach, or the Malibu Pier.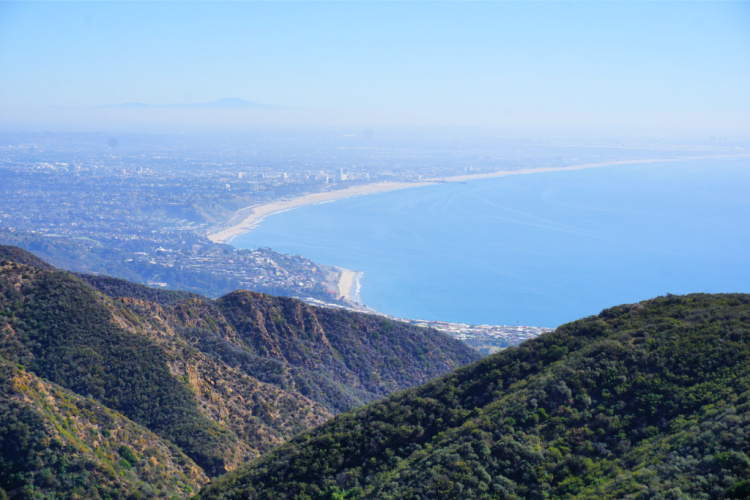 Corral Canyon Park
Distance from Downtown Los Angeles: 32 miles
The Corral Canyon Park protects 1000-acres of coastal sage shrubs, quails, deer, hawks, and other animals.
The easiest way to access the park is from the Sara Wan Trailhead. There is a small lot on-site. If it is full, you can park at the Pacific Coast Highway.
From the trailhead, you can access the Corral Canyon Loop Trail, an easy to moderate (550 feet elevation gain) 2.2 miles scenic stretch. To me, this is one of the best hikes in Malibu with ocean views. There are views all the way around and you start to see them right away (like after walking half a mile).
You can exit the Loop Trail and connect to a trail that takes you all the way to Mesa Peak (about 3 miles one way). Now, this is a much steeper hike but the views are wonderful too.
Just be careful that you do not take this trail when you are attempting the Loop Trail. It is easy to get confused when you start getting out of the trail to take a look from different viewpoints.
Dogs are allowed on this trail, and it's accessible all-year-round, so you can enjoy a relaxing hike anytime.
Where to Go After the Walk: Malibu Seafood is located across the trailhead's parking. This place is super popular so, expect long lines. After that, check out Dan Blocker Beach (also known as Corral Beach).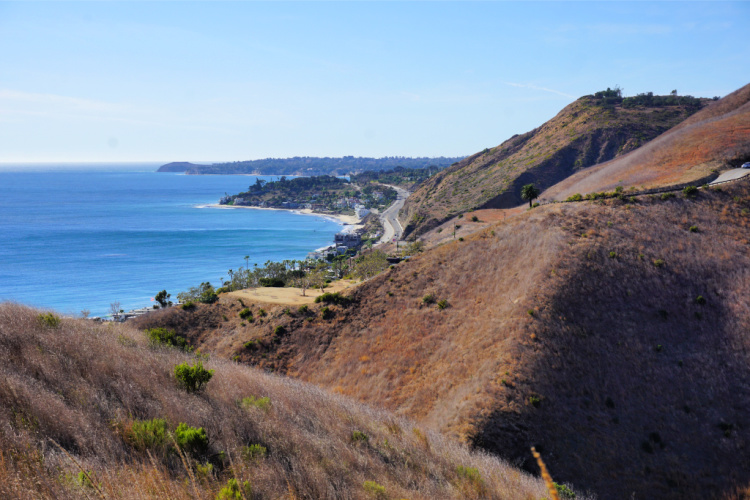 Solstice Canyon
Distance from Downtown Los Angeles: 32 miles
In the Santa Monica Mountains National Recreation Area, you will find Solstice Canyon Park. This park provides hikers with several exciting options when it comes to hiking in Malibu, from easy to moderate to difficult.
The Solstice Canyon is home to a wide variety of animal and plant species, making it a great destination for nature lovers looking for untamed beauty. You will have the opportunity to bump into alligator lizards, woodpeckers, and parakeets.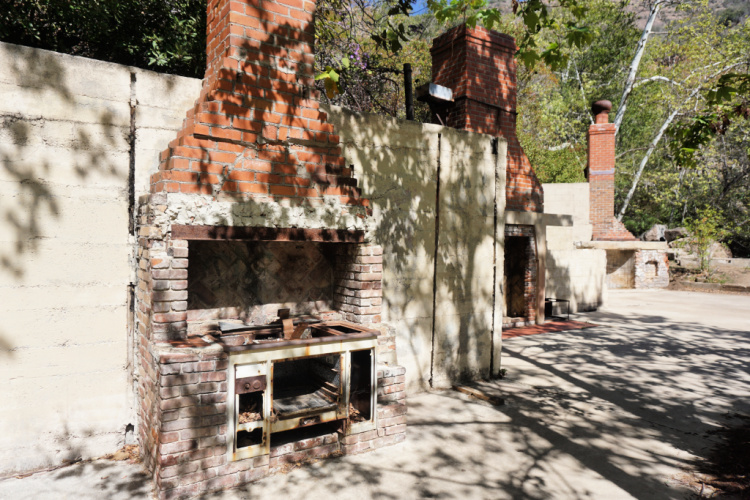 I can recommend the following hikes:
TRW Loop Trail (easy, 1.5 miles roundtrip) – On this trail, you will get a bird's views of the park (including ocean views)
Solstice Canyon Trail (easy, 2.1 miles roundtrip) – This is the top trail in the park. Walking on flat terrain, you will pass by a ruined stone cabin, the ruined (but amazing) Roberts Ranch House, a waterfall, and a dam.
Rising Sun Trail (moderate, 1.5 miles) – This trail takes you through one of the canyon rims. You can access it from the TRW Loop. Then, it will end close to the Roberts Ranch House and you can go back to the parking lot by the Solstice Canyon Trail.
In this park, I have also walked the Sostomo Canyon Trail. But, that my friends, is a more complicated trail. However, the views of the different canyons in the park and the mountain peaks are incredible.
Where to Go After the Walk: Same as Corral Canyon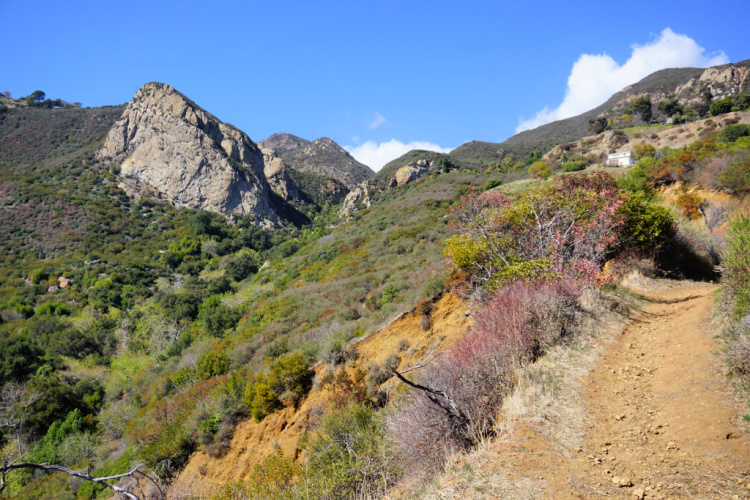 Escondido Canyon Park
Distance from Downtown Los Angeles: 35 miles
The Escondido Canyon Park is a wooded parkland open to hikers, mountain bikers, and equestrians all year round.
The Escondido Falls Trail is a 3.8-mile (out and back) trail that travels through oak woodland, coastal sage scrubs, riparian vegetation, Escondido creek, and terminates at the 150-feet tall Escondido Falls.
Escondido Falls and Creek are dependent on rainfall. As a consequence, early spring is the prime time to do this hike. They are incredibly beautiful when they are flowing strong.
Since this is one of the most popular Malibu waterfall hikes, get ready to pay $12 to park.
Where to Go After the Walk: Escondido Beach, Paradise Cove Beach, Point Dume, or Zuma Beach
Photo by Kenneth Moore
Point Dume Trail
Distance from Downtown Los Angeles: 47 miles
If you are looking for an easy, scenic trail, this is it! Point Dume offers, hands down, one of the best hikes in Malibu.
Point Dume is a gorgeous dome-shaped promontory that projects into the Pacific Ocean. It is surrounded by sandy beaches and blue ocean water. This is a great place to catch sights of sea lions, peregrine falcons, dolphins, and migrating whales.
To appreciate the area, you can walk the Point Dume Cove Trail, a 1.4 miles (out and back) trail. Let me tell you your brain will have problems processing so much beauty. On one side, you have views of Big Dume Cove and Santa Monica Bay. On the other side, your heart will beat faster when you see the views of Westward, Zuma, and Broad beaches.
You can access the reserve from Birdview Avenue or Westward Beach (a set of stairs will take you to the top of the promontory).
Where to Go After the Walk: I believe it is a good idea to go down to the Big Dume Cove. It is a beautiful beach surrounded by high cliffs and with tons of tidepools to explore. You can walk to Little Dume Cove and even Paradise Cove.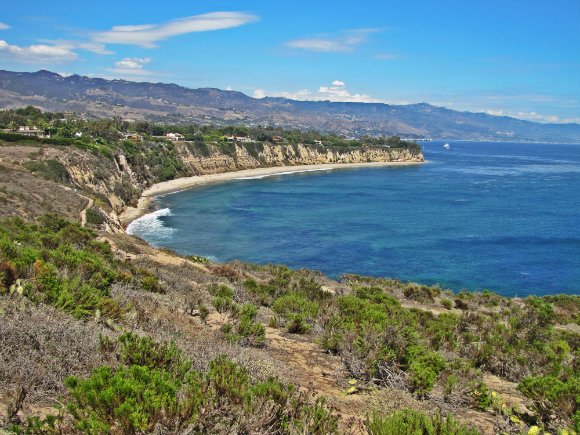 Charmlee Wilderness Park
Distance from Downtown Los Angeles: 50 miles
Charmlee Wilderness Park protects about 590 acres of unexploited natural scenery in the Santa Monica Mountains. The park is home to a wide variety of native plants, brightly colored wildflowers and has over 8 miles of crisscrossing hiking trails.
There are several trails in the park but the most popular one is the easy, 2.6 (round trip) Ocean Overlook Loop Trail. This is a perfect hike for those looking for a beautiful view of the Malibu coast. Other trails include the Reservoir Trail East Meadow Trail Loop (easy, 2.3-miles) and Clyde Canyon Trail (connect to the Lower Loop and Charmichael trails, moderate, 4-miles).
Dogs are allowed and admission is free, but you'll have to pay about $4 for parking.
Note: The park suffered great damage during the Woolsey Fire. Only main trails are open to the public at the moment.
Where to Go After the Walk: Leo Carrillo State Park, Nicholas Canyon Beach, or El Matador Beach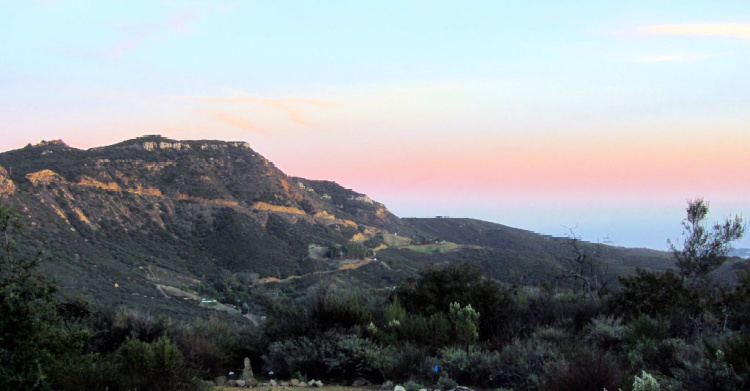 Photo for claumoho
Malibu Creek State Park
Distance from Downtown Los Angeles: 35 miles
The Malibu Creek State Park protects over 8,000 acres of land. This park is an excellent place to hike, and it's quite popular not just because it has some of the most beautiful landscapes in the Santa Monica Mountains, but also because of the various TV and movie scenes that have been filmed there.
There are over 30 trails snaking through oak savannas, plains, tall grasses, and epic mountainous landscapes. Standout trails include the Rock Pool and Century Lake Trails (easy, 4 miles), Grassland Trails (easy, 6 miles), Malibu Lake Trail (moderate, 3 miles), and Saddle Peak (moderate, 3 miles).
The park is open to hikers (no dogs), runners, bikers, and campers (62 campsites and 4 RV sites). It also provides visitors with a long list of interesting activities such as fishing, picnicking, bird watching, wildlife sighting, and lots more. The parking fee is $3 per hour and $12 for a day.
Note: Because of the size of the park, you may have to drive around to find the different trailheads.
Where to Go After the Walk: Head to the historic King Gillette Ranch (yes, it was owned by one of the razor company owners), a park featuring a Spanish revival mansion, pond, creek, terraces, bridges, and hiking trails (Gillett Ranch Loop, Gillett Ranch Summit to Inspiration Point, Las Virgenes View).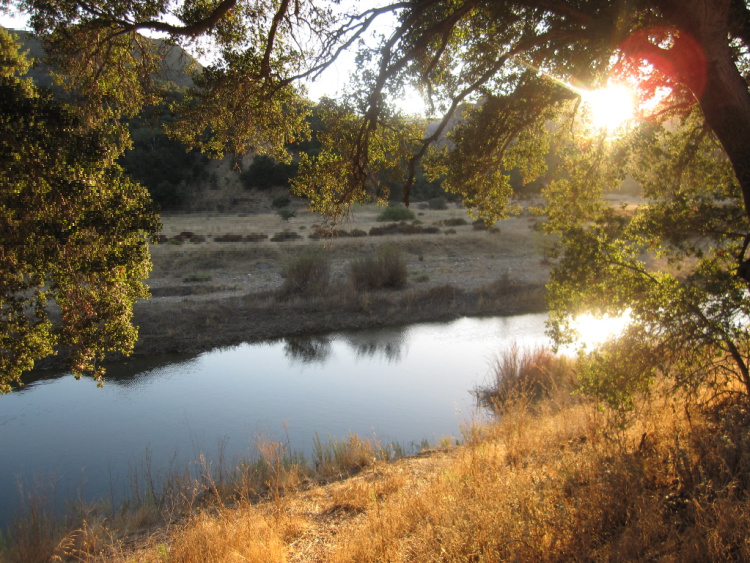 Hikes South of Malibu
This is the part where I discuss hikes near Malibu (that are not technically in Malibu but people associate with the area).
Most of these hikes are located in Pacific Palisades, a neighborhood of the City of Los Angeles, and fall within the Topanga State Park.
Inspiration Loop Trail
Distance from Downtown Los Angeles: 20 miles
Tucked away in the Santa Monica Mountains, the 157 000-acre Will Rogers State Historic Park has several hiking trails. The 4.2 miles Inspirational Loop Trail is the most popular. It is not a difficult hike but is on a gradual incline for most of the way.
The highlight of this hike is, as with most hikes around Malibu, the scenic views along the whole way. Reaching an altitude of 650 meters above sea level, Inspiration Point offers great views of L.A. and the ocean in the distance. During spring, wildflowers set the landscape alight in a blaze of color, making it a true spectacle for photographers and nature lovers.
Access is free but parking will cost you $3 per hour or $12 per day. Restrooms are only available at the car park, so take enough water and a little snack with you. Dogs on leashes are welcome.
Where to Go After the Walk: You can hit Will Rogers State Beach, Topanga State Beach, or the Malibu Pier after this hike.
Read More: Malibu's Pier
Temescal Gateway Park
Distance from Downtown Los Angeles: 20 miles
The Temescal Gateway Park is yet another park where you can enjoy breathtaking ocean and mountain views.
The Temescal Loop Trail (moderate, 2.7 miles roundtrip) has an elevation gain of 860 feet and travels through a plateau from where you can reach the Temescal Canyon Falls. From the loop, you can deviate to walk to the infamous Skull Rock.
From this park, you can connect to Temescal Peak, the Topanga State Park headquarters, and Will Rogers State Historic Park.
This trail is only open for hikers and runners. Bikers are not allowed. The parking fee is $12.
Where to Go After the Walk: You can go to the Getty Villa, Will Rogers State Beach, or the Malibu Pier area.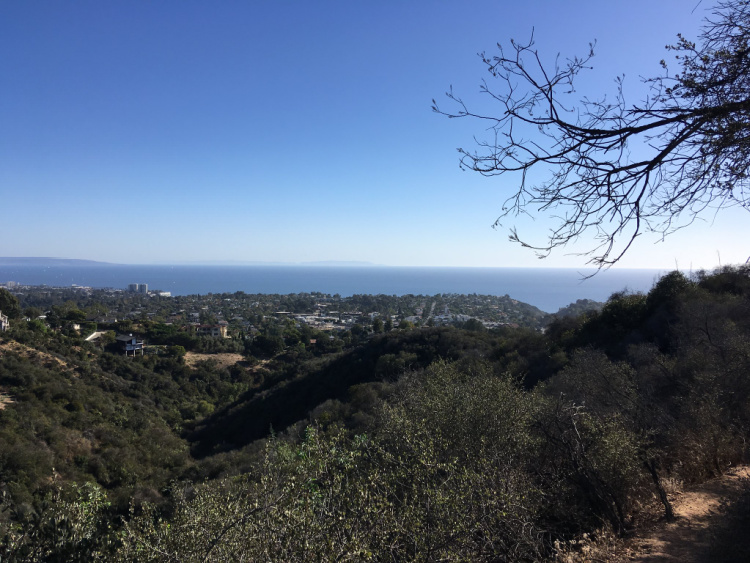 Photo by Sergei Gussev
Los Liones Trail
Distance from Downtown Los Angeles: 21 miles
It's no wonder that Los Liones Trail is one of the most popular hiking spots in Los Angeles. It offers majestic scenery as well as various trail options for the casual walker and serious hiker. It becomes a little crowded on weekends, but it thins out the further you go. The trailhead is located on Los Liones Drive off Sunset Blvd.
Staying on the Canyon Trail, after 1.3 miles and 550 feet of elevation gain, you will be rewarded with a bench to rest, magnificent views of the city below, and the ocean as far as the eye can see.
You could return the same way to complete a 2.6-mile course, or if you are looking to break some sweat, press on for another 2 miles to the Parker Mesa Overlook.
You will then be greeted by even more stunning views of Santa Monica Bay extending south along the Palos Verdes Peninsula and even to Catalina Island on a clear day. A sight to behold!
There are restrooms close to the Parker Mesa Overlook where you could fill your water bottles for the trip down. Having completed seven miles, this hike will give you a proper workout.
Note: Even though the hike to the first viewpoint mentioned here looks daunting (after all you are hiking to the top of a canyon), the way up is very gradual. I have done it and it is not bad at all.
Where to Go After the Walk: You can go to the Getty Villa, Will Rogers State Beach, or the Malibu Pier area.
Read More: The Getty Villa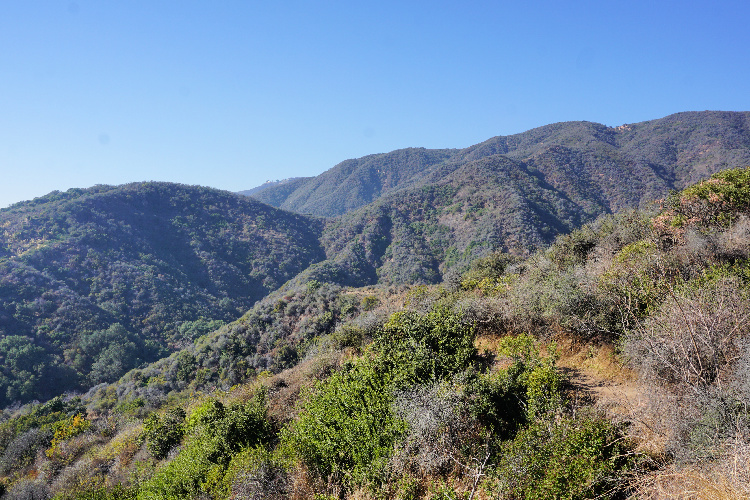 Hikes North of Malibu
Now, it is time to show you a series of trails or hikes located north of Malibu. These are some of the best hikes near Malibu (no joke).
Leo Carrillo State Park
Distance from Downtown Los Angeles: 45 miles
Contrary to popular belief, the famous Leo Carrillo State Park is located outside Malibu's city limits. But, that doesn't matter. This park is one of the best along the coast.
There are several beach walks that can be done in the park. I recommend walking from the South Beach to the North Beach (or vice versa). You are going to pass by a series of coves and experience phenomenal views. You can walk as much or as little as you want (1 or 2 miles). The terrain is flat and the walk super easy. You can go down to the beach to experience a different perspective.
Another easy Malibu beach hike can be accomplished by walking from the South Beach to Nicholas Canyon Beach. Again, this is an excellent way to get to know the area while enjoying breathtaking views.
If you are looking for something a little bit more challenging, head to the Yellow Hill or Nicholas Flat trails.
Parking is $3 per hour or $12 for the entire day. People park on the Pacific Coast Highway to avoid the parking fee. Leo Carrillo has one of the best campsites I have ever stayed in. The only problem is that it is very difficult to find an open spot (you may have luck on weekdays).
Where to Go After the Walk: Neptune's Net (a Malibu classic), County Line Beach, or El Matador Beach (probably the prettiest beach in Los Angeles).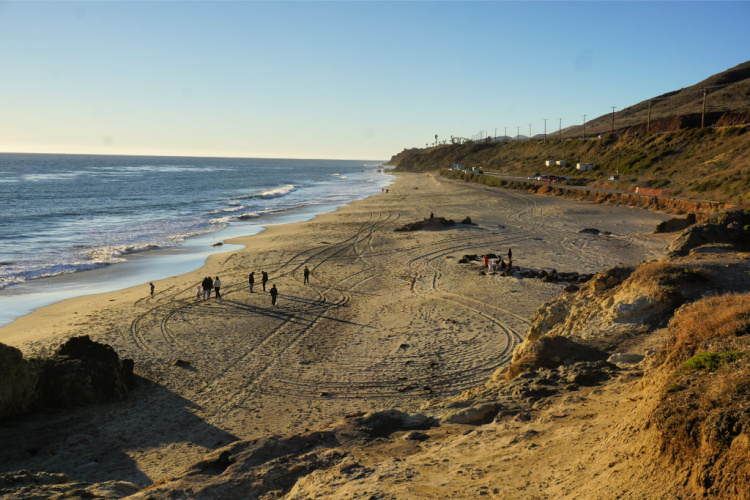 Sandstone Peak
Distance from Downtown Los Angeles: 52 miles
The Sandstone Peak is the highest peak in the Santa Monica Mountains. You can conquer this mountain using a 3-mile (out and back) trail that starts from the Yerba Buena Road. The hike is rated moderate but keep in mind you are going to gain about 1,000 feet while going to the top.
The payoff is worth the effort since the views from the top are completely insane!
From the peak, you can walk to Inspiration Point. This will add about a mile to the trip.
Dogs are allowed, so you can bring your canine friends, but they must be kept on leash.
Where to Go After the Walk: Leo Carrillo State Park or Point Mugu State Park
The Grotto Trail in Circle X Ranch
Distance from Downtown Los Angeles: 50 miles
Close to Sandstone Peak's trailhead, you will find the trailhead to The Grotto, a 3-mile (out and back) trail.
The Grotto itself is a series of waterfalls hidden within a boulder-filled canyon with small talus caves and a flowing creek. This is a beautiful sight tucked away in the Circle X Ranch below Boney Mountain in the Santa Monica Mountains National Recreation Area.
Keep in mind the trail starts going down and then, you will gain elevation on the hike back.
Note: Be careful how you enter instructions to this trail in a GPS. There is another Grotto Trail in Santa Clarita. "Grotto Trail Circle X," or something along those lines, will take you to the right trail.
Where to Go After the Walk: Leo Carrillo State Park or Point Mugu State Park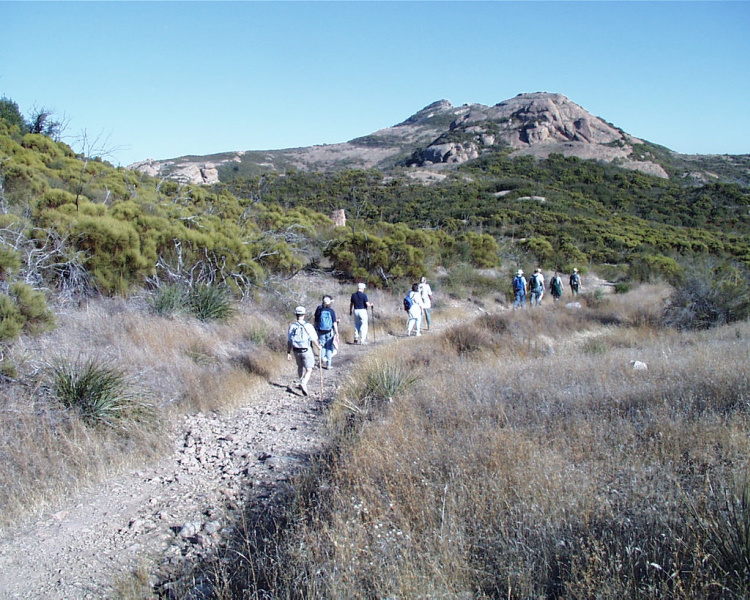 Rancho Sierra Vista/Satwiwa
Distance from Downtown Los Angeles: 50 miles
The Satwiwa Loop Trail, located in the Rancho Sierra Vista area, is an easy trail of 3.6 miles in length. The trail meanders through land considered sacred to the Chumash, the native inhabitants of this land. The area was part of their trade route as well.
The trail is open to hikers, picnickers, bikers, horseback riders, and bird lovers This is one of the easiest Malibu hiking trails. It has just one real incline and gentle slope. This trail is open to dogs, provided they are kept on leash.
The Satwiwa Native American Indian Culture Center is located on-site.
Where to Go After the Walk: Point Mugu or Westlake Village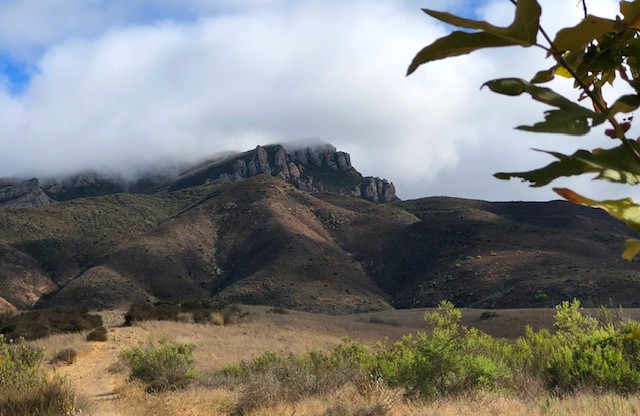 Scenic Trail in Point Mugu State Park
Point Mugu is a humongous park with tons of trails. Thankfully, you do not have to be an experienced hiker to enjoy its beauty. The easy, Scenic Trail will give you a glimpse of the park's mountains, hills, and canyons. Then, you will end up at this overlook that will knock your socks off. Views like that, with such little effort, make the Scenic Trail one of the best hikes in Malibu.
You can complete this hike in one hour but I recommend you pay to park for two hours. In that way, you do not have to rush. If after the hike you have paid time left, head to Sycamore Cove Beach. The views from there are great as well.
Parking is $3 per hour.
Where to Go After the Walk: Do not miss getting close to Point Mugu. After that, you can enjoy the beaches in the park or move to Leo Carrillo or El Matador.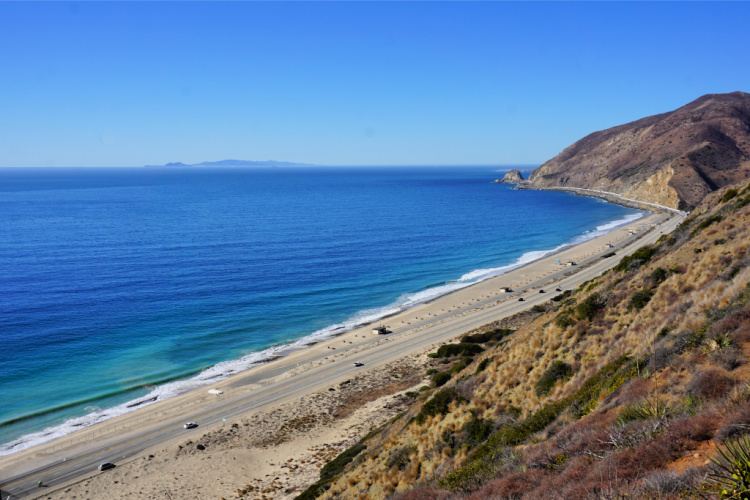 Malibu Beach Hikes
Throughout the article, we have touched a bit on beach hikes that can be completed in the Malibu area. Nonetheless, I want to give you a more concrete idea of where you can go to walk on the beach.
And, to be honest, the sky's the limit when it comes to beach hikes. There are so many places to go. Here are some options:
Malibu Pier to Malibu Lagoon
Malibu Pier to Carbon Beach (AKA BIllionaire's Beach)
The length of Corral Beach
Big Dume Cove to Little Dume Cove
Big Dume Cove to Paradise Cove
The length of Westward Beach
The length of Zuma Beach
Parts of Broad Beach (as the name says, it is long)
El Matador Beach to Lechuza Beach
El Matador Beach to La Piedra Beach
In Leo Carrillo, walk between the North Beach and the South Beach
And, since we are talking about beaches, let me remind you that all beaches in California are public per the state's constitution. Without getting technical, you are permitted to be where the sand is wet.
Malibu's residents, and even businesses, are notorious for blocking access to the beaches. The Our Malibu Beaches app tells you exactly where the public access points are located.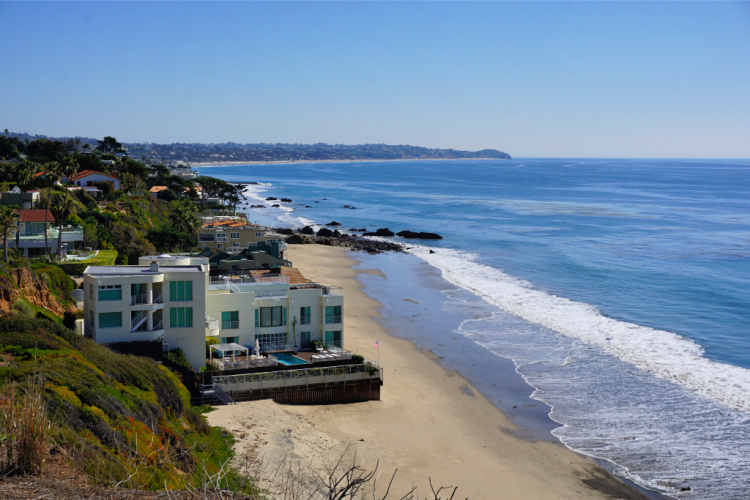 There you have it! This is my list of the best Malibu hikes. Let me know what you think and leave me your suggestions.
Travel Planning Resources
Plane Tickets: Travel aggregators like Kayak, Skyscanner, CheapOAir, and Momondo save you money by extracting the best route prices from different airlines. You can also use these to see what places have the most affordable flight prices for a particular date.
Book a Hotel: Booking.com is my go-to place to book accommodations. It is hard to beat them when it comes to prices. Plus, once you achieve the Genius level, you will be entitled to discounts. HotelsCombined is another great alternative (if you want to compare prices).
Vacation Homes: Vrbo allows you to book houses, condos, cottages, and cabins.
Rental Cars: Booking.com works well for car rentals. Holiday Autos is good too. This website has given me the best last-minute or high season prices.
Short-Term Car Rentals: Zipcar, a car-sharing service, allows you to rent a car for a period of minutes, hours, or day. After renting with an app, you proceed to pick up the car in a designated spot. In this way, you avoid going to a rental office and filling tons of paperwork.
Airport Parking: Airport Parking Reservations allows you to find the parking lot with the lowest price. Park Sleep Fly specializes in packages including hotel (the day before or after the trip), parking, and shuttle to the airport.
Insurance: Travelex offers policies covering trip cancellation/interruption, medical assistance, evacuation, and 24/7 assistance. They tend to pay claims faster than the industry standard.
Day Tours: GetYourGuide has an extensive offering of day tours or day trips. As an independent traveler, I book day tours to get insight into a destination or do fun activities.
Sightseeing Discounts: If you want to check out a city or area's hottest attraction, you can save some money with the CityPass, Sightseeing Pass, or City Sightseeing.
More Hikes in Southern California
What Malibu hikes have you completed?
Pin for later!