This article highlights the wonderful Museum of Illusions, located in the heart of Hollywood, California.
Looking to do something out-of-ordinary and super fun with your friends and family?  Well, I believe you should head straight to the Hollywood Museum of Illusions.
This interactive space is full of 3-D illusions and even an upside-down house.  Visitors have free reign on how to pose on the illusions in order to get unique photos.
Don't quite get it yet? No worries.  
Below I am giving you exact details on what to expect during a visit.  Plus, I have tons of photos to persuade you to visit ASAP!
Museum of Illusions
As mentioned, the museum specializes in 3-D illusions.  Basically, artists have painted images on the ceiling, walls, and floor in a way that when photographed from a specific perspective, the pictures come to life.
For example, you are going to end with photos where you are about to fall on a precipice or where a giant spider is attacking you.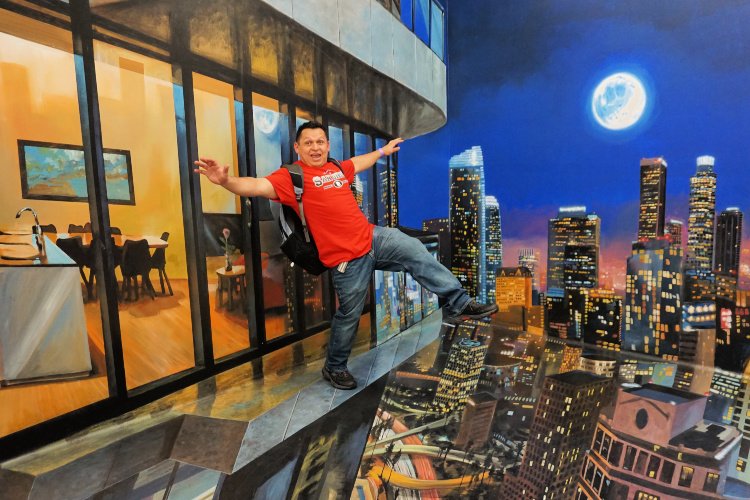 The best part is that there are over 30 illusions.  Two to four people can jump into the frame to make the photo more interesting.  By the way, there is not a right way to pose. This is all about being creative.  You can pose in different ways in the same illusion and obtain different results.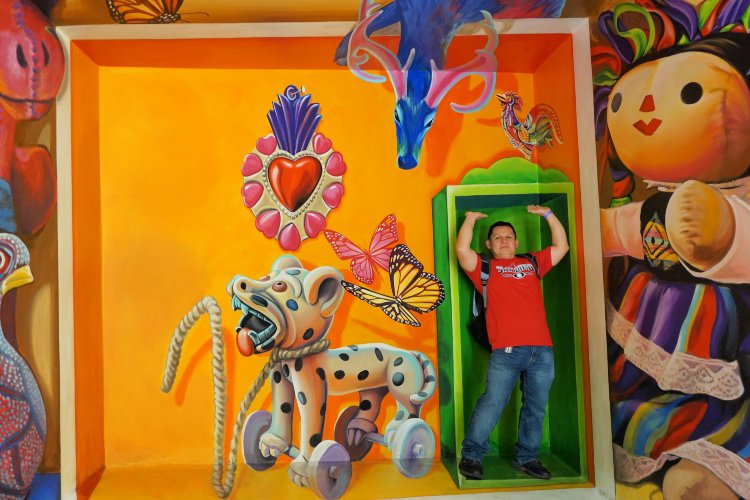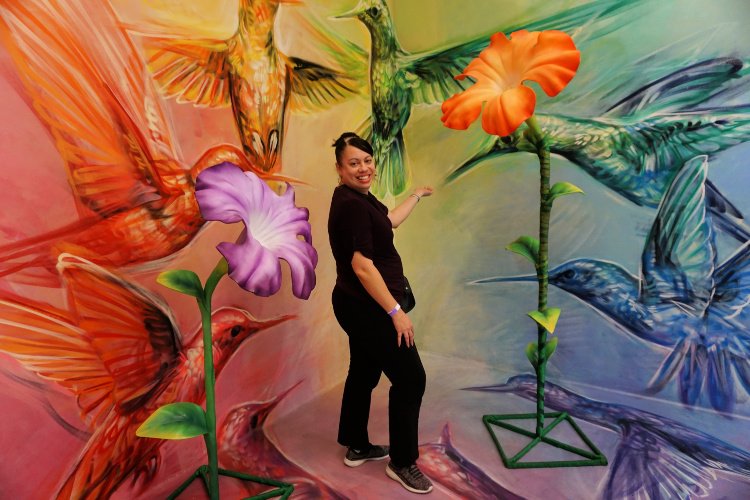 Also, you can try different things and see the result right away on the camera.  You can keep going till you obtain the desired results.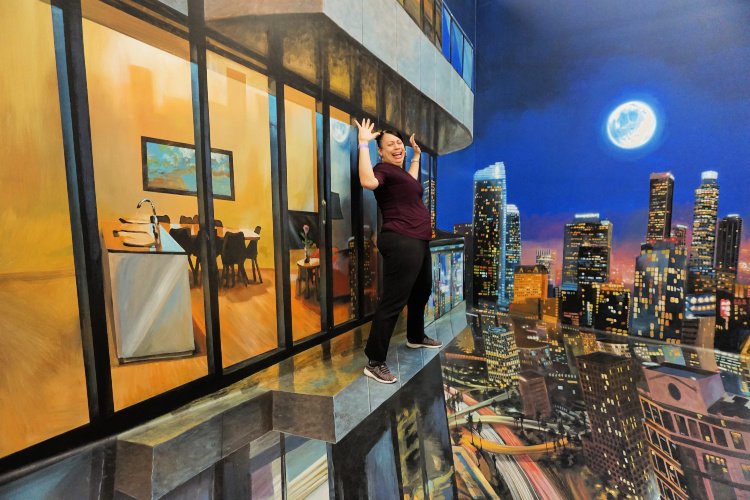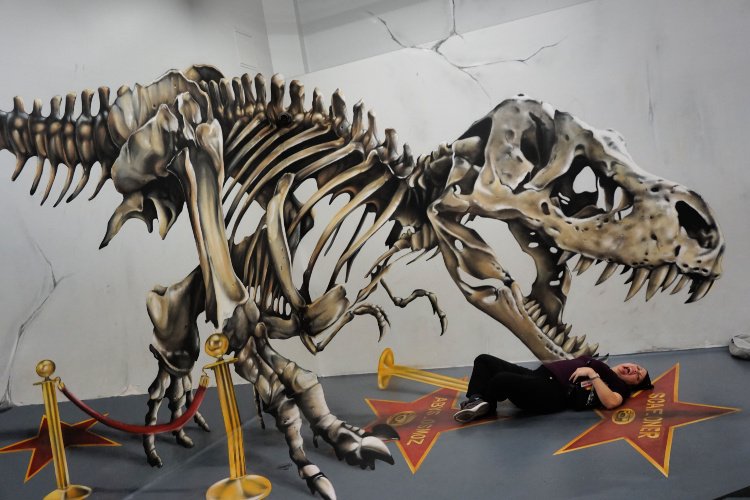 You do not have to worry if you believe you are not creative enough for something like this.  Next to each illusion, there is a photo offering an idea of how to pose. And, very important, there are signs on the floor indicating where you have to stand to take the photos from the right angle or perspective.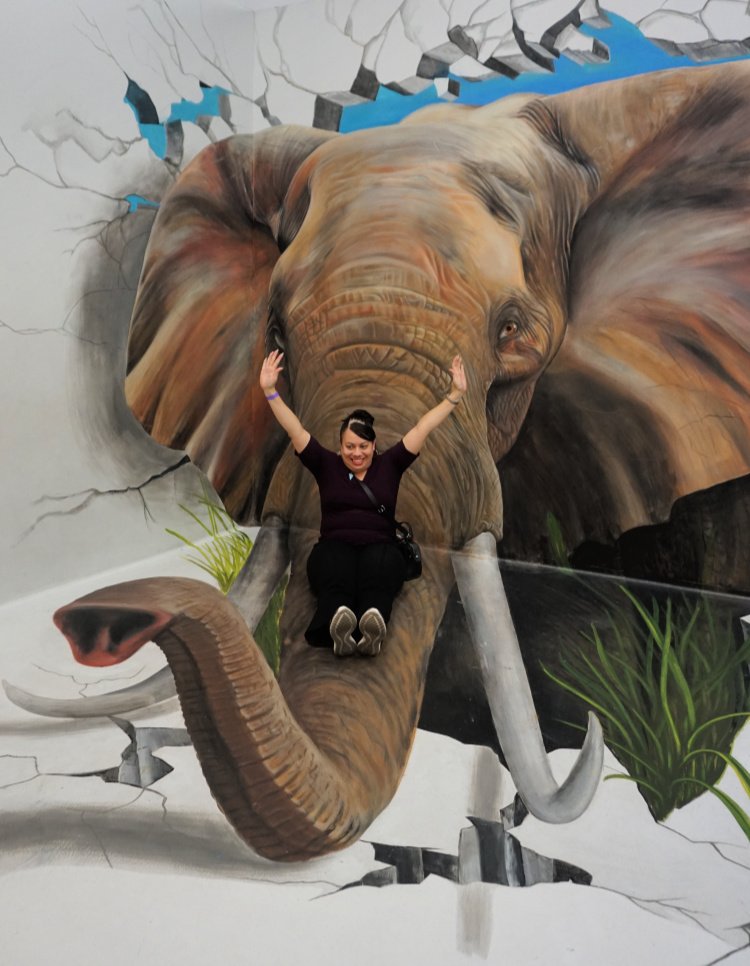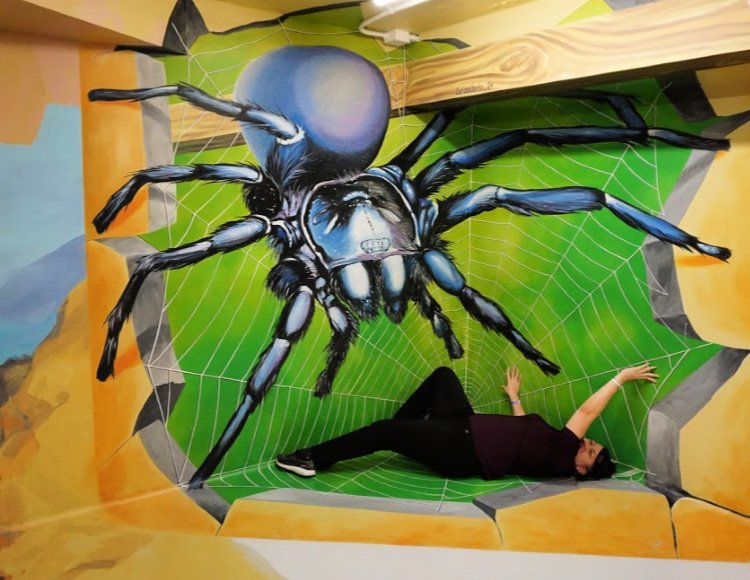 Dress comfortably since you are going to have to lay on the floor, sit, crouch, bend and come up with your best kung fu moves (just kidding).  This is all about letting it all out.
This is an excellent place to visit with all the family.  The bonding experience is great. Plus, the fun will continue when you are home looking and editing all the pictures.
Museums of Illusions: Upside-down House
Once you are done with the 3-D illusions you have the option to visit the upside-house.  This exhibition counts with 7 rooms and the picture taking options are endless.
Here, the furniture and accessories are attached to the ceiling.   Once you have your pictures, you will rotate them (a simple editor will work) and it is going to look like you were actually walking on the ceiling.
I had my doubts on how good this was going to looks but the pictures came out very nice.  For better results, you should include the ceiling and floor in your pictures. If you have questions on how to shoot, you can always talk to the staff for ideas.  In my case, one of the photographers (you can choose a package where a professional takes your pictures) gave us some hints on how to take the pictures.
Museum of Illusions: Details
Do not miss the Valentine's Day Promo: Present a photo of your Ex at the Museum of Illusions front desk and get 50% Off your ticket price. Valid from Feb 10 – Feb 14 2020
The exact museum location is 6751 Hollywood Boulevard.  They are meters away from Hollywood and Highland. A visit to the museum can be combined with other Hollywood attractions.
The Museum of Illusions is open from 10:00 a.m. to 12:00 a.m. (last entry is 11:30 p.m.).  I love the long opening hours because it means you can head there during the week even if you work or go to school.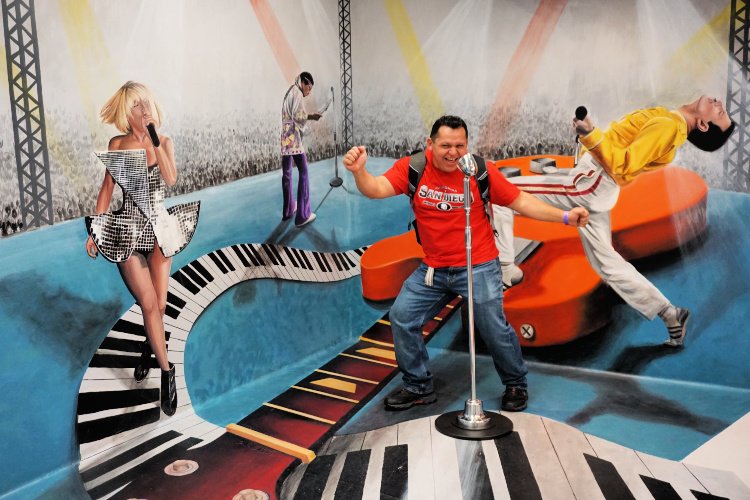 Expect to spend 45 to 60 minutes in the museum.  
If you want to avoid crowds and have the museum to yourself, I recommend visiting weekdays before 4:00 p.m.  We visited on a Friday at 2:00 p.m. and there weren't that many people around (which was fabulous).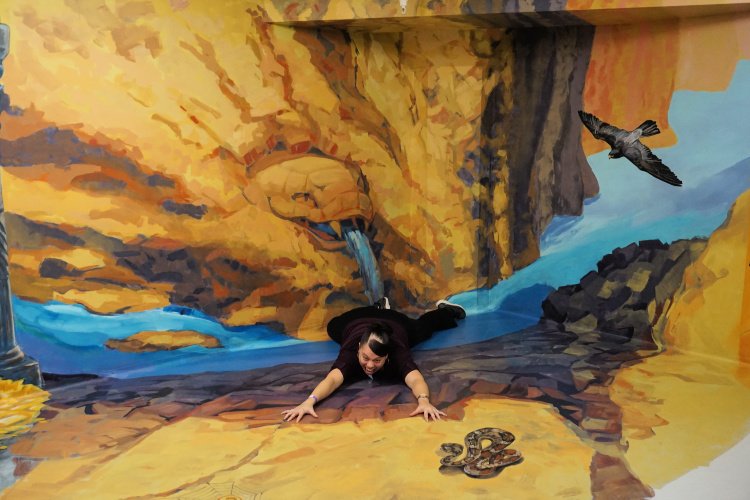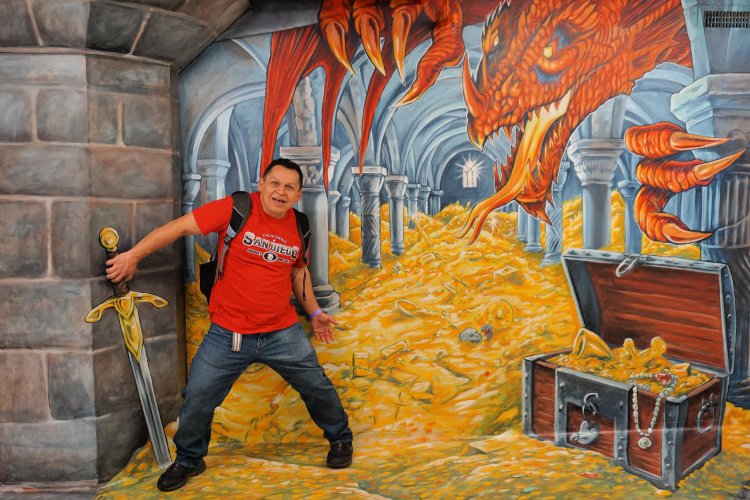 However, keep in mind the museum staff controls entry. During busy times, they let a certain amount of people in to keep the experience the way it should be.  That means you are not going to be fighting with others to get the right photo.
The museum offers discounts to students and military personnel.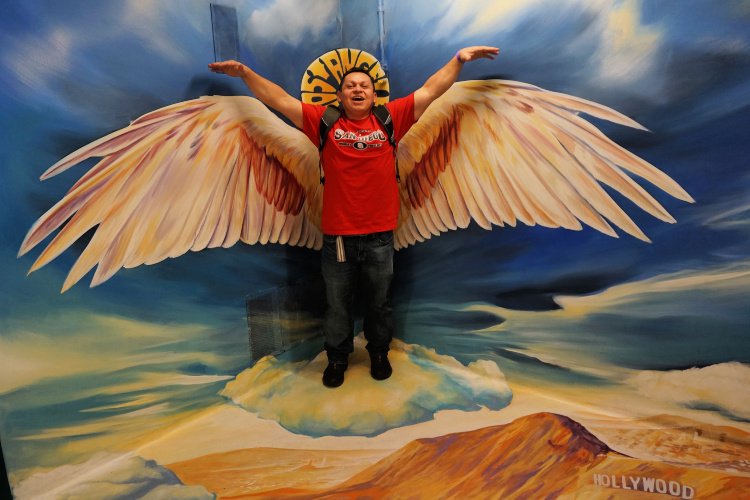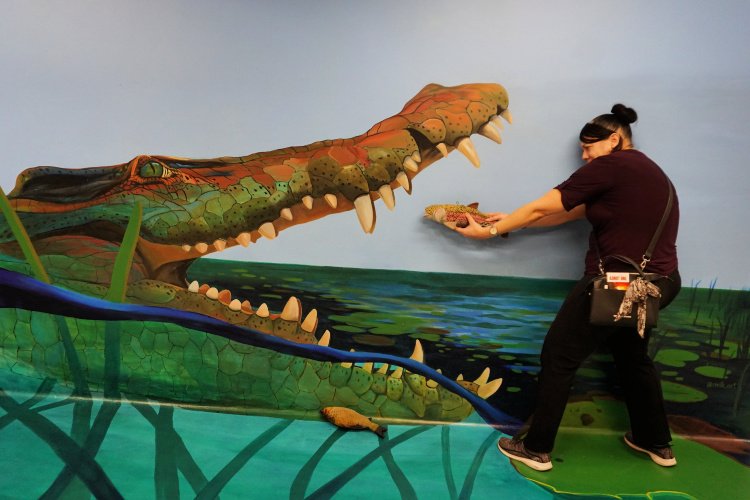 Parking in Hollywood can be a pain.  Do your due diligence and research where it is more convenient to park depending on your budget.  If you do not want to pay $15-$20 for 2 hours, you may need to park a little farther (around Hollywood and Vine, you can find daily flat rates of about $10). Retails spaces and restaurants can offer one or even two hours of free parking with validation.  The downside is that these garages fill up quickly.
If you do not have a car, you can get to Hollywood (from Santa Monica or Downtown Los Angeles) using the Metro (train).  The closest station to the museum is Hollywood and Highland (Red Line).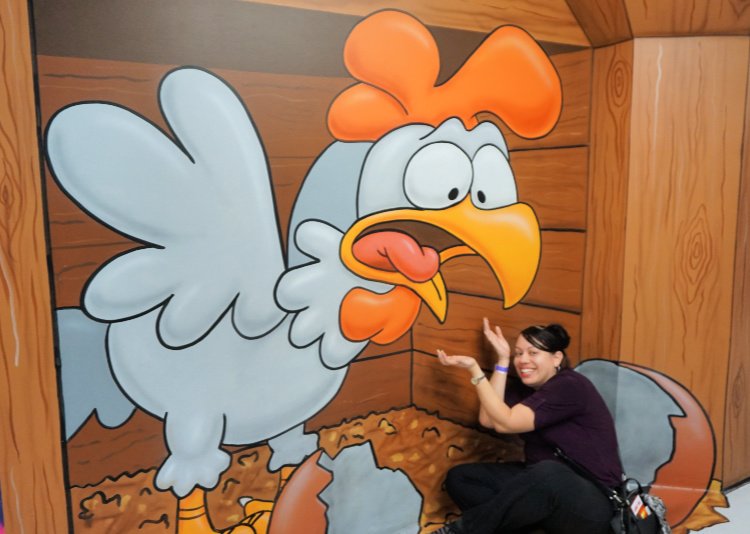 In summary, all I can say is, when are you visiting the Museum of Illusions?  I hope these words and pictures encourage you to try something different in the City of Angels.  Enjoy your visit!
More of Los Angeles
One Day in LA: Itinerary for First-Time Visitors
2 Days in Los Angeles: Downtown-Based Itinerary
Things to Do in Downtown Los Angeles
A Day in Los Angeles: 4 Downtown Itineraries
Los Angeles Ultimate Bucket List
Weekend Getaways from Los Angeles
More of California
Ultimate San Diego Bucket List
150+ Places to Go in Orange County
Places to Visit in Santa Barbara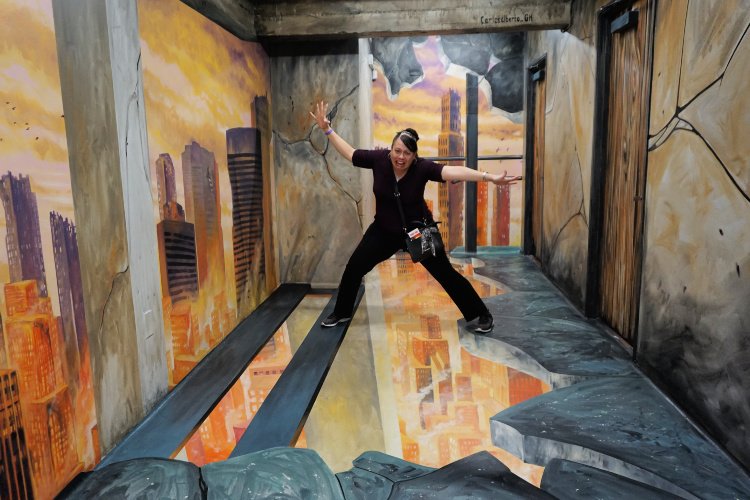 Have you visited the Museum of Illusions or a similar concept?
Pin "Museum of Illusions" for later!
Disclosure: I received complimentary tickets to visit the Museum of Illusions.  As always, my opinions are my own.