This article provides tons of details on the best Newport Beach hikes and walks!
I can't stop smiling when I think about Newport Beach.
Since the days I lived in Orange County, it has always been a happy place. Long days at the beach, bike rides, cruising through PCH, checking out tons of restaurants, and chilling at Fashion Island.  Yes, it is all good memories.
After spending time around, I can tell you the city is full of gems.  And, one of the best ways to discover those gems is by hiking and walking around.
That is why I have put together a list of the best Newport Beach hiking trails.
Scroll down to discover all the fun places you need to check out!
Please note: This article contains affiliate links, meaning I may earn a commission if you make a purchase by clicking a link. Of course, this comes at no extra cost to you and helps me to keep offering solid information to readers.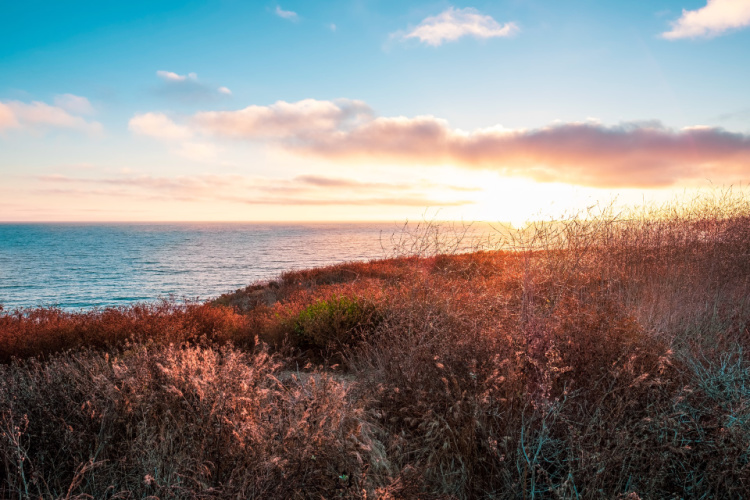 About These Newport Beach Hikes
Newport Beach is a city located in Orange County.  It is well-known because of its numerous beaches, marinas (with thousands of boats), surfing spots, sumptuous residences, high-end hotels, golf courses and glitzy shopping complexes.  The city is located about 20 miles from Anaheim, 90 miles from San Diego, and 45 miles from Los Angeles.
Even though the city tends to be associated with glamour and indulgence, the number of trails located within city limits is quite decent.  Now, the trails in Newport Beach are mostly flat and easy to traverse.  They are more suited for walkers, joggers, runners and families with kids.
This article focuses on hiking in Newport Beach.  I will cover a bit of hiking near Newport Beach as well.  Not all recommendations will fall within city limits.  But, I promise I'll keep my recommendations within a few miles from the city center.
If you are looking for more challenging hikes, I recommend checking the hiking trails in Laguna Beach (which is adjacent to Newport Beach).  I have an article dedicated to the topic.
I addition, I have an article about hiking in Orange County.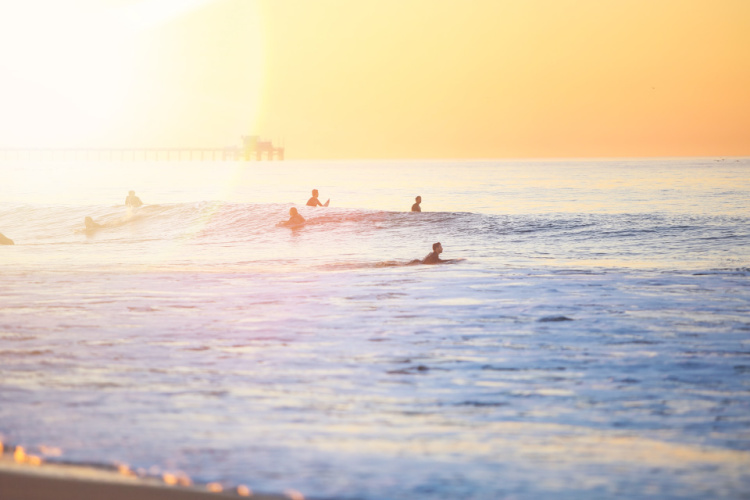 Newport Beach Hiking: When to Hike
Newport Beach's weather is pleasant all year round.  Maximum temperatures oscillate between 60 to 80 degrees Fahrenheit.
Based on those numbers, you can hike/walk in Newport every single month of the year. 
Now, that doesn't mean you do not have to take the proper precautions.  Dress appropriately, wear the right shoes and carry water.  There is not a lot of shade in the Newport area.  You will be hiking under direct sunlight.  So, sun protection is essential.
Also, keep in mind your body may feel temperatures higher than what they are (and more when you are performing physical activity).  You may need a couple of moments to cool down (even in winter).
There are some summer days when temperatures are going to shoot up (reach the high 80s and low 90s). On those days, I recommend hitting the trails before or after the daily maximums (early morning or late afternoon). 
Important Note: I recommend NOT hiking when temperatures are over 100 degrees Fahrenheit.  Of course, the exception is shaded trails.  Always check weather conditions before leading to a trailhead.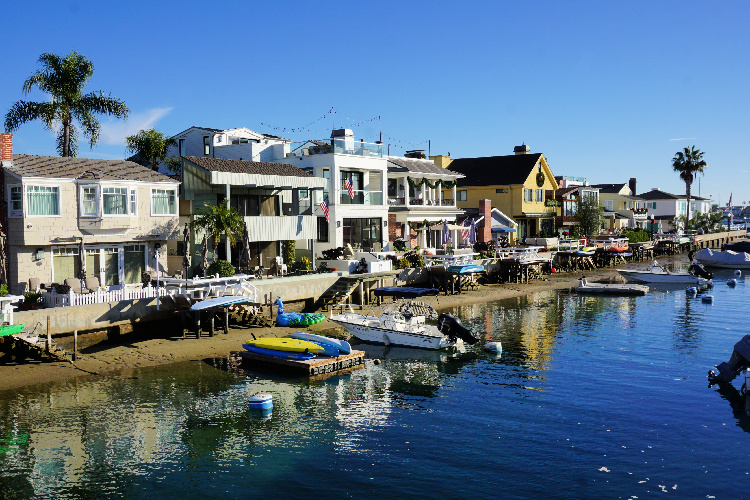 Hiking Gear
Having the right gear can make your life way easier.  Check out below my recommendations when it comes to hitting the Newport Beach trails.
Hiking Shoes – Wearing the right shoes is essential when hiking.  I recommend investing in a good pair.  Merrell shoes have always been good for my crooked feet.  Not long ago, I was using tennis shoes to hit the trails.  That was until I hurt my left foot.  Since then, hiking shoes have done wonders for me. >Check out my hiking shoes
My husband is more of a fan of the Salomon brand when it comes to hiking.  >Check out Salomon hiking shoes
Hiking Socks – Wool hiking socks provide support, cushion, and prevent blisters. EnerWear sells an excellent 4-pair set for a good price.  >Check them out here
Insoles – Insoles are another way to protect your feet when hiking.  They do a great job absorbing shock.  Walk Hero's insoles have some of the best ratings in the market.   >Get them here
Crossbody Bag – I take the minimum with me when I go on trails.  I keep everything organized in a small Herschel crossbody bag.  >Buy this great crossbody bag here
Day Pack – My husband prefers to take a small backpack to carry drinks and essentials.  >Buy a lightweight, water resistant day pack here
Hiking Poles – Hiking poles are lifesavers on trails with an incline (more if you have wobbly knees). TrailBuddy's trekking poles are such a great help. >Check these hiking poles
Sun Block – Do not leave the house (or the car) without applying sunblock.  I repeat, always wear sunblock when outdoors. >Buy sun block here
Lip Balm with Sunscreen – Protect your lips by applying a balm with sunscreen. >Get one of the best lip balms here
Wide Brim Hat – A wide brim hat is a great way to protect your scalp, face, and neck.  The ones manufactured by FURTALK come with an anti-UV function.  >Buy this amazing hat here
Sunglasses – These are another must when it comes to protecting from the sun.  A polarized, sporty pair works better for hiking. >Take a look at this wonderful pair
Water Bottle – Do not forget to bring water! Keep yours cold by taking a beautiful Hydro Flask water bottle.  >Check out the insane options her
Snacks – It is a good idea to carry snacks such as granola bars, protein bars, trail mix, nut, and jerky
Camera – I have never gotten used to taking pictures exclusively with my phone.  I prefer to use the Sony Alpha a6000.  It is compact and takes gorgeous pictures. >Buy Sony Camera here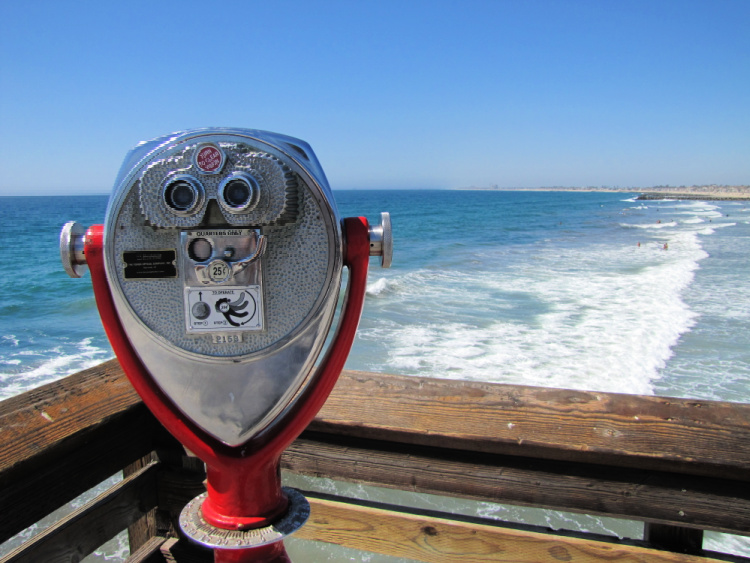 Newport Beach Hikes: Best Trails and Hiking Areas
Let's get to the fun part of the article.  Here's a handpicked list of some of the best Newport hikes to try on your next visit.
Bluff Trail at Crystal Cove State Park
Crystal Cove State Park is huge (3,936 acres).  The park comprises 3.2 miles of beach (in a natural state) where sunbathing, swimming, surfing, diving, and tide pooling are permitted.  In addition, there are 2,400 undeveloped acres of land ideal for backcountry hiking and primitive camping.
This is my top pick on this list.  If you can only visit one hiking area in Newport Beach, make it Crystal Cove.  I am convinced this is one of the most beautiful parks in California.
The 3-mile Bluff Trail hugs the coast and offers crazy beautiful views of the Pacific Ocean.  There are multiple entry points to the trail.  You do not have to walk the 3 miles if you do not want to. The entire trail is unshaded, so may want to take your sunscreen along with a bottle of water and probably a hat too. The trail is considered easy (since it is mostly flat).
After hiking, make sure to check the beach cottages at the Crystal Cove Historic District, the tide pools, and the shakes prepared at Ruby's Shake Shack (because we all need a shake after hiking).
The park deserves the entire day (or most of the day). Make arrangements accordingly. There is a $15 fee to enter the park.
Read More: Crystal Cove State Park
Moro Canyon Trails at Crystal Cove State Park
For those wanting to challenge themselves, I have another Crystal Cove trail suggestion.
El Moro Canyon, located in the backcountry part of the park, has a 5-mile loop with an elevation gain of over 800 feet.  It is considered moderate to hard (depending on the hiker's physical condition).
This loop is achieved by hiking the connected Moro Canyon, East Cut Across, and Morro Ridge trails.  Make sure you understand how to traverse the trails or stop by the ranger station if you need a map or exact details (so you do not get deeper into the backcountry)   Completing the trail can take 2 to 3 hours.
If you want to check out this part of the park but feel like the loop suggested above is too much, there are options.
The hike on the Moro Canyon Trail, till the West Cut Across junction, and back is considered easy (3-mile round trip, less than 300 feet elevation gain).  Or, you can hike on the Moro Canyon Trail and connect to the Poles and No Dogs Trails to complete a moderate 3 miles loop with a 600 feet elevation gain.
You can hike to the Lower and Upper Moro Campgrounds and spend the night in the area.
Note: El Moro Canyon is technically located in Laguna Beach but I am including it here because Crystal Cove State Park straddles Newport and Laguna.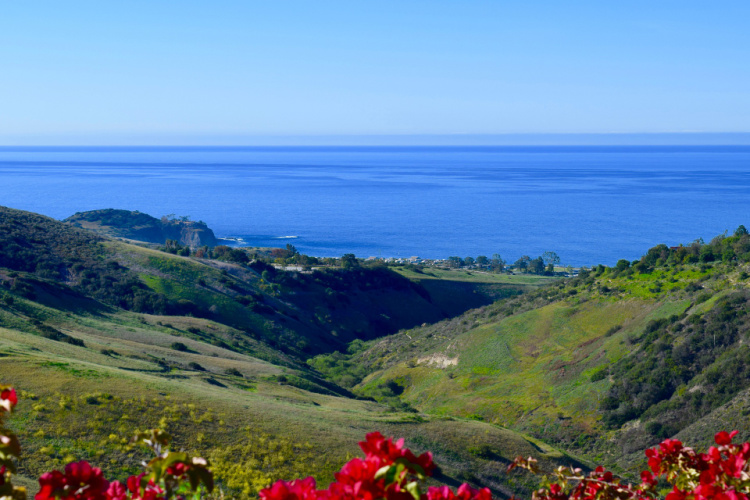 Buck Gully Reserve – Newport Beach Hikes
The Buck Gully Reserve can be seen as a long green belt located in the seaside neighborhood of Corona del Mar. The Reserve is completely surrounded by residences.  The trailhead can be found at 872 Poppy Avenue. Parking is on the street.  
The Bulk Gully Trail is about 5.2 miles long. It is a fairly easy trail with just enough incline for a good workout. 
Be ready to spot wildflowers, insects, birds, and small mammals. For a little more challenge, you can try the shorter but steeper Bobcat Trail. Dogs are not allowed, but you can have a good outdoor time with your kids. 
There are no facilities onsite.  Bring enough water and have a bathroom break before heading to the trailhead.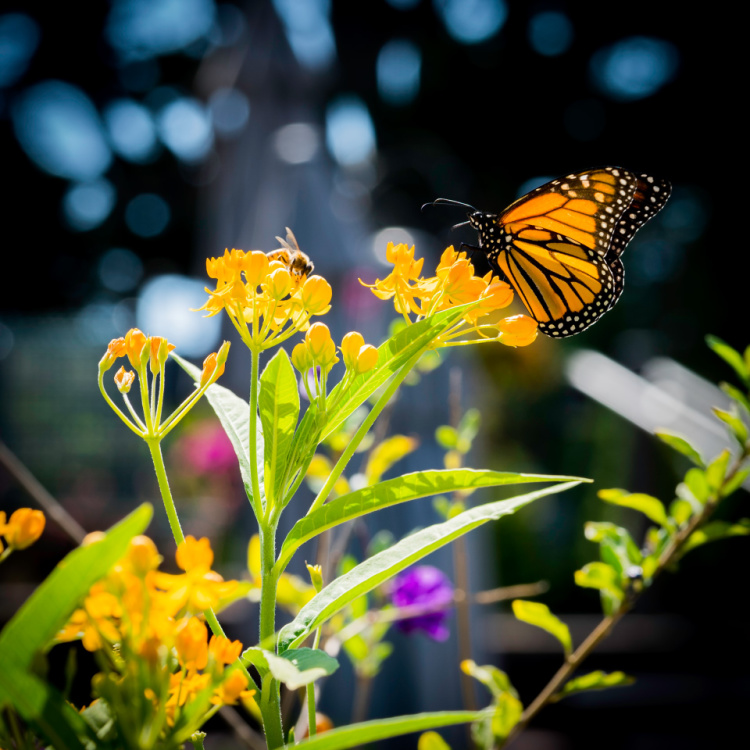 Back Bay Loop Trail
Upper Newport Bay is a great place for nature and bird lovers. It attracts over 35,000 migratory birds during winter, and it's home to 6 endangered bird species. Moreover, the Bay offers access to bluff vistas, dunes, scenic spots, and several educational facilities.
The Newport Back Bay Loop (it may be known by other names), a 10.5 miles long trail, allows visitors to experience this ecosystem.  Before you start screaming, no, I am not suggesting you complete this loop in one sitting.
There are multiple entry points. You can complete different sections at different times. Actually, this is what makes the Back Loop one of the top hiking trails in Orange County.  You can walk it 3 or 4 times and see something new on every occasion.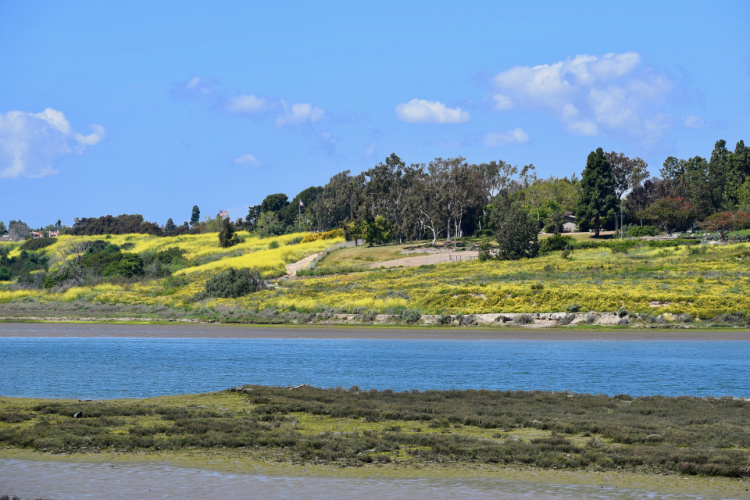 Here are some examples of how you can tackle this wonderful place in sections:
Back Bay Trail (goes through the eastern side of the bay) –  The trailhead to this section of the loop can be accessed from the intersection of Back Bay Drive and Shellmaker Road.  It is about 3 miles to the terminus (where the trail intersects East Bluff Drive). The round-trip walk is about 6 miles.  
You can shorten the walk by starting at the trailhead and walking to the San Joaquin Hills Road.  That would be about 0.5-miles one-way or 1-mile roundtrip.  Keep in mind the Back Bay Trail is also known as the Mountains to the Sea Trail since it is part of a trail system that connects the Newport Bay to Irvine. A Science Center is located close to the trailhead (on Shellmaker Island).
Upper Bay Trail (or Bay View Trail, goes through the northwestern side of the bay)  – You can access this section of the loop from the intersection of Irvine Avenue and Santiago Drive (or at the end of Constellation Drive).  It is about a mile to the Peter and Mary Muth Interpretative Center and another mile to Jamboree Road (about four miles round trip).
You can shorten the walk by only completing the section from Irvine and Santiago to the Interpretative Center or from Jamboree Road to the Interpretative Center.  Or, park at the Interpretative Center (many people do this) and walk either way.  All of those walks are about 2 miles roundtrip.
Back Bay View Park (views of the southeastern side of the bay) – This park has short trails with great views of the bay.
Access to the area is completely free and dogs are allowed.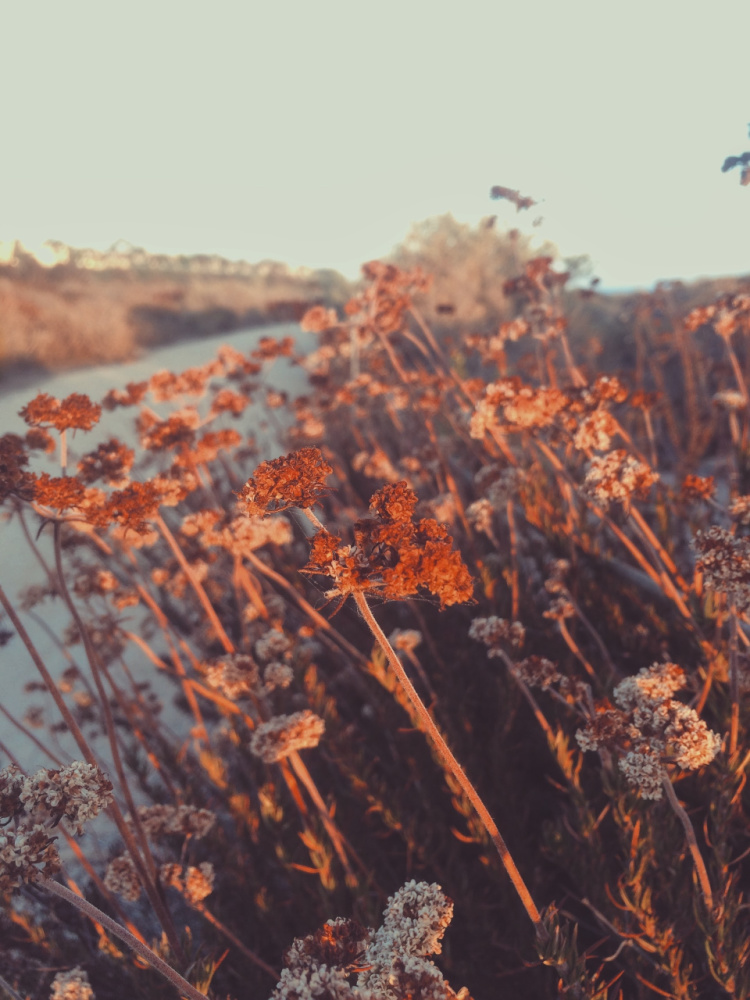 Mountains to Sea Trail
The Mountains to Sea Trail is a 22-mile National Recreation Trail that has been created to link the different spaces preserved by the historic Irvine Ranch.  The trail aims to showcase the diversity of the region.
The Back Bay Trail discussed above is part of the Mountains to Sea Trail.  Therefore, I have already provided details on the section of the trail located in Newport Beach.  However, I wanted to point out that the Bay Back Trail (and the entire Back Bay Loop) is connected to this longer trail.  This opens the doors when it comes to hiking in the county.
Castaways Trail – Newport Beach Hikes
The Castaways Trail can be accessed from a park with the same name.  There are panoramic vistas of the Upper Newport Bay and Newport Harbor from the trail.
Other parks such as Bob Henry Park, Westcliff Park, and  Galaxie View Park can be reached from the trail.  The Environmental Nature Center (with a nature museum, short trails, and other attractions) is located nearby.
Also, Westcliff Drive and 17th Street, with their interesting gastronomic scenes, are located nearby.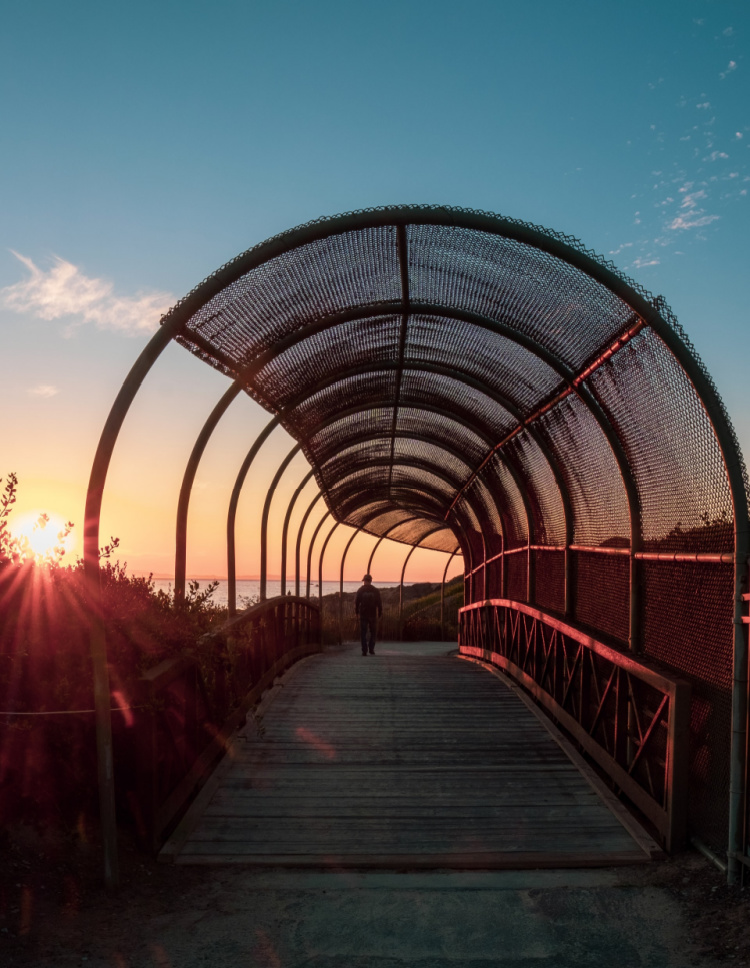 Newport Pier to Balboa Pier
The 2-mile walk from the Newport Pier to the Balboa Pier (4 miles round trip) is a great way to get a feeling of what Southern California beach culture is all about.
The piers are connected by a paved path.  Keep in mind this is a multi-use path used by biked, skaters and rollerbladers as well.
On the Newport Pier side, you will find restaurants, shops, a fish market, a surfing school, and several businesses renting bikes and aquatic gear.  On the Balboa Pier side, you will find the Balboa Fun Zone, Davey's Locker (a company specializing in whale watching and sportfishing trips), the Balboa Island Ferry Terminal, restaurants, shops, and rental businesses.  Between the piers, well, there are miles of amazing beaches.  
You can extend your walk by going past the Balboa Pier (the path continues till E Street) and all the way to the West Jetty View Park.  From the end of the peninsula, you will have great views of Newport Beach Bay's entrance and Corona del Mar.  It is an additional mile to walk to the Jetty.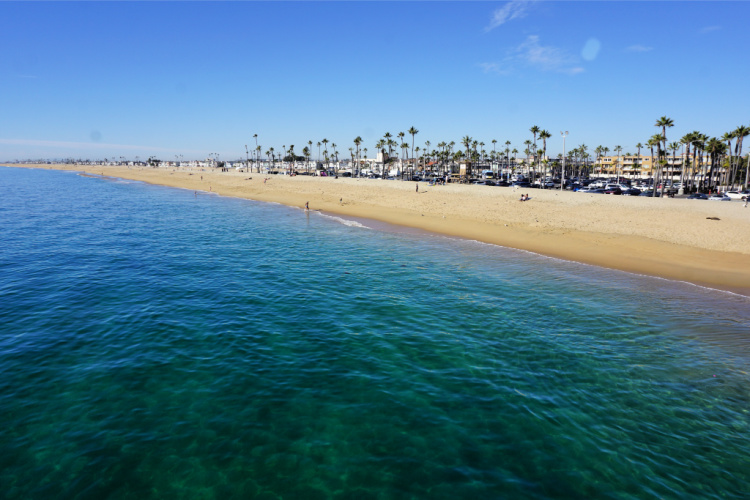 Newport Pier to Huntington Beach Pier
Walking from the Newport Pier to the Huntington Beach Pier is another way to tackle one of the best Orange County beach hikes.
It is pretty straightforward to complete this route by taking the Ocean Front Drive, Seahorse Drive, and connecting to the Huntington Beach Bike Trail  Now, we are talking about a 6-mile stretch (approximate, one way).  So, yes, this is a long suggestion but very easy and cool.  Completing it by bike is even easier.
You can cut the suggestion short by walking (or biking) from the Newport Pier to Huntington State Beach (around the terminus of Brookhurst Street).  That stretch is about 3 miles (one way).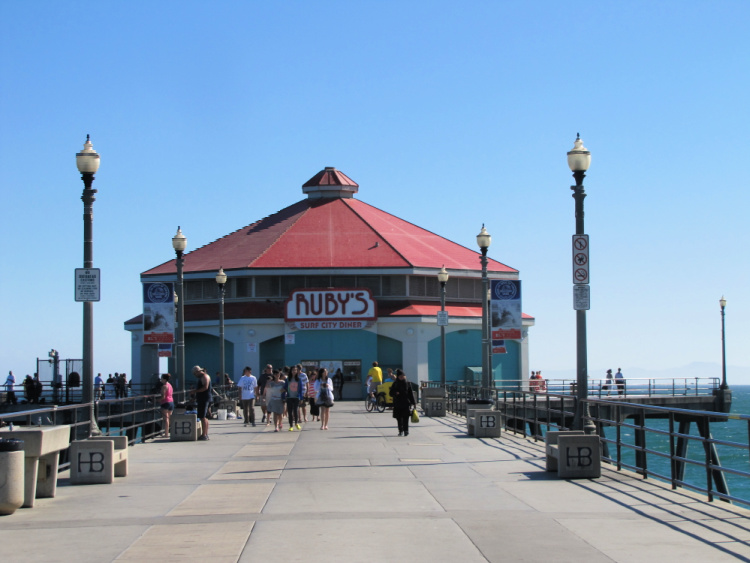 Balboa Island Loop
The pedestrian path around Balboa Island is one of my favorite Newport Beach walking trails!
Basically, a 1.7-mile path will take you around the small island.  You will be able to observe beautiful homes, gardens, private piers, beaches, boats, bridges, and even a grand canal (yup!).  Balboa Island residents are experts when it comes to decorating for occasions like Halloween and Christmas.  It is super fun to walk around during those festivities.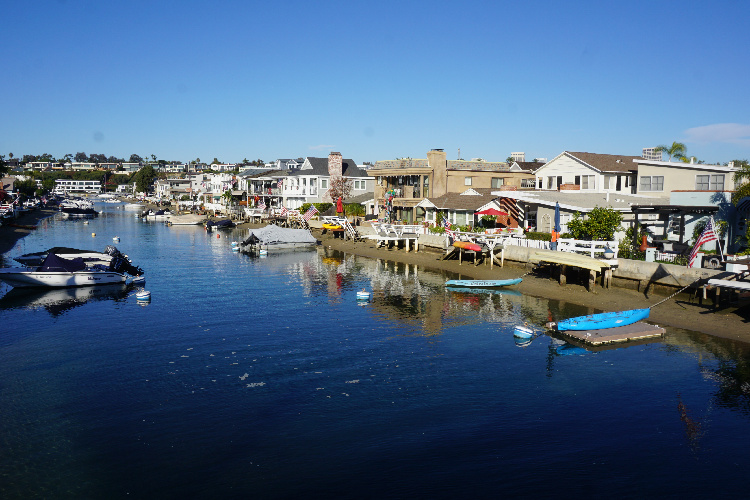 I recommend deviating to Marine Avenue, the main thoroughfare on the island.  There you will find restaurants, candy shops, markets, and the island museum.  You need to try a Balboa Bar (ice cream) and/or frozen banana.
You can drive to the island, park and walk.  But, we all love to reach the island by ferry.  Park on the Balboa Pier and cross the bay aboard the ferry ($1).  Remember to pay for enough parking time.  You do not want to rush back.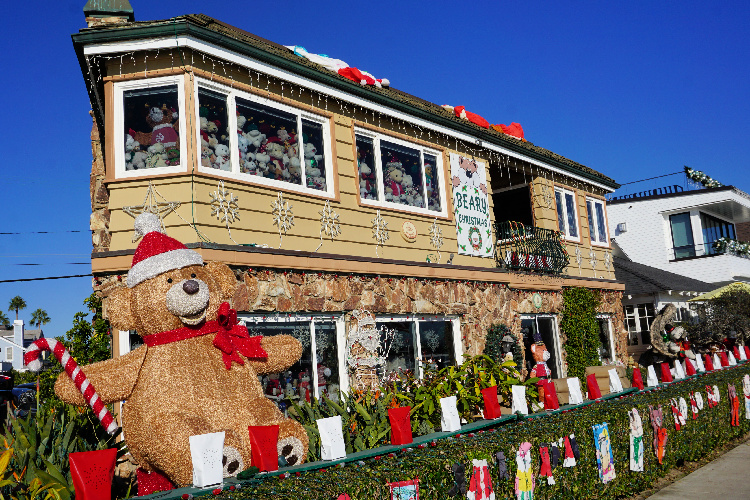 Buffalo Hills Trail – Newport Beach Hikes
The Buffalo Hills Trail can be accessed from Ford Road (across the Bonita Canyon Sports Park, parking is available at the park).
This easy 1.3-mile trail (one way) passes by a residential area and the Buffalo Hills Park.
Hikes Near Newport Beach
Even though I have provided several options, I believe it is appropriate to include some great hiking trails near Newport Beach.
Shipley Nature Center
Distance from Newport Beach: 10 miles
Location: Huntington Beach
The Shipley Nature Center, located within Huntington Central Park, maintains a series of trails around 18 acres of restored California native habitat.  During a walk, you will encounter coastal sage scrub, grasslands, riparian woodland, chaparral, oak groover, and Torrey Pines.
The total walking distance is about a mile.  The Shipley to Shore Trail (3 miles) is in the works.
Huntington Beach Central Park
Distance from Newport Beach: 10 miles
Location: Huntington Beach
The Huntington Beach Central Park has over 2 miles of trails.  The most popular routes are around Huntington and Talbert Lakes.
You can check the Shipley Center as well (for more walking and exploring).  Other park amenities include a disc golf course, dog park, equestrian center, exercise area, playgrounds, restaurants (with lake views), sports complex, and an urban forest.
Talbert Regional Park
Distance from Newport Beach: 4 miles
Location: Costa Mesa
The Talbert Regional Park functions as a garden, wildlife refuge, and recreational facilities.  On 200 acres, it has 9 trails stretching over 3 miles.  Trails are rated easy.  Therefore, it is a great place to visit with the entire family.  
William Mason Regional Park
Distance from Newport Beach: 8 miles
Location: Irvine
The William Mason Regional Park is yet another wonderful park in the area featuring a 9-acre park, picnic sites, playgrounds, volleyball courts, a baseball field, a model sailboat course, fitness courses, and a wilderness area (with hiking and biking paths).
Within the wilderness area, you can find the University Trail (3 miles) and Turtle Rock Trail (3 miles all the way to the Turtle Rock Community Park).  There are other easier trails surrounding the park's lake.
Santa Ana River Trail
The Santa Ana River Trail is another of those long trails that you are not going to complete in one sitting (unless you are on a bike).
The 30-mile trail goes from the mouth of the Santa Ana River (in Huntington Beach) to the Riverside county line.  
The Santa Ana River Trail connects with the Huntington Beach Hike Trail and the Talbert Regional Park.  For example, you can walk from the Huntington Pier to Talbert Park (about 3 miles one-way).  From the Newport Beach Pier to Talbert Park is about 4 miles.  Or, it is 4 miles to the Mesa Verde Country Club and 8 miles to the Centennial Regional Park.
As you can see, the possibilities are endless.  A lot of walking and bike trails in Newport Beach form a huge network that provides residents and visitors with tons of exciting options.
Hope you have found this article useful. With so many Newport Beach hiking and walking trails, I am sure you are going to have an excellent time.
What are your favorite Newport Beach hikes and walks?
Pin "Best Newport Beach Hikes" for later!