Looking to spend a couple of days in paradise?  I got you covered! My Oahu itinerary shows you how to spend 1 to 4 days in The Gathering Place.
I needed to see by myself if all the hype about Hawaii was true.
When you have been living in California for a long time, you start meeting people who vacation there often. You even start meeting people who have been 15 to 20 times.  And, they cannot stop praising the place.
Then, It seems like every travel magazine in the world has 6 full pages of advertising featuring Hawaii or one of its islands. Then, you have TV commercials. And blogs.  And YouTube.  It is like everybody is hammering Hawaii into your head.
So, when I found a great deal on Oahu, I didn't think about it twice.  I was finally going to paradise.  Just keep in mind I come from paradise (Puerto Rico).  Therefore, my standards were high.
Well, guys, the hype was real! 
I was completely swooned by the beaches, mountains, small towns, food, and good vibes.
Below I am sharing my detailed Oahu itinerary.  These are the places I visited and can recommend on the island.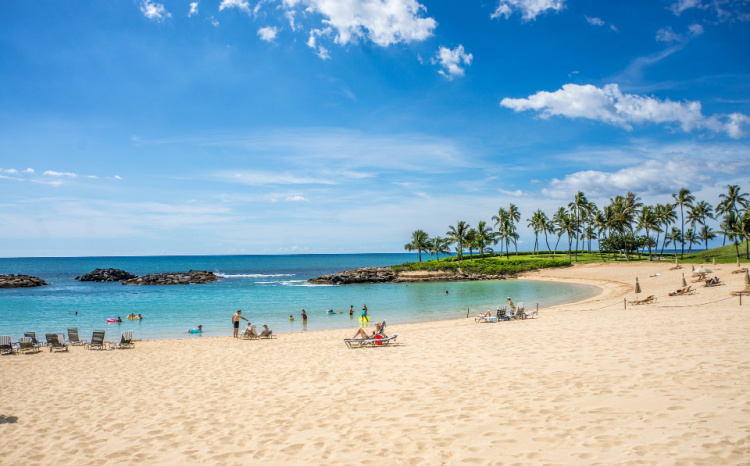 About this Itinerary
Oahu is Hawaii's most populated island (about a million residents).  Honolulu has about 35% of the population and Waikiki is the main touristic hub.
I recommend taking a day or two to explore Waikiki and Greater Honolulu and then moving on to other areas of the island.  You will be missing out if you only stay in the city.
The best way to explore is by car.  With a car, you will have the freedom to explore lesser-known but stunning places.  Road tripping around the island is easy since the infrastructure is excellent and distances are short.
It makes sense to rent a car starting the day you are leaving the big city.  In Honolulu, you can move around using public transportation or ride-sharing services.  You can do Waikiki on foot.
In addition, having a car will allow you to stop by local supermarkets to stock up on groceries, snacks, and other essentials.
I am presenting you a 4 day Oahu Itinerary.  I will provide ideas on how to extend the trip if you choose to do so.
Oahu Itinerary – Day 1 
The first day of the itinerary focuses on the Waikiki area.
Waikiki Beach
Waikiki Beach is a long strip of sand (about 2 miles) booming with activities and wonderful views.
Along its shores, you will find restaurants, beach bars, shops, water activity rentals, tour agencies, statues, art, performers, and a vast selection of hotels
This beach borders the Ala Moana shopping complex, the Honolulu Zoo, several parks, and a golf course.   
Here you can do as much or as little as you want.  Just walking the entire light of the beach and stopping to explore what is found on the way takes some time.  
Waikiki Beach has some of the best hotels in Oahu because it's a modern and historic center. Some affordable luxury and mid-range hotels for accommodation in Waikiki include;
Hotel Renew 
Laylow 
Moana Surfrider
Espacio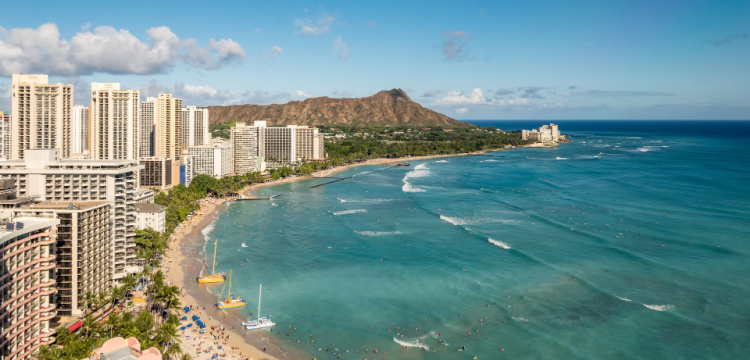 Kalakaua Avenue
Kalakaua Avenue is the street facing Waikiki Beach.  As you can imagine, this place has a lot of vehicular and pedestrain traffic.  However, it is fun!
You will find an International Market Place, restaurants, coffee shops, boutiques, gift stores, surf shops, ice cream parlors, galleries, breweries, pubs, and bars.  There is something for all budgets.
I recommend checking the scene at night too.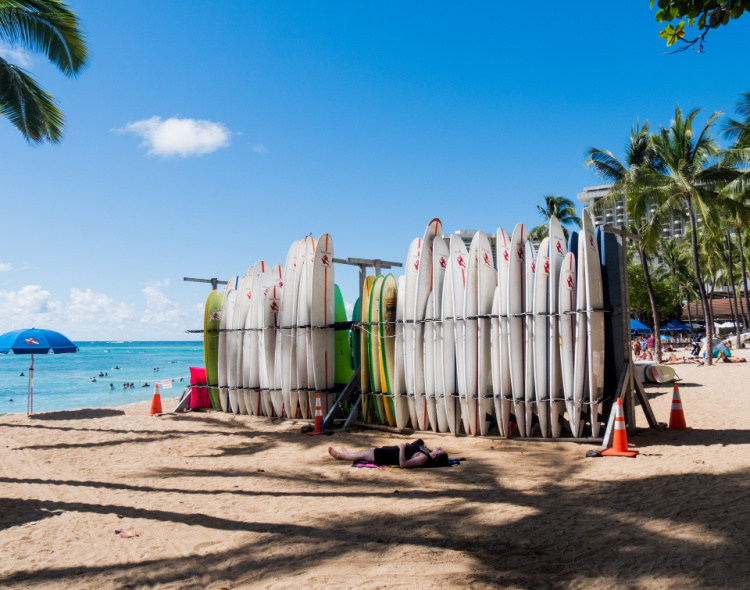 Diamond Crater
Have you ever noticed that most Waikiki photos include a mountain in the background?  Well, it is not a mountain but a crater. It is called Diamond Head.  Its original name is Leahi which means brow of the tuna.  From the distance, the crater looks like the dorsal fin of a fish (or a tuna).  
British sailors started to call it Diamond Head because they thought its slopes were covered with diamonds.  What they confused with diamonds, were crystals with minimum or null material value.
Nowadays, this is one of the most recognized landmarks of Hawaii and it has been declared a state monument.  The crater was formed in a series of volcanic eruptions.  Imagine.  A vent exploded and formed the nearly perfect circular rim. 
The entrance to the crater is a short cab, bus, or bike ride from Waikiki.  Don't you ever think of walking from Waikiki.  I had that brilliant idea and it busted.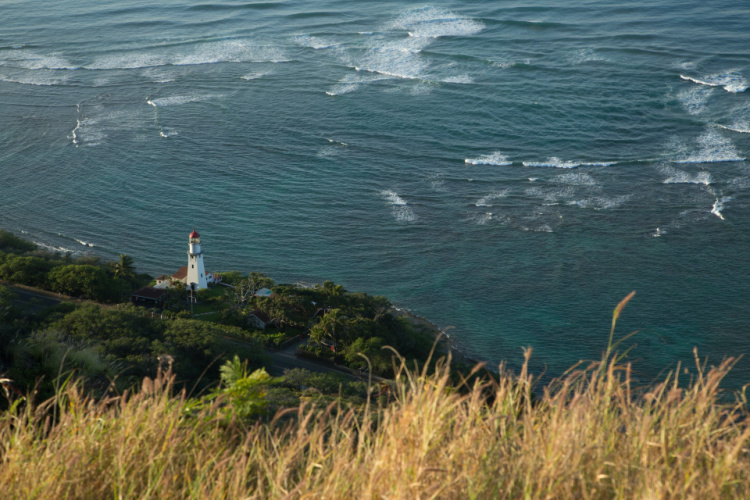 From the summit, you can see amazing views of Waikiki and Oahu's south coast.  The Diamond Head Lighthouse is also visible from the top.  This is a totally worthwhile thing to do if you visit Oahu.
However, let me be clear about a couple of things.  This hike is considered moderately challenging.  It requires effort to get to the top.  I am going to be honest about my experience.  When I did the hike, I was totally out of shape.  It was really tough for me, and I coughed and sweated like crazy.  I just took it slow and rested and drank water multiple times.  
Additionally, you have to go through two sets of stairs (145 steps) and a poorly lit tunnel. Therefore, this hike is recommended for people in good physical condition.  The hike up usually takes 30 to 45 minutes. 
Here are other things to keep in mind:
Don't try the hike if you don't have the correct type of shoes
Bring water and sunblock.  There are vending machines close to the ticket office (don't rely on them, be prepared and bring your own stuff)
Use the restroom before starting the hike
Hike at your pace.  I told my husband to just go and let me hike at my rhythm. Ask your group or partner to give you time and space if you need it
The advertised closing time is 6:00 p.m. but the ticket office closes at 4:30 p.m.  If you go after 4:30 p.m., you will not be able to go in.  If you are inside before this time, you have till 6:00 p.m. to complete the hike and be back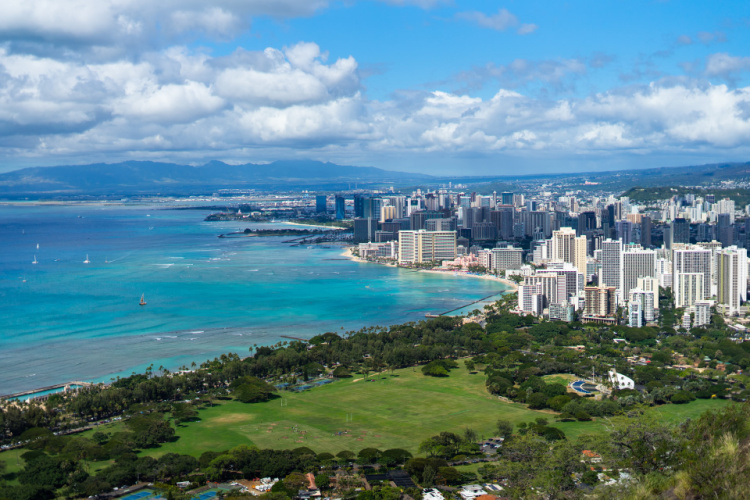 Attend a Luau
A luau is a party that includes copious amounts of food and entertainment. These celebrations are normally meant for celebrating family occasions such as birthdays, graduations, weddings, and job promotions.
Several places in Honolulu put together a more upscale version of the party (more like a dinner package including buffet, choreographed performances, extravagant costumes) for out of state visitors.
Options include the Royal Hawaiian Luau, Germaine's Luau, and Paradise Cove Luau.
In terms of food, get ready to try Hawaiian classics such as Kalua pork, lomi lomi salmon, poi, haupia, and sweet bread.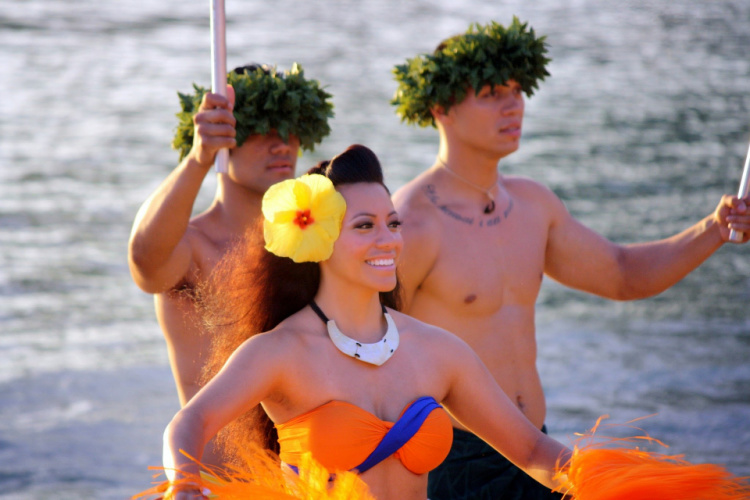 Oahu Itinerary – Day 2 
The second day of this Oahu itinerary focuses on Downtown and Greater Honolulu.
Pearl Harbor
Happy thoughts come to mind when you think about Hawaii.
But, there is a spot on the island that witnessed a sad moment in history. Or, maybe I should say, a very heartbreaking and tragic moment in history.
On December 7, 1941, the Empire of Japan attacked the headquarters of the U.S. Pacific Naval Fleet located in Pearl Harbor, Oahu. 
During World War II, Germany invaded France and the Netherlands. Japan, which was Germany's ally (Italy was the third ally), saw a golden opportunity to take control of all of the fallen countries' colonies in Southeast Asia (Indochina, Dutch East Indies, etc.). 
However, Japan knew the United States would not allow them to take those colonies. They had already opposed previous Japan's invasion plans. Japan had to do something to neutralize the United States forces. 
They knew the U.S. Pacific Fleet was stationed at Pearl Harbor. So they decided to attack it. Their reasoning was simple: "If we destroy the planes and ships of the United States, then we can invade parts of Southeast Asia and their response is going to be weak or too late."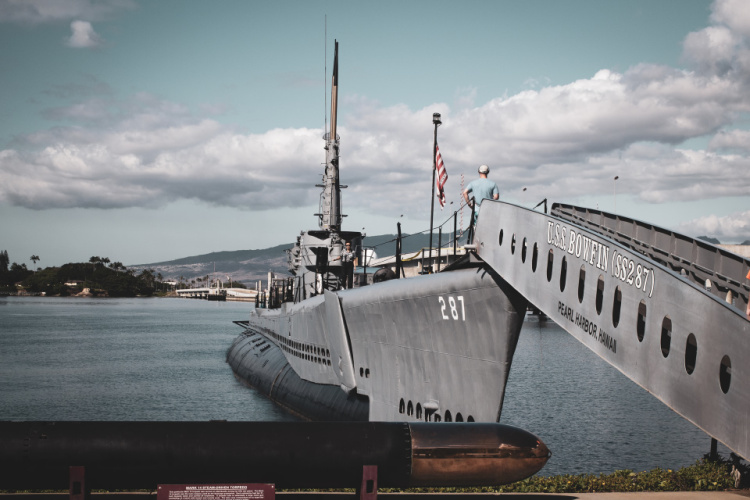 The losses that day were numerous. The United States lost 2,402 citizens (including civilians, plus 1,282 were wounded) and Japan lost 65. All of the US battleships were damaged (4 sunken). Cruisers and destroyers were broken. One hundred and 88 planes were destroyed. The day after the attacks, the United States declared war on Japan and entered World War II.
From the 8 damaged battleships, one was a total loss and it is still buried in Pearl Harbor Bay. The ship sank, taking the lives of 1,177 people. A lot of the victims remain under the frigid waters to this day.
Today, when you say you are going to visit Pearl Harbor, you are really referring to the USS Arizona Memorial, a structure honoring the ones fallen during attack day was erected over the sunken ship.
Visitors reach the memorial via boats from the naval base at Pearl Harbor. The structure has a sagging center and its ends strong and vigorous. It commemorates the "initial defeat and ultimate victory" of all lives lost.
There are numerous war-related exhibitions to keep you occupied while you wait to board the boat taking you to the memorial. Plus, a short movie explaining the attack is played.
I highly recommend a visit to Pearl Harbor.
Tip:  Arrive early or make advance reservations.
Tip: Many companies offer tours combining a visit to Pearl Harbor with other local attractions or sailing excursions.  This may be a good idea to spend part of the day or even an entire day.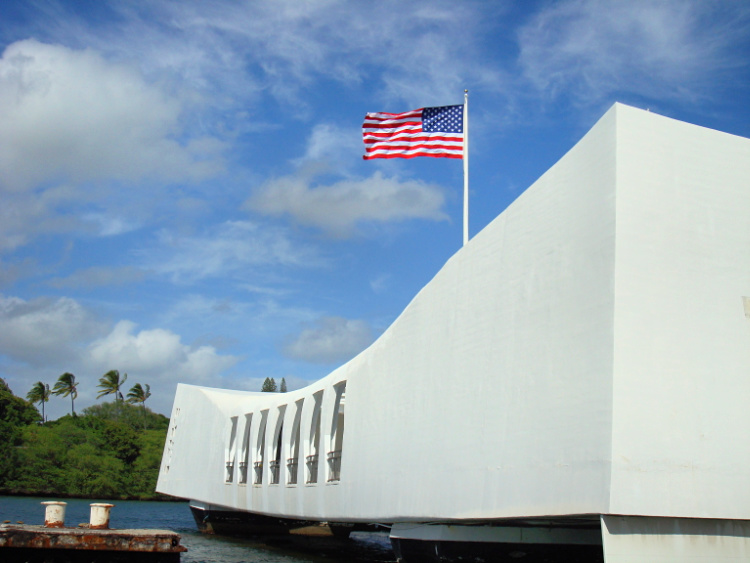 Downtown
Downtown is the commercial center of the island but it has many cultural attractions as well. The area is ideal for strolling, taking pictures, and getting a good dose of art.
Some things to see in this area include:
The Aloha Tower
Hawaii State Art Museum
Honolulu Museum of Art
The Cathedral of St. Andrew
Foster Botanical Garden
Chinatown
Maunakea Marketplace
There is also the famous Iolani Palace, which was an official residence of monarchs.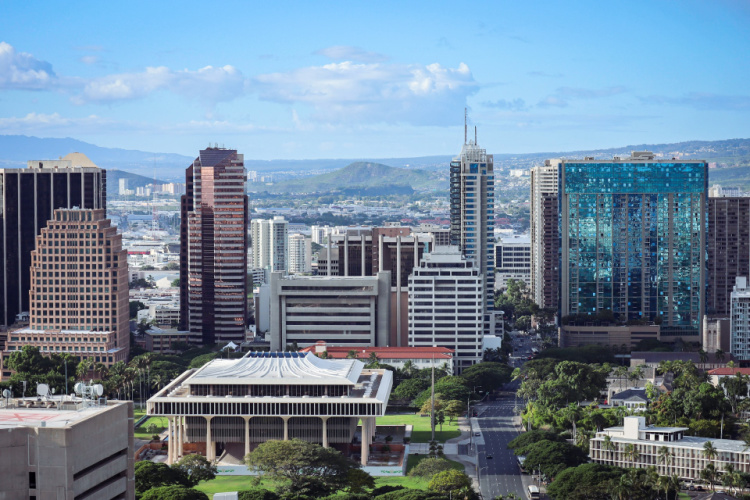 Arts District (Mural Hunting)
On the eastern side of Downtown, you will find the Kaka'ako neighborhood.  A lot of people agree this is Honolulu's hippest neighborhood.  
To start with, many of its streets are covered with colorful murals.  If you want to hunt some of these, walk around Cooke Street, Pohukaina Street, Auahi Street, Lana Lane, and Mother Waldron Park.
In addition, the area is peppered with galleries, breweries, restaurants, bookstores, boutiques, and shopping complexes.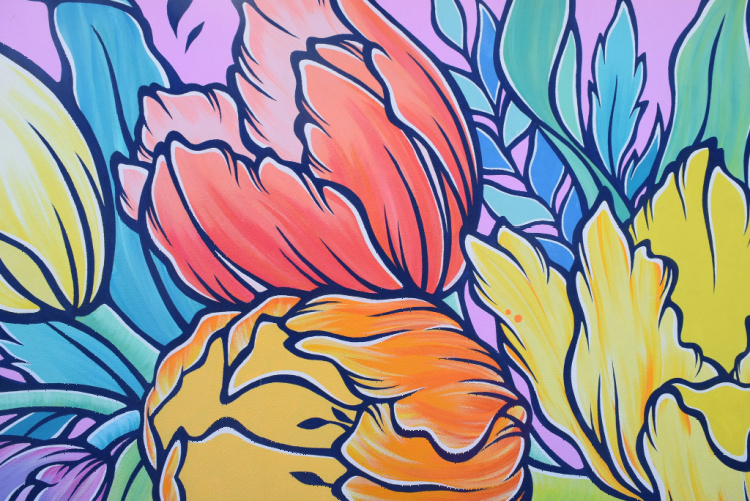 Photo by Haydn Blackey
Bishop Museum
The Bernice Pauahi Bishop Museum showcases Hawaiian heritage and culture. To a similar extent, it does the same with Polynesian culture in general. In addition, the museum holds over 24 million natural specimens (the majority are insects).
While at the museum, you can enjoy the Hawaiian Hall, Pacific Hall, Science Adventure Center,  Kahili Room, Picture Gallery, special exhibits, and programs.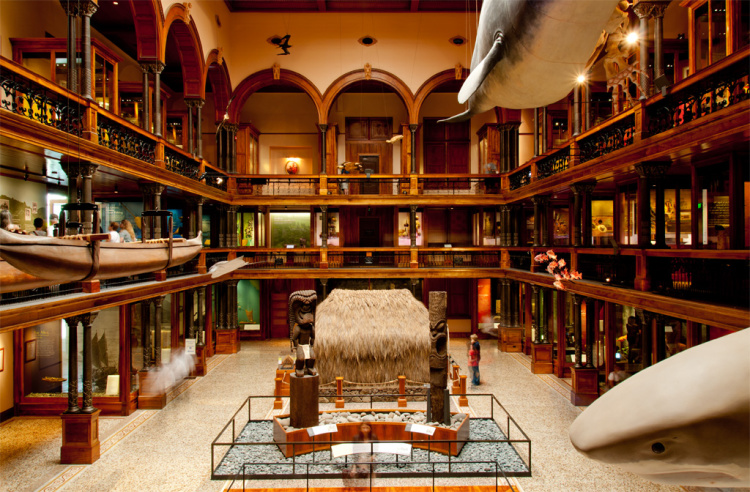 Photo by Ray_LAC
Hawaiian Food
While in the area, you can enjoy typical Hawaiian dishes in places such as Helena's Hawaiian Food (kalua pork, beef stew, tripe stew, lomi salmon, butterfish collar, and more).
Other good options include Highway Inn Kaka'ako, Da Ono Hawaiian Food, and Rainbow Drive-In (for plate lunches).
Oahu Itinerary – Day 3
On this day, we will leave Honolulu and explore the island's southeast area.  If you do not have a car yet, this is the day to pick up your rental.
Hanauma Bay
Start your road trip by stopping by Hanauma Bay, one of the most famous destinations in the island.  This bay is within a volcanic crater (filled with ocean water).  Hanauma is both a Nature Preserve and a Marine Life Conservation District which means its waters are full of fish and turtles.  This is a perfect place to snorkel and take a close look at the reefs.
The place is truly spectacular.  Pictures do not fully make it justice.  
For this itinerary, I am recommending looking at Hanauma Bay from a viewpoint, walking a bit around the ridgeline, and going down to the water level to take a view from that perspective.
Notice there is a lot to do in this area.  Snorkeling and lounging around can take up to half a day.  The Koko Crater trailhead is located nearby too.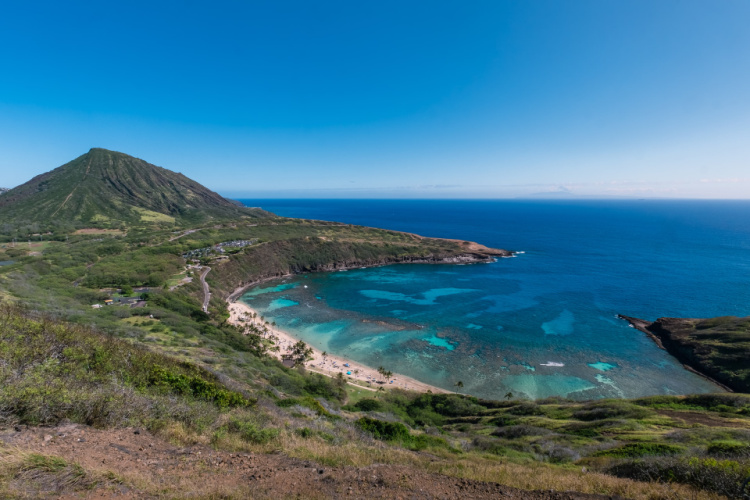 Halona Cove and Blowhole
The next stop is Halona Cove.  This beach is probably best known as the site of the famous love scene between Burt Lancaster and Deborah Kerr in the 1953 movie, From Here to Eternity. The contrast among white sands, crystal blue water, and dark surroundings is spectacular. No wonder why it is a favorite of movie directors.
Close to the cove, you can take a look at the Halona Blowhole.  When the waves hit the shore, some of the water enters below the blowhole and sprays water high into the air.  Actually, I was not able to enjoy the full spectacle.  I waited and waited and was able to witness just small sprouts of water.  I later learned that the tide has to be high and the winds strong if you want to see the blowhole in its entire splendor.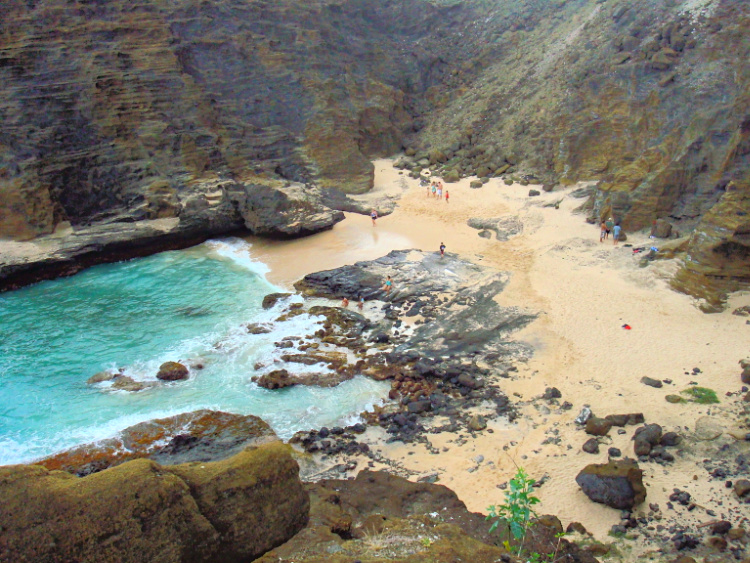 Makapu'u Lookout
The next stop is the Makapu'u Lookout, where breathtaking panoramic views of offshore islands are enjoyed (Rabbit Island is seen from here).  I loved this lookout because you can gaze at many elements of Hawaii from it.  Surfers. A lighthouse. Lava Flows. Offshore islands. Wavy, emerald mountains. Clear blue sea. It is like somebody condensed all of your Hawaii dreams in one scene.
 If you drive a little bit more, you can enjoy the Makapu'u Beach, Makapu'u Tide Pools, and Makai Pier.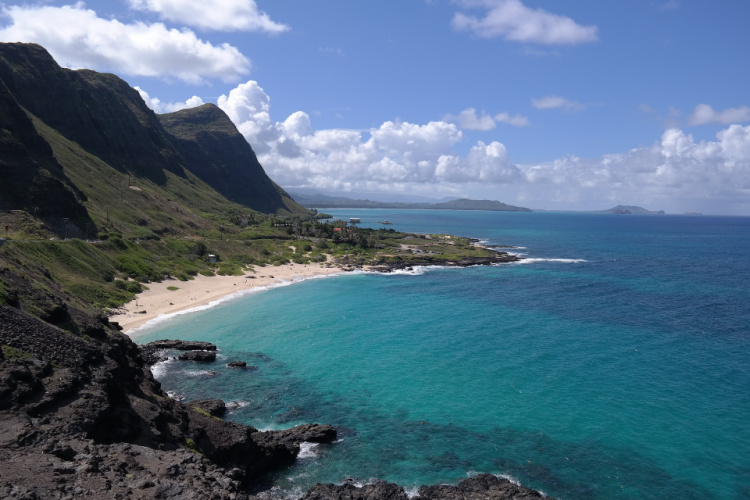 Kailua and Lanikai
I recommend spending the rest of the day and the night in the Kailua area.
Start by exploring the famous Lanikai Beach.  The beach is known for its two offshore islands called the "Mokes".  Their proper name is Moku Lua islets.  You can rent a kayak and paddle around the small promontory.
From the beach, it is a short walk to the trailhead of the Lanikai Pillbox, one of the most scenic trails in the area.
After that, you can head for the larger Kailua Beach.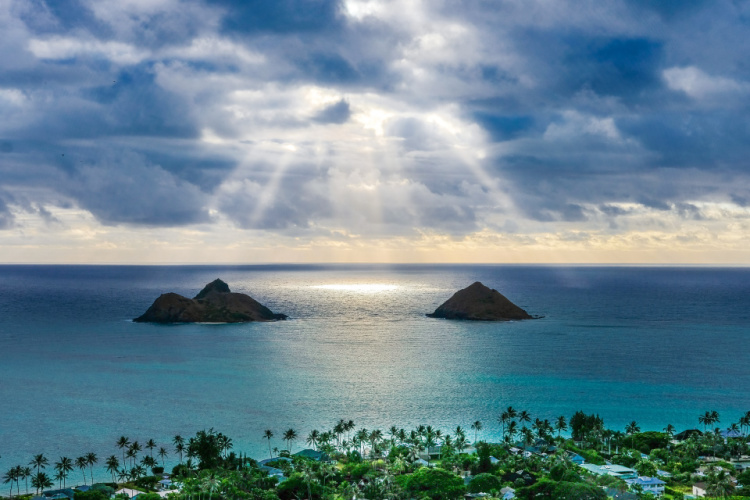 Downtown Kailua is one of the most charming towns in Hawaii.  There are plenty of good restaurants (Timmy T's, Moke's Bread & Breakfast, Kalapawai Cafe & Diner), coffee shops, juice shops, markets, surf huts, clothing stores, galleries, bike rentals, and a big park.
If you still have time or want to see more than beaches, you can walk the scenic trail around the Kawainui Marsh, an oasis located across Downtown.  
If you are looking for history and culture, the Ulupo Heiau State Historic Site is for you. 
The massive stone platform of the heiau (temple) measures 140 by 180 feet (55 m), with outer walls up to 30 feet (9.1 m) high, its size and scale indicating both its cultural importance and the chiefly power of its patrons. 
It may have started as an agricultural temple but later it was converted to a sacred place where sacrifices were offered.  It was interesting to discover this place so important for ancient and modern Hawaiians (a place like this is highly respected nowadays and no stones should be removed from the site (kapu or forbidden)).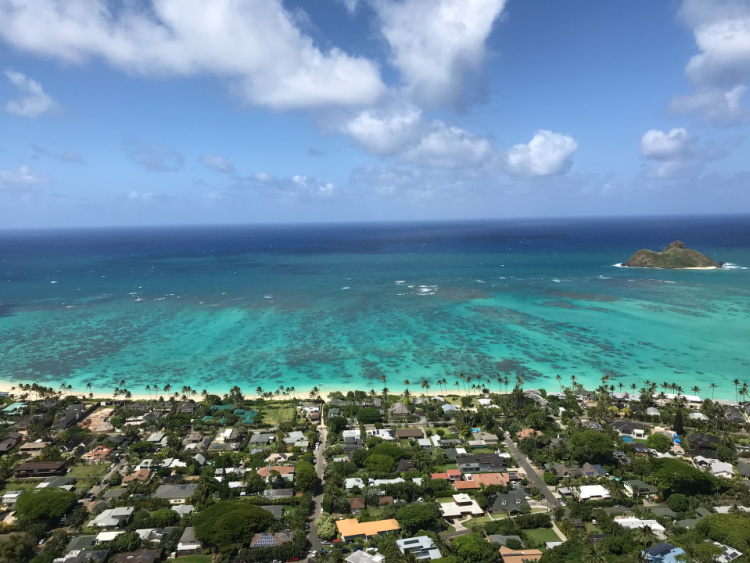 Oahu Itinerary – Day 4 
The fourth day of this Oahu itinerary focuses on the eastern and northeastern parts of the island.
Nu'uanu Pali Lookout
Nu'uanu Pali State Park (widely known as Pali Lookout) offers incredible views of Oahu.  Mark Twain described the view as one of the most beautiful on Earth.  From here, it is possible to see the turquoise waters of Kaneohe Bay and the jagged, 2000 foot vertical cliffs of the majestic Koolau volcano.
But, the importance of this place is due to a decisive battle that took place along its cliffs.  In the late 1700s, Kamehameha I, from the island of Hawaii, sought to unite all the Hawaiian Islands under one rule. The battle for Oahu began with the arrival of his forces at Waikiki.
Oahu's chiefs and their forces were driven to this location.  About 400 warriors were forced off the cliff during the battle.  Kamehameha won and his victory and the signing of an agreement with Kauai converted him into the first king of the Hawaiian Islands.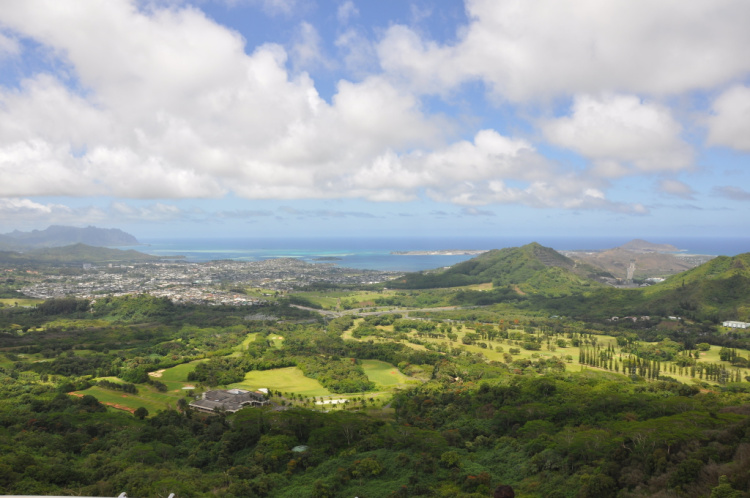 Photo by Jennifer Boyer
Byodo-In Temple
This famous Buddhist temple commemorates the first Japanese immigrants to Hawaii. The temple is a replica of a 900-year old temple located in Tokyo. Inside the temple, you will find a massive statue of the Buddha covered in lacquer and gold. 
On the grounds, visitors will find two koi ponds, gardens, and statues.  All of this is set against the backdrop of the Ko'olau Mountains.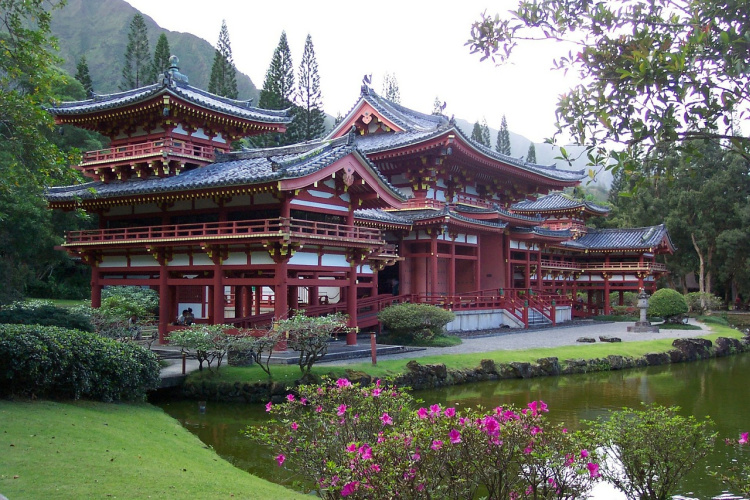 Kualoa Regional Park
The next stop is the  Kualoa Regional Beach Park. This is the biggest regional park on the windward side.  From here, Mokolii Island is visible.  Mokolii means "little lizard" in Hawaiian.  However, everybody calls the island Chinaman's Hat because of its conical shape. 
Close to the entrance of the park, you will find the Kualoa Ranch, a private natural reserve that has been used in many Hollywood movies (most famous for Jurassic Park).
They offer several tours where you are taken to the different spots used during the filming of Jurassic Park.  In addition, they offer zipline, beach, mountain biking, and jeep tours.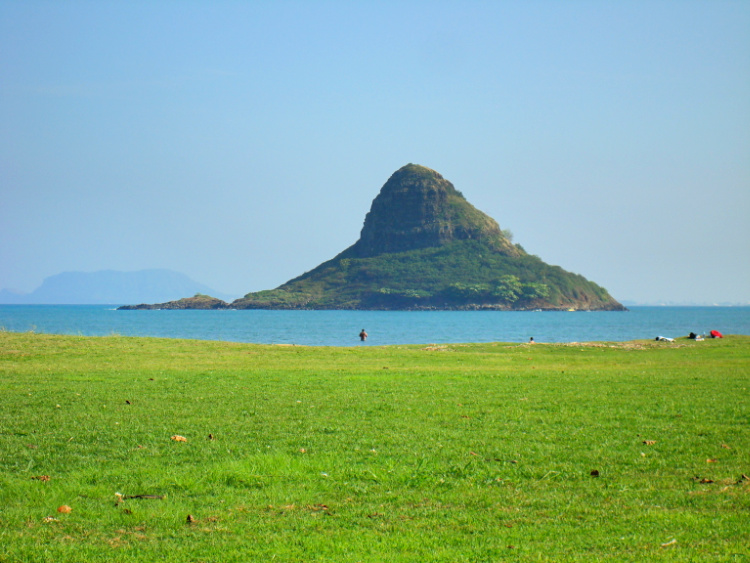 Laie Point
Laie Point is located at the end of a thin peninsula. From here, you have sweeping views of Oahu's Windward Coast and a natural sea arch.  Simply stunning!!!
You can make this stop as short or long as you want.  Like other areas I have discussed, there is quite a lot to do around here.
The Polynesian Cultural Center, a premier cultural theme park is located in Laie.  Some consider the Center the top attraction on the island.  Visitors have access to 6 Polynesian villages, a luau, and an evening show.
Other attractions in the area include Laniloa Beach, Malaekahana State Recreation Area, Kahuku Beach, and Laie Falls.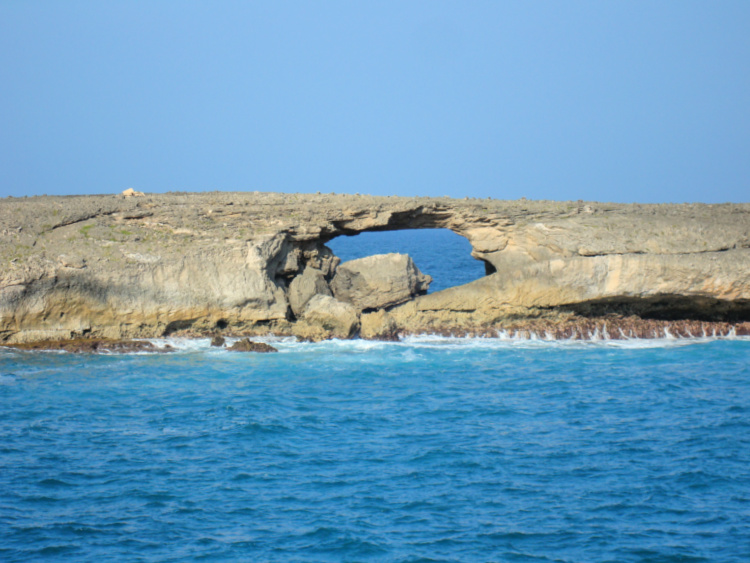 Shrimp Trucks
You may not know this but the shrimp trucks or huts of Oahu's north shore are highly sought. Once you pass Kahuku Beach, you will start to see them.  You can choose among Giovanni's Aloha Shrimp, Famous Kahuku Shrimp Truck, and Fumi's Kahuku Shrimp.
Sunset Beach
Now we are in surfing country!
This coastline is full of amazing beaches, bays, parks, and pillbox hikes.  I particularly like Sunset Beach because turtles are seen there often.  
Stop by to see if you can spot one (or more than one).  You will be able to determine this fast since people will be gathering around the turtles (there are volunteers making sure the turtles are not harassed).  If it is not your lucky day, take a look around and move on.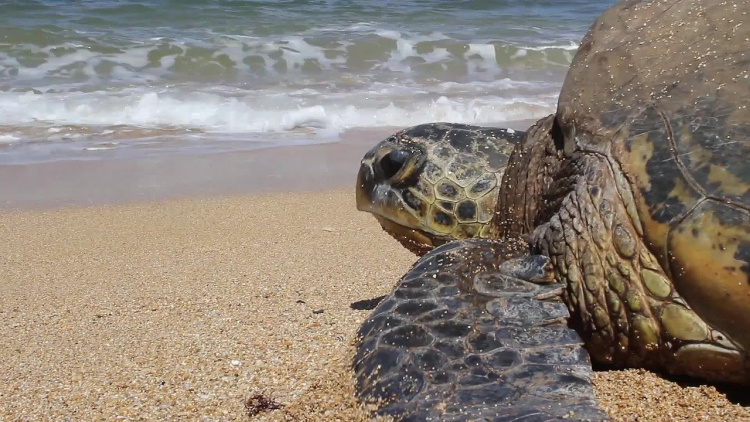 Haleiwa
On the North Shore, this town is a center for recreational activities (swimming, diving, and surfing). And, the appeal of Haleiwa is not necessarily the activities per se.  This is one of the places where beach life's heritage is best preserved.
Beaches in the community include Kawailoa Beach, Pua'ena Point Beach, Haleiwa Beach, and Kaiaka Beach.
In the center of town, you will see several colorful heritage buildings.  Do not miss Matsumoto Shave Ice, Kua Aina Sandwich Shop, Hale'iwa Bowls, Kono's, and the Giovanni Shrimp Truck.
During winter, there are several surfing competitions along the coast.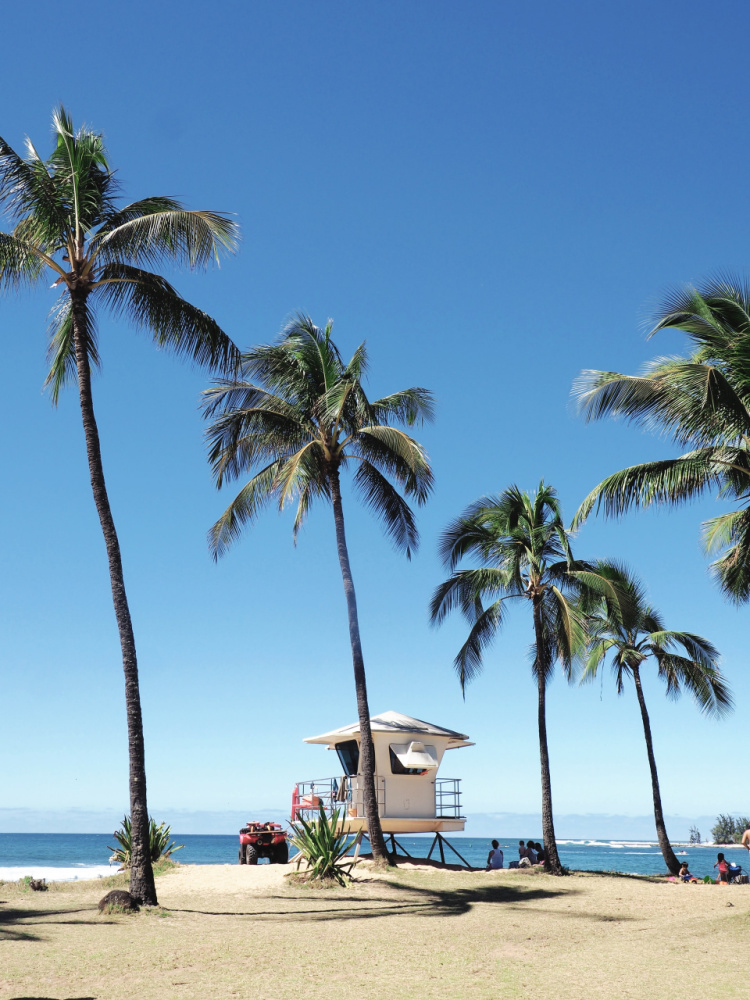 Returning to Oahu
You can spend the night of day 4 in Haleiwa or return to Honolulu.  The driving time is only 45 minutes since there is a highway connecting the two cities.
On the way to Honolulu, you can stop by the Dole Plantation (and have a Dole Whip Cup) or Tantalus Lookout.
Extending Your Oahu Itinerary
I am not sure if you have noticed but I kind of packed this Oahu itinerary to the max.  The idea is not to kill you of extenuation but to provide enough ideas to choose from.
But, since I packed things up, it is easy to extend your Oahu itinerary with what I already have.  For example, if you have a week, you can spend 2 days in Honolulu, 1 day in the southeast corner of the island, 1 day in Kailua/Lanikai, 1 day around Laie, and 2 days in the North Shore.
Or, you can spend  2 days in Honolulu, 1 day in the southeast corner of the island, 1 day in Kailua/Lanikai, 2 days in the North Shore, and the last day back in Honolulu or exploring the inland part of the island or exploring the southwest corner of the island.
The options are here.  Used them as you please!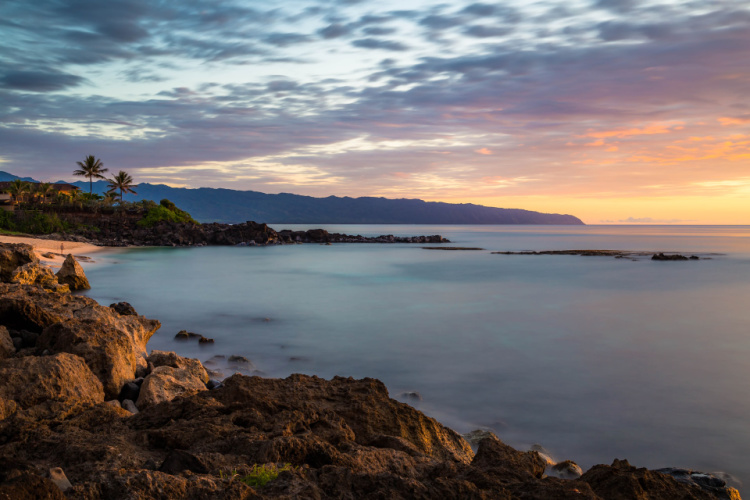 Other Itineraries
Have you been to Oahu? What are your recommendations for a multi-day Oahu itinerary?
Pin this Oahu itinerary for later!