After the dramatic landscapes of Iceland, the second part of our European adventure started when we landed in Frankfurt.
I know a lot of people use the city as a transit or layover point.  I had the option to fly there and move on to my next destination right away.
Nevertheless, a little voice inside kept telling me to spend some time in the city.  And, that is what we did.
That ended up being a fantastic decision. Frankfurt captured me with its sunny weather, cheerful atmosphere, whimsical river views and the fact that a lot of people walk with sausage in hand.
Plus, having a German last name (I am a sixth-generation descendant of a German) helped me to fit in with the locals.
This post provides options for those who want to spend a phenomenal day in Frankfurt.  Here are my 7 recommendations!
One Day in Frankfurt – Innenstadt (Inner City)
The Inner City is the central district of the City of Frankfurt.  The city's most famous sights, skyscrapers, and most expensive stores are located within the limits of this district.
It is not easy to determine the boundaries of this district (everybody seems to have a different opinion on this topic) but when visiting the city, this is probably where most time is going to be spent.
Altstadt
Start your exploration of the city by checking out the historic old town.  Or, I should say, what it is left of the old town.  Turns out this part was devastated during World War II.  Investments have been made to reconstruct or save pieces of the past.
You cannot leave Frankfurt without taking a look at the colorful, half-timbered houses of the Romer.
In the same square, you are going to find the City Hall and the Alte Nikolaikirche (Old Nicholas Church).
Dig deeper by walking the stretch streets surrounding the Romer.  You do not know what treasures you are going to find.
It is time to proceed towards the Frankfurt Cathedral or the Dom.  This pink church with a spiral larger than life will leave you in awe (seriously, how pretty is this church).
North of the Romer, you are going to find Paulsplatz and Paulskirche (Paul's Plaza and Church).  Once again, I was charmed by the pink exteriors, original lamposts and buildings covered in mosaics.
Other Sights in the District
Other sights in the district include the Hauptwache, the Katharinenkirche, the Opera and the Eschenheimer Tower.
Get your senses prepared because the contrast between old and new is stark in Frankfurt. Some of the oldest buildings are located next to modern structures built with glass and metallic materials.  Your brain gets all confused while trying to process all the differences.
RELATED: Vienna's Old Town
Markets
We talked about the sights but we need to discuss at length Frankfurt's food situation.  The city's eating and dining scene is bursting with eateries for all palates and budgets.
What is more, food can be found in abundance in the many markets lining the city streets.  As a matter of fact, we bumped into a market when we were trying to find our hotel.  We dropped our belongings and basically ran to the nearest sausage stall.  Our jaws dropped when we saw the many varieties of sausages available.
For those of you who are not passionate about sausages (common people!), I saw stalls selling rotisserie chicken, crepes, steak and frites, Chinese bowls, cheese and charcuterie plates, salads and much more.  Looks like a lot of these markets cater to the people who work in the surrounding offices and skyscrapers.  Can we have one of those markets close to where I work?
While walking around, we bumped into another market and a few minutes later another one was in sight.  This time we saw Argentinean and grilled salmon stands.  Plus, we saw plenty of signs announcing upcoming food-related events.
Keep in mind the Kleinmarkthalle is an indoor market with more than 60 vendors selling groceries, fruits, vegetables, flowers and prepared foods.  This is a great option for those who prefer to eat indoors.
And, since we are on the food topic, the part of Kaisserstrabe located close to the Hauptbahnhof (Main Train Station) is overflowing with restaurants selling delicious food.  We indulged in Sichuan style noodles and monster Australian style burgers.  Just be careful since the area is a bit shady at night.
RELATED: 10 Things to do in Old Town Prague
Main River Banks
If you look at a map, you are going to notice Main River banks in the Inner District have a green color.  That means most of the banks of the river have been designated parks or recreational areas.  That is a big advantage to those who are visiting the city since the list of things to do grows because of this fact.
Along the river, you can visit museums (history, art, film, architecture, communications, there are plenty of museums), have a picnic, bike, jog, visit a beer garden or eat in a lovely restaurant with great views.  This area made me aware of the high living standards of the city.  I felt like staying for a longer period of time in order to absorb the joyful atmosphere.
RELATED: Best of Budapest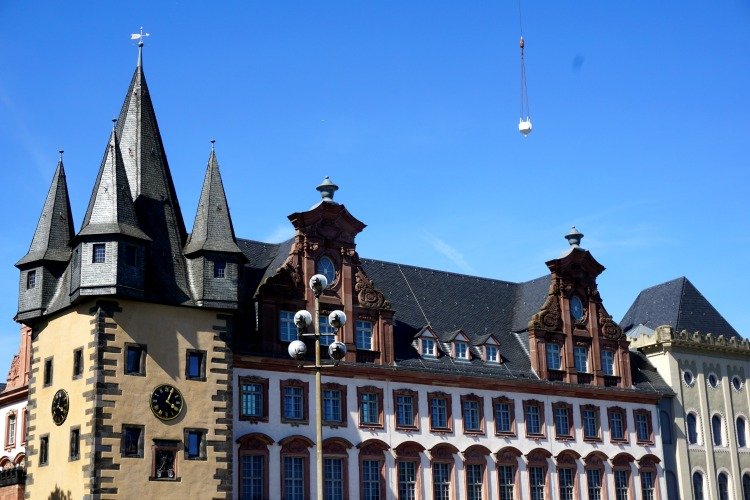 Cruising the Main River
A cruise along the Main River was the highlight of my day in the city.
Visitors have the option to do a 50 minutes cruise in one of two directions.  We decided to do the two directions at once and our cruising time ended up being close to two hours.
We had the most beautiful day when we did this.  Departs are near Einserner Steg (one of the most famous bridges in the city).
While moving towards the Gerbermuhle direction (upstream) we were able to see the many bridges spanning the river.  All of them are very different.  My favorite one ended up being the Ignatz Bubis Bridge built in an Art Deco style.
We passed modern buildings such as the Main Plaza and the European Central Bank.
Before turning back, we made it to the port area. We were able to observe gates, cranes, and shipping containers.  This is a crucial spot related to the movement of good from inland Europe to the North Sea and vice versa.  A lot of the wealth of the city is associated with shipping activities.  It was very interesting to see where such important operations take place.
On our way back, we were able to see why Frankfurt is called "Mainhattan."  The city's skyline was fully visible from the ship.
Then, it was time to cruise in the Griesheim direction (downstream).  I think this direction was even more picturesque than the first one. We were able to observe museums, cafes, stately houses and even the rowing school.
We saw the Westhafen Tower and more industrial areas.
Once again, we were delighted by the city's skyline.
If You Have More Time in Frankfurt
The above options should be enough to keep you entertained for a day.  However, if you have more time or are returning to the city, here are some additional options.
Walking Tour
Free and low-cost tours (less than 15 Euros) are available daily.  I am a big fan of these tours because you learn a lot, meet great people and get tons of recommendations.  Alternative tours (hidden and unusual places) are available too.
Palmengarten
This garden has rave reviews on platforms such as TripAdvisor and Yelp.
Guests experience flora from a variety of climate zones within a park area of over 20 hectares (50 acres).  The greenhouses on site are home to tropical and sub-tropical plants.  Rose, rock and rhododendron garden can be enjoyed as well.
The Frankfurt Botanical Garden (a different entity) is located across this garden.  Take into consideration this attraction is a bit away from the actual center.  When planning a visit, take into consideration transit time (and options).
Main Tower Observation Deck
The Main Tower is a 656 ft (200 m) skyscraper with two viewing platforms.  It is the 4th tallest building in Frankfurt and in Germany.
The observation decks offer amazing views of the city and of the river.  Once at the top, you can stop by the restaurant or lounge.  I am including this option in here because the entrance fee is less than 8 Euros which in my book is pretty reasonable.
RELATED: Day Trip to Neuschwanstein
I want to finish this article by saying that Frankfurt is the largest financial center of Europe.  As such, it is a city full of cultural, shopping and gastronomic experiences.  This article targets people who are expecting to stay in the city for a short period of time and in no way tries to diminish the position of the city.
Frankfurt left a great impression on me and I would like to be back in the future.  I can't wait to discover more of its many offerings.
More Things to Do in Frankfurt for a Day
Have you been to Frankfurt? What are your recommendations?
—
If you liked this article, please share!
Ready to pin? Let's do this!