If you want to discover some of the most glorious vistas in Los Angeles, you need to head to the Palos Verdes Peninsula.  This article highlights the best Palos Verdes hikes and trails
Los Angeles is known for its beaches, movie studios, sports teams, and congested freeways.
As a long-time resident, I totally get those associations.  Every time I have a visitor in town, they want to go to Santa Monica, Venice Beach, or Hollywood.
As a good host, I take them where they want to go.  However, I ask them to give me a chance to show them a different side of the city.  And, when I am given that chance, believe me, I end up with happy faces and tons of "when do you think I can come back?"
Today, I am going to show you one of those places that I love to share with visitors.  Los Angeles is not associated with awesome natural beauty, nonetheless, we have plenty of bluffs, coves, creeks, mountains, and undeveloped beaches.
This lovely place I want to show you is called the Palos Verdes Peninsula, a unique area located about 30 miles south of Downtown Los Angeles.
Having lived close to the area for about 15 years, I consider the peninsula my playground.  It is where I go when I need to escape from the hustle and bustle of the big city.
At this point, I have a good idea of the best hiking trails in Palos Verdes.  This is a place close to heart.  I have made my best effort to do justice to the place and give useful ideas and information to those who are interested in visiting.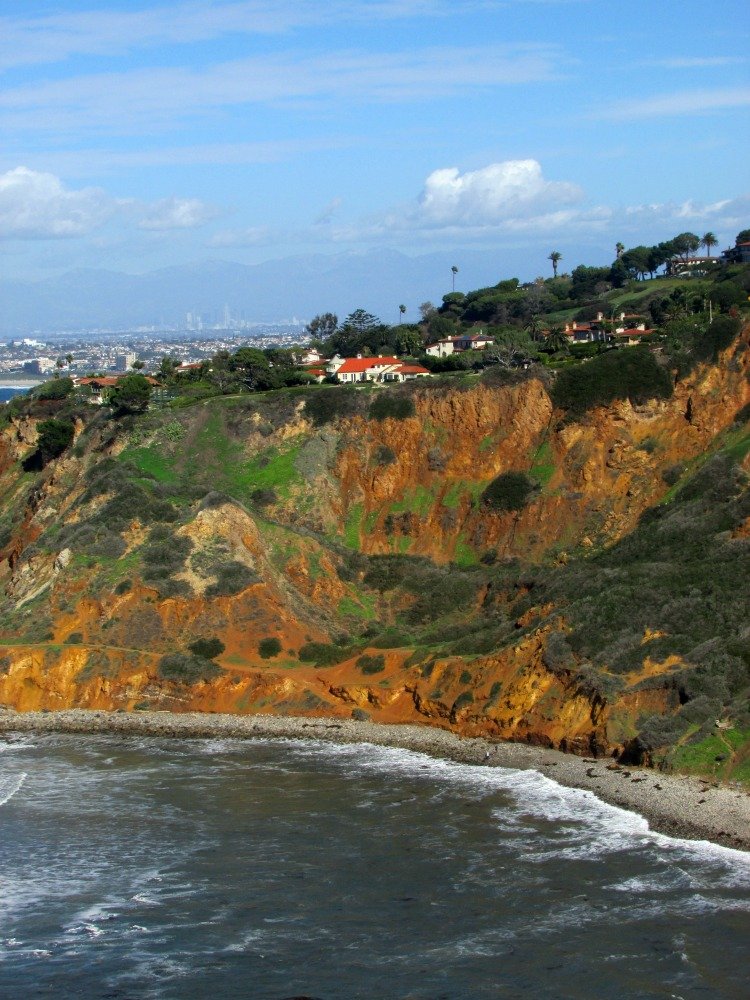 Context
In this guide, when I use the term "peninsula" or "Palos Verdes," I am referring to the geographical area.
Keep in mind there are four incorporated cities in the Palos Verdes Peninsula:  Palos Verdes Estates, Rancho Palos Verdes, Rolling Hills, and Rolling Hills Estates.  You may cross one or more of these cities while transiting the area. Parts of San Pedro can be seen as part of the peninsula too.
How to Use this Guide
The following indications will help you to make the most out of this guide:
This guide will concentrate (mostly) on describing the coastal Palos Verdes hikes and trails.
This Palos Verdes hiking information will be covered from north to south. Most places on the coast are connected by the Palos Verdes Drive
Even though we are talking about Palos Verdes hikes, some of the places described here require little physical effort to be enjoyed. So, do not get intimidated if you are not a hiker.  The ideas in here apply to all levels of physical fitness
For a day in the peninsula, I will suggest picking 2 or 3 ideas from here and making a full-day trip from them
The places detailed here are free of charge unless otherwise noted
I am providing general access information but enter the name of the places in your GPS for more accuracy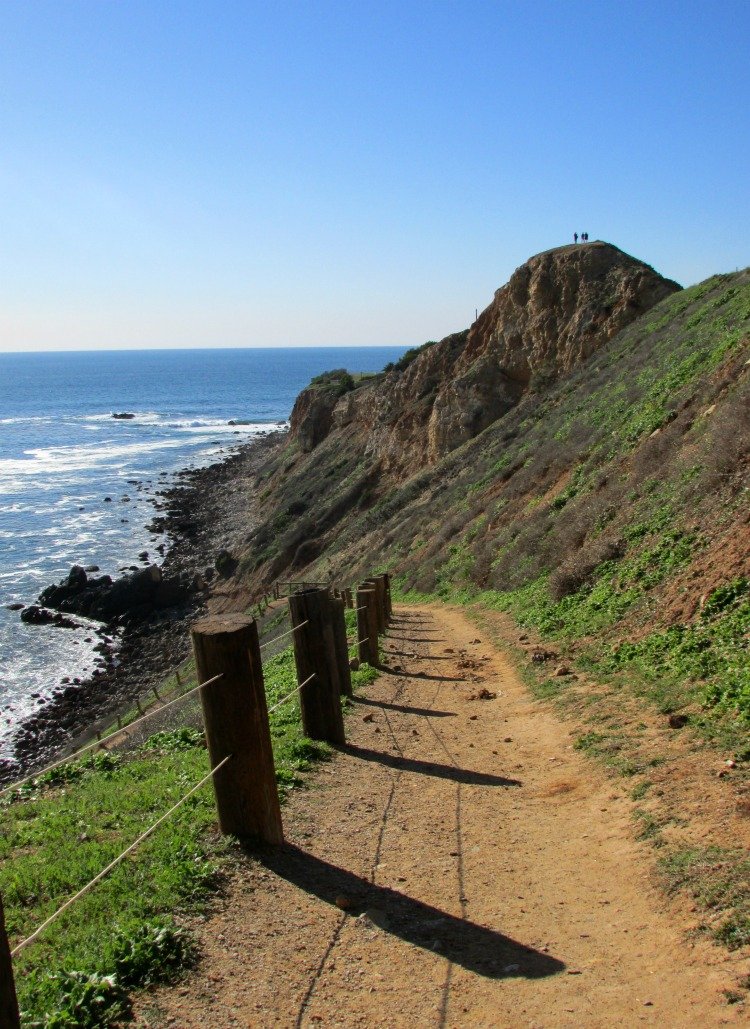 Hiking Gear
Do not forget to get ready to hit the trails.  Here is a sample of what I take when hiking in Palos Verdes.
Hiking Shoes

– Wearing the right shoes is essential when hiking.  I recommend investing in a good pair.  Merrell shoes have always been good for my crooked feet.  Not long ago, I was using tennis shoes to hit the trails.  That was until I hurt my left foot.  Since then, hiking shoes have done wonders for me.

>Check out my hiking shoes

My husband is more of a fan of the Salomon brand when it comes to hiking. 

>Check out Salomon hiking shoes

Hiking Socks

– Wool hiking socks provide support, cushion, and prevent blisters. EnerWear sells an excellent 4-pair set for a good price. 

>Check them out here

Insoles

– Insoles are another way to protect your feet when hiking.  They do a great job absorbing shock.  Walk Hero's insoles have some of the best ratings in the market.  

>Get them here

Crossbody Bag

– I take the minimum with me when I go on trails.  I keep everything organized in a small Herschel crossbody bag. 

>Buy this great crossbody bag here

Day Pack

– My husband prefers to take a small backpack to carry drinks and essentials. 

>Buy a lightweight, water resistant day pack here

Hiking Poles

– Hiking poles are lifesavers on trails with an incline (more if you have wobbly knees). TrailBuddy's trekking poles are such a great help.

>Check these hiking poles

Sun Block

– Do not leave the house (or the car) without applying sunblock.  I repeat, always wear sunblock when outdoors.

>Buy sun block here

Lip Balm with Sunscreen

– Protect your lips by applying a balm with sunscreen.

>Get one of the best lip balms here

Wide Brim Hat

– A wide brim hat is a great way to protect your scalp, face, and neck.  The ones manufactured by FURTALK come with an anti-UV function. 

>Buy this amazing hat here

Sunglasses

– These are another must when it comes to protecting from the sun.  A polarized, sporty pair works better for hiking.

>Take a look at this wonderful pair

Water Bottle

– Do not forget to bring water! Keep yours cold by taking a beautiful Hydro Flask water bottle. 

>Check out the insane options her

Snacks

– It is a good idea to carry snacks such as granola bars, protein bars, trail mix, nut, and jerky

Camera –

I have never gotten used to taking pictures exclusively with my phone.  I prefer to use the Sony Alpha a6000.  It is compact and takes gorgeous pictures.

>Buy Sony Camera here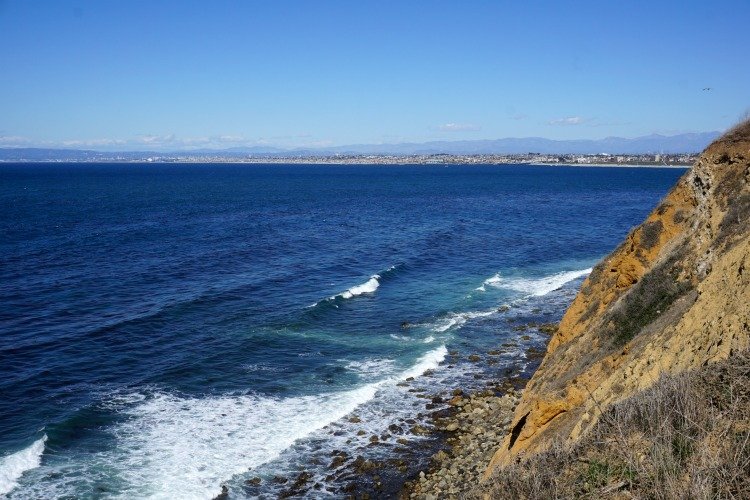 Palos Verdes Hikes and Trails
Here we are! Get ready to discover the best hiking Palos Verdes has to offer!
Malaga Cove
This cove is the extension (some call it the south end) of a stretch of sand passing through Redondo Beach (starts at the pier) and Torrance.  It is the area where the cliffs of the Palos Verdes Peninsula start to rise.  Since there are several patches of sand, people like to sunbathe and swim around here.  It is popular with surfers too.
Access to the cove is through the Malaga Cove Trail.  Before heading down to the cove, make sure to stop by Roessler Point (marked by a gazebo) to take in fantastic views of Santa Monica Bay.
For those interested in an extended hike, the trails along Malaga Creek and Olmsted Creek can be checked out.
Details
Access: On Palos Verdes Drive W, turn right on Via Almar and then right on Via Arroyo
Parking: Public lot available at the intersection of Via Arroyo and Paseo del Mar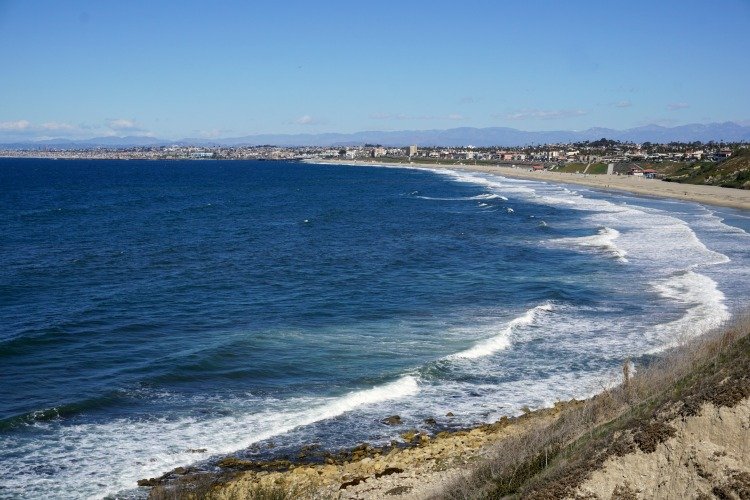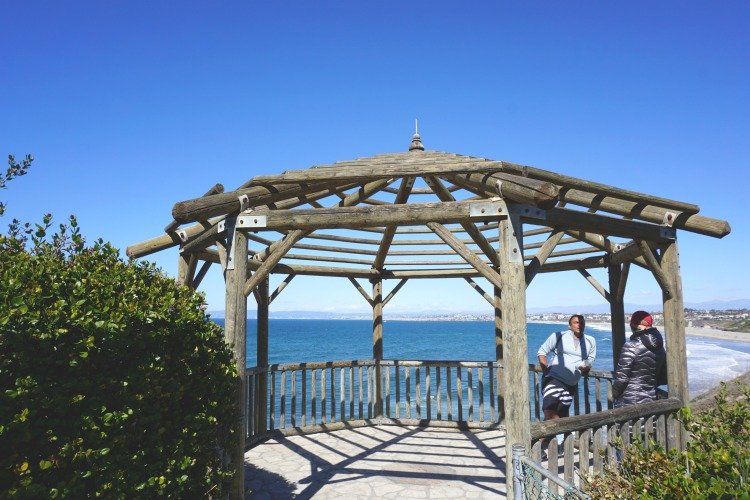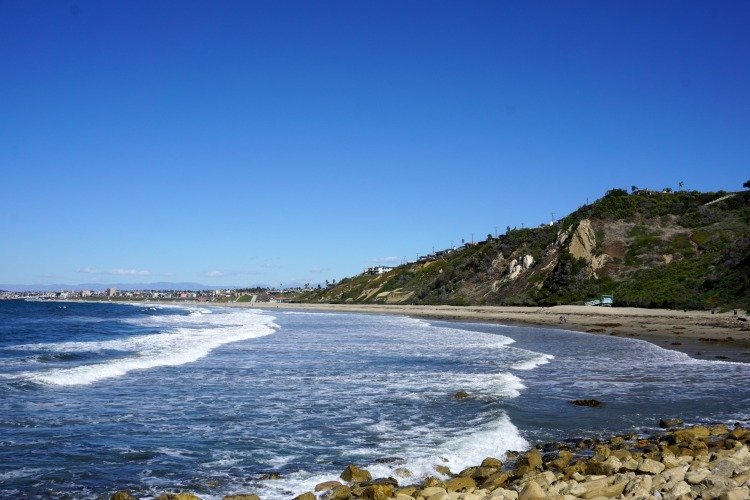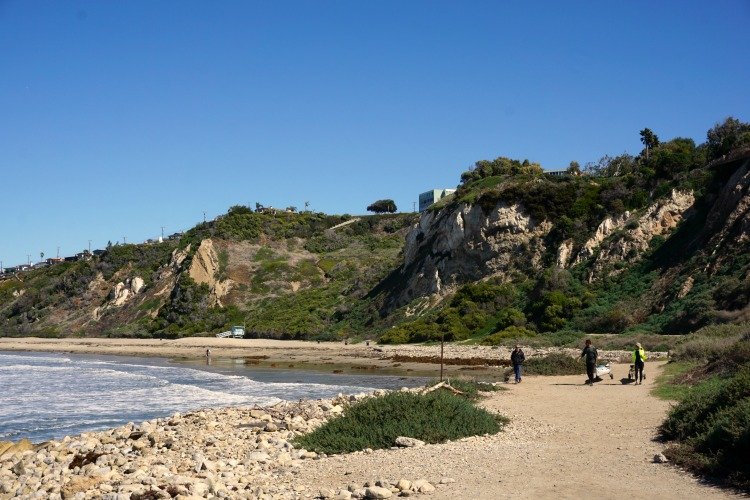 Pit Stop: Malaga Cove Plaza
If you are interested in getting something to eat or getting picnic supplies, you can stop by businesses such as Yellow Vase, The Cove Café, and Malaga Cove Ranch Market in this small shopping complex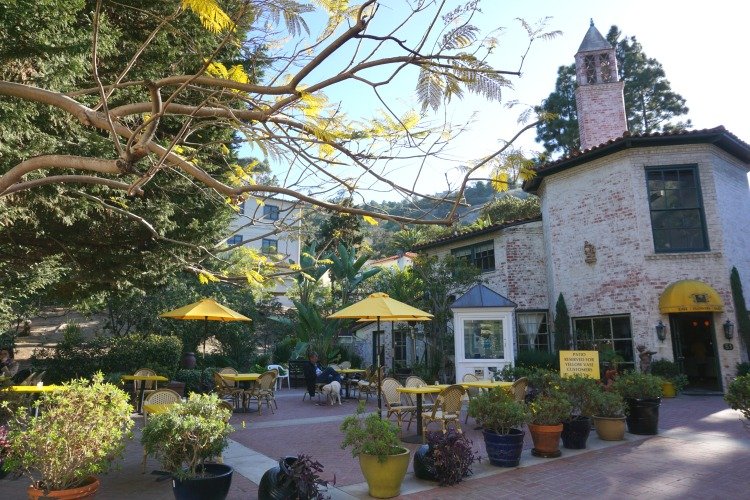 Bluff Cove – Palos Verdes Hikes
A short drive away from Malaga Cove, you will find Bluff Cove.  In my opinion, this is one of the most beautiful coves on the peninsula.  The cliffs in here have shades of orange, yellow, gray, and green.
Access to this cove is from Paseo del Mar and it is not visible from the street.  You are going to know where to park since you are going to see others parked in the area.
Once outside the car, you are going to see views of the cliffs, rocks, and water.  To see the actual cove, you will have to take the trail down (easy).
Read More: Bluff Cove
Details
Access: from Malaga Cove follow Paseo del Mar, from Palos Verdes Drive W, turn right at Paseo del Mar
Parking: On the street, careful since the road has an incline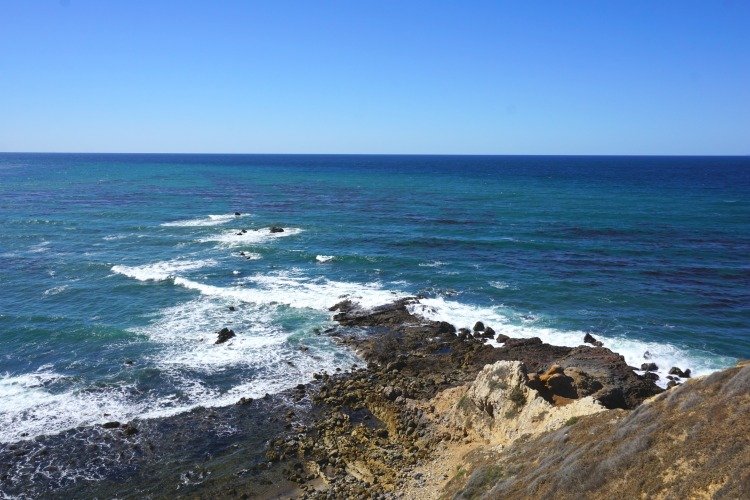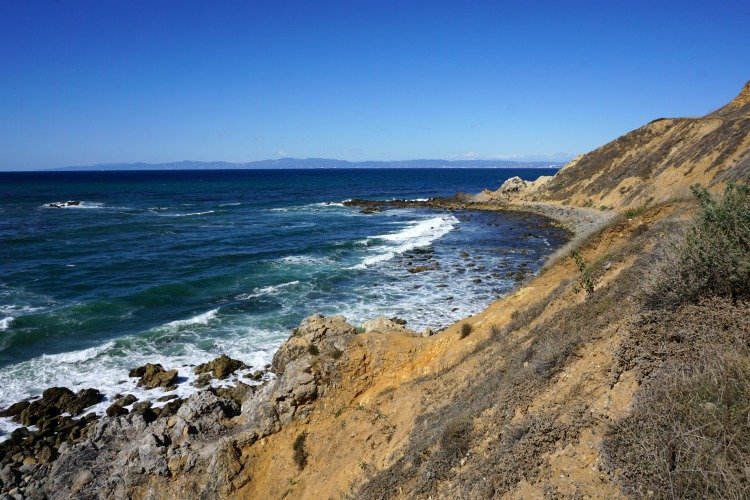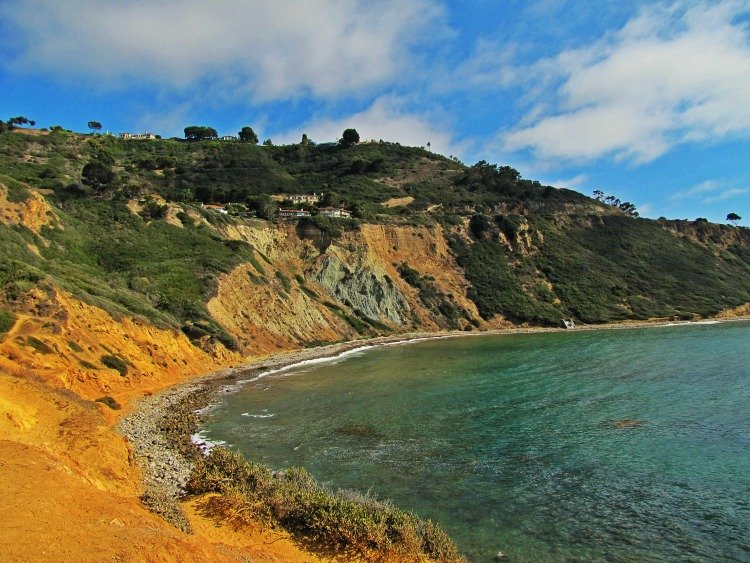 Palos Verdes Estates Shoreline Preserve
This small preserve has a half-mile (one way), cliffside trail from where you can see Santa Monica Bay, the Beach Cities, and even Downtown Los Angeles.  In addition, it is possible to take a look at Bluff Trail from the south.
Details
Access: From Palos Verdes Drive W, you are going to notice the parking lot at your right
Parking: Public Lot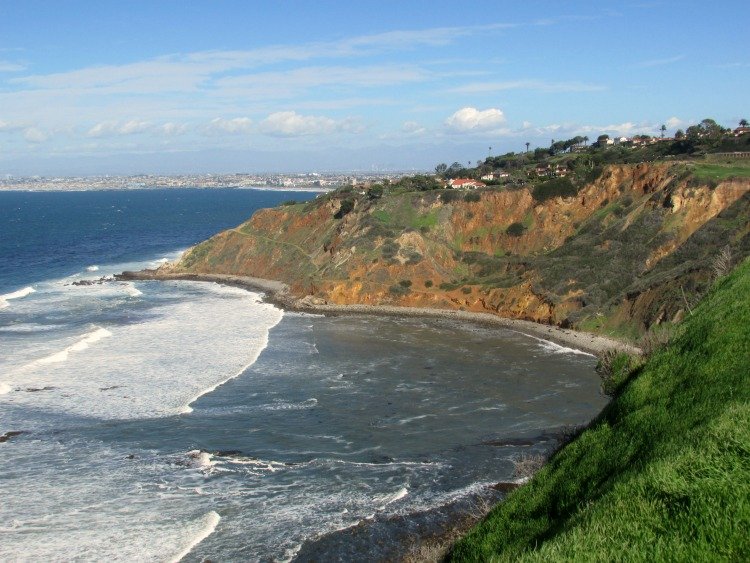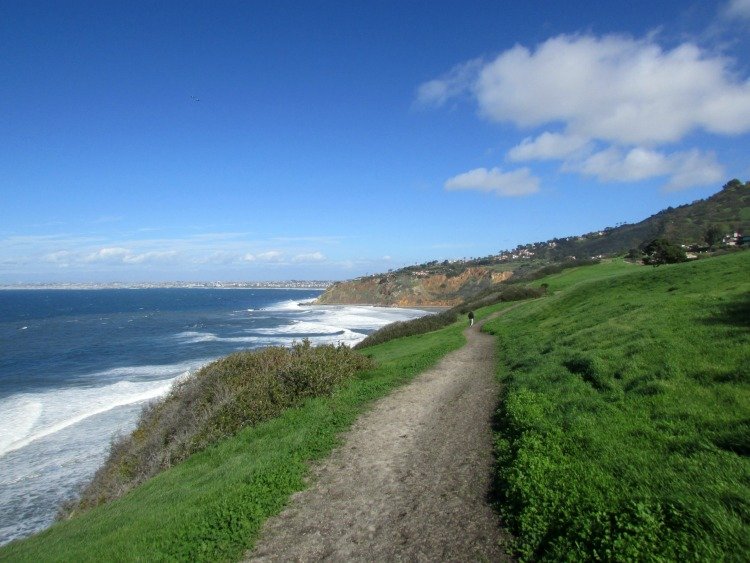 Lunada Bay – PV Hiking Trails
Lunada Bay is the biggest cove and probably one of the most popular surfing spots in the peninsula. According to locals, it is a good place to check out tidepools too.
It is possible to get good views of the bay from the blufftop trail but, let me warn you, the "trail" to the bottom is steep and sometimes non-existent.  I have never hiked to the bottom of Lunada Bay and I urge you to exercise caution if you decide to do this.
Details
Access: From Palos Verdes Drive W, you can access Paseo del Mar by turning right at Yarmouth Road or Avenida Mirola. The bay is not visible from the street but you are going to notice people parked in the area
Parking: On the street
The Lunada Bay Plaza offers some food options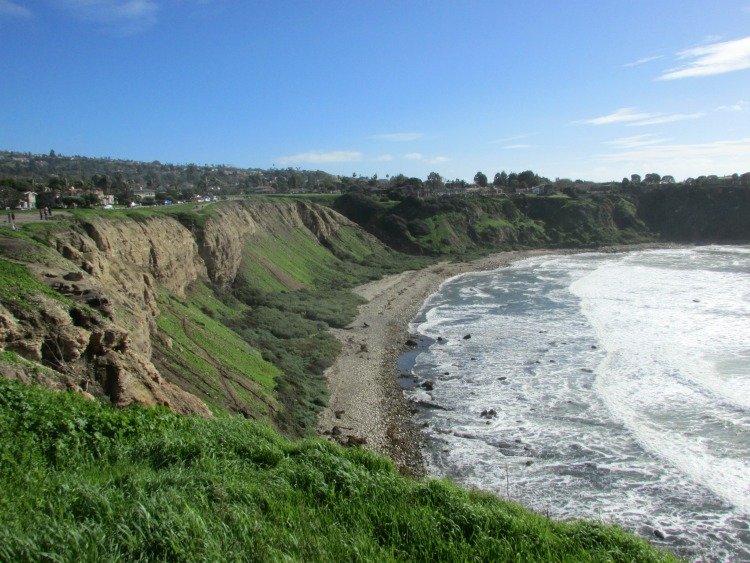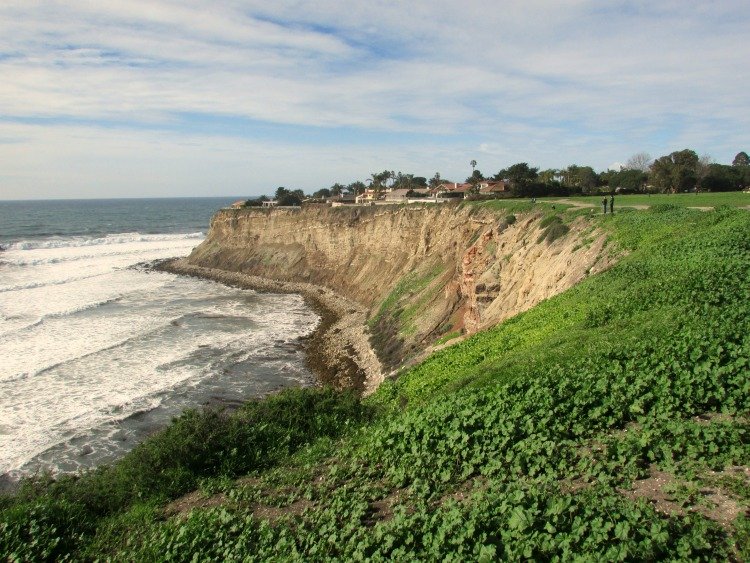 Honeymoon Cove
This is another cove that can be seen in the area.  The views from the top are great but, once again, the trek down can be perilous.
Details
Access: Located at Paseo del Mar and Via Barri. Not visible from the street
Parking: On the Street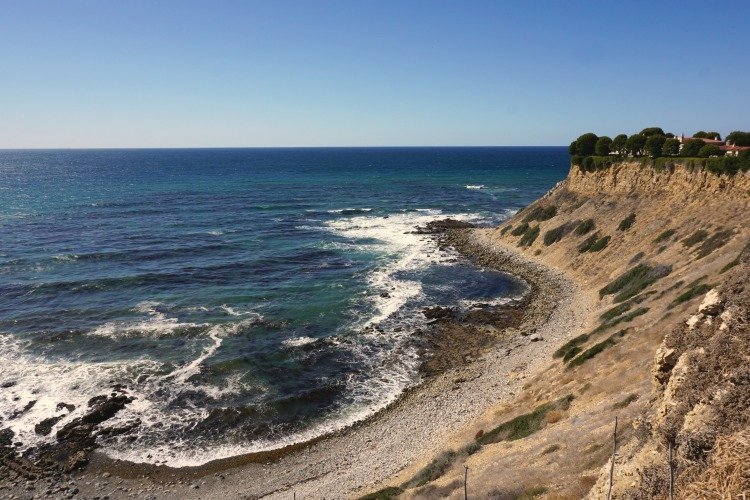 Christmas Tree Cove
I am not sure why this cove has been related to a Christmas tree but whoever came with the idea has a great imagination.  This is yet another cove that can be visited.  Apparently, it is a good place for diving and tide pooling.
Read More: Golden Cove and Other Secret Coves
Details
Access: From Honeymoon Cove, follow Paseo del Mar, otherwise, it is at the intersection of Paseo del Mar and Via neve
Parking: On the street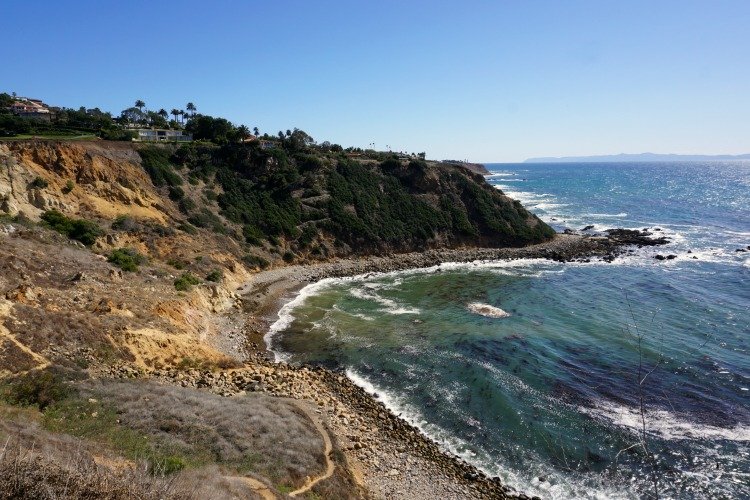 Detour: Vista Point
At this point, you have probably gotten impressive views of the ocean and Catalina Island.  Nevertheless, I have another idea for you in terms of views.  On Hawthorne Boulevard, there is a spot from where you can see red roofs, land promontories, golf courses, and turquoise waters.  It looks like a postcard straight from the Mediterranean.
If you are lucky, you may see a red-tailed hawk or two flying around.  I can't recommend this view enough!
Details
Access: Stop a bit before the intersection of Hawthorne Boulevard and Vallon Drive
Parking: There is space to park next to the street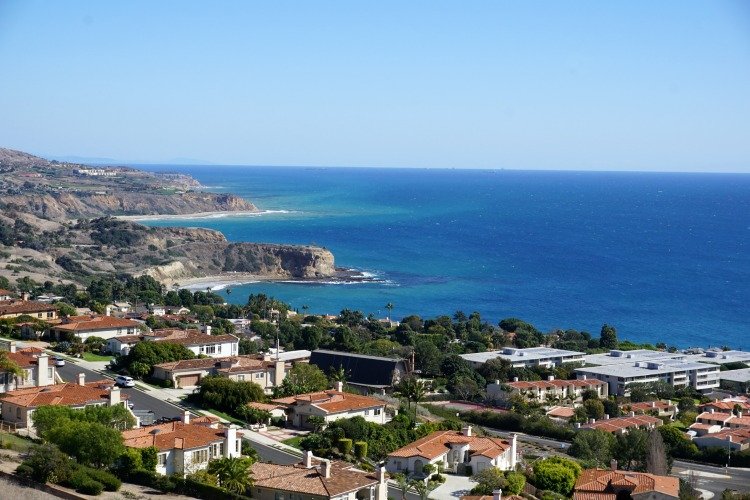 Pit Stop: Golden Cove Plaza
For those who have developed an appetite while walking and hiking, the Golden Cove Plaza offers plenty of options in terms of restaurants, cafes, and snack options. You can have Japanese, Thai, or Mexican food on site.  Or, you can grab a snack or picnic supplies at Trader Joe's (supermarket) or 7-Eleven.
Vicente Bluffs Reserve and Golden Cove
If I have to recommend one Palos Verdes hike for the day, I will say "Go to the Point Vicente area."
This reserve provides access to majestic ocean views, unique rock formations, and lookout points (with benches and everything).  On top of that, grey whales can be observed from November to April.
Now, the trail network is extensive here.  You can choose to do the Golden Cove Trail by itself or extend the hike by following the Seascape Trail (the scenery from this trail is top-notch).  Eventually, you will arrive at the Point Vicente Interpretative Center where facilities such as restrooms and water fountains are available.
Read More: Point Vicente Lighthouse, Center and Trails
Details
Access: From Palos Verdes Drive W, turn right on Calle Entradero. Park on the street and start the Golden Cove Trail.  As an alternative, and I prefer this route, access the trails from the Point Vicente Interpretative Center.  There is a big parking lot on site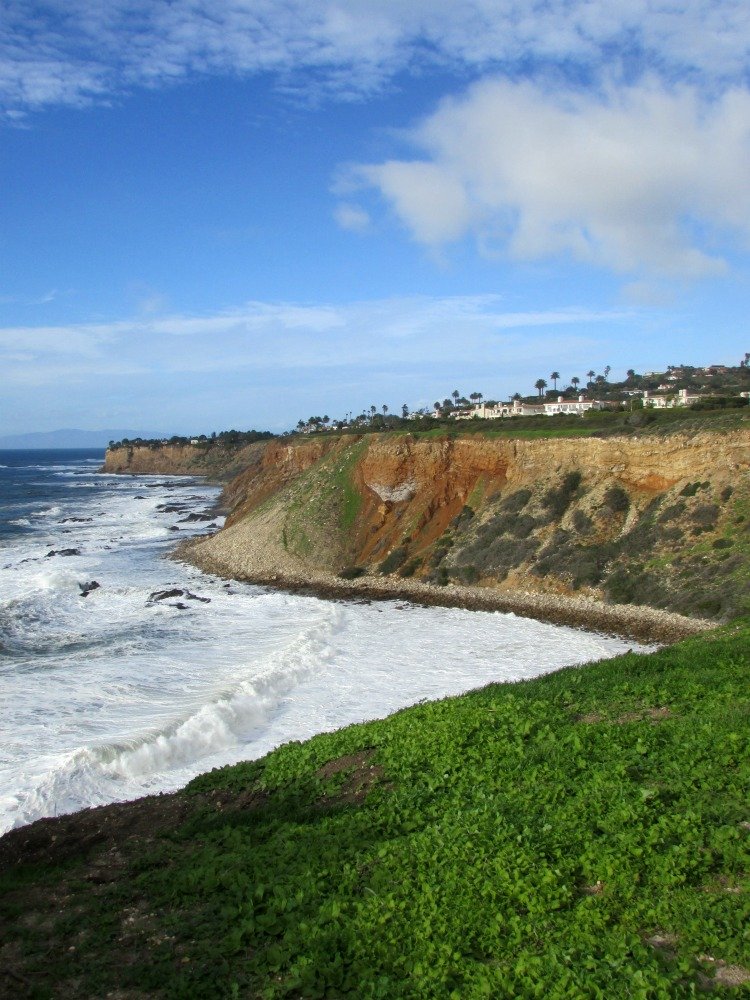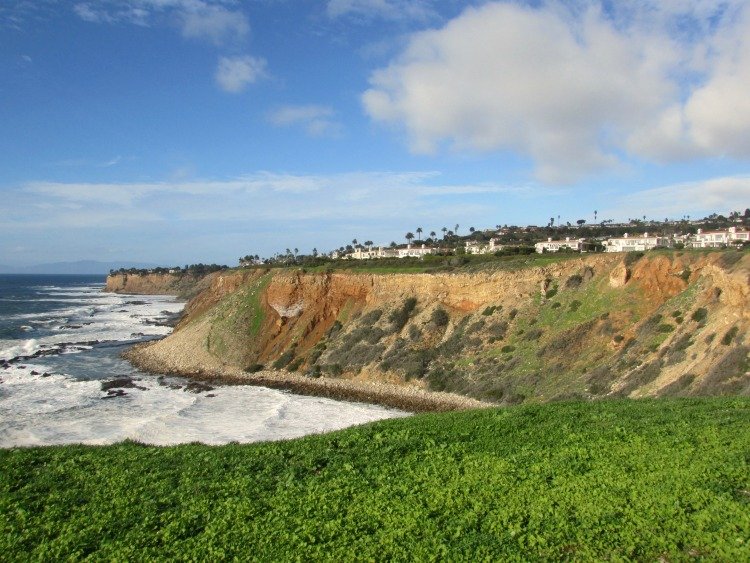 Point Vicente Lighthouse and Interpretative Center
The interpretative center and lighthouse can be seen as part of the Vicente Bluffs Reserve but I am presenting them on their own since they can be visited in that way.  You can stop by the center and walk a bit around for photos.  Some of you may not be interested in the longer hike.
The Interpretative Center opened in 1984 and presents exhibitions about the flora, fauna (including underwater), and history of the Palos Verdes Peninsula.  In addition, it has a green area equipped with picnic tables.
During the grey whale migration period, members of the American Cetacean Society keep a daily count of marine mammals spotted in the area.  They are very eager to share their knowledge.  Therefore, ask questions if you want to learn more about grey whales or dolphins.
The lighthouse is closed to the public except for the second Saturday of the month when the grounds and museum are open.
Read More: Point Vicente Lighthouse at Dusk
Details
Access: Signs on Palos Verdes Drive W point to the Interpretative Center
Restrooms and water fountains available
Palos Verdes Drive W turns into Palos Verdes Drive S after Point Vicente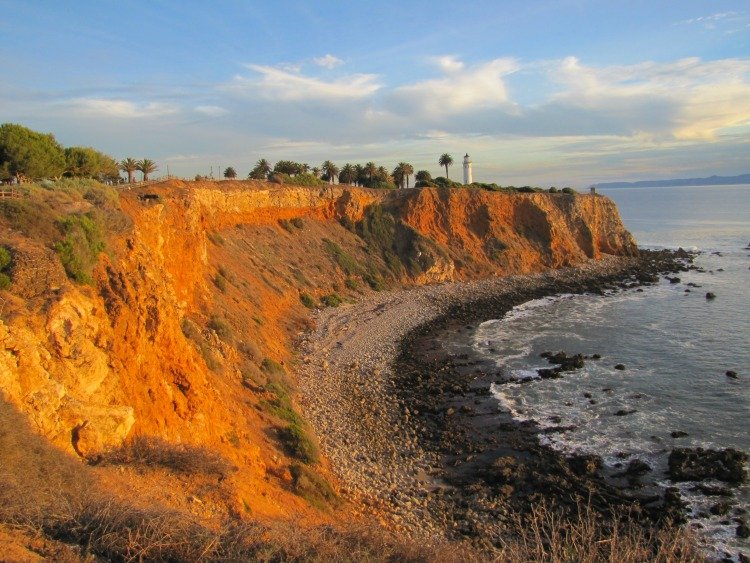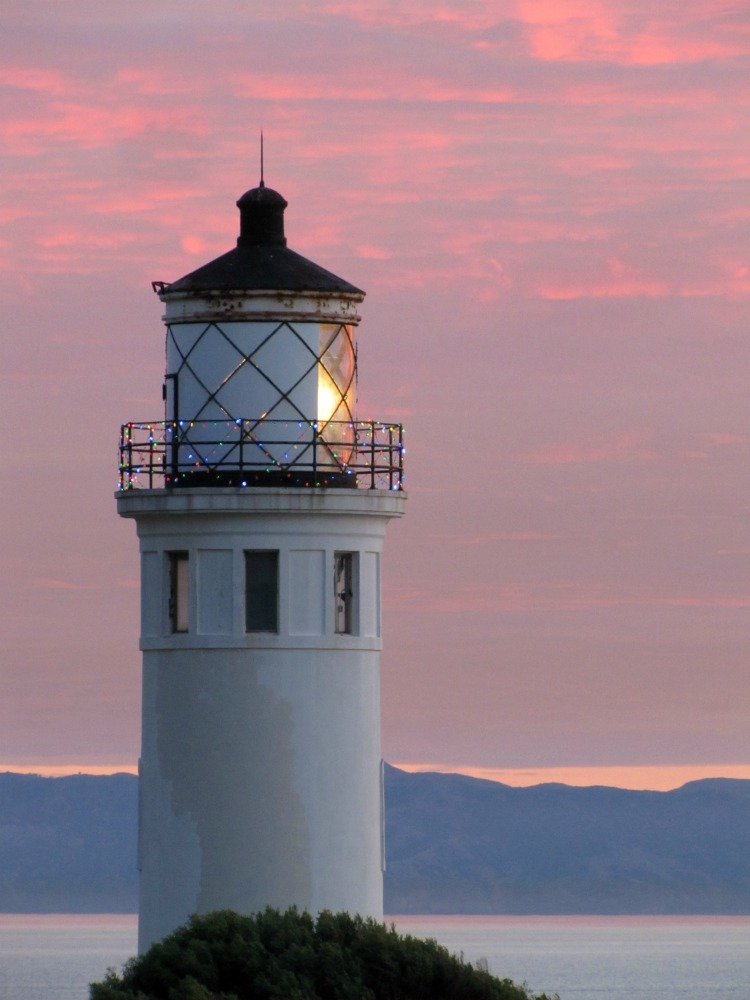 Pelican Cove – Peninsula Hiking
This is another of my favorite Palos Verdes trail.  It is so beautiful that it is not rare to find an artist working on a painting on any given day (I have seen them many times).
The good thing is that access is easy since there is a well-marked trail.  The bottom of the cove is rocky.  Therefore, it is not that easy to walk around.  I recommend walking close to the cliffs where there are not that many rocks.
The other cool thing about this place is that there is a rocky promontory next to the cove.  You can hike to the top to get great views of the coast.
Read More: Pelican Cove
Details
Access: From Palos Verdes Drive S, signs will lead you to the park
Parking: Public lot, if this lot is full you can park at Point Vicente or at the Terranea Resort
Restrooms available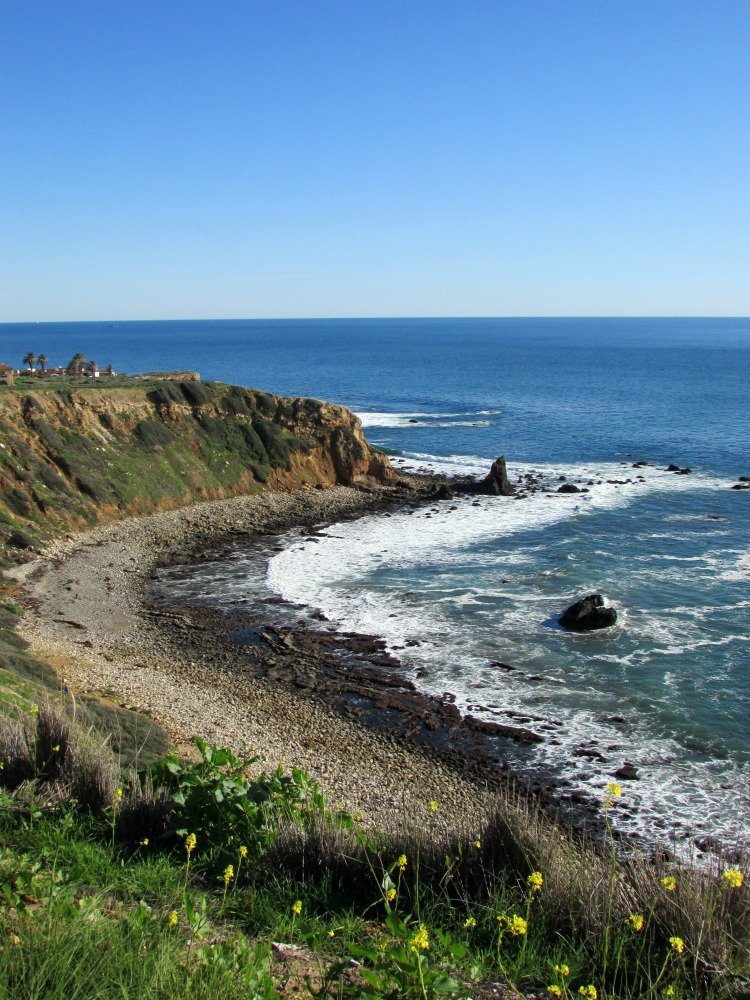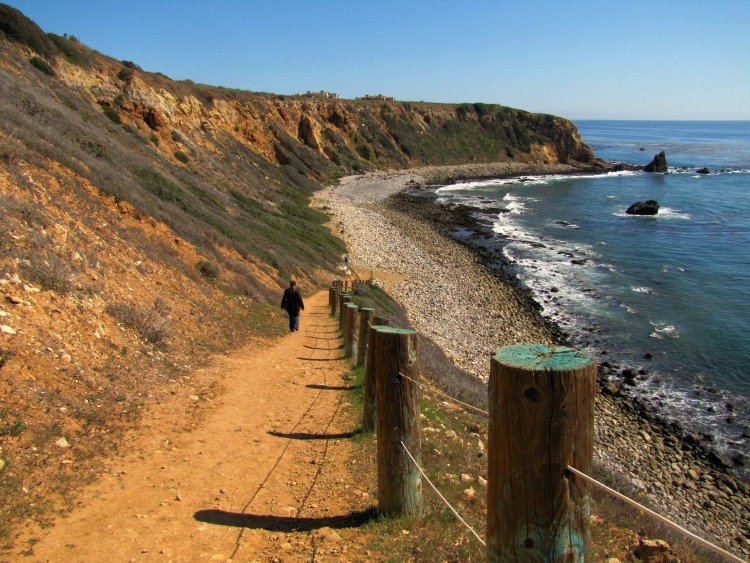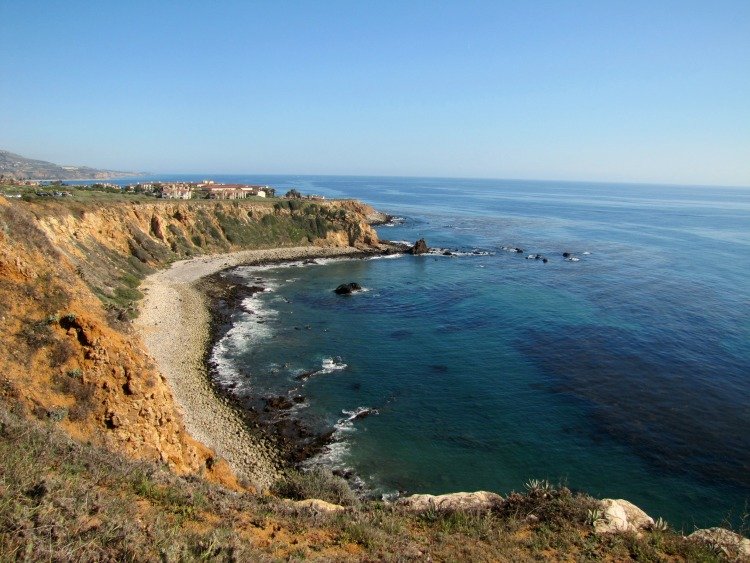 Terranea Resort's Trails
From 1954 to 1987, a park called Marineland of the Pacific operated above the bluffs of the Palos Verdes Peninsula. The concept was similar to the more famous SeaWorld.
Once the park closed, the land was developed as a luxury resort.  Nevertheless, by California law, access to the coast cannot be denied to residents.  That is why the resort developed a series of trails that can be enjoyed by the public.
These are a set of magical Palos Verdes trails.  You are going to give me the reason once you see the photos.
The Terranea Trail surrounds most of the coast in the property (and connects with the trail at Pelican Cove).  This is a high trail affording views of the cliffs and water.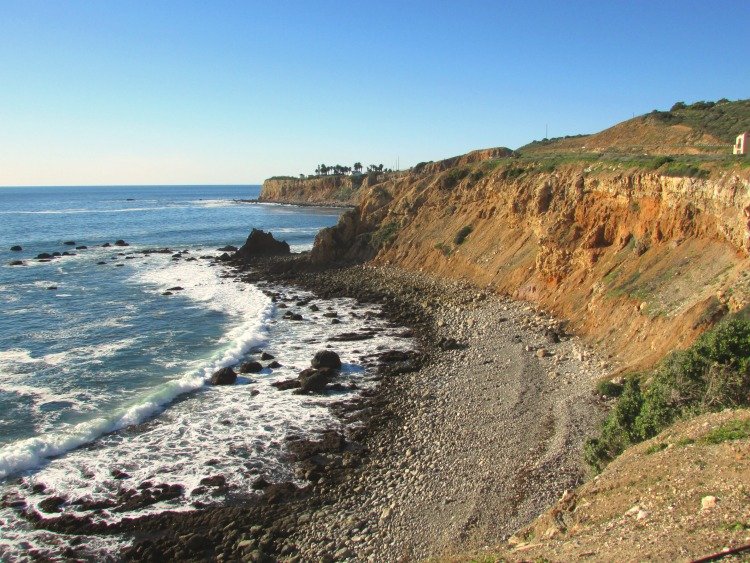 The resort has a small beach known as Terranea Beach or Terranea Cove.  To access it, take the Beach Trail (which connects with the Terranea Trail).  There is a cave at the south end of the beach.  You are going to see people scrambling around the rocks to reach the cave.  Once again, this part screams pure Mediterranean charm.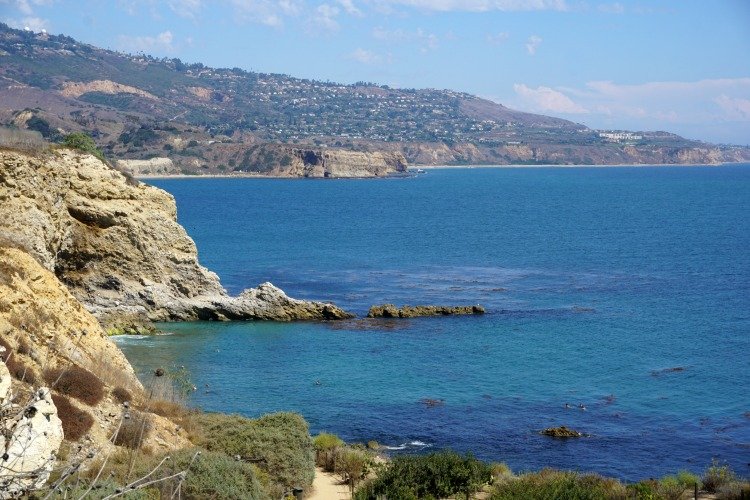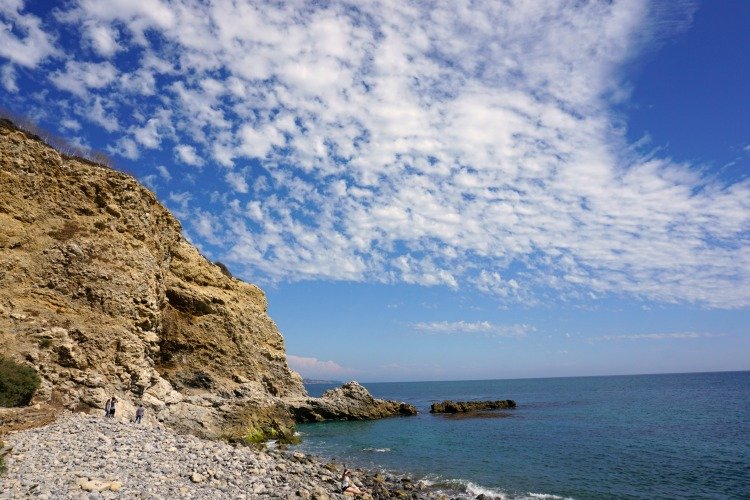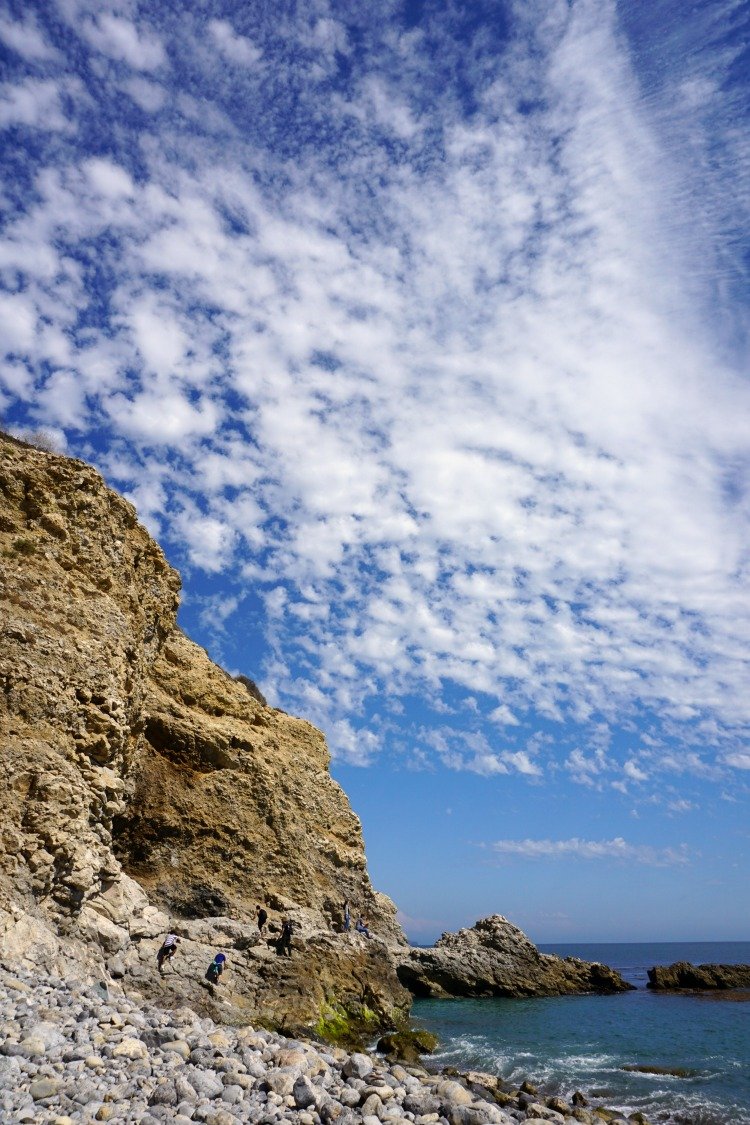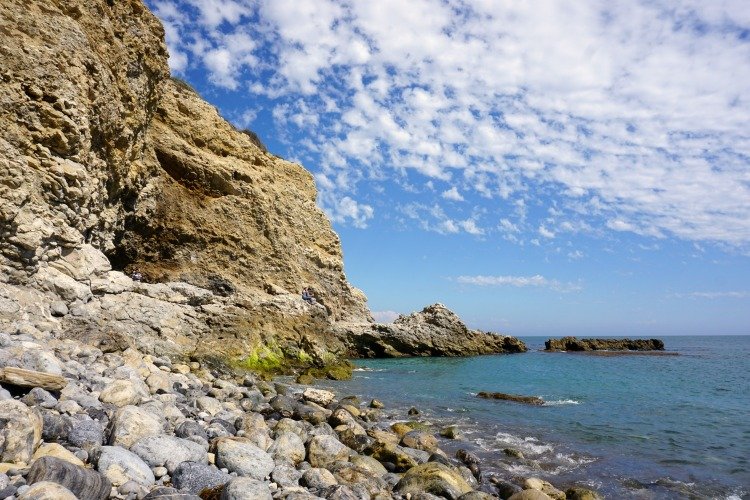 Most people are fine walking these two trails but I will recommend going a little bit further.  Go back to the Beach Trail and connect once again with the Terranea Trail.  Keep going until you connect with the Vanderlip Park Trail.  This is another high trail with "to die for" views of the coast.  A friend of mine said a place like this would be a national park in another country.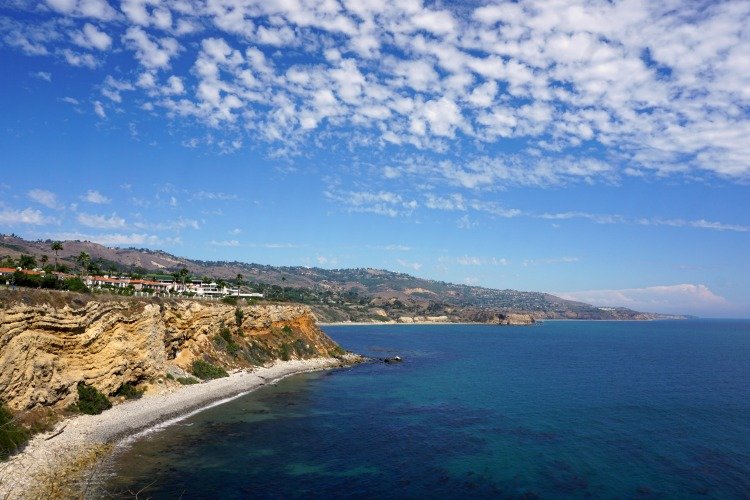 Oh, do not forget to take a good look at Cielo Point!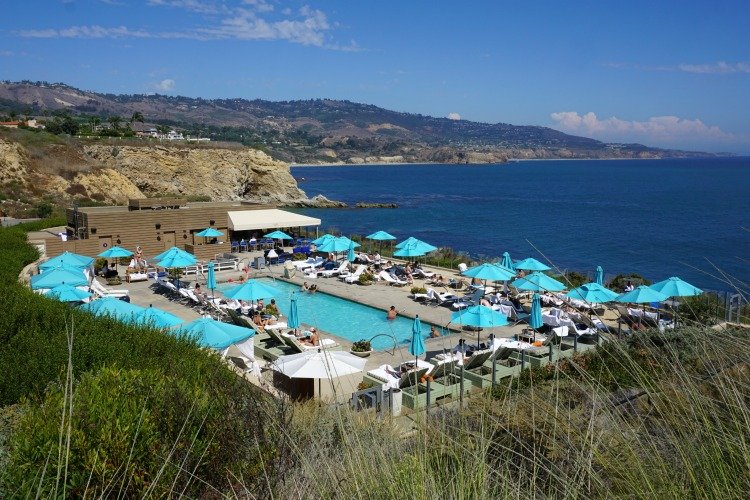 Read More: Terranea Trails, Bluffs and Coves
Details
Parking: Use the Pelican Cove lot or from Palos Verdes Drive S, turn right at Terranea Way, and park at one of the free lots
Restrooms are available
During summer, soft drinks and lemonade can be bought at a concession owned by the resort
The resort's restaurants (Nelson's and Mar'sel) are open to the public
Abalone Cove Shoreline Park and Sacred Cove
This park offers two sandy beaches (Abalone Cove and Sacred Cove), tidepools, blufftop viewing areas (Portuguese Point and Inspiration Point), and several hiking trails.
Most people stay in the Abalone Cove area.  There is a hike involved to reach Sacred Cove and because of its seclusion, many people sunbathe without clothing.
Even if you are not interested in the naturalist side of Sacred Cove, you may be interested in its sea cave.  It can be accessed from Portuguese Point (better if you visit during low tide).
Read More: Abalone Cove
Details
This is the only place within the Palos Verdes trail system charging an entrance fee ($6 for two hours, $12 over two hours)
More details found in here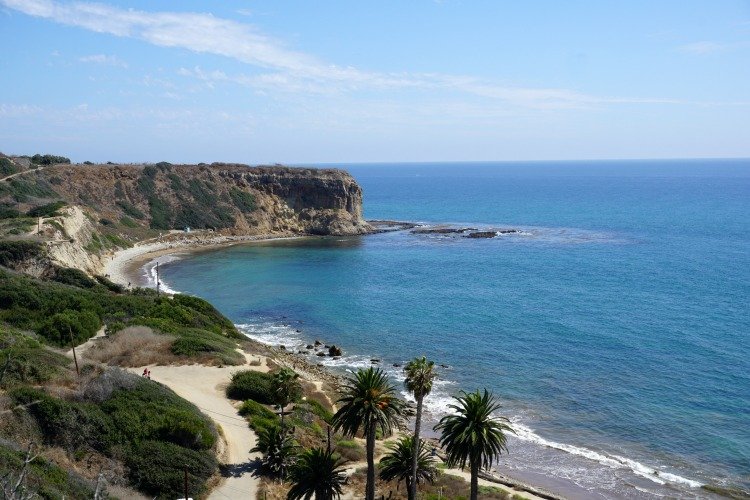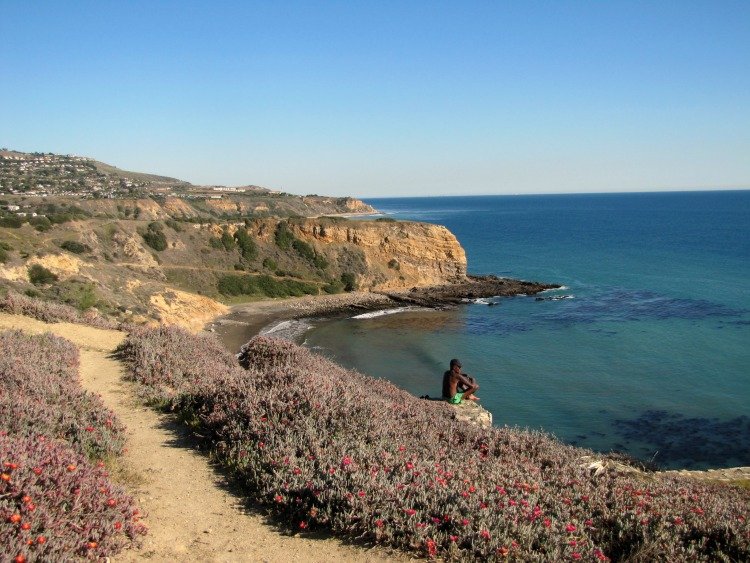 Detour: Wayfarers Chapel
This is a sight you do not want to miss! The Wayfarers Chapel (or as it is known locally, "The Glass Church") was designed by Lloyd Wright, the son of the famous Franklin Lloyd Wright.
Because of its unique architectural features, this place is very popular for weddings.  You will not be able to enter the chapel if a wedding is taking place.  Otherwise, you are free to tour the grounds.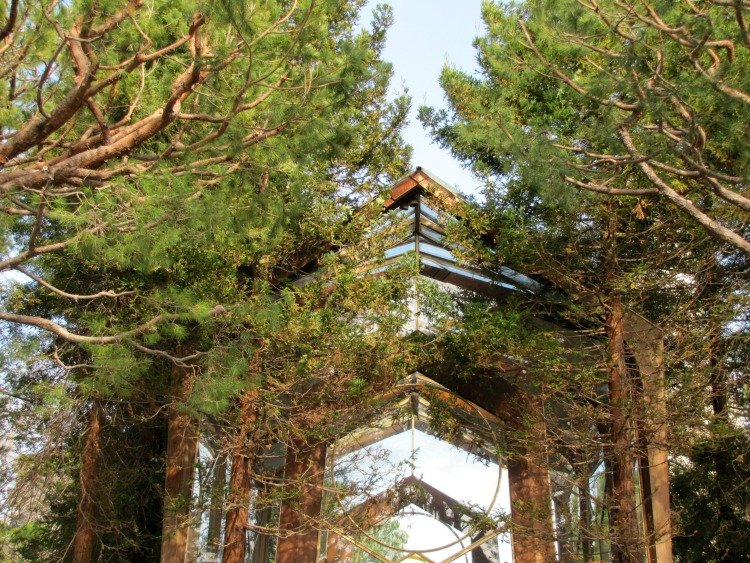 Ocean Trails Reserve – Palos Verdes Hikes
The area around the reserve is known as the Trump National Golf Course.  Once again, even with the area developed by a private corporation, access to the coastline needs to be provided to residents.
The reserve has more than 4 miles of trails including the Sagebrush, Gnatcatcher, and Catalina Trails.  Hiking the entire reserve may take 3-4 hours. Plan accordingly.
These are some peninsula hikes I will not miss.  If you do not feel like hiking park close to Founder's Park and enjoy the views.
Details
Access: From Palos Verdes Drive S, turn right at Trump National Drive or La Rotonda Drive
Parking: Public Lot
The beautiful Founder's Park is located on-site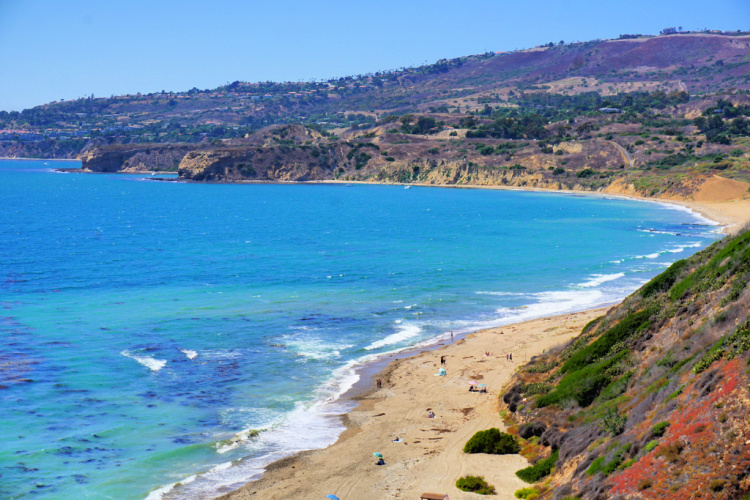 Portuguese Bend Reserve
At the Portuguese Bend Reserve, you will find some of the most exciting Palos Verdes Hiking Trails.  
Once entering the reserve from Del Cerro Park, you will have access to a wide network of trails.  You can hike to adjacent hills or all the way to the bottom of the Portuguese Canyon.  Some people even make it to the Abalone Cove area.
Keep in mind that going back to the trailhead can be challenging since you have to "climb the hill."  If you do not feel like hiking, the views from Del Cerro Park are still amazing.  Also, keep your eyes open since red-tailed hawks fly around all the time.
Details
The trailhead is located at the end of Crenshaw Boulevard

You can park at Del Cerro Park's lot or on the street

There are no restrooms at Del Cerro Park.  There is usually a Porta Pottie close to the trailhead.
Forrestal Nature Reserve
When it comes to hikes in PV, the Forrestal Nature Reserve is my latest find.  And, what a find!
One afternoon after work, my husband and I hiked a loop by combining the Pirate, Mariposa, Basalt, and Quarry Trails.  I was amazed by the vistas! There is no doubt that the peninsula keeps surprising me.
There are more trails at the Reserve.  For example, you can continue climbing the hill by taking the Cristo Que Viento Trail.  Or, you can take the Flying Mane Trail to connect to the Portuguese Bend Reserve.
Details
The trailhead is located at Forrestal Drive, across the Ladera Linda Park

You can park at the Ladera Linda Park public lot

Do not park on the street.  There are numerous signs asking visitors not to do this.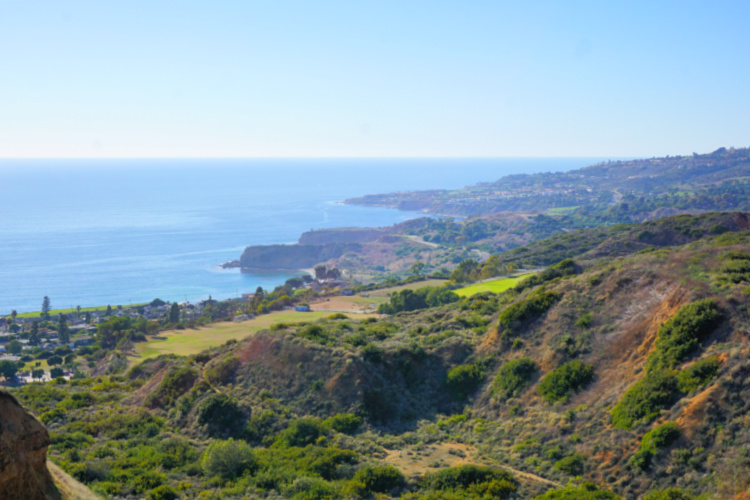 White Point Park – Palos Verdes Hikes
This is an ideal place to do some tide pooling.  There is a huge rock bed exposed during low tide. However, everything is not natural here.  Some "rocks" in the area are really ruins of mineral baths destroyed by an earthquake in the '30s.
Other activities include picnicking, surfing, diving (there is a reef close to the shore), fishing, and even rock climbing.
In reality, you do not have to get active here.  Spotting one (or two) sea stars between the rocks, a group of pelicans soaring above the cliffs, or a bunch of cormorants resting over rocks is my idea of having a good time.
Read More: White Point in San Pedro
Details
The exact address is 1799 West Paseo Del Mar, San Pedro
There is a fee to park in the parking lot at the bottom of the bluffs
To avoid paying for parking, park at one of the free spots (in Paseo del Mar) at the top of the bluffs and walk down Kay Fiorentino Road
The White Point Nature Preserve and Education Center is located across the street
There are restroom and shower facilities in the area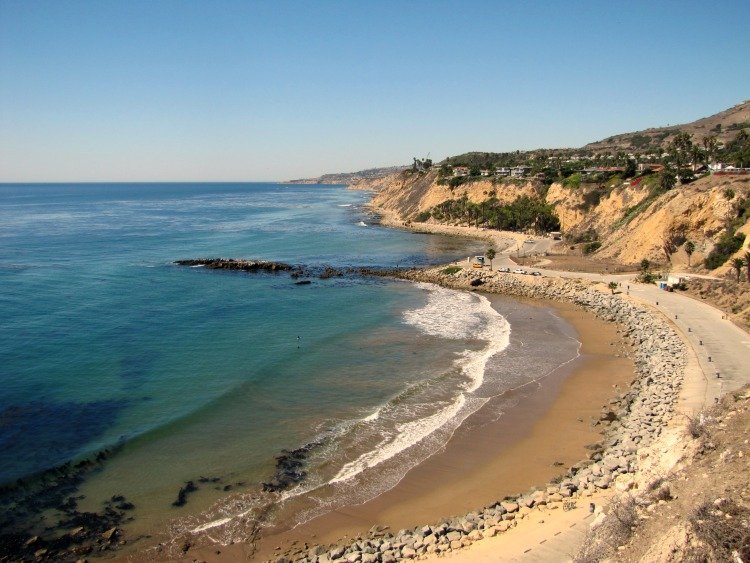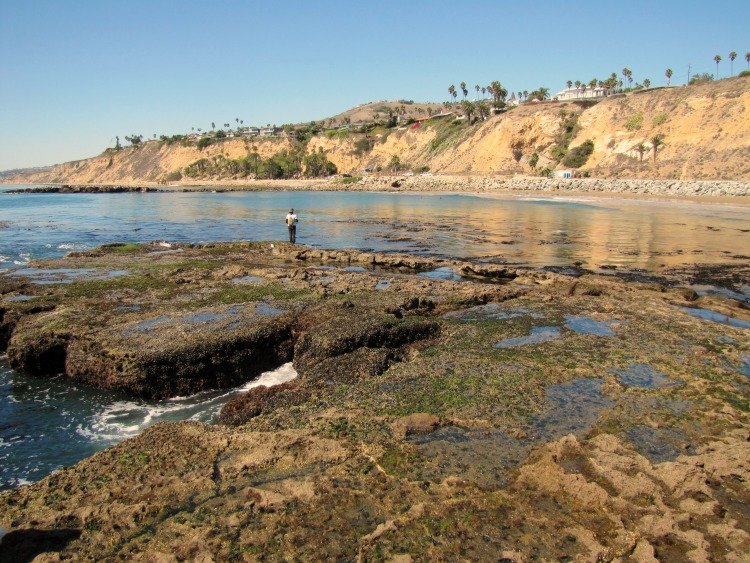 General Recommendations
Wear comfortable clothing and shoes
Protect yourself from the sun by wearing sunglasses, hats, caps, and sunblock
It is a good idea to carry water and snacks in the car and while hiking
Follow the rules on the preserves and reserves. Help us to keep a clean environment
A lot of the Palos Verdes hikes and trails presented here involve cliffs. Be vigilant at all times and be careful if you notice unstable areas
The wind can be strong and deceptive on the peninsula. Be careful when walking along cliffs when strong wind gusts are present
Rattlesnakes may be present on trails. Exercise caution
Have you experienced any of these Palos Verdes hikes?  If not, which place would you like to visit?
If you enjoyed this article, remember to share!
Pin "Palos Verdes Hikes and Trails" for later!