Two weeks ago, I visited the Point Vicente Interpretative Center and Park.  The center is located in the Palos Verdes Peninsula.  This area is famous because of its affluent residents.  In here, you can find some of the most expensive real estate in Los Angeles County.  Additionally, it is the home of one of Donald Trump's golf courses.
It is supposed to be an exclusive area for the higher classes but that doesn't mean it can't be enjoyed by simple and curious mortals.  The shoreline is full of recreational areas, beaches and parks.  The greatest thing is that the entrance to most of those wonderful places is free.  I paid nothing to enter the Point Vicente area.  The place offers an interpretative center (kind of a small museum with information about the area), hiking trails, wonderful sea cliff vistas and gorgeous wildlife.
This place is exactly 11 miles from my house.  It was my first visit and I was pleasantly surprised.  The vistas are fantastic and we were able to observe a wide array of birds and lizards.  This is a proof that you do not have to go far from home in order to find great things to do.  Just look around and you will find beauty and adventure.
There was a great abundance of pelicans flying around.  It was so great to see them flying in formation (and changing formation).  They were brownish with a white face and a little black mask around their eyes.  Graciousness is the correct word to describe their movements.
I was able to take several videos of them flying around.  I don't have the greatest video skills but I think some of my videos can give you a good idea of what I witnessed that day.  I love to watch the videos.  I am posting two in here.  The first one is the best one.
Video 1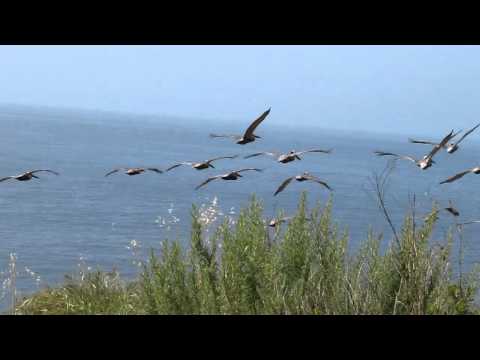 Video 2
Other species of bird were also roaming the area.  It was difficult to get them in photos because they are small and light.  They disappear in a second.  My husband was able to capture some.  We were following their melodious songs while walking thru the trail.
There were also lizards.  I am not that fond of these reptiles but I have to admit we took some good pictures of them.
In here, she is posing like a komodo dragon.  I scream every time I see her face. Looks like a snake to me. Yuck. 
At least, I didn't encounter a rattlesnake.  They are common in the area.
I think you get the idea of what a great day we had.  Ohh, I almost forgot.  Point Vice.nte is famous because is one of the ideal spots to watch migrating gray whales.  Six whales passed by the day we were there.  There are volunteers with binoculars monitoring the whales' movements.  They have seen all sorts of whales from the viewpoint.  Take a look at the next photo.
Have you found a great place to watch wildlife near your home?  Share your experience in the comments section.
For more great photos, visit Delicious Baby.